This post shows you the best Halloween costumes for college students.
College Halloween costumes are a little more spicy and creative than the usual Halloween costumes! That's why I'm excited to share this post with some of the most trendy and hot costume ideas.
If you're a college student, you will have many parties lined up during Halloween! Whether you're going single, with your boyfriend or bestie, or dressing up with a group: this post has covered everything.
First, we'll go over the best Halloween costumes for college girls and best friends. Then you'll find the best group costume ideas, followed by cute couples costumes and college Halloween costumes for guys!
Halloween costumes for college students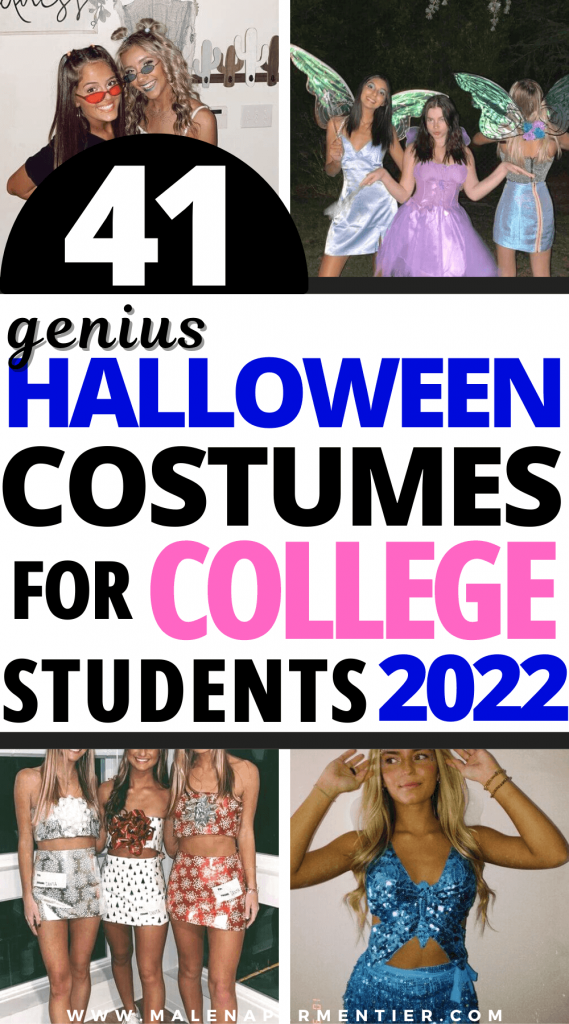 Halloween costumes for college girls
1. Blue fairy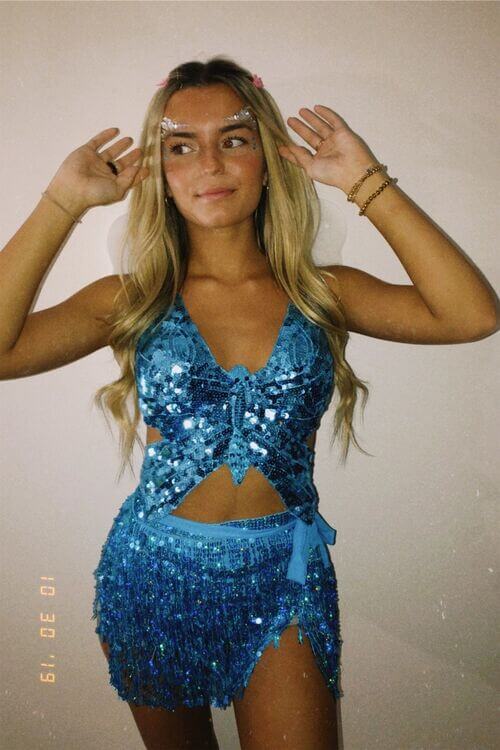 I'll take any excuse to wear a stunning sequin two-piece like this!! Costumes with sequins are great for parties and give you a chance to dress up. Complete this blue fairy costume with rhinestone stickers for your face!
2. Buzz Lightyear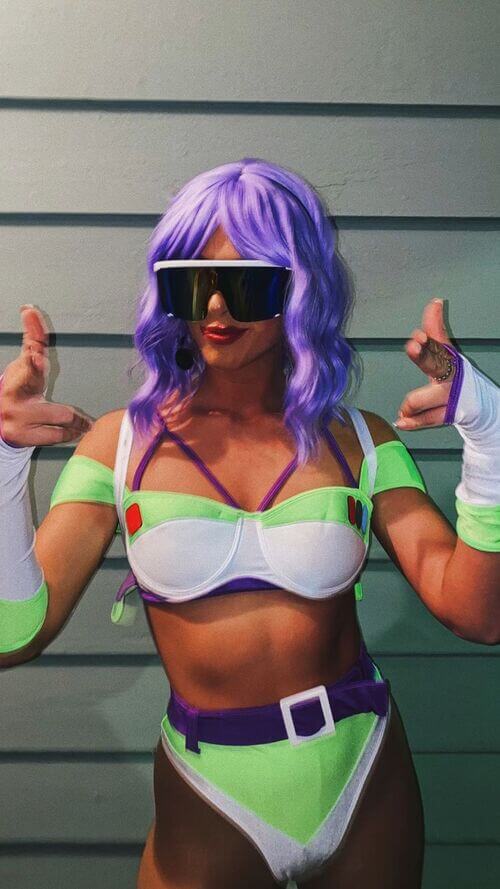 It's safe to say that the sexy buzz lightyear costume has been hype! You can get this one piece on Amazon, and it's a favorite amongst college girls. Buy a purple bob wig if you want to go the extra mile with your costume!
3. Fire & Ice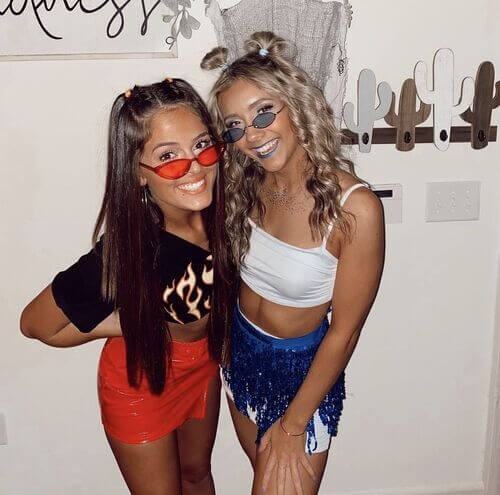 The fire and ice costume is a favorite for college besties! It's also an easy costume that you don't need to spend much money on. All you need are some blue and orange sunglasses and clothing in the color of either fire or ice :).
4. Popcorn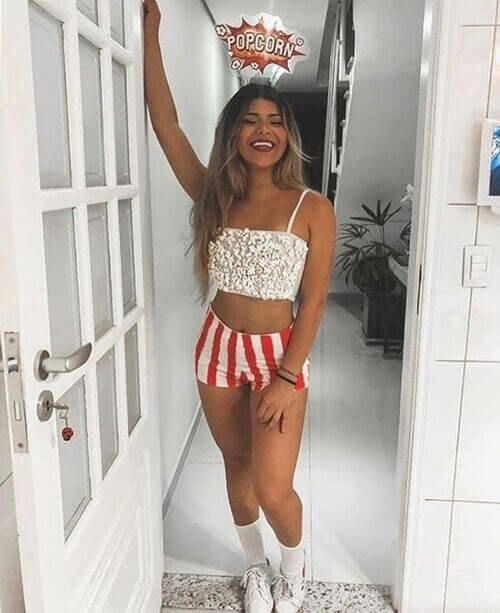 This costume is so creative!! I love it when I come across a costume idea you don't see everywhere. This costume requires some minor DIY for the popcorn headpiece. Other than that you only need clothing with red and white stripes.
5. Butterfly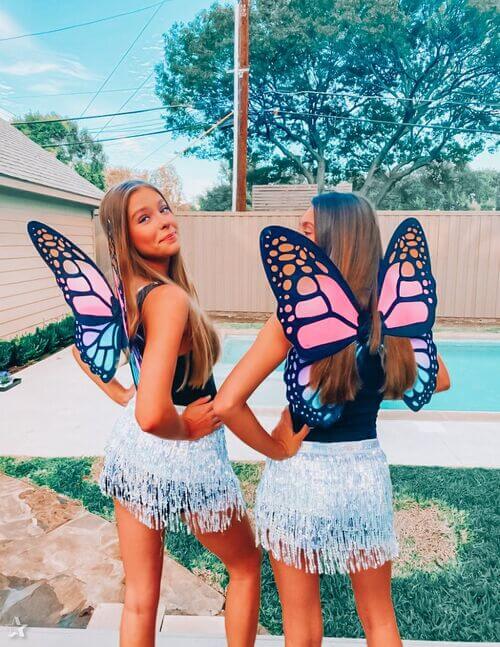 The butterfly costume is forever a classic, and there are many ways to pull off this costume!! This Amazon sequin fringe skirt is the perfect starting point for a butterfly costume. It's cheap, hot, and perfect for college Halloween parties you'll be attending this year.
6. Carrie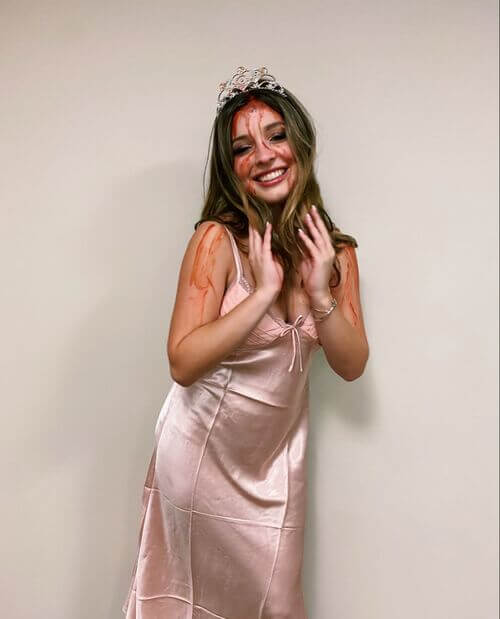 Carrie is a great last-minute Halloween costume that looks super hot!! If you don't know, 'Carrie' is a horror movie by Stephen King about a high school drama. To recreate this costume, you can use a silk dress from your closet or buy an inexpensive one on Amazon. Additionally, you need a fake blood kit!
This article on Elle.com explains how to get the Carrie make-up for your costume right!
7. Superwoman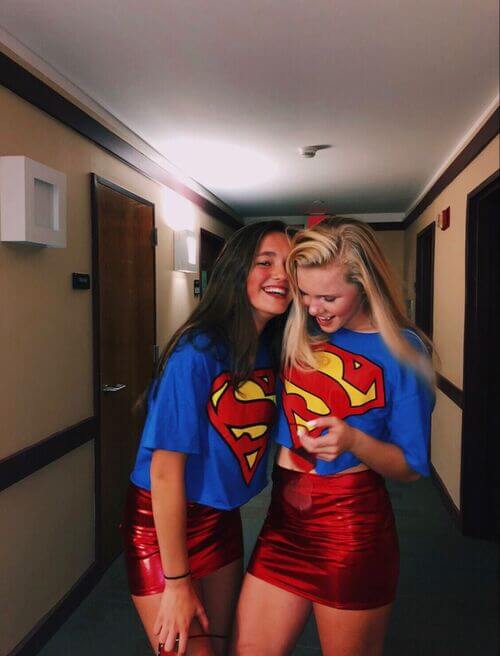 A superman (or superwoman in this case :)) costume is super simple yet hits the spot! Especially when you pair the superman t-shirt with a red metallic skirt. This is a sexy costume without being over the top.
8. Black Swan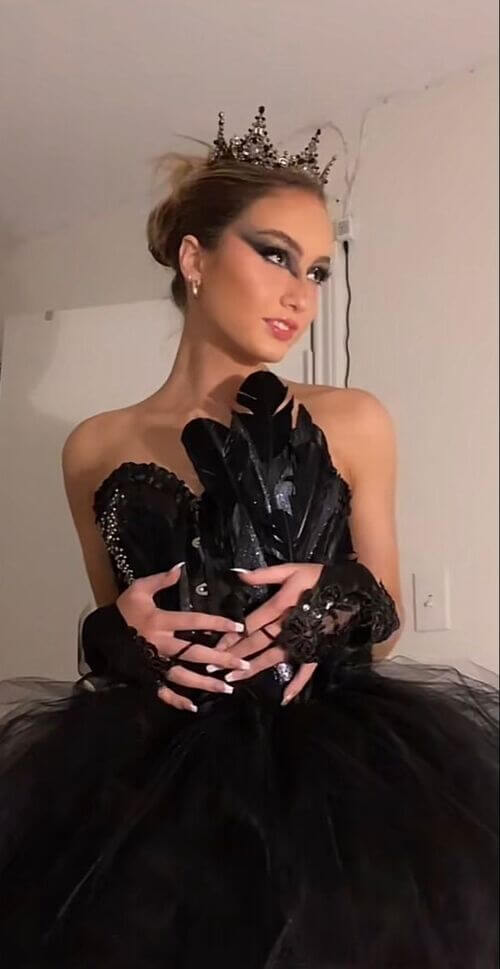 OK this black swan costume is my FAVORITE ever, and If you're into elegant Halloween costumes, I'm sure it's yours too. Natalie Portman in Black Swan is iconic! The look with feather choker, black tutu, and gorgeous black crown is simply unparalleled.
I thought recreating this costume would be super expensive, but it isn't that bad!
9. Cupid
For a super cute and easy college Halloween costume for girls, cupid is a great option to go for!! Especially if you want to wear clothes you already have. This costume is also great for twinning!! Must-haves for this costume are a pink or coral dress, angel wings, and a bow and arrow prop.
10. Pink Cowgirls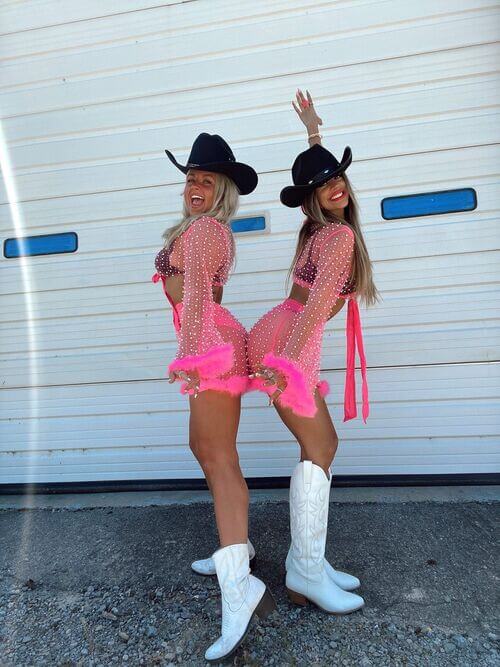 Pink cowgirls and space cowgirls: nobody quite knows what these costumes are about, but they're CUTE and popular. You need a cute pink dress, white boots, and a cowgirl hat of choice for a pink cowgirl costume. I love this black hat with a belt buckle.
11. Post Malone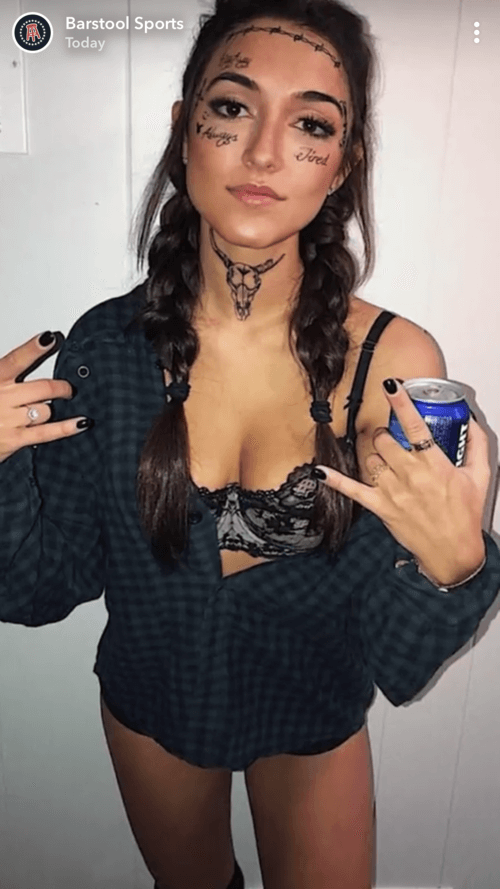 This Post Malone costume made me LOL because it's so good!! You need an oversized checked shirt for this look, plus a black face stick (or eyeliner) to recreate these tattoos. For the finer tattoos, you're definitely going to need eyeliner.
College group Halloween costumes
12. Care Bears
The cutest college Halloween group costume of all time: care bears!! I almost forgot that these existed, but oh my, they're cute. You can get a care bear costume on Amazon, or DIY it with a pink or green onesie. The fluffy leg warmers make this costume iconic!! Obsessed.
13. Fairies
Fairies are an excellent group costume to get creative with!! If you have feminine clothing like corsets or tutu style skirts, you can put together fairy costumes with items from your closet. The holographic fairy wings really make this costume stand out.
14. The Powerpuff Girls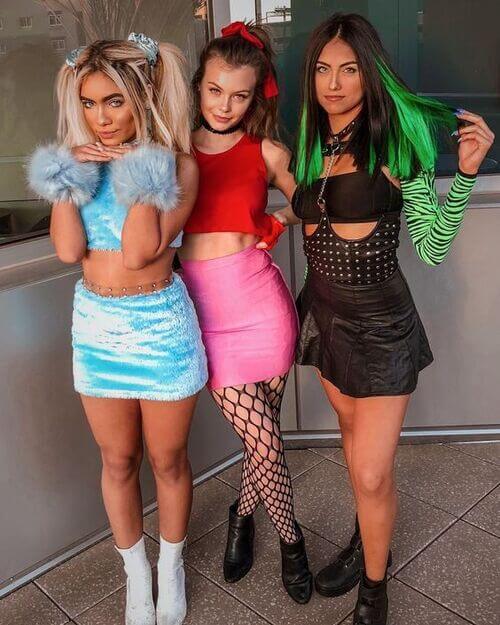 Whoever grew up in the 2000s knows the Powerpuff Girls!! Although they were never my personal favorite on TV, my bestie was obsessed with them. This costume is perfect for a group of 3! You only have to decide between your friends: who gets to be Blossom, Buttercup, or Bubbles?!!
15. Ski Girls