Looking for the best lazy Halloween costumes for guys? This post shows you 13 great options!
I feel like guys always struggle the most to put together their Halloween costumes!!
They usually want an easy, last-minute costume that looks good. I totally understand because I'm the same haha.
This post will show you some costumes based on popular characters (hi salt bae), funny costume ideas (little caesars), and low effort yet hilarious costumes.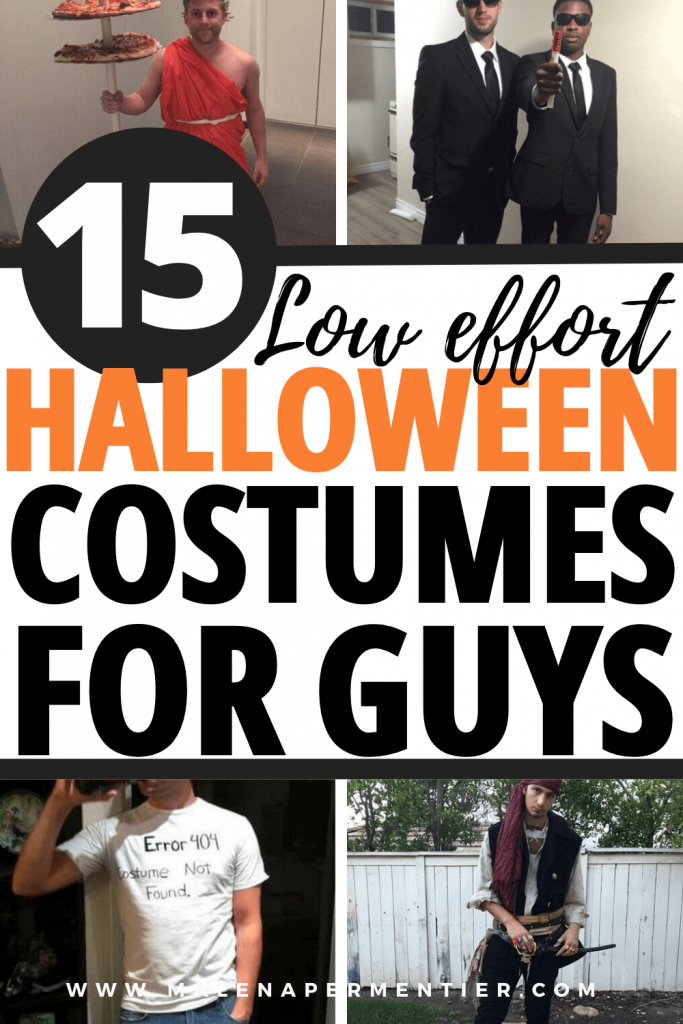 Lazy Halloween costumes for guys
1. Salt bae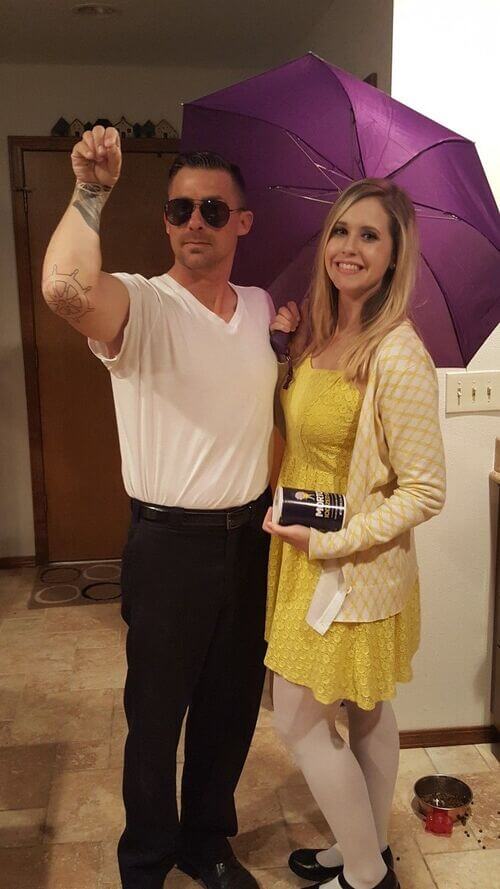 Salt bae is instantly recognizable and such an easy costume to put together!! You need black pants, a white t-shirt, and black aviator sunglasses. Plus, some salt, obviously :).
This couple's costume is really creative: the Morton salt girl and salt bae. Such a creative costume idea that will have everyone cracking up without a doubt.
2. 404 Error costume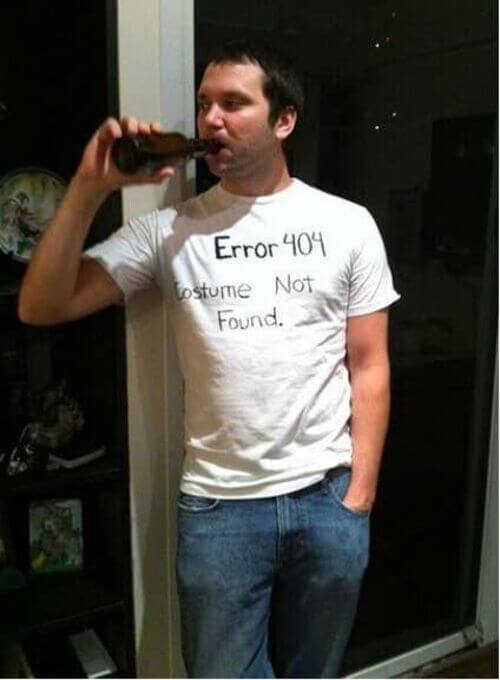 This must be the laziest costume of all! Simply grab a white t-shirt and use a sharpie to write '404 error' costume not found.
I can't believe that I was today years old when I found this costume idea, but it cracked me up. Sure, it's a low-effort costume, BUT it's hilarious!
3. Little Caesars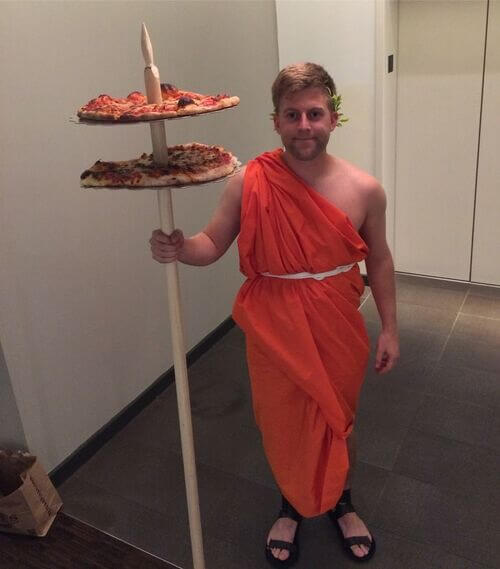 HOW good is this Little Caesars costume for guys? This costume made me laugh so hard, and I'm sure it will be the life of the party if you wear this.
Put together this costume with orange cloth, greek sandals, a leaf headband, and a stick that can function as a pizza holder lol.
4. Men in black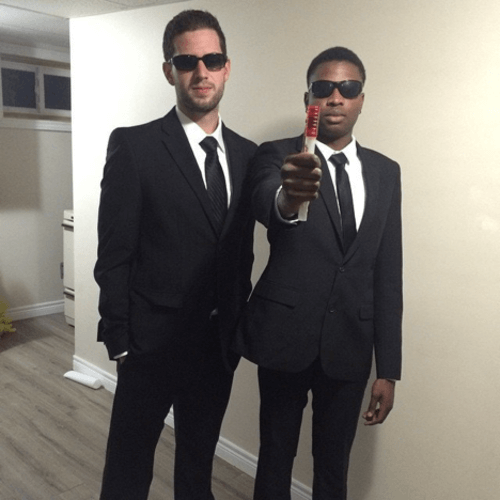 If you have a black suit in your closet, why not use it as your Halloween costume? Men in black is the ultimate easy costume to wear to a Halloween party.
Also, it's nice as a group costume, and pictures are guaranteed to look great when wearing a suit.
5. Pirate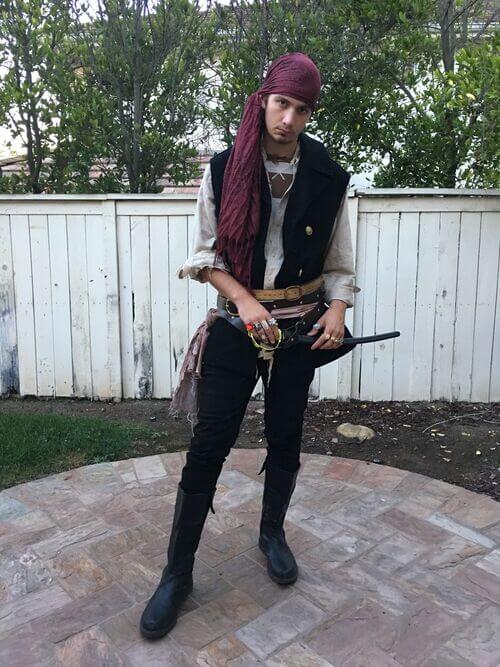 Gotta love a good pirate costume! For a pirate costume, you need black jeans, a neutral button-up shirt, a black vest (if you have one), and a bandana. Other must-haves are the accessories like the bandana, lots of belts (I don't even know why?), and rings.
6. Top gun maverick

A top gun maverick costume is easy because all you need for the costume is a green jumpsuit :). Complete the look with aviator sunglasses.
7. Superman

Another easy Halloween costume for guys: Superman. This costume always looks good and is easy to recreate.
8. Batman

Speaking of superheroes, why not go for a Batman costume? Superheroes is also a good theme if you're looking to match costumes with friends.
9. Skeleton

Gotta love a good skeleton onesie! Super lazy, cool, and fitting the spooky spirit of Halloween.
10. Ghostbusters

Onesies are the best type of lazy Halloween costume!! It seriously requires zero effort, and it looks good. Wear a ghost buster costume with friends or alone.
11. Buzz Lightyear

For the Toystory fans: Buzz is a super popular costume every year. This kit already includes all the essentials to put together this Buzz costume.
12. Woody

This Woody costume is maybe even a better costume for guys! Of course, it depends on who your favorite Toystory character is.
13. Taco

Love tacos? Wear a taco costume this year for Halloween lol. I'm all for funny Halloween costumes, because what's better than to laugh.
14. Doctor

Another one on the list of super lazy Halloween costumes is the doctor costume! All you need for this look is a white doctor's coat. Glasses with a thick black frame would be a nice extra touch.
15. Breaking bad

The yellow hazmat suit has been a super popular Hallowen costume because of the series Breaking bad! You can get this costume or use yellow trash bags instead to save money.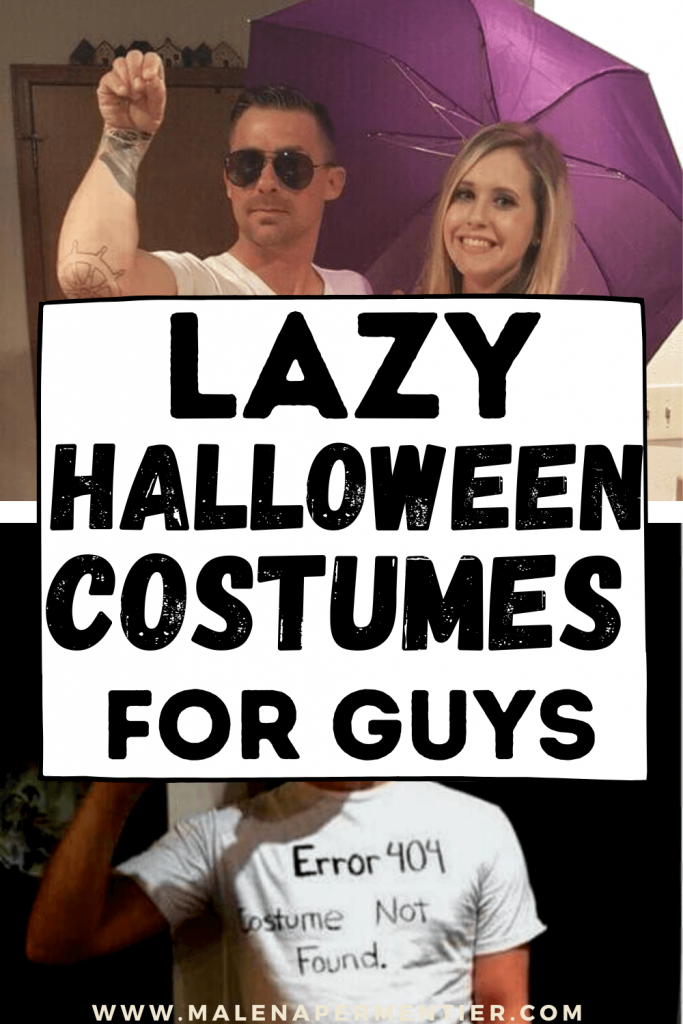 This post showed you 15 Lazy Halloween costumes for guys
You may also like: