This post shows you the best easter table centerpieces to recreate!
Spring is around the corner, and with that Easter follows.
Easter weekend is a big weekend filled with activities, so what better way to make Easter special than with colorful centerpieces and decor?
Easter offers you so many ideas. You can keep it simple and clean with a focus on greenery, considering spring is approaching.
You could also make it bright and colorful with fun pinks, bright greens, and gorgeous blues and we can't forget about the sunny yellows to focus on the symbolic colors of Easter.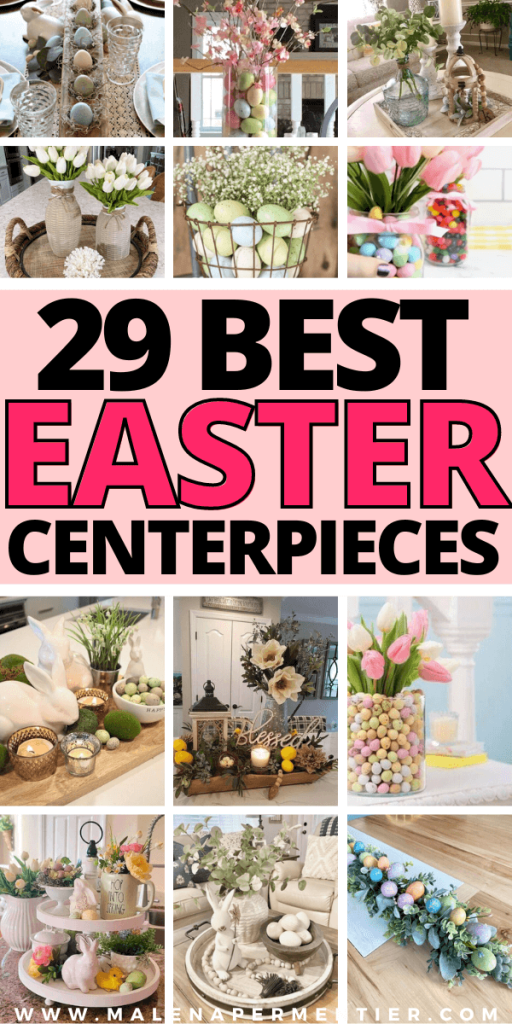 Easter and the opportunity to be creative
We don't always have the opportunity to spend money on expensive decorations, so we need some more DIY projects to help us when we need fun decor without spending a fortune.
You can make use of a bunch of household items, for example:
Temporary tattoos can make great patterns on eggs
Food dye can be used to color hardboiled eggs if you're looking for a fun idea at the dinner table
Create decorations out of paper (Origami flowers are always great)
Use bright-colored candles
Make bunnies out of napkins for the tables
Fill the house with flowers
Paint eggs with spring colors
You can keep it clean by focusing on one color or painting an array of pastels over your house with decor. It all depends on what you would like to focus on.
1. Bright tulips and ceramic pastel bunnies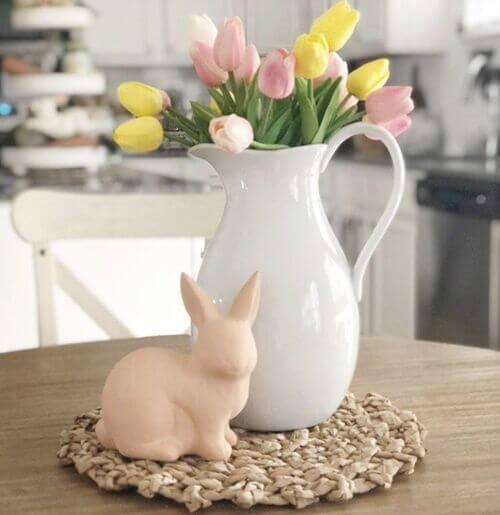 Show off this Easter season by using colored ceramic rabbits and beautiful pink, yellow, and white tulips.

2. Use colored eggs as vase fillers with fake trees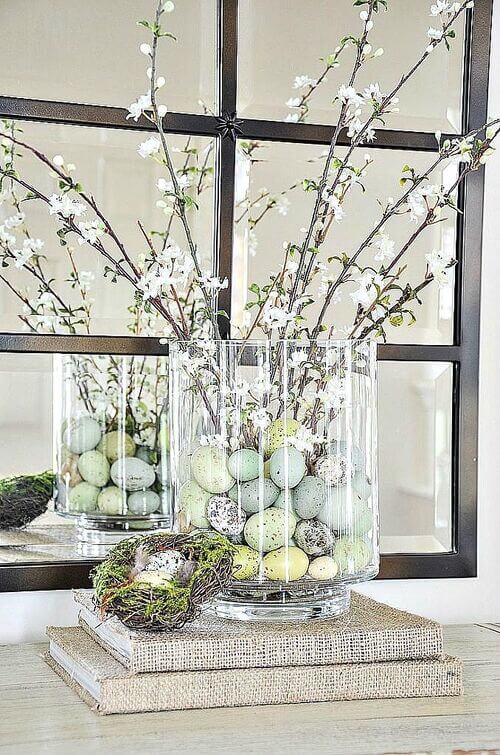 Speckled eggs in different shades of blue added to a vase with fake branches are a beautiful and bare idea to decorate with this Easter.

Artificial bird eggs
3. White tulips in jars wrapped with twine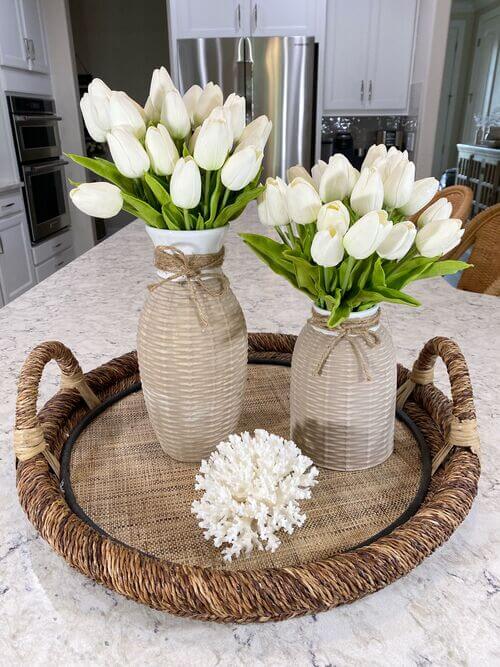 Another way to make things natural is by keeping neutral colors such as brown and white.
4. Eggshell plant holder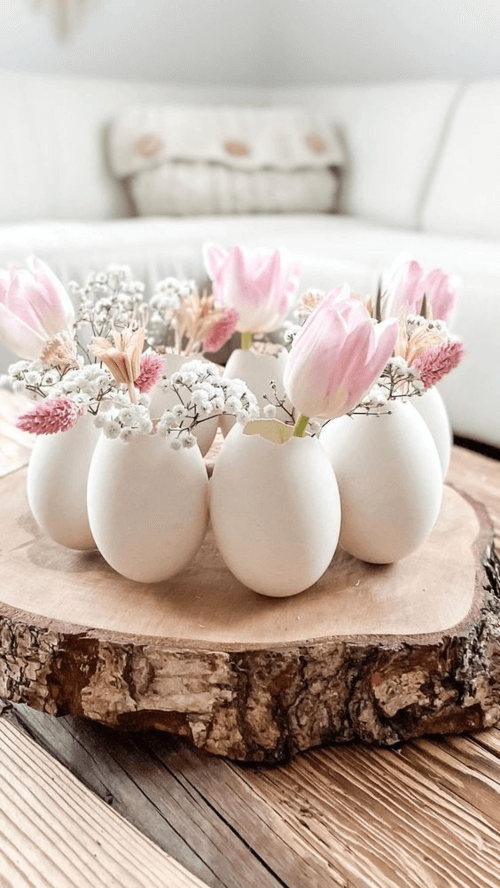 Who knew eggshells could be flower holders? This is a lovely idea if you want something fun and simple.
5. Speckled egg vase fillers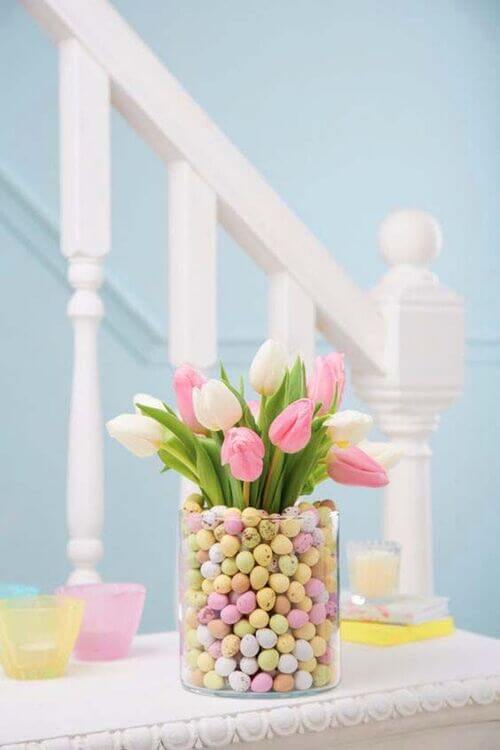 Calling all chocolate lovers.
This speckled egg jar is just what every table needs.
When you add some bright pink tulips it just makes it even better.
6. Jars with pebbles and flowers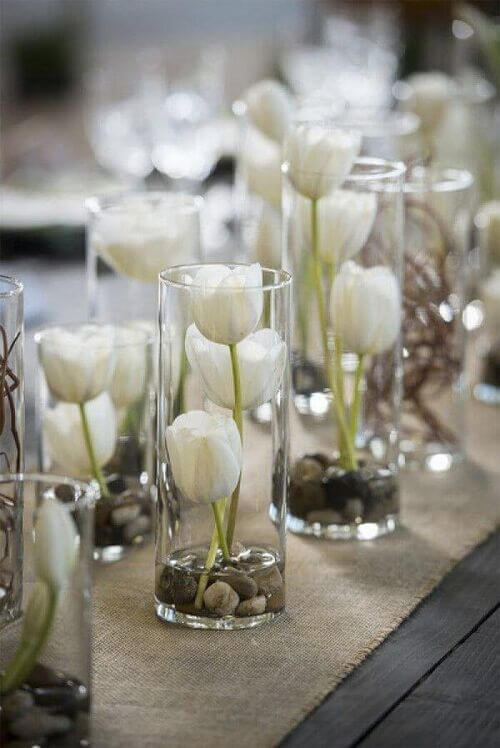 This is a great natural idea for table decor.
You can add some pebbles to jars with water and then add a simple flower into each jar.
7. White ceramics and greenery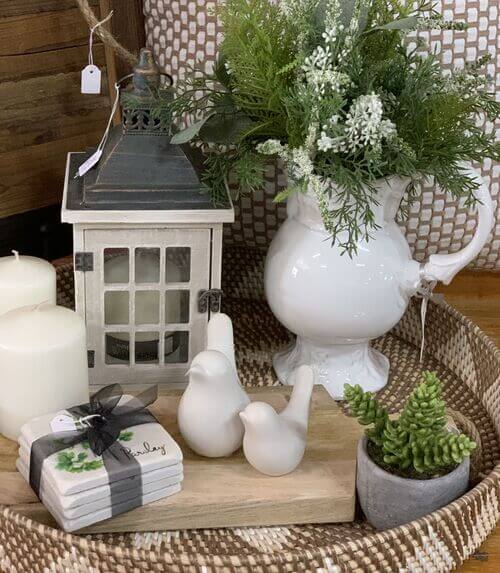 You can never go wrong with white and green decor. The ceramics and succulents are just a simple decor design that shows spring is here.

8. Colored eggs and greenery table runner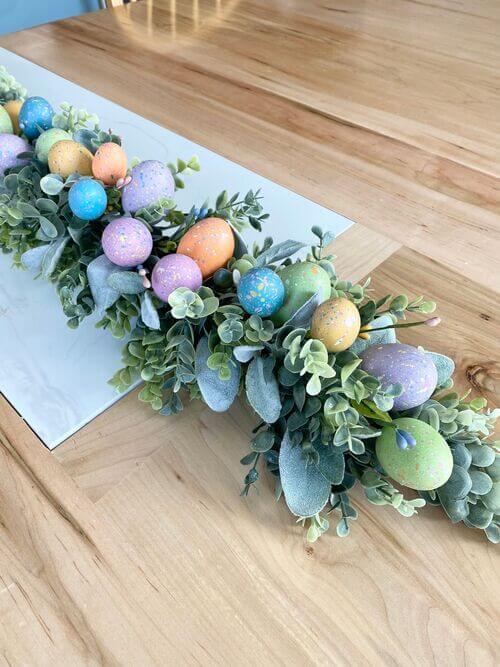 I love this idea because it is unique and fun.
You can place it anywhere, and it's great for a big Easter lunch.
Using fake greenery and colored eggs to create a table runner is extremely artsy.
9. Colored eggs in old-fashion metal baskets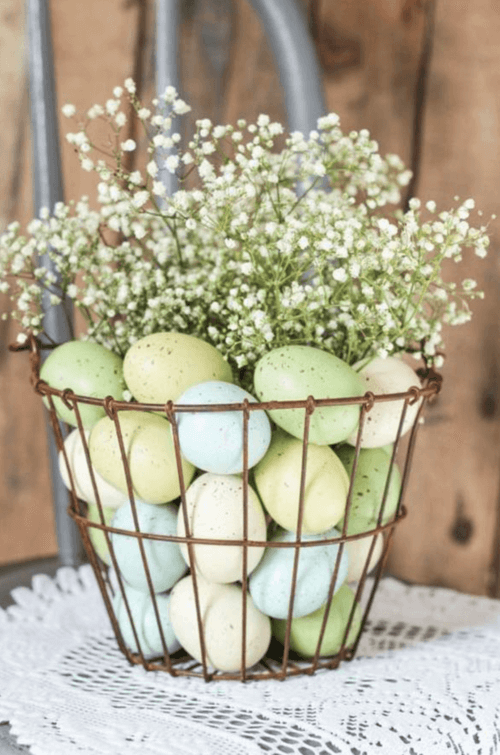 This is the perfect balance of vintage and modern.
The bare metal basket filled with brightly colored eggs is a great way to bring something new to the table.
This is especially a great centerpiece to keep in the kitchen.
10. Lemons, leaves, scented candles, and unique wood boards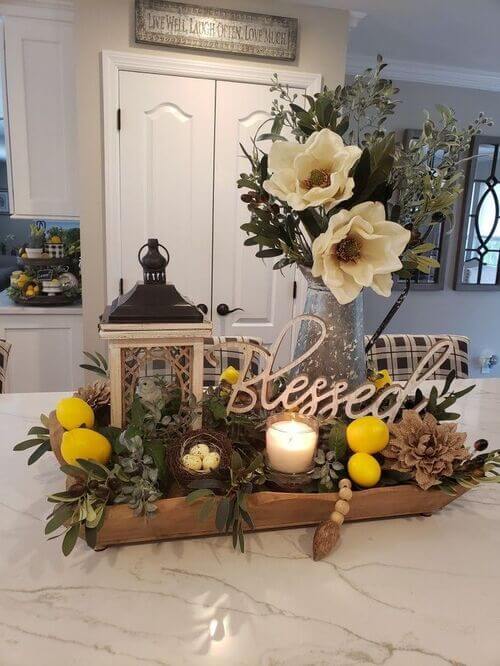 How about a simple approach?
Add lemons for a pop of color and a scented candle to make the room smell amazing.
You can keep this on a simple wooden board or find something unique that works for you.
Citrus is always a great idea because it makes the room smell fantastic.
11. Minimalistic white and black speckled eggs and ceramic animals board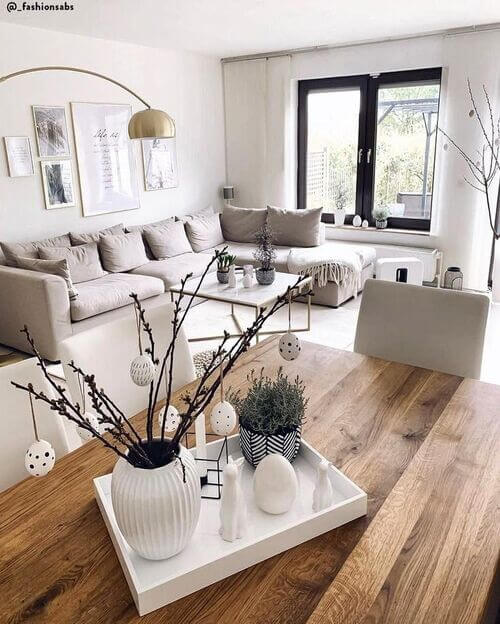 This keeps things easy and simple for easter.
You can buy these hanging eggs and add them to a tree.
Another option is to add white ceramic eggs and rabbits.
Because it is such a basic approach, you can also keep this centerpiece year-round.
12. Fake moss eggs, mini eggs, and ceramic bunnies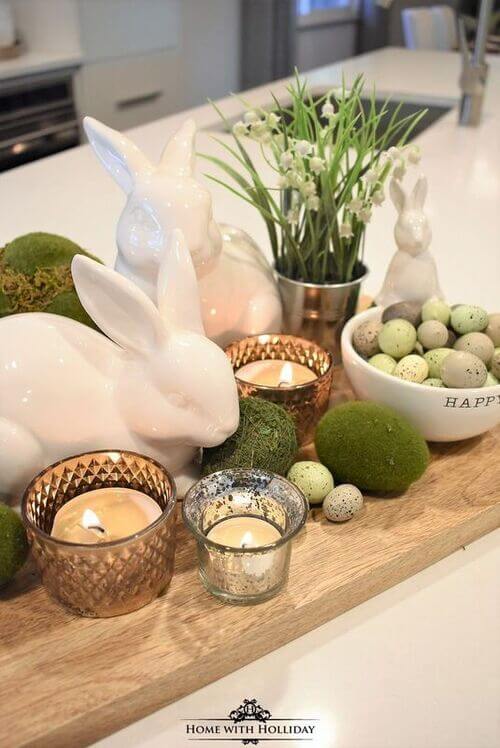 Using these fake moss eggs can make your centerpiece more natural.
It lets you incorporate nature within your home without the mess.
You can then add some ceramic rabbits to fill the space. As well as a bowl filled with mini eggs.
13. Candy eggs in mason jars filled with fake flowers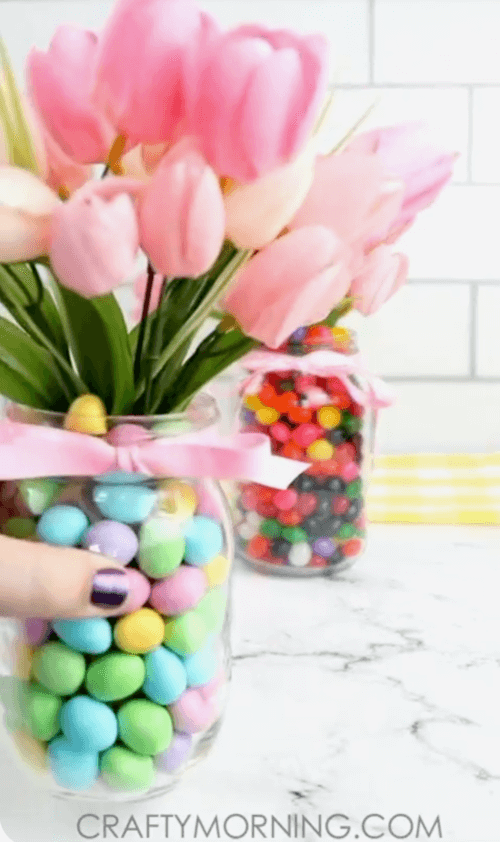 These are fun ideas for the Easter season.
You can fill the jars with speckled eggs, jelly beans, or any colorful candy that works for you.
Then you can place some fake tulips in them to add some pastel color.
14. Individual egg nest table centerpiece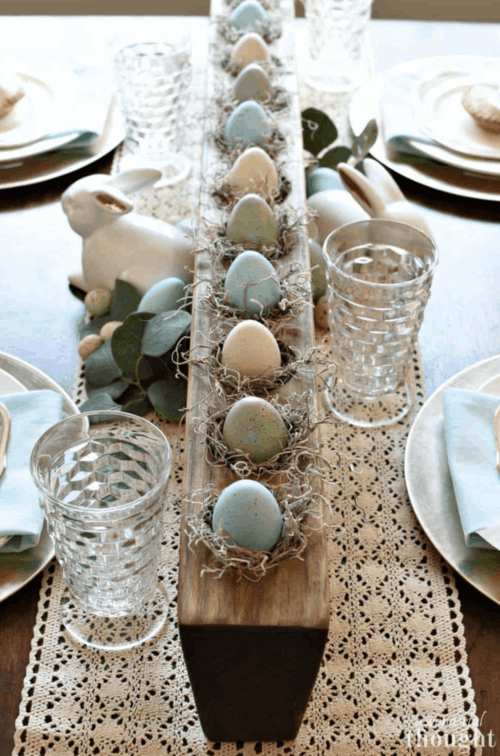 This is an easy project that you can do at home.
Firstly, you buy a wooden block and drill holes through the top.
Then you fill the top of the holes with straw or sticks to make nests, and lastly, you can place eggs on top of them to mimic a nest.
15. Tinted vases and greenery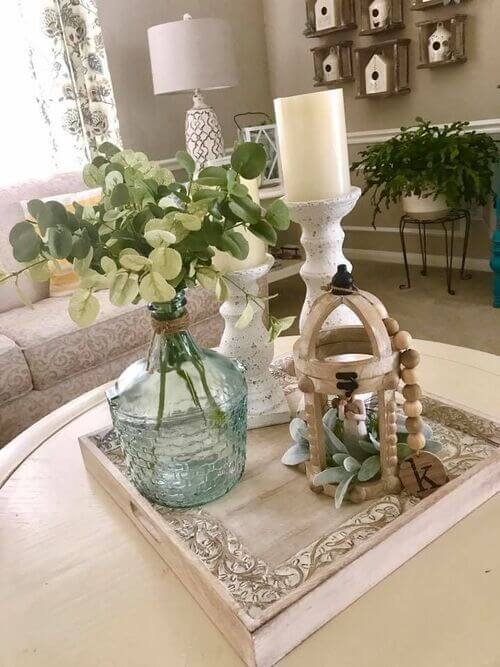 If you want to acknowledge the spring season, you can always find some colored vases and fill them with flowers.
You can also use unique centerpieces like wooden birdcages, lanterns, and domes and fill them with fake plants.
16. Bright flowers, colored eggs, and fun mugs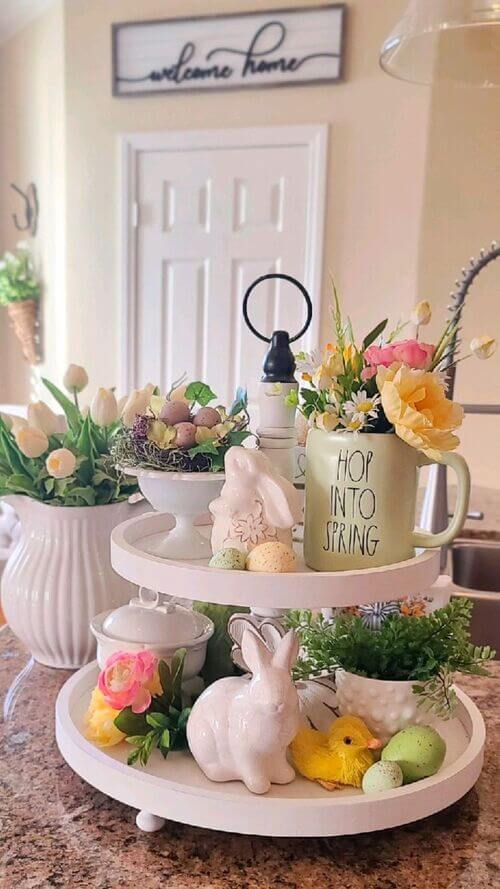 This idea is for all homeowners who like to make a statement.
The unique mug shows the spring season that is approaching.
Fake flowers can be placed into mugs and ceramics. You can even add little rabbits to the centerpiece.
17. Bird's nest filled with eggs and fake flowers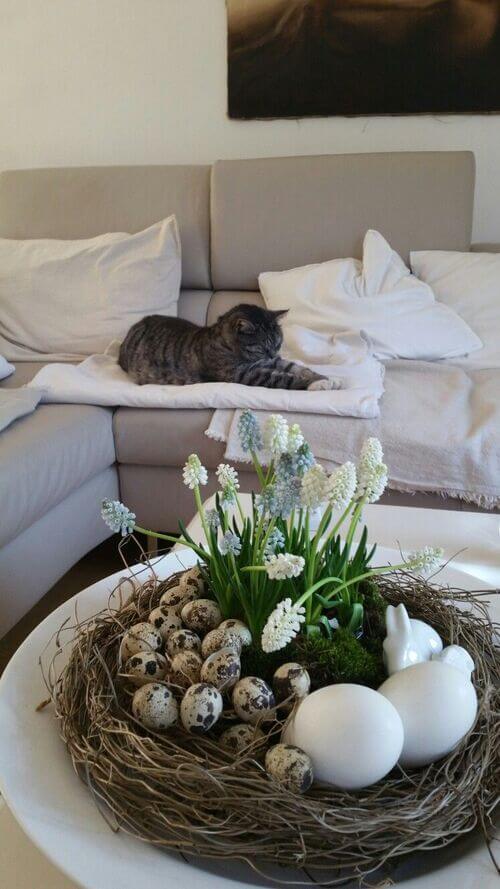 With this idea, you can buy a bird's nest and fill it with fake flowers and some eggs.
It's an easy and inexpensive way to decorate your home.
18. A wooden bowl filled with colored eggs and ceramic bunnies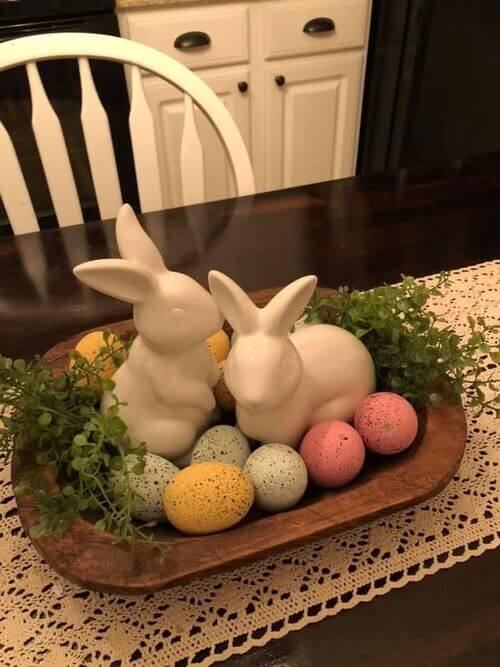 These wooden dough bowls are great for any household due to their multipurpose use.
You can fill them with pastel-colored eggs and ceramic rabbits to bring in the Easter spirit.
19. A circular tray with clay pearls, a bunny, and ceramic eggs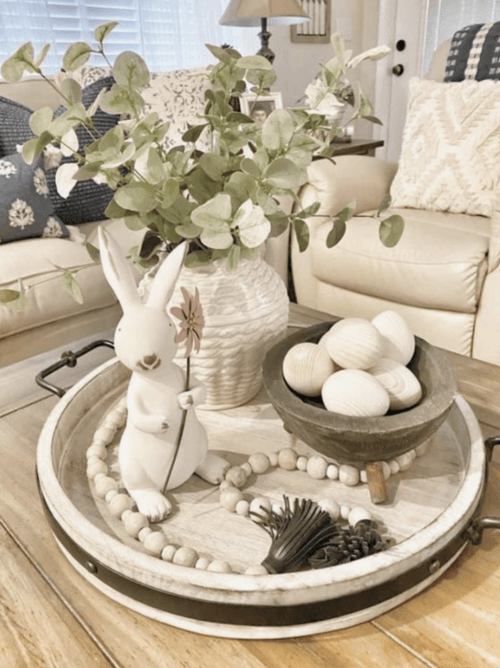 This centerpiece focuses on neutral colors. It ties in nicely with any home decor.
You can find ceramic eggs online that you can use every year.
The rabbits can also be saved and used as decor year-round.
20. Home sweet home ceramic pots and custom plates
Ceramic pots and plates are a cute addition to any table.
You can add some flowers and a rabbit cushion with a bright pattern.
It adds a homey atmosphere to any place.
21. Patterned ceramic bunny and jug filled with lavender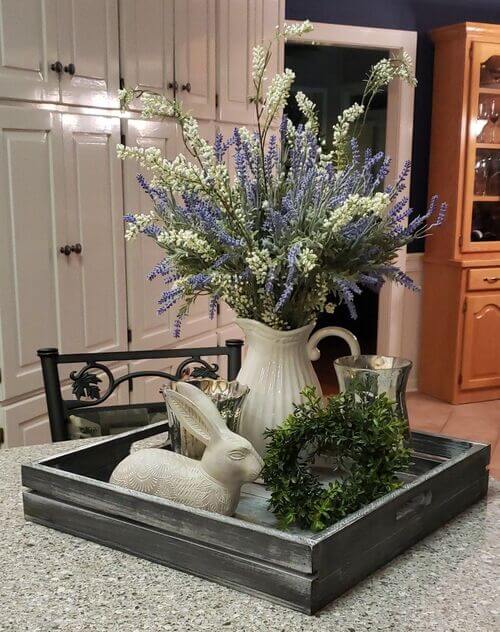 Lavender can make anything look better, and it's just a plus that it has a wonderful smell.
If you pair the bright purple with the white ceramic it creates a balance with the colors.
This is a simple idea that works well.
22. Straw, eggs, and moss glass fillers with small bunnies
Fill the glass with some straw to symbolize a bird's nest; on top of that, you can add eggs and fake moss.
You can then add a bunny figure on top. This is an interesting way to make centerpieces due to the different components.
23. A wooden bunny figure and eggs filled into a glass jar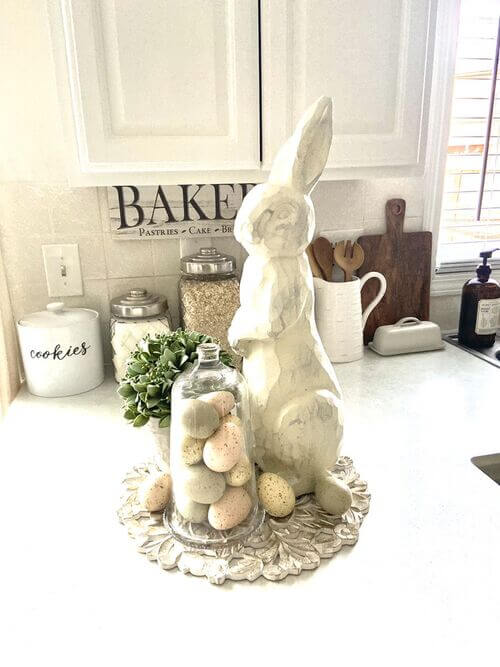 One unique way to bring in the easter spirit is with wooden bunny sculptures.
It's an idea that isn't used often and is minimalistic.
You can also fill a jar with some small eggs.
24. Fake cherry blossom branches and colored eggs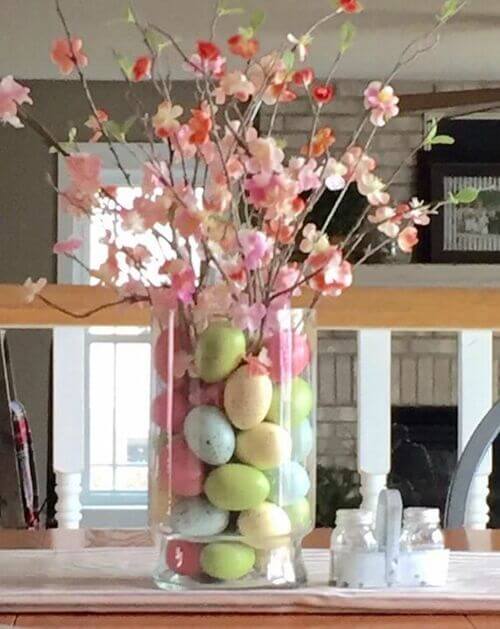 This idea is just for you if you want a bright way to bring in Easter.
To fill a glass jar, you can get fake cherry blossom branches and pastel-colored eggs.
25. Clay pearls, ceramic birds, and tulips in a jug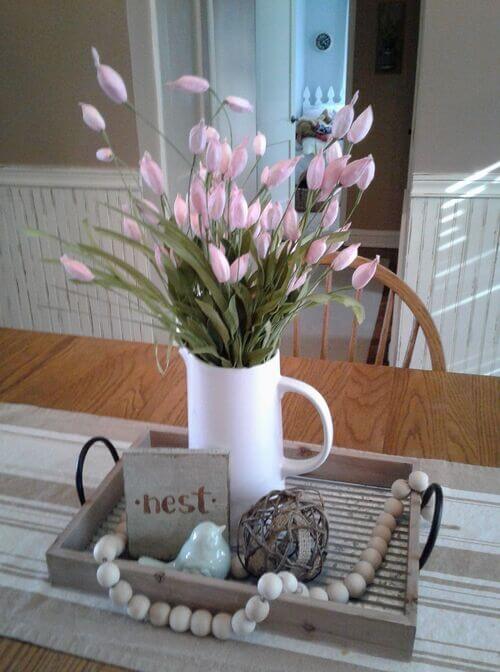 This cute idea keeps things simple.
You have a ceramic bird that can add color, a bundle of tulips, and some wooden spheres.
This centerpiece isn't too bright but gives your table a home-like feel.
26. Sugar and cream pots wrapped in pink ribbons and flour jar filled with pink tulips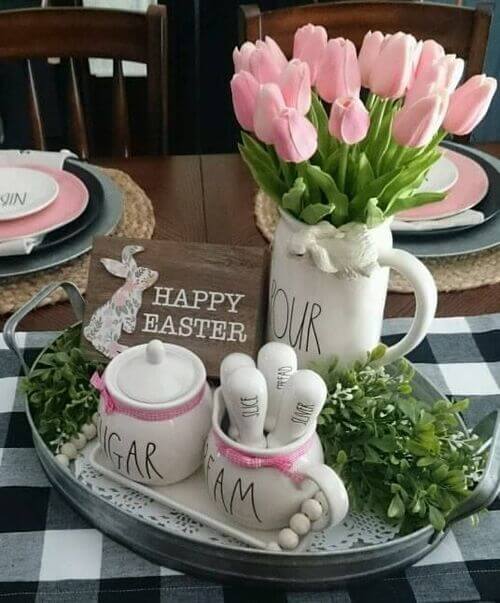 This great idea allows you to use household items like sugar and cream pots and wrap them in pink ribbons to add a fun pop of color.
You can add some fake plants and place them all in a tray with some pink tulips
27. Giant eggs in a bird's nest with white ceramics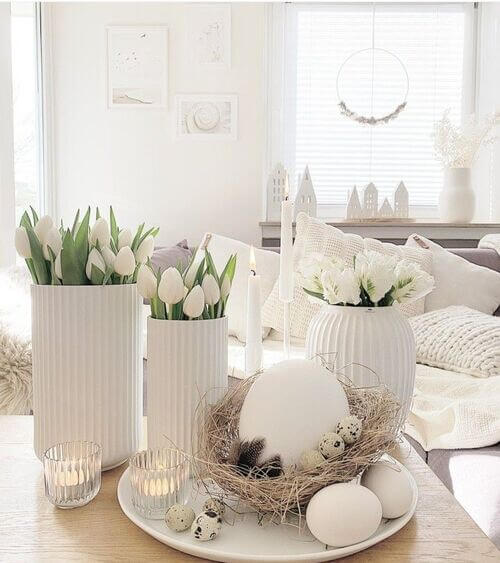 This is a unique way to decorate the table.
You can use hay to make a makeshift bird's nest and then place giant eggs around it or in it to mimic a real bird's nest.
You can then add candles and some white tulips to liven things up.
28. Ceramic eggs and greenery on a silver platter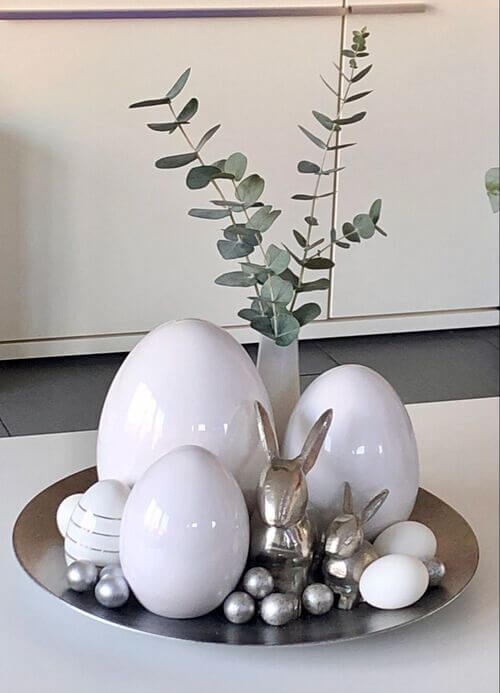 This sleek approach allows you to keep your house bright.
The use of silver and white centerpieces are fantastic since they don't need a lot of objects to stand out.
Adding a little bit of greenery could go a long way.
29. Tulips and chicken wire bowl filled with white ceramic spheres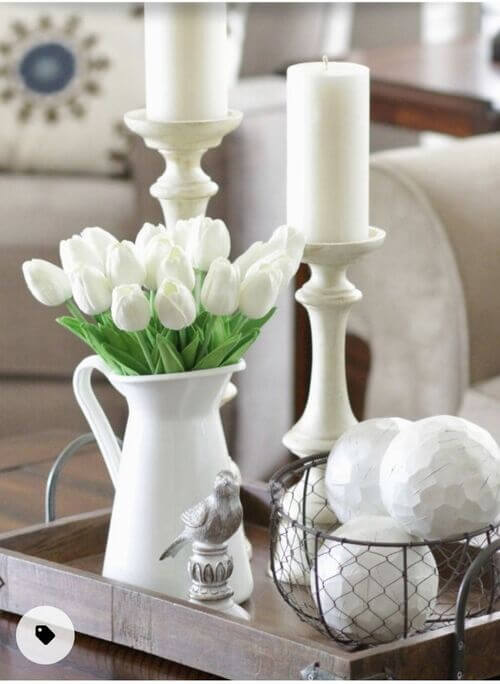 This clean approach makes the house feel brighter and fresh for spring.
It lets you incorporate a minimalistic approach while incorporating the Easter season.
Tulips are the best flowers to use for Easter.
Getting ready with Easter centerpieces
So as we have seen from the above ideas, you don't need to go out of your way to create special centerpieces for Easter.
You can use the same objects, especially ceramics, and eggs.
Considering the few ideas we have listed, you have many options, no matter what you try to achieve.
This post showed you the best easter table centerpieces.
You may also like: