This post shows you the best easy table centerpiece ideas.
Whether you want to fill up a space or just bring some color into your home, here are some excellent centerpiece ideas.
You don't need to use giant decor or flashy pieces to tie the room together.
You can easily make your house a home with some budget-friendly pieces of decor.
The most important thing to remember is that less is more.
You can create a gorgeous atmosphere with candles, potted plants, or even handmade pottery.
You don't want your table to have twenty different decor pieces that seem messy and don't work together.
A few items that tie the room together can make a big difference.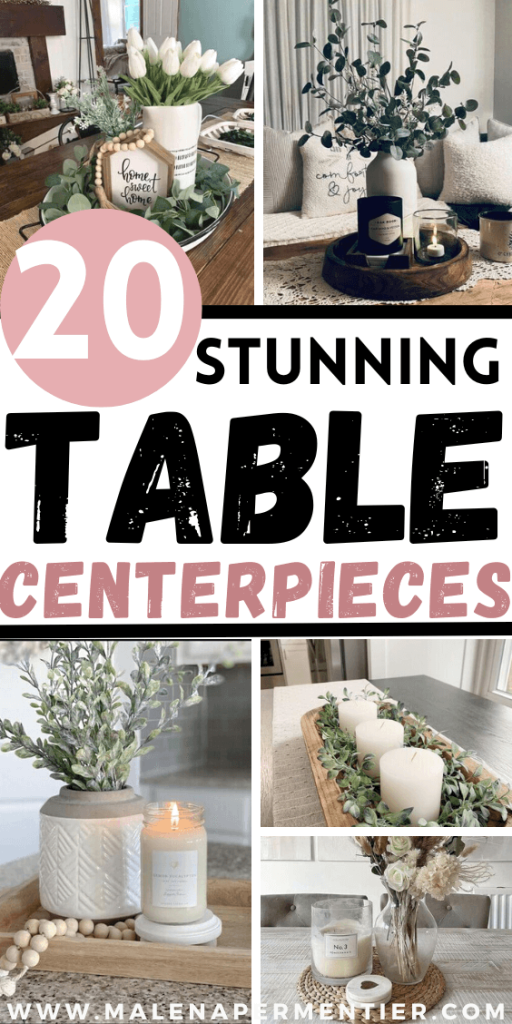 What items can you use as centerpiece decor?
Deciding what to use as centerpieces can be daunting.
Do you want bold and flashy? Do you want neutral colors? How much is too much?
The above questions are some of the most common questions that filter through your mind while trying to decorate your home.
The answer is.
If you want bold, then use one bold color as an accent to stand out. Neutrals pair well with greenery.
Examples of great centerpiece decor include; candles, vases, flowers, vintage objects, and coffee table books
Easy table centerpiece ideas
We know filtering through the countless Pinterest ideas can be tough, so we have created a list of fun centerpiece ideas for you.
Try them out, or add your twist to these cute decor pieces.
1. Cozy wood trays, candles, and eucalyptus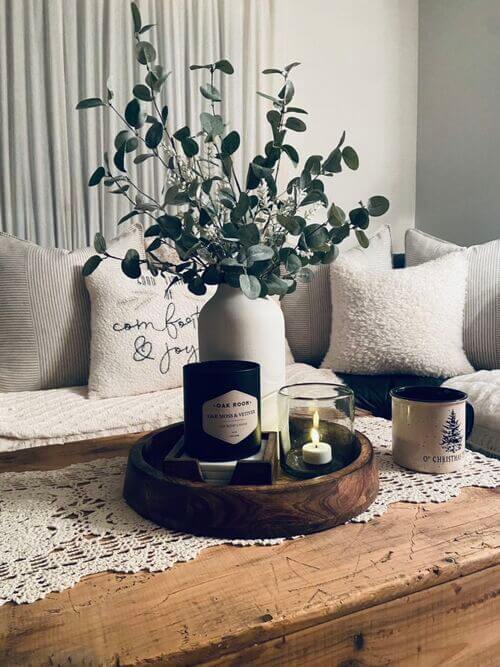 This centerpiece has dark accents of wood and glass jars which can create a warm and earthy atmosphere in a bright living room.
Since this piece balances the dark centerpiece and the bright furniture, you can add some lively plants to tie the tones together.
2. Vintage flower holder filled with greenery and coffee table books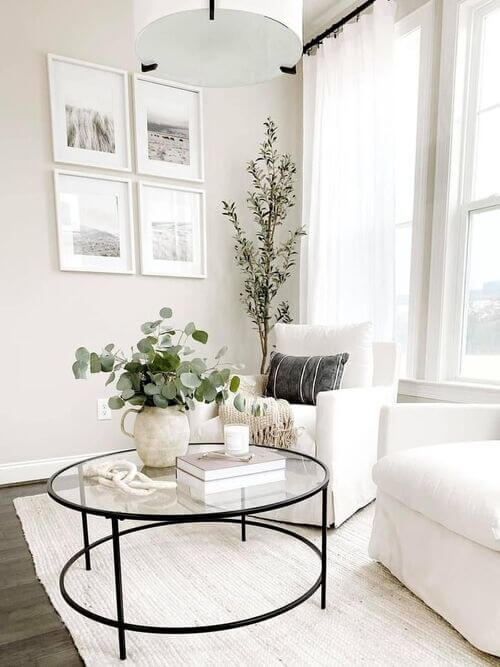 These simple decor pieces fill the whole table without making it overbearing.
You can add a picture frame and a nice big vase filled with flowers to fill up this glass table.
You can also add a guest book or a simple piece of literature you enjoy.
3. Candles, wreaths, and vintage decor pieces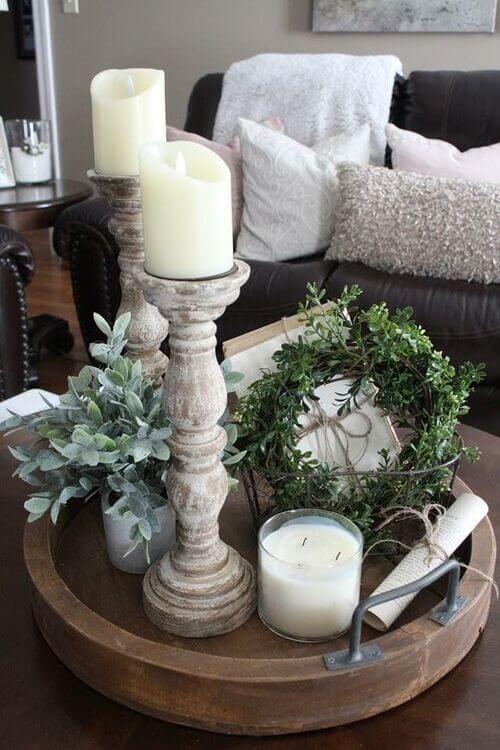 A centerpiece filled with heartfelt goodies.
This centerpiece decor creates a memory box filled with candles, bright green wreaths, as well as notes and papers with personalized letters.
It is a great idea to show your personality and keep notes from your guests together in one place. You can even swap out the letters for a guest book.
4. Wood beads, candles, and greenery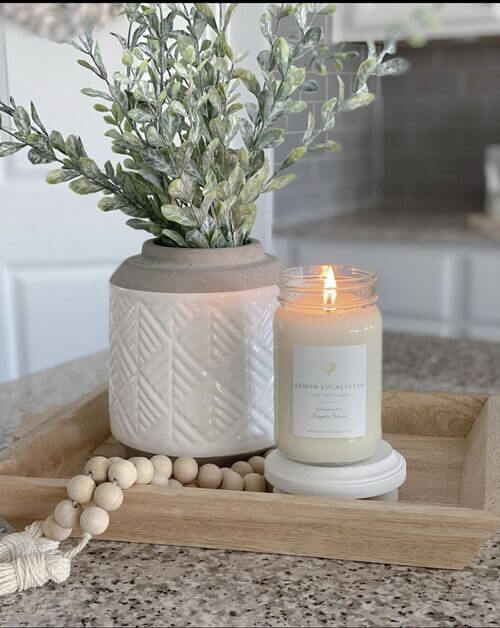 A simple wood box tray can pair well with wood beads and greenery.
You can use this idea in the living room or the kitchen.
You can add some coasters, candles, or even kitchen towels for easy access.
5. Pampas grass and rose bunches paired with candles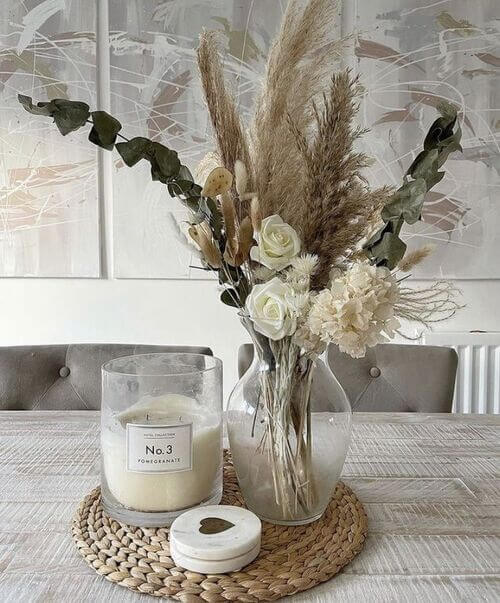 This neutral centerpiece serves as a perfect table filler.
Pampas grass is lovely for table decor and pairs well with white roses.
Since you can use fake plants, keeping this decor year-round is easier.
Since this decor is simple and neutral, you can pair it with candles that give a warm and welcoming fragrance, such as vanilla or sandalwood.
6. Greenery and candle table runner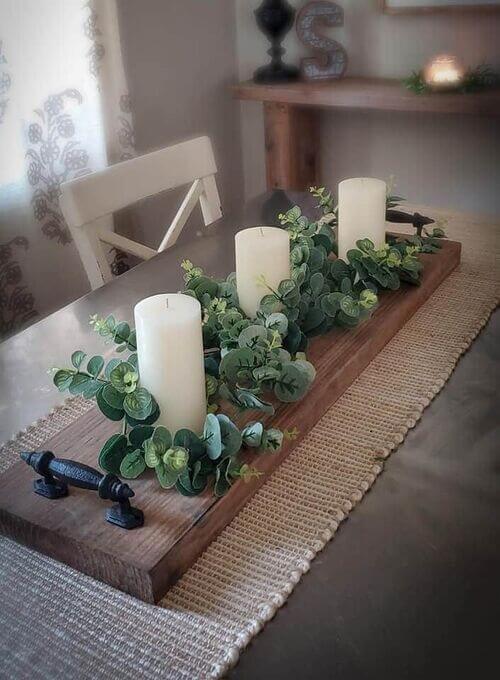 A table runner made with a wooden tray and greenery can fill the middle of the dining table without taking up too much space.
This centerpiece is simple and pairs well with some candles to create a warm atmosphere at dinner.
7. Coasters, candles, and potted plant trays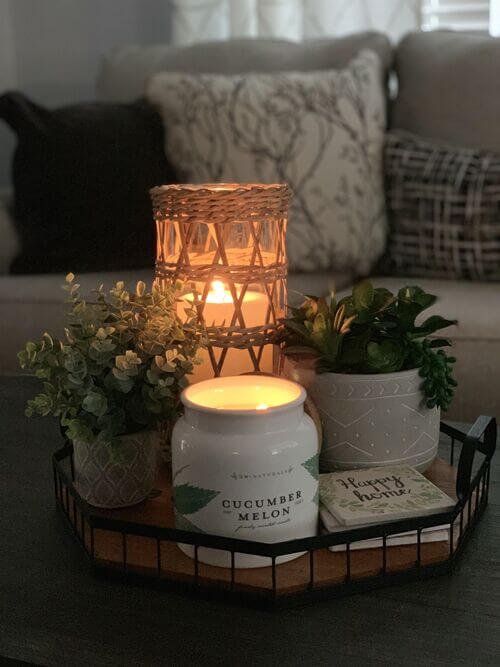 This minimalistic tray is small and can easily place either in the kitchen or living room.
This can keep a small plant, coasters, and a candle. It is nothing too extreme, but it holds all the necessary basics.
If you like minimalism or don't want something too flashy, this is right for you.
8. Woven trays with ceramics, books, and flowers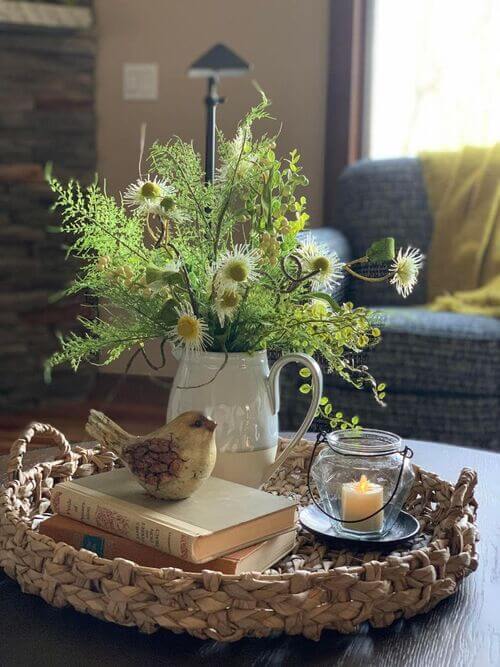 Woven trays are gorgeous and are the perfect addition to a coffee table.
Using some books like poetry or mythology to fill up the tray can make a difference.
You can also add a ceramic piece like a bird, rabbit, or whatever you feel resonates with you most.
This display is light and fills up the space without being overbearing.
9. Quotes, tulips, and vintage trays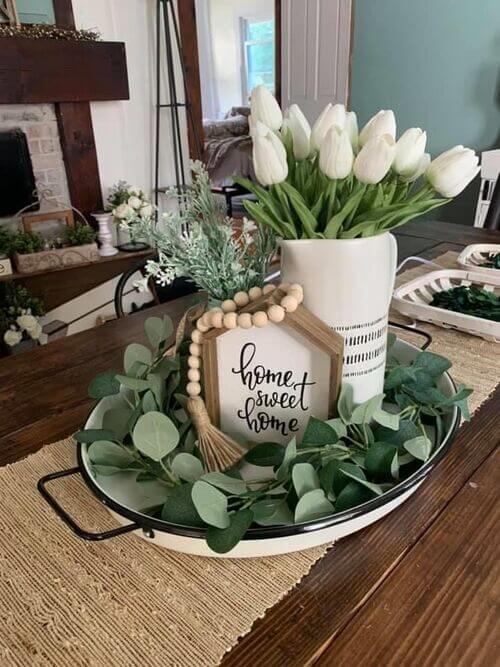 Tulips are a classic addition to any table.
They are gorgeous and make any home feel clean and fresh.
The vintage tray makes the piece feel barn-like, and paired with the green leaves, it makes the centerpiece feel organic.
Adding a small decor piece, like a simple quote, can make any house feel like a home.
10. Lavender, candles, and wood trays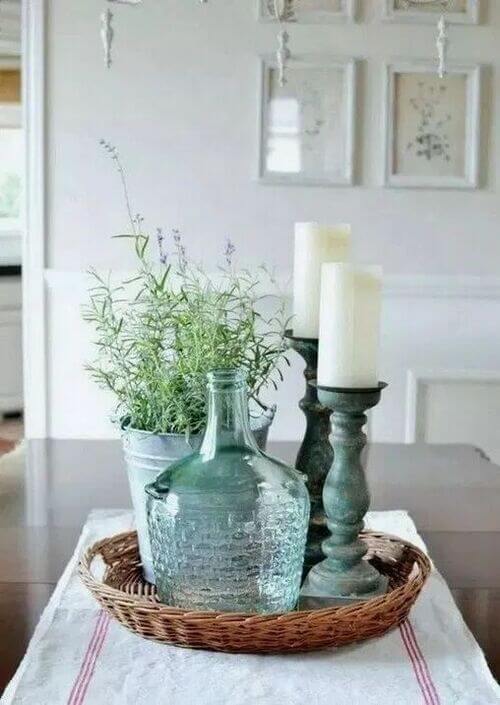 This simple idea is classy and minimalistic.
Create these pieces using a steel bucket and fill it with lavender, adding stained glass vases and vintage candle holders into a woven wooden tray.
It keeps things light while letting the lavender make the atmosphere more relaxing.
11. Bread bowls, candles, and gorgeous leaves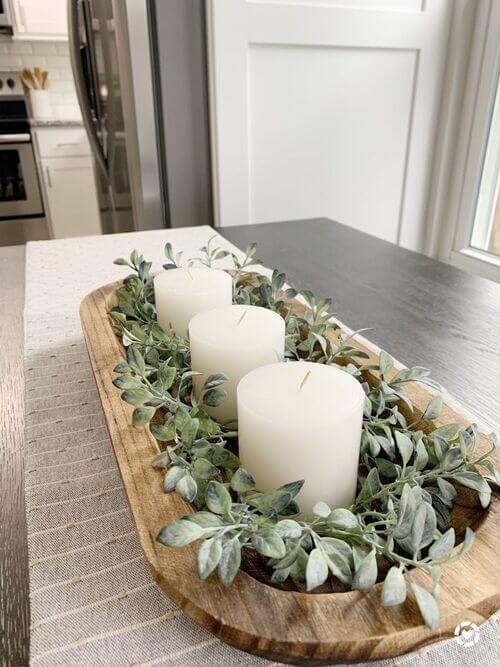 Bread bowls have made their way into becoming essential for every homeowner should have, and it can be horrible trying to find a place for all of them.
You can easily use them as centerpieces with leaves and candles.
It is simple and effective to minimalize the amount of open space on tables.
12. Beach sand and seashell candle jars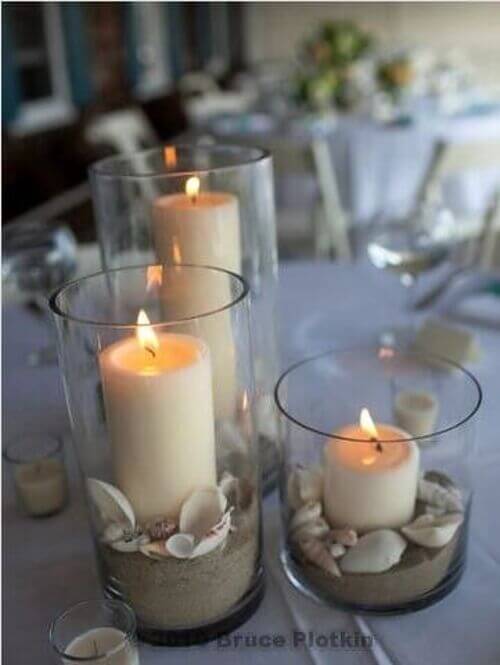 Try this unique idea if you love the beach.
If you've recently gone on vacation and taken some sand and seashells for keepsakes, you can easily recreate this piece.
This simple idea isn't used often. While this idea can seem messy, it can be great for summer centerpieces.
13. Ceramic cookie jars and salt and pepper shakers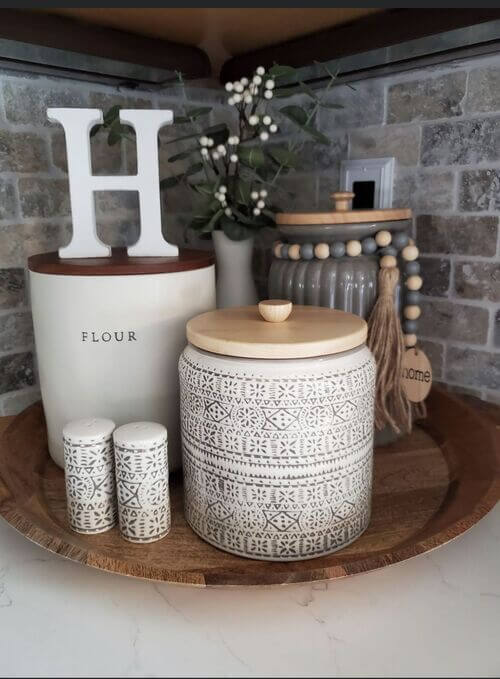 This is the way to go if you've been looking for something to fill a little kitchen corner.
Make use of ceramic jars with intricate designs to brighten up the kitchen.
Add cookie jars, salt and pepper shakers, flour, sugar, and coffee and tea jars.
This can be a multi-functional coffee nook or a way to fill up an awkward corner in the kitchen.
14. Ceramic jugs, fake moss balls, and iron structures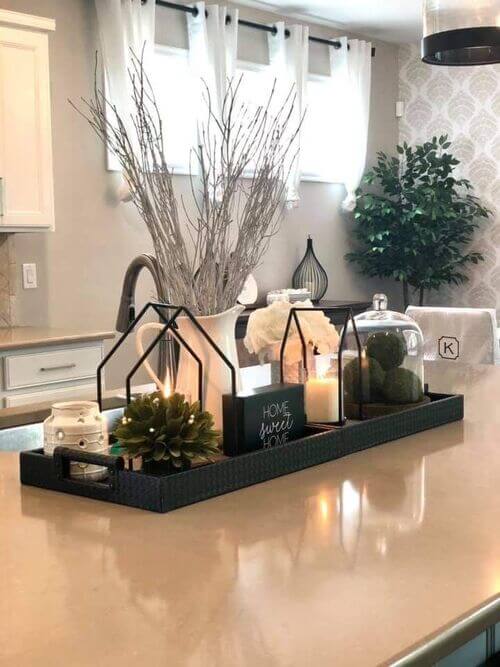 Modern black and white kitchen centerpieces are getting increasingly popular.
The iron structures are a fun way to spice up the usual candle holders, and the fake moss balls are an intriguing way to use greenery in the kitchen without being messy.
Keep this piece modern by adding some grey branches instead of bright flowers.
15. Green and white dining table centerpiece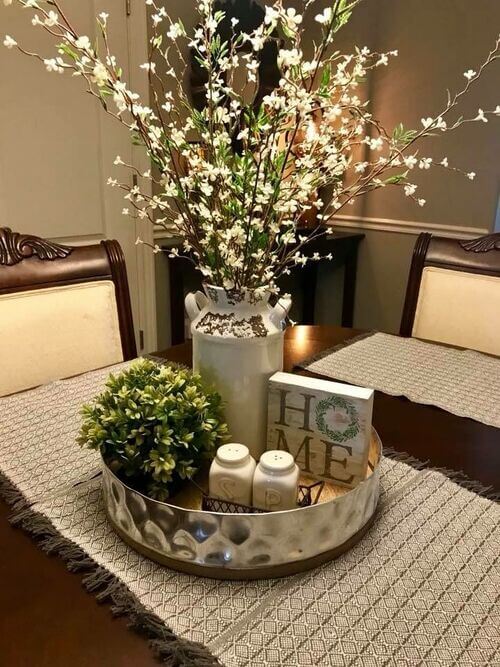 This dining room table adds a nice touch to keep your salt and pepper all together at the dining table.
You can add vintage decor, such as a wooden block with painted quotes to make this piece more rustic.
Not only is this decorative, but also practical to keep condiments together in one place.
16. White and brown centerpiece with green accents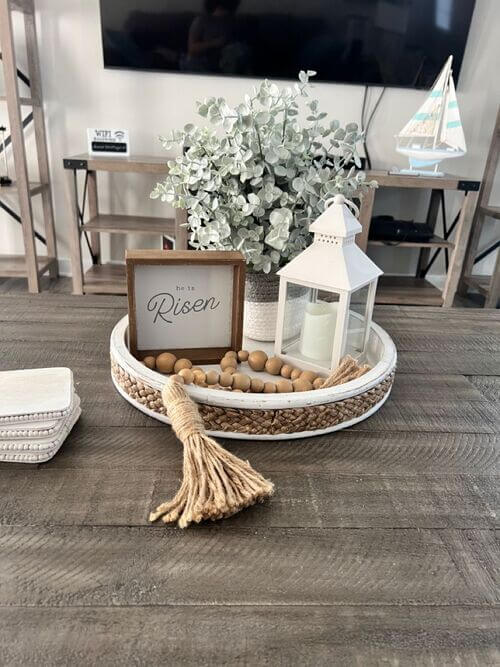 While this piece can seem a little busy to some minimalists, it offers a great centerpiece that ties it together without being overbearing.
Add a picture frame, wooden beads, and a white lantern with a candle inside.
These can all be placed into the wood tray with greenery to achieve this piece.
You can place a quote or a loving family photo into the picture frame to give it a family-orientated aesthetic.
17. Ceramic jugs paired with vintage houses
This kitchen display offers a way to set your salt, pepper, and toothpicks on the table without seeming out of place.
The vintage jugs are cute and add a unique way to use ceramics for flowers or greenery.
You can also add a candle to light and give the room a nice aromatic fragrance.
18. Ceramic spheres and greenery with blossom-filled jugs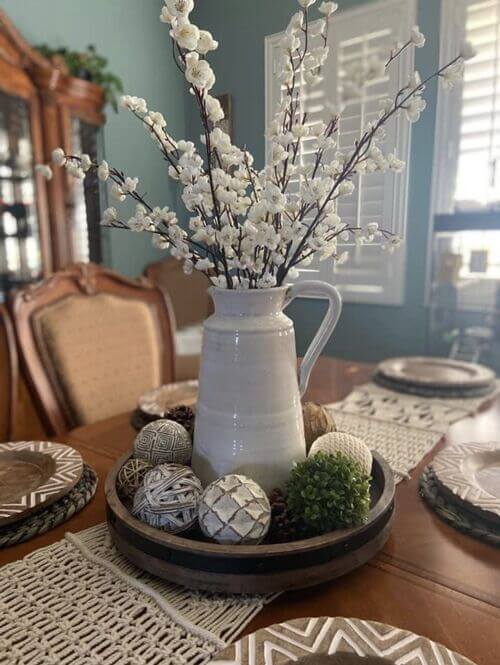 If you're looking for something to showcase the spring season coming into full bloom, I highly suggest trying this out.
The white blossoms are a gorgeous addition to the greenery and ceramic spheres.
Adding cherry blossoms or other flowers makes this centerpiece more lively.
19. Modern wood and iron trays paired with candle holders and fake greenery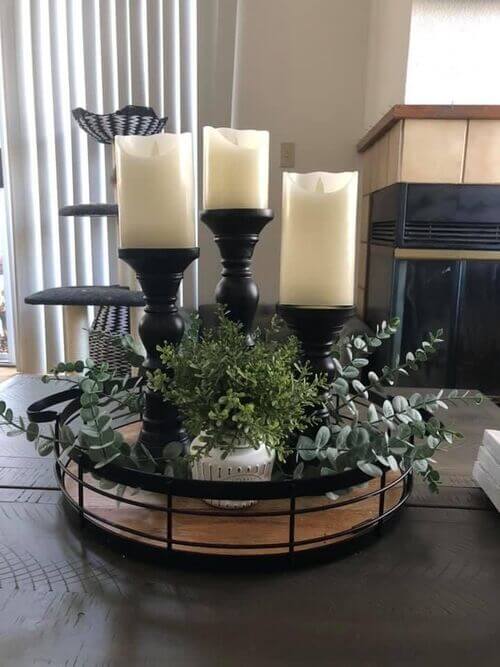 This might be just for you when looking for a more modern and sleek centerpiece.
The iron frame coated in black that was attached to the wood tray gave it a modern and colder approach.
Pairing that with the black candle holders will tie everything together, while adding some white candles and potted plants can brighten up the piece too.
20. Wood trays and ceramic decor pieces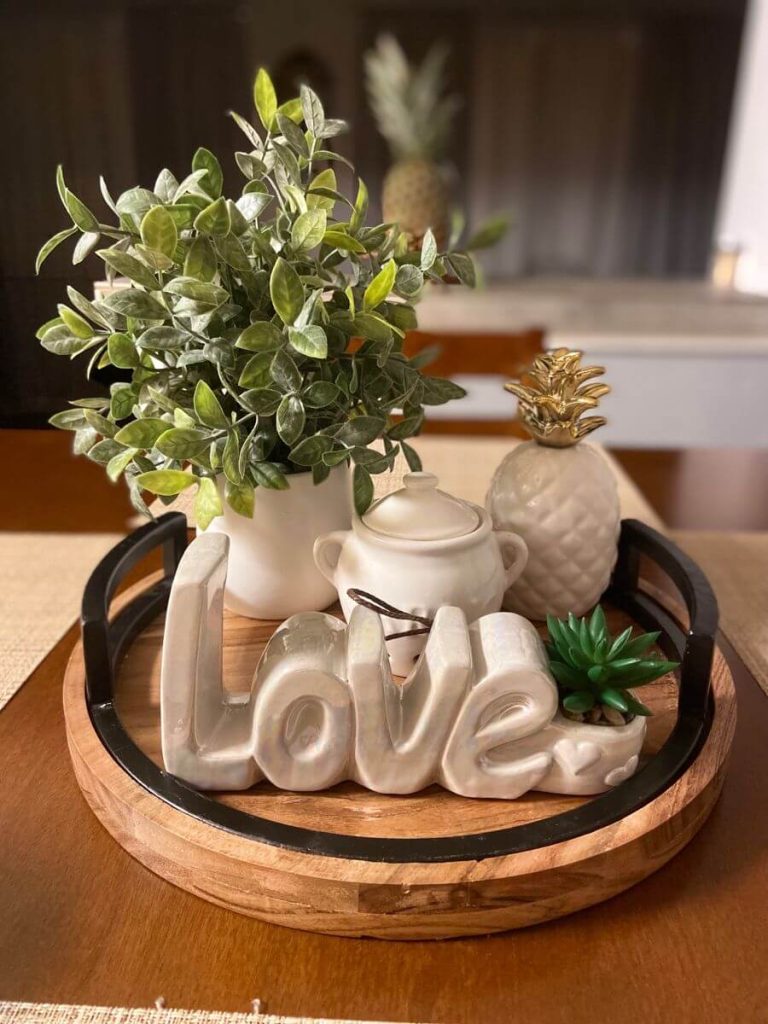 This cute centerpiece incorporates bright white ceramics and a gold accent from the small pineapple with the warm wooden color of the circular tray.
There are fake plants included in this centerpiece to bring a balance between brown and white.
Use a cute decor piece like the word "Love" or "Hope" to give this coffee table decor a unique perspective.
Make your house a home with centerpieces.
We all want our homes to be unique, especially when we have been working so hard to make them cozy.
So I'm sure the above-listed ideas can be just what you need to create the perfect centerpiece for your living room, dining room, or kitchen.
There are many ways to bring your own twist to things.
It all depends on you and your personal style.
The best part about these ideas is that they are extremely budget-friendly and fully customizable.
Why not try out these ideas and see how they fill up those random spaces in your home?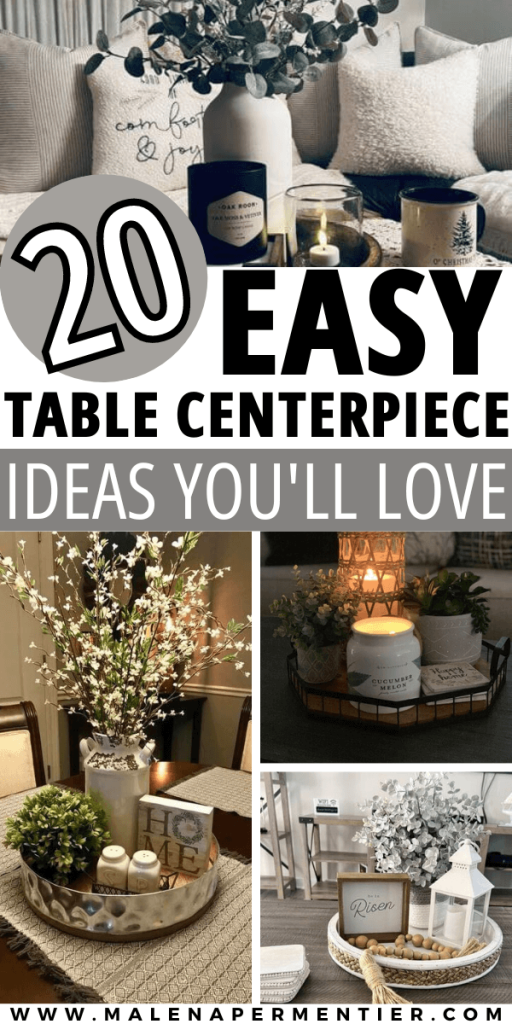 This post showed you the best table centerpiece ideas.
You may also like: