This post shows you the best coffee table decor ideas.
Coffee tables are the center of your living room – literally!
How we decorate our coffee tables matters and will pull our living room interior together if we do it right.
Your coffee table decor should be an extension of the ambiance in your living room. And what is the best way to do that? By mindfully picking decorative items you'll love for a long time.
Although your coffee table decor can change with the seasons, you also want to have several pieces that are evergreen.
Items like trays, vases, ornaments, and other cool accents will help pull your coffee table decor together.
This post will look at 27 examples of decorating coffee tables.
The best coffee table decor depends on your interior style and the type of coffee table you have.
So let's look at these incredible coffee table decor ideas to get inspired!
Best spring coffee table decor: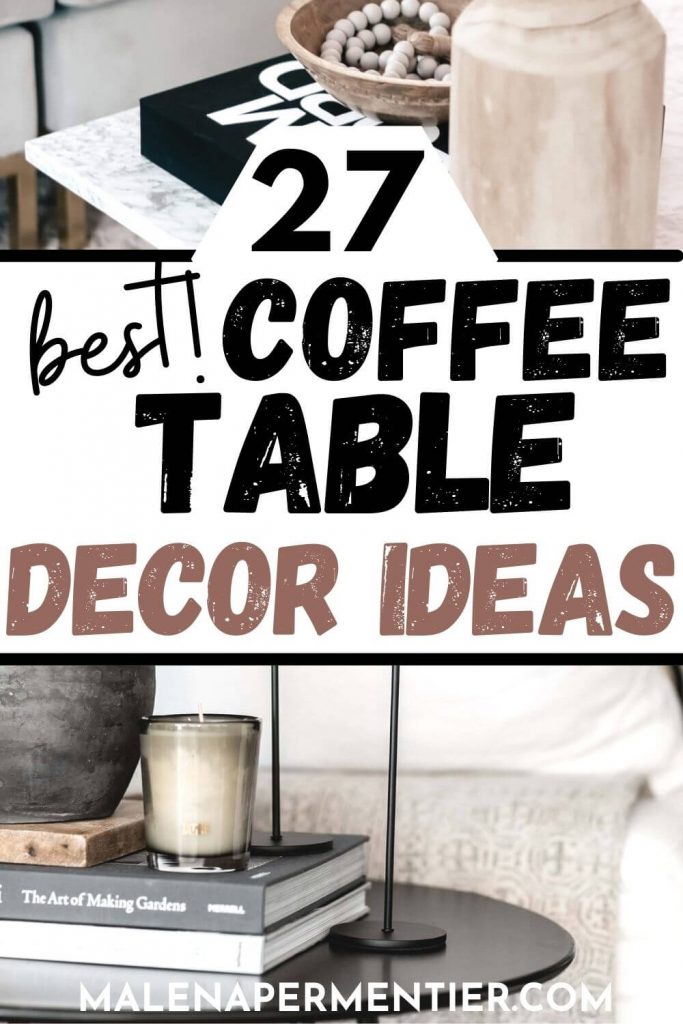 1. Modern coffee table decor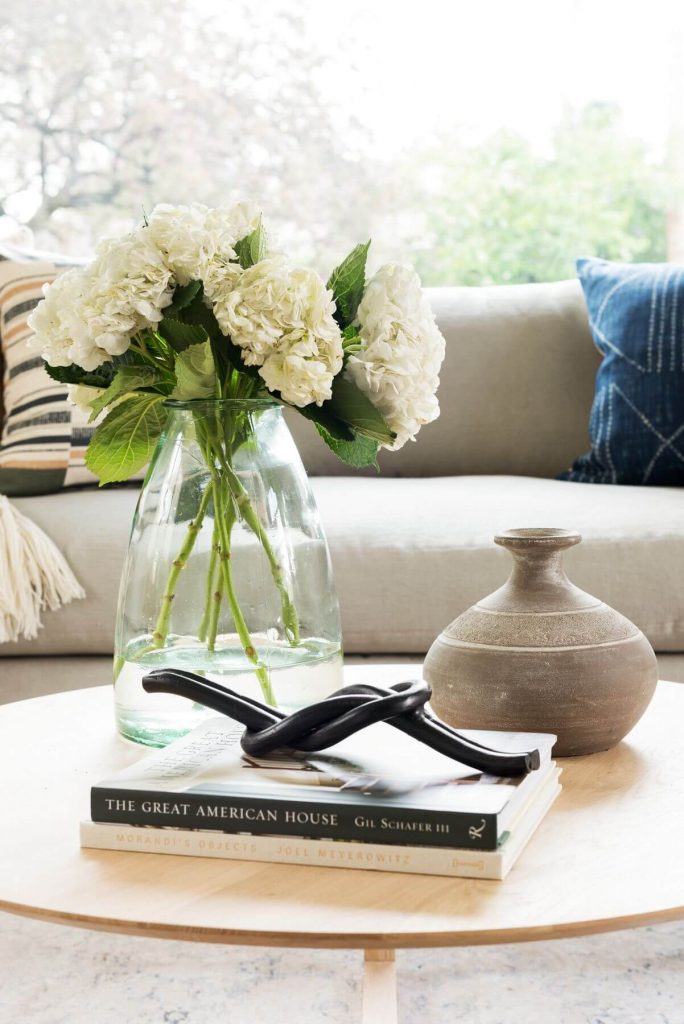 Create a modern coffee table decor with minimalist decorative ornaments, a simple flower bouquet, and an earthy-colored vintage vase.
Combining modern elements with flowers or greenery creates a warm and inviting living room.
The round wooden coffee table and modern decor create a good balance between warmth and minimalism.
2. Simple coffee table styling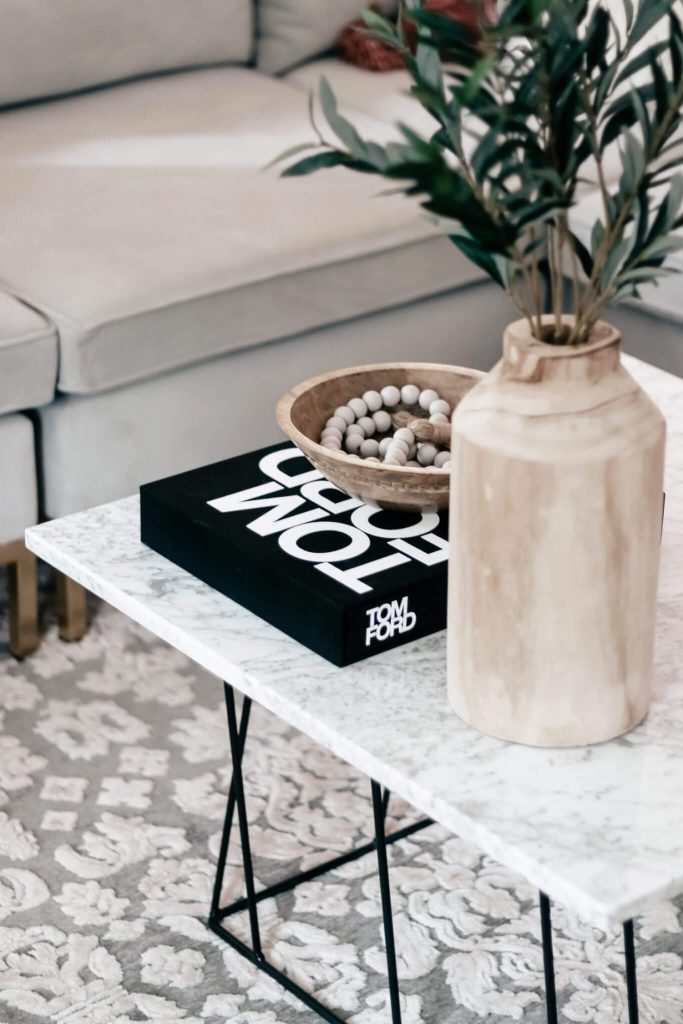 We don't have to overcomplicate coffee table styling!
A great-looking coffee table book, decorative accents like a wooden bowl, bead garland, and an oversized vase create that effortless yet coveted coffee table styling.
Create a simple coffee table styling with your favorite books and decorations.
3. Use a tray for easy coffee table styling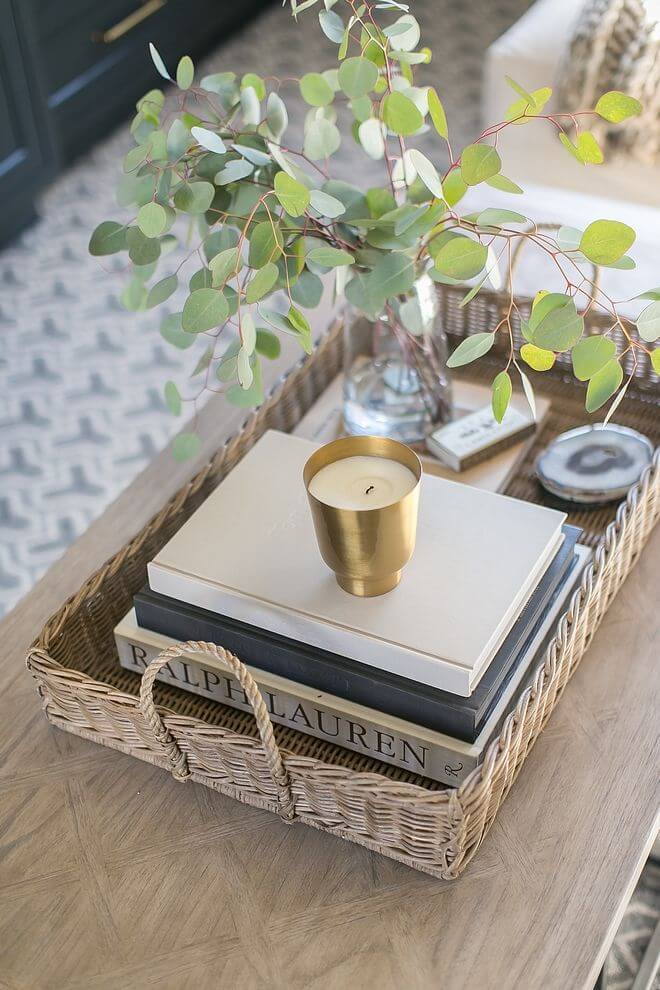 Trays are an excellent base for coffee table styling. They make your coffee table decor look put together with little effort.
A wicker or rattan tray is perfect for a farmhouse-style living room or a modern and minimalist room where you want to add warmth.
Decorate the coffee table tray with accessories like candles, ornaments, and stacked books.
4. Decorate your coffee table with a centerpiece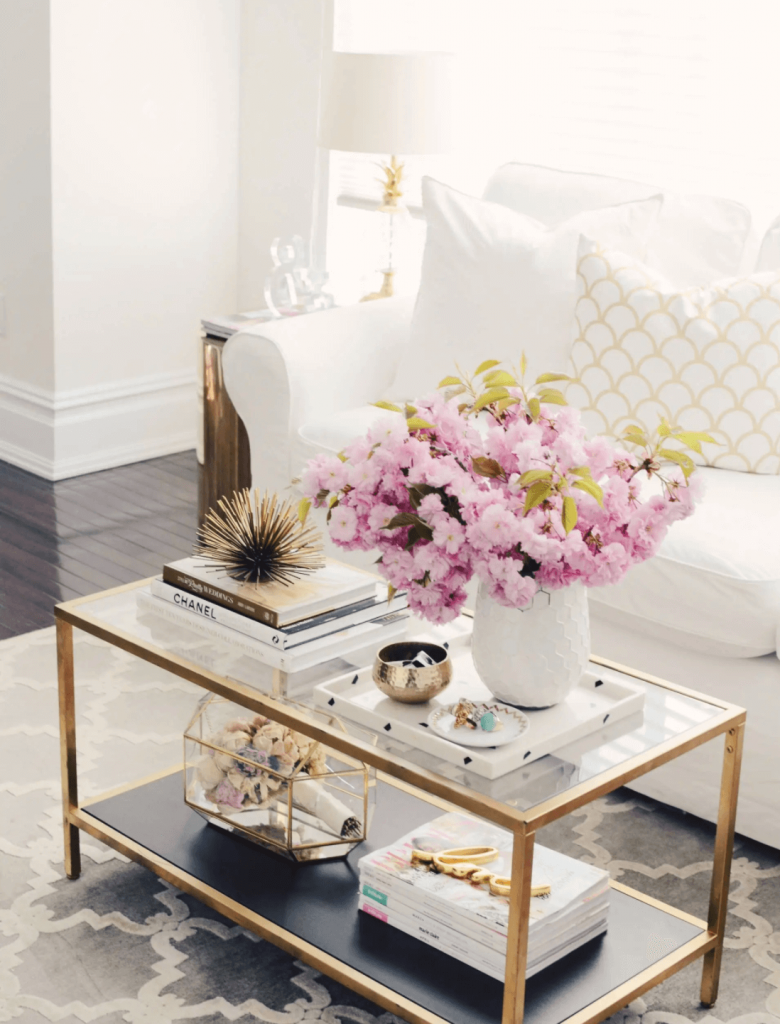 People find glass table decorating tricky, and I understand. Decorate a clear coffee table with larger centerpieces, as seen in the picture above.
Use a square tray to anchor your centerpiece, and decorate the other side of your coffee table with stacked books and a modern ornament.
You can use the bottom of a coffee table for stylish magazines and decorations that match the gold coffee table.
5. Candles and dark decorative accents
Add an exciting touch to your coffee table decor with a metal tray in contrasting colors.
This eclectic burgundy tray is a statement, so all you need is simple and dainty accessories.
Making coffee table accents look cohesive is by sticking to a color scheme.
You can be playful with that, but as you can see on this table, gold is one of the colors in the candle holders, vase, and tray.
6. Stack books with a ceramic tray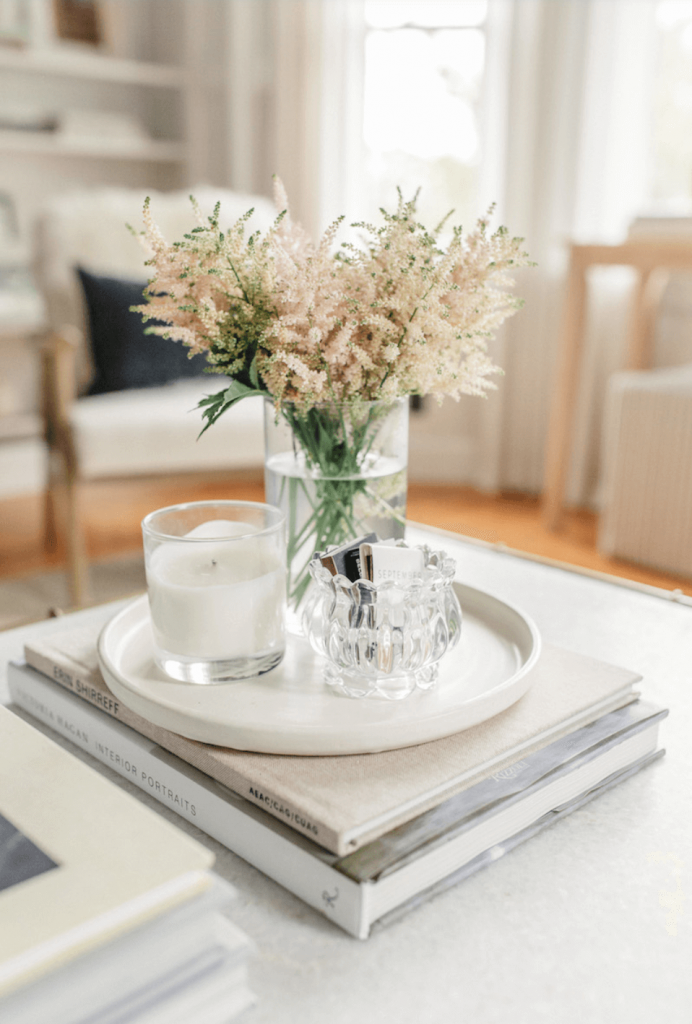 A simple yet chic coffee table styling idea
is stacking neutral-colored books with a small ceramic tray and accessories.
This formula is fail-proof, super easy to recreate, and makes the top of your coffee table look effortlessly elegant.
7. Faux eucalyptus and neutral accents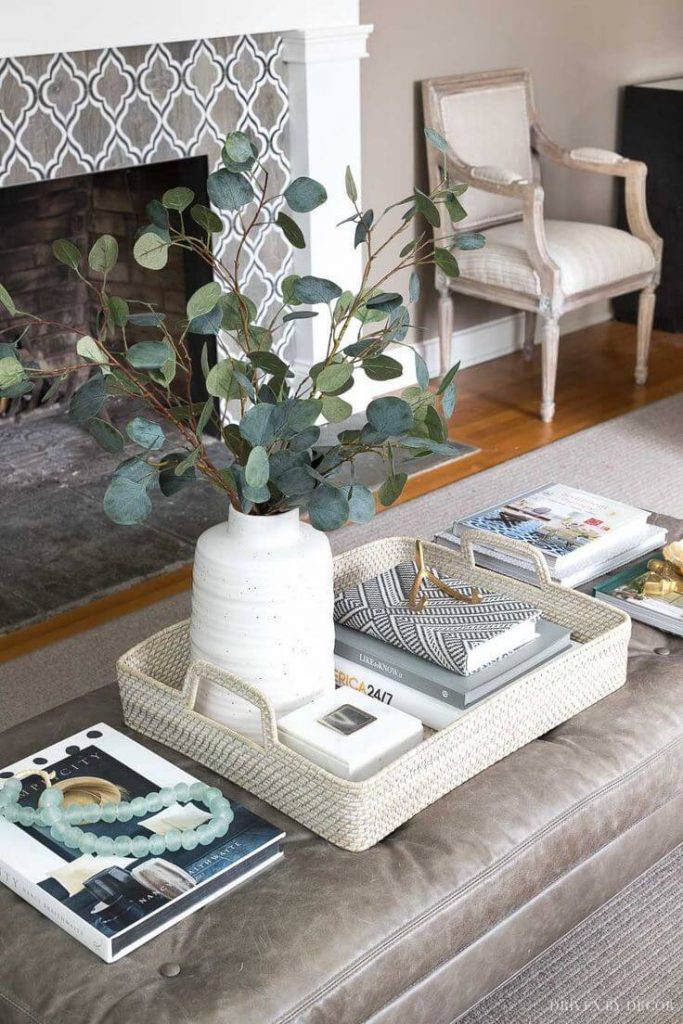 Besides coffee tables, many people use an ottoman or ottoman bench instead of a coffee table.
The vertical shape of this ottoman allows you more space for decor.
Designer coffee table books, a woven tray, eucalyptus stems in an aged ceramic vase, and green accents are the perfect rustic combo in a living room with a farmhouse ambiance.
8. Style a glass coffee table with a centerpiece and tray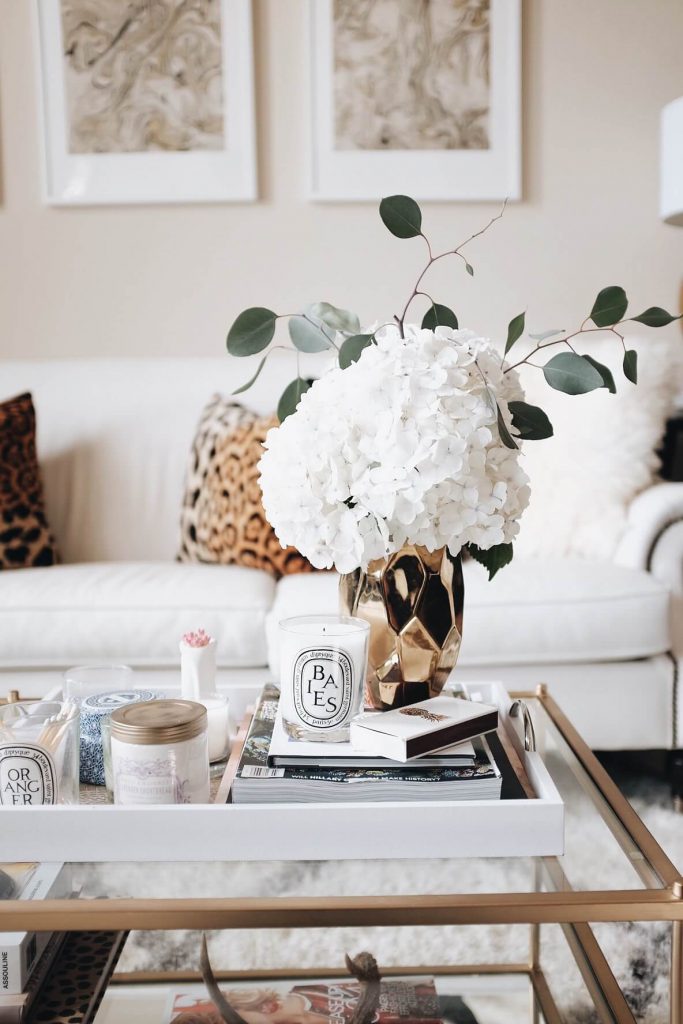 A great way to spice up glass coffee table decor is with a tray and centerpiece.
A tall decorative accent like this gold geometric vase with white flowers and eucalyptus stems pulls the table decor together.
You can add other decorative accents on the tray, like designer candles, magazines, and decorative jars.
9. Use varying heights for a put-together coffee table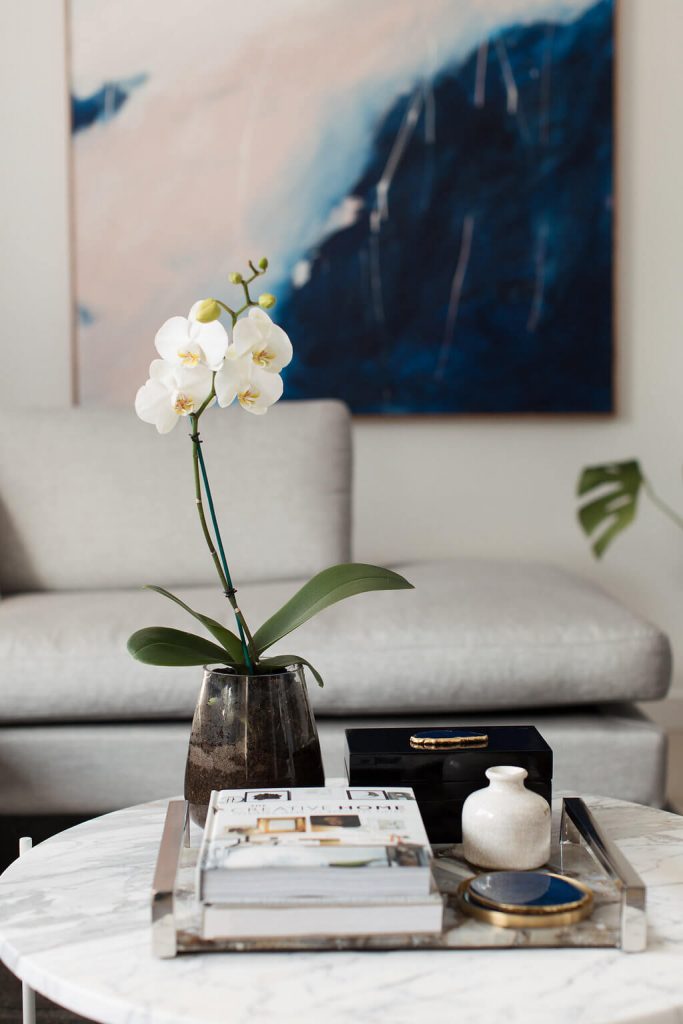 Style a marble tray with metal handles, an elegant orchid, monochrome coffee table books, and items like a jewel box and hourglass.
The varying heights make this coffee table decor look elegant yet effortless.
Tip: Don't limit yourself to decorative coffee table trays. Vanity trays often look equally fabulous!
10. Decorate a small side table with minimalist decor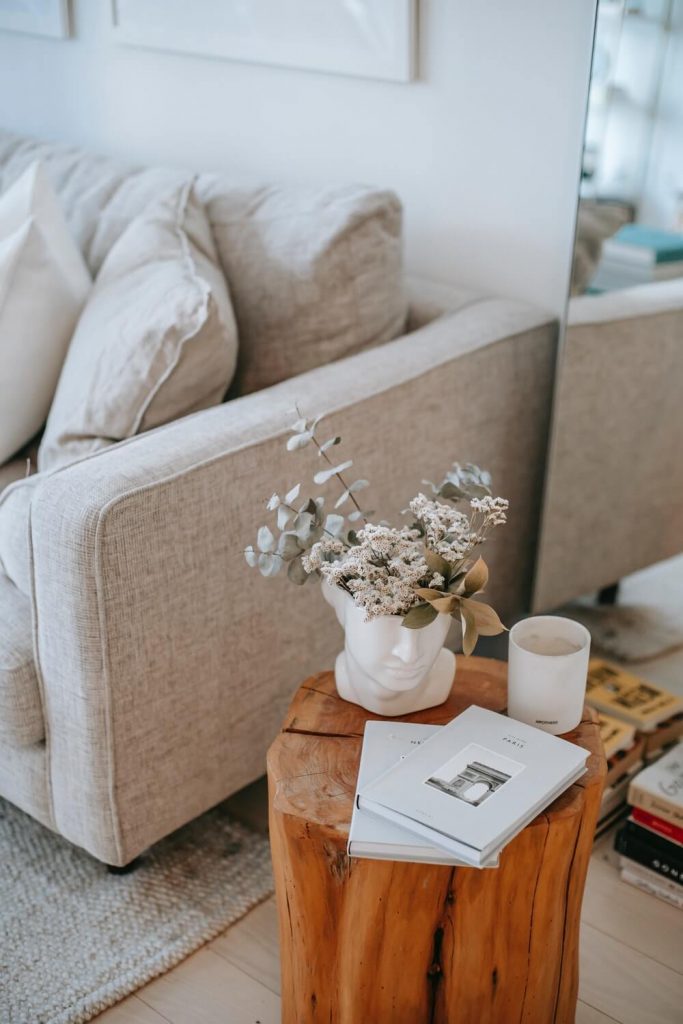 People who live in small apartments sometimes use a small side table instead of a coffee table.
It saves a ton of space, yet you can still decorate a side table as you would for your coffee table.
Consider smaller coffee table books and a cute decorative vase with (faux) flowers.
This round, rustic natural wood side table adds character and charm to a neutral living room.
11. Add a touch of farmhouse with wooden bead garland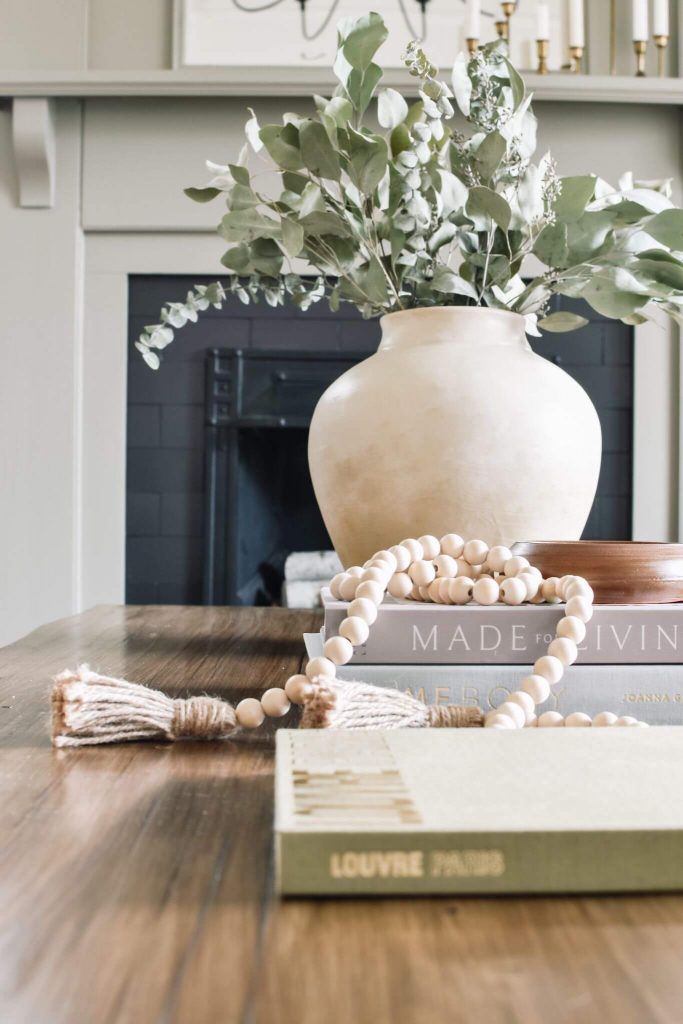 A wooden bead garland and rustic aged vases are two powerful farmhouse coffee table decorations that always look good.
Stack your decor on books in earthy and neutral tones for effortless shabby-chic coffee table styling.
12. Decorate a glass coffee table with books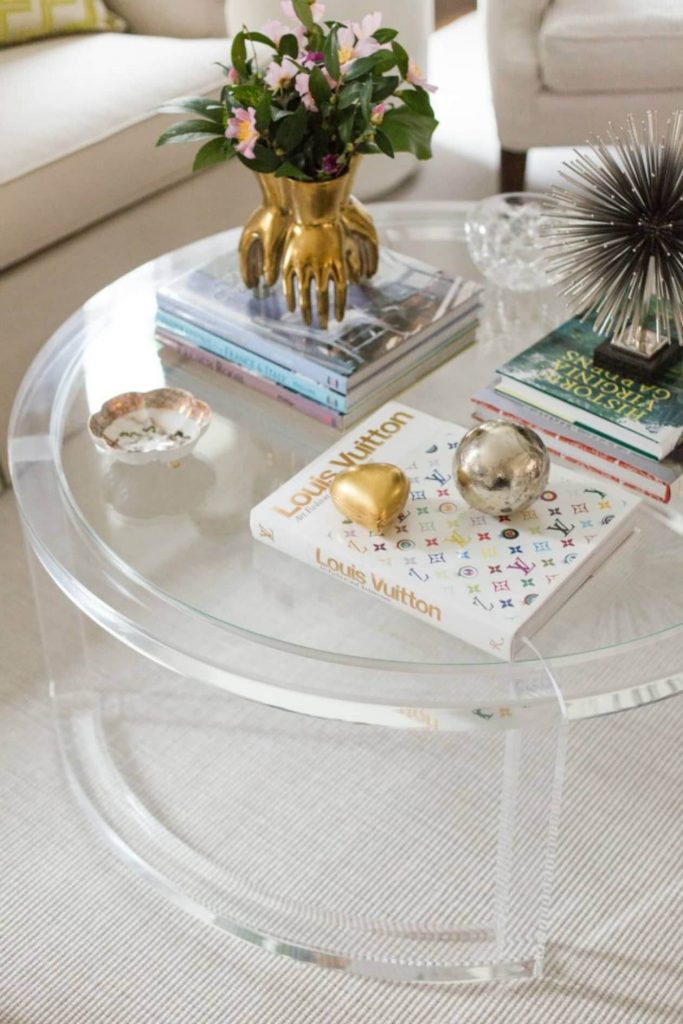 Glass or acrylic coffee tables are excellent in smaller spaces.
They don't take up as much optical space yet perfectly fulfill their purpose as a coffee table.
Books, playful ornaments, and decorative accents in complementing colors are a great way to style a clear table.
13. Natural elements on a wooden farmhouse coffee table
An excellent way to style neutral living rooms is to layer texture upon texture!
The coffee table in this room is an excellent example of decorating with only neutral accessories yet still making the room look warm and multidimensional.
Neutral accessories like an off-white vase and a rustic bowl pair great with an aged wood farmhouse table.
14. Freshen up your coffee table for spring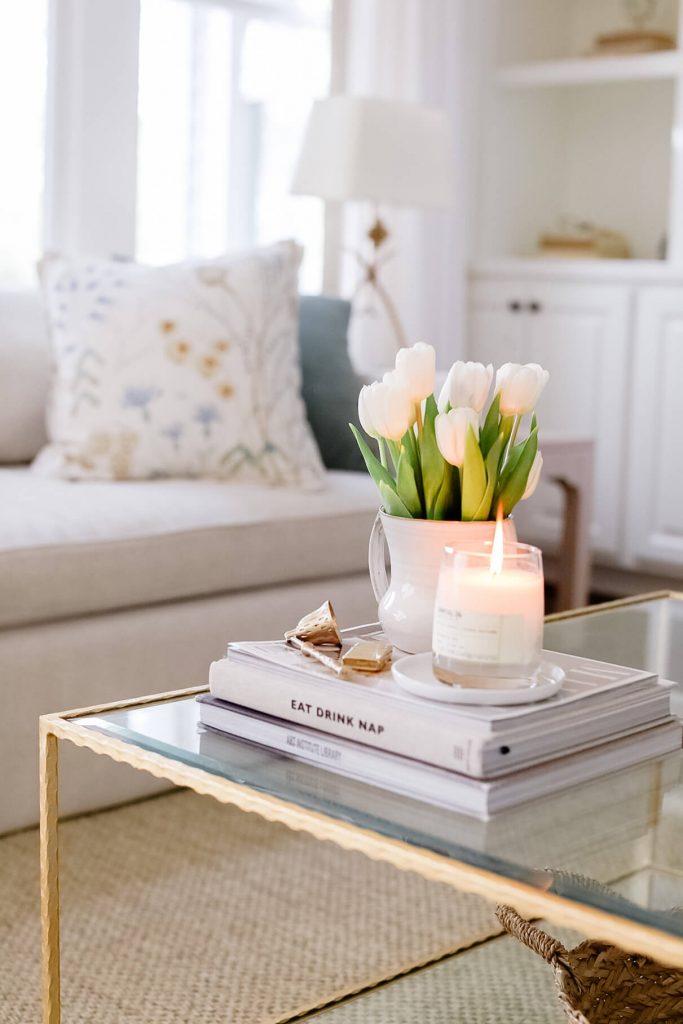 When spring is around the corner, it's always fun to freshen up your coffee table decor. Consider spring flowers like tulips and light colors to go with your coffee table.
These neutral accents look great on any coffee table, whether an elegant glass table with gold hardware or a solid wood coffee table.
Also, can we have a moment for this fantastic vintage candle snuffer? Such a fun and unique accessory to have on your table!
15. Simple round coffee table styling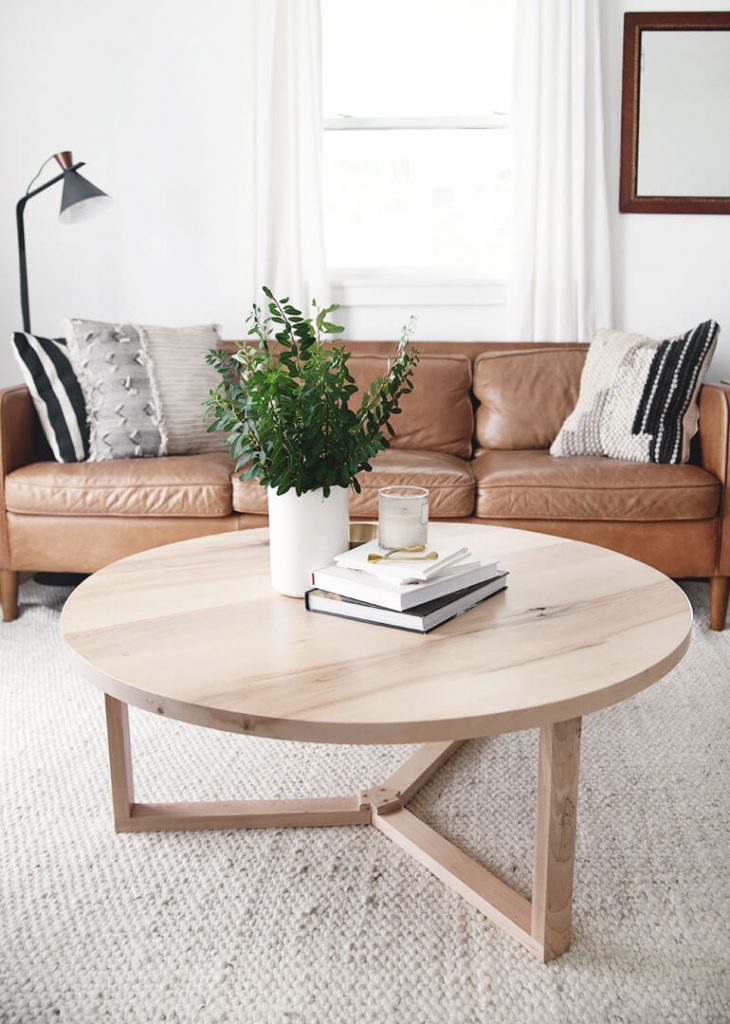 Decorating a round coffee table is different from a square or vertical-shaped table.
You want to focus on the center on round coffee tables and work around that. You can use a large round tray, or place a few items with varying heights in the center of your table.
A great combo is a ceramic vase with greenery, several stacked coffee table books, and a decorative item like a bowl or a souvenir you brought home from your travels.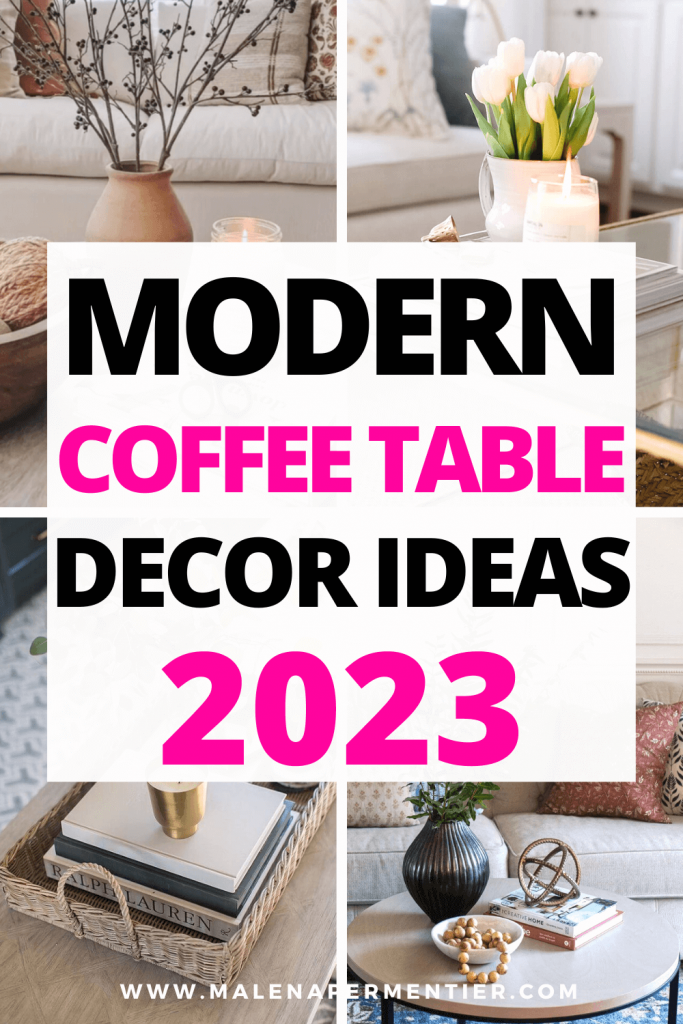 16. Modern centerpiece for your coffee table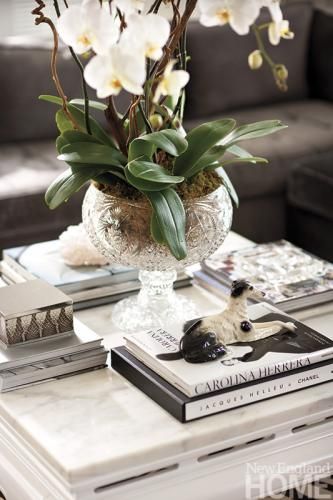 A chic centerpiece arrangement will instantly make your coffee table look styled.
Flowers like orchids look beautiful in an elegant monochrome living room.
A beautiful centerpiece doesn't require much else, but if you like, you can stack fashion and interior design books around the centerpiece, like in the picture above.
Cute ornaments like this black and white dog figure add a pretty touch to your coffee table.
17. Coastal farmhouse coffee table decor with tray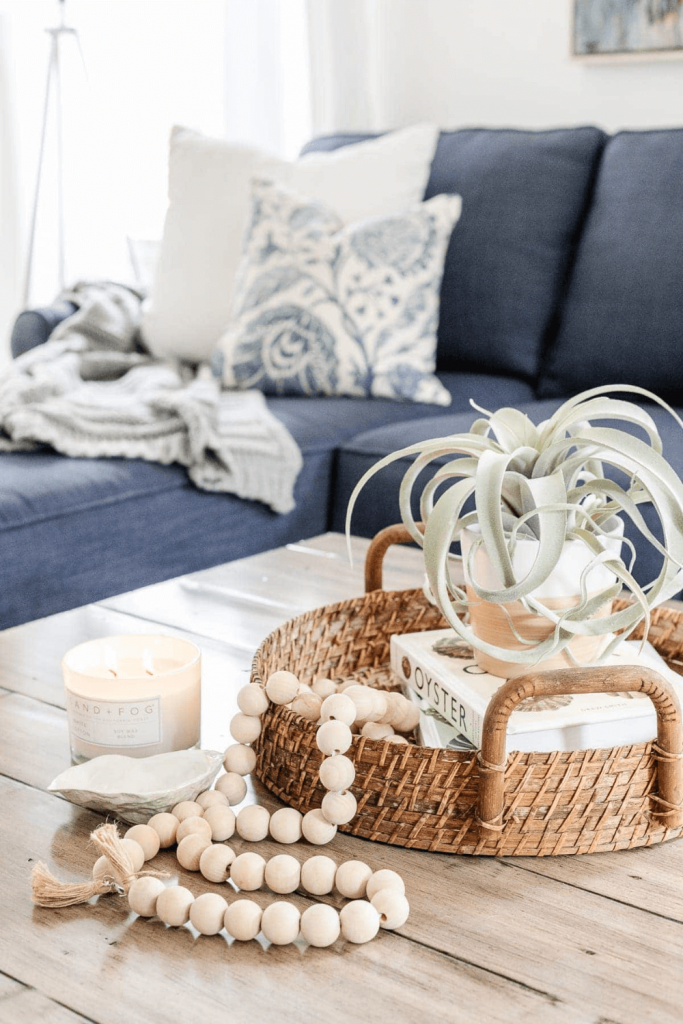 A round woven tray with handles is a beautiful base for a coastal farmhouse living room.
Add a botanical element, and use decor like large farmhouse beads with tassels for a playful accent.
Coastal farmhouse decor centers around natural elements like wood muted blue tones and aged decorative accents.
18. Round coffee table with eclectic decorations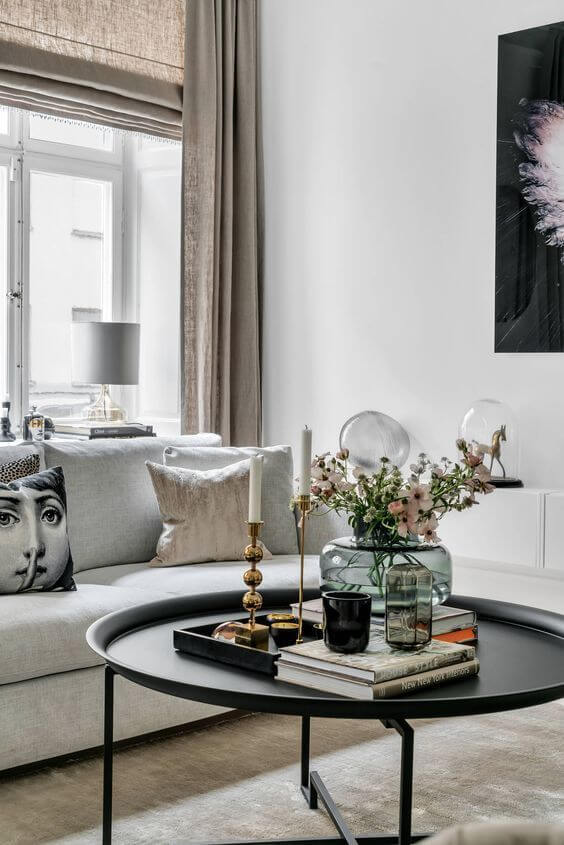 A round-tray coffee table is both modern and unique.
It's also incredibly versatile when it comes
to coffee table styling! I love the eclectic decorating formula of this coffee table with 2×2 stacked books in a sleek black tray.
Coffee table accessories can be an artful mix of florals, pretty jars or bowls, candles, or anything that fits your table aesthetic.
19. Scandinavian farmhouse coffee table tray decor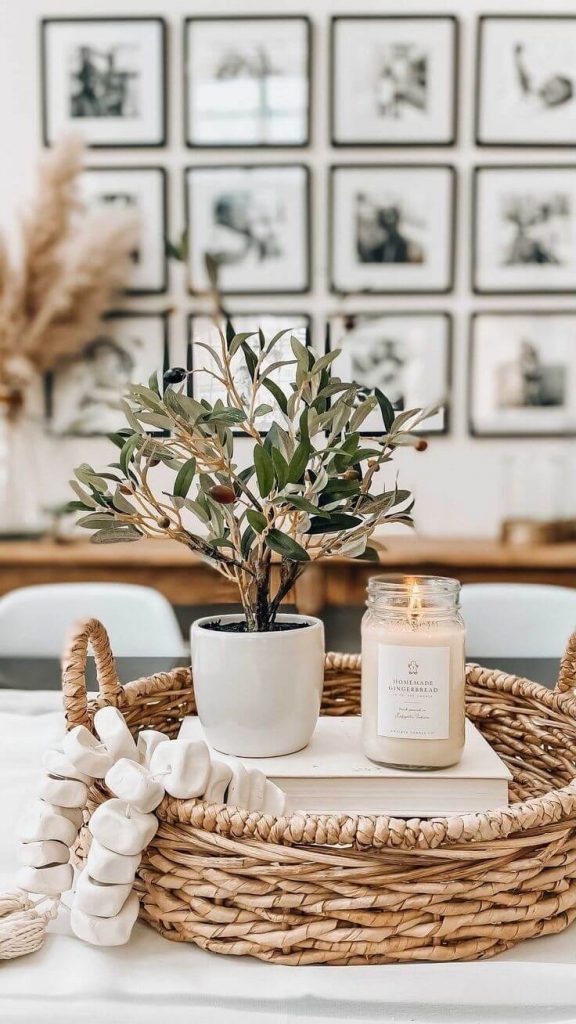 I love this picture as an example of how to style a coffee table tray! Use books to stack a small plant and a candle.
Then drape a unique bead garland over the tray and table to get that effortlessly styled look.
Good quality objects like a designer candle and hand-made bead garland make it easy to take your coffee table decorating to the next level.
20. Monochrome coffee table with decorative accents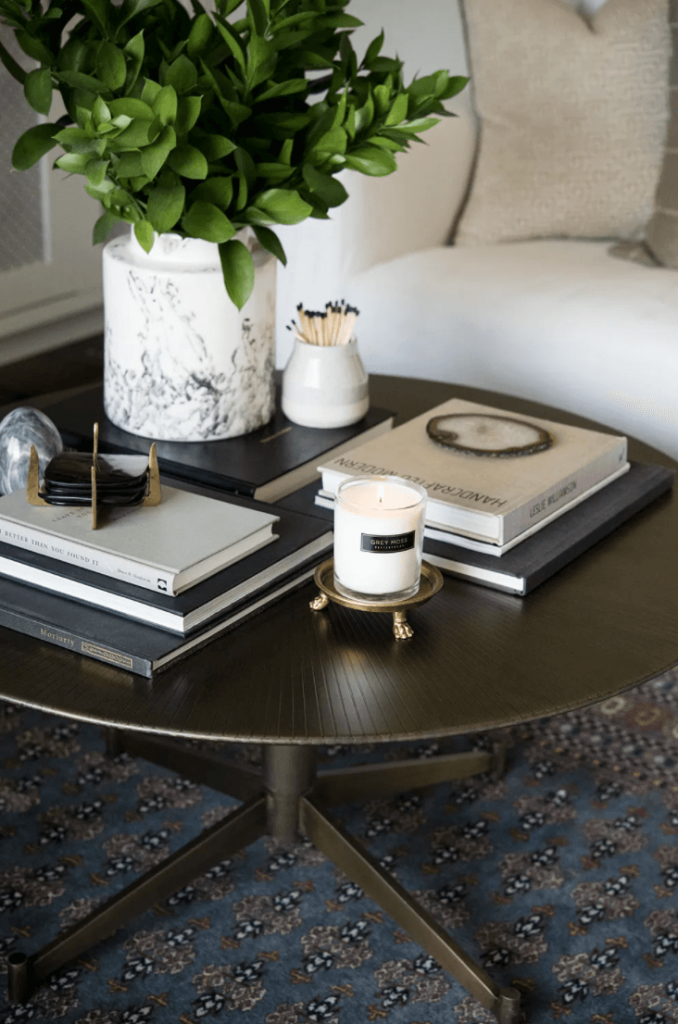 When I think of coffee table accent pieces, it's always something with an interesting texture!
This large marble vase is an incredible piece, but it doesn't overwhelm the overall decor.
Combine textures like marble, gold, crystals, and books for a unique coffee table.
21. What to put on top of a coffee table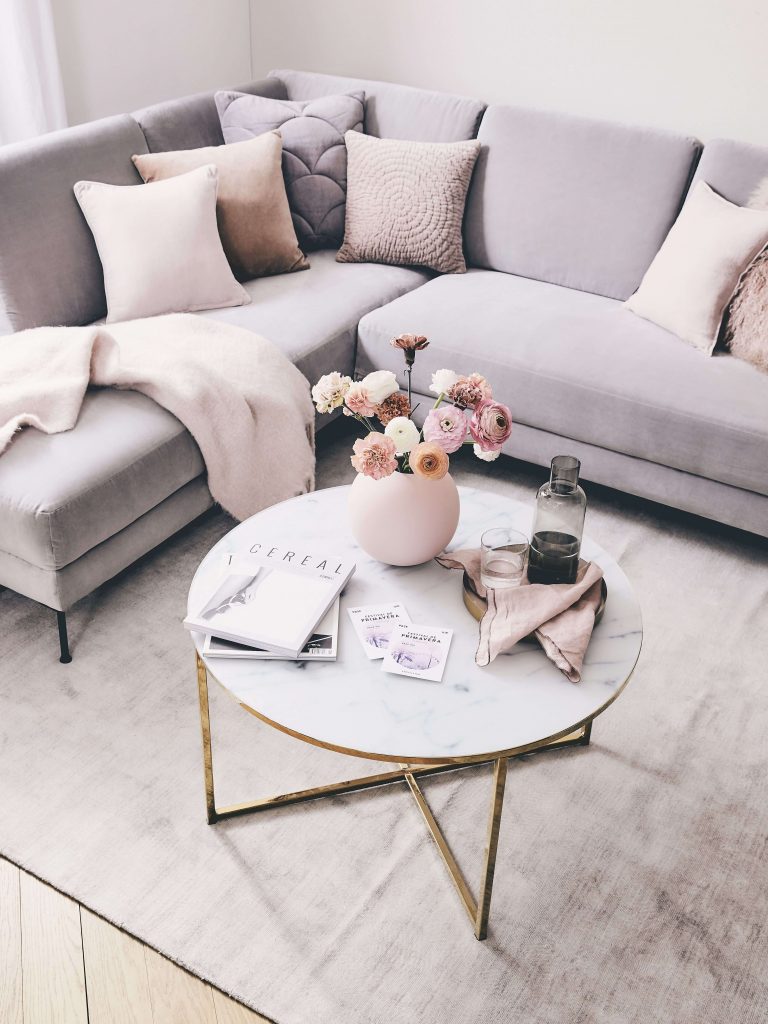 Coffee table decor can be as simple as opening your favorite coffee table book to an inspiring page.
Decorative items that have a story are lovely to have on your table. You will enjoy looking at it, but it's also a great conversation starter for guests.
Simple things to spice up your coffee table include flowers, cool magazines, and designer vases or glassware.
23. Modern contemporary coffee table decor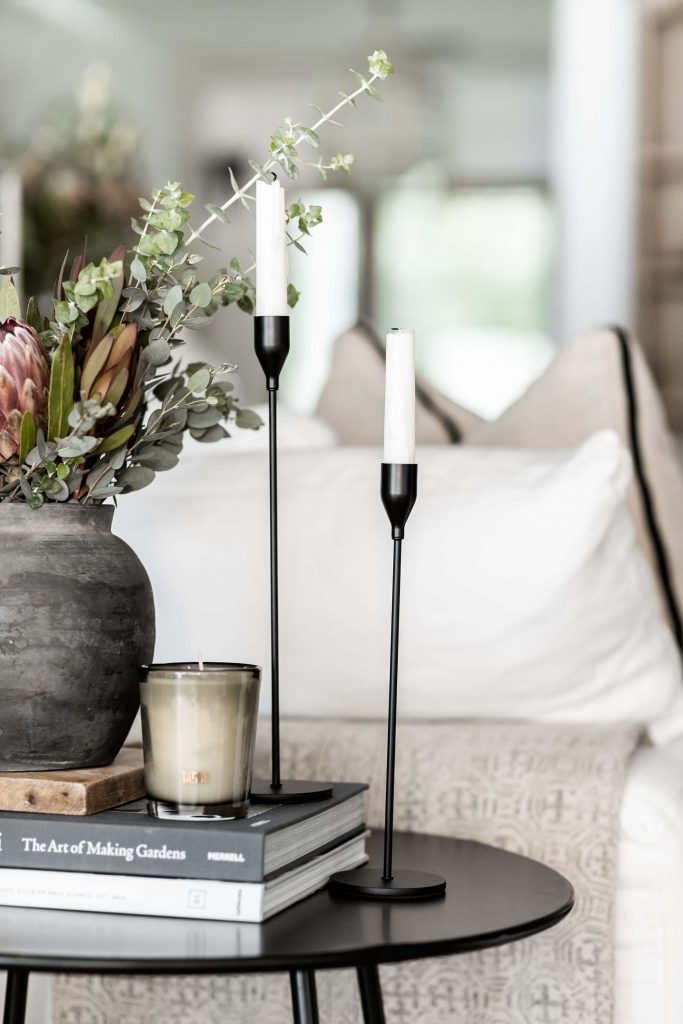 Want to style your coffee table in a stylish and modern way? Look no further than a set of sleek matte black candle holders.
Pair the candle holders with an aged charcoal vase, a minimalist wooden tray, and several of your favorite coffee table books.
This stunning set of matte black candle holders looks high-end but is shockingly affordable.
24. Decorating a coffee table with geometric-shaped items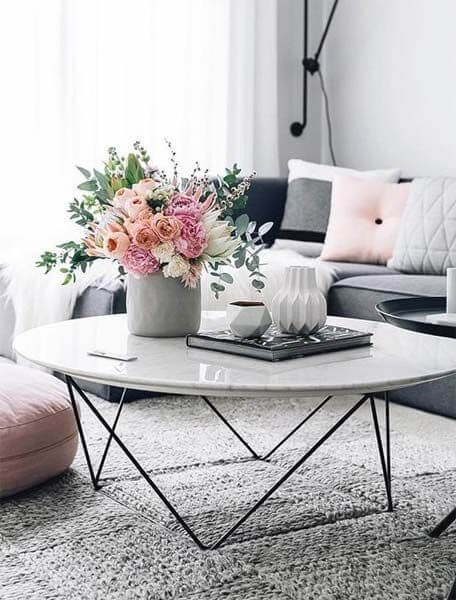 A lush bouquet in a matte gray vase will do the job if you want to keep your coffee table decor understated yet elegant.
Place two geometric vases on top of a black and white coffee table book for the finishing touch.
The subtle pink accents on the coffee table and the living room make this space come together.
25. Use ornaments for coffee table styling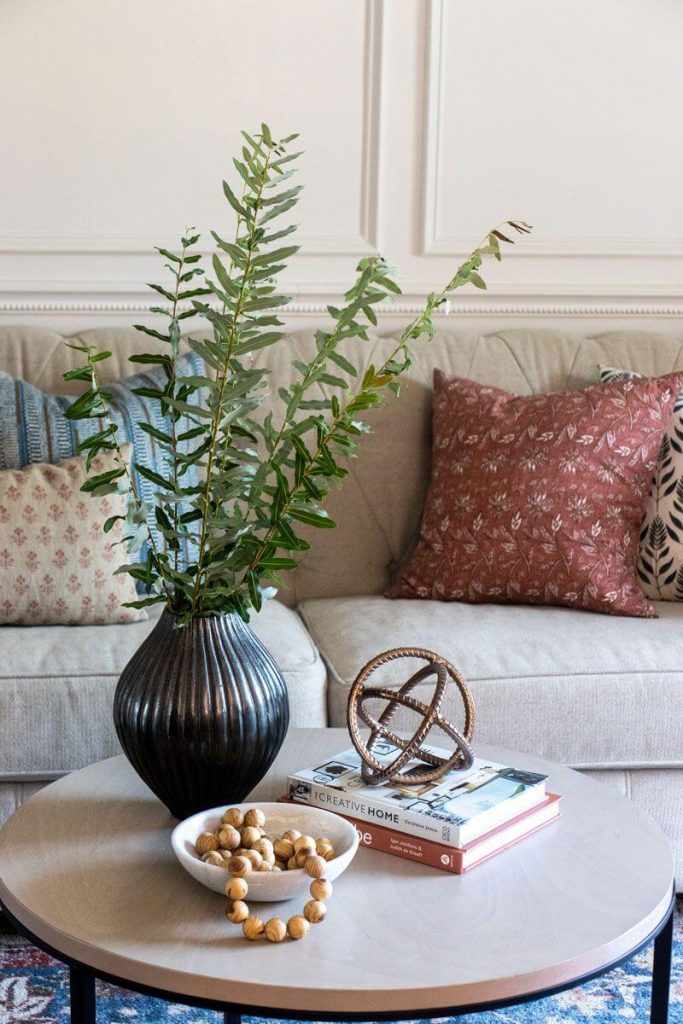 If you're using books as a part of your coffee table decor, you'll need some ornament or decorative item to make everything come together.
This picture shows us the perfect rule of the three formula.
Each of these decorative accents is styled in a perfect but playful way.
Coffee table ornaments are fun-shaped items made of wood or metal that add an exciting look to your table styling.
26. Decorate a glass coffee table with books and candles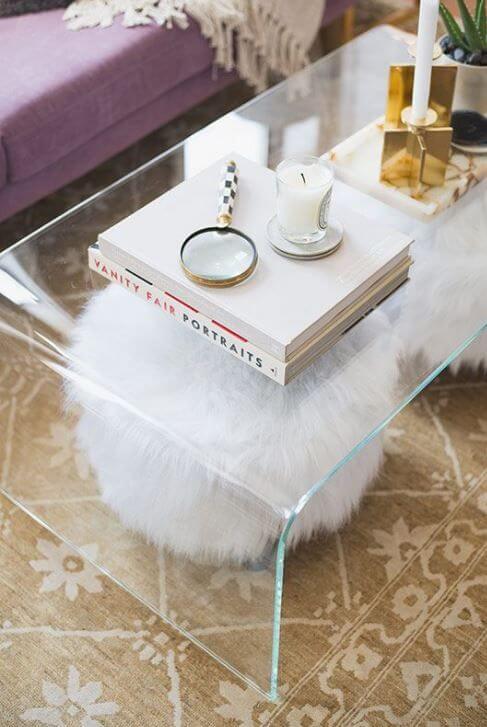 Lucite or acrylic coffee tables are an invitation to get super creative with the decor on top.
It shows us how items like a vintage magnifying glass create a super cool coffee table accent.
This table also has two fluffy ottomans underneath for a playful and funky touch.
How to style a coffee table with a tray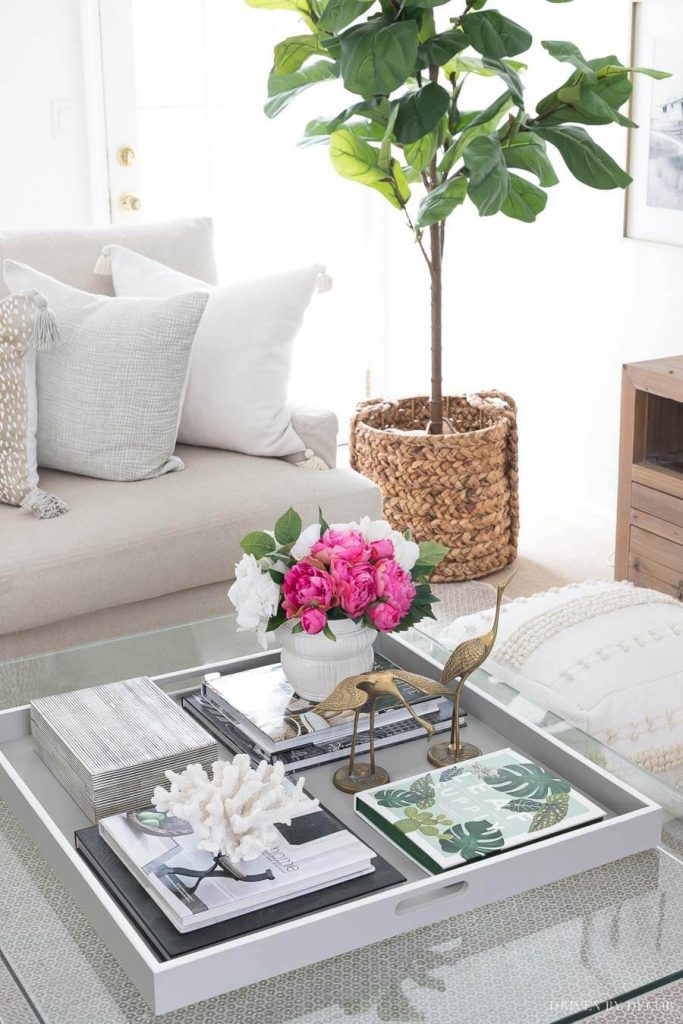 Center your coffee table decor around a large square tray that covers almost the entire coffee tabletop!
This works exceptionally well for glass coffee tables. Use the tray to arrange your favorite decorative pieces.
Make sure that your coffee table accents reflect your living room's color scheme and interior style.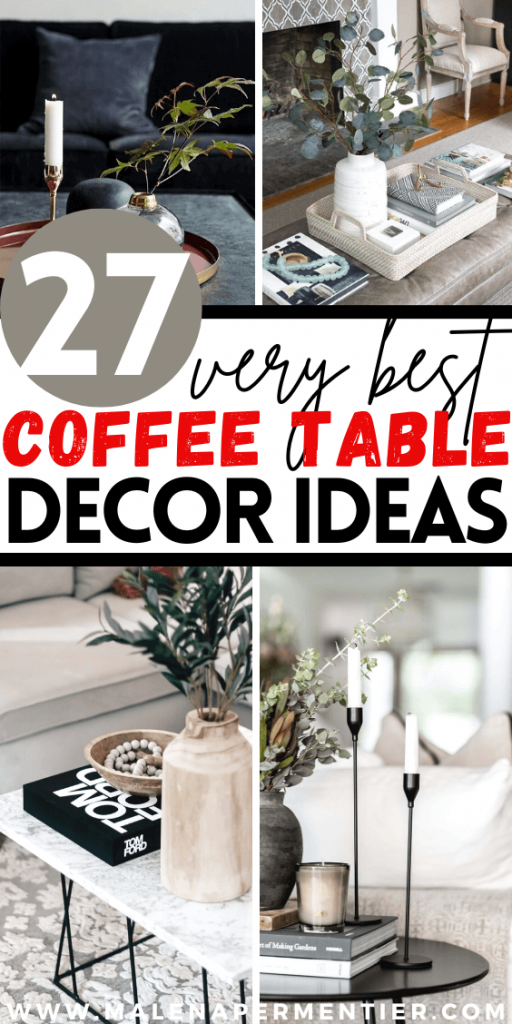 This post showed you the best coffee table decor ideas in 2023!
You may also like: