This post shows you the best work office decor ideas.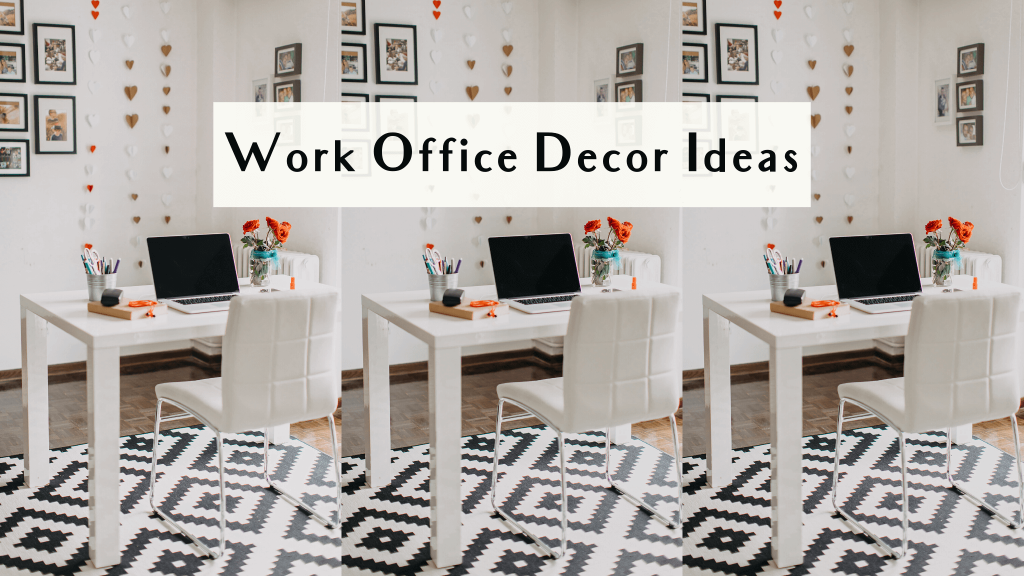 Whether you have a cubicle, large office, or work from home, your workspace must make you feel motivated and ready to work.
People spend at least 40 hours a week at their desks. That's a lot of time! Putting in a little effort to make your work office look nice goes a long way. For starters, it will make you more excited to be there.
Decorating and organizing a work office go hand in hand. The below tips will show you the right items that make your workspace look good and organized a the same time.
Should you decorate an office at work?
Ummmm yes! The right office decor will make you feel productive and at ease. Generally speaking, managers encourage employees to make their workspace feel good. However, it's good to keep in mind the type of office you work in.
How you can decorate an office would be different in a corporate space versus a more creative and free office culture. Keep that in mind when picking the best office decor.
So what are some good work office decorating ideas? It could be art on the walls, small desk decor, and organizers and accessories that are nice to look at.
There are many cheap ways to decorate your office at work, so there's no reason not to do it. A few desk accessories, small decor items like succulents, and a date block will make your space look nicer.
There are a ton of different office decor styles out there. So be sure there's something out there that you'll love! You can find girly office decor, minimalist, trendy, professional, or arty.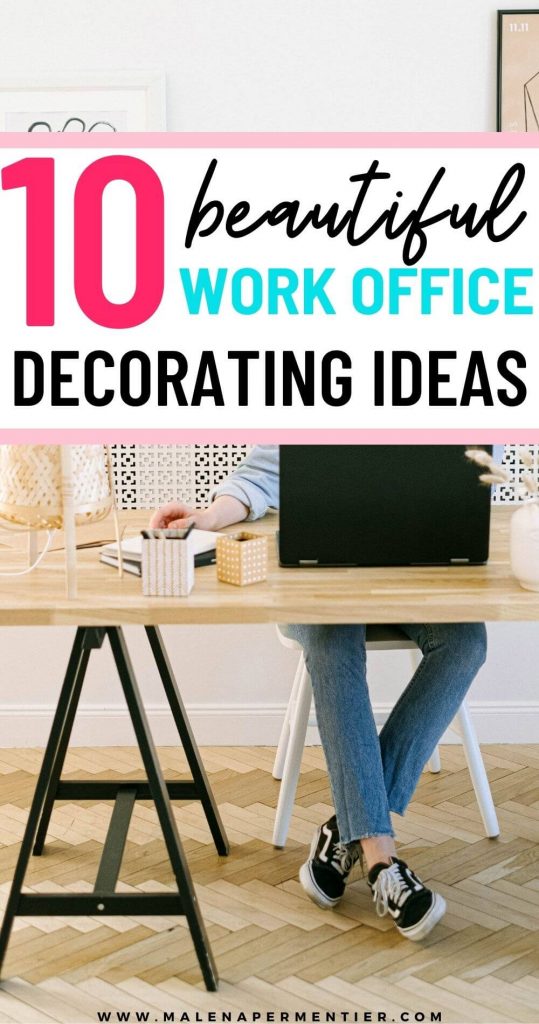 Office decorating ideas for work
Okay, let's look at the 10 best office decor ideas that are functional and beautiful. I have included products with the best reviews, and most items have many different colors. So don't be afraid to click through and check out the product.
1. Organize & Revamp your desk
Desk pads instantly upgrade your desk and make your space look put together. This pad is non-slip, easy to clean, and if you don't like the look or color of your desk at work, this pad gives you the freedom to make it feel more like you. I'm a fan of monochromatic colors like gray, but the light blue/silver desk pad also looks incredible.
The key to making your workspace feel good is to keep it organized. Have a lot of papers? Get a file organizer to solve that problem. If there are a lot of small items scattered around your desk, like keys, USB sticks, or personal items, use a tray to keep everything in one place.
Offices often provide employees with file organizers, staplers, pen holders, etc. But maybe they look boring! Invest a little of your own money to get what you like. There's nothing that cute stationery can't fix 🙂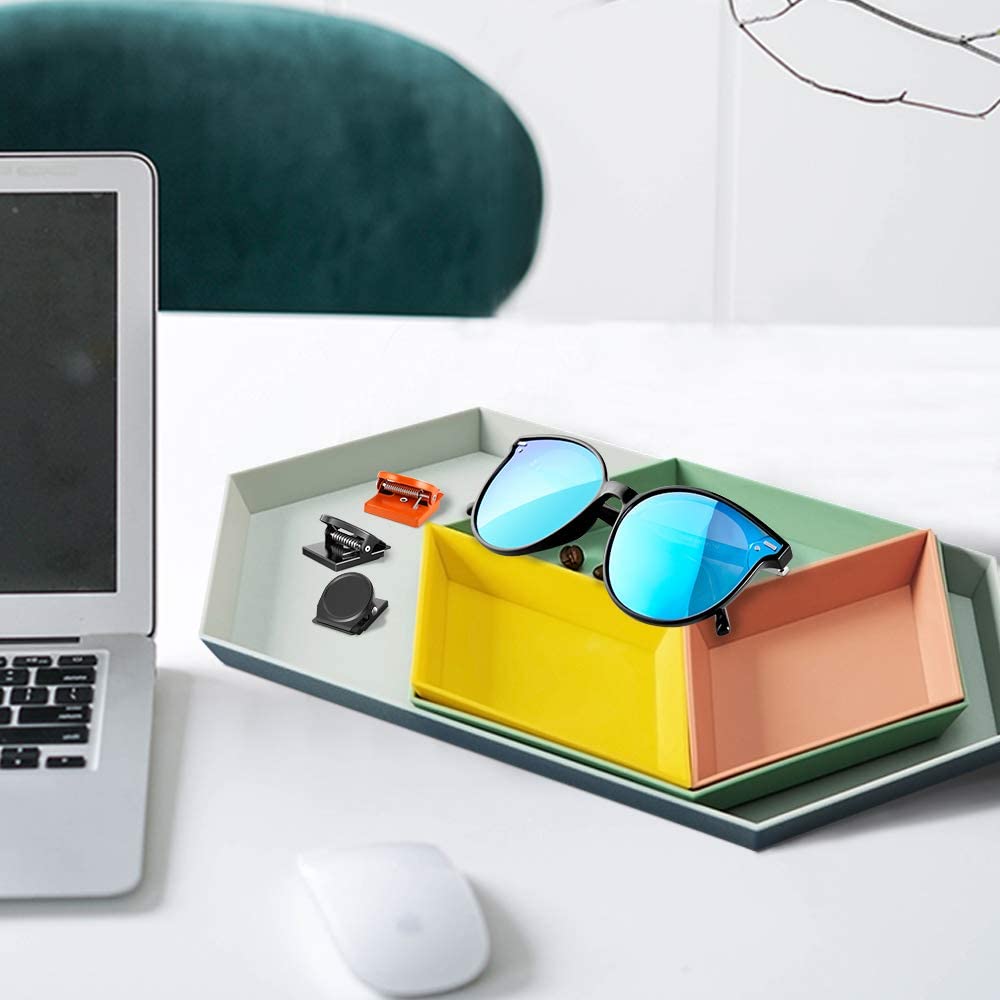 2. Get some cool desk accessories
Desk accessories are both practical and fun. Most offices provide their employees with some basic accessories and essentials, but why not get your own instead?
You can get an office supplies kit in many cool colors, like the gold one below. This desk organizer set is also available in black, turquoise, silver, and several other colors.
i. Workspace organizers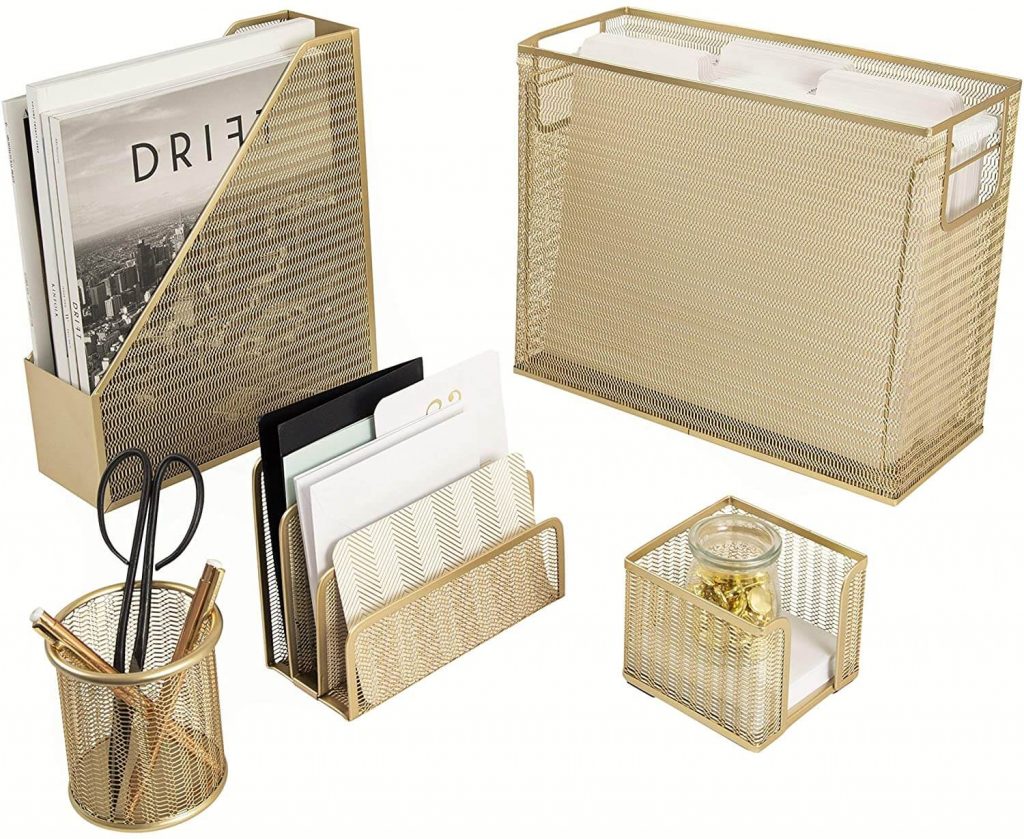 ii. Cute desk accessories
Besides essentials like a pen holder and file organizers, you can also get a couple of cute desk accessories. Staplers, a box to hold paperclips, and a cool mouse pad are a couple of subtle ways to make your desk space look nicer.
iii. Other desk essentials
Another thing to make your desk look nice is to swap out your boring tissue box with this insanely cute rose gold one. Wire clips are a multifunctional thing to have. Use them to keep papers together or to seal your snacks.
2. Add an (artificial) plant
An easy-to-care-for plant or flowers is a great way to liven up your work office. Not sure if you can keep a plant alive in your office? Consider some small succulents or faux greenery like eucalyptus stems in a vase.
The artificial plants below each come in a set of 3 or 4 and have a cute pot. This is such a simple and budget-friendly way to decorate a desk.
3. Hang wall decor
Office walls can get very drab and boring. Wall decor is a great way to fix that and add some personality to your office.
Depending on your office, you can go for something abstract and professional-looking or something fun like a motivational #girlboss quote.
If your objective is to add some color to your office space, I recommend checking out Etsy for cool art prints. The fine art prints below are by StudioRebelUnlit, and they have many cool options.
Especially if you want professional-looking wall decor for your office, a cool art print is a great choice.
ii. Modern office wall decor
ii. Wall grid
A wall grid is a wire panel where you can hang things like pictures, notes, inspirational stuff, and small accessories like dried flowers or other fun stuff.
These grid panels come in many different colors to get the aesthetic you're looking for. Wall grids are a great choice for people with creative jobs, as you can also use this wall grid as a mood board for inspiration.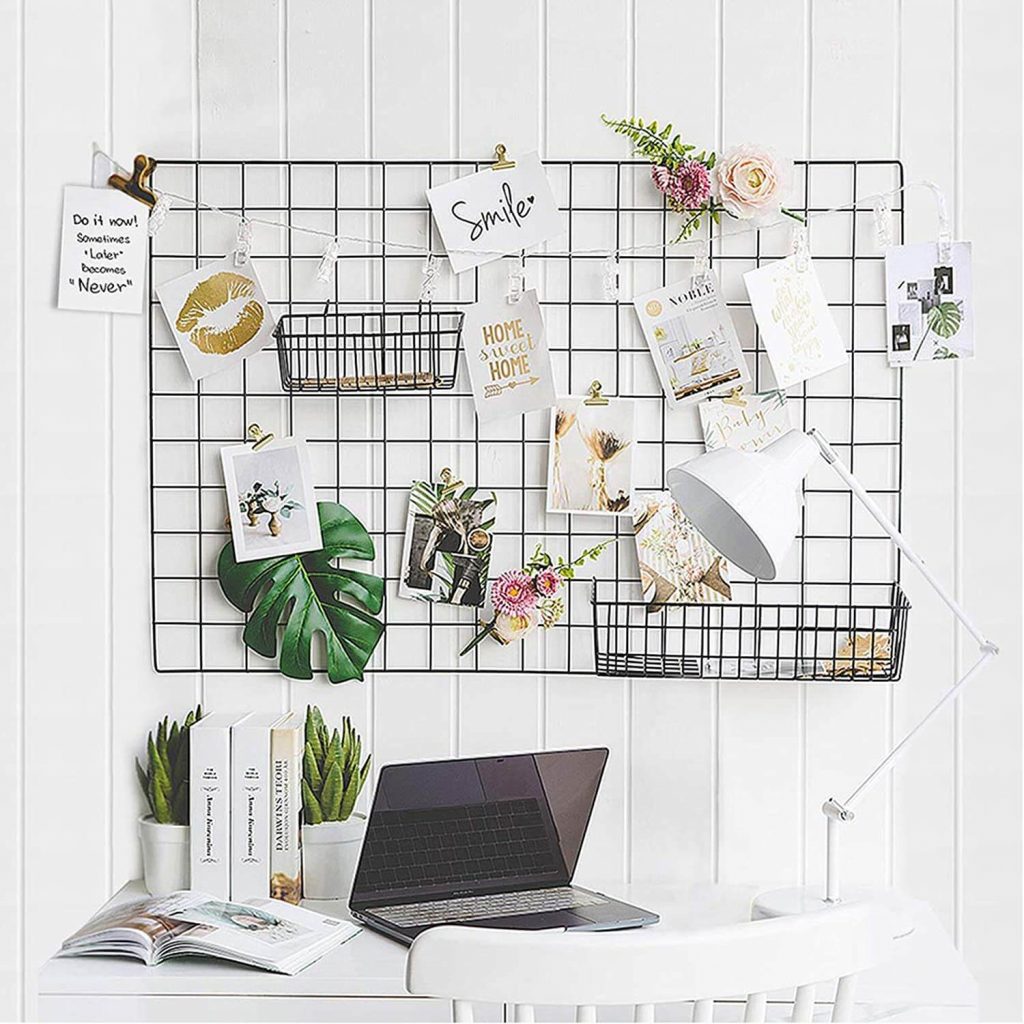 iii. Motivational quotes
Are you a sucker for motivational quotes? I sure am!! Not the very cheesy ones, though. Society6 has the coolest posters and prints, including these simple and cute quote prints.
There are quotes in many different styles, colors, and prints, so you'll most likely find them here whatever you look for.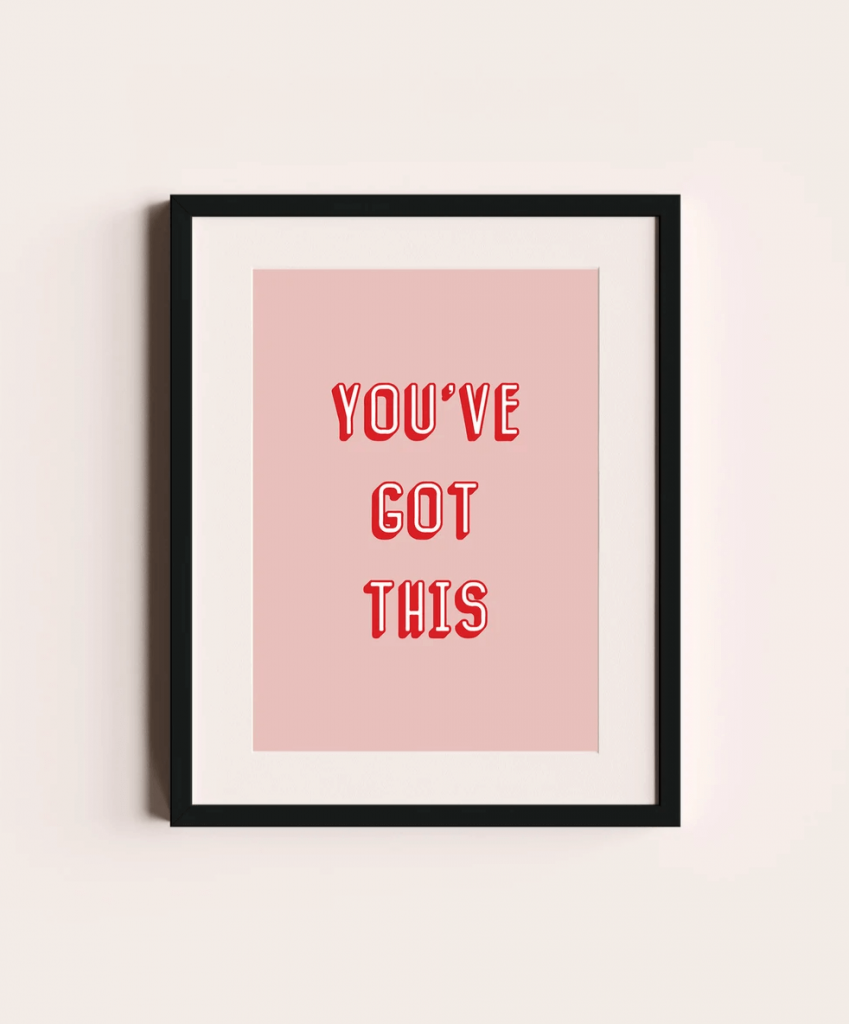 4. Use a calendar
Hang an acrylic calendar board over your desk to overview the day's tasks and meetings. Prefer having a large calendar on your desk instead? This basic but super practical calendar will do the job. It's a must for visual people who need to jot down every task that pops into their heads.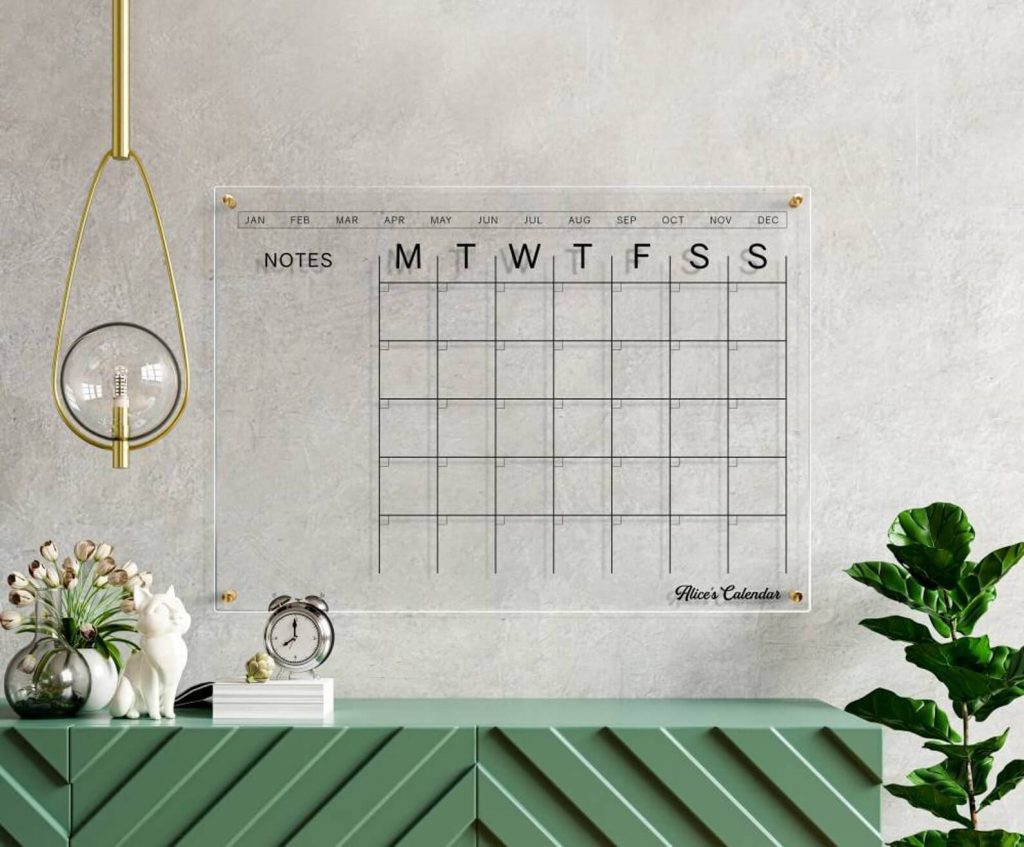 5. Invest in a good desk lamp
Offices usually don't have the most pleasant lighting. It's too bright and contrasting, especially when staring at a screen. So why not get your own nice-looking dimmable desk lamp instead?. Opt for one with a USB port because, let's face it, charging your phone on your desk is a must.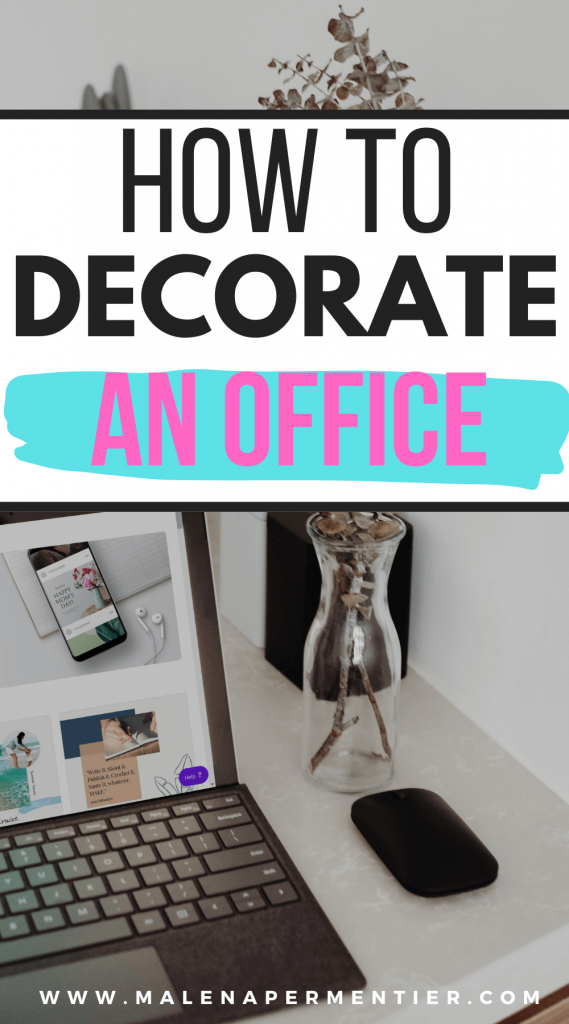 5. Get a cup you love
A good cup is a real mood changer. We are tempted only to use our good cups at home, but it shouldn't be like that! Step up your game and get a mug that you love. It will make the little coffee or tea routines at work more pleasurable.
Get a cup of water that looks cute. After all, we spend a lot of time looking at it at our desks. This tumbler with straw has a sleek and cool design, but it's functional and easy to use throughout the day.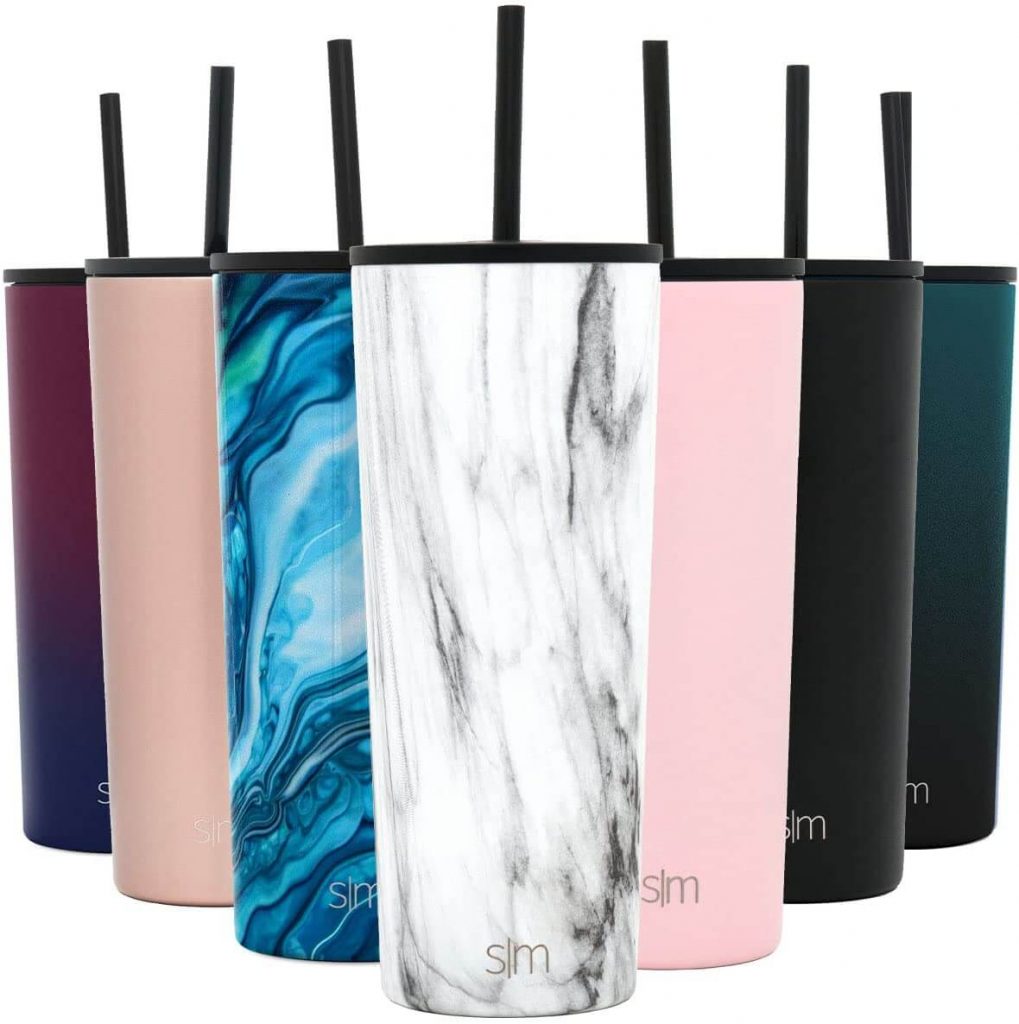 If you're bringing warm beverages from home to work or like to go out on coffee breaks, a tumbler to keep your drink warm is a must. This simple modern tumbler is compact and comes in several beautiful colors.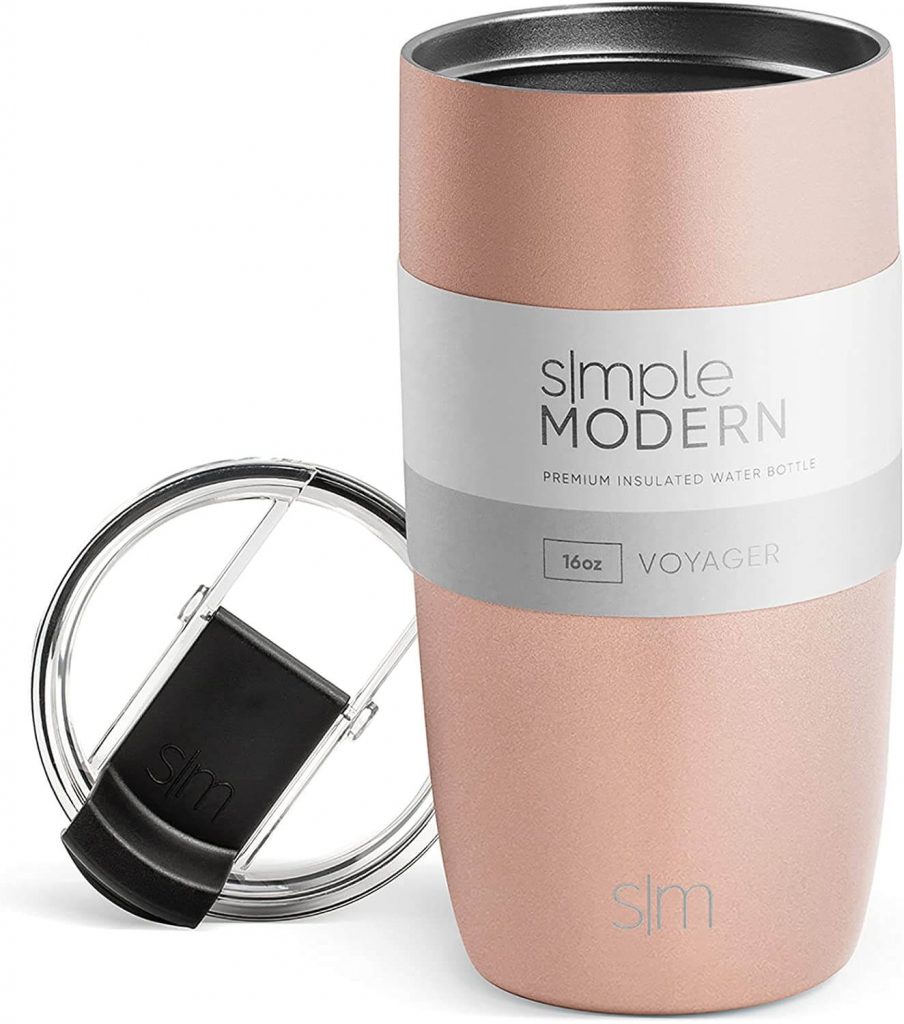 6. Install a small floating shelf
Not everyone will have the freedom to add a floating shelf in their work office, but if you do, why not? Floating shelves are great for decorating with art, plants, pictures, and other things that look nice and get you motivated for work.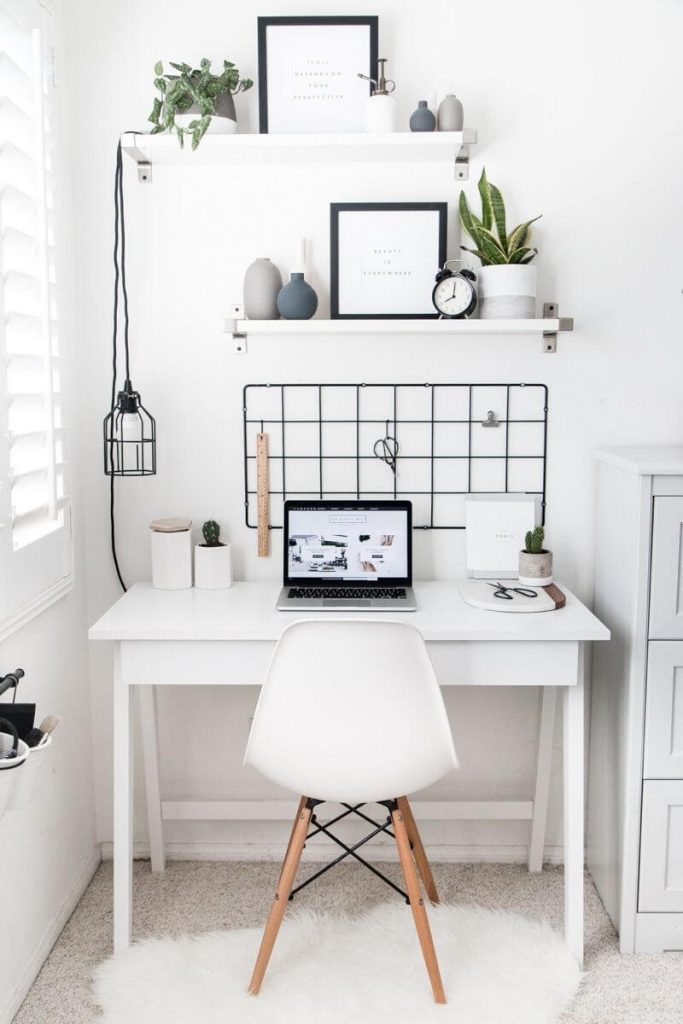 7. Decorate with a stylish scented candle
Not everyone agrees scented candles belong at work, but I say it depends! If you have your own office at work, scented candles are amazing. They create a comforting atmosphere and scent and add a stylish accent on top of that. These candles below have nothing but raving reviews and are a treat to look at.
8. Keep books and magazines on your desk
A great way to keep inspired and productive is to have something cool to look at. Keep creative books on your desk or magazine covers that get you in a good headspace. When writer's block strikes, nothing is more soothing than flipping through some inspiring books. What's appropriate to keep on your desk also depends on your line of work, but get something that works for you!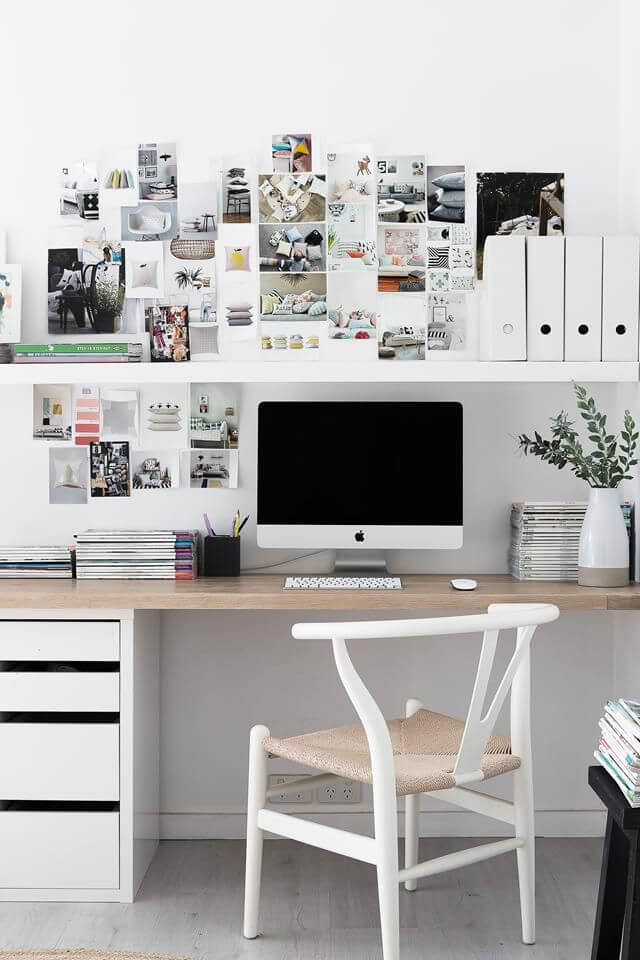 9. Use a computer stand with storage
This space-saving computer stand is a real savior if your desk space is limited. It has a spot for your phone, a cup holder to prevent clumsy spills, and drawers for small office essentials like paperclips and post-it notes.
10. Minimalist bulletin board
Bulletin boards don't have to be boring. Hang two boards over your desk, one with to-do lists and another with the decor that keeps you motivated and productive. If you dislike the brown color of traditional bulletin boards, you're in luck. Because right now, you can get them in many different colors and prints. The neutral color works great if you plan to use this for decorating.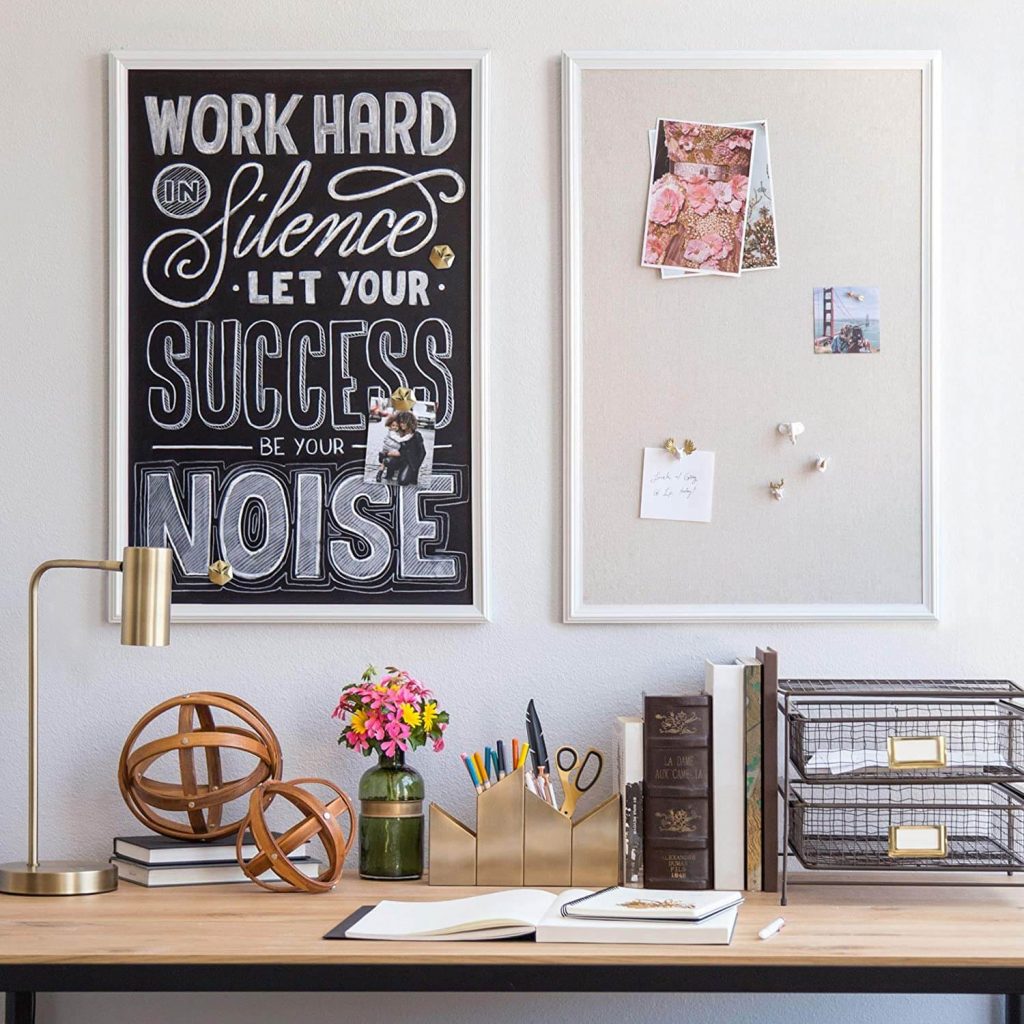 Office decorating tips (and don'ts)
Let's be honest: every office has its own culture. Decorating your desk with washi tape and affirmations might not be the best idea in a corporate office. People in creative offices usually have more freedom with what they put on their desks or hang on the wall.
But don't worry, regardless of the type of office you work in, a bit of clever decor that sets the right mood is always possible.
Read the room: Have a look at the type of decor your colleagues have on their desks and walls. Don't get anything too out there, political, or weird.
Don't get too personal: affirmations are nice but may be too private to have hanging on your work office walls. Motivational quotes, on the other hand, do work.
Work with what you have: Maybe you're not a fan of how your desk or walls look. You can easily revamp your desk with a desk pad. Your walls are trickier, but a nice-looking bulletin board or acrylic calendar board will help elevate your space.
Use nice-looking accessories: A bit of color and good design goes a long way in office decor. Get things like staplers, file holders, and desk organizers that are nice to look at. You can also update your mouse pad and buy a luxurious coffee cup.
Professional office wall decor ideas
Corporate offices are usually a little trickier to decorate, as I mentioned above. Here are some wall decor ideas that work for professional environments.
Frame your favorite pictures with family and friends (nothing too personal, e.g., party photos)
Hang colorful abstract art
Frame a cool quote
Map of your hometown or favorite city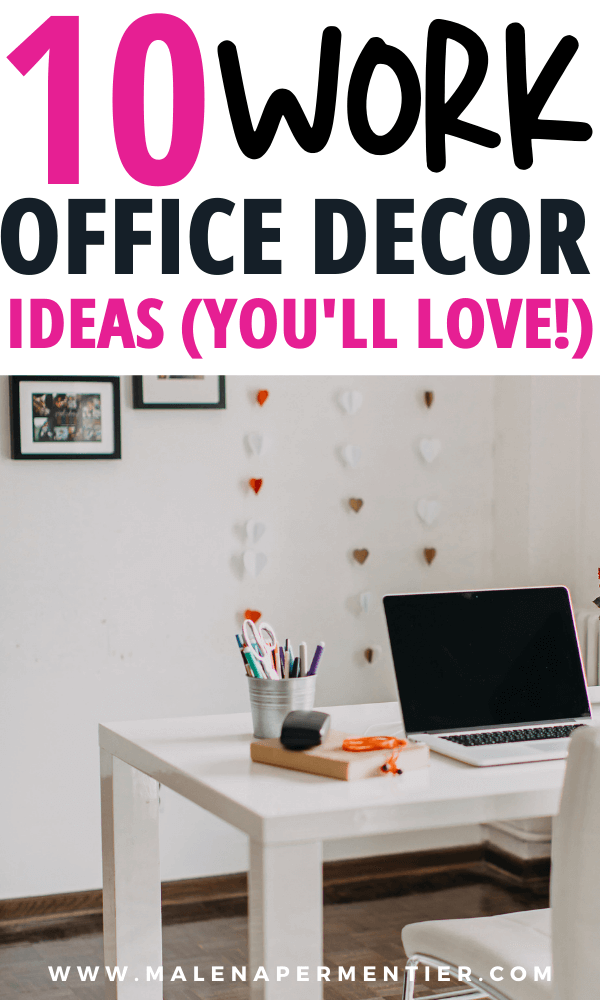 This post showed you 10 work office decorating ideas
You may also like: