This post shows you the best bedside table decor ideas!
Are you in need of some fun decor pieces for your bedside table?
Or maybe you just want to find a way to give your room a more aesthetically pleasing look.
Whatever the reason might be, here are a few fun decor ideas for you to try and test.
Whether you're a minimalist or want a full modernized twist on the usual bedside table decor, there's something for everyone.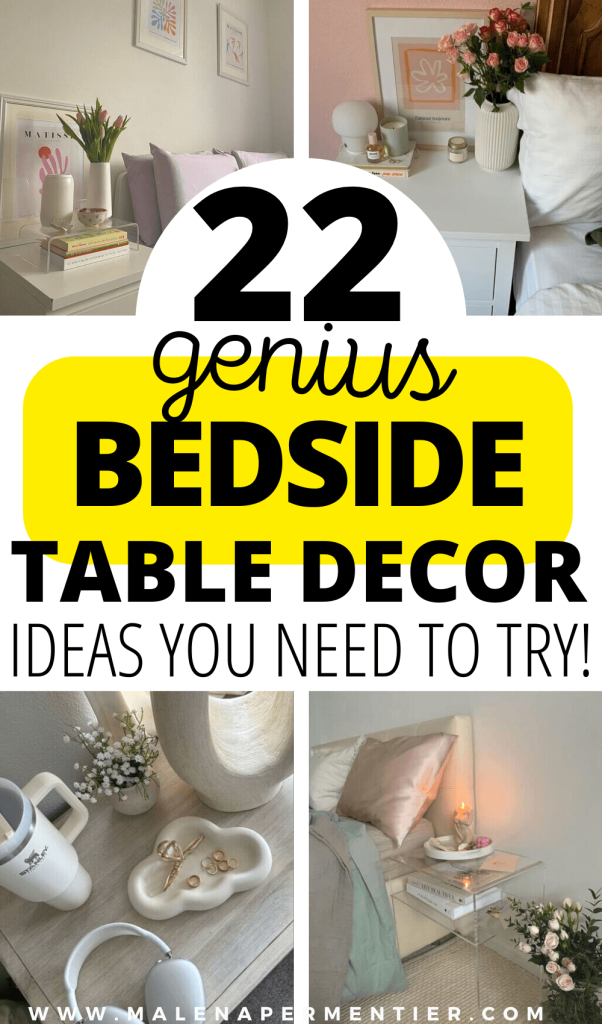 Tips for bedside table decor
Free tips? Yes. Free tips to help you decorate? YES PLEASE!
We all have that one bedside table… you know the one.
The table you clean every morning and promise yourself you won't get it that messy again.
Or the one that contains 4 self-help books, 2 bottles of water, a coffee cup, missing jewelry, and a rose quartz crystal for self-love.
Yeah, that's the one. Here are a few tips to try and keep that bedside table in order.
Keep it simple
Consider proportions
Get the perfect lighting
Mix wood and metal
Follow shapes in the room
Go retro for personality
Vintage works well in layers
Keep it slim if the room is small
Try unusual shapes
Different table ideas
If you're looking for a different approach to the bedside table then here are a few different substitutes for it.
Small chest or drawer
Writing desks
Wall shelf
Cube storage
Steamer trunk
A bedside table doesn't have to be plain, you can switch it up and find exactly what works for you.
How to effectively style your bedside tables
Clear clutter
Choose a focal point
Add layers
Add decor
Add greenery
Create balance
Keep it simple
1. Books, flowers, and a quote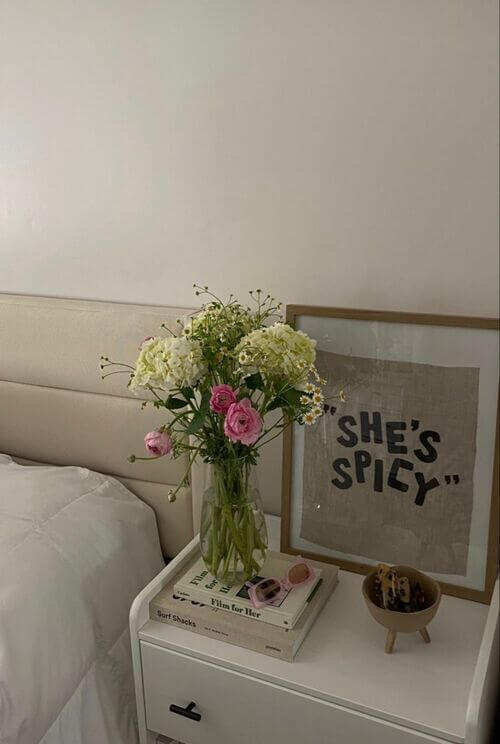 A cute and cute way to decorate your bedside table is by creating a balance between objects, such as the coffee table blocks and the fun framed quote.
The bright flowers will also add a pop of color to the room while giving a refreshing aroma.
2. Mini bookcase and greenery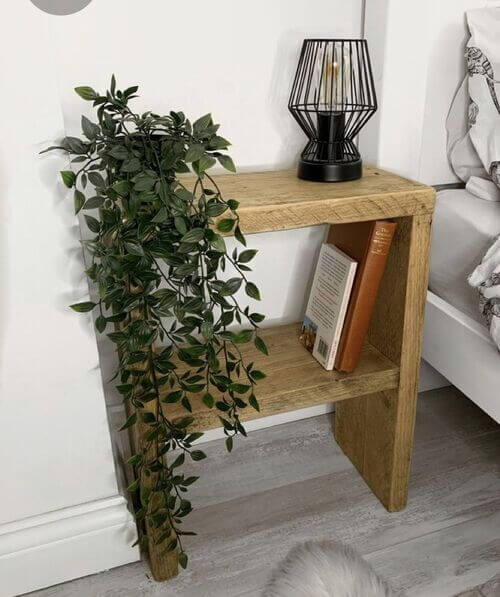 Skip the traditional bedside table, and opt for this open wood bedside piece.
It holds everything you need. A fun lamp, reading material, as well as some hanging greenery.
It's a gorgeous minimalistic display. This stays in the neutral color scheme and avoids any bright colors.
3. Layers upon layers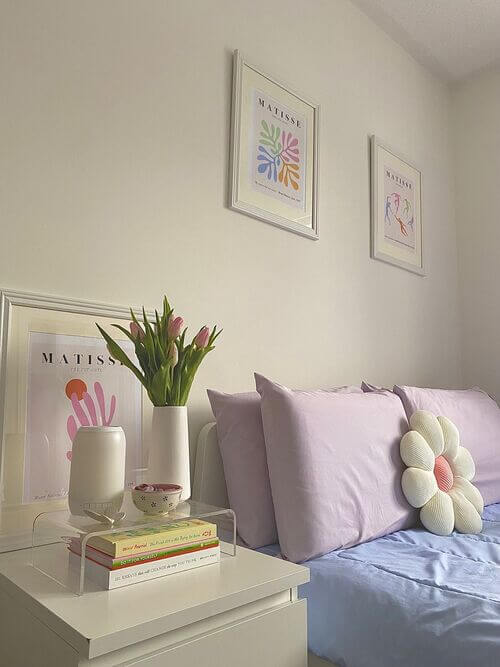 Adding layers is the best and most efficient way to use space.
This allows you to keep things organized and clearly envision what you want to add to the table.
Add a diffuser, flowers, books, and even a cute art piece.
The clear divider offers the perfect break between different objects.
4. Perfectly organized and minimalistic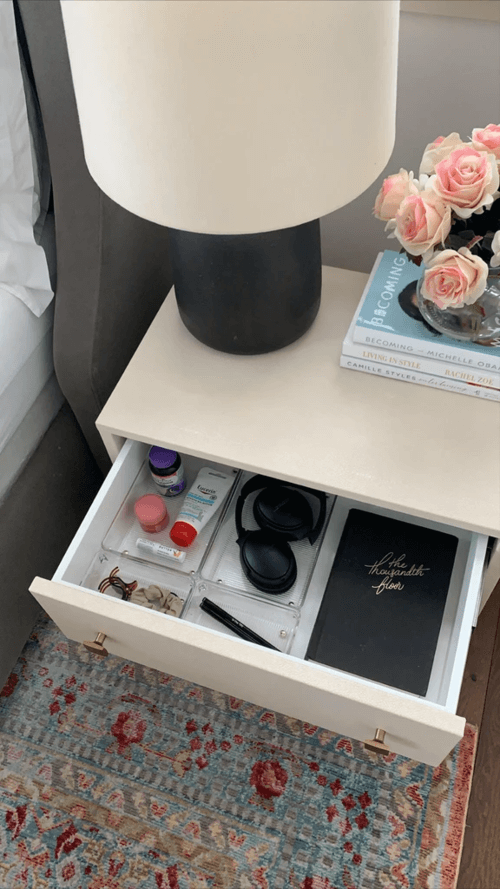 If you are like me and struggle with some minor OCD then this is for you.
Use clear dividers within your bedside table to keep all your belongings in order.
This allows you to keep the table in order. Just keep the basics on top instead of having a disorganized space.
5. Candles and roses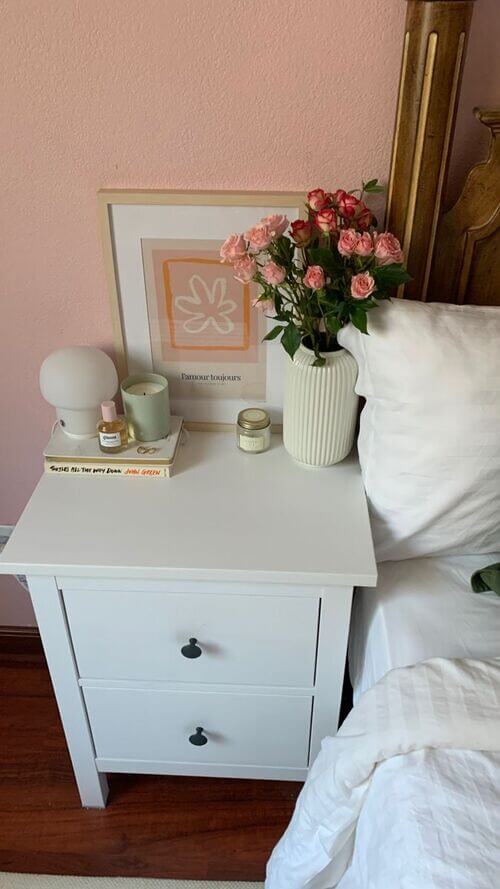 Create the ultimate self-care space.
Fill your bedside table with roses, candles, and a soothing face serum.
Keep a good book on hand as well to relax with at night.
Nothing feels better than having a calming space to relax and keep organized.
6. Baskets for your goodies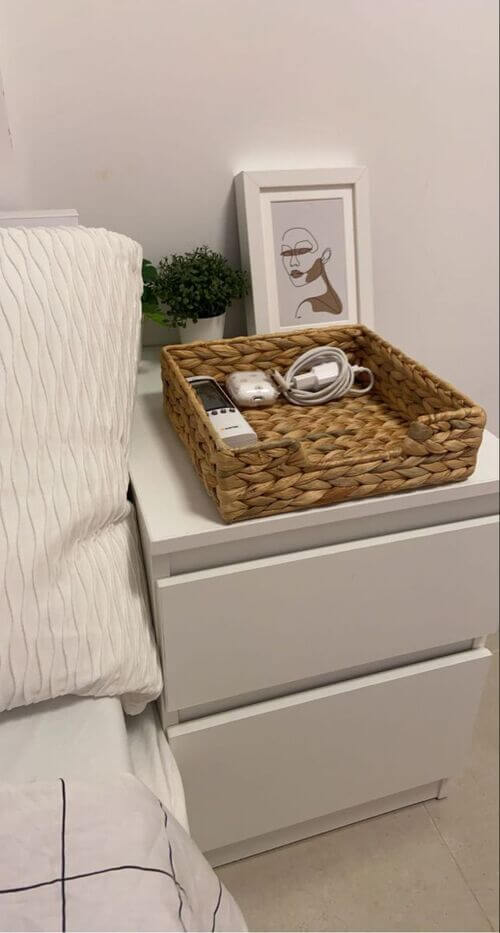 If you have a sleek bedside table you might want to get a basket for the table.
It will ensure that everything is in a safe place on the table without it falling off by accident.
This wooden basket gives a nice balance of color and keeps everything in order.
7. Keep to the basics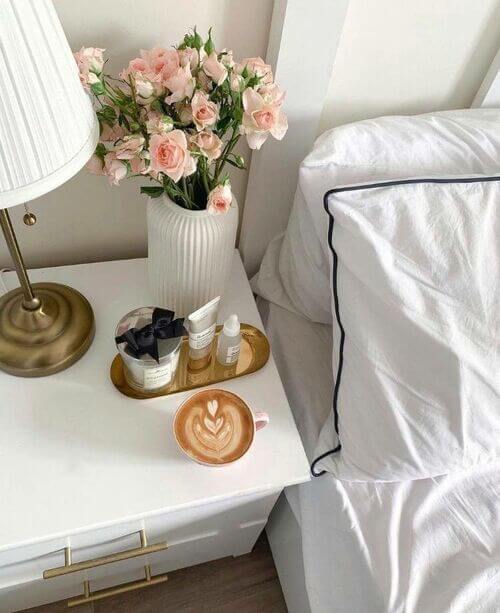 Keep it simple.
Use gold accents for candles and face serum, gold, and white lamp, and some light pink roses to add color to the mix.
A simple table that only holds the basics is more than enough.
8. Clear layers and candles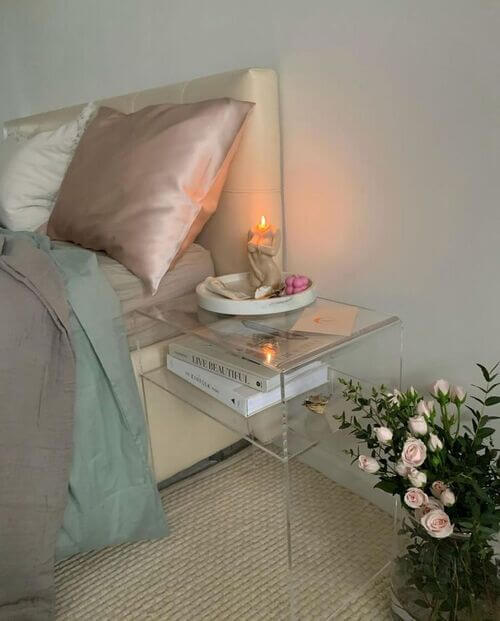 A clear bedside table? Count me in!
This table fits into any theme and holds only some calming candles and coffee table books.
You don't need more than that at the end of the day anyways.
9. Coffee table books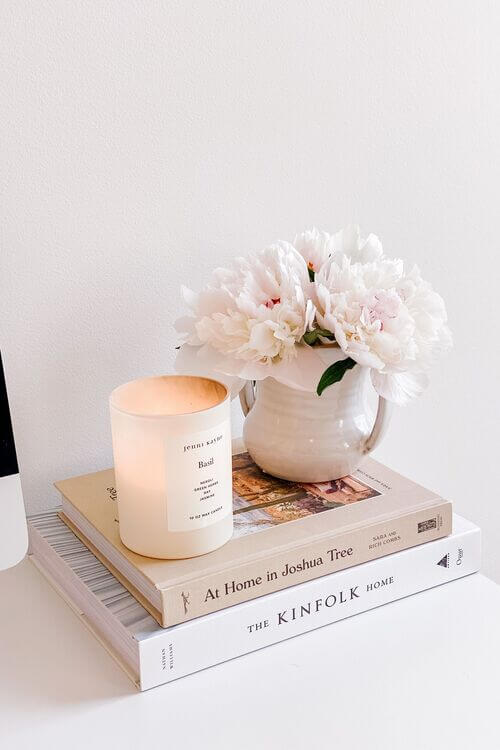 If you're a big reader, you might just want to keep your books on hand.
We know the struggle of reading 3 or 4 books at a time.
So if that sounds like you, remember to add some layers to the mix.
Either by making use of candles or a small flower pot.
10. Beauty basics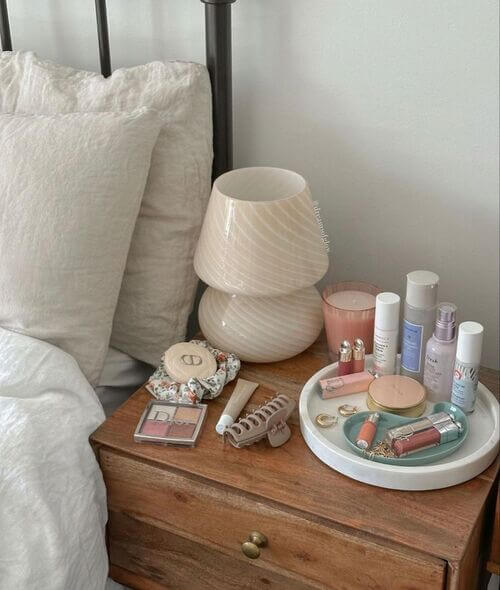 Skincare comes first.
Grab yourself a ceramic tray and add your skincare necessities to it.
A girl with a strict skincare routine is bound for greatness, and by having it by your side 24/7, you are ultimately making sure that your skin is always cared for.
This might not be the most organized idea, but this shows you that not everything needs perfect order to make sense.
11. Pastel paradise
Pastel lovers will love this idea.
Featuring pastel ceramics, gorgeous flowers, and a cute lamp, what more do you need?
It's a simple setup and keeps all the basics together.
You can even add some crochet coasters for your cup to make the space even more cute.
12. Salt lamps and eucalyptus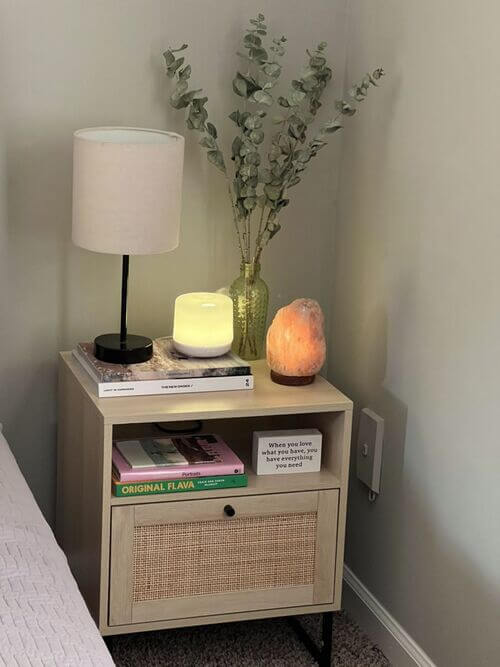 In need of something different? Grab a salt lamp and diffuser to add to your bedside table.
With this idea, a lot of space is necessary.
It uses a big light, eucalyptus, salt lamps, and some self-care books to broaden your knowledge.
It's perfect for people who call their bedroom their safe space.
13. Clear and white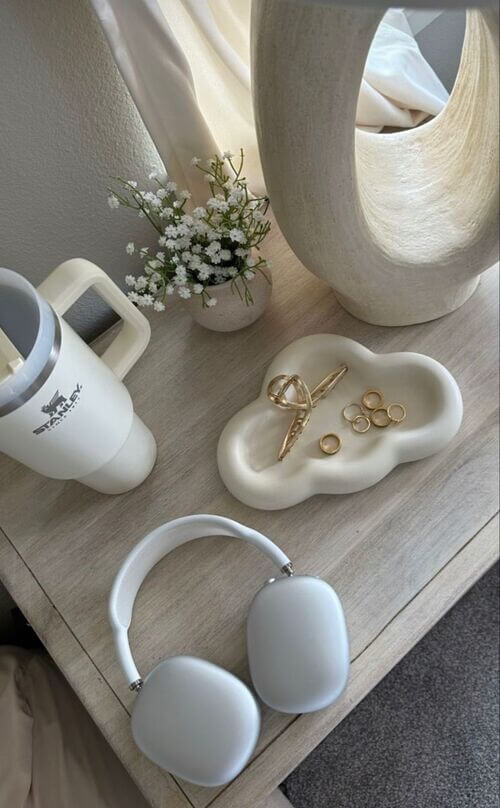 This idea showcases an adorable clay tray for your jewelry.
This bedside table uses organic objects such as clay sculptures, flower pots, and decor pieces.
It's simple and sleek.
14. Tulips and mood light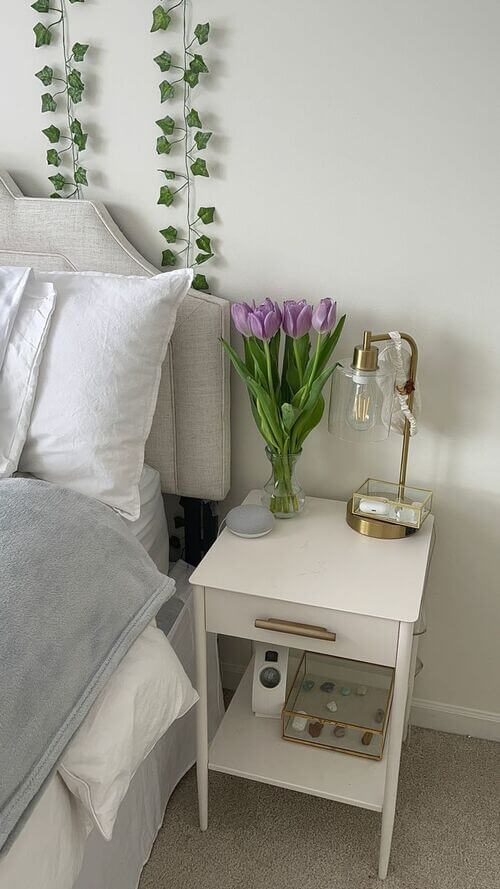 This cute idea features bold tulips, a fun golden light, a glass case for your essential crystals, and a speaker for you to play meditations on to relax after a long and stressful day.
It creates the perfect decor without needing too much.
15. Unique table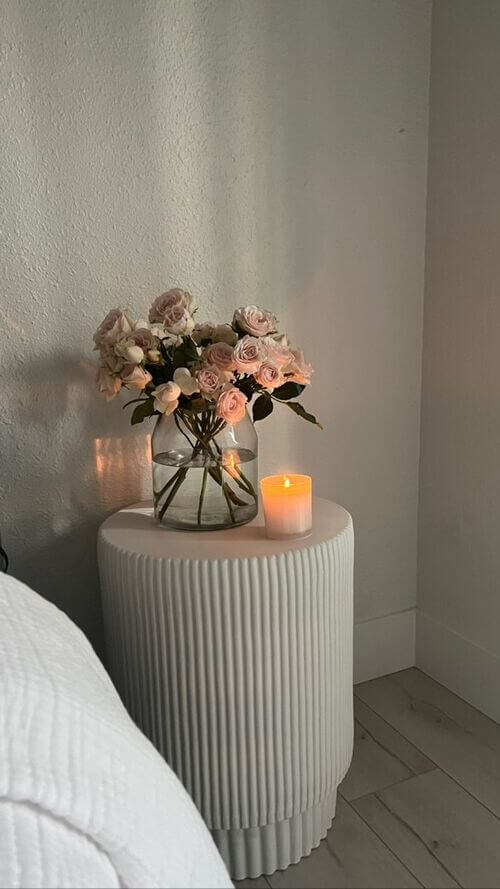 This odd-looking table works perfectly for limited space.
You can keep things to a minimum by only adding some gorgeous flowers and a giant candle.
This idea is the perfect example of less is more.
The table is already very unique and doesn't need much more.
16. Bookcase with fun decor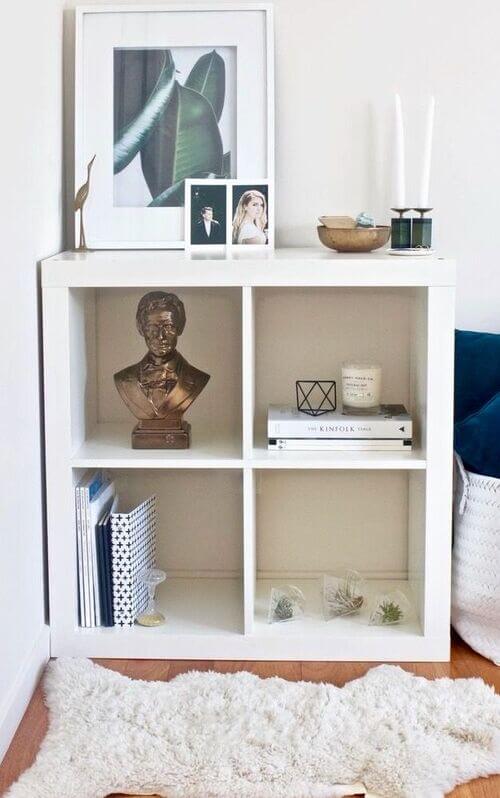 A bookcase makes the perfect bedside table.
Add some notebooks, plants, sculptures, and some candles.
This gives a lot of space to work with, and you can then easily incorporate pieces of your personality into this decor idea since this will connect directly with what you need daily.
Bookcases offer a lot of space even if you have limited space.
Since it's more open than a regular table, it works perfectly for people who need a lot of space in a small bedroom.
17. Florals and candles galore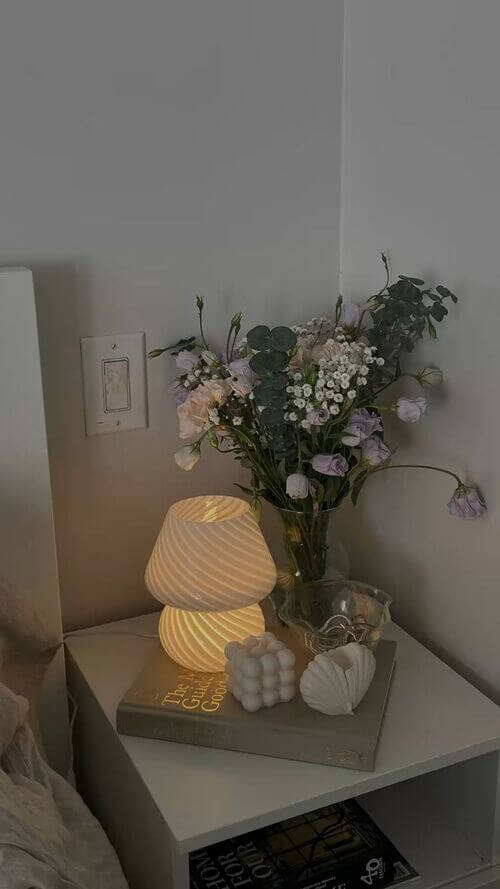 This idea uses layers to allow you to make the most out of minimal space.
Add the lamp and candles to keep the lighting warm.
You can add some flowers and greenery to make things more natural.
You can also add a small glass bowl to keep all your small goodies in a simple and safe place to avoid losing them.
18. Keep it simple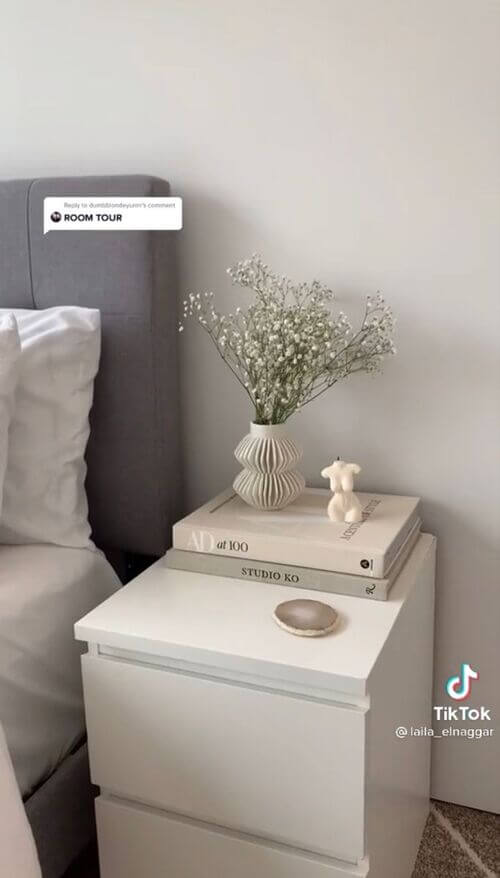 If you're not a fan of having a lot of things on your table, then use a cute lamp and candle to bring in a warmer atmosphere.
Add some baby's breath to the room just for a fun floral touch without it being overbearing.
You can also add these cute geode coasters for a touch of something different.
If your table feels empty, grab a few coffee table books to ensure you are making the most out of the space.
19. Rolling cart bedside table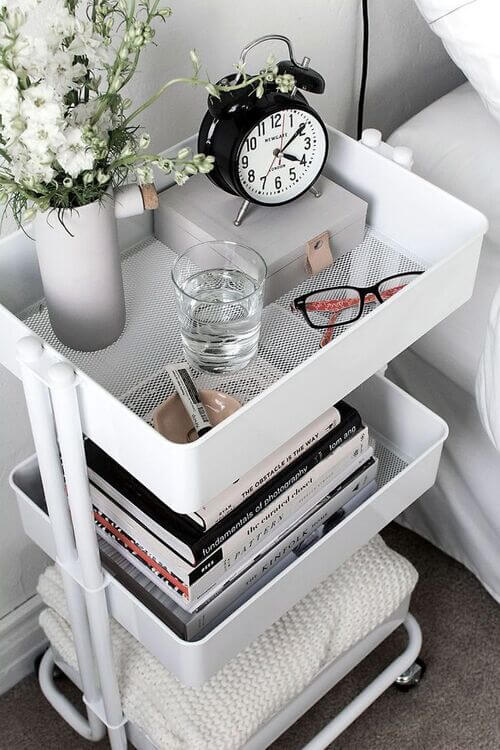 Rolling book carts make the best bedside tables.
The different layers allow you to keep all your goodies in separate categories and balance things out.
The blankets can stay at the bottom, reading material and bigger objects in the middle, and glasses, flowers, water, and needed skincare can be on the top of the cart for easy access.
20. Skincare for days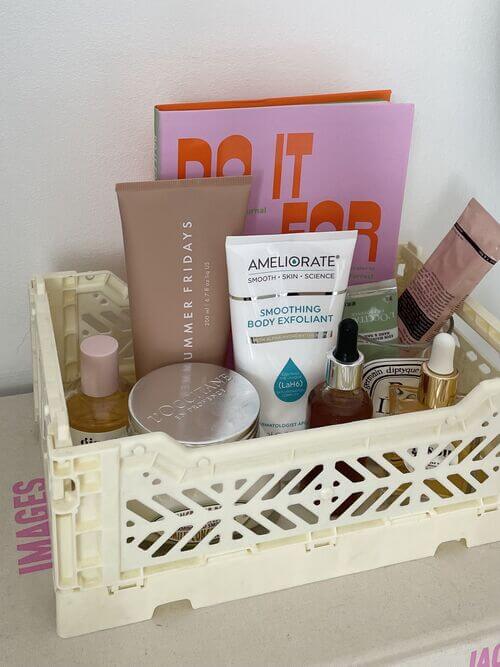 Using a plastic crate is a simple yet effective way to keep all your goodies in one spot.
You can ensure all your skincare stays in one spot and doesn't take over the entire space.
21. Setting the mood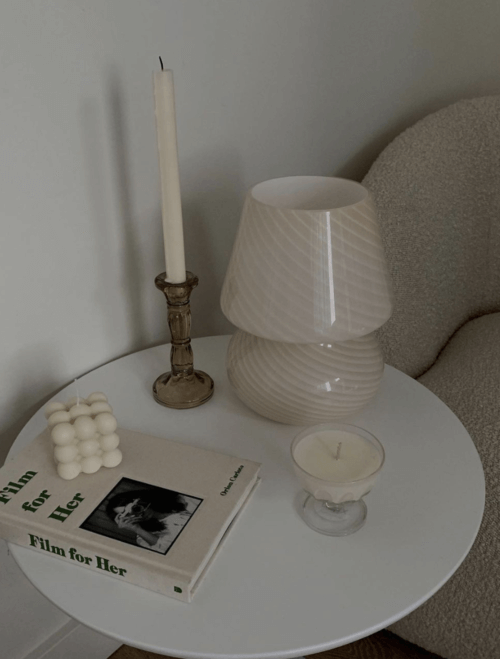 Keep things clean and simple by making use of candles for some atmospheric lighting.
The round table is a fun addition to the basic bedside table.
22. Cute quotes and greenery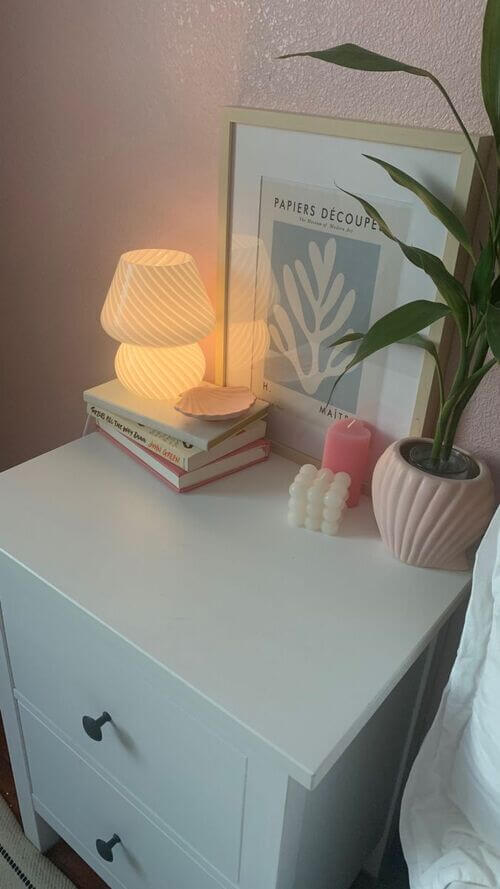 If you want a lot of space, keep your books, plants, and candles at the back of the table to ensure you have enough space for a new addition.
Being positive and pretty
So the decor is sorted, the tips have been given, and you've gotten everything to turn your bedside table from hobby overload to perfectly decorated.
What else is there to do?
Whether you take these ideas as is, match and mix them, or find your imagination running wild after seeing them, it's time to go and try them out.
These ideas are perfect for any aesthetic and can easily be changed to fit your style and personality.
I will personally be interchanging between most of these for the next few months to say I've tried them all.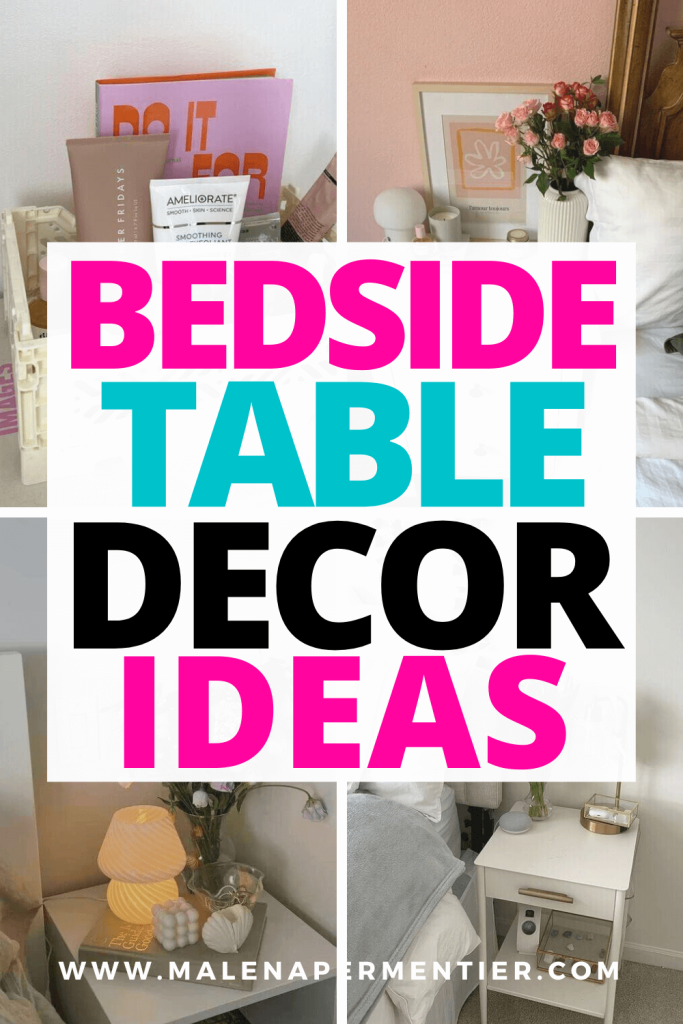 This post showed you the best bedside table decor ideas.
You may also like: