This post is all about small bedroom organization ideas.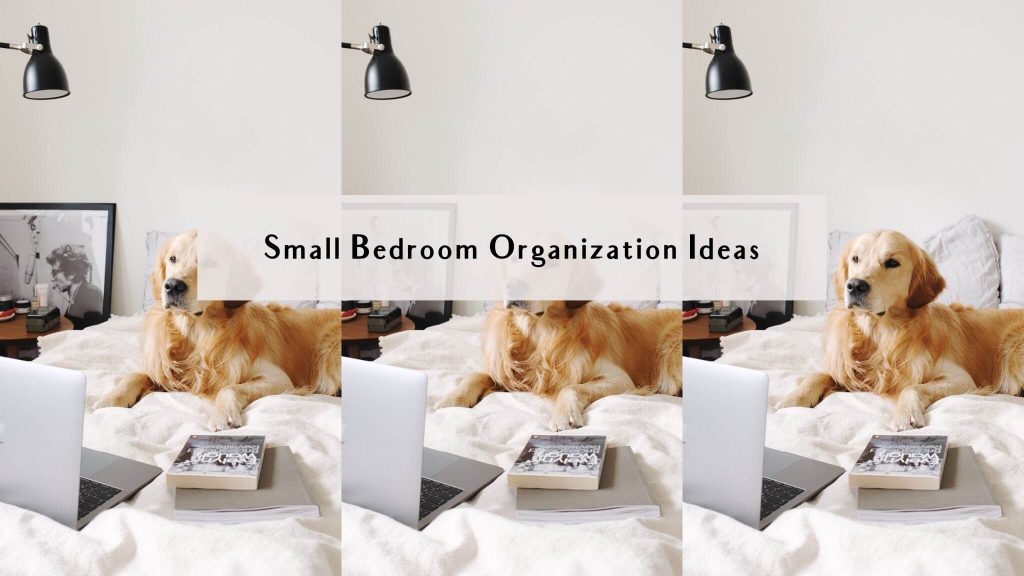 There are too few relatable small bedroom organization ideas out there!! Pinterest loves organization ideas for mansions. But what about us living in big cities, in small apartments with roommates?
End of my rant.
My bedroom is my only private space in my apartment, and therefore it's crucial to keep it insanely organized.
You feel the same; after all, you landed on this post.
Below, I'm sharing the best small bedroom organization ideas that I swear by.
These bedroom organization hacks cover:
How to declutter your bedroom, so it feels more spacious
Best bedroom organization furniture
The best organization solutions for small bedrooms
Ways to utilize awkward spots in your bedroom
Clever storage ideas for small bedrooms

Small Bedroom Organization Ideas
1. Be serious about decluttering
Nothing is worse than having hoarder tendencies when living in a small apartment. Be intentional about everything you own.
Start with your closet and work in sections. First drawers, then shelves with t-shirts and sweaters, the hanging stuff, etc.
Throw everything on the bed so you can see it.
Next, get closet organizers to make it easier to keep your closet tidy. My favorite simple closet organizers are baskets, shelf separators, and clothing hangers that look the same.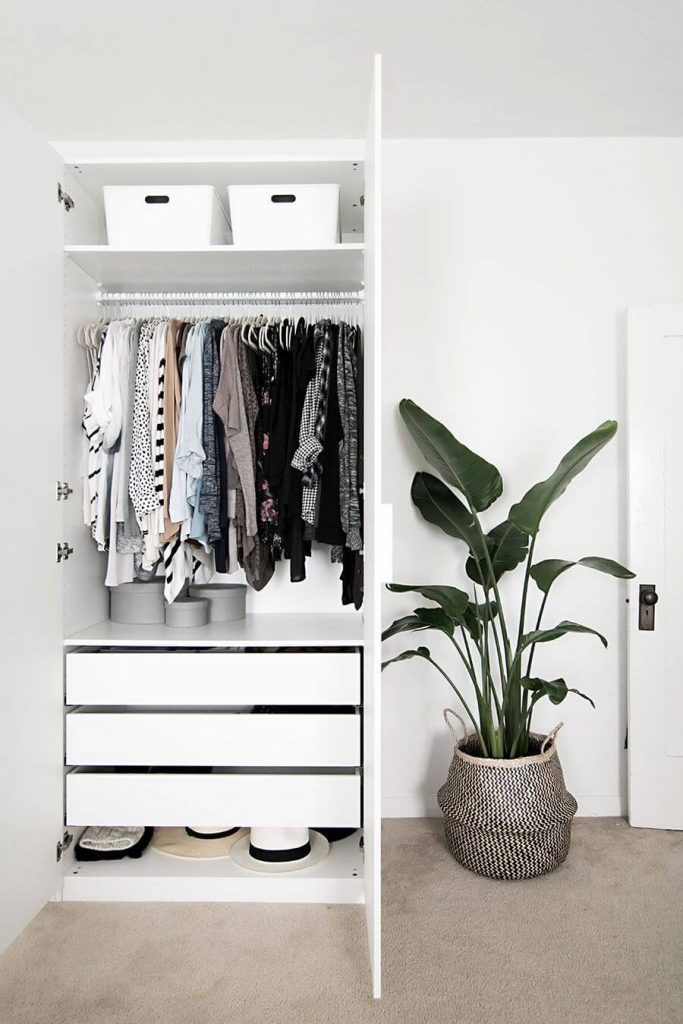 Get helpful closet organizers:
2. Minimize visible things
Overdecorating is one of the culprits in making a small bedroom feel disorganized. Keep your decor very minimal and group in things of 3 or 5.
Use a round tray, add a vase, faux stems, a candle, something personal.
Being super intentional about what you keep out on display makes your bedroom feel a ton bigger.
Recreate this minimal bedroom decor idea:
3. Utilize your under-bed space
If you have free space under your bed, smart decision. Under-bed storage is one of the big live savers in small bedrooms.
Best under-bed organizers:
4. Get a tall dresser
Copy this:

5. Use a nightstand with drawers
Each piece of furniture in a small bedroom needs to serve several purposes. A great way to maximize your space is by using a nightstand with drawers.
Recreate this:
6. Don't keep little things insight
If you have a shelf where you keep many products and miscellaneous things, tidying those away in small organization drawers or boxes makes a huge difference.
Best drawer organizers:
7. Utilize the end of your bed
If you don't have enough space for a full-fledged dresser, a small cube organizer on your bed does wonders.
Copy this:
8. Be creative – jewelry storage hack
Jewelry, by definition, looks pretty. So why not make it part of your bedroom decor instead of storing it in drawers?
Displaying your necklaces also prevents them from tangling, which is a major win if you ask me.
Clever jewelry organizers:
9. Make jewelry part of your decor
This jewelry organization idea from City Chic decor is amazing! Get some expensive-looking ceramic vases to layer your necklaces on.
Recreate this idea:
10. Use the back of the door – but make it look tidy
Doorways are great for creating extra storage space. These over-the-door organizers are life savers if you have a tiny bedroom with no storage space.
Yes, I agree; they don't always look so pretty. If you can, hang this inside a closet door. If the back of the door is all you have, tidy your products in baskets to make them look organized.
Recreate this:

11. Create extra storage with a ceiling shelf
"Ceiling shelf" might not be the correct wording, but the image below explains all.
If you have a small bedroom and a high enough ceiling, create extra storage with a shelf. Do keep it looking tidy, for example, with baskets.
12. Use the corners for floating shelves
Corners in a small bedroom can be a great spot for floating shelves.
Get simple white corner shelves to match your walls, or go for a more rustic aesthetic.
Recreate this idea:
13. Utilize your vertical space
Tall, skinny drawer storage is great for tiny bedrooms. Instead of getting a full-fledged nightstand, use one of these drawers instead.
You can also use this storage as your vanity table and store your make-up, skincare, jewelry, etc.
14. Use a wall-mounted clothing rod
A wall-mounted clothing rod takes up less space than a standing clothing rack or coat holder.
You can also use this clothing rod to hang your bags, scarves, etc.

Because it's in plain sight, pay attention to the aesthetic!! For example, color-coordinate your rack or keep only your current favorites.
Recreate this:
15. Organize your hats in a cute way
Hats are so tricky to organize. I know because my boyfriend has a ton, and it takes up a ridiculous amount of space in our closet.
So if your hats are cute, why not display them instead?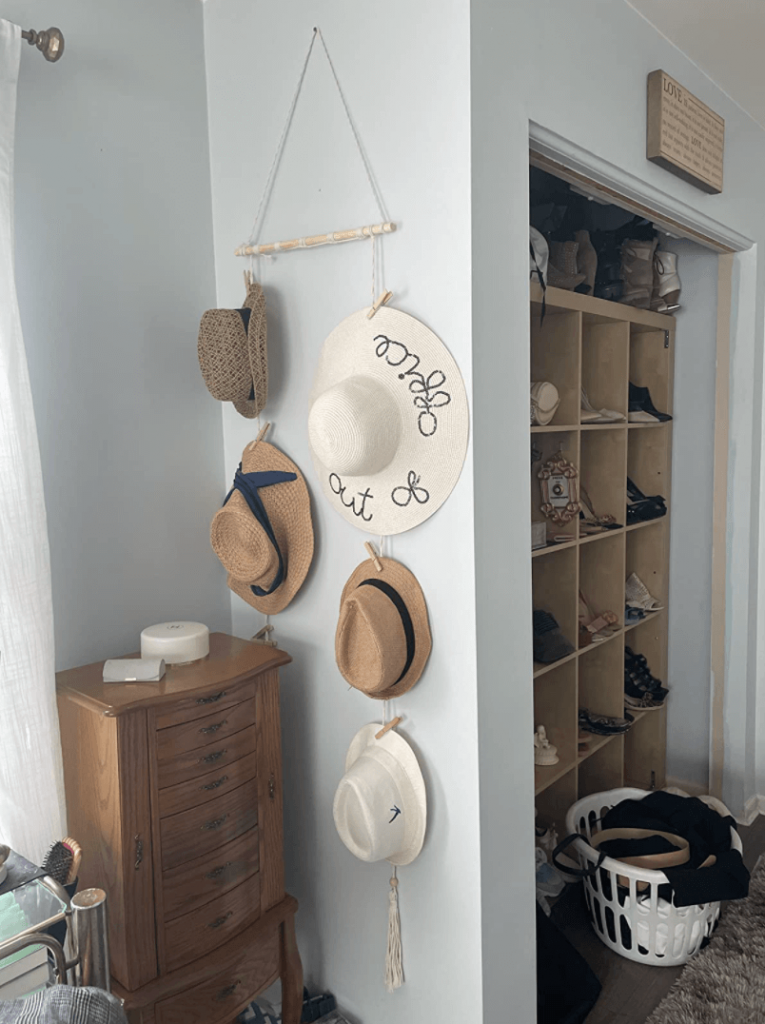 Hat organizer for the wall:
16. Keep free wall space
In small bedrooms, it's often a necessity to use wall space. But don't overdo it. For a room to feel organized, you need enough free space.
Without it, your room will feel cramped. That's why you should tidy as much as you can away in drawers or storage.
Get a floating wall cabinet for your bedroom: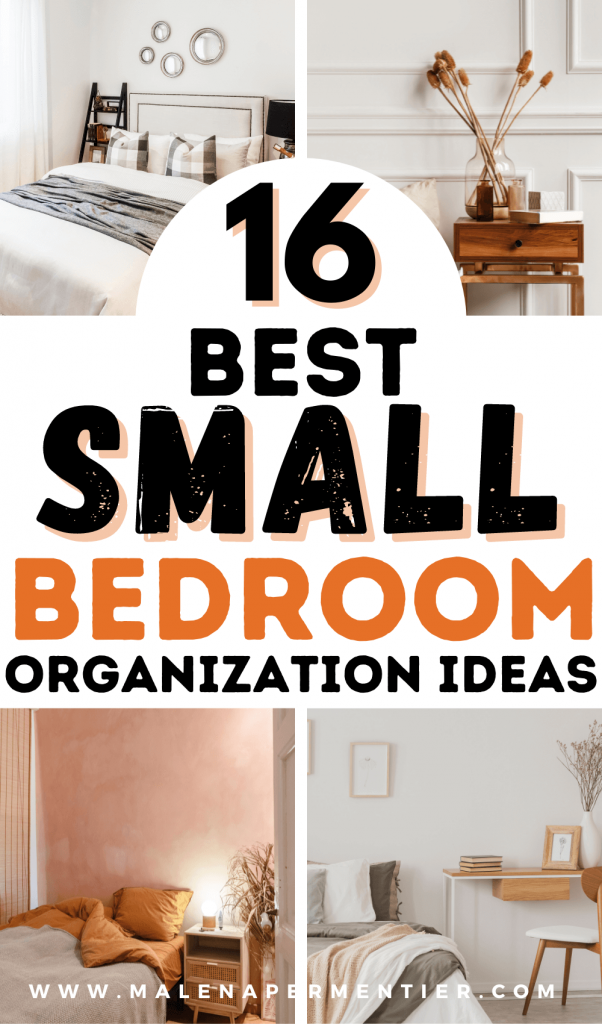 This post showed you the best Small Bedroom Organization Ideas.
You may also like: