This post shows you the best easy drawer organization ideas for every drawer type.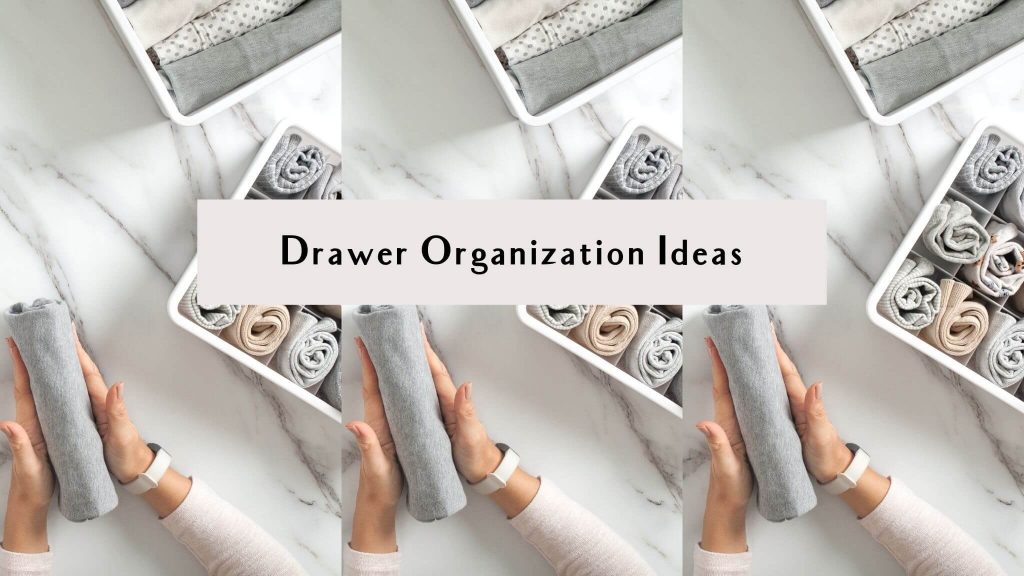 This is a collective post about drawer organization ideas!!
If you have drawers and you need them organized, you'll most likely find the best ideas right below.
Drawer organization Ideas:
Pantry drawer organization ideas
How to organize clothes in drawers
DIY desk drawer organization ideas
Makeup drawer organization
Best drawer organizers
#1 Best drawer organizers
If you're looking to organize smaller drawers like junk drawers, bathroom drawers, or office drawers, I highly recommend using these drawer organizer trays. You can freely move them around to fit them how you want!
1. Makeup drawer organization
A drawer to organize your makeup works great because you can see everything in one glance.
Clear plastic drawer organizers are the best and most budget-friendly way to organize your makeup in drawers.
Copy this:

2. Desk drawer organization ideas
Desk drawers are always packed with a gazillion things. Organize your desk drawer's content by category—an organizer for pens, clips, tape, etc.
This 7-piece desk drawer organizer is perfect if you've got lots of stuff in your drawer.
Copy this:

3. Clothes drawer organization ideas
Put your shirts and sweater upright for easy overview. If you use drawers to keep your clothing, dividers help keep things in place.
Copy this:

4. Bedroom drawer storage ideas
A bedroom dresser can be used for many purposes, including keeping makeup and other products.
The dresser's top drawer often ends up being messy because it's easy to keep things you need every day.
I love the organizing idea below, where the tiny plastic bins keep smaller items organized.
This organizing idea would also work for stuff besides makeup. For example, in my top drawer, I keep a lot of cords, cameras, and digital stuff I need daily.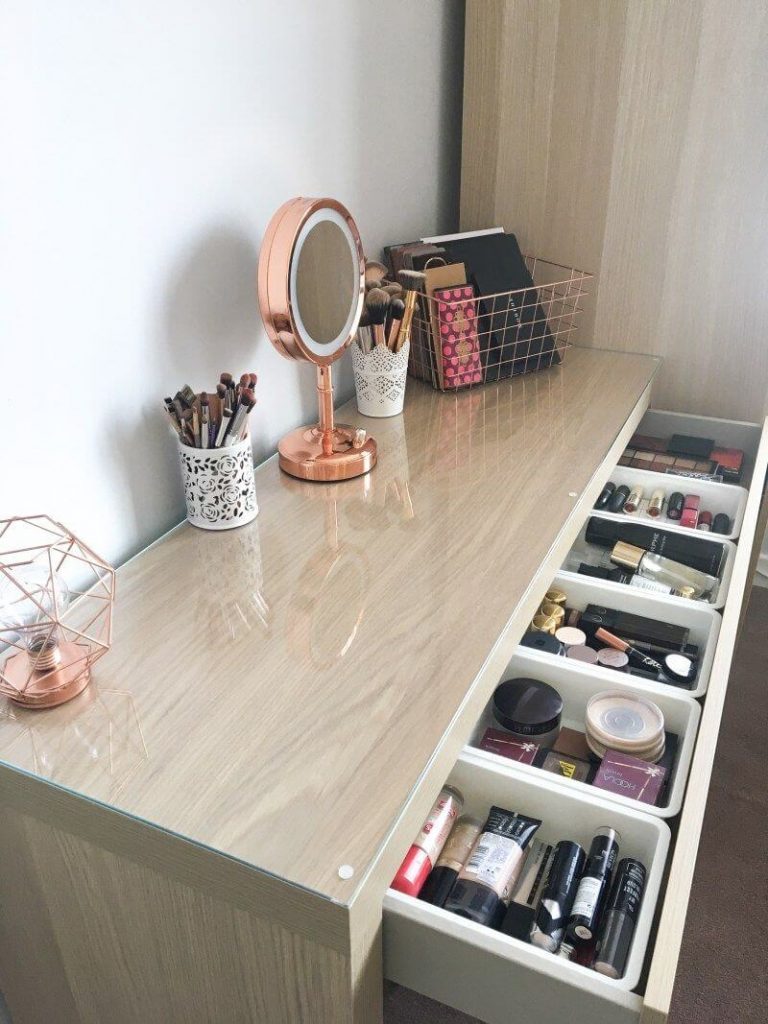 Copy this:

5. DIY drawer organization
This one speaks for itself, but if you don't want to spend money on drawer organizers, this DIY organizer does the job!!
This DIY cardboard drawer organizer Youtube video does the best job at explaining how to recreate this system!!
6. Kitchen drawer organization ideas
Almost everyone has a cutlery tray for their forks and knives, but what about the other small utensils?
If you want to take your kitchen drawer organization to the next level, the below image is an excellent example of how.
Also, I'm obsessed with the gold cutlery set.
Recreate this:

7. Drawer organizer for accessories
If you have some drawers in your closet, better make the most of it. Closet drawers are perfect for keeping your belts, scarves, small purses, sunglasses, etc.
I love the closet drawer organization in the picture below!
Related: 25 Easy Closet Organization Ideas To Make the Most of Your Space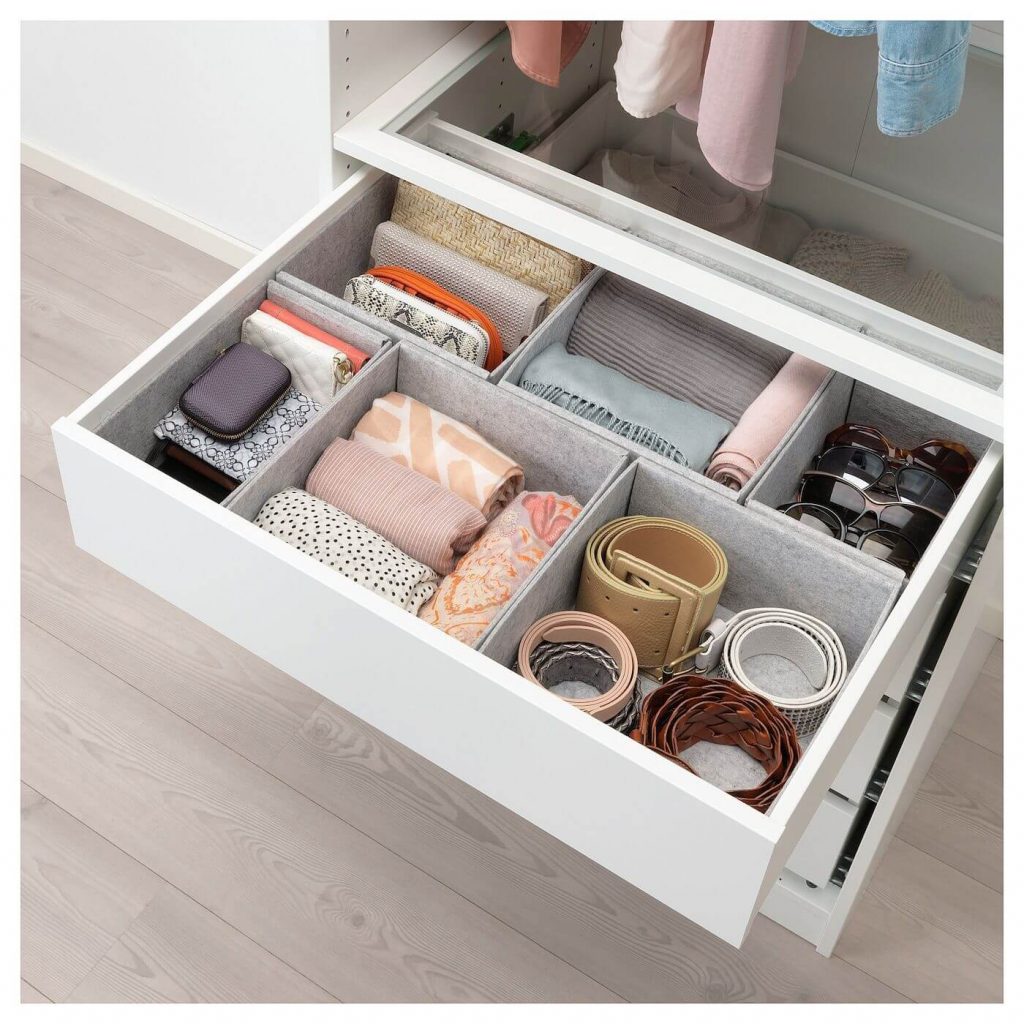 Copy this:

8. How to organize clothes in drawers
Keeping your t-shirts look organized in drawers for longer than one day is so hard.
Organizing your t-shirts in baskets is a great way to keep an overview and keep your drawer look tidy.
Make sure you measure your drawers' width, depth, and height, and make a plan before buying baskets!!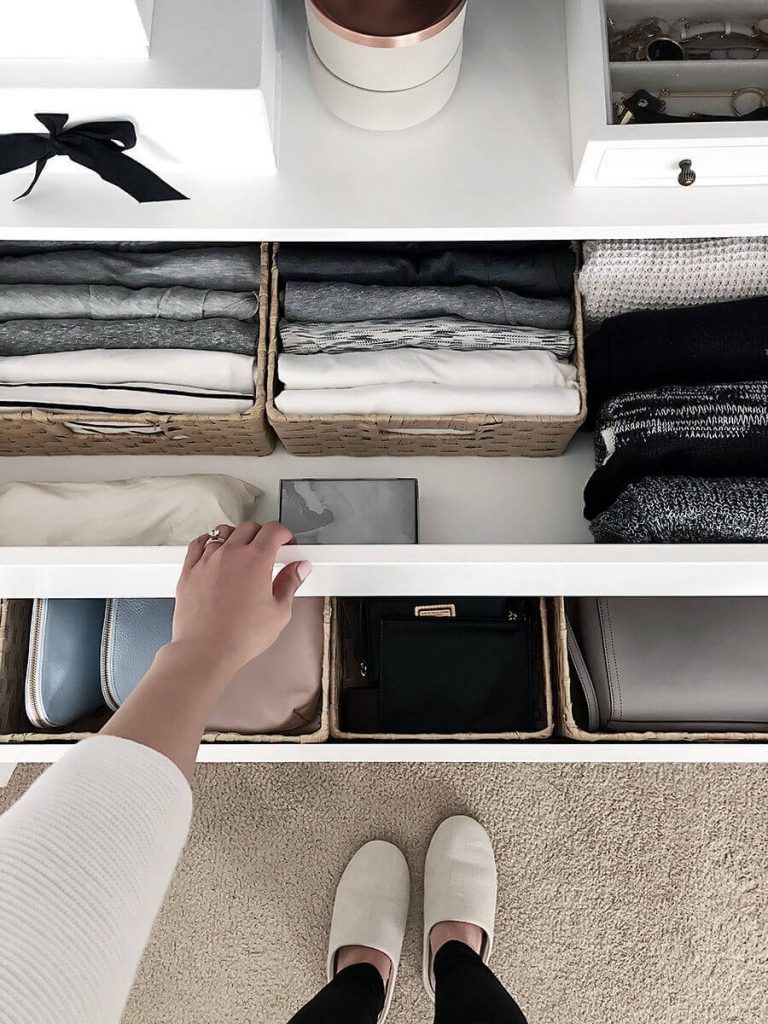 Recreate this:

9. Bathroom drawer organization ideas
Small bathroom drawers are tricky because they become messy in no time. I blame it on all the small products.
I found a cool organizer tray that I think will work great for small drawers. Make sure to measure your drawers before deciding on the best organizers.
Related: 27 Brilliant Bathroom Organization + Storage Tips (Perfect for Small Bathrooms)
Recreate this:

10. Shallow drawer organization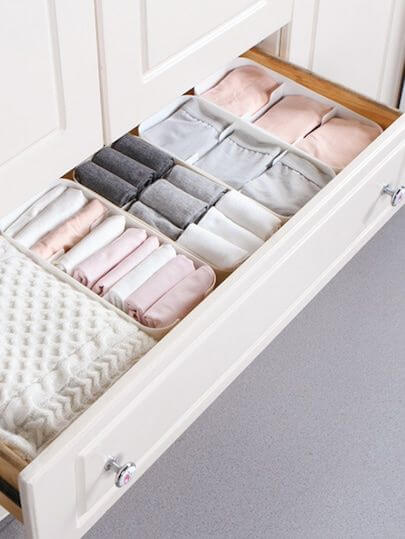 Copy this:

11. Kitchen towel drawer organizer
Instead of stacking (and stuffing ;)) your kitchen towels at one of the bottom drawers in the kitchen, fold them nicely in a clear bin.
I'll be honest: I've purchased many organizers, and while some don't work how I planned, I always find clear plastic bins incredibly versatile.
Copy this:
12. Office drawer organization
Wooden drawer organizers do the trick to make your office drawers look a little more office-y.
I think they look nicer than plastic organizers, and in terms of price, they're pretty much the same.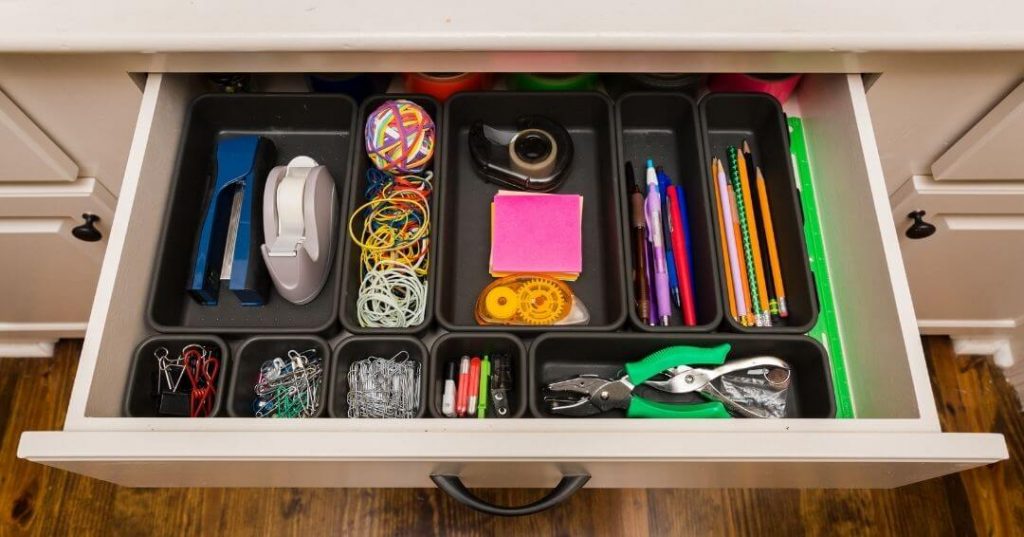 Copy this:


13. Pantry drawer organization ideas
I had one of these pantry drawers growing up, and what I remember is they ALWAYS were a mess.
I'm not saying that organizers are always the solution, but in the case of this pantry drawer, it most definitely is!!
Wood or bamboo is not the cheapest for organizers, but they're sturdy and last forever.
Related: 12 Small Pantry Organization Hacks That Are Absolute Goals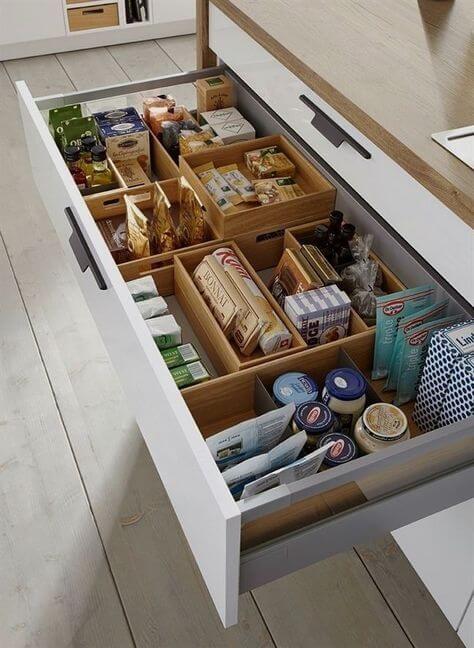 Copy this:

14. Nursery drawer organization ideas
I came across this nursery drawer organization and idea, and I love how efficient and simple it is!!
The clear plastic drawer dividers make it look tidy, keep all the stuff in place, and the labels are the finishing touch never to lose anything anymore.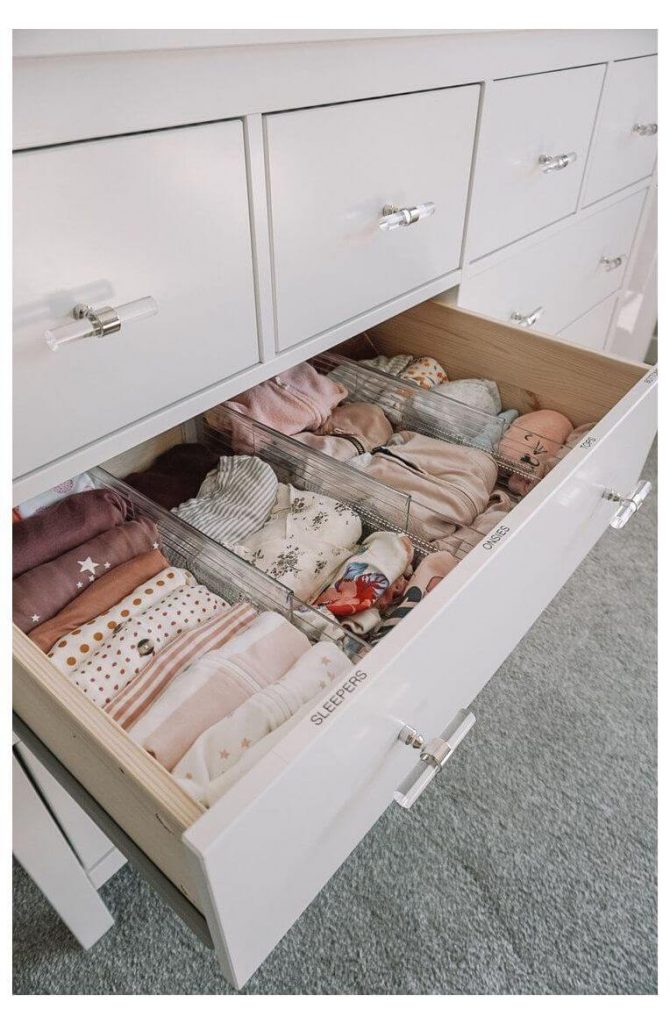 Get clear adjustable organizer for dresser drawer:
This post was all about the best drawer organization ideas.