This post is all about easy closet organization ideas!
Closet organization is a real topic, especially for those with a small closet!
When you have limited closet space, you absolutely have to keep your stuff organized. Because if not, well… it just becomes a disaster.
The Best Easy Closet Organization Ideas
Below, we're going over the best closet organization ideas specifically for small closets. This is what we'll cover:
The hanging part of your closet
How to organize your shelves
Smart shoe storage ideas for a small closet
Cheap small closet organization solutions
Must-haves for a small walk-in closet
Organizing the hanging part of your close
1. Velvet hangers
Let's start with the basics! A set of good hangers elevates your closet and the way you feel about your clothing.
To me, there's nothing more annoying than having hangers in 5 different colors and styles, so this is the first thing I did for my big closet make-over.
These velvet hangers are functional, affordable, and well.. they're velvet! What's not to love.

2. Steel organizers
These steel organizers come in a set of 3, which for me was just enough.
I like using these for my "formal" pants that require ironing.
This keeps my pants crease-free and ready to wear!
Plus, it saves some serious space in your closet compared to using individual hangers.

3. Smart closet hangers
These space-saving clothing hangers are perfect for your off-season clothing or occasion wear that you don't need every day.
I also love them for color-coordinating!
Keep your whites, blacks, and grays all together.
If you have a lot of t-shirts (as I do), these are a true closet game-changer.

4. Over-the-door organizer
These over-the-door organizers never get old! I have one for my bedroom door and bathroom door.
If your closet door is big enough, you can also use this on your closet, of course.
Unfortunately, it doesn't fit on my tiny closet doors.

5. Add an extra clothing rod
I don't know who decides the closet interior of shelves, rods, hanging space, etc, but what I do know is they never get it right in my rentals, haha.
This extra hanging rod is perfect if you only have one rod but want one more.

6. Hanging closet organizer
Truth be told: these hanging closet organizers easily get messy.
My advice is only to use one for a specific purpose.
For example, towels and sheets, or accessories likes bags.

How to Organize Shelves in a Small Closet
7. Shelf dividers

8. Stackable shelf dividers
I love these in my kitchen cabinets to create extra space, but I totally missed how great they'd work in my closet until I saw a picture on Pinterest.
These stackable dividers are super sturdy and perfect for t-shirts, shoes, or any other clothing you keep on your closet shelves.

9. Drawer organizers
If you have large drawers and things easily go all over the place, these dividers are perfect for keeping yourself accountable and keeping your stuff in the right place.

10. Cute storage bins
Maybe you have some extra space on top of your closet, or at the bottom.
Cute storage bins help you tidy up your stuff while everything looks neat and organized.

11. Closet drawers
You know how important these extra closet drawers are when you have tall closets with little shelf space!
Use them to tidy away shoes or off-season clothing you're not currently using.

Shoe storage ideas for a small closet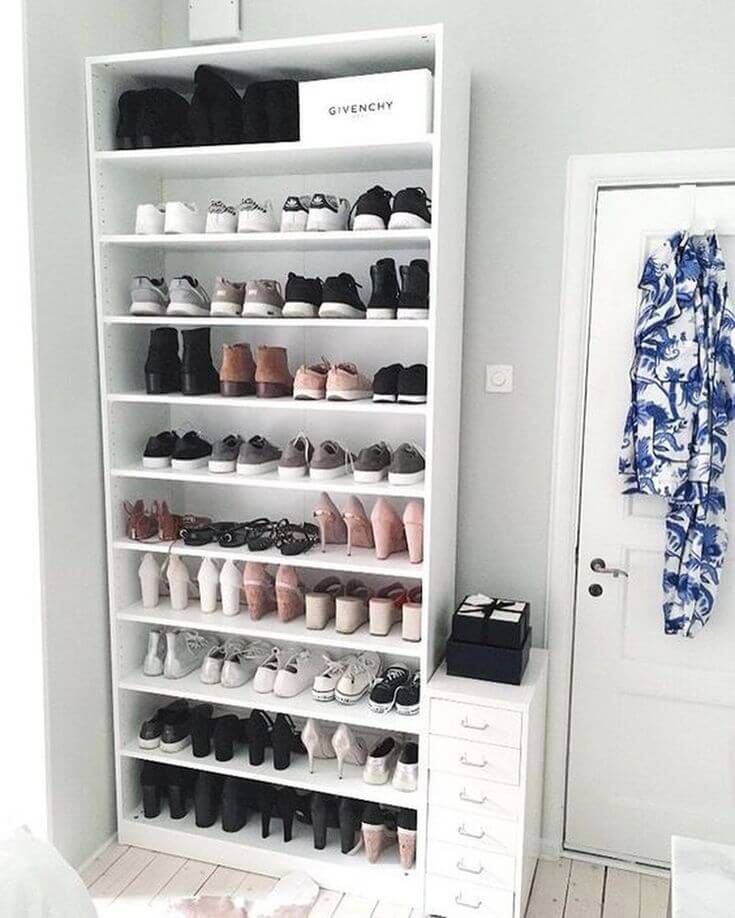 12. Over-the-door organizer
According to the Amazon Reviews, people LOVE this over-the-door organizer.
I've never used one of these (see the next one), but I think it's a great way to keep your shoes in place and always know where to find them.

13. Hanging shoe organizer
I feel that almost everyone had one of these growing up!
They might not be the cutest, but they sure are practical for keeping your closet and shoes organized.

14. Shoe rack
Use your shoe rack at the bottom if you have a tall closet.
Another option is to keep your shoe rack at the entryway.
This shoe rack comes in different sizes, and I personally prefer the small one if you have limited space.

Cheap small closet organization solutions
15. Garment rack
I have a love/hate relationship with garment racks, but it can work great if you're disciplined enough to keep it organized and put together.
If you keep a garment rick visible in your bedroom, you'll want to make sure it looks like a piece of art.
I'm very much anti-clutter, so if you feel the same, make sure to use the garment rack to display your favorite clothing and things that make you happy.

16. Multi-use organizer
If you have many sunglasses, jewelry, nail polishes, or lipsticks, this multi-use organizer is AMAZING to keep your favorite things organized and nicely displayed.
Hang this one on the wall or the inside of your closet. Look through some of the pictures of how to use this organizer; it's pretty impressive!

17. Underwear organizer
Not a must, but I think this organizer makes your underwear drawer much better!
If you keep all your undergarments in one drawer, you know how tricky it is to keep things organized.
This makes it much easier.

18. Seasonal storage
These storage organizers are perfect to keep under your bed or on top of your closet.
Use it for seasonal items like winter coats, bedding, summer dresses, etc.

19. Shelf storage bins
If you have big shelves, storage bins are a must! It's much easier to keep your shelves looking tidy with a little help.

20. Purse organizer
This organizer is perfect if you have a lot of bags!
What I love about this one is that you can hang it inside your closet.
That way, you limit the clutter visible in your room for a more organized space.

How to organize a small walk-in closet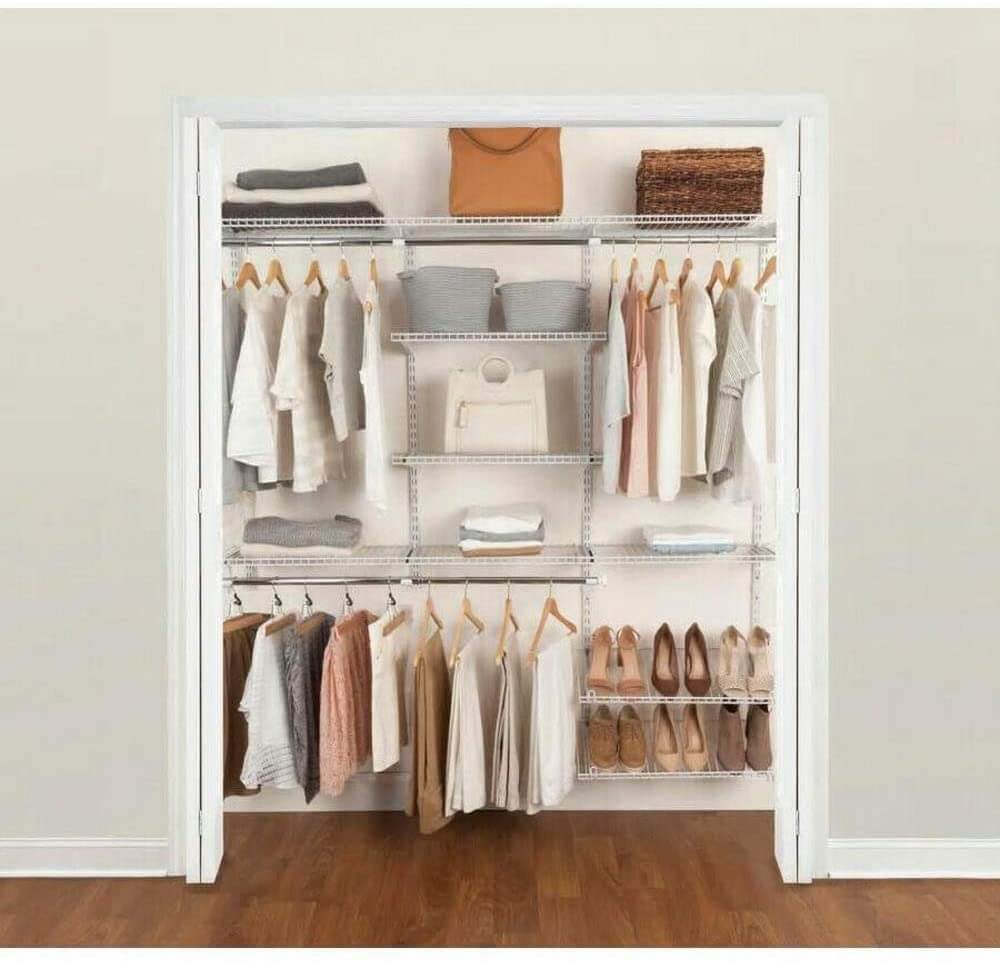 21. Closet storage stackable
I love how these stackable storage units enable you to create your own walk-in closet without spending a lot of money.
Along with the items you'll find below, creating your personalized closet is much easier than you'd think.

22. Closet tower kit
This kit is perfect for an open space walk-in closet.
The rods are adjustable (check the sizing, though), so they'll work in most closets.

23. Custom closet organization kit
This wire closet organization kit might look weird at first sight, but when I had a closer look at the different customer's pictures of how they installed it, I'm convinced this is actually a great way to organize a small walk-in closet. See for yourself!

24. Add extra hooks
Extra hooks are always a great space-saving idea if you have many chunky items like bathrobes or big winter coats.

25. Free-standing closet organizer
This one doesn't fit in every small walk-in closet, but you'll LOVE this solution if it does.
It's affordable, practical, and looks good.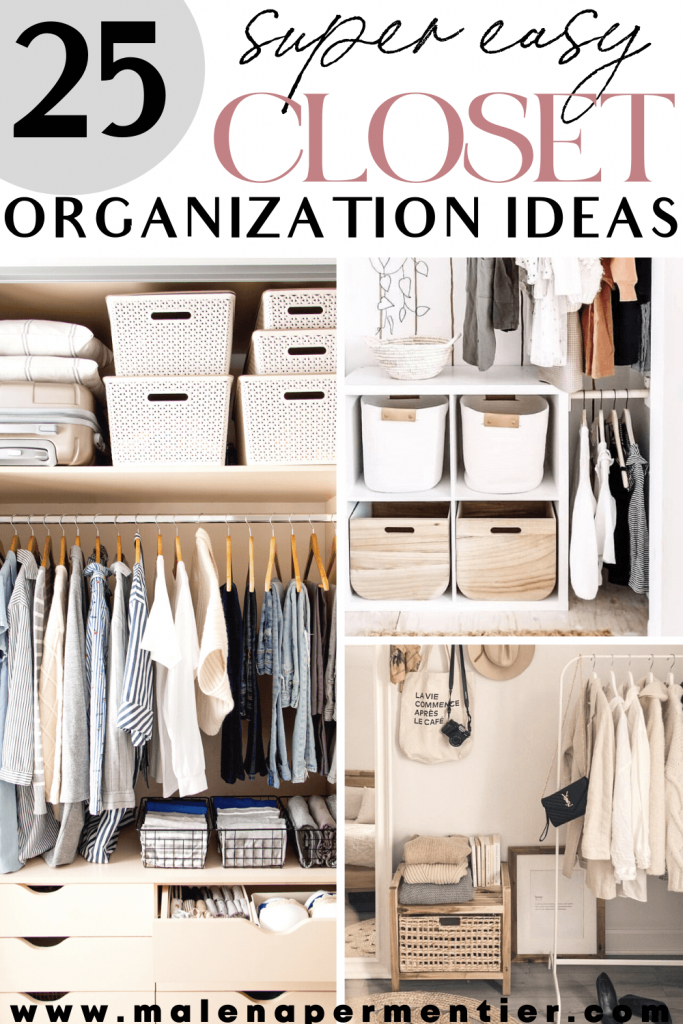 This post was all about the best Small Closet Organization Ideas
You may also like: