*This post may contain affiliate links, which means I'll receive a commission if you purchase through my link, at no extra cost to you.
Want to make your small living room look SPACIOUS? This post shows 11 simple and affordable ways how to make a small living room look bigger.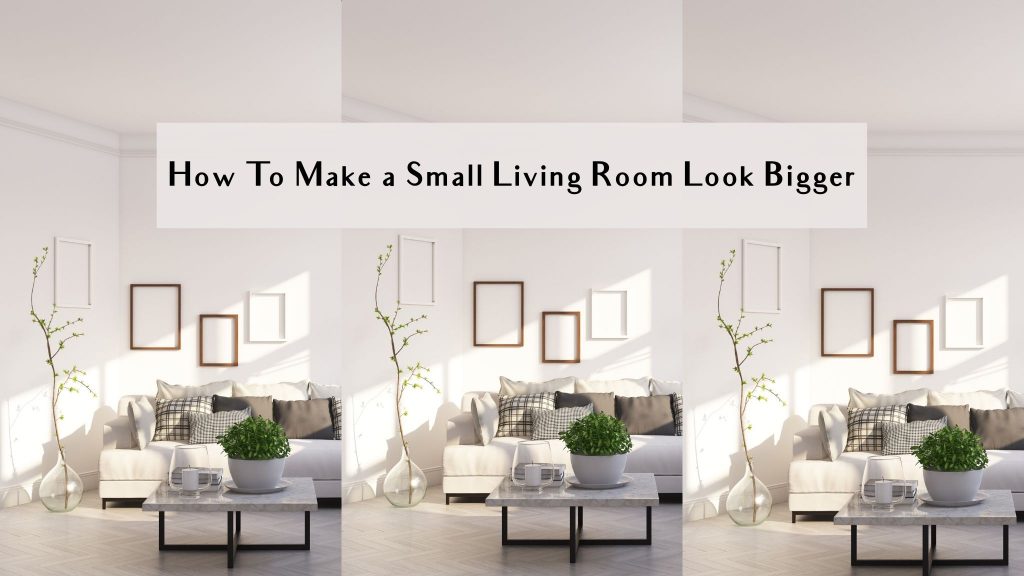 Furnishing a new apartment is super exciting, but you will have to think twice about the furniture and decor you pick if you have a small living room.
Besides choosing the right furniture that makes a small living room look bigger, the placement also makes a huge difference.
I struggled a lot with this for my own small apartment living room, but I've found some golden rules that make a huge difference for your space.
These 9 tips will elevate your space and show you how to make a small living room look bigger and brighter!
1. Go for light colors
Keep your living room in neutral tones like white, beige, and gray is how you instantly make a small living room look bigger.
That goes for your walls, floor (rugs), and also your furniture.
Although you can definitely play around with a pop of color here and there, keep the main color palette neutral.
2. Use a large mirror
Strategically place a large mirror in your living room that reflects the window and your couch area. This guaranteed makes your living room look so much bigger.
If your living room is too tiny for a standing mirror, opt for a round mirror above the couch instead.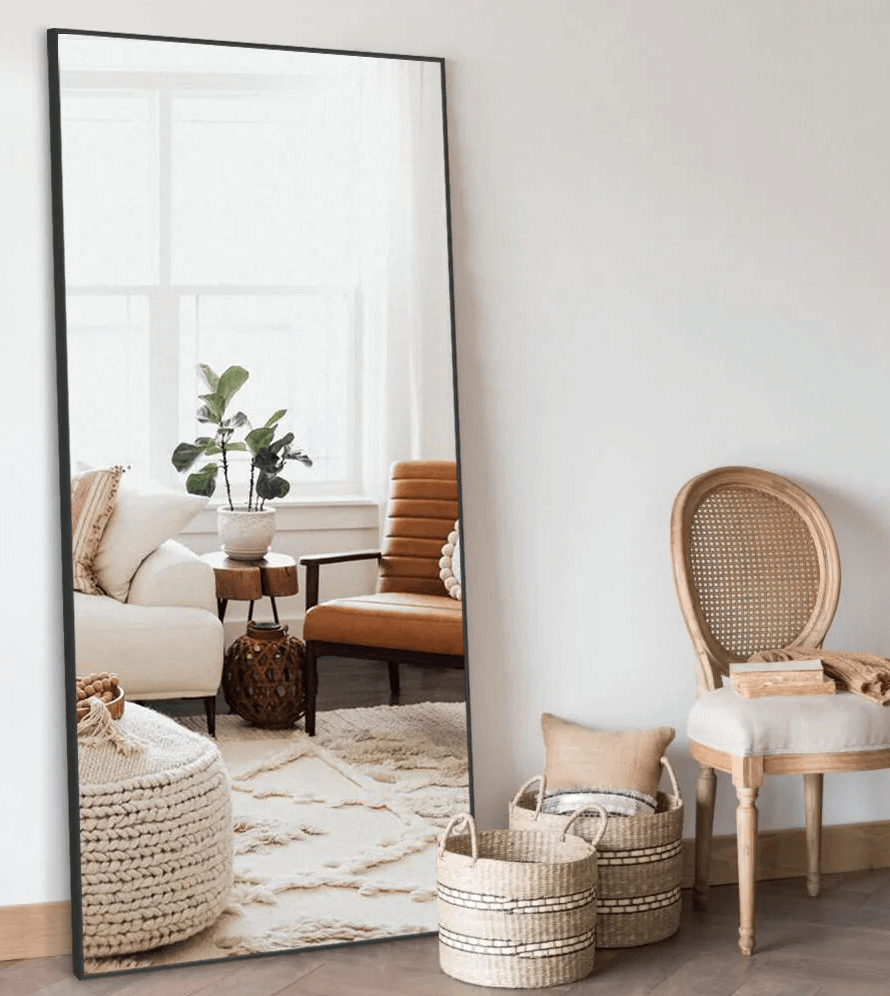 3. Choose an entry table over a dresser
Entryway tables are far more versatile than just for, well, the entry. If you want a dresser in your living room, why not go for a console table with storage space instead?
Because of its sleek shape, it doesn't visually take up a lot of space as a dresser would.
There are many creative ways to use an entry table in a small apartment!

4. Limit large furniture
Rethink adding a huge couch to your living room; instead, you could go for a small love seat or L-shaped couch.

Compromise for the smaller seating space with ottomans or an accent chair – these usually take up a lot less space.
Get affordable sectional:

5. Go for exposed legs
You easily make a small living room look bigger by choosing furniture with exposed legs. Choose a couch with legs off the ground to make the space seem more open.
Especially keep this rule in mind for the largest furniture in the room, it makes a huge difference.
Get loveseat: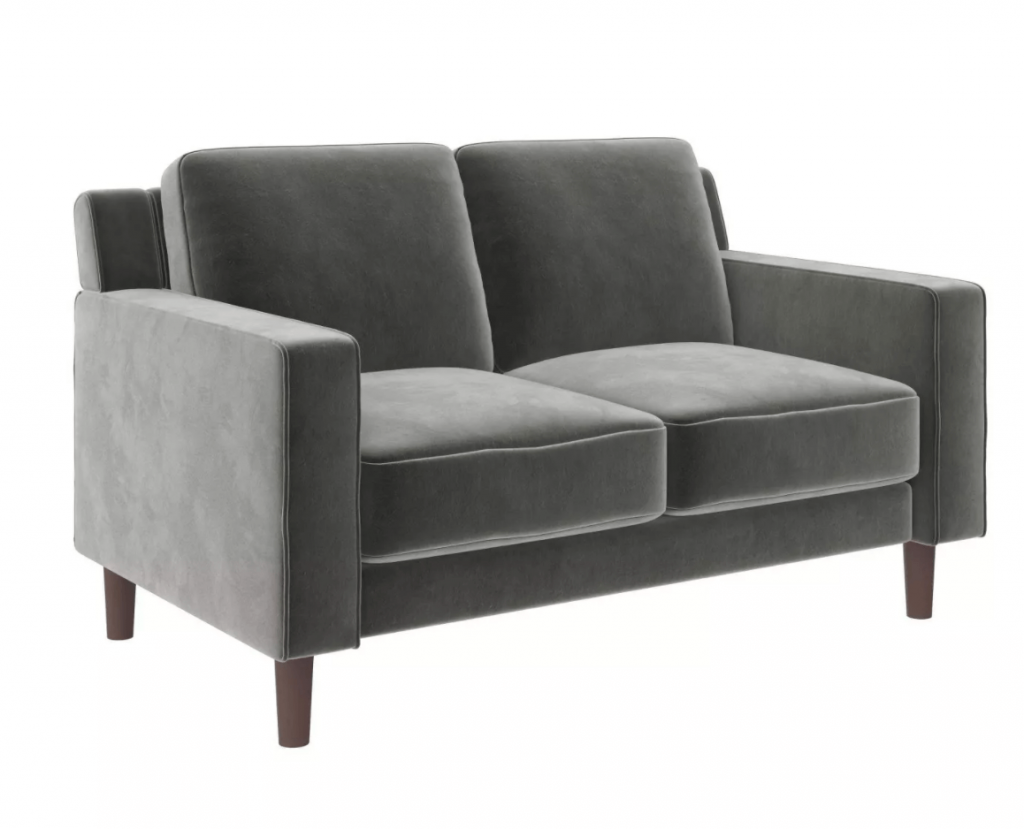 6. Choose skinny floating shelves
Decorating your walls is absolutely possible in a small living room; you just have to be smart about it.
If you hang some shelving, make sure you opt for a long narrow floating shelf instead of a large, chunky one.
You don't want shelves to obstruct your visual field from the other end of the room.
How to use shelves in a small living room:
Get floating shelves:

7. Don't overdecorate
Clutter is such a big culprit in making a living room look much smaller than it is. One way to avoid your decoration looking messy is to pick decorating spots carefully. As a rule of thumb, create decor spots in groups of 3 or 5.
This is what you don't want to do:
Too much decor: More than 5 decor items together easily look too overwhelming.
Decoration everywhere: Many single pieces of decor scattered all over the living room makes the room look messy and full.
You want to pull eyes at carefully determined spots, not all over the place.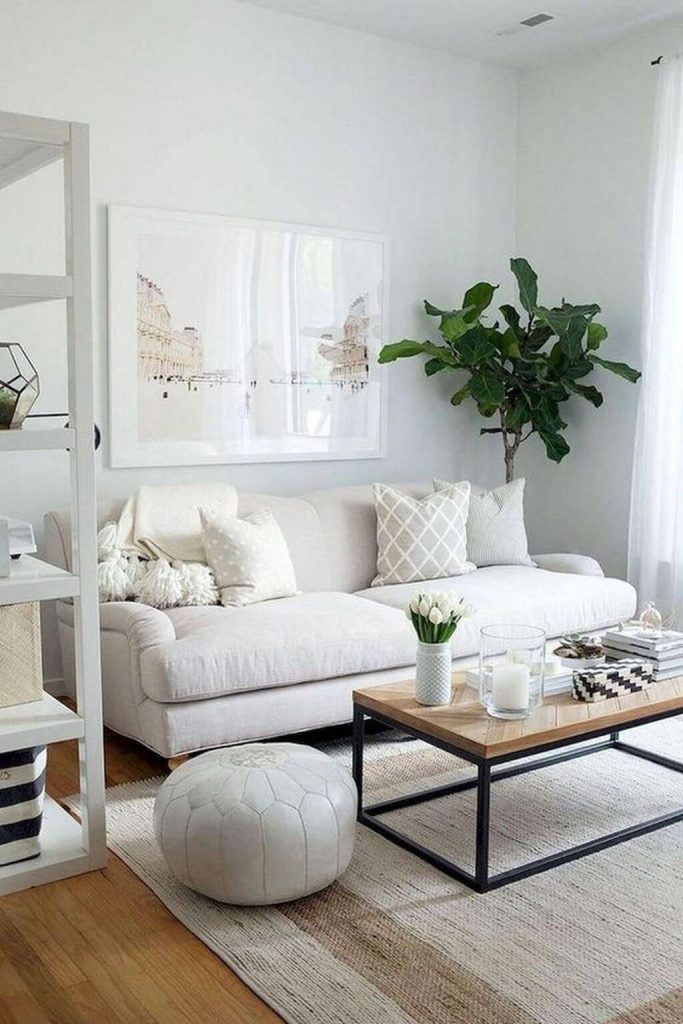 8. Add a Lucite coffee table
See-through furniture obviously makes your space look bigger, because well, you can look right through it!
Coffee tables in small living rooms can be tricky, so why not consider adding a Lucite or glass coffee table for more open space?
Get budget option on Amazon:

9. Use multifunctional furniture
You have to be creative to maximize space in a small living room! My favorite way of making a living room feel bigger is by opting for multifunctional furniture.
The best idea I've found to date is an ottoman with storage that can also be used as a coffee table with a tray on top.
Get storage ottoman:

10. Mount your TV
Mounting your TV is an easy way to free up optical space in your living room. Although a TV table can definitely work too in a small living room, in extremely small spaces mounting your TV is a great way to free up space.
Get invisible TV mount:

11. Break all the rules
Use these tips to get the foundation of your living room right, and then break all the rules! If you get the placement of your furniture right, and you pick the right pieces that don't overwhelm the room, there's a lot of wiggling space in terms of "the rules."
This post was all about the best small living room tips & tricks in 2021.
You may also like: