This post is all about the best small pantry organization hacks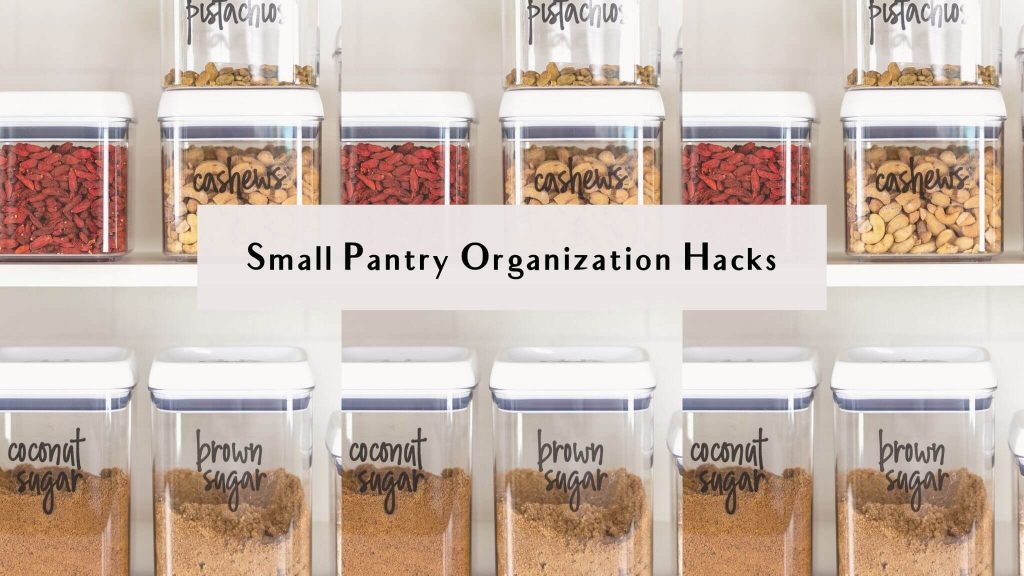 Organized kitchen, organized life! If you live in an apartment with limited space, you know how true that statement is.
Especially in a small kitchen, you need to step it up if you want to keep things organized.
One of my main kitchen struggles has been the pantry (or lack thereof), so I'll share my favorite ways to keep my pantry organized below.
Whether you have a built-in pantry or a pantry cabinet, the organization hacks below work for any pantry, particularly for small spaces.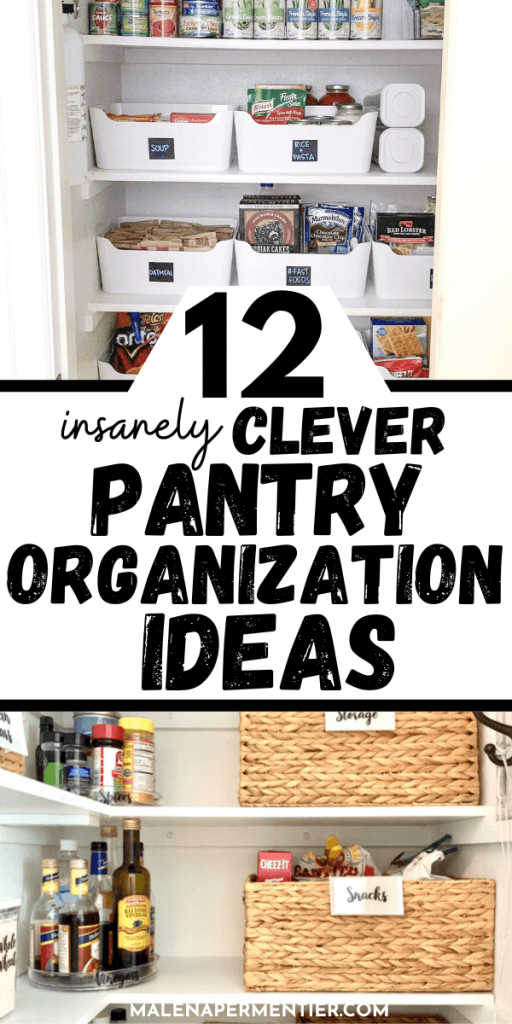 1. Use a step organizer
I want to see all of my spaces with one glance! The best way to do that in a small pantry is by using a shelf step.

If you're unsure about sizes, go for an adjustable one so you can perfectly fit it in whatever space you want. The picture below shows perfectly what a step organizer can do for a small space pantry.
Get shelf steps:

Get turntable organizer:

2. Organize with white pantry bins
Use white pantry bins, not clear ones! Although clear bins might seem like a good idea, they easily make your pantry look messy. Instead, use kitchen pantry labels to indicate what's in each bin.
Get white bins for the pantry:

3. Only use see-through containers for cereals
Not to stop you from having see-through containers at all! Thin and tall see-through containers work well for cereal, sugar, or flour. Preferably you keep these at the top of your pantry for the most organized look.
Get cereal container storage:

4. Organize your water bottles
It's pretty surprising how many water bottles one household can have – but hey, they're a necessity!
If you don't want your water bottles lying around in places they shouldn't, this organizer is perfect for making things look orderly in your pantry.
Get water bottle organizer:

5. Use the pantry door (if you have one)
Using the pantry door for storage doesn't always work in a small pantry. But if you're lucky enough to have a built-in pantry with decent sizes doors, using a pantry door organizer is a great way to maximize storage space.
The door is a great spot to keep your small items, like sauce bottles, snacks, nut butter, and so on.
Get over the door pantry organizer:

6. Group pantry items by category
Organize your pantry by category: dinner, on-the-go, baking, stuff you only need occasionally, drinks, etc. Naturally, you want the things you use most often to be easiest to grab, so keep those at eye level. See below an example of this!
Baking: Here you'll keep things like flour, sugar, oatmeal, and other baking ingredients.
Snack zone: In this zone, you will keep your snacks. I keep my (healthy) snacks, like walnuts and pecans in glass jars because it looks pretty.
Dinner zone: Here you'll keep all your daily dinner things—for example, pasta, rice, quinoa, canned goods, sauces, etc.
Quick stuff: Here you'll keep things you need on the daily, like your favorite breakfast food (oats!), nuts, and other things.
7. Use a few glass jars for aesthetic
Nuts, seeds, rice, hemp, and quinoa are a few things I like keeping in glass jars. It makes me feel accomplished and proud of myself, looking at all the healthy things I eat and cook daily.
This also helps if you've set your mind on eating healthier. Looking at healthy (and pretty!) things in jars can help encourage you to eat right and get creative with your cooking.
Below, you see how the top pantry shelf is used to keep glass jars. It's a cute way to make a statement to yourself each time you open your pantry!
Get glass jars:

8. Use bigger baskets for the bottom
The bottom part of the pantry usually has a little more space – so you can you baskets there to store your stuff.

This is also a good spot to keep your water bottles, wines, and liquors if you have them.
Get large pantry storage baskets:

9. Optimize your pantry shelf
If you have many small things you want to store in your pantry, adding a pantry organizer is a smart way to create an extra shelf.
The extra pantry shelf seen below is "officially" meant for cabinets, but that doesn't mean they don't work perfectly for a small pantry too.
Get extra pantry shelf:

Get stackable bins:

10. Box organizer shelf
Foils, baking paper, and ziplock bags become a mess so quickly! Dedicate one part of your pantry shelf to this organizer.

This will make your pantry look much tidier when these foils and zip locks are all tidied up in one place.
Get box organizer:

11. Keep your cans in one place
Cans are another tricky thing to organize. If you have many, this can organizer is the perfect addition to your pantry.
I find bins and organizers usually expensive, but this one is surprisingly affordable.
Get can organizer:

12. Use Kitchen pantry labels for top-notch organization
If you're really into this whole pantry makeover, you'll love finishing your project with these super cute and affordable labels.
135 labels cover every pantry item you can think of—for example, pasta, walnuts, white rice, self-rising flour, snacks, and decaf coffee.
Below is the prettiest pantry picture with these exact labels for illustration!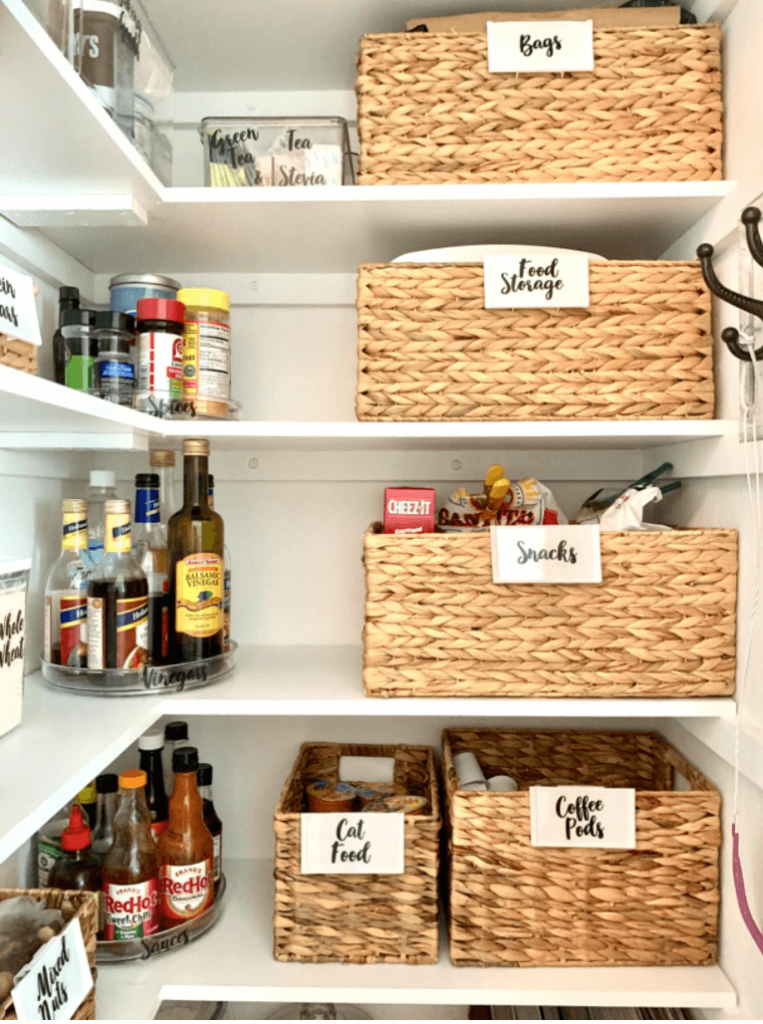 Get cursive pantry labels: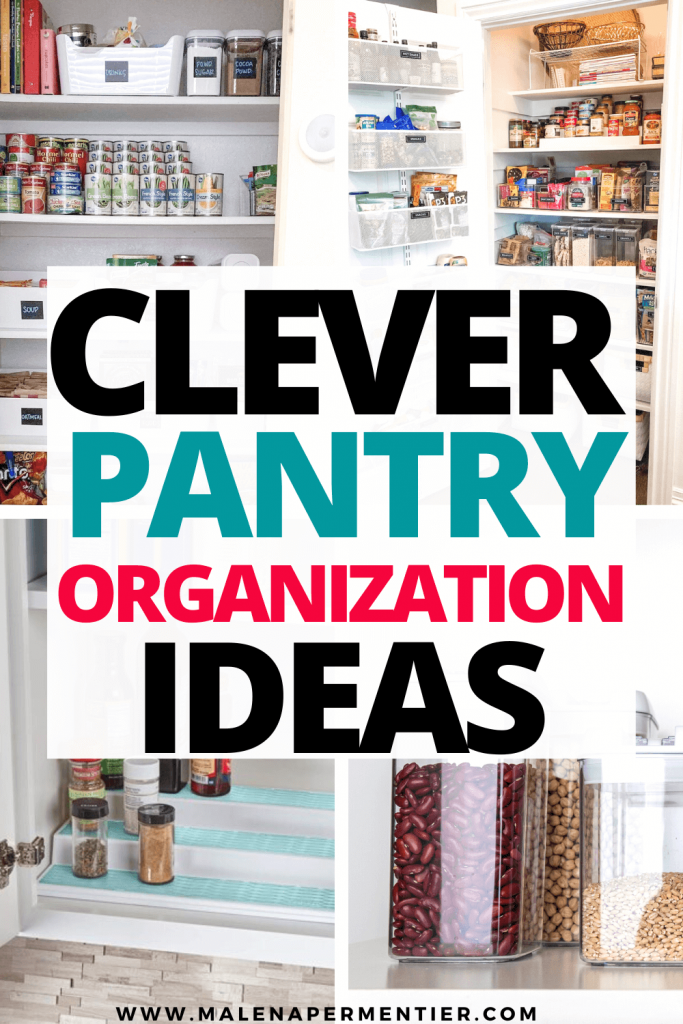 This post was all about the best small pantry organization hacks.
You may also like: