This post is about kitchen countertop organization ideas!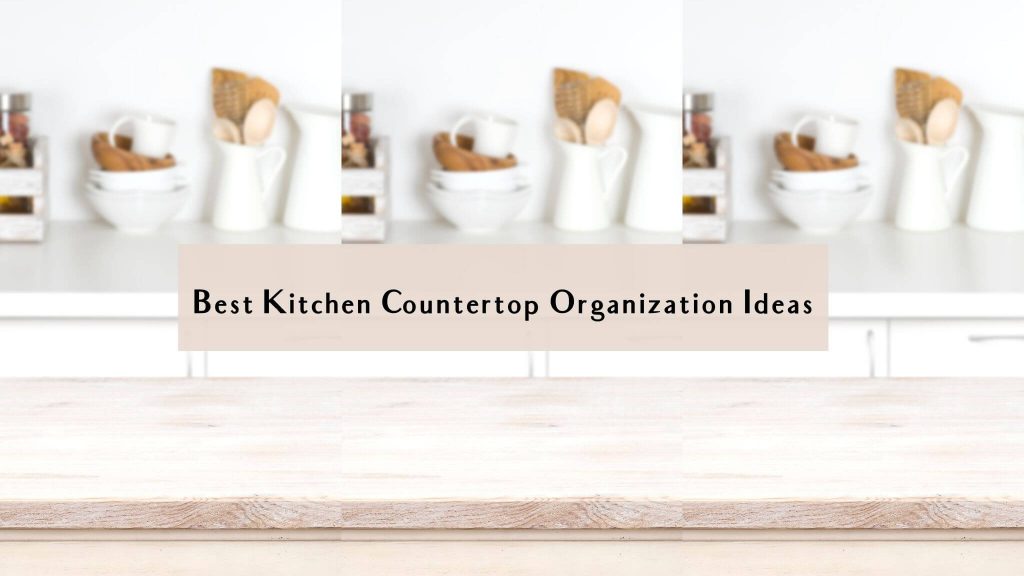 How to organize kitchen countertops
The best ways to organize kitchen countertops depend on how much space you have. Today's post focuses mainly on kitchen counter organizing ideas that will save you space! Of course, without sacrificing aesthetics.
We'll go over the best place to keep your appliances, the best space-saving organizers, and simple decoration ideas to add.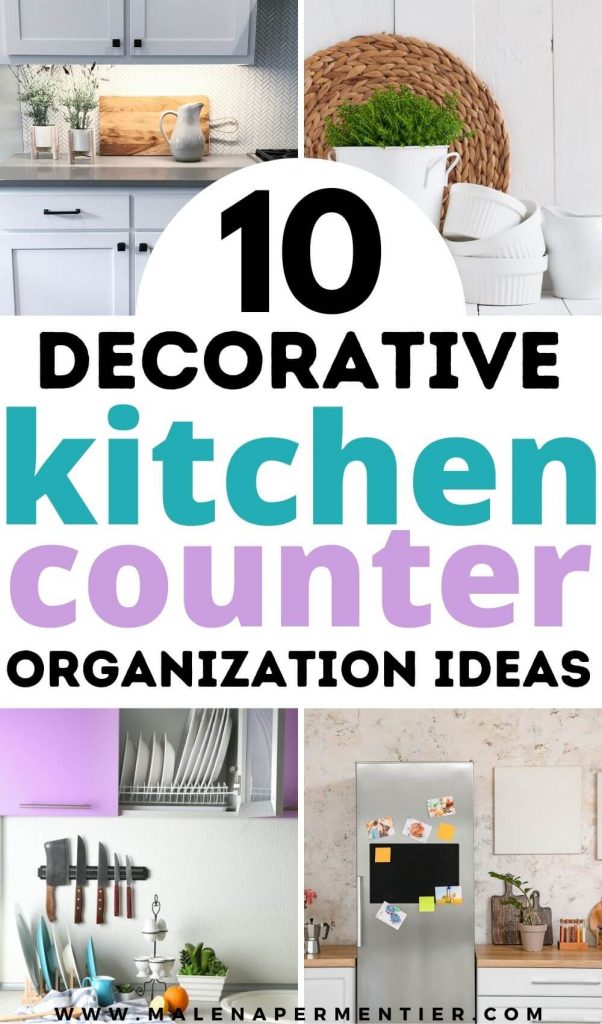 1. Optimize space with a countertop organizer
You might not want to store some appliances away since you use them daily. The toaster is one of them. Use a countertop organizer with an extra shelf to maximize your space on your counter.
Get a countertop organizer:

Magnetic knife strip to save space on the counter

2. Organize kitchen essentials on a tray
Using trays is an easy way to keep your kitchen countertop looking organized. That way, you can create visually separate sections.
For example, use a tray for your coffee maker and another for kitchen essentials like oil, vinegar, pepper, and salt. The image below is a beautiful example of how trays can organize your kitchen counter!
Recreate this tray:

3. Group your kitchen items – with trays
A kitchen counter will instantly look more organized if you group items together. An easy way to do that is by using trays and utensil jars.
It's also worth it to pay attention to the aesthetic of your appliances and utensils. That way, keeping them out on the kitchen counter will only enhance the space!
Recreate this:


4. Use kitchen counter storage
Smart kitchen counter storage helps you optimize the space. If your kitchen is like mine, super small with barely any counter space, you need to go vertical! Below I've listed a few of my favorite kitchen countertop storage solutions.
Best countertop storage:
This stackable organizer is super versatile. Use it for cups on your kitchen counter, or stack two on top of one another. You can also use these organizers inside your cabinets.
Stackable kitchen organizer

Fruit basket storage

3-tier storage shelf

5. Create kitchen counter island
If you're truly short on kitchen counter space, adding a kitchen counter island is a surprisingly easy and efficient way to create more space!
Get kitchen cart:

6. Utilize over-the-sink space
Don't let your dish rack take up precious space on your kitchen counter. Instead, opt for one you can stack on top of the sink.
Although this doesn't work in every kitchen, the organizer below is adjustable to different sizes.

7. Catch all for kitchen counter
Catch-alls are helpful for the entry, bedroom, living room, and kitchen counter! It's a super helpful way to group things – and help the other members of your family keep things organized too.
For many people, including myself, the kitchen is next to the entry, which means an easy (and tempting) place to leave your keys, etc.
Catch all bowl

Catch call tray

8. Add sneaky floating shelves
If you have a cabinet around your fridge, you can use the side of it to hang floating shelves. With these small shelves, you free up space for the items that would otherwise be on your kitchen counter.
Recreate this:

9. Use an under-shelf basket
If you have cabinets above your kitchen counter, a smart way to optimize space is by using an under-shelf basket. The one below is the most useful/versatile one I could find!
The last thing you want is your kitchen to look messier, that's why I like this one.

10. Standing pantry shelves
If you don't have a pantry or minimal space in your cabinets, a tiny standing pantry for your kitchen counter helps! Use it in the corner of your kitchen counter and perhaps even add some cute decoration on the top.

11. Use a pretty dish drainer
These dish mats are perfect if you're also bothered by your ugly dish rack. Place it under your dish rack for an updated kitchen counter!
Dish drying mat

12. Floating shelves for your spices
Spices look pretty, so there's no reason why they shouldn't be in plain sight on your kitchen counter.
A great way to keep your spaces is with floating shelves. Consider putting your spices in the same glass jars for the prettiest look.
Recreate this: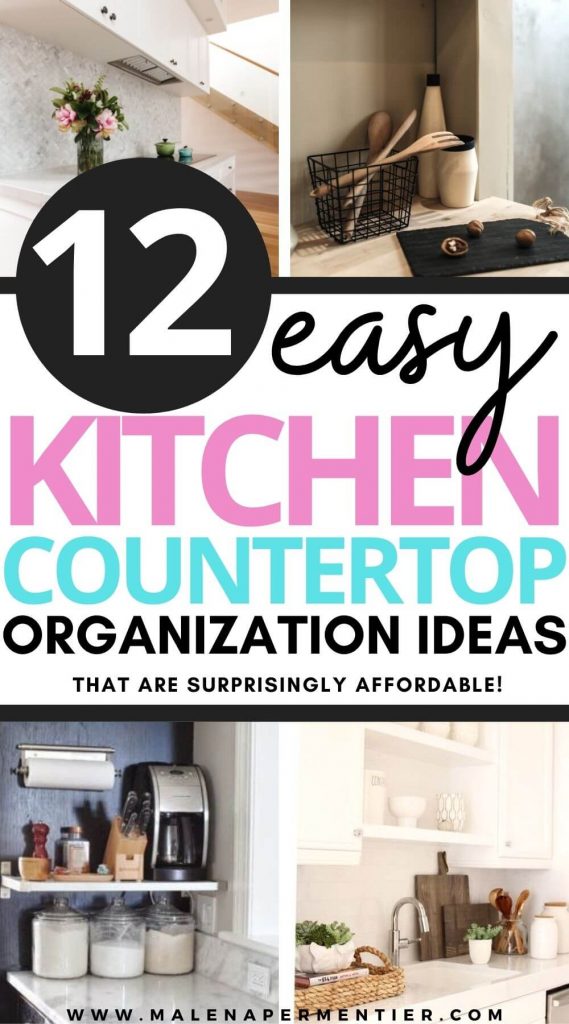 This post was all about kitchen countertop organization.
You may also like: