This post shows you 12 simple and modern ways to decorate your kitchen counter.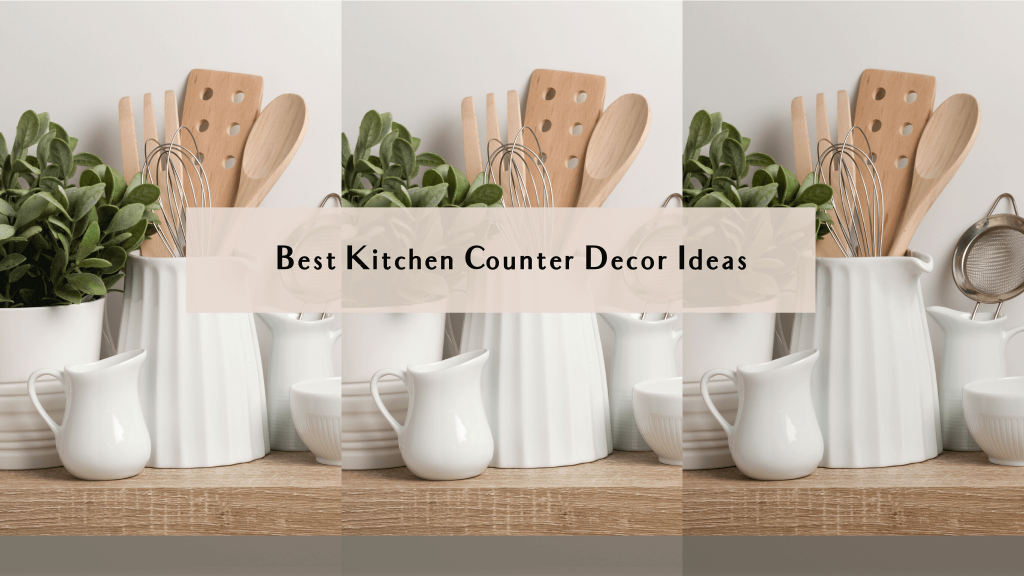 The Best Kitchen Countertop Decor Ideas
The kitchen counter is often an overlooked part when it comes to decor. But it can add so much to the atmosphere of your home!
In the below, you'll find super simple kitchen countertop ideas that you can easily recreate.
Some of the best counter decor ideas include:
Creating a small coffee bar on your counter (see below)
Using wooden cutting boards as decor
Cute ways to group your kitchen utensils.
Decorating a tray for kitchen decor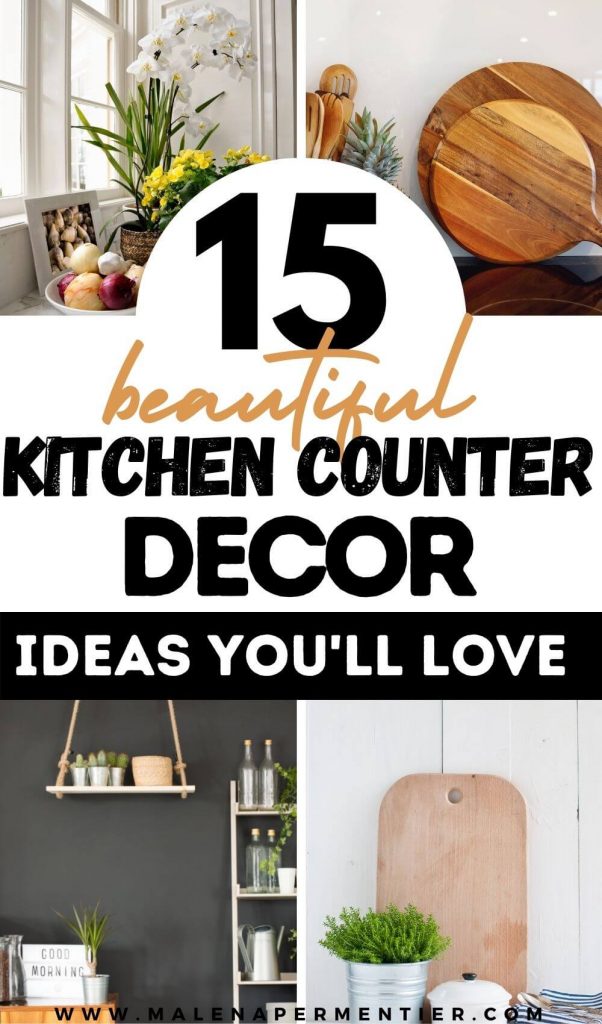 1. Create a cute small coffee bar
If you're a coffee-lover, it's an excellent idea to create a dedicated little spot for your coffee machine on the kitchen counter.
I adore the setup below, specifically the little tray. I found this very affordable tier tray option on Amazon.
Get two tier tray:

2. Add some (faux) plants
Plants, real or not, truly brighten up a kitchen if you ask me. Eucalyptus stems do the trick for me (see picture below), and it's a super budget-friendly idea to recreate.
Get faux eucalyptus stems:

3. Style your utensils
Kitchen utensils don't have to be boring! Get a simple but stylish jar to keep them in. Keep them together with your wood cutting boards, and perhaps add a cute plant or fresh herbs for styling.
Get stylish utensils jar:

4. Group kitchen items together
Little trays are a great help for grouping kitchen items together. Plus, they look super cute!
Go for simple ceramic or maybe even a marble tray. Then put your wooden cutting boards next to it for a playful and aesthetically pleasing contrast.
When done well, kitchen counter decor and kitchen organizing go together!
Get kitchen counter tray:

Get wood cutting board:

5. Use a round tray
A round tray is great for both serving and decorating. I particularly love the idea of using the tray to keep your oils, utensils, pepper, salt, and other kitchen condiments.
Get round tray:

6. Style with glass jars
Decorating with glass jars on your kitchen counter is such a simple idea, yet it looks so chic! Use these simple jars to store grains, nuts, rice, or sugar.
Recreate this:

7. Consider adding some shelves
Not strictly a kitchen counter idea, but adding some shelves can genuinely elevate your kitchen space. Consider adding simple wooden floating shelves if you have some free wall space. Decorate with plants and mason jars stocked with your favorite foods/condiments.
Get shelves:

8. Create a cute tray situation
Who says that kitchen counter decor can't also be practical? This little tray situation shows that storing your kitchen essentials + decorating can go together.
Get a cute tray:

9. Use a wooden cutting board as decor
Round wooden cutting boards are another great "decor meets functionality" kitchen item.
Opt for a board with a slightly unfinished, rough texture to add character! If you don't mind DIYing, you might even make a round cutting board yourself.
Get round cutting board:

10. Make the soaps look pretty
An easy way to elevate your kitchen counter is to make the soaps look pretty. The way to do that is with simple but cute soap dispensers. I love the dark apothecary look for my dispensers, as seen below!
Get cute soap dispensers:

11. Use a cake stand for decoration
Decorating your kitchen counter with a cake stand is such a cute but simple idea. Use it to keep your fresh herbs, pretty jars, utensils, and maybe even add some fresh flowers!
Get simple cake stand:

12. Get creative with a menu board
If your coffee machine is the star of your kitchen counter, why not add a little extra with a cute menu board? I also love this picture (see below) because it shows you yet another way to be creative with a cake stand for decor! Is anyone else obsessed with the gold pedestal?
Recreate this:

Get gold cake stand:

13. Decorate with a ceramic pitcher
Ceramic pitchers are an excellent kitchen counter decorating item! I was browsing Amazon for the best pitcher options, and I love how fun the prints are. However, I went with that one since I'm more of a neutral pitcher person.
Recreate this:


14. Implement wood
Another effortless way to decorate your kitchen counter is by adding lots of wood. Get a long wooden cutting board and decorate with books, a fruit bowl, and simple candle holders.
Recreate this:

15. Style a woven tray
Woven trays like this are the way to go for a neutral kitchen with a warm ambiance. They instantly add atmosphere without being overwhelming. If you like neutral kitchen decor, you'll love this idea!
Recreate this:

Get small faux plants:

This post was all about the best kitchen countertop decorating ideas.
You may also like: