Hey there! Some links on this page are affiliate links which means that, if you choose to make a purchase, I may earn a small commission at no extra cost to you. I greatly appreciate your support!
Looking for the best eucalyptus stems for vase decor? This set of faux eucalyptus stems is by far the best and most budget-friendly option!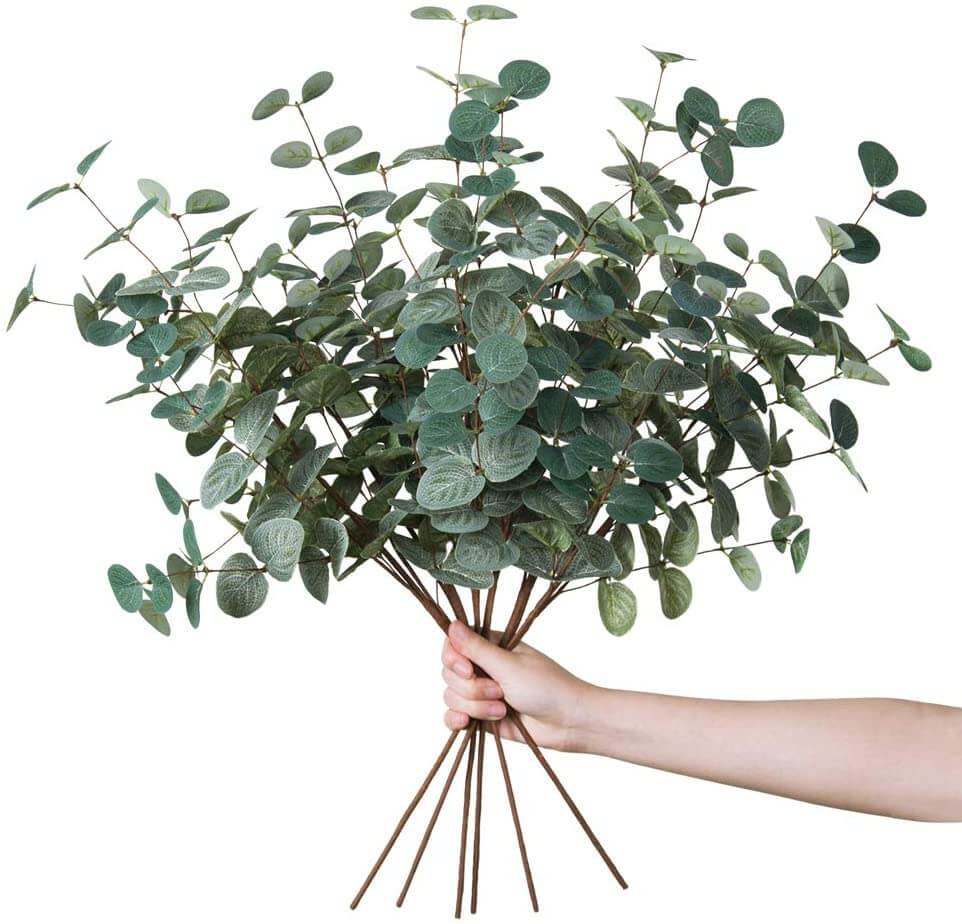 Eucalyptus is super versatile greenery that looks beautiful styled in a simple vase.
If you're decorating with artificial eucalyptus stems, you'll want your greenery to look as lush and real as possible. You can get eucalyptus stems in different sizes, depending on the vase you want to style them in. Another option is to cut the stems to fit the vase perfectly.
There are a ton of different ways to decorate with faux eucalyptus. The easiest way is to place the stems in a clear or ceramic vase. Not much else is needed! A rustic ceramic vase, bunny tail grass, and a beaded garland are my 3 favorite things to style eucalyptus stems. Super budget-friendly and stylish.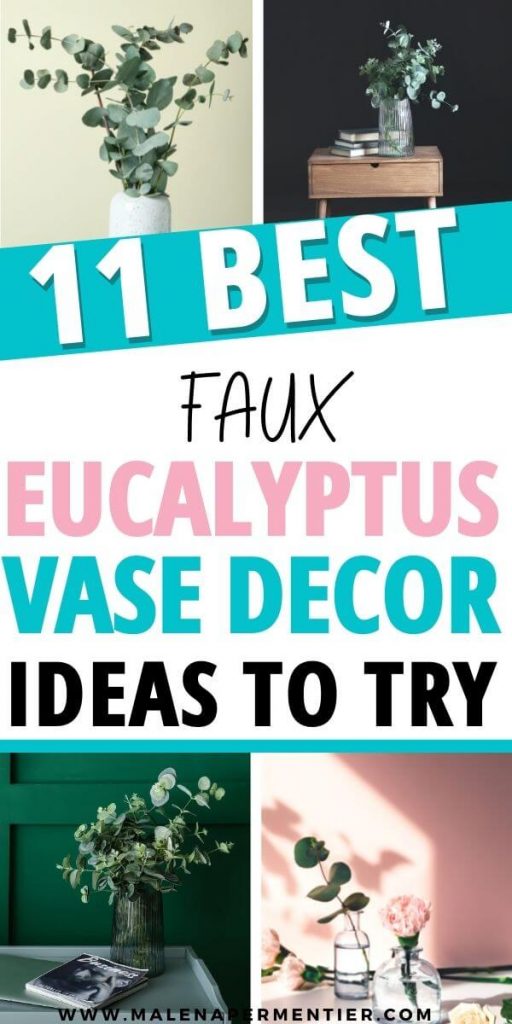 Styling essentials for eucalyptus vase decor
What to do with fake eucalyptus?
Fake eucalyptus greenery makes for beautiful and minimalist decor. You can style the eucalyptus stems by themselves in a clear vase and mix eucalyptus with other greenery like white roses or red berry twigs for a Christmassy feel.
Another artificial greenery that looks nice with eucalyptus is, for example, olive leaves and cotton stems. Floral arrangements with eucalyptus are very stylish, and you can adapt them based on the season and your style.
The faux eucalyptus on the left is my personal favorite. If you're looking for extra tall leaves, the stems on the right are 35″. The eucalyptus stems in the middle are slimmer, perfect if you want to style the branches in a narrow vase with a minimalist look. These 3 options are all suitable for arrangements, but which one works best depends on the size and style you're going for.
12. Eucalyptus vase decor ideas
You can use eucalyptus stems anywhere in your home. It's particularly popular as bathroom decor, but it also looks great in living rooms and kitchens.
Besides faux eucalyptus, you can also get dried eucalyptus. They go by the name of silver dollar eucalyptus, and it has a beautiful fresh scent that is great to keep in bathrooms.
Artificial stems are a great budget-friendly choice if you're decorating with eucalyptus for aesthetics. They also look good for longer than the natural eucalyptus would.
Let's look at a few easy but insanely beautiful eucalyptus vase decor ideas to get inspired!!
1. White vase with faux eucalyptus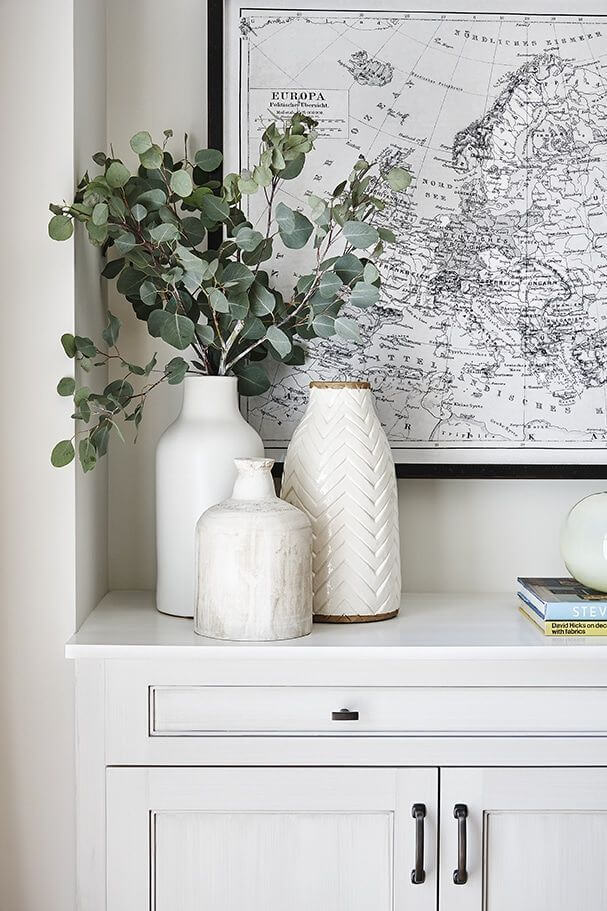 With good-quality eucalyptus stems, your vase doesn't need much else. Arrange the stems in the vase for a balanced look. This ceramic vase set is a great option to recreate this decor idea.
2. Eucalyptus bathroom decor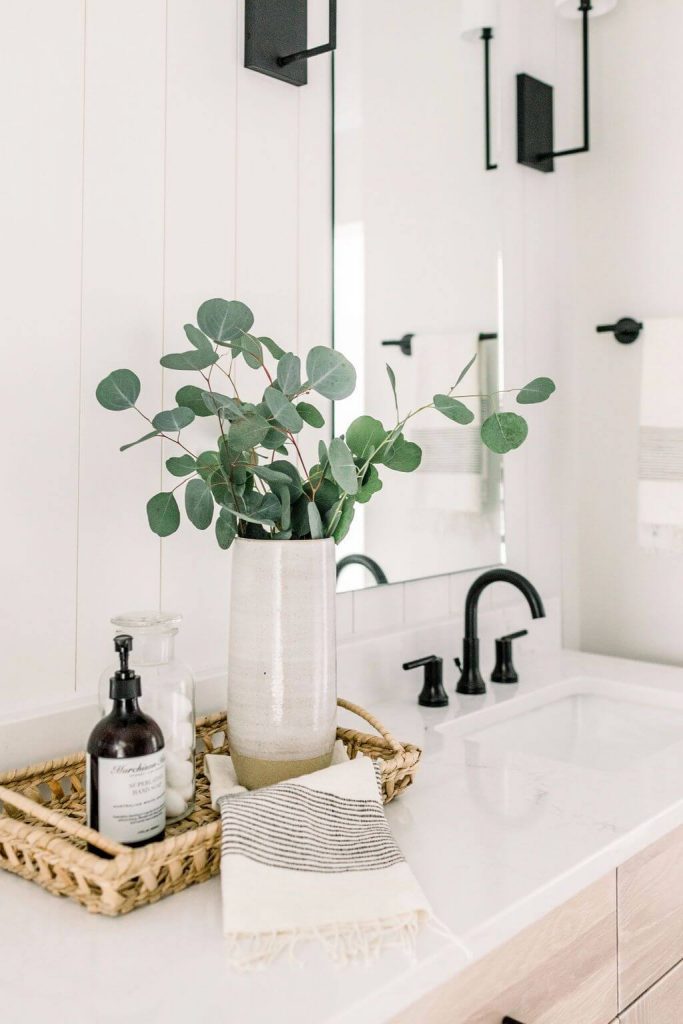 Eucalyptus is often used as bathroom decor, and this example is as good as it gets! Style your eucalyptus stems in a distressed ceramic vase on a tray and bathroom counter essentials like hand soap.

3. Arrangement with berry twigs and eucalyptus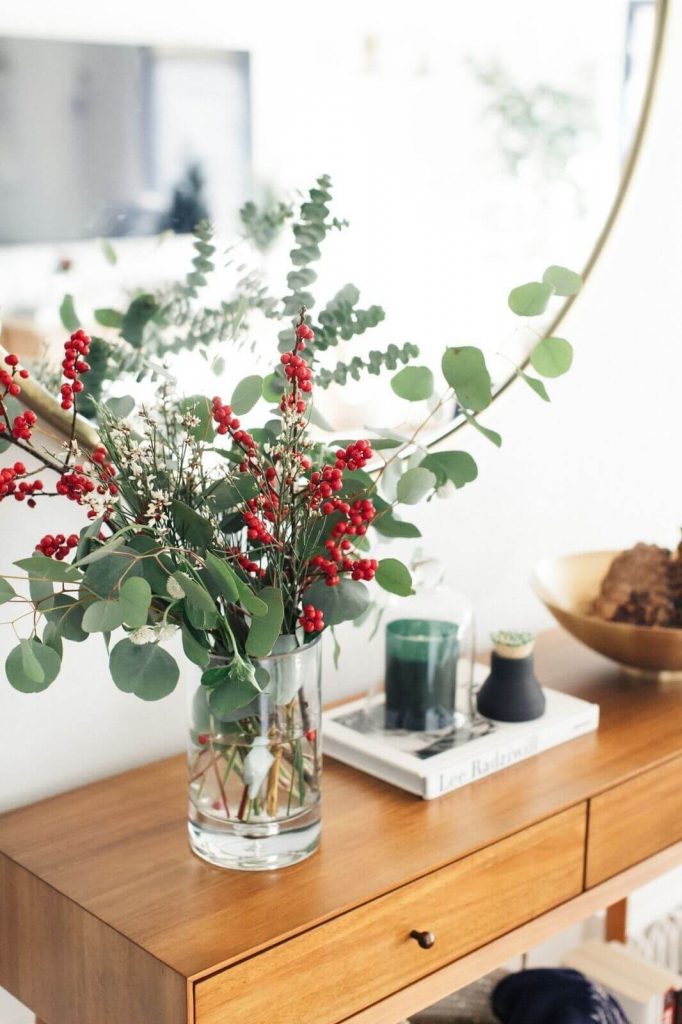 Make a lovely little arrangement with eucalyptus leaves and berry twigs. This is a Christmas-time favorite, but I think you can do this year-round! Especially if your living room interior has warm tones and wood, a pop of red like this looks great.

4. Clear vase with eucalyptus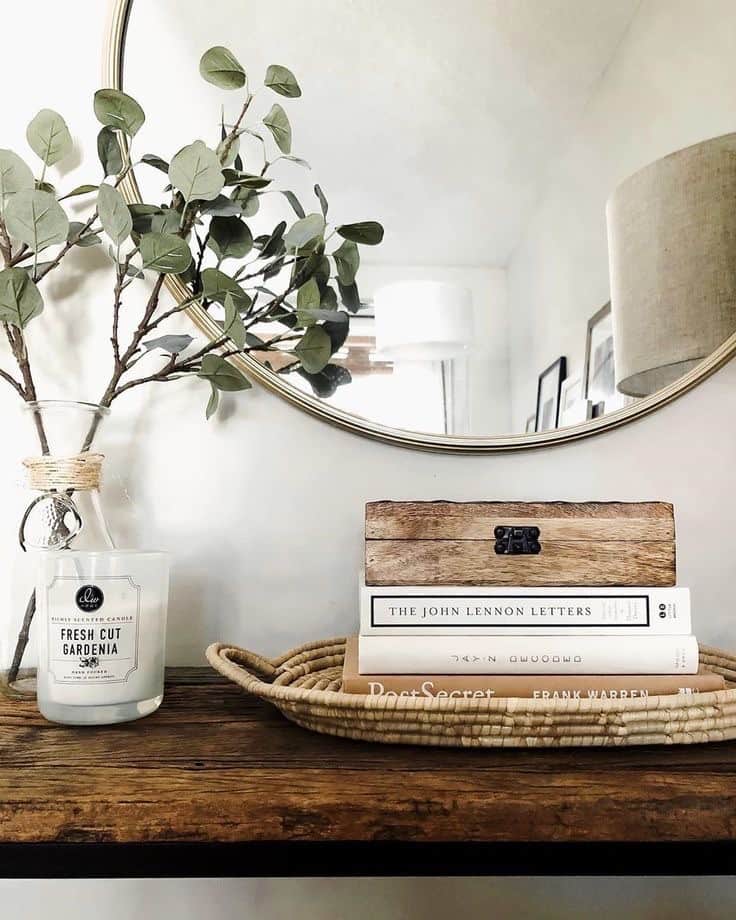 Styling eucalyptus with a clear vase is a favorite! These clear vases with rope give it a rustic farmhouse look with lots of character.

5. Arrangement with bunny tail grass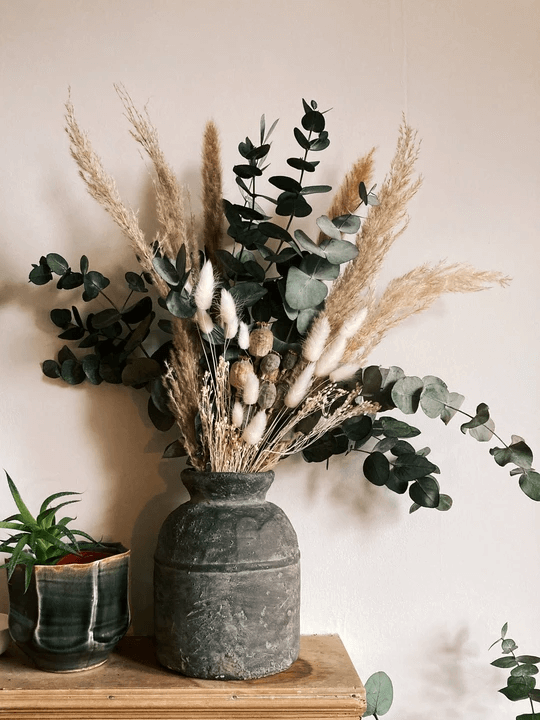 A beautiful mix of bunny tail grass, dried eucalyptus, and pampas grass. Whether you use natural or artificial grass, this is a lovely combination to recreate!! Eucalyptus stems are super versatile, so get creative with other greenery that you already have.
6. Coffee table decor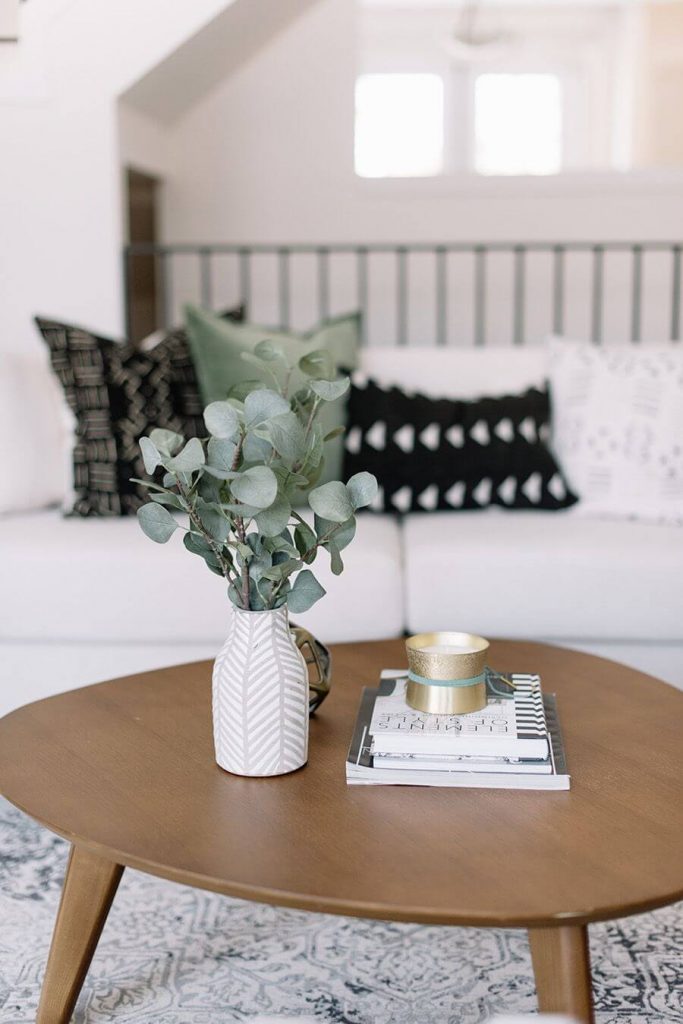 Make a small arrangement with eucalyptus branches for coffee table decor. You can cut your eucalyptus stems in the desired size to get the look you want. Eucalyptus on a coffee table looks understated chic, plus it's a fuss-free way to add some decor.

7. Faux eucalyptus in a large clear vase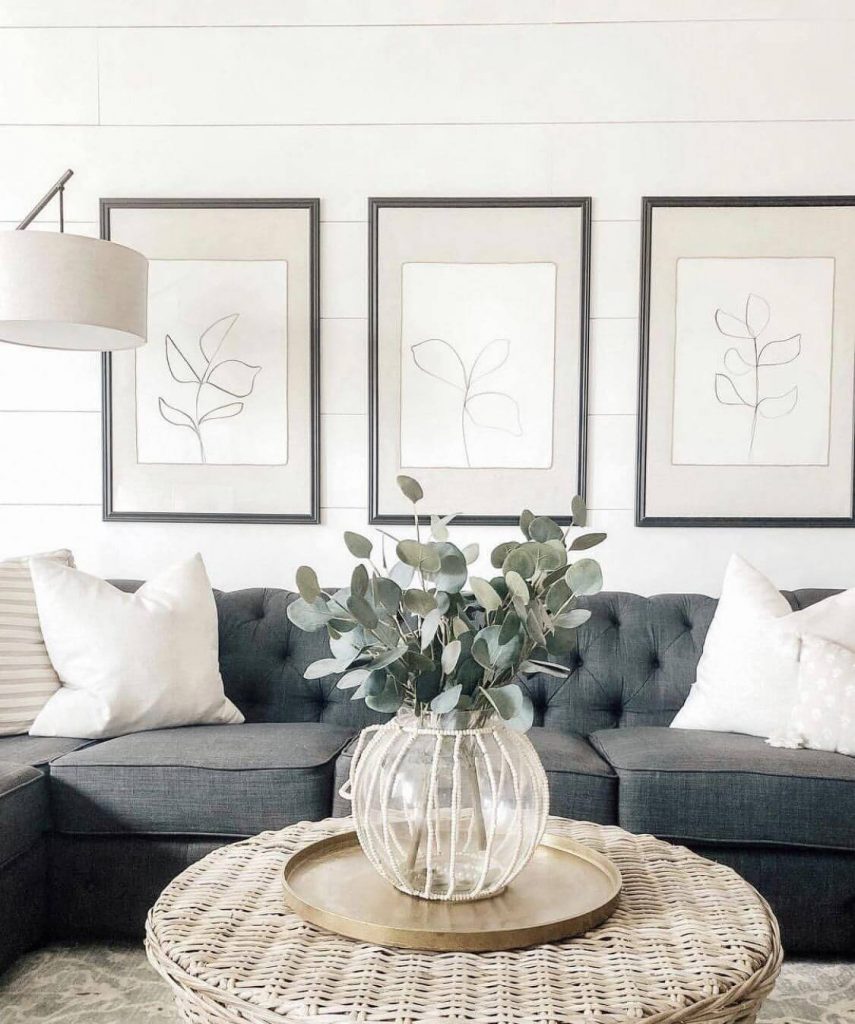 Go for a large round vase if you want to make more of a statement with eucalyptus stems. This vase is styled on a tray, making it a statement without overwhelming the room.
8. Donut vase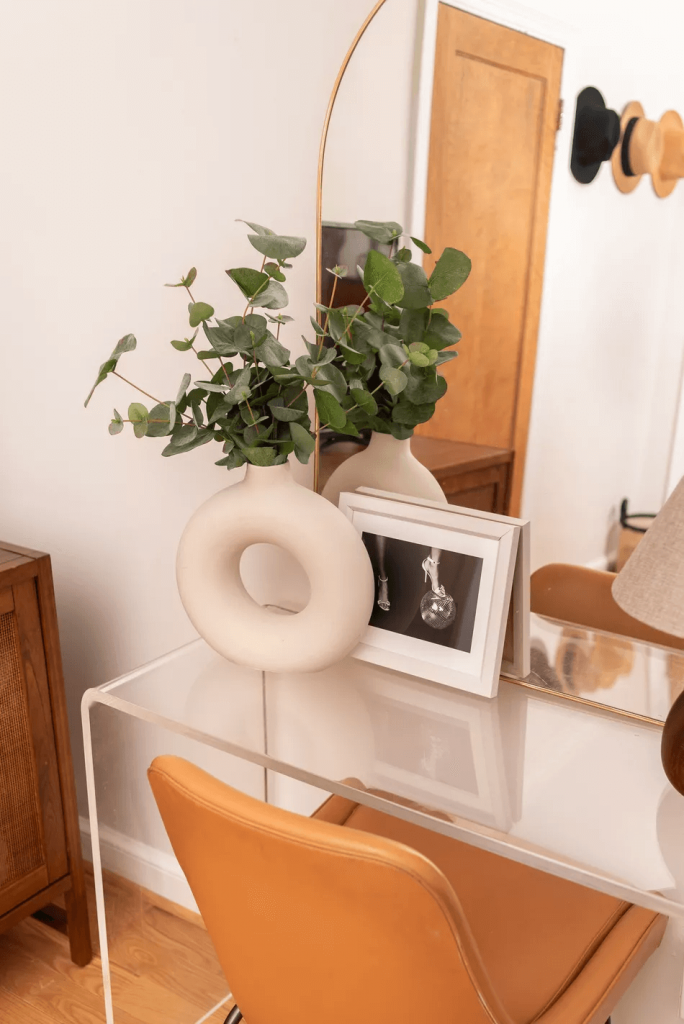 If you're into home decor, you've probably seen the donut vase becoming trendy in 2021! This simple yet cool design is perfect for styling eucalyptus stems, pampas grass, or other minimalist greenery.
The donut vase is perfect for decorating on top of a dresser, table, or desk like in the picture above.

Are you looking for a unique donut vase? This ceramic vase has a slightly unorthodox donut shape, but it looks fantastic.
9. Simple eucalyptus vase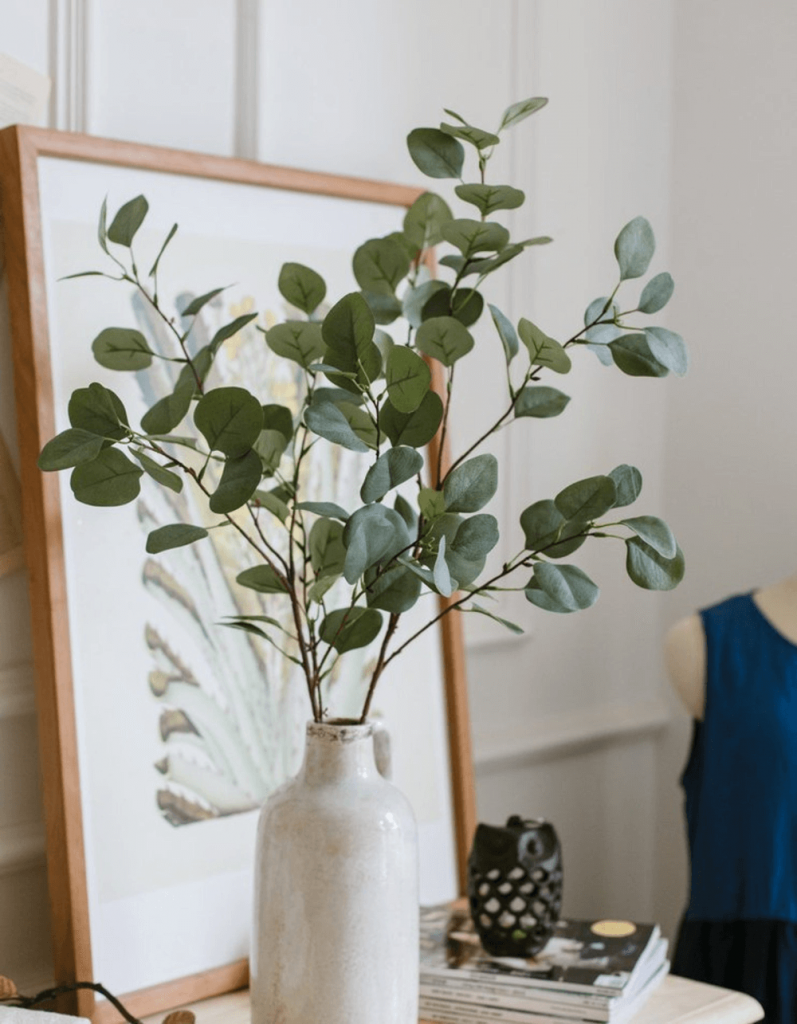 Another simple but beautiful way of styling artificial eucalyptus stems in a neutral distressed ceramic vase. If you've got an empty living room corner or spot that could use a cool touch, this is a great way to fill up the space.
10. Entryway table decor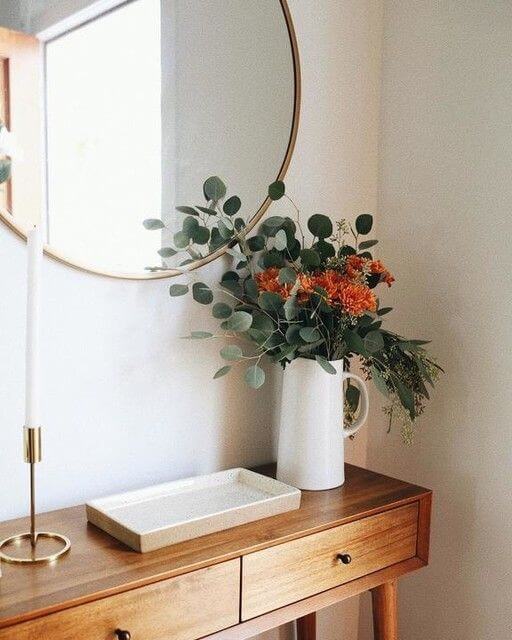 I have a soft spot for entryway table decor because the first thing you see when entering your home should be something you love! Ceramic vase pitchers are another cute and unique way to give your twist to decorating with eucalyptus. What's also unique about this arrangement is the different field flowers. Whether they're real or not, I'm not sure!

11. Faux eucalyptus in a small vase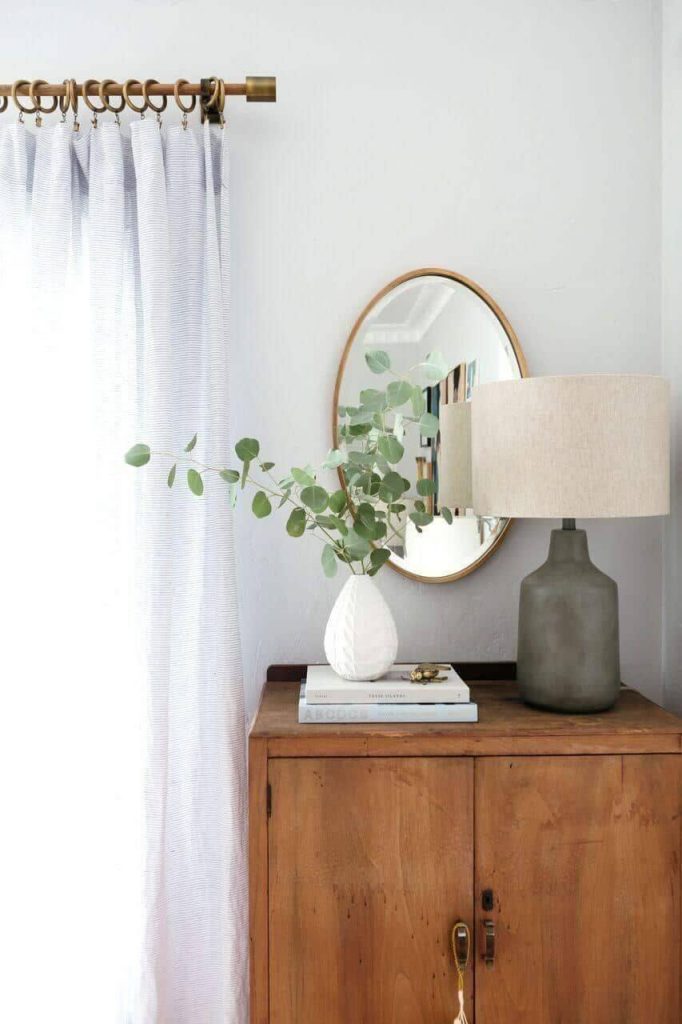 To be complete in this post dedicated to eucalyptus vase decor, this is a great example of how to decorate with eucalyptus in your bedroom. Stack two books on top of one another, add a small white vase, and place in your eucalyptus stems.
12. Minimalist bathroom decor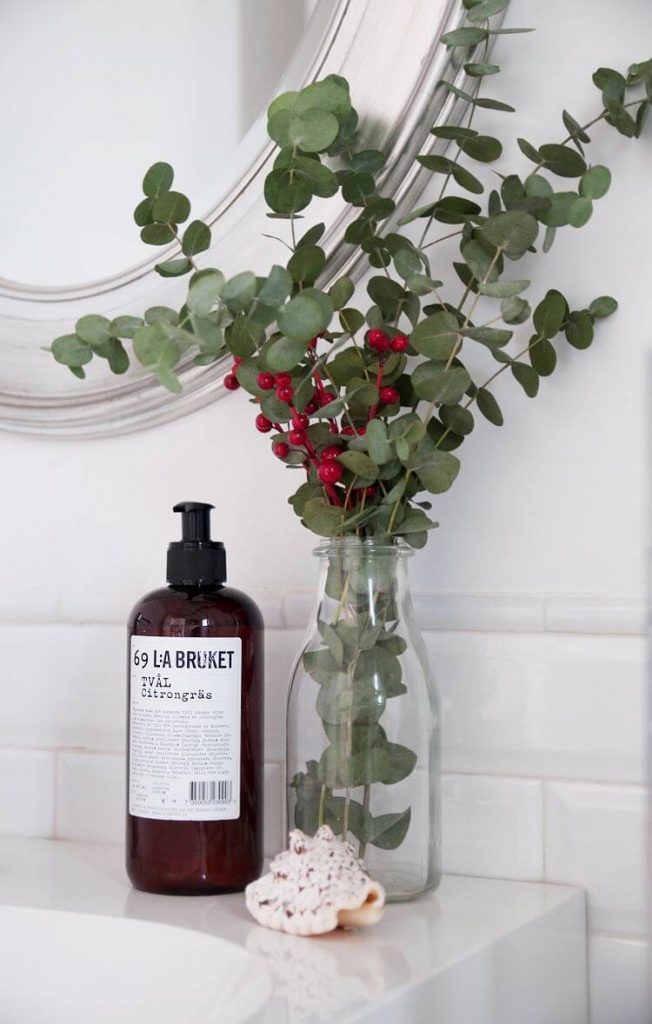 Not every bathroom counter has enough space for decor (story of my life), but nothing beats the fresh touch of some greenery!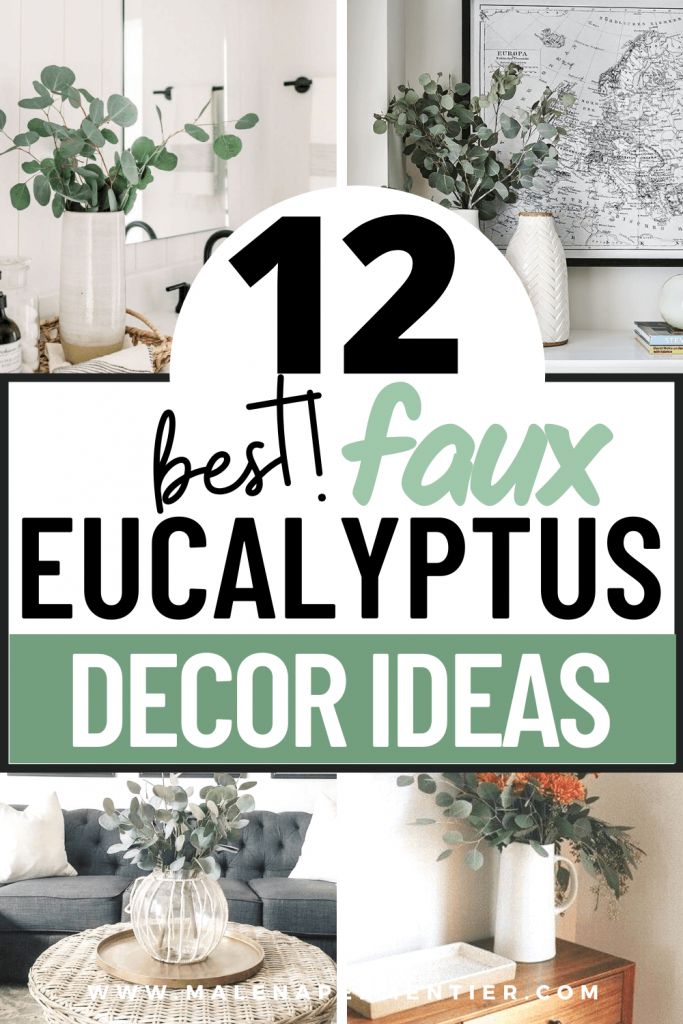 This post was all about the best eucalyptus vase decor ideas.
You may also like: