Want to decorate with pampas grass? This post shows you 19 stunning pampas grass decor ideas.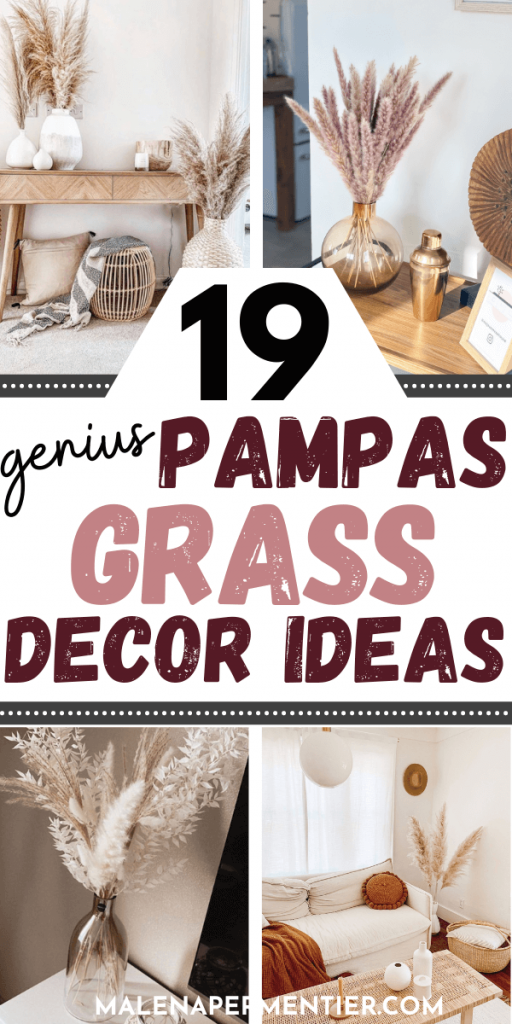 Pampas grass is a beautiful fluffy and large grass that looks beautiful as home decor.
Using real pampas grass might be harmful and illegal, so I will show you the best decor ideas with artificial pampas grass in this post.
Not to worry, fake pampas grass looks equally fluffy and luxurious; you won't be able to tell the difference.
Now let's look at some easy but stunning ways to decorate with faux pampas grass.
Best faux pampas grass

This is the best overall artificial pampas grass for decorating with a large vase!
Pampas Grass Decor
The texture of pampas grass is luxurious and fluffy, making it a beautiful decor statement in your living room.
You can get super tall stems of pampas to decorate with a large vase, or you could go for something smaller that fits your coffee table.
Besides shape and size, faux pampas grass comes in many different colors. Personally, I'd go for the natural color, a tan or warm beige. However, you can also go for white pampas grass or a shade of brown.
Pampas grass has become insanely popular for weddings to create a rustic and warm atmosphere in the last few years.
But in this post, we'll just be looking at pampas grass decorating ideas for your home!
1. Decorate an empty living room corner
Recreate this:
A large vase with several pampas grass stems effortlessly makes a dull living room corner look amazing.
Pick extra large and fluffy stems to make this corner look luxurious!
[Related: What To Put In The Corner Of Your Living Room (14 Beautiful Ideas)]
2. Coffee table decor with mini pampas grass
You can get pampas grass in many shapes and sizes. Mini pampas grass styled in a cool vase complements your living room colors and is a great way to decorate your coffee table.
3. Pampas grass in a clear vase
A large, clear vase complements pampas grass beautifully. These vases come in many different colors; I love blue or green glass.
Get a large clear blue vase:

4. Vase decor with mixed dried greenery
Get pampas grass arrangement:

You can mix pampas grass with other dried greenery for a beautiful arrangement. The arrangement above is ready-made. Besides pampas grass, it includes natural hay, acacia beans plants, white reed, and yellow grass.
Natural dried lagurus ovatus would also look pretty with pampas grass.
5. Combine with a large white vase
Recreate this pampas decor:
Pampas grass is incredibly versatile. It complements a boho interior but looks equally good in apartments with modern and neutral decor.
Pair pampas grass with a white geometric-shaped vase for a modern aesthetic.
6. Extra tall pampas grass
Get tall pampas grass for floor vase:

Styling pampas grass in a cool vase is excellent for hiding electrical cords on the floor. You can do this next to your TV console or anywhere else you want to hide wires or cables.
7. Mixed with eucalyptus and cotton stems
Style pampas grass the minimalist way with cotton stems and eucalyptus stems. This decorating idea is easy and looks amazing.
Combine your greenery with a tall textured vase for a super cool and elevated look!
8. Decorate your dresser top
Recreate this minimalist decor idea:
Dresser tops are always a little tricky. You want to keep it practical, but it also has to look good! Create a little decor nook by styling pampas grass in a trendy clear vase with a gold rim.
9. Fluffy white pampas grass decor

How cute is this artificial white pampas grass? You can get pampas grass in alternative colors, for example, white, dusty pink, or black.
This pampas grass styling idea with a book and decorative vases is a simple way to decorate your living room or bedroom. I also love that it's super budget-friendly to recreate.
Here is a white vase set under $25 that's very similar to the picture.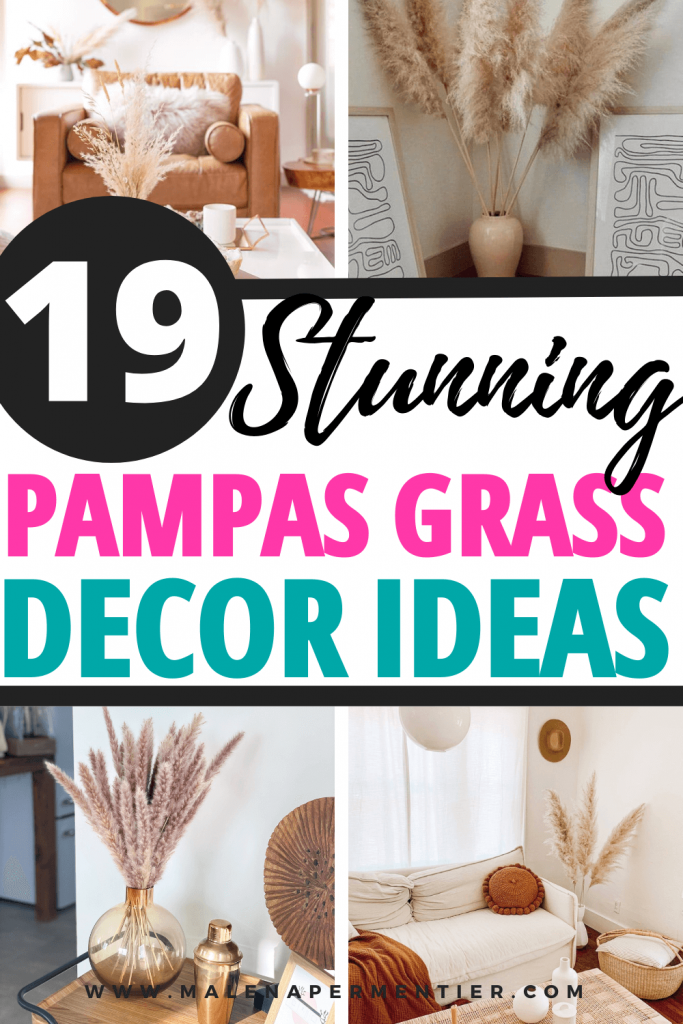 10. Make a centerpiece with fake pampas grass
Get natural dried pampas grass centerpiece:

Who says that centerpieces are only for weddings?! You can make a centerpiece with pampas grass for a beautiful fall table or something special for this year's holidays.
Get a boho arrangement like this, and combine it with other greenery for the perfect lush centerpiece.
11. Easy decor with large stems
One of the easiest ways to decorate with pampas grass is to arrange 4-6 large stems in a large vase. If you have a dull corner that you want to liven up, this is a super easy and stylish way to do so.
Get tall pampas grass stems:

12. Gold vase with artificial pampas grass
Recreate this pampas grass decor:
Pampas grass can naturally look darker with an almost pink undertone, which is beautiful. Style this natural brown pampas grass with a clear vase in gold, dark purple, or green.
13. Faux pampas grass in a vase on the floor
There are many different ways to style pampas grass on the floor, and I love sharing various ideas to take inspiration from.
Keep your pampas grass decor super classic by pairing it with a large clear vase. It will complement a modern neutral living room beautifully.
14. Statement decor with gold

The tan color of pampas grass looks beautiful in a living room with gold accents. Recreate this styling idea with an antique mirror and small vases for a unique statement.
15. Pampas grass bedroom decor

The pampas grass decor examples above have mostly been for the living room, but I also love this bedroom idea!
Style pampas grass on your nightstand, dresser, or even on the floor if you have the space.
16. Styling a console table

Recreate this boho pampas grass decor on your entryway table or console for a fun statement. Amazon has plenty of pampas grass decor vase options that don't break the bank.
17. Extra tall pampas stems

Extra tall pampas grass would be at least 45″ or 48″. You might find branches that are even longer, but in most places where you can buy pampas grass, the maximum is 48″.
If you need large pampas grass for a particular spot in your home, measure it to see what would be a perfect size.
18. Decorating with black pampas grass

Faux black pampas grass can look super chic! Particularly in a home with industrial accents, black pampas grass would look beautiful.
19. Small pampas grass decor
This is an idea I've loved lately: art on the floor. It can look super cute in some apartments, and I love how this one pairs art with cool pampas grass styling.
You'd need small pampas grass to recreate this decor; the size would be approximately 18″.
This post showed you 19 Pampas Grass Decor Ideas for your home!
You may also like: