Hey there! Some links on this page are affiliate links which means that, if you choose to make a purchase, I may earn a small commission at no extra cost to you. I greatly appreciate your support!
This post is all about the best living room corner decor!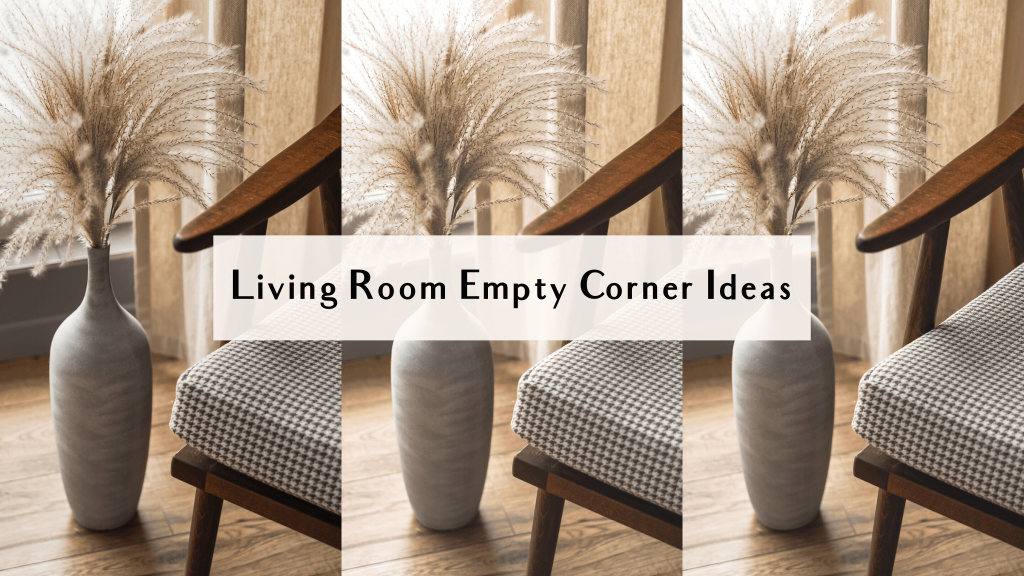 If you don't know what to put in the empty corner of your living room, this is your inspiration post!
Tip number 1: fill your living room corners with things that actually complement your living room.
Below I'm sharing 14 ways to decorate corners in a beautiful yet functional way.
By the end of this post, you will know exactly what to do with the awkward empty spaces and corners in your home.
#1 budget-friendly living room corner decor: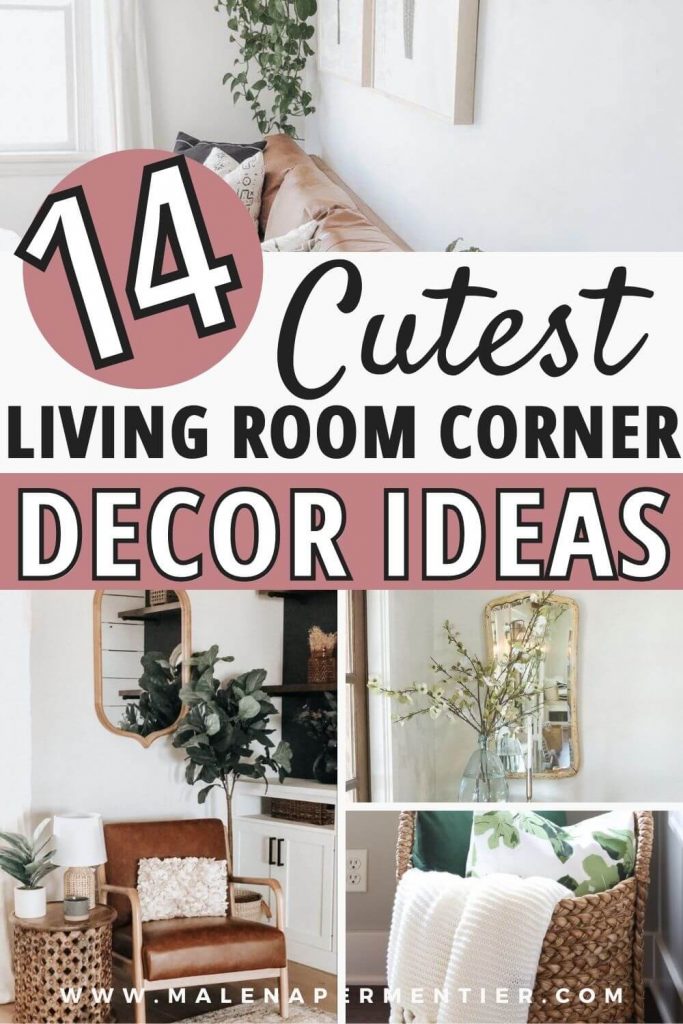 What To Put In Corner Of Living Room: 14 Corner Decor Ideas
1. Metal spine book tower
Buy metal spine book tower:
A metal spine tower like this is a great way to utilize vertical space in your apartment.
Its narrow shape is small space friendly since it doesn't take up a lot of space.
These spine towers also happen to look super trendy and stylish.
2. Trendy floor lamp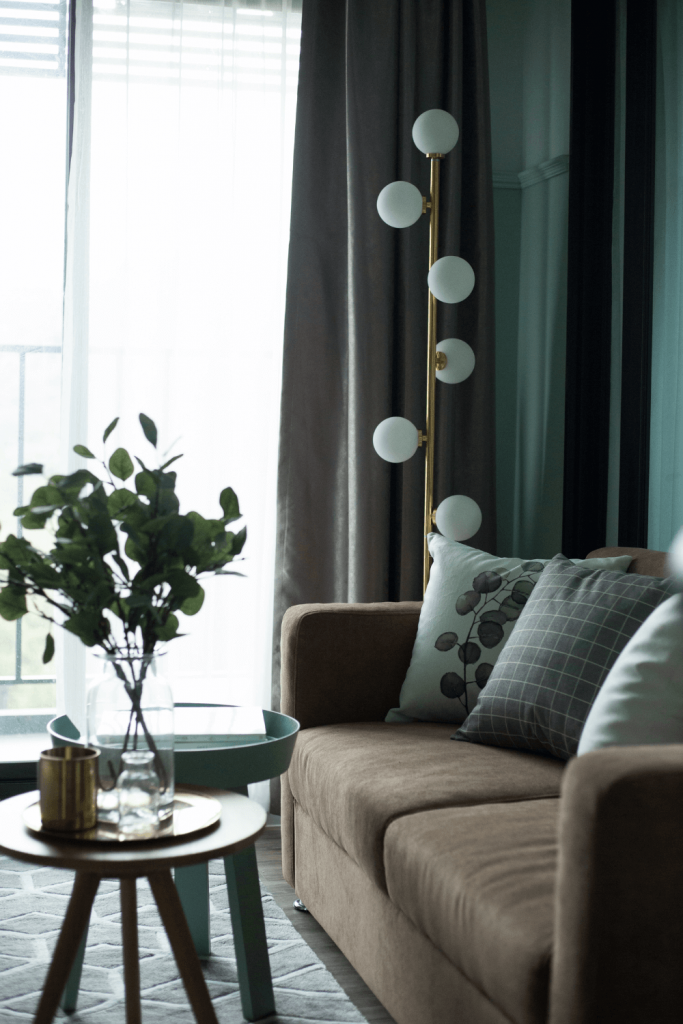 Buy trendy floor lamp:

The corner next to your couch is a great spot for a statement lamp. Opt for a skinny and tall standing lamp with some cool detail.
Depending on how much free floor space you have next to the couch, you can also go for a thicker floor lamp.
3. Make a reading nook
Get orange accent chair:

You don't need a ton of space to create a reading nook in your apartment. You can get comfy lounge chairs in many different shapes and sizes.
A reading nook is a great spot to add some more color or creativity to your home. Opt for an accent chair in a warm color, and add plants and art.
4. Tall standing mirror
Get full lenth arched mirrror:

There's something about an arched standing mirror that adds a ton of charm. Put a standing mirror in an empty space in your living room or in the corner.
If your living room is small, placing a mirror in a corner opens up your space and makes it look bigger.
5. Small side table with decor
Get black industrial side table:

A simple yet cute way to fill empty floor space is with a side table, stacked books, and a plant.
If you don't want real plants in your home, Amazon has a ton of amazing artificial plants that look great for decorating.
6. Accent chair
Get tufted leather accent chair:

An accent chair is a comfy chair with a trendy look that you can get in various styles and colors.
Combine an accent chair with a mirror, plant, and side table to fill empty space in the most practical and cute way.
[Related: The 17 Best Accent Chair Ideas for a Small Living Room to Create Extra Seating Space]
7. Leafy plant in the corner
Buy faux banana leaf plant:

A large, leafy plant in a basket instantly elevates your living room decor. Buy a large plant basket to make it look super polished and cozy.
If you have only a tiny bit of free space in your living room, this is my favorite way to decorate.
Decorating with a leafy plant is also an excellent option for decorating dead space in your living room.
8. Wall corner decor
Buy 6 piece gallery wall set:

Maybe you have a wall in your home that needs extra love or an awkward wall corner that could use some art.
Make empty walls come alive with a simple gallery wall, combined with a small cube organizer or cabinet.
9. Floating corner shelves
Get white floating corner shelves:

A great way to fill empty corners is with wall corner floating shelves that you can style with books, art, and plants.
Amazon has excellent options for styling your empty wall corners. For example, these L-shaped corner shelves and triangle-shaped shelves are beautiful and budget-friendly.
10. Compact bar cart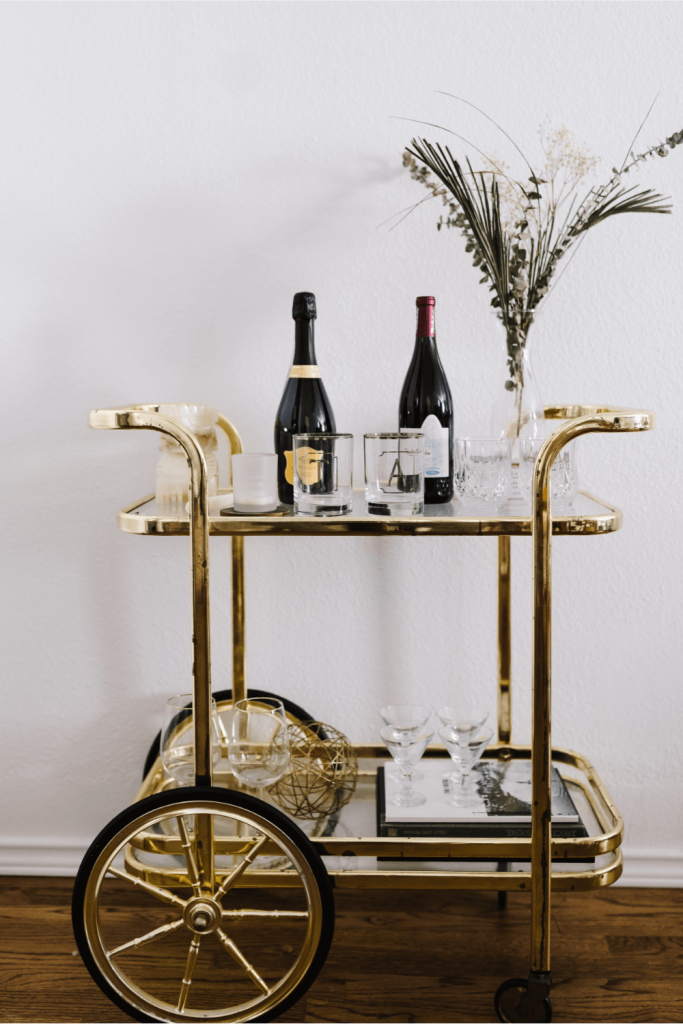 Buy small gold bar cart:

A (faux) antique bar car styled with pretty glassware is a great example of filling empty floor space in the living room.
You can also hang some art over your bar cart to make this space come together.
11. Plant in basket
Buy large plant basket under $25:

A plant in a basket is one of those things to put in the corner of your living room that instantly makes your space look cozier.
Plant baskets made of seagrass look great in neutral living rooms and add a subtle accent color.
12. End table with decor
Get tall end table:

This industrial side table with vase and mirror is an excellent example of what to do with dead corner space in your home.
Instead of a table, you could also go for a stool with a cute plant on it. Get creative and make the dead corners in your home come alive with personalized decor.
13. Woven basket with throw blankets
Buy large woven wicket basket:

One of the most budget-friendly ways to fill up empty floor space in your living room is with a large woven basket.
Fill the basket with extra cushions, throw blankets, board games, or other things you like to have handy in your living room.
14. Industrial console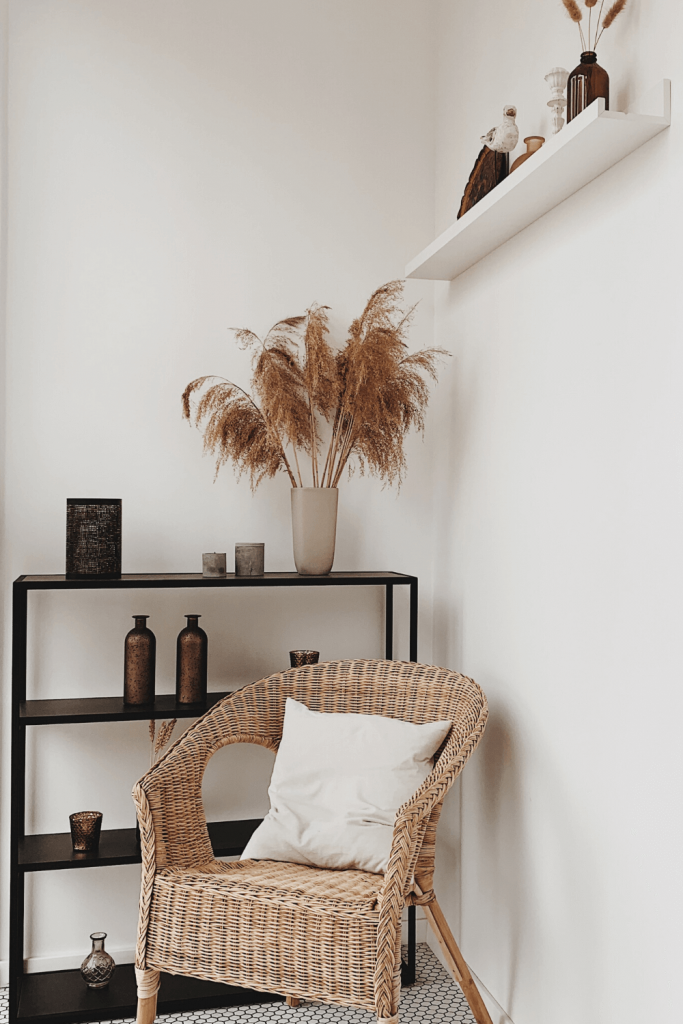 Buy narrow console table:

A narrow industrial console is the type of furniture that you can put in the dead space of your living room without taking up too much space.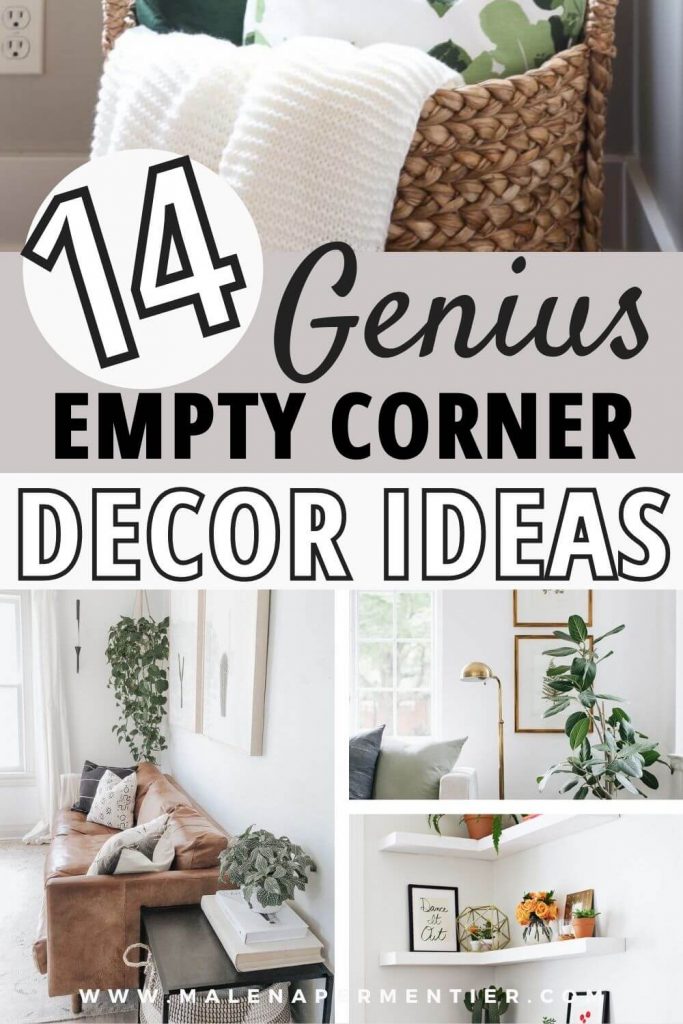 This post showed you the living room corner decor ideas
You may also like: