Hey there! Some links on this page are affiliate links which means that, if you choose to make a purchase, I may earn a small commission at no extra cost to you. I greatly appreciate your support!
Bar carts are so much more than just a spot to store alcohol.
With little effort and a small budget, you can turn a simple bar cart into the conversation piece of your home!
You can find bar carts in almost every style, from minimalist to modern, chic, funky, colorful, and vintage.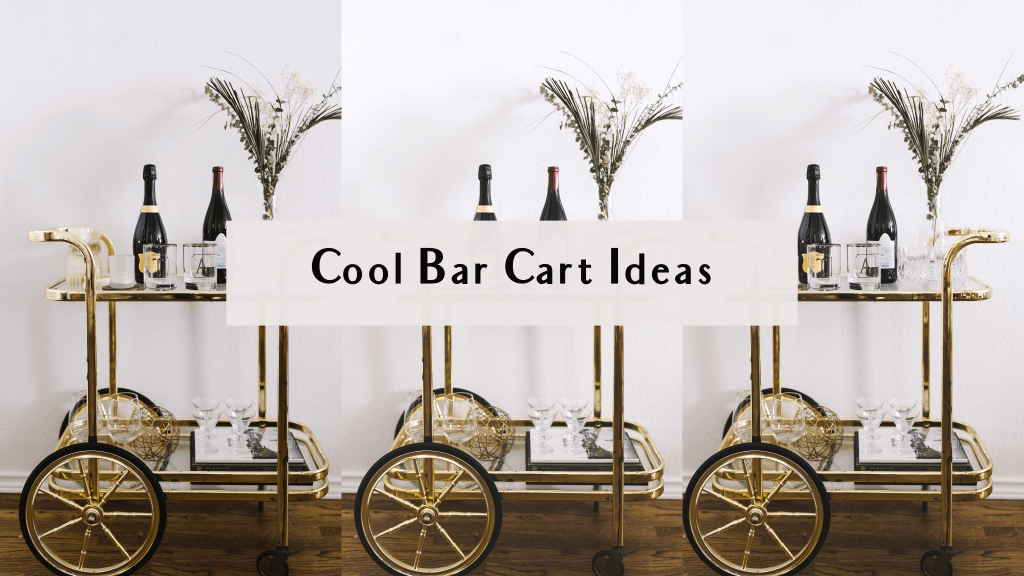 Let's dive into the best bar cart decorating ideas and the coolest styles and colors to elevate your space.
In this post, I'm going to show you 23 incredible bar cart ideas that you can easily recreate:
Bar cart inspiration for every style
Essentials every bar cart needs
How to style your bar cart like a pro
The best accessories for bar carts
All the bar carts you'll see below are carefully selected and under $150!!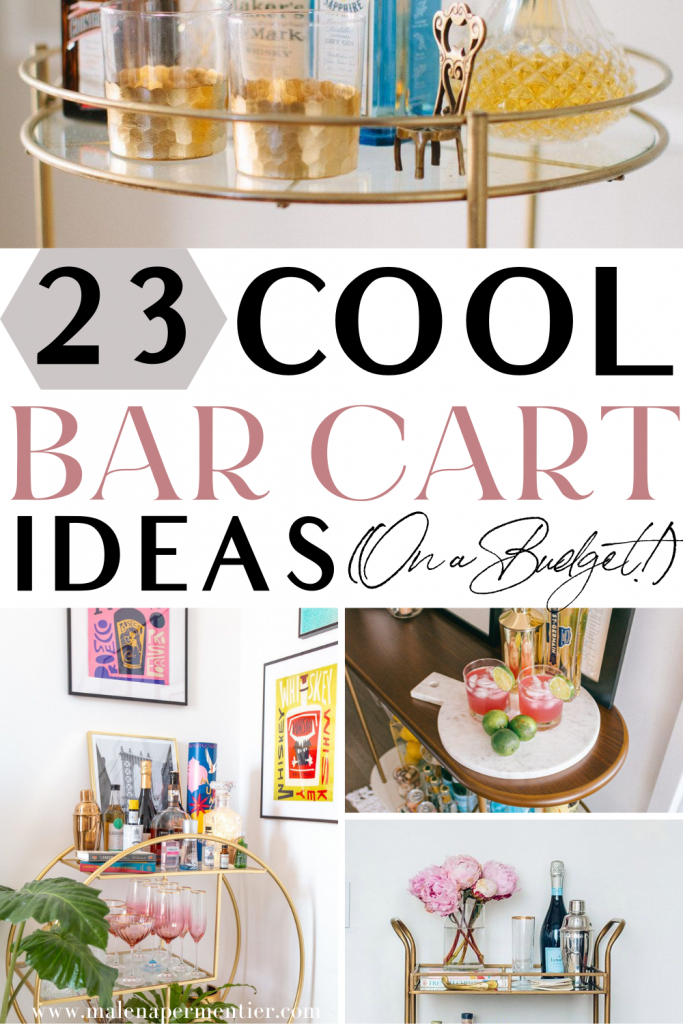 Best Bar Cart Ideas
1. Funky Shape Bar Cart
Recreate this:

This funky shape bar cart is perfect for decorating an empty living room corner that needs some love.
Style a gold bar cart with art and colorful prints for a chic look.
2. Bar Cart with Wine Rack
Bar carts with wine racks are ideal for having all your alcoholic beverages in one place and making your bar cart look together.
Recreate this:

3. Bar cart with wood and metal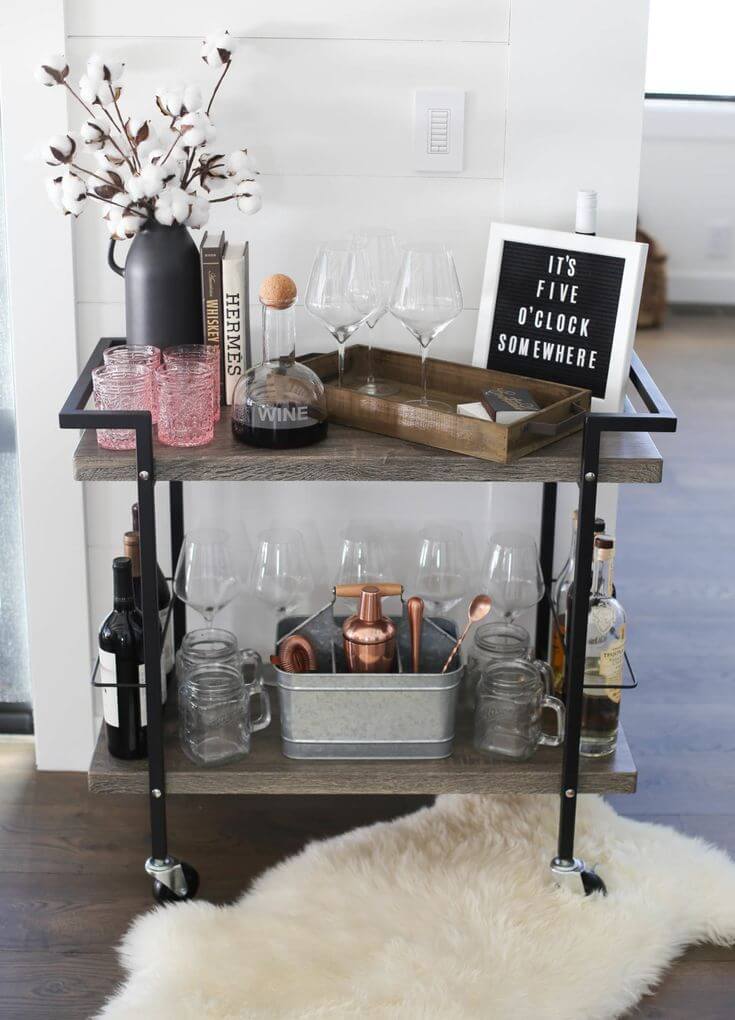 This wood and metal bar cart must be one of my favorite Amazon finds ever!! It's under $100, and the quality is so good.
The metal and wood combo is perfect for an understated yet put-together bar cart situation.
Recreate this:

4. Round rolling bar cart
Perfect for smaller apartments, this round rolling bar cart won't take up a ton of space. The combo of glass and gold looks super chic, and it's big enough to store your bar cart essentials.
Recreate this:

5. Rustic bar cart
Wooden accents make your place look homier, and I'm here for it!! Although the bar cart above is DIY, I did find a similar option that is budget-friendly.
Recreate this:

6. 3 Tier Dark Wooden Bar Cart
A 3 tier bar cart is the best for maximizing storage. Use the top for decor, the middle for bartender accessories, and the bottom for your liquors and mixers.
Recreate this:

7. Black metal bar cart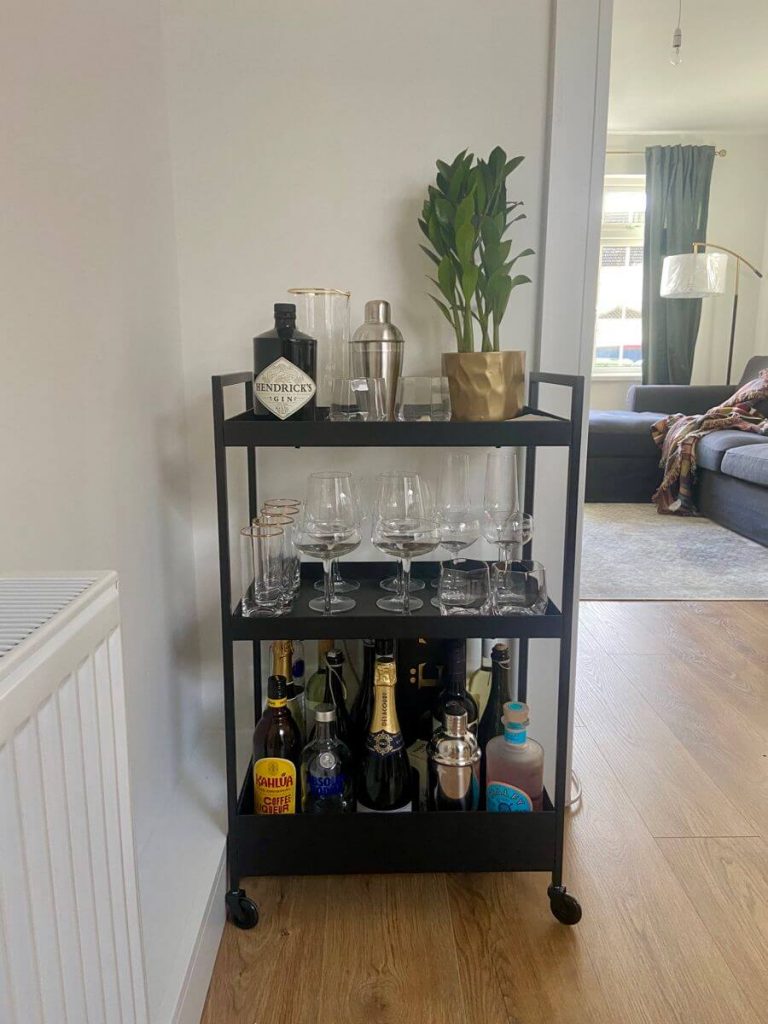 Gosh, this matte black bar cart is so cool! This bar cart is great to achieve a minimalist and modern vibe in your home.
Recreate this:

8. Gold with Glass Bart Cart
There are many different ways to style a gold bar cart, and I love this feminine and chic style.
You could equally make a gold bar cart more masculine by pairing it with dark accessories and decor.
Recreate this:

9. Bar cart for small space
If you have minimal space in your apartment, go for this compact bar cart! Because it has 3 tiers, you will still have plenty of space for all the bar cart necessities.
Recreate this:

10. Silver Bar Cart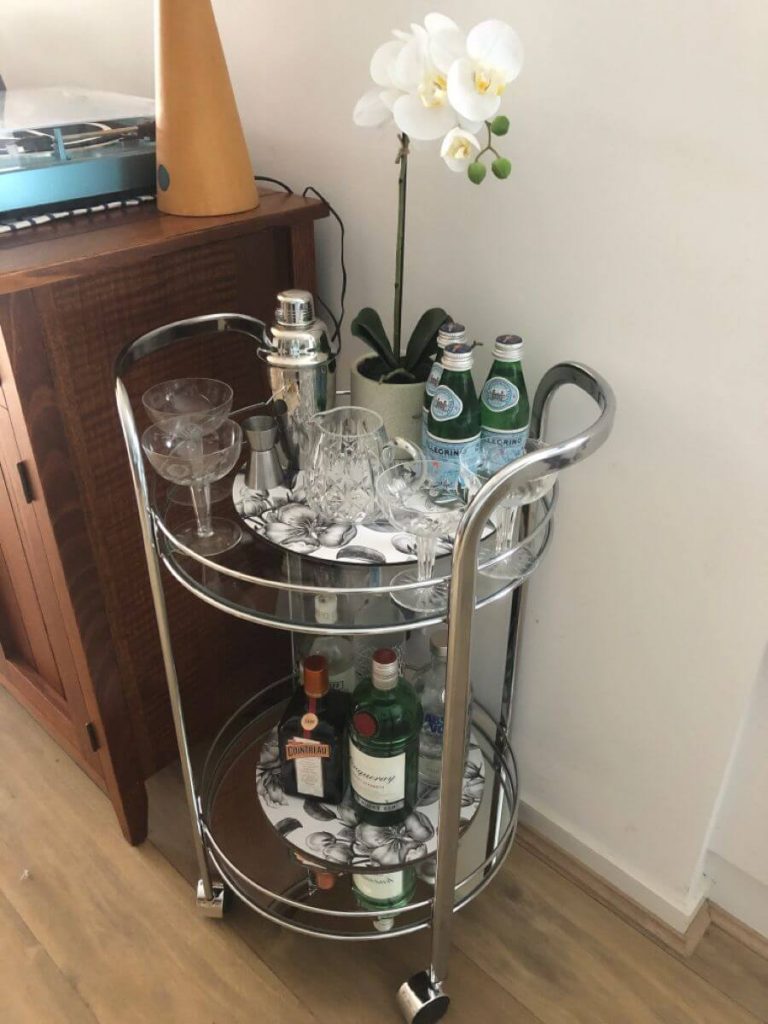 Love silver accents in your living room? Me too! I'm constantly torn between going for silver or gold accents in my living room.
Silver works beautifully with gray, neutrals, and pops of color like green.
Recreate this:

11. Bar cart with a vintage look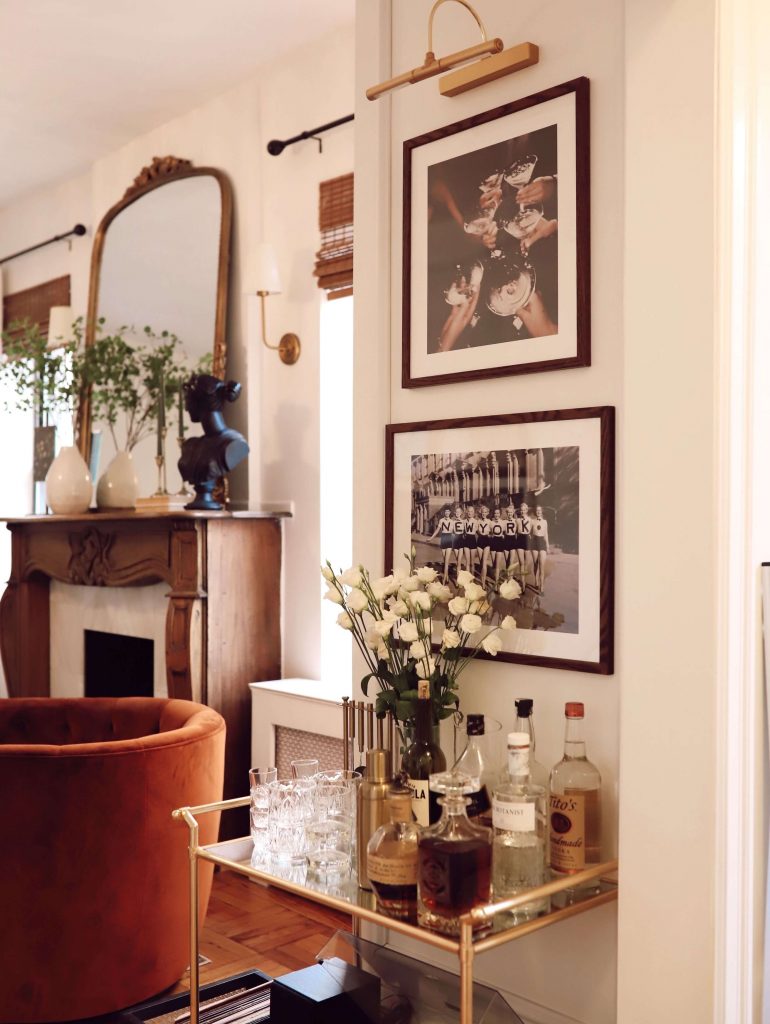 A bar cart is the type of furniture you can have a little fun with! Many pick our large furniture like couches and dining tables in basic colors.
That's clever because doing so gives you a chance to go a little crazier with smaller furniture like bar carts.
This bar cart with a vintage look is surprisingly affordable (just at the $150 limit) and is a real showstopper.
Recreate this:

12. Trendy metal bar cart
Metal doesn't have to be cold! Especially in a living room with colors, a metal bar cart can bring out the right balance.
Recreate this:

13. Rose Gold Bar Cart
This rose gold bar cart is a must-have for a bit of fun in your apartment. Style it with earthy and light colors for a stylish look.
Recreate this:

14. Simple white bar cart
If you love a Scandinavian minimalist aesthetic, this white bar cart is a great choice—style with other neutral colors and a little pop of color here and there.
Complete your bar cart nook by hanging some art on the wall behind.
Recreate this:

Bar cart styling ideas
15. Bar cart art
Style the top of your bar cart with two art prints. For the coolest look, go for two frames in different sizes. Plants or faux greenery also do well as bar cart decor.
Recreate this:

16. Marble Tray
Keep the prettiest bar cart items on a marble tray. What to put on it? A shaker and measuring cup, your favorite liquor, and two cute glasses.
Recreate this:

17. Eucalyptus vase decor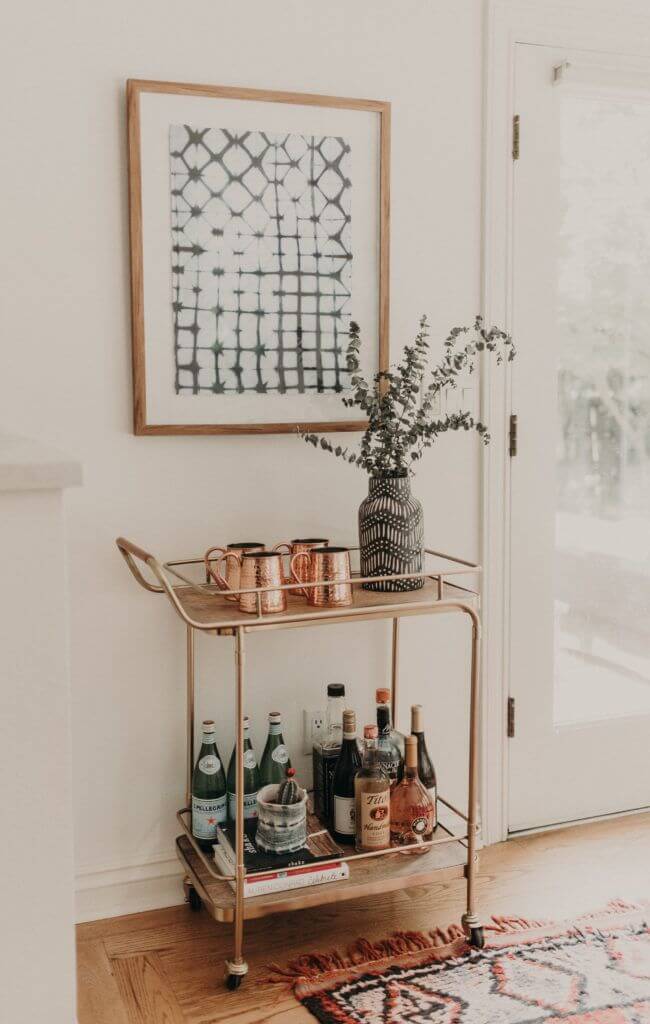 Eucalyptus vase decor is so stylish! It looks good everywhere, including on a bar cart. These faux eucalyptus stems are great to style with a white vase.
Recreate this:

Bar cart accessories
18. Wine rack

If you have a bar cart without a built-in wine rack, this rack is perfect for the bottom tier of your cart.
These wine racks also come in different colors, for example, a chic gold.
19. Decanter set

Whether you drink whiskey or not, a decanter like this looks so chic on a bar cart. Place this decanter set on the top of your cart for a sophisticated look.
20. Bartender essentials

A simple quality shaker, strainer, and measuring cup are essential accessories on every bar cart!
21. Semi-vintage champagne glasses

I've seen many cool bar carts with these champagne glasses, and I love how chic it looks.
These semi-vintage champagne glasses come in a set of 6.
22. Tray for liquors

Group your liquors and mixers in a classy way with a cool tray.
23. Cocktail recipe wall art

This cocktail recipe wall art isn't only practical; it also looks super cute to have on your bar cart.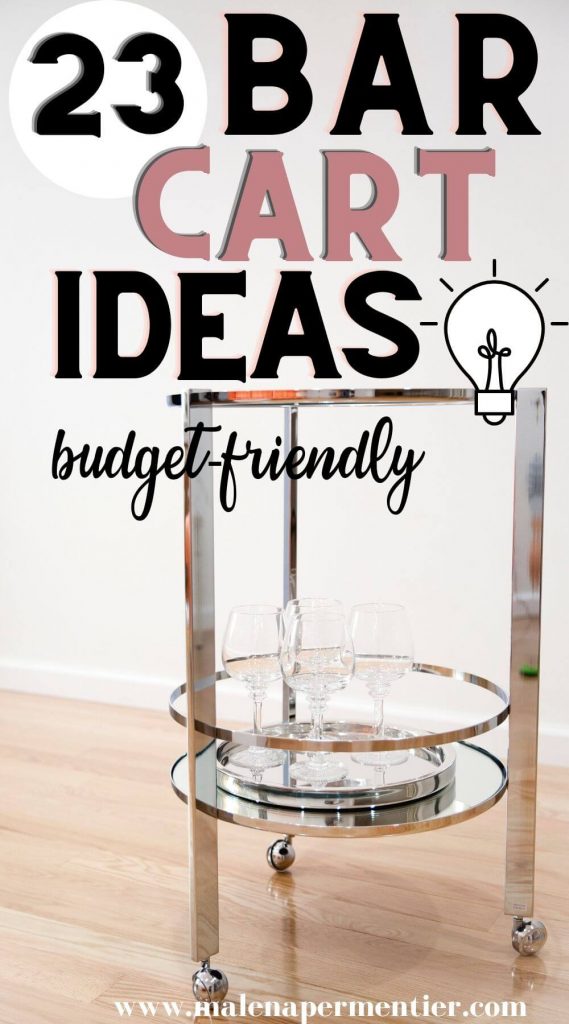 This post showed you the best bar cart ideas.
You may also like: