Looking for creative ways to decorate shelves? This post goes over 24 incredible shelf decor ideas you can recreate in no time.
Whether you're decorating floating wall shelves or a bookshelf, you can use most of these shelf decor principles for both.
Cool things to use as shelf decor are stacked books, funky bookends, small planter pots, ornaments, and some travel souvenirs that have meaning for you.
Another thing I like to decorate shelves with is art. You can frame posters or cool prints and place them on a shelf. A great trick is to put two frames together. Go for a large one and one that's a little smaller.
With visual stuff like shelf decor, it's always best to look at examples and pictures to show how it's done! So let's look at some great shelf ideas.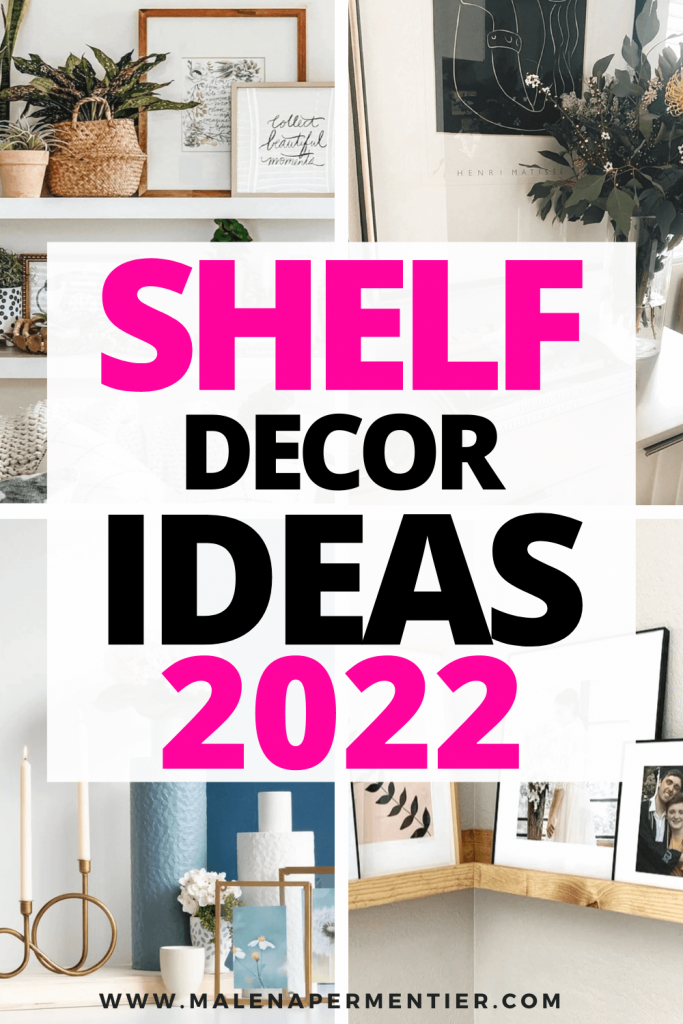 Best shelf decor ideas
1. Stacked books with decorative items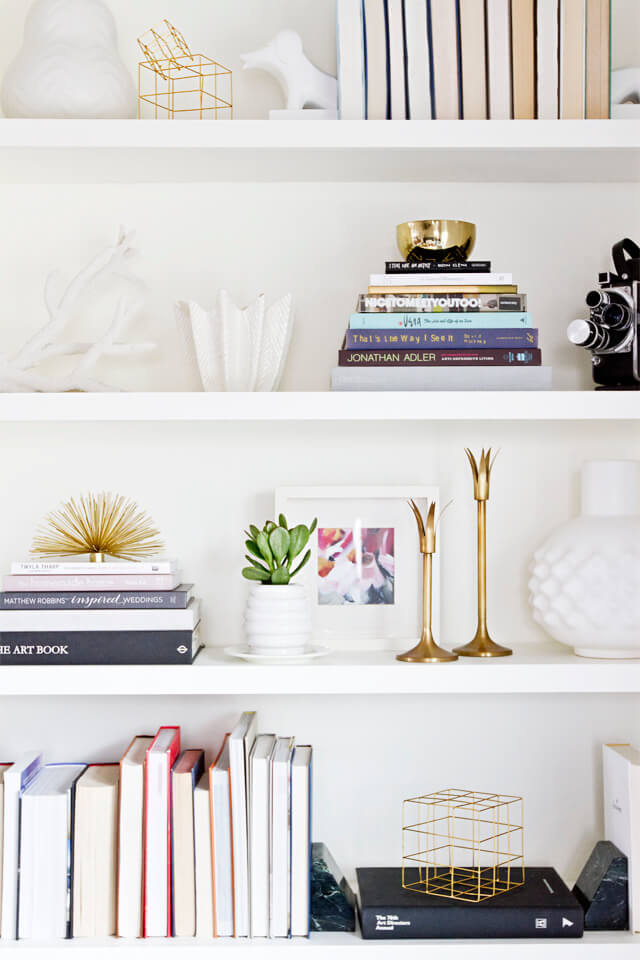 For your shelf decor, choose decorative items in a particular color scheme—for example, neutrals and gold. Of course, you can also add a pop of color here and there.
Sticking to specific colors makes your shelf decor look more cohesive. Plus, it gives you a good direction on what kind of accessories and items to look for.
Tip: Make books part of your shelf decor. Pair books with similar colors together. Place a funky ornament on top of the stacked books.
2. Pair at least 3 items together
When putting together your shelf decor, keep in mind the rules of 3 or 5. Grouping together decorative items in 3 or 5 looks best. You can also vary heights to give another exciting dimension to your shelf decor.
The picture above shows us some great dresser decor, but this stylish combo would also look amazing on wall shelves.
3. Use a corner wall shelf with picture frames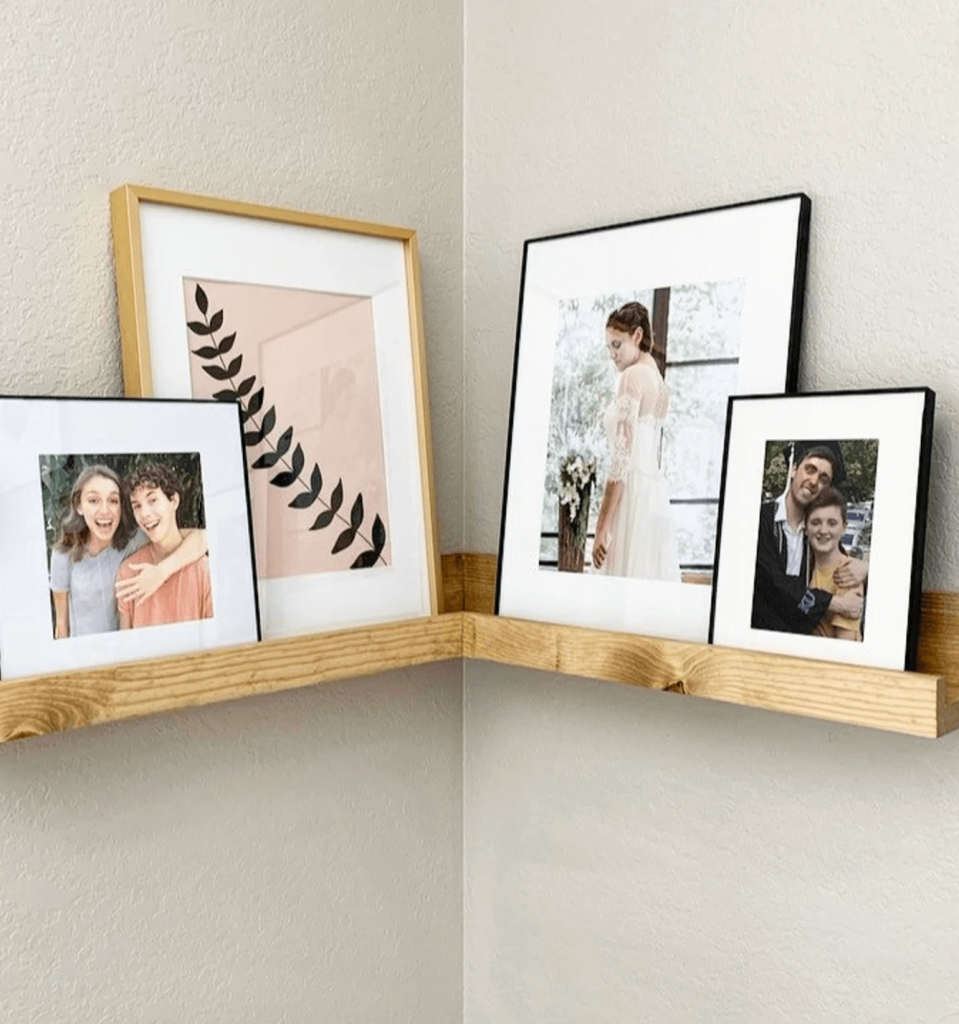 This floating corner shelf is something very unique!! Especially in small spaces, you have to be creative regarding shelves. Picture ledge shelves like this are perfect for placing different frames amongst one another.
This shelf and decor would look fabulous in a living room nook, kitchen, or bathroom.
4. Botanical wall shelves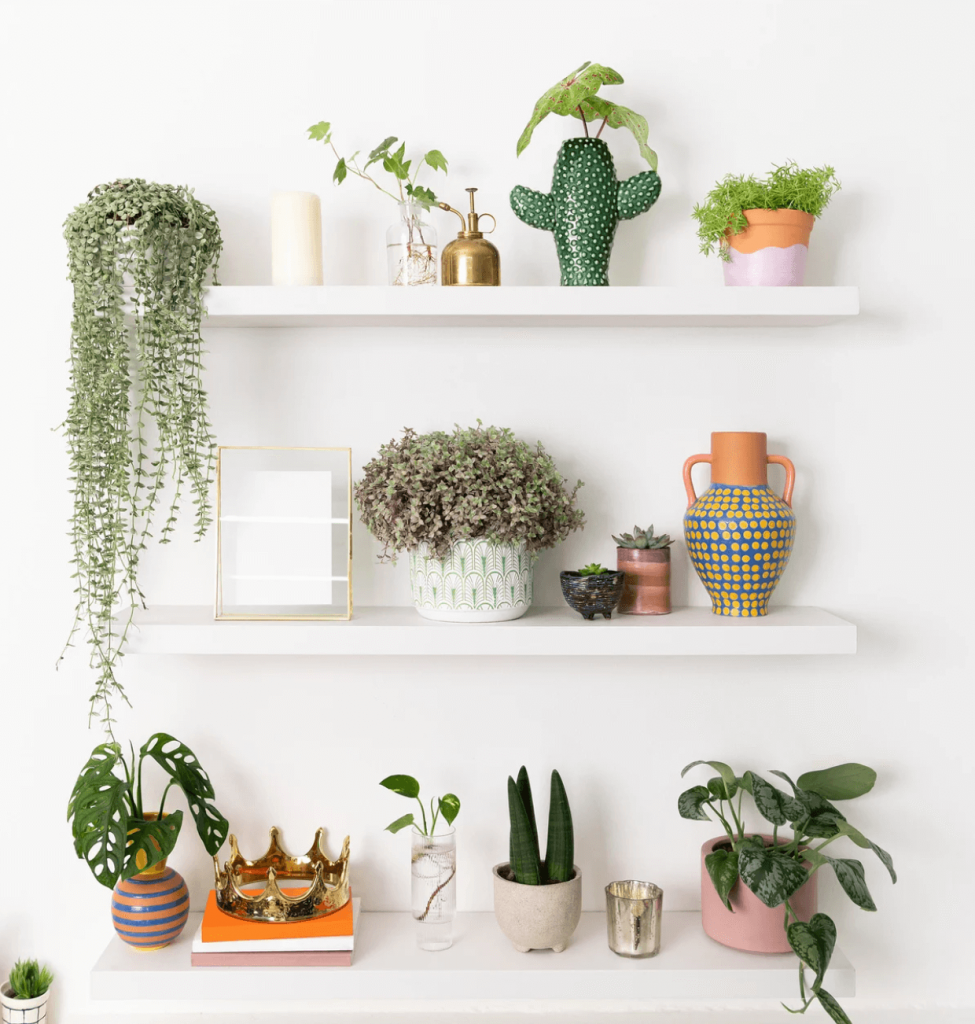 Make a botanical corner with floating shelves for a super pretty and calming aesthetic. I love having lots of greenery in my apartment.
Use simple white floating shelves to keep greenery, cacti, small plants, and the cutest small planter pots.
5. Decorate shelves with unique accessories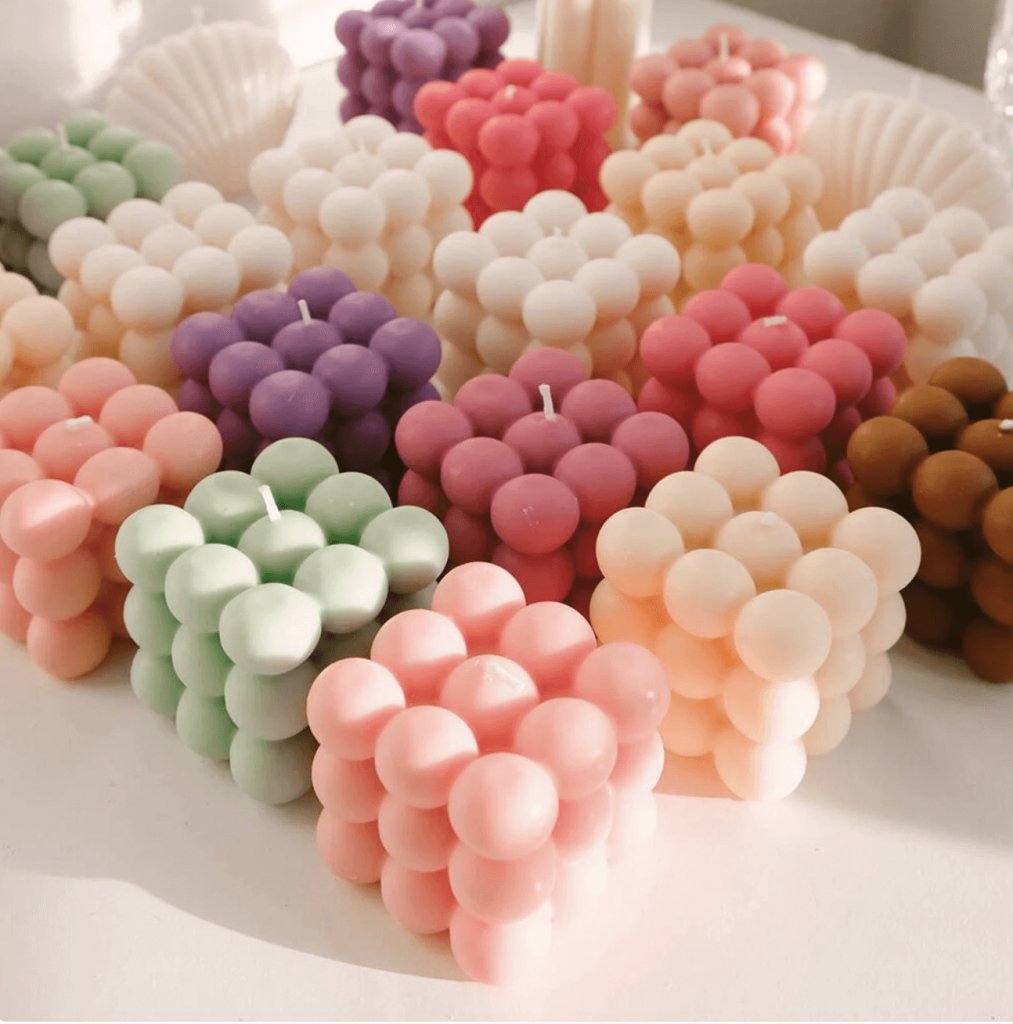 Making your shelf decor stand out is about finding unique items that reflect your personality and style. I recently came across these bubble candles, and I'm obsessed!! Use these to decorate floating shelves or place them on your coffee table.
6. Picture ledge over the couch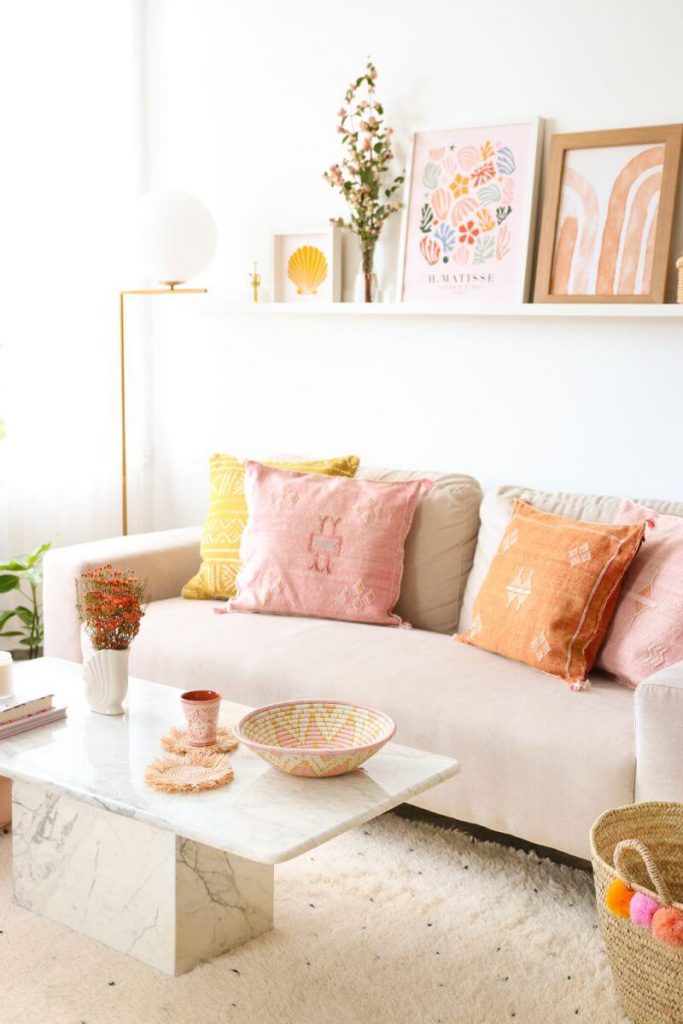 A picture ledge shelf is trendy for above couch decor. Ledge shelves are narrow, so you need to decorate them with items like picture frames and small decorative accessories.
If you're thinking of getting a picture ledge to hang over the couch, make sure the ledge is at least 72″ long. Choose frames in varying sizes and heights for effortless styling.
7. Shelf tower with unique hobby items
You might want to use a shelf tower in small apartments as a bookshelf! These towers are compact, have lots of shelving, and utilize the vertical space in your apartment.
When decorating shelves, use hobby items like cameras or an oldskool record player as decor. This doesn't only make your shelf decor personal; it also looks very cool.
8. Decorate shelves with art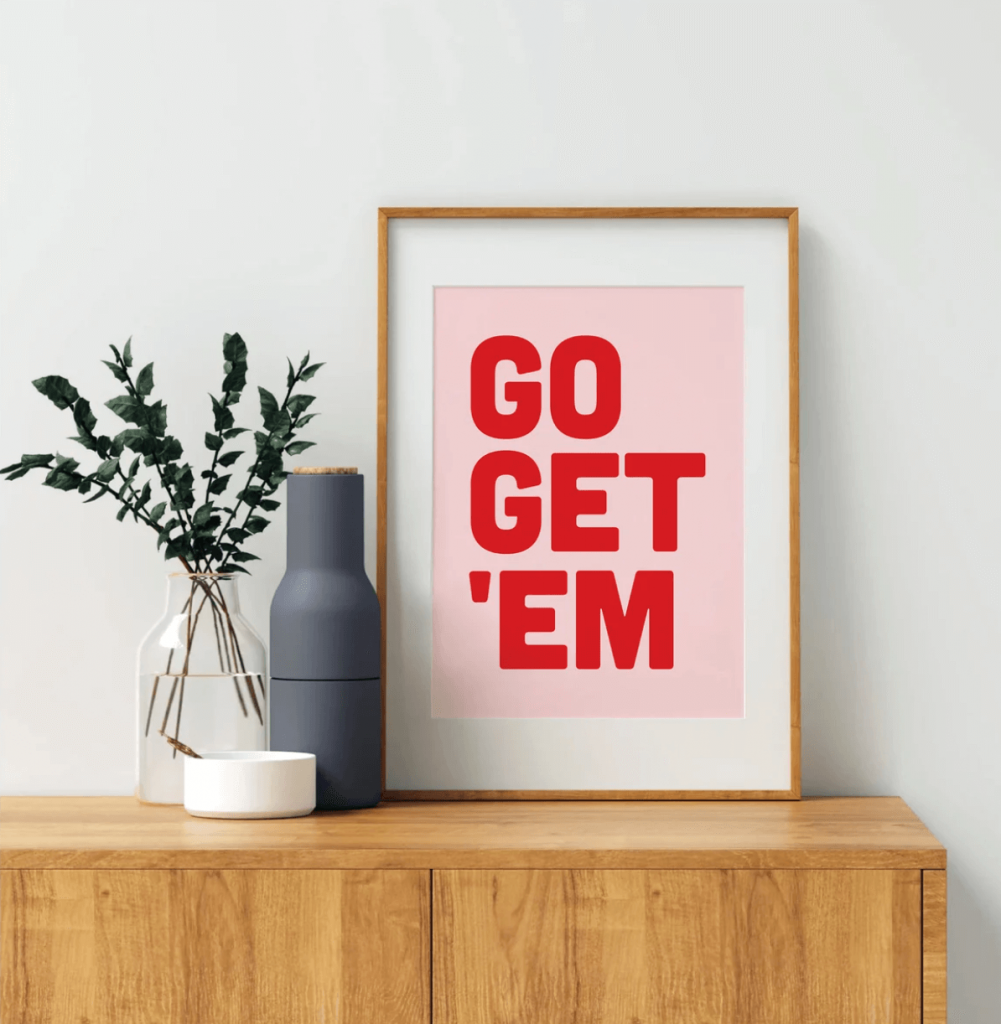 When it comes to art for shelves, Etsy 100% has the best options to choose from!! This Go Get 'Em poster would look amazing in a home office or on the shelf above your desk. It's all about the right work ethic, am I right?!!
9. Use staging books for cohesive shelf decor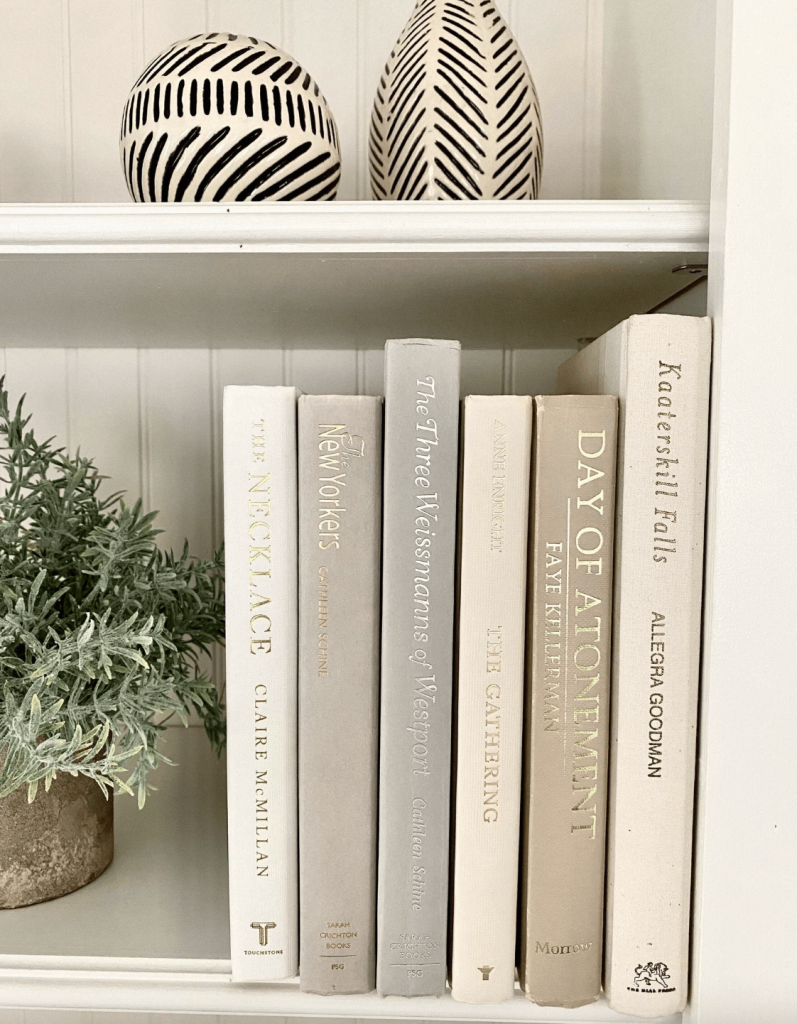 Decorate your shelves with neutral staging books. Those are fake books (yes, I know, it sounds awful) with a certain aesthetic to fit your home.
Although I'm not saying you should fill your bookshelves with these, staging books are amazing for shelves where "something is missing." They create a cohesive and chic aesthetic!
10. Pick a unique shaped vase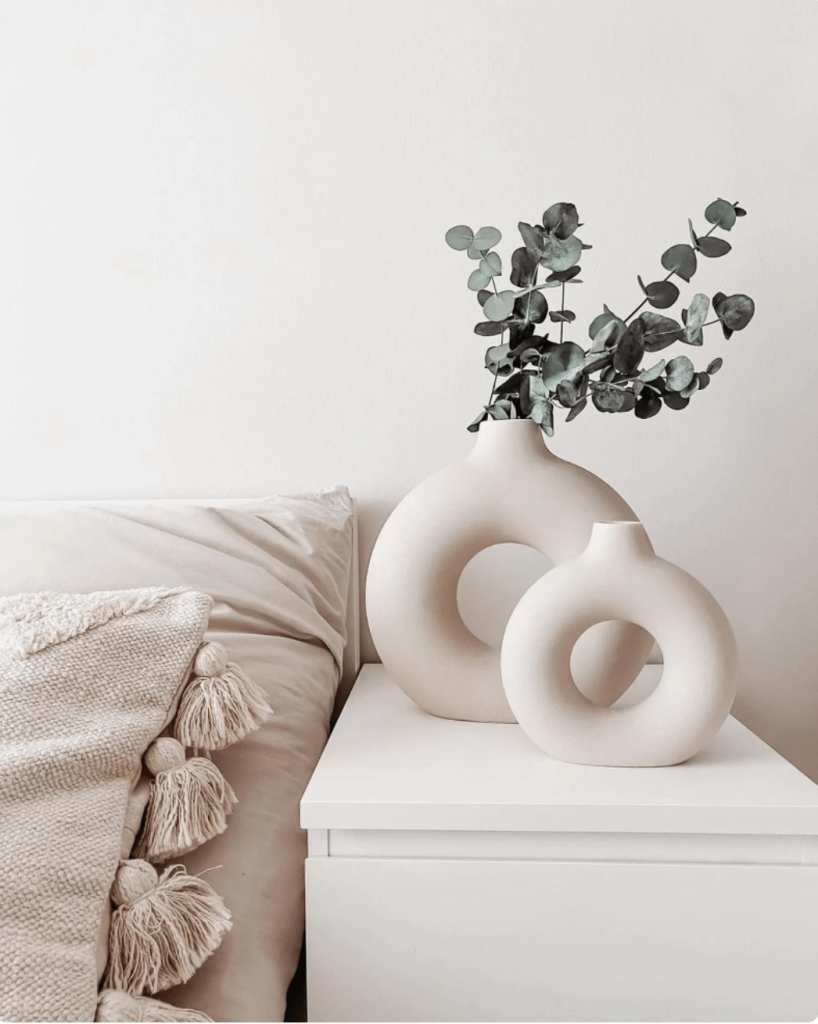 These donut vases are super trendy in 2022, and I love their timeless and chic look. Place two vases next to one another on a shelf. Play with colors and textures, and add real or fake greenery or flowers.
Tip: Amazon has amazing faux eucalyptus stems that look great in a neutral donut vase like this!
11. Pair frames in different sizes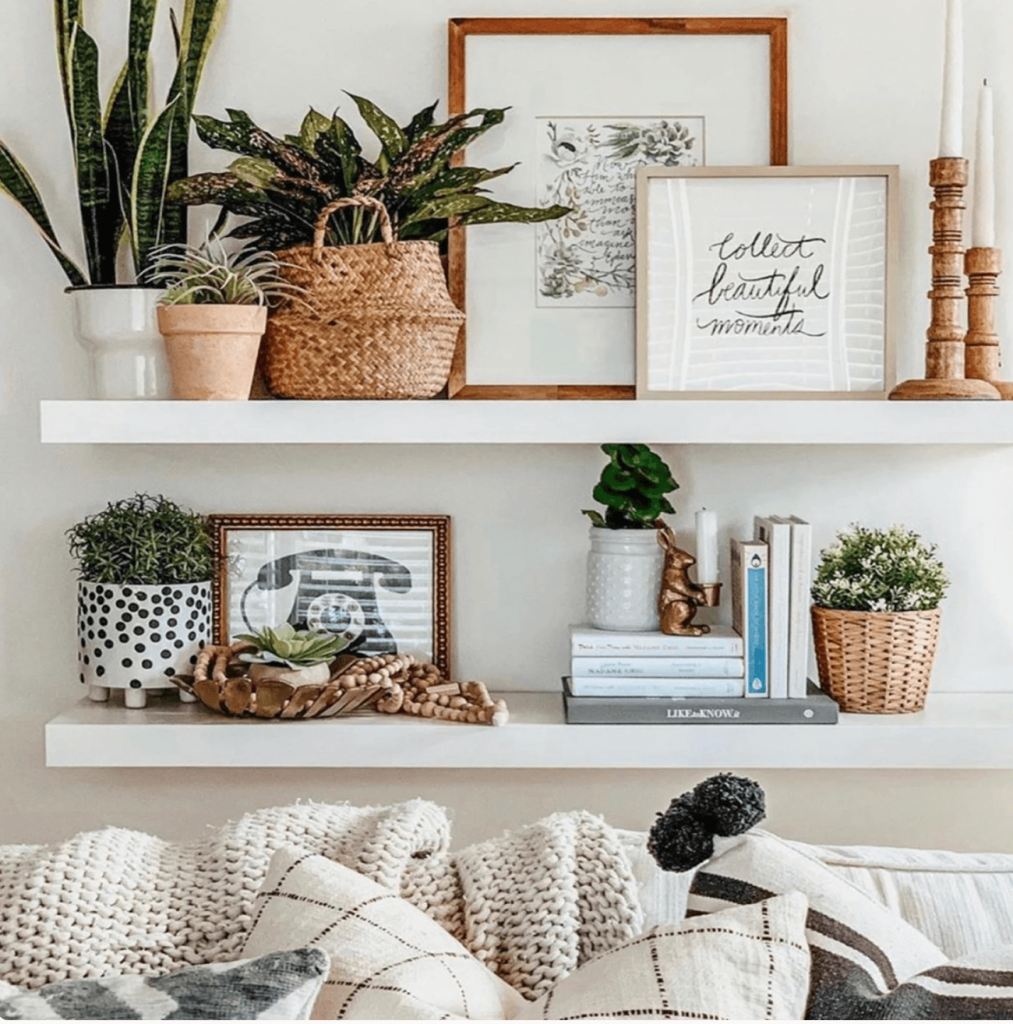 Hang two large floating white shelves over your couch, and decorate it with items that complement your living room decor!
I love the aesthetic of this shelf decor. Wood, seagrass baskets, neutrals, and a touch of gold go amazingly together.
Tip: Look at the picture frames on the shelves. This is a great example of mixing and matching two different frame sizes and colors on your shelf.
12. Go for shelf art in a unique print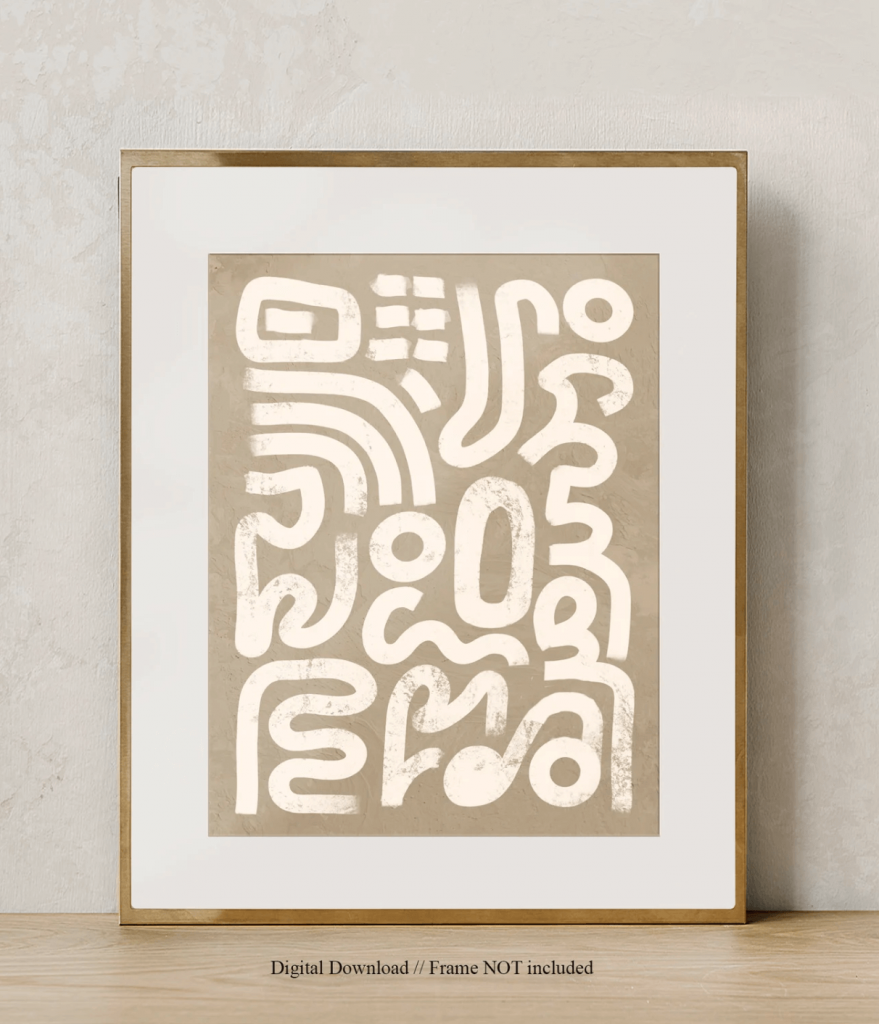 This poster is 14″ and 11″, which is good for wall shelf decor. This print would also look fantastic hanging on the wall!
When it comes to art for wall shelves, go for something neutral and abstract to elevate your decor without overwhelming the space.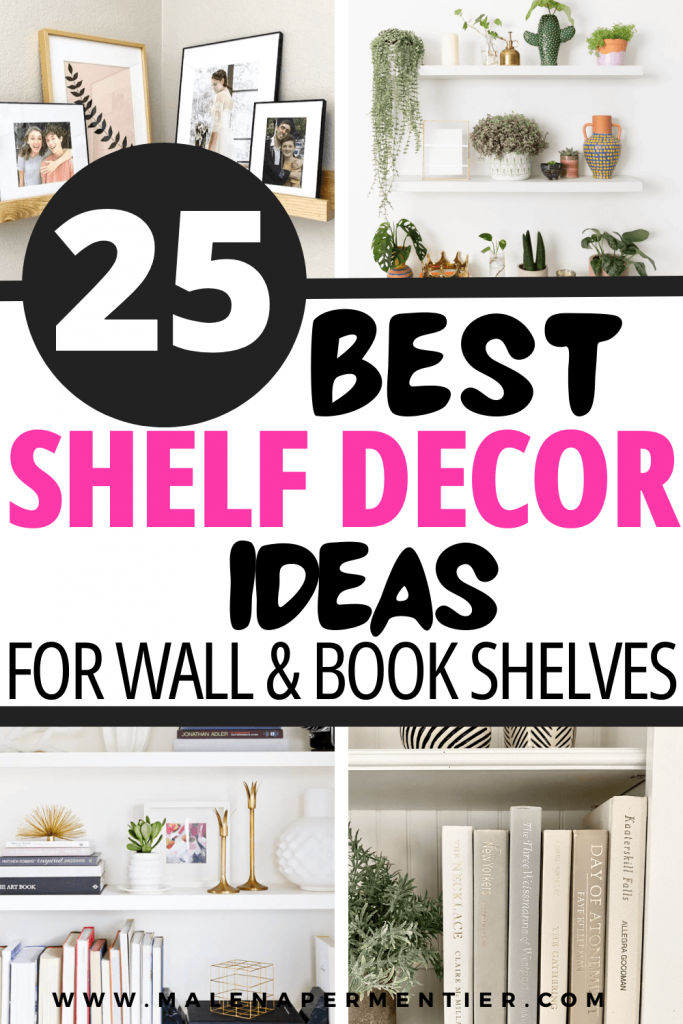 13. Place funky decorative items on your shelves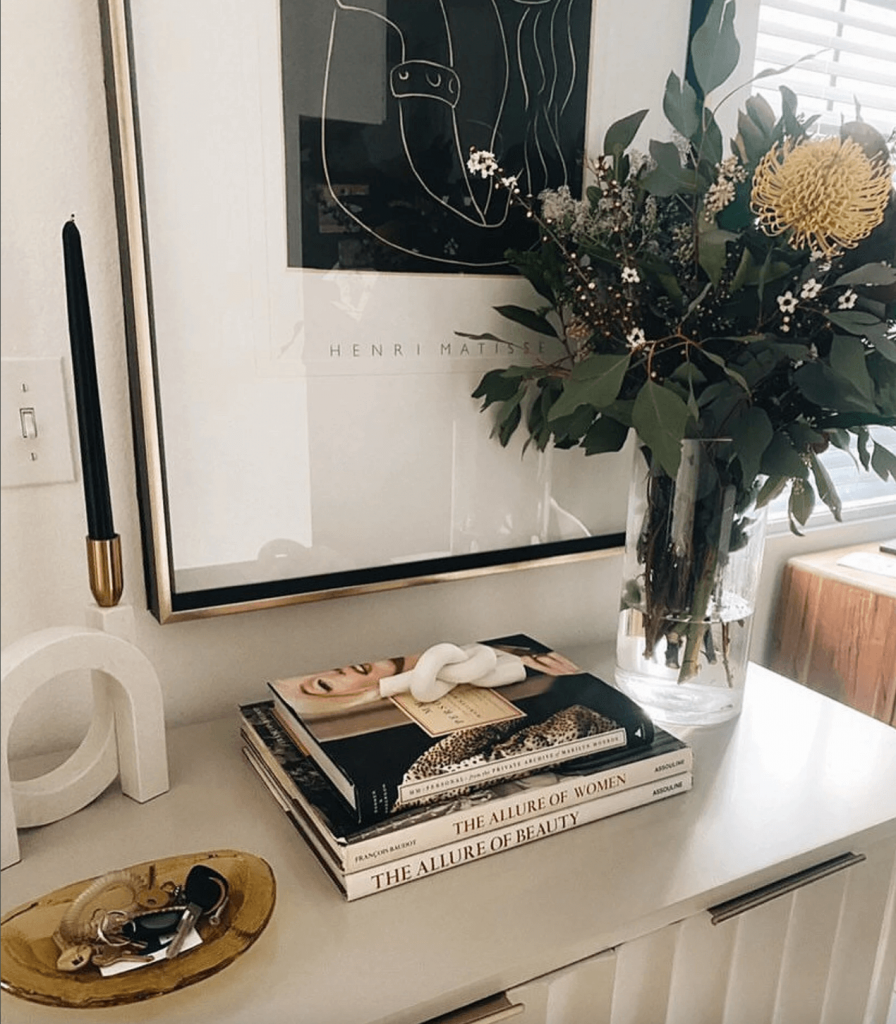 This knot ornament is a winner in the category of cool objects for shelves! It's the perfect finishing touch with stacked books and looks great by itself.
Style this decorative ceramic knot with books, on a tray, or on your coffee table! It creates such an understated yet classy look.
14. Cute wall shelf decor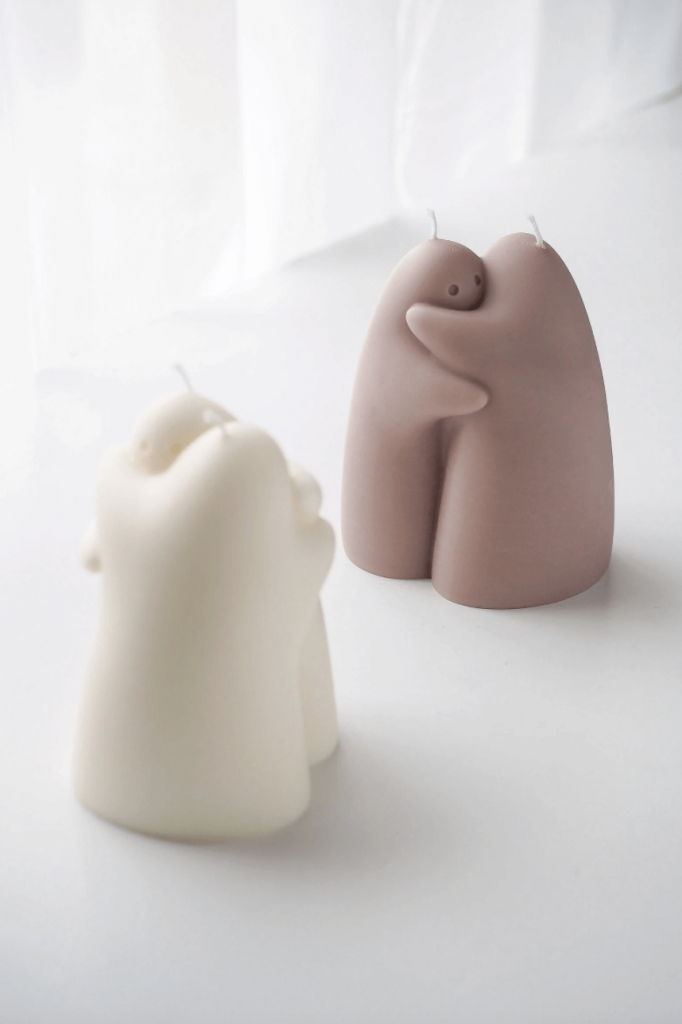 Another cute item for styling shelves is this hug candle! They come in a beautiful neutral and light mocha color, matching practically any interior style.
By the way, this would also make for a unique housewarming gift!!
15. Combine reclaimed wood shelf with natural decor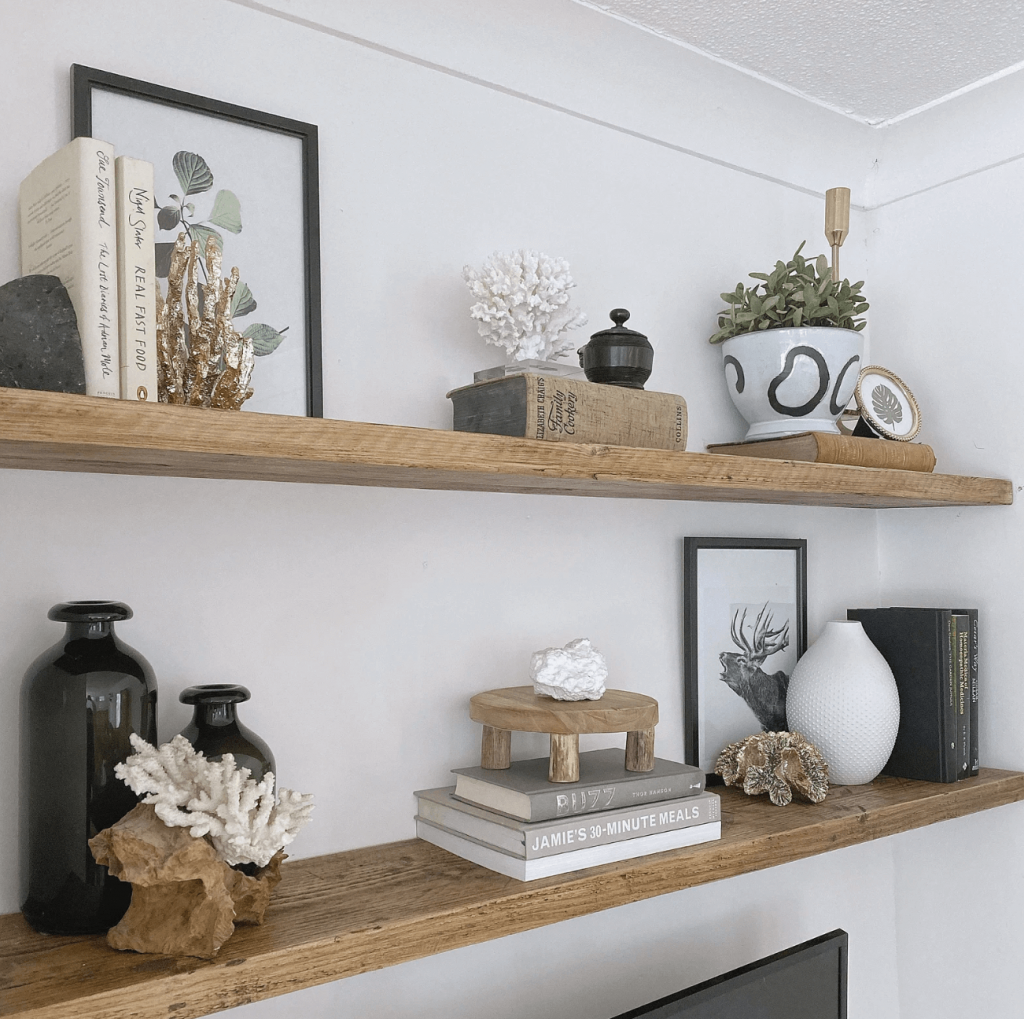 When it comes to shelf decor, the most important part might be picking the right floating wall shelves (if that's the type of shelving you're going for).
Finding the right wood, texture, size, and price point is not easy. This rustic reclaimed wood wall shelf hits all the right spots!!
Pair a rustic shelf with bohemian decor, natural elements like shells or greenery, and random but cool objects like a vintage vase.
16. Gold figurines for bookshelves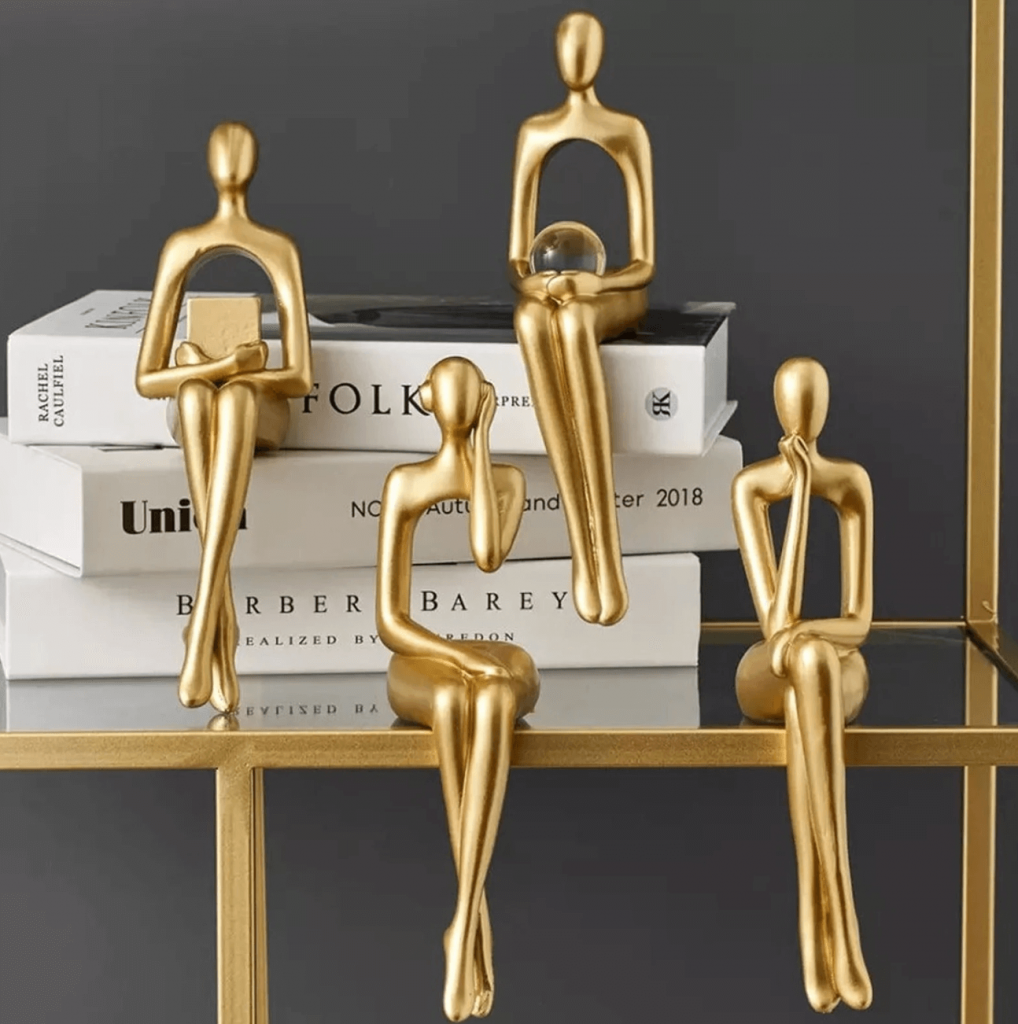 How cute are these sitting figurines for your shelves? These are great for spicing up a bookshelf and adding a fun touch to your living room decor.
17. Elevate bookshelves with trendy bookends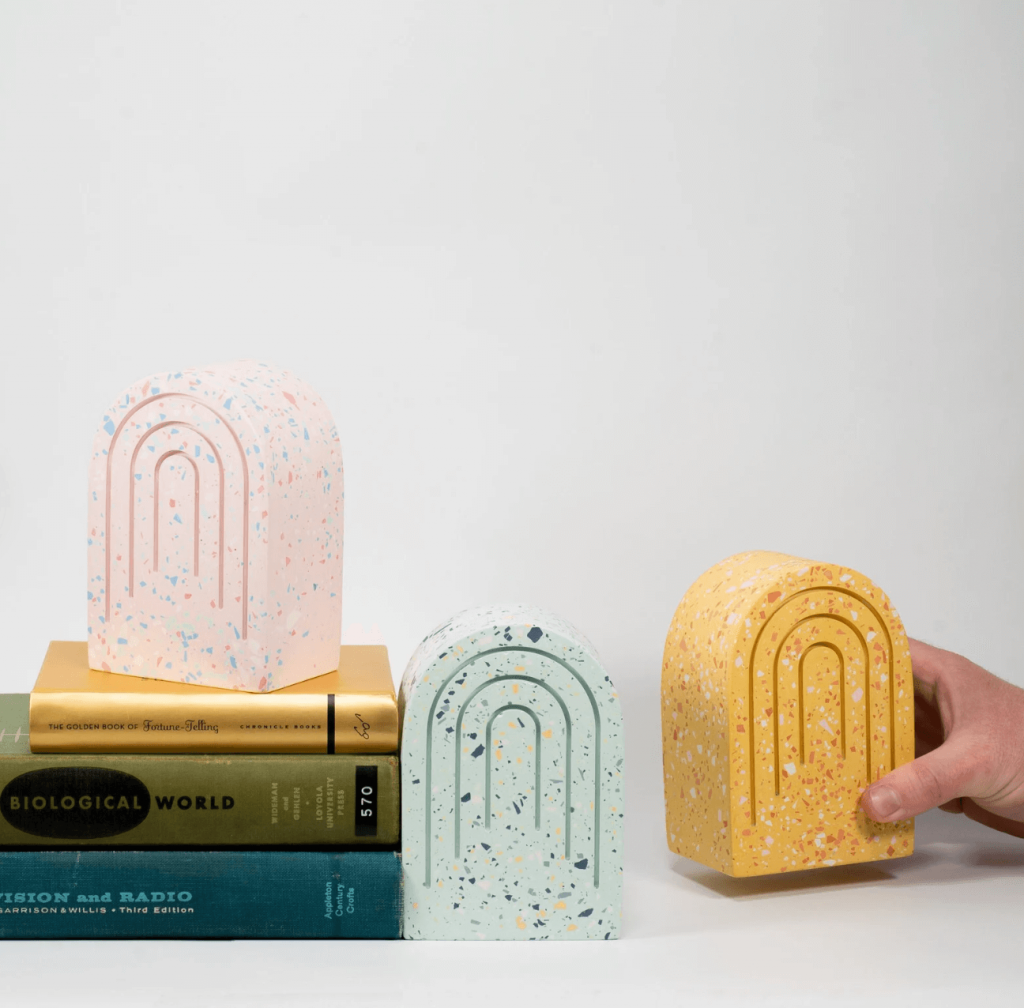 The most obvious (and best) way to decorate a bookshelf is with unique bookends that complement your living room somehow.
I came across these insanely cute terrazzo concrete bookends, and I'm convinced they will elevate any bookshelf. Also, how adorable are the different color options?!
18. Console shelf decorating with plants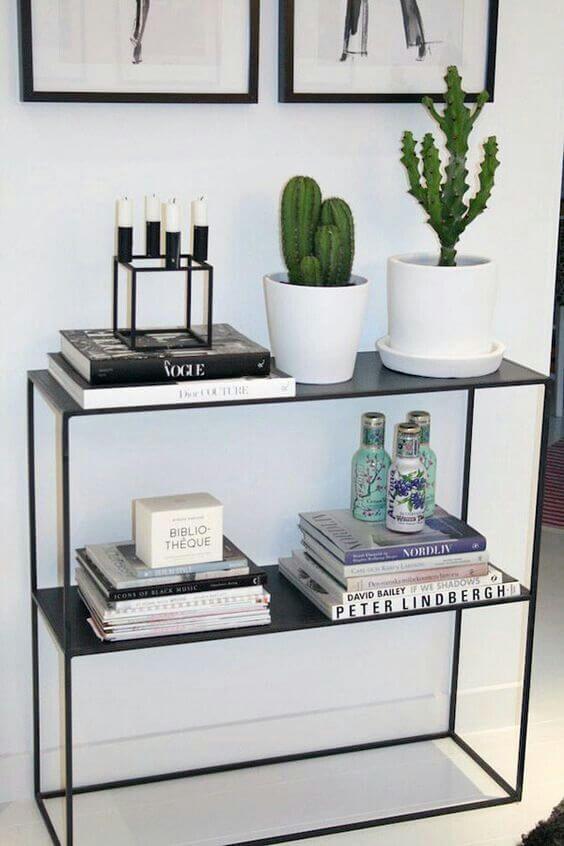 Another form of living room shelving that needs decorating is a console!! If you've read this post about creative ways to use console tables, you know how great these are for small apartment living rooms.
To decorate console shelving, pick items in the same color as the frame. Then combine it with neutrals like white or champagne.
Decorate the top shelf with plants and use cool coffee table books for the other shelf space.
Tip: Get your coffee table books to decorate shelves at Good Will! It's much cheaper, and you will find many cool designs and themes.
19. Small gold vases for greenery decor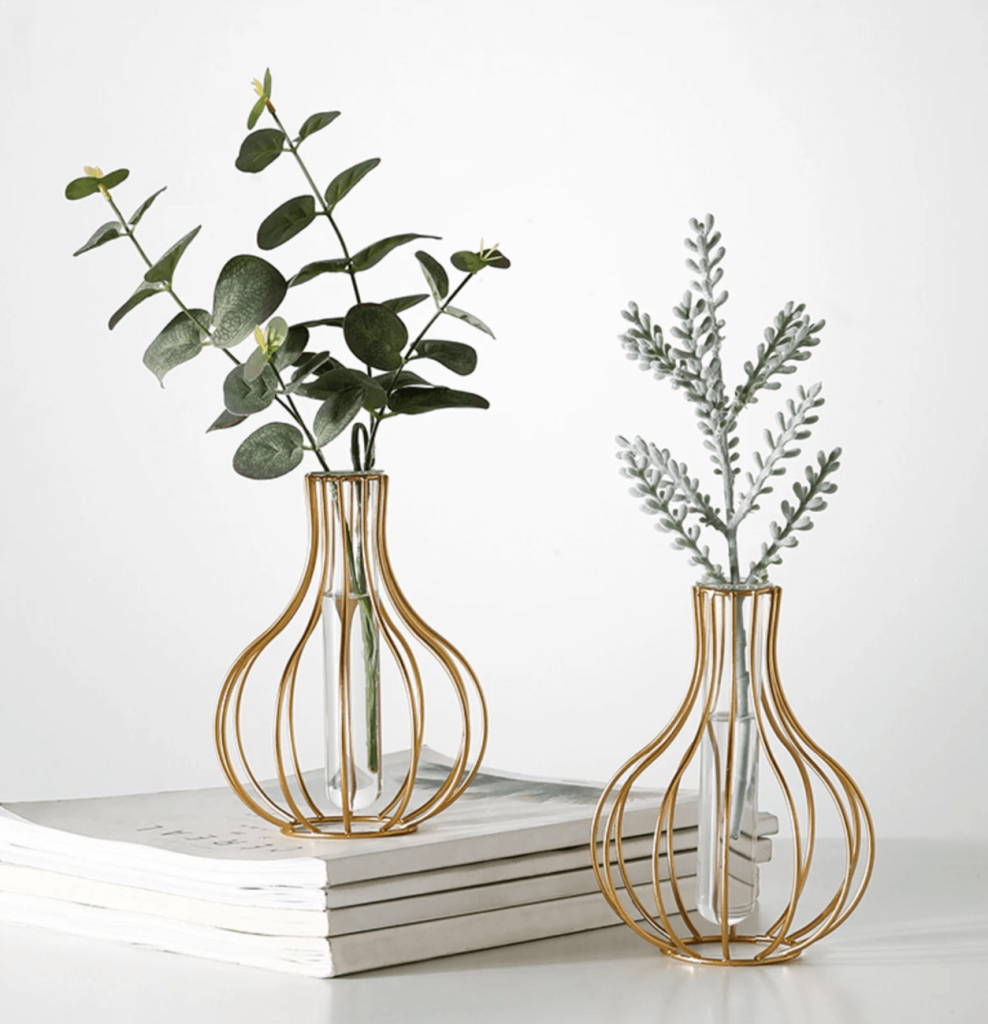 Vases themselves are a pretty essential shelf decor item, but these wire vases are something else!!
Use these tube vases for fresh greenery, adding a cool accent to your shelves.
20. Unique floating wall shelf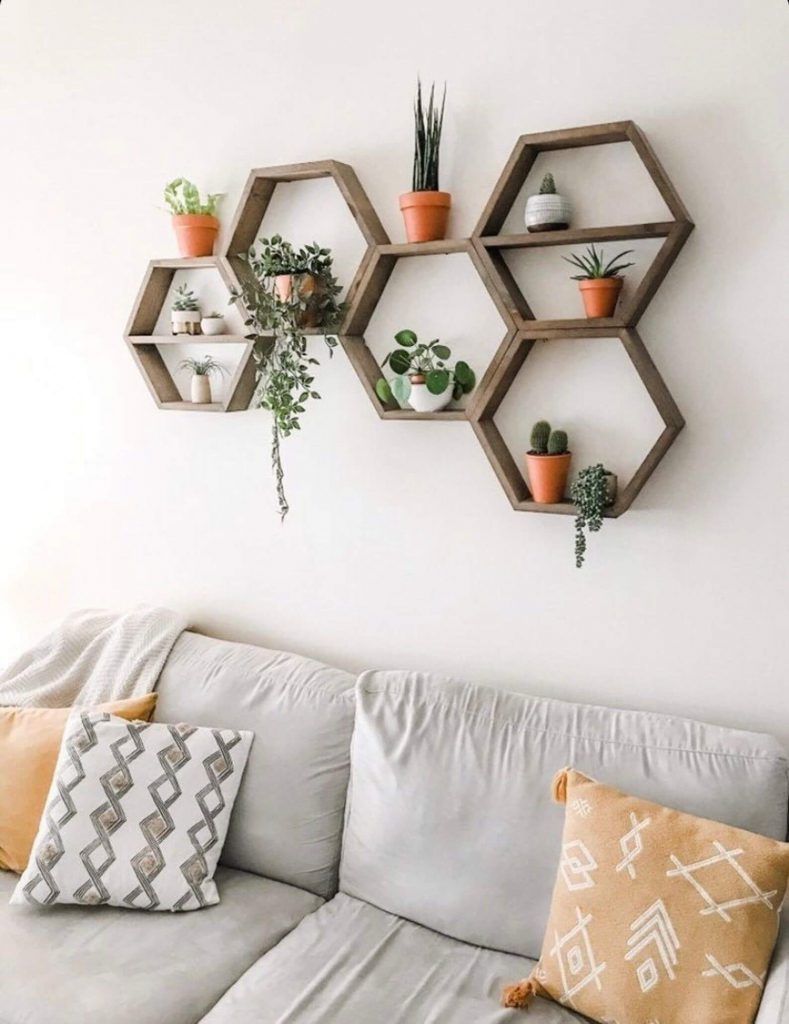 The Hexagon or beehive floating shelf is a living room statement and is the perfect aesthetic for bohemian living rooms.
The shelf space is relatively narrow, so consider decor items like small cacti pots and other cute botanical elements to make this shelf decor pop.
21. Wood sign with a motivational message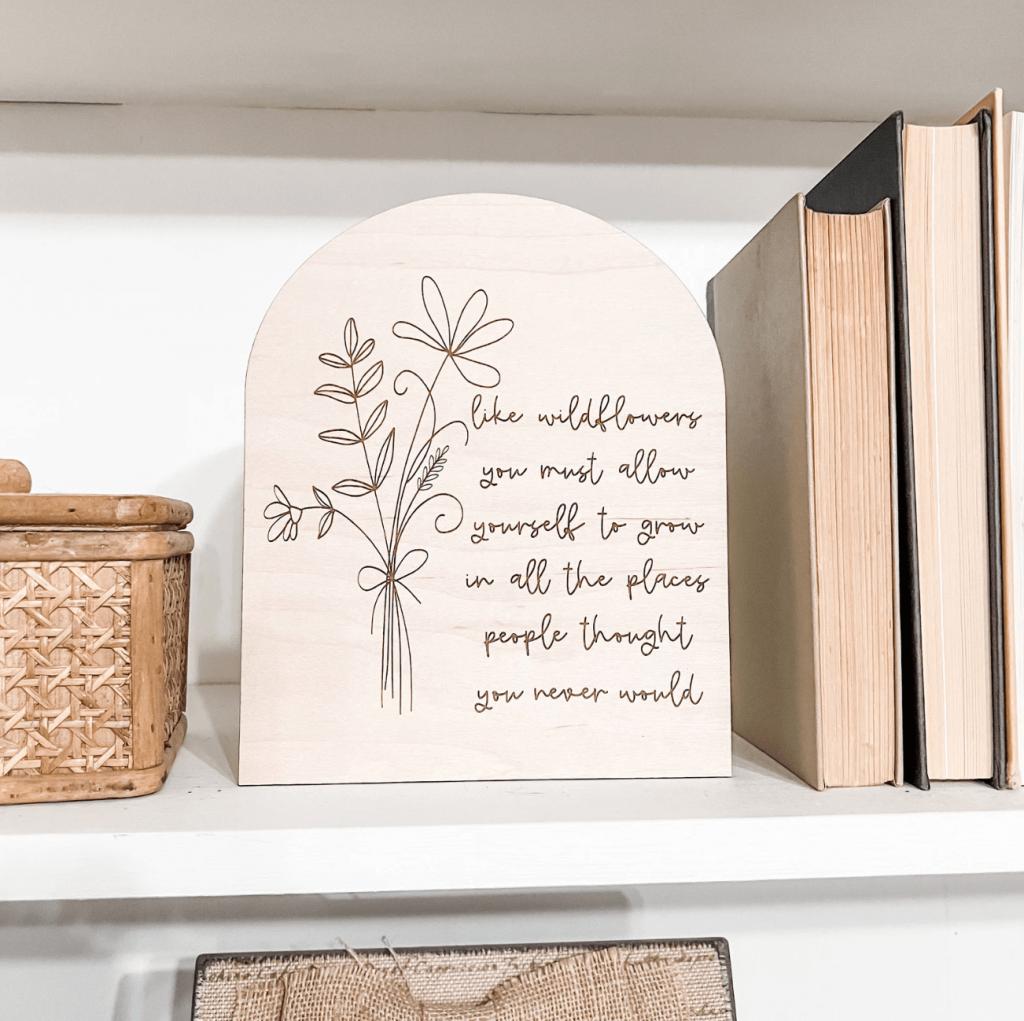 This "Like Wildflowers You Must Allow Yourself to Grow" sign is the reminder we all need!! This wood engraved sign is the perfect finishing touch to any shelf.
22. Wall shelf decor with earthy colors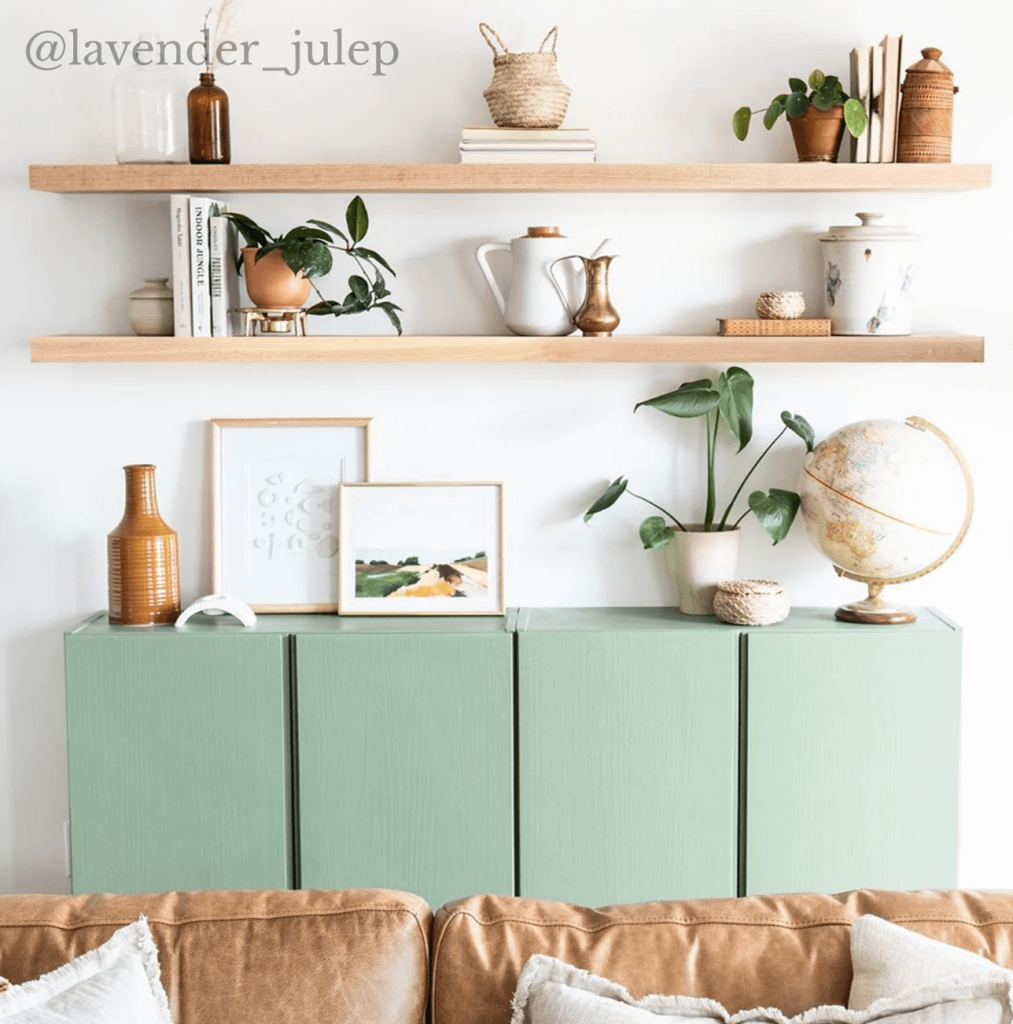 Uhmmm, I love everything about these shelves!! When picking your shelf decor colors, for combos that elevate one another.
All the decorative items on these shelves are in natural, earthy colors. Finding the perfect decorative items for shelves is easy once you know your aesthetic and living room colors.
Also, these floating shelves are gorgeous!! They're an Etsy bestseller, and it's easy to see why.
23. Creative brass candle holder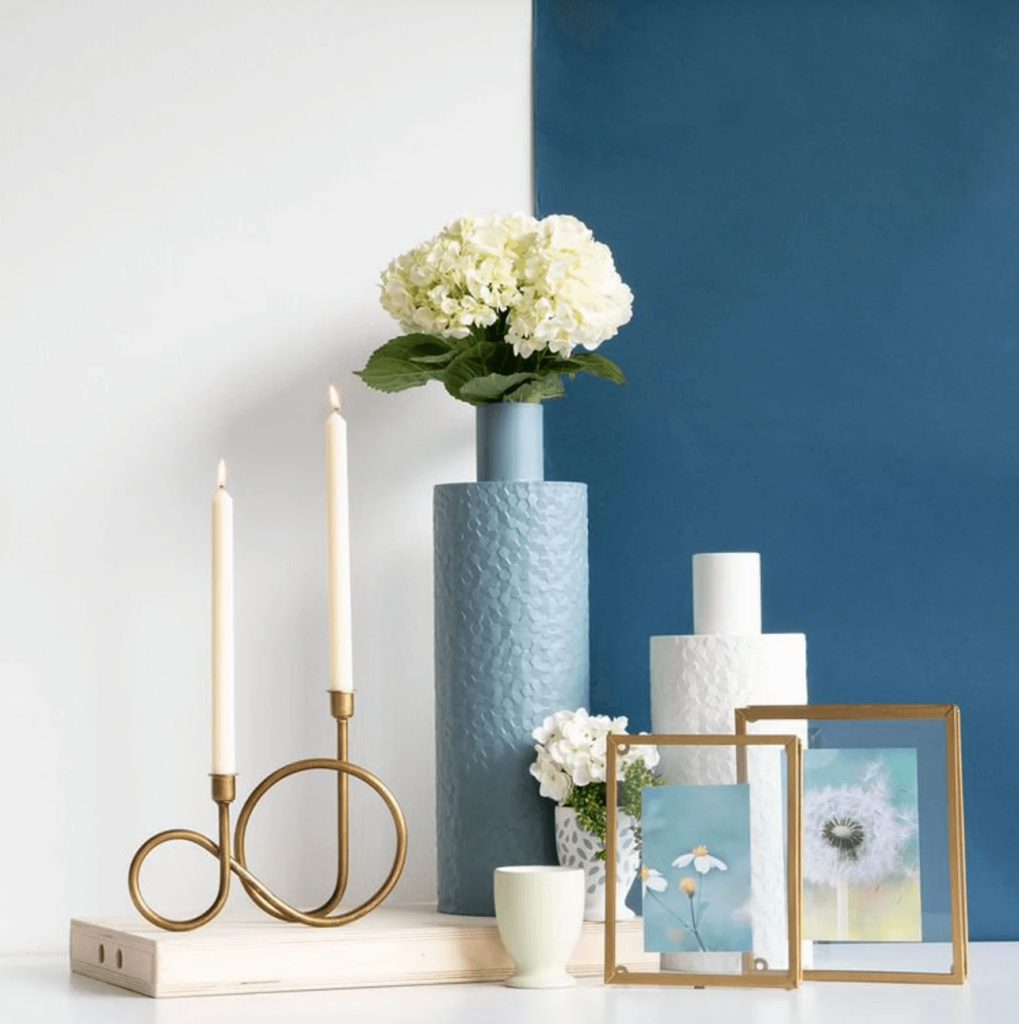 Candle holders might not be unique to have on your shelves, but this is no regular candle holder!!
This twisted brass candle holder is stunning, and it's one of those shelf decor accessories that never fails.
24. Cute letterboard sign for wall shelf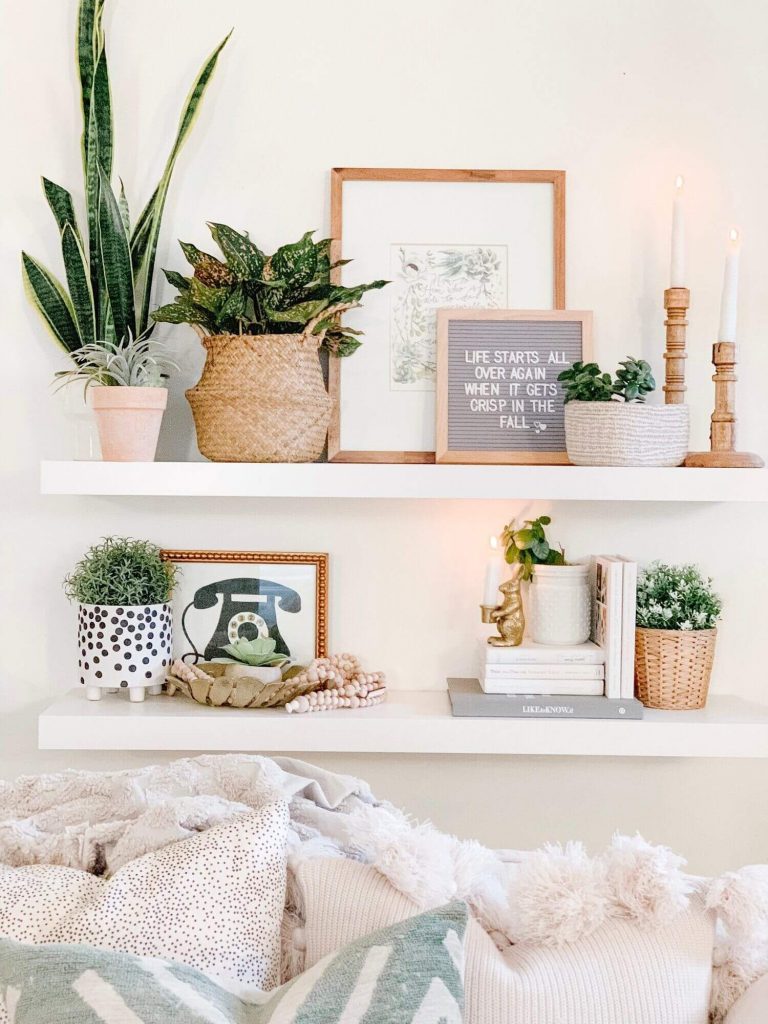 A unique and cute idea for decorating shelves is this square letter board!! Change it up with inspiring quotes or seasonal words.
Adding wood items to your shelves gives your living room a warm and comforting ambiance! This aesthetic looks amazing in neutral living rooms with a boho touch.
25. Kitchen floating shelf decor with favorite items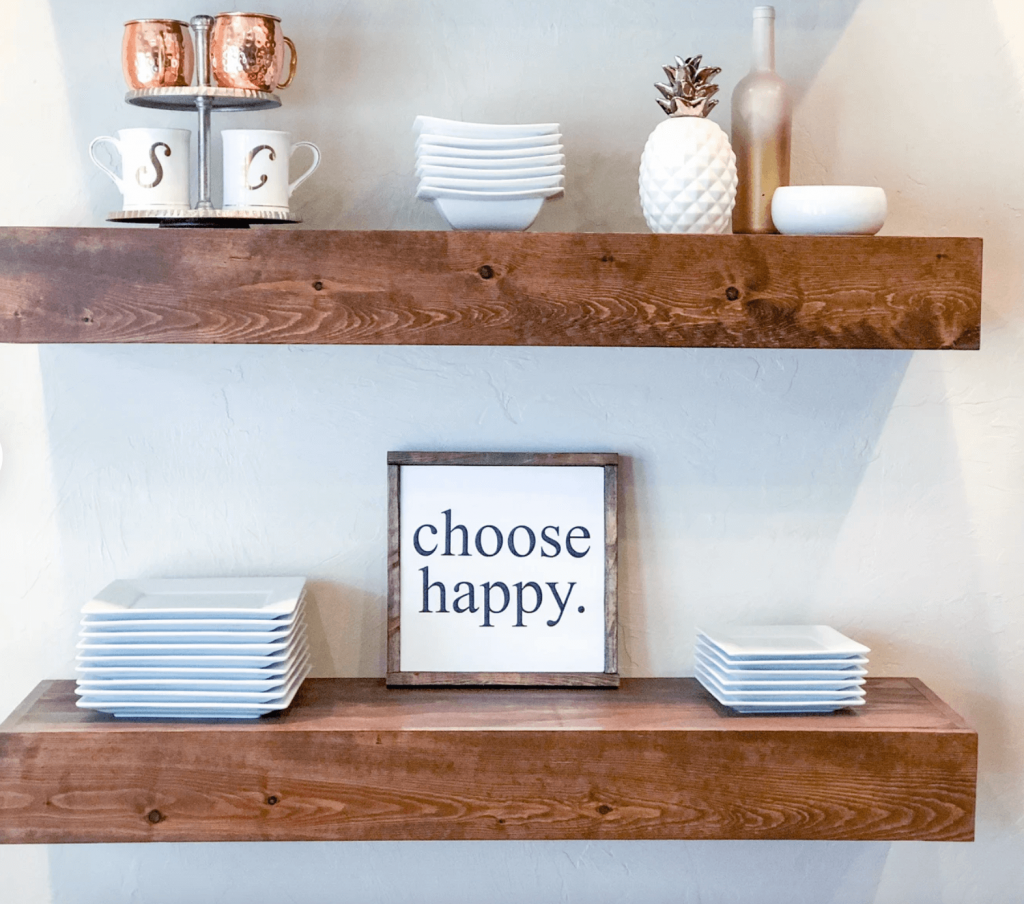 This is another floating shelf idea I wanted to include!! The extra thick rustic shelf. This type of shelving looks terrific in kitchens or bathrooms.
Decorate these shelves for pretty kitchen items, your favorite cups, and other things that make these open shelves look superb.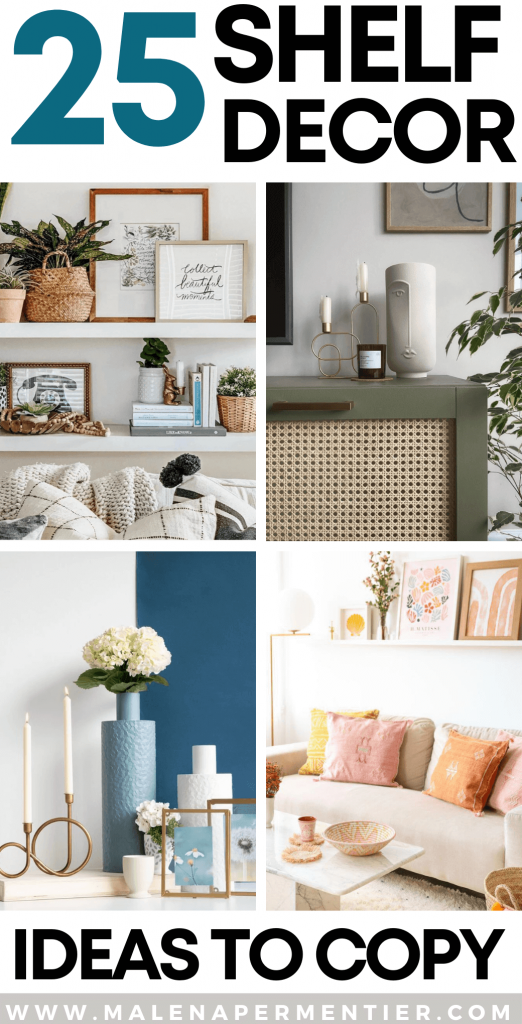 This post showed you the best shelf decor ideas.
You may also like: