Looking for the best ways to utilize the space in your living room? In this post, I'll be sharing 8 genius small living room hacks to maximize space.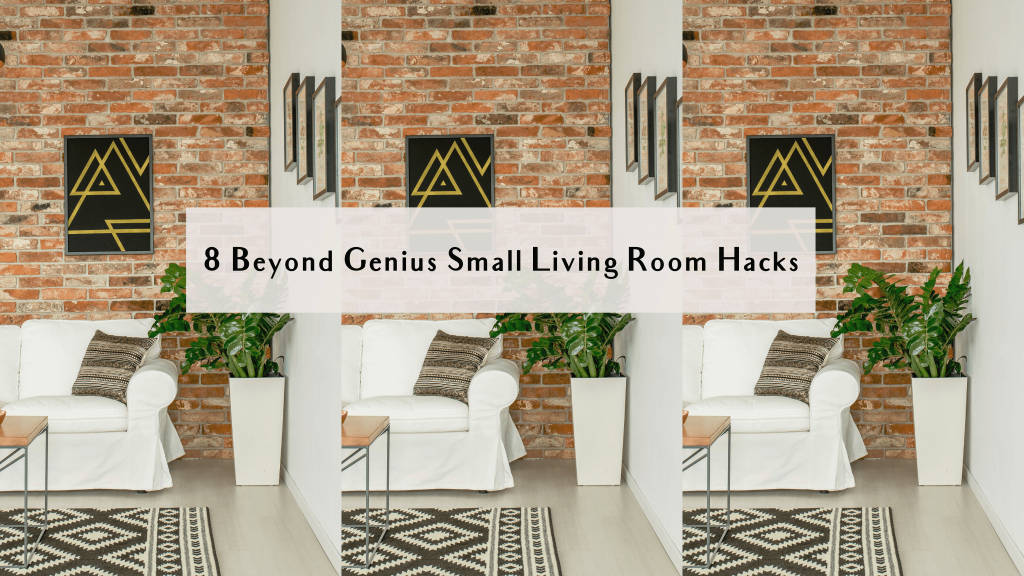 Moving into an apartment is exciting because you can entirely make it your own! If you have limited space in your living room, you'll really want to think twice about the furniture and decor you put in there.
I live in a small, narrow living room myself so I've learned a thing or two when it comes to making the most of small spaces!
This post is all about the smartest small living room hacks to maximize space!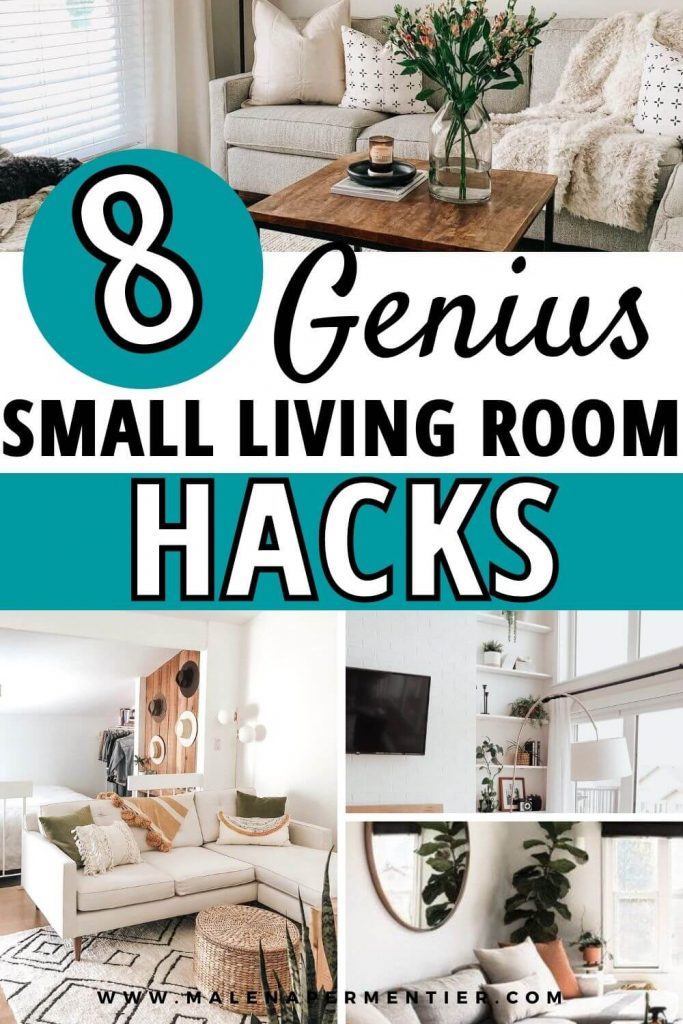 1. Utilize space above the couch
Using the space above your couch for a picture ledge is a great way to add some personal decor AND maximize the space!

In a small living room, I strongly recommend using a very simple and sleek picture ledge because you don't want to overwhelm the room.
This is my favorite picture ledge for small spaces.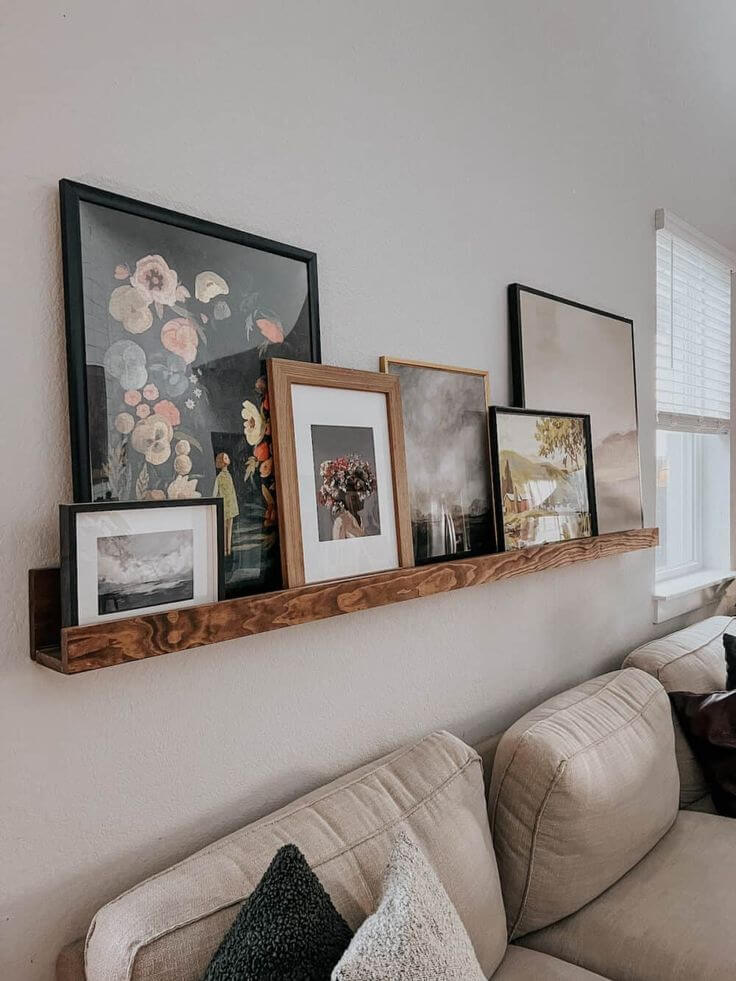 Recreate this room:
2. Pull the space together with a rug
Creating 'zones' in a small living room helps make the room feel bigger. A great way to do that for your couch area is with a rug.
The picture below is a great example of what a rug/carpet can do in a tiny space. It also shows you the precise placement.
For living rooms, you usually want a rug that's 8 x 10 or 9 x 12 (those are the most common sizes for living rooms).
I found this post about rug placement by Emily Henderson very useful for directions!
Get a similar rug:

3. Use a console table behind the couch for extra storage and decor
Console tables behind the couch are a great way to add extra storage space/decor with overwhelming the room.
What's done really well in the room below is that the console table perfectly blends in with the rest of the space.
Especially when your living room is small, it's smart to keep your furniture very calm, without too much fuss.
Get a simple console table:

4. Use a standing curved lamp to save space
Adding a standing curved lamp to your living room is one of my favorite ways to maximize space.
Carefully place the lamp behind your couch or a chair for the best result. Choose a neutral color, or maybe add a little accent with silver or gold.
Recreate this:
5. Opt for a round mirror to create the illusion of more space
Adding a round mirror on a living room wall is such a smart and simple way to create the optical illusion of more space.
Great spots to hang a round mirror could be:
Above the couch
Close to a corner of your living room.
Above the TV: middle, left or right.
Recreate this:

6. Choose sleek furniture over robust
My general rule of thumb is to keep a small living room as bright, light simple and minimal as can be. The more you put in there, the more cramped it will feel!
Make sure you pick enough decor and furniture with thin, visible legs. That will open the space much more than robust furniture.
It's definitely okay to have one chunkier piece of furniture in a small living room.
Just make sure you balance it out with sleek furniture!
Get a sleek tall bookshelf:
7. Replace a big coffee table with an ottoman
If you have small narrow living room as I do, you kno how challenging it is to fit in a coffee table.
That's why I love ottomans. You can simply place them in front of your couch when you need it, but then remove it when you don't.
Pick an ottoman that is strong enough to hold a serving tray with food and drinks. Also, an ottoman + tray makes for very cute living room styling!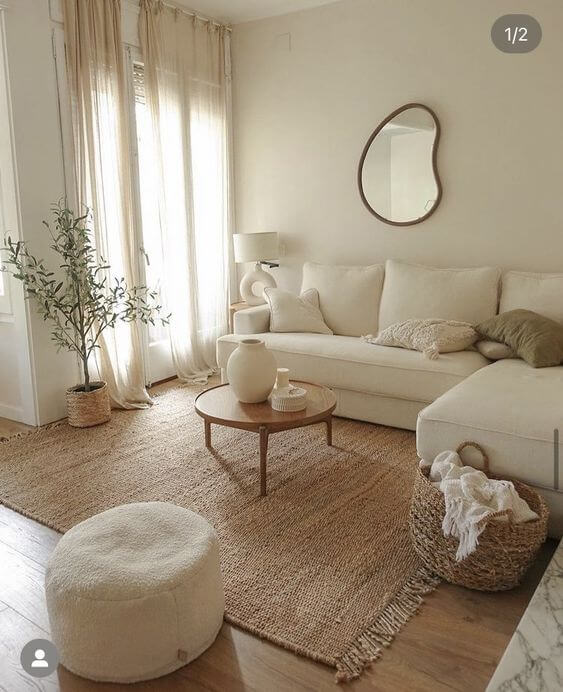 Get sturdy ottoman:

8. Vary furniture heights and keep enough open space
In a small space, you want to use the height of the room! Furniture with varying heights make a living room feel bigger. It also gives you that little extra space to put your stuff.
The picture below is a great playful example of how to implement furniture with varying heights.
Recreate this:
This post was all about the best small living room hacks!
You may also like: