Bringing you the best small living room ideas!
I know it's a challenge to fit everything in there while at the same time making it a cozy and stylish place to live.
I recently moved into a small apartment, so I've learned something about what works and what doesn't.
This post is all about the 18 best small living room ideas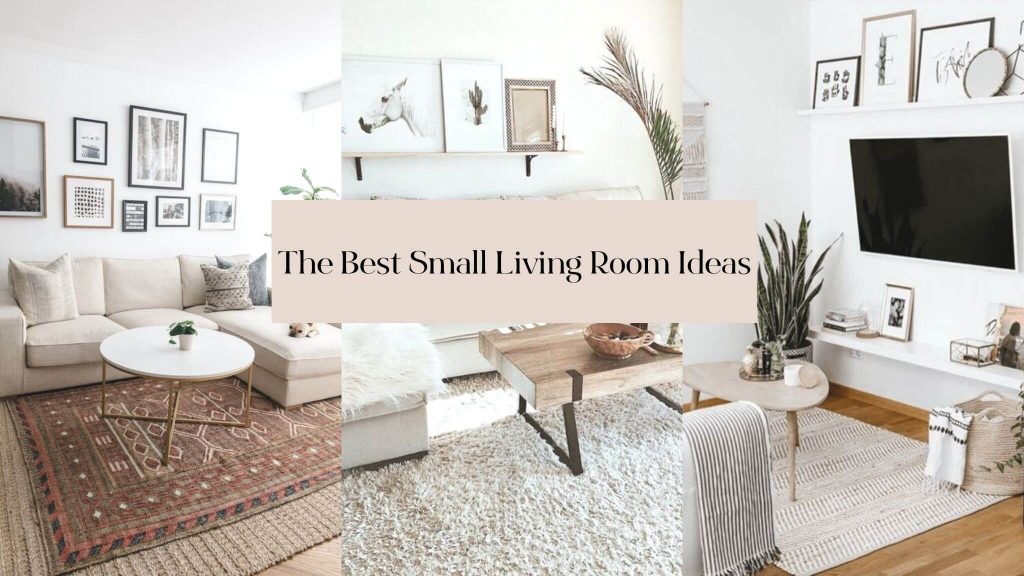 The best small apartment living room ideas
1. Couch with thin legs
You want to avoid robust furniture in a living room with little space. Pay attention to the legs when picking out the big things, like a couch. For a small space, it's wise to use a couch with thin legs to create optical space.

2. Symmetric wall decor
Hang your frames on the wall symmetrically. For small spaces, it pays off to be extra considerate of how, and where you hang your frames. Too much going on will make the space feel small.

3. Entry table behind couch
I love this idea! An entry table behind the couch looks super chic. You can use it to decorate with photo frames or plants. This entry table from Amazon also has a storage shelf bottom so you can use it for magazines and books or a secret snack stash.

4. Incorporate mirrors
Mirrors are a smart way to make a small space look bigger than it actually is. If you have a fireplace mantel, that's a great spot for a mirror. A tall standing mirror also works – if you don't mind it taking up precious space!

5. Play with scale: add statement wall decor
In a small apartment living room, it generally works better to choose 1 statement piece instead of many small wall decorations.

6. Add ottomans
Ottomans are multifunctional, and therefore a better choice than a coffee table in most small living rooms. Plus, they look so cozy!

7. Small lights on the wall
This is one of my personal favorite space saving living room tricks. Choose 1 or 2 small wall lights to hang next to the couch. It looks super cool and doesn't take the space of a standing lamp. Tip: also check for 'bedside' lamps. You can perfectly use those for the walls of your living room too.

8. A big rug
It's counter-intuitive to put a big rug in a small space, but surprisingly it works. A big rug can make your sitting space look more put together.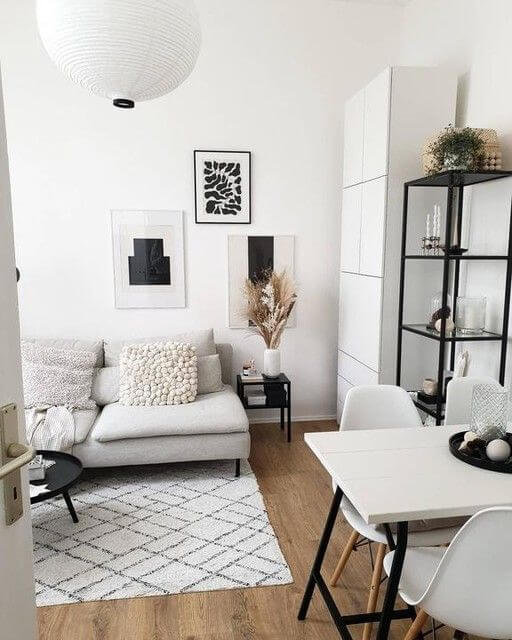 9. Coffee table with storage
If you want to get a coffee table for your tiny living room, then at least get one with storage! Opting for one with thin legs is also a great optical space saver.

10. Above fireplace decor
If you're lucky enough to have a fireplace mantel, you better make the most of it. Above the fireplace decor is a great use of space. You can also add a mirror for an extra sense of space.


11. Use a round mirror
Playing with shapes is a great way to make a small space come to life. I'm a big fan of round mirrors and what they can for a space.

12. Go for neutrals
Neutrals are your alley when decorating/furnishing your small living room. Adore this example below, and you can easily recreate it!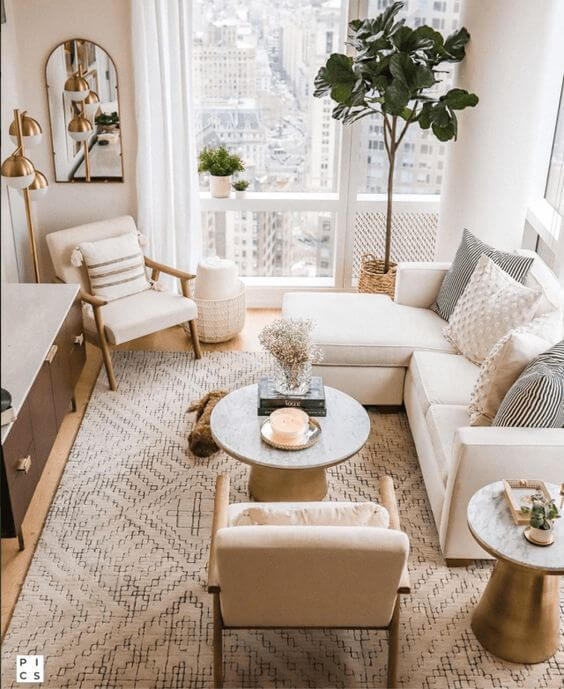 Recreate this room:
13. Skinny lamp
A long, skinny lamp is ideal if you want to save space in your living room. I also really like the look of an industrial gold floor lamp like you can see below.

14. Multi purpose dresser
A dresser in your living room is amazing for extra storage and a place for decoration. It's also a great spot to hang/stand your TV or use the free space above it for photo frames.

15. Shelf above the couch
The above couch shelf is such an elegant way to make use of space. In a small living room like this it's a great spot for some art and photo frames.

16. Layer rugs
This is a risky one, but if done right layering rugs can really bring together a small space. It's as if the rugs in two different sizes, one even one printed, creates an extra dimension in a small living room.

17. Smart wall decor
Smart, subtle wall decor does wonders for a small living room. This macrame wall hanger adds an interesting touch without being overwhelming.

18. Style floating shelves
Another floating shelf example, but a great one at that! In a small living room, you need to make use of shelves in order to make the most of it. These two shelves in a different size, just beneath each other do the trick.

Share this post on Pinterest:
This post showed you the best small apartment living room ideas on a budget.
You may also like: