This post is all about elegant small living room ideas.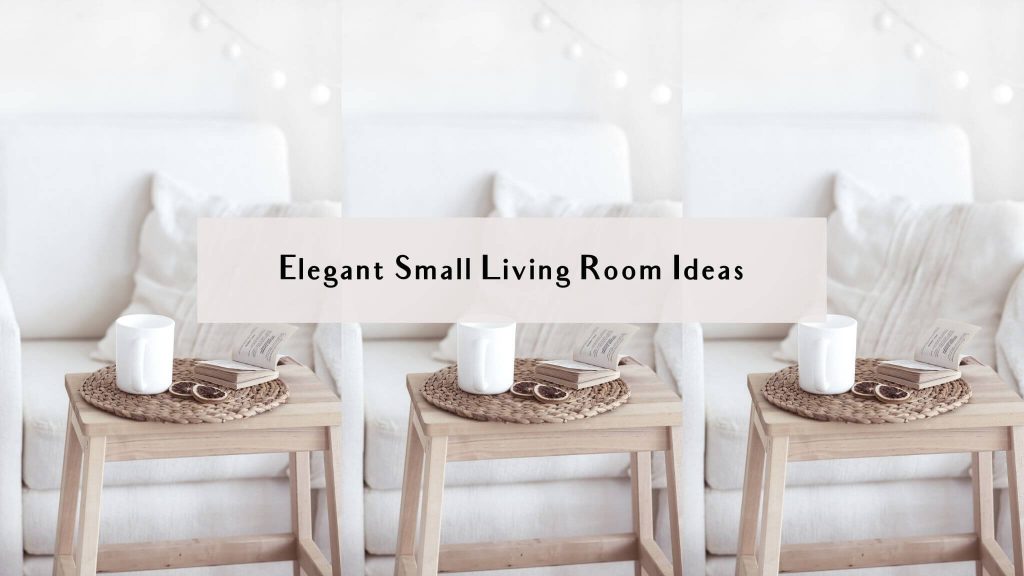 An elegant space is about balance, symmetry, calm colors, and playful but intentional decor in the right places.
Below, I'll show you elegant small living room ideas that you can easily recreate on a budget!!
Let's hop right in.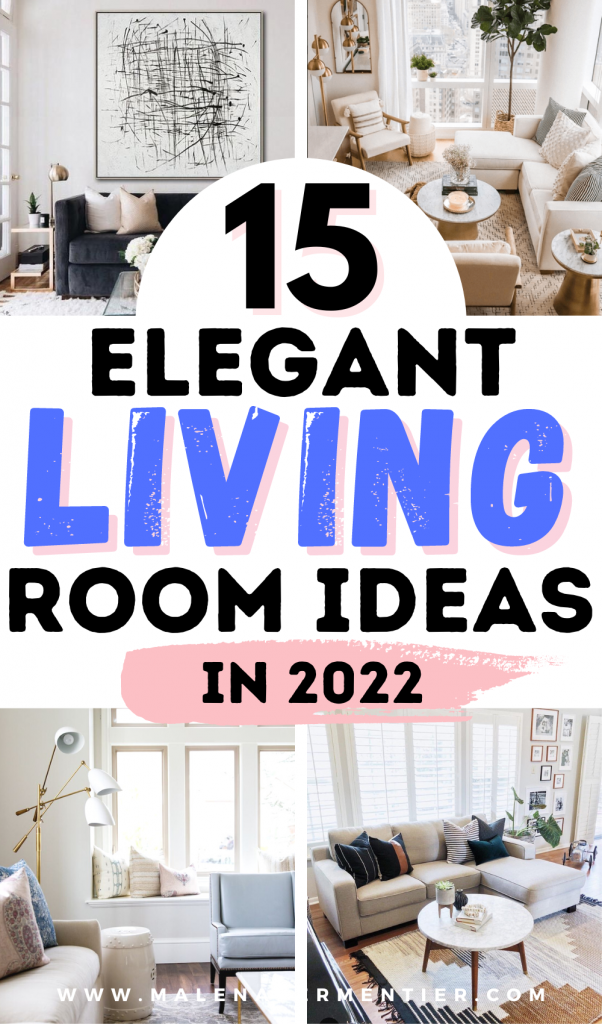 1. Elegant living room with gold details
People often think that a living room with gold is 'too much.' The small living room below is a great example that gold doesn't have to overpower the room.
Making gold in your living room work is by adding plenty of calm neutral tones and wood. You also want to pay attention to the TYPE of gold furniture you buy.
As you can see, the coffee table and side table aren't shiny gold, but more matte and calm gold. The standing light and mirror, however, are shiny!!
Using gold in your living room is all about striking the right balance.
Recreate this:
2. Living room with accent color
A blue sofa is daring but so beautiful! Velvet material instantly adds so much charm to your living room.
The living room below shows how to mix velvet blue with gold details while the room still looks balanced and elegant.
Recreate this:
3. Small living room with modern design
You can hang a large artwork in a small living room. Just keep enough open space on your other living room walls.
The lucite coffee table is a smart choice for a small space because it will make your living room appear bigger than it is.
Recreate this:
4. Rustic elegant living room
A rustic elegant living room with a touch of the farmhouse: this creates such a warm and welcoming ambiance!
Create this farmhouse aesthetic with simple garlands, a tray with candles, and cozy neutral pillows and blankets.
Recreate this:
5. Understated stylish small living room
Warm dark wood and neutrals make for an elegant yet understated living room. A narrow picture ledge above the couch works very nicely in a small apartment living room.
Recreate this:
6. Elegant formal living room aesthetic
The ingredients for an elegant formal living room aesthetic:
Recreate this: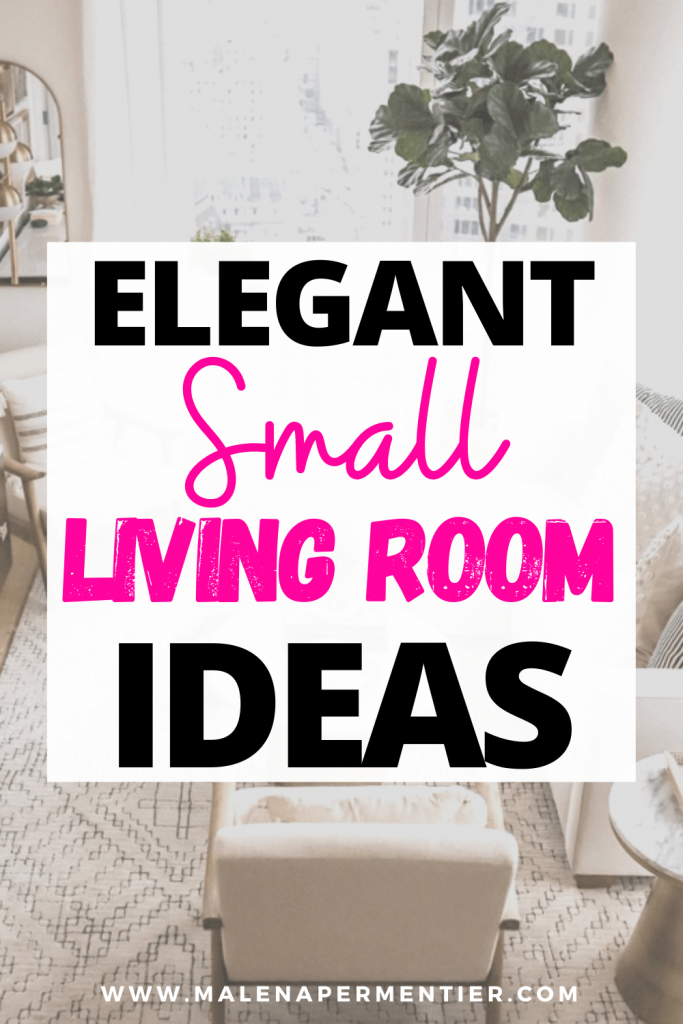 7. Gray living room with a pop of color
A pop of color truly livens up a gray living room. You can add pops of color as subtle or as wild as possible.
The gray living room below is on the spectrum's subtle end. The only color that stands out is the warm brown/rustic orange.
West Elm Colca rug: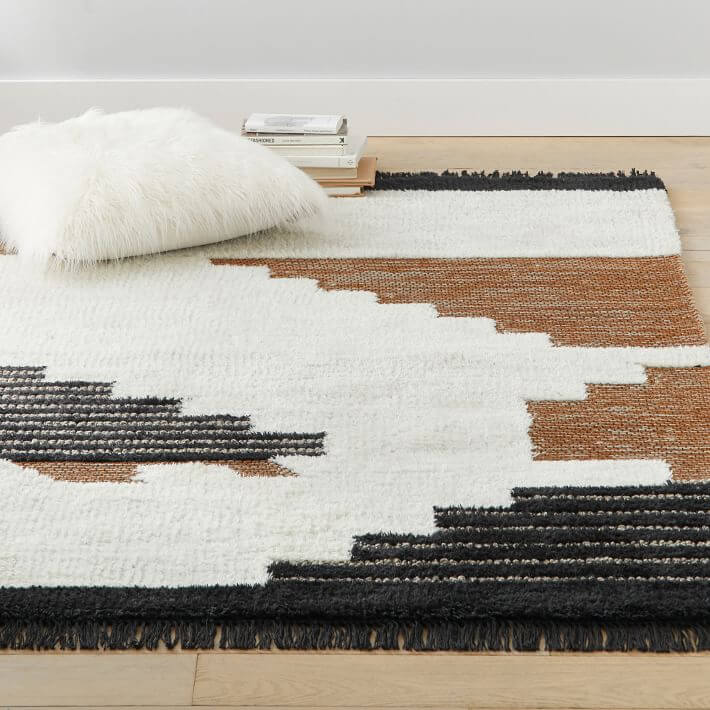 West Elm Colca Rug Dupe:
Living rooms with gray furniture are one of the most versatile interior choices. When you look closely at this picture, there's a formula you can easily copy for your apartment:
Pick a couch with a simple design in light gray.
Go for an area rug with an almost exact color match and other colors in the spectrum.
Let your choice of accent color (burnt orange, navy, or stripes) come back in the pillows and rug.
Play with different textures! The marble coffee table, shiny black, and subtly printed pillows elevate one another.
8. Simple but elegant decor
Ceramic decor like vases, coasters, and trays are affordable and easily make your living room look elegant.
Create decor spots with 3-5 items for the most put-together look. Playing with different textures is one of those hacks that make cheap things look expensive!!
Recreate this:
9. Simple but elegant details
Pillow covers aren't expensive, but they can make a difference in making your living room look more put together.
Woven baskets and plants are also budget-friendly ways to make your space look elegant.
Recreate this:
10. Furniture with metal legs
Sometimes people find it tricky to commit to furniture with gold legs. Although I love furniture with gold legs, a more neutral choice is metal legs.

Generally speaking, metal legs let you get away with many decorating styles. So if you're doubtful about committing to gold, looking for furniture with metal legs is a clever way to give yourself lots of versatility down the line.
Recreate this:
11. Playing with visual texture
Marble, a bright-colored couch, and a printed rug = power combo. An eclectic small living room that is elegant and put-together requires some guts, but it can work.
You can recreate the "safe" version of this gorgeous living room with a neutral couch.
Recreate this:
12. Minimalist elegant small living room
You might not think that metal furniture looks elegant, but I think the opposite is true! Metal is pretty subtle in a living room, which gives you lots of options in terms of decor.
I also love the picture ledge styling of this living room. Recreate this with different sized frames and even use different frame colors.
Recreate this:
13. Affordable elegant home decor
Make your place look homier with chunky throw blankets and cute decorative pillows. I also think that some tray on your coffee table makes your living room look elegant and put together.
Recreate this:
14. Mastering gold detail in living room
Light blue/gray, gold, and neutral go together SO well! When recreating this gorgeous living room, pay attention that the furniture with gold details looks expensive. I find that you have to be extra picky, especially with gold!
Recreate this:
15. Mixing prints
Not everyone feels comfortable mixing prints in their living room, and I understand. It can be pretty risky to figure out what prints go together- and which don't.
Geometric prints tend to be easier to mix and match than anything flamboyant, floral, or super colorful.
Area rugs and ottomans don't have to be expensive. So if you want to experiment with some prints, these are the kind of items to do it with!
Recreate this: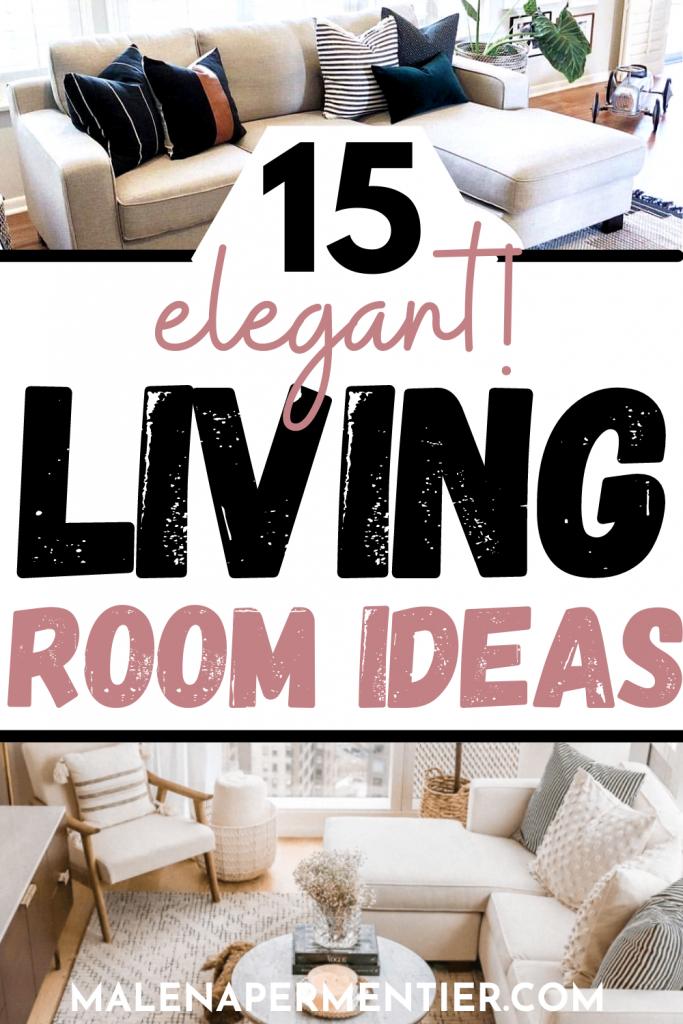 This post showed you the best elegant small living room ideas on a budget.
You may also like: