*This post may contain affiliate links, which means I'll receive a commission if you purchase through my link, at no extra cost to you.
This post shows you the best small apartment living room ideas.
Everyone moving into a small apartment needs some inspiration!! The living room is arguably the most fun and challenging part of furnishing and decorating your new place.
In the below I'm sharing 21 great small apartment living rooms that you can take inspiration from.
If you like your space to feel calm, balanced and well put together, you'll love these ideas!!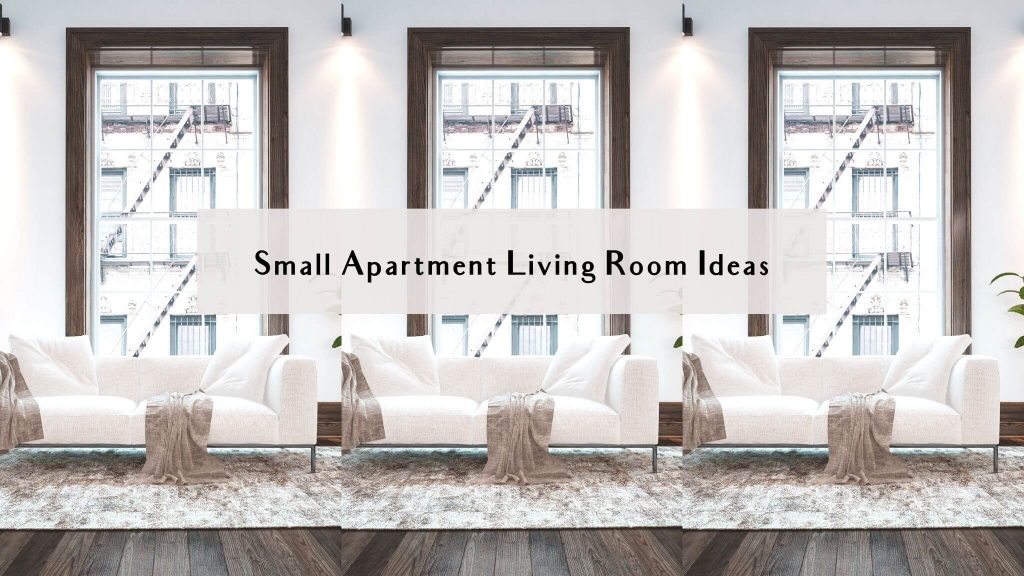 21 Best Small Apartment Living Room Ideas
1. Small living room layout
In a small apartment living room, you really want to pull together the seating area.

This makes the room feel more spacious because your eye is drawn to the seating area as a whole and not just to the couch or coffee table.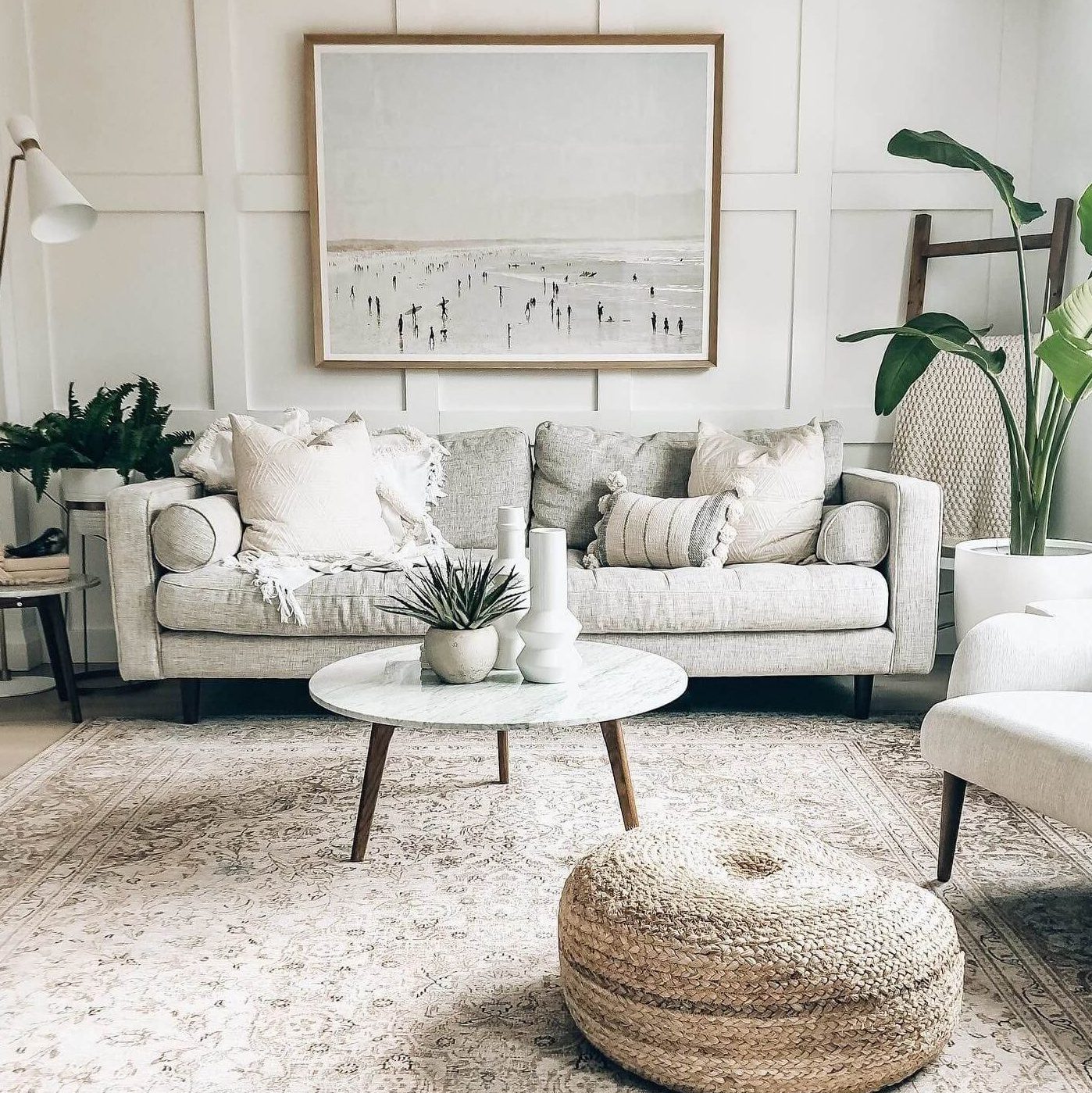 Copy this:
2. Use a trunk coffee table with storage
A trunk coffee table gives a living room plenty of character, while also creating extra storage for books and table games.
Find a vintage trunk, or get a super affordable trunk coffee table on Amazon!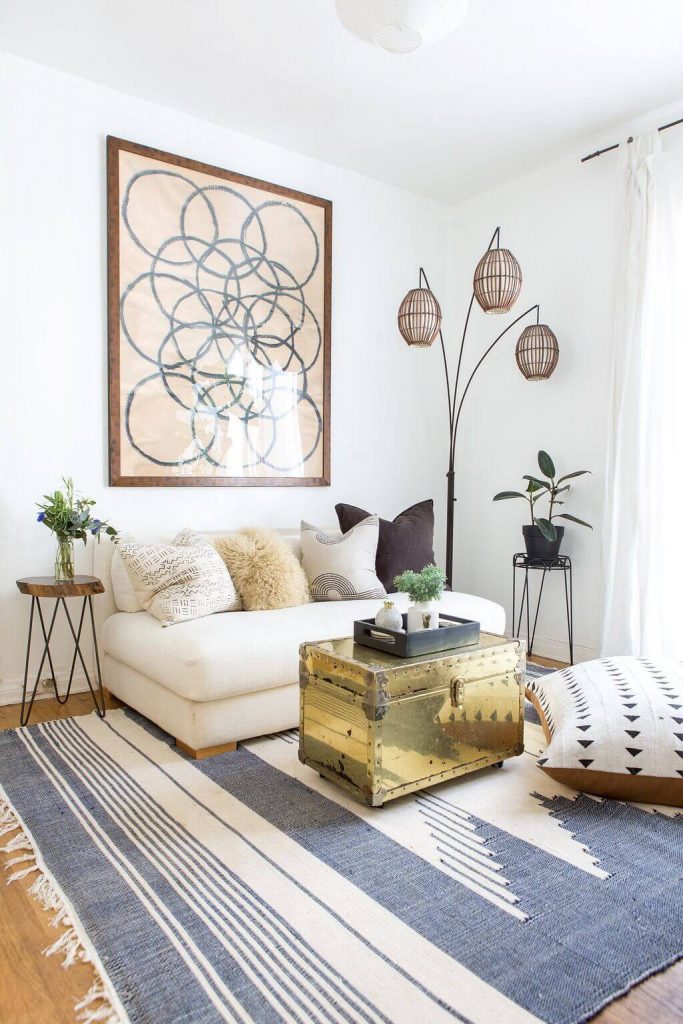 Get coffee table trunk:

3. Small living room layout with sectional
Sectionals are great because they give you more seating space and help you maximize the space in your living room.
I also like that sectionals instantly make your living room feel more pulled together because of their shape.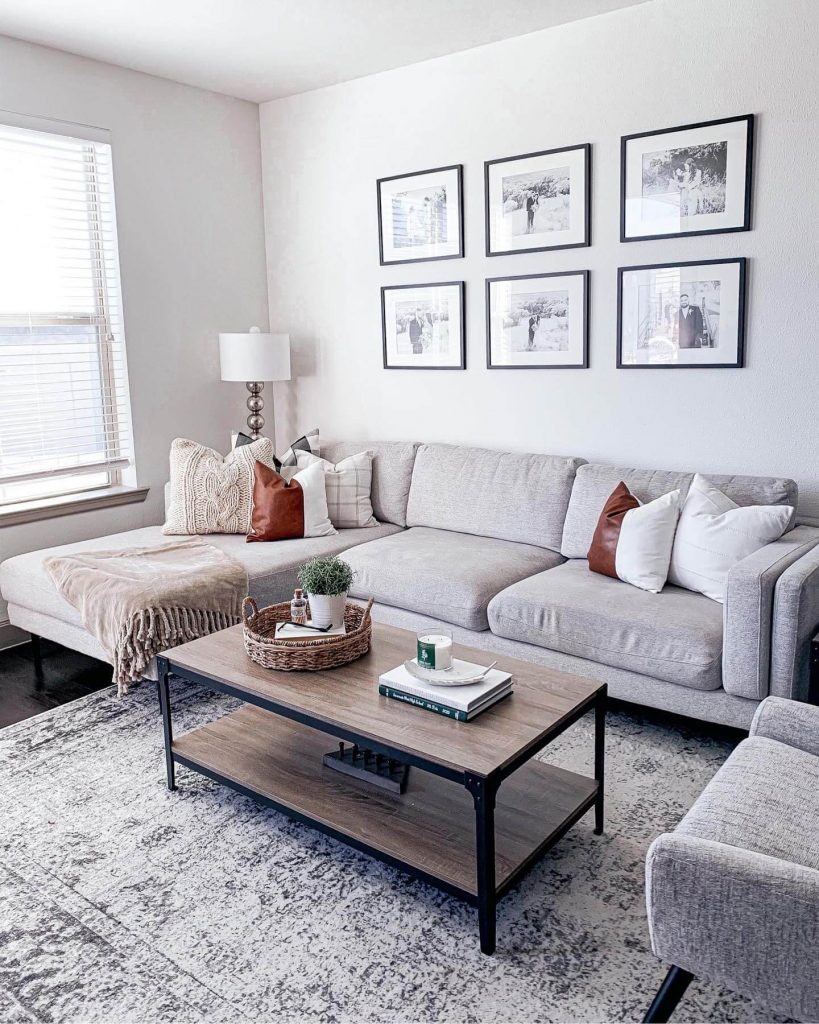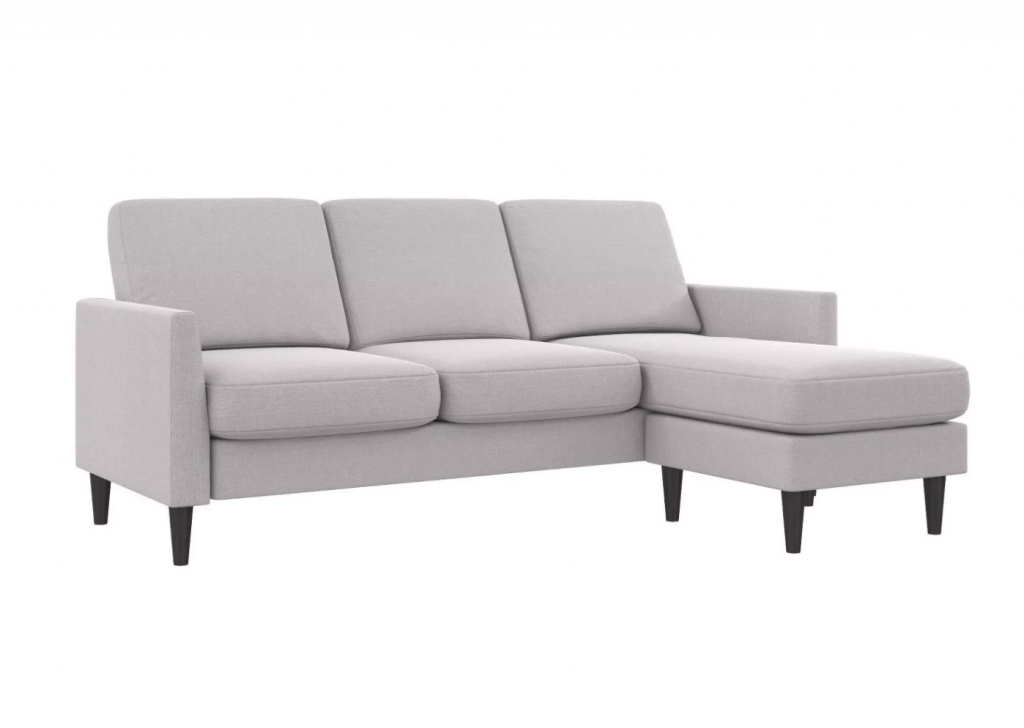 4. Opt for space-saving furniture
Slide over the couch tables save space and look pretty. These tables are great if you prefer using the space next to your couch for other furniture or decor, like a plant.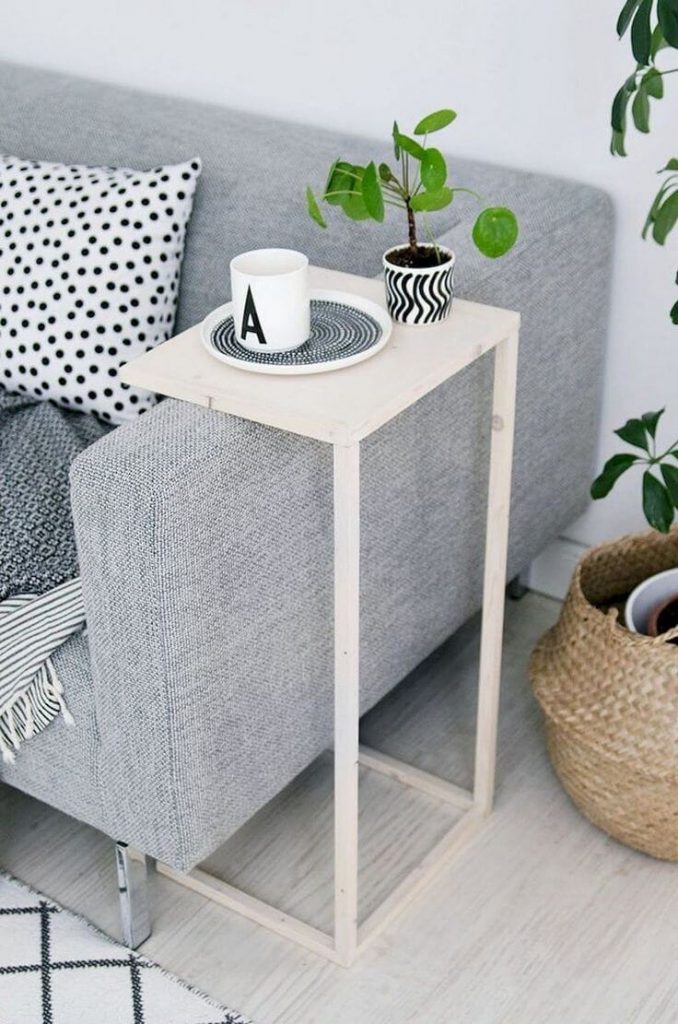 Copy this:

5. Small living room dining room combo ideas
How to divide a living room and dining room combo? In small living rooms that can be a challenge. In most apartments, the best spot to place your dining table is next to the couch.
I think vertical shaped tables usually are the best for creating a dining area in a small apartment living room.
But in some cases, a small round table with chairs will work too!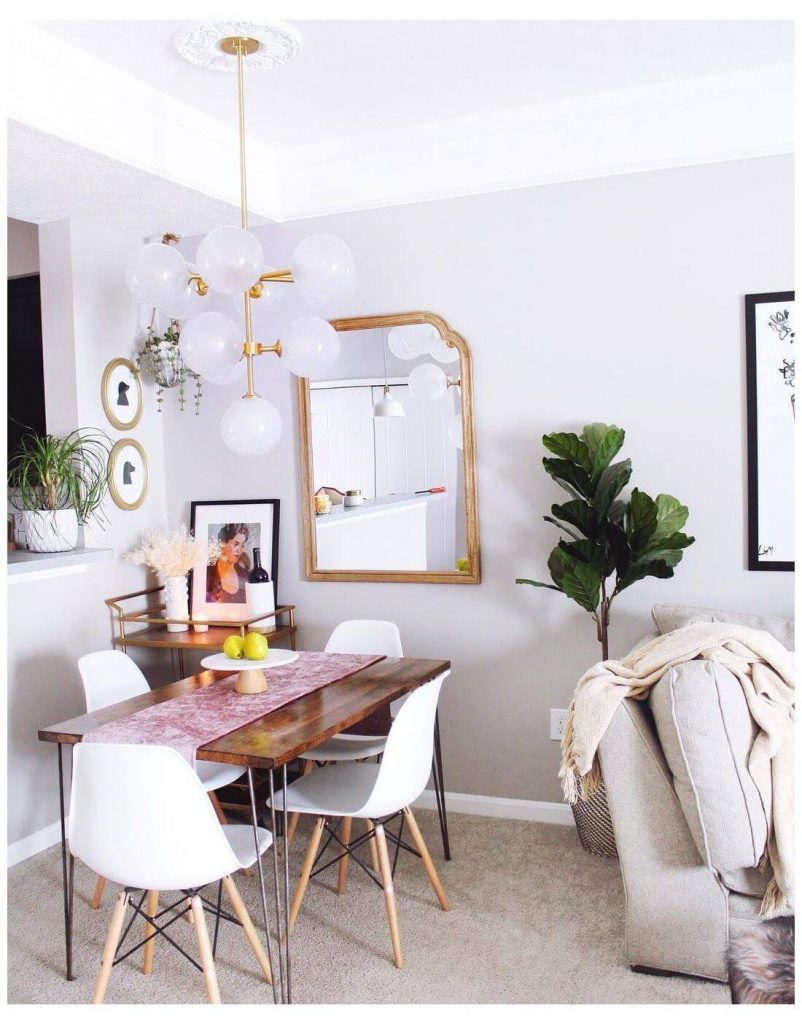 Copy dining room combo:
6. Mount your TV and Use Console with thin legs
If you get a TV console, make sure that it has a sleek shape and comes with thin legs.
Having your furniture off the ground is a trick that saves a ton of optical space in your living room.
Copy this:
7. Add a pop of color with a rug
If you love color but don't want to "commit" for the long run, using a colorful area rug is a great way to add a pop of color to your living room.
There are plenty of affordable area rugs. So if you want to change up your living room in 6 months, that's totally do-able.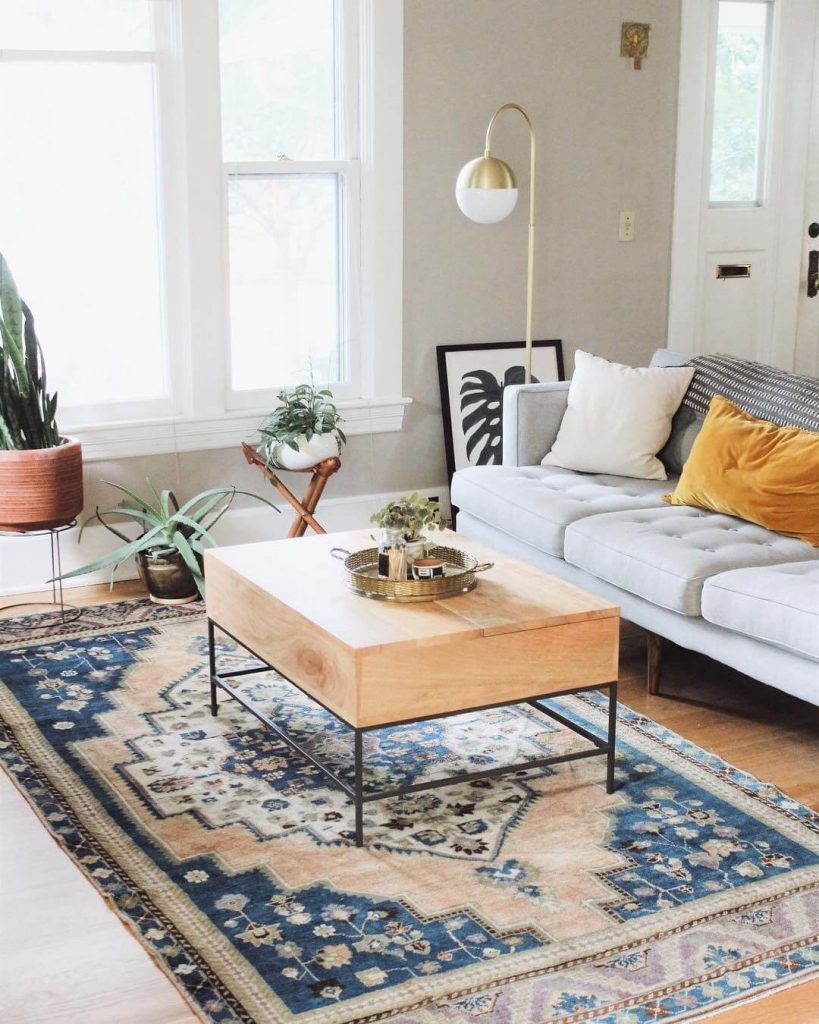 Copy this idea:

8. Keep it light & airy
Mix and match lots of different neutrals for a living room that feels bright and spacious.
What works in this living room is the neutral tones with soft pink and gold. Nothing overpowers the other and everything comes together beautifully.
Recreate this living room:
9. Small living room with chimney breast ideas
A chimney breast is a great asset in any living room because it's such a beautiful spot for decor.
In a small living room, the chimney breast is great for a large mirror.
10. Create space with two accent chairs
Instead of adding a second sofa in your living room, why not go for one or two accent chairs instead?
Accent chairs have a playful way of making a living room together, and I love how comfortable they are.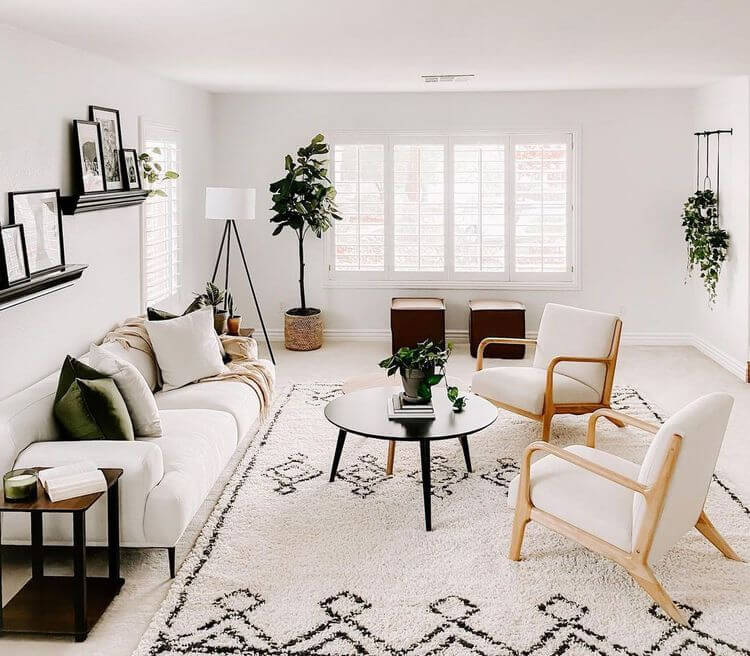 Get two accent chairs:

11. Curved lamp behind the couch
A tall curved lamp works great in small spaces. You can place it behind the couch so it doesn't take up precious space!
Copy this:

12. Use a console for decor
You might not have enough space for a big dresser in your living room. Luckily there are great consoles that work perfectly in small spaces.
Consoles are a great spot for decor, greenery, and of course, a mirror!!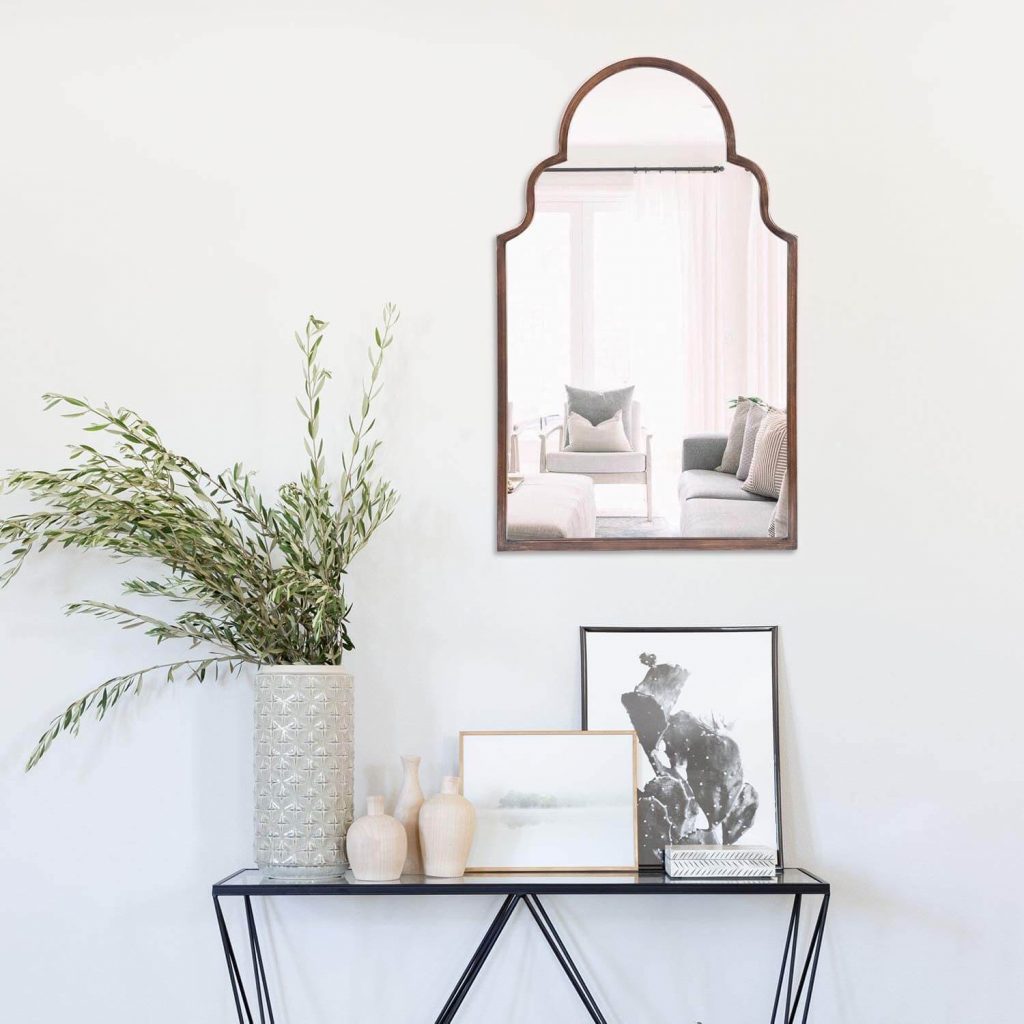 Copy this:
13. Small living room with fireplace
Many older apartments will have some sort of fireplace. Some see it as an obstacle, others think it adds charm.
I think a fireplace, whether it works or not, adds a lot of charm. If your fireplace is in the center of the room, why not hang a semi-antique mirror?
Recreate this:

14. Add renter-friendly shelving
Ladder shelves are great because you don't have to mount them to the wall. Of course I do not recommend this if you have children!!
If you're living in a rental but don't want to be bother with holes in the wall, these shelves are perfect.
Get ladder shelf:

15. Place an entry table behind the couch
One of my all time favorite solutions for small living rooms is placing an entry table behind the couch.
It's a great spot for decor, you can create extra storage space with baskets, or place your snacks when watching TV.
Copy this:

16. Make a cube organizer look chic
Cube organizers are cheap. That doesn't mean they have to look cheap, though!! There are so many creative ways to style a cube organizer in your living room.
If you want to save serious money and create extra storage space, cube organizers are your friend.
Copy this:
17. Create extra seating with ottomans
I love everything about these warm pastel colors!! As you can see, a pop of color in your living room doesn't have to be overwhelming at all.
I'm a big fan of ottomans for extra seating in small living rooms.
Copy this:
18. Hang shelves
Shelves on your living room walls are always a good idea!! Especially when they're made from reclaimed wood they add a lot of charm.
Depending on your living room colors, you might prefer black or white shelving instead.
Recreate this:

19. Pick accent print
I really like living rooms with a certain print or aesthetic that comes back in different places. It makes the place look more wholesome.
As you can see, the palmtree print comes back very subtly in this living room, but it really adds charm.
Copy this:
20. Add a round woven rug
One way to make a small living room look put together is to create designated areas: seating area, reading corner, dining table, and so on.
A great way to create a small separate corner is with rugs. Don't worry; this should not overwhelm your living room if you do it right.
How to get it right? Always keep enough open space on your walls and floor.
Recreate this:
21. Add a dresser in your living room
Using a dresser instead of a TV console isn't such a bad idea at all. After all, it creates a whole lot more storage space.
Copy this:
This post showed you the best small apartment living room ideas.
You may also like: