This post shows you how to organize kitchen cabinets in a small kitchen.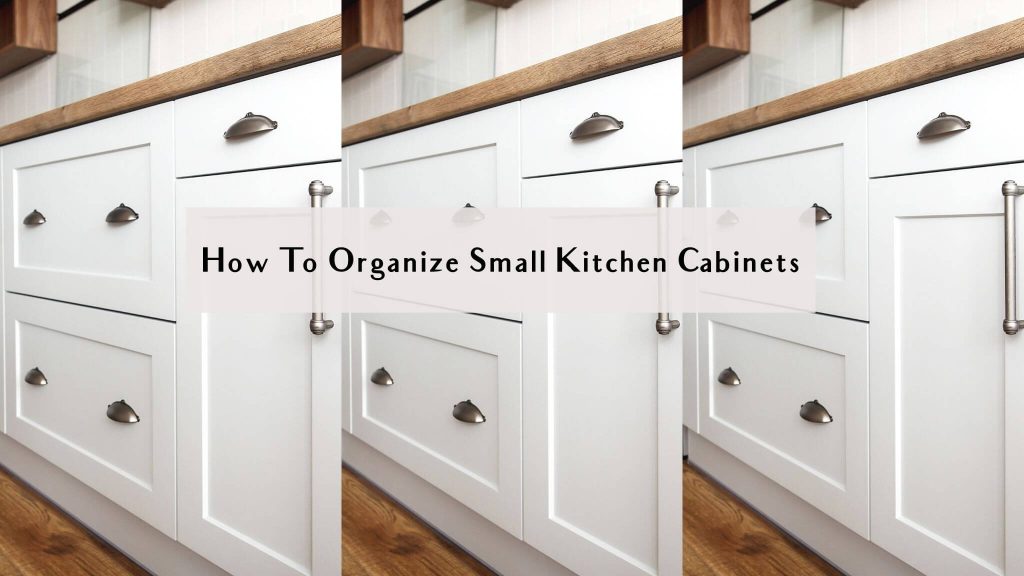 How To Organize Kitchen Cabinets
Having a small apartment kitchen undoubtedly is challenging when you love to cook and keep things organized.
One of the main things I struggled with when moving into my tiny apartment was the kitchen.
I like to have my dishes, cups, food items, and everything else nicely organized.
Opening my kitchen cabinets to a mess is my worst nightmare!!
In the past year, I've learned a thing or two about kitchen cupboard storage solutions that work – and those that don't!!
So, below, I'll show you the best ways to organize kitchen cabinets in a small kitchen.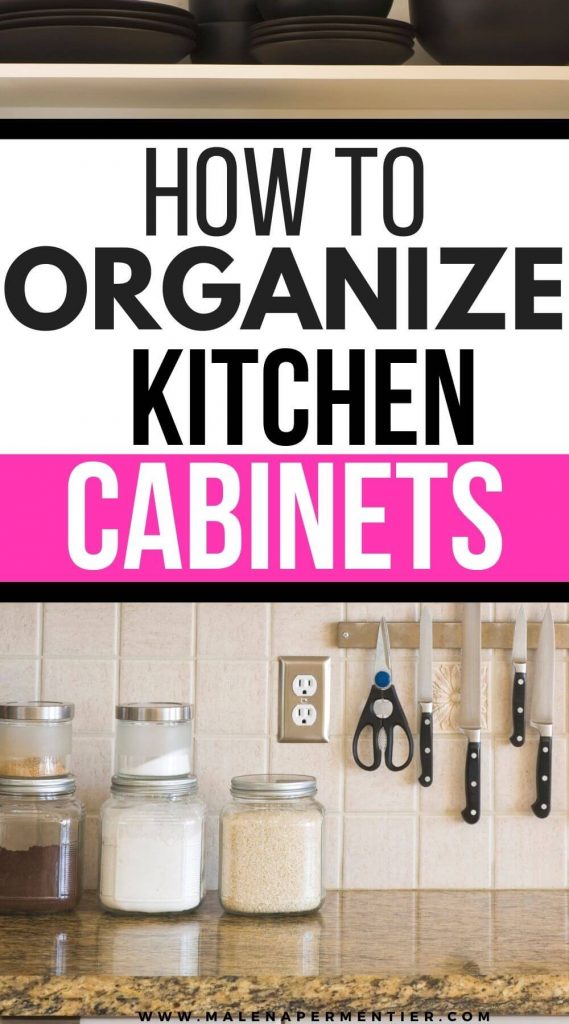 1. Use a wedge shape organizer
Many kitchens, big or small, have round cabinet space. Although most people like to use it for pans, you can also use it for storage.
I had one of these cabinets in my house growing up, and we used it for pans. But…it was always a mess and so hard to find anything!
Using pie-shaped organizers in your cabinets helps to keep an overview. Dedicate each organizer to a specific category of products, so you always know where to find what.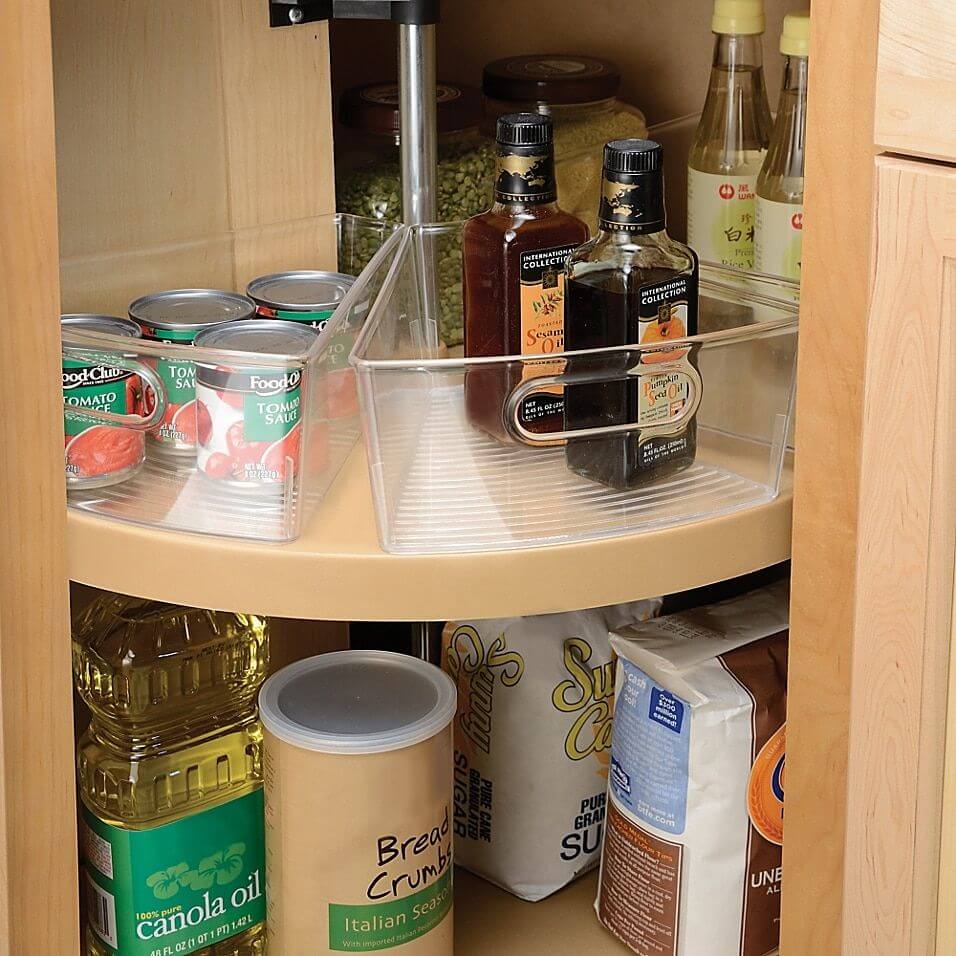 Copy this:

2. Use small stick on container
Stick-on containers are genius!! Maximize your cabinet space by sticking a container on each door. Use one for water bottles, cleaning products like sponges, dishwashing liquid, etc.
This idea is equally great to organize cabinets in the bathroom.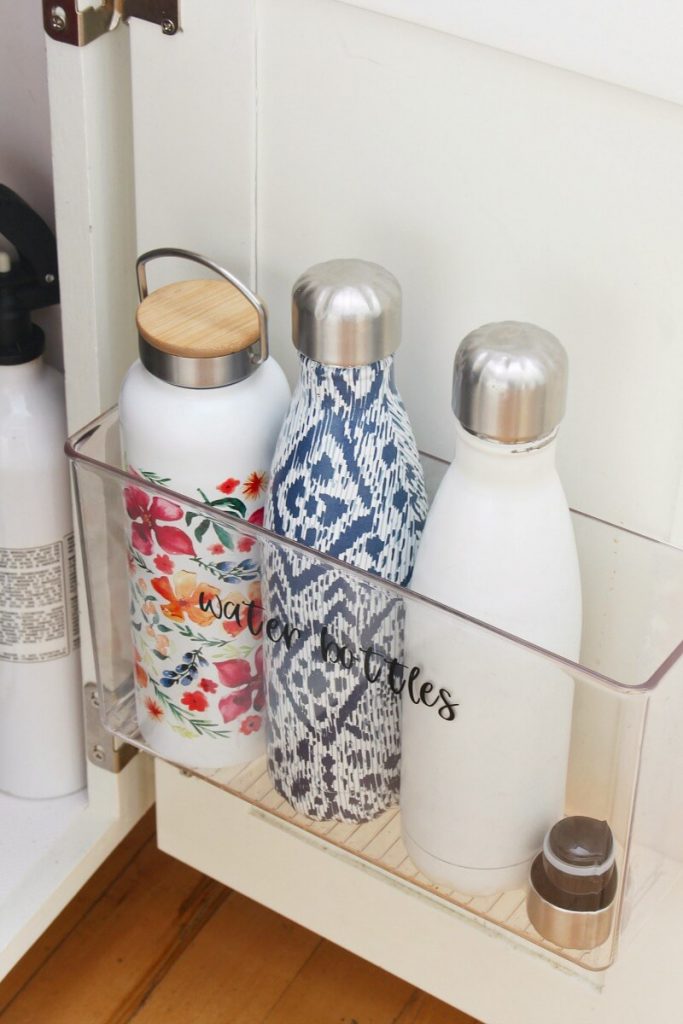 Copy this:

3. Utilize under the sink space
The cabinets under the sink are nobody's favorite spot, but they can be handy for storage.
Maximize your under-the-sink space with small storage bins.
The space under the sink is perfect for all those miscellaneous kitchen items—for example, Tupperwares, sandwich bags, small containers, and lids.
I prefer using white storage bins over clear storage bins. White storage bins make your cabinet look tidier because you can't see everything that's inside.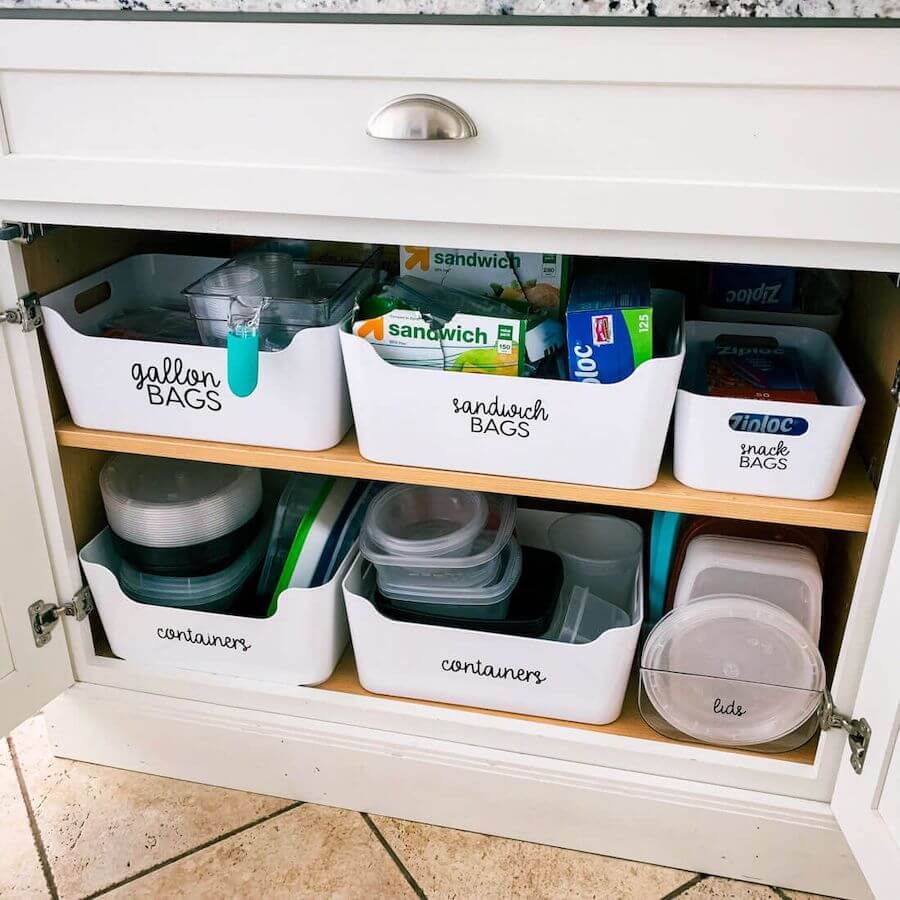 Recreate this:

4. Organize pots and pans
One thing I particularly like for organizing my pots and pans is a tiered rack for bigger pans. I found one on Amazon that I love. It works perfectly for my Westinghouse skillets and pans that I'm obsessed with.
As seen in the picture below, an extra shelf rack also works great for organizing. Keep pan lids at the bottom and pots at the top.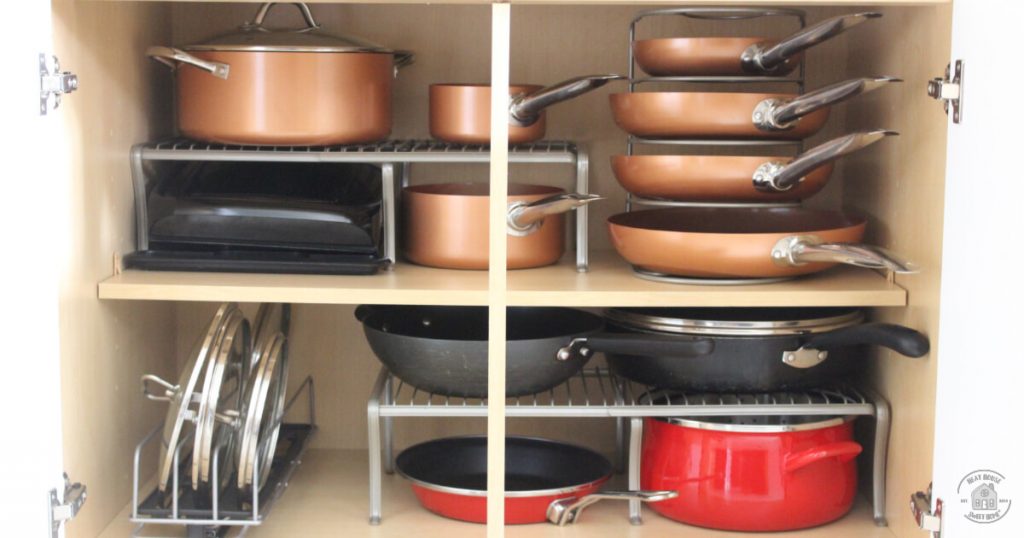 Recreate pots and pans storage:

Extra shelf rack for pans:

5. Create extra shelf space
Using an extra shelf rack for the cabinet is an excellent and budget-friendly way to maximize space. This simple drinking glass organizer easily creates a ton of extra space.
This simple white shelf rack is the best and cheapest you'll find. The great thing is its versatility.
Use it for cups, glasses, bowls, or even plates.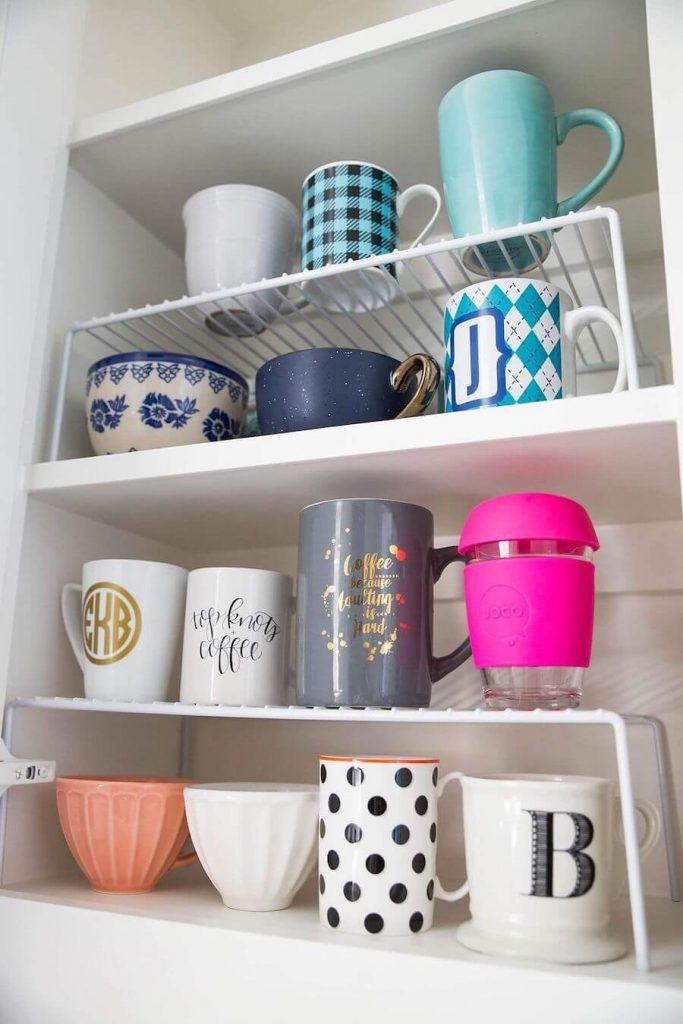 Get glassware organizer:

6. Organize plates in cabinets
I prefer organizing my plates horizontally. It just feels more natural to me than vertical plate organizers.
When you organize kitchen cabinets in a small kitchen, you'll likely be mixing cups with plates and bowls in one cabinet.
If that's your case, I swear by using these extra shelf racks.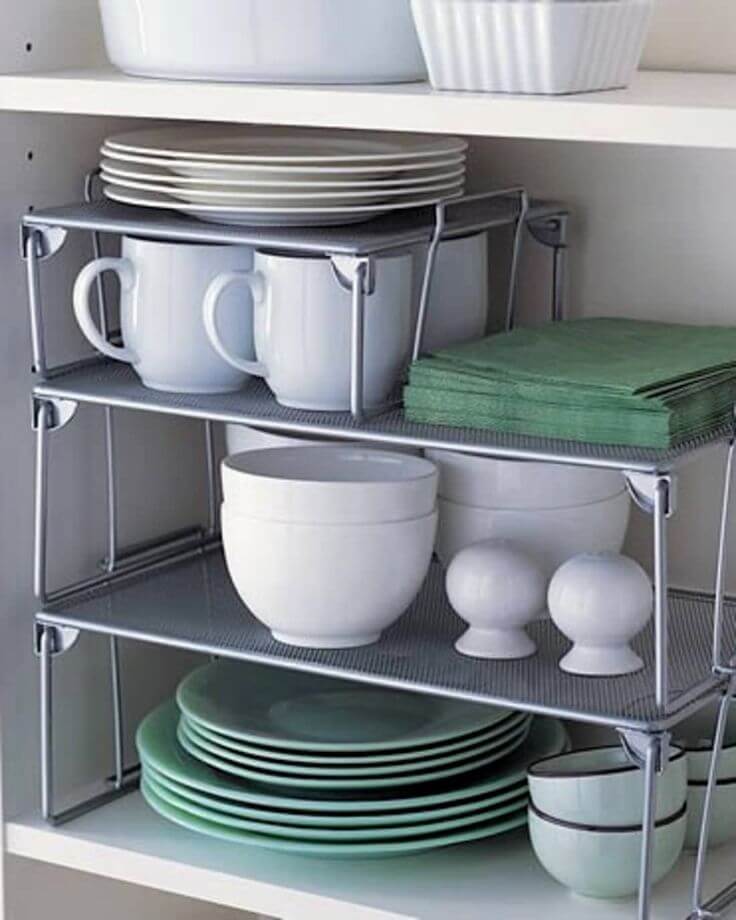 Get cabinet storage shelves for plates and bowls:

7. Make the most of cabinet corners
Keep your plates and bowls in the corner of your cabinet with this 3-tier dish stacker. This one is super sturdy to hold all your plates perfectly.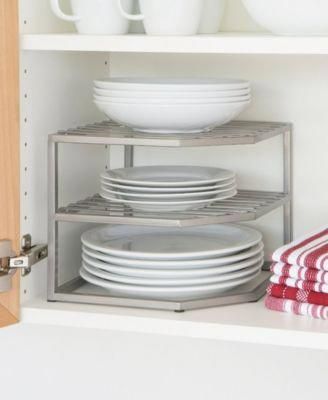 Get dish stacker to maximize space:

8. Organize cutting boards vertically
I believe you need a vertical organizer for is cutting boards!! When you have a couple of different ones, they quickly become a mess.

9. Use an over the door organizer
Over-the-door organizers work great for things like cutting boards or cling wrap. This organizer is perfect if you don't want to use an organizer inside your cabinet.

10. Pull out organizer for food items
If you have a small kitchen, chances are you don't have a pantry. If your kitchen cabinets are the pantry, pull-out organizers are great to maximize space.
This pull-out organizer can be used for spices, cans, snacks, and so on.
As you can see, the example in the picture below shows cleaning products. Of course, that works too!! This pull-out organizer would be perfect under the sink too.

11. Under-shelf basket
Maximize the space in your cabinets with under-the-shelf baskets.
These can also be used in the fridge to squeeze in a little extra storage space.
Under the shelf, baskets are great for using space that you would otherwise leave unused.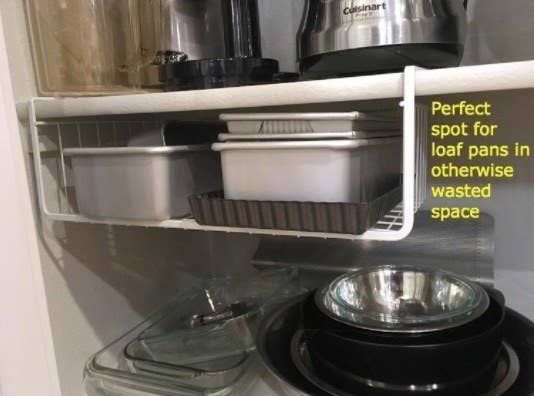 Get under shelf basket:

12. Keep overview with spice step shelf
This spice step shelf is perfect for keeping an overview in small cabinets. Use it for your sauces and favorite spices.
This organizer seriously makes your spices so much better organized and easy to find.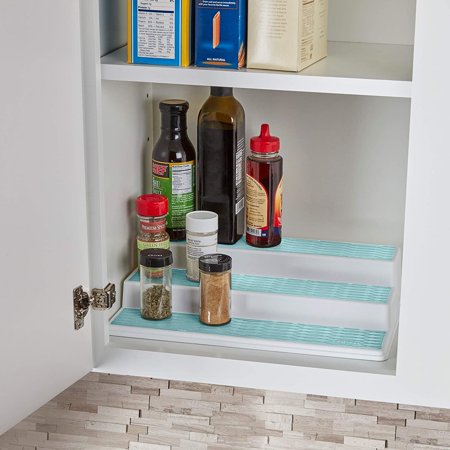 Get spice organizer:

13. Organize with turntables
If you've ever knocked over half of your cabinet's content, raise your hand. Reaching for the stuff you need in your overpacked cabinets/pantry is hard.
I use this turntable for my oils, favorite sauces, pepper grinder, and so on.

14. Hang cups and utensils under your cabinets
To make the most of your cabinets, use the space underneath it too! This organizer is great if you have limited kitchen counter space.

15. Cup hanger for cabinet shelf
No mounting; you can slide this cup hanger on your shelf. I've got this one, and it works.
You use the vertical space of your cabinet you wouldn't otherwise use.
I recommend getting the silver or white color, so it blends in nicely with your cabinets.

This post showed you How To Organize Kitchen Cabinets in a Small Kitchen.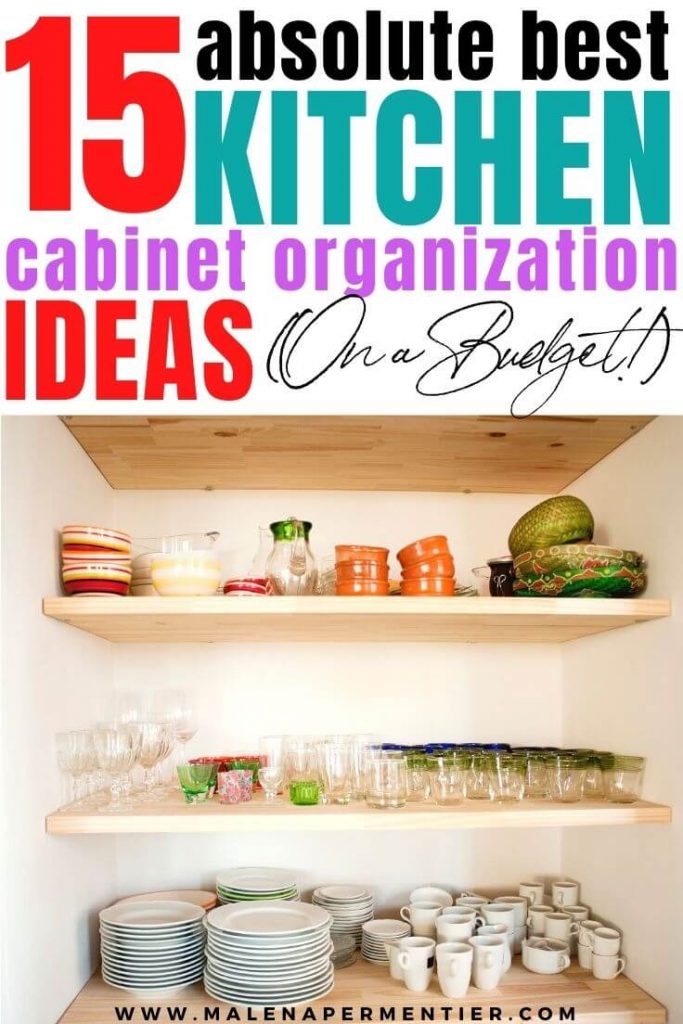 You may also like: