Hey there! Some links on this page are affiliate links which means that, if you choose to make a purchase, I may earn a small commission at no extra cost to you. I greatly appreciate your support!
This post shows you the 15 best Amazon products for organization!
Lately, I've started seeing organization from a bigger perspective.
An organized apartment isn't only about it looking put together and organized. It's how good organization makes us feel!
I'm ALL FOR IT when I find great products that make it easier to keep my space organized.
So, below, I'm sharing some of my favorite Amazon products that have helped me organize my apartment (and my life).
This post is all about the Best Amazon Products For Organization.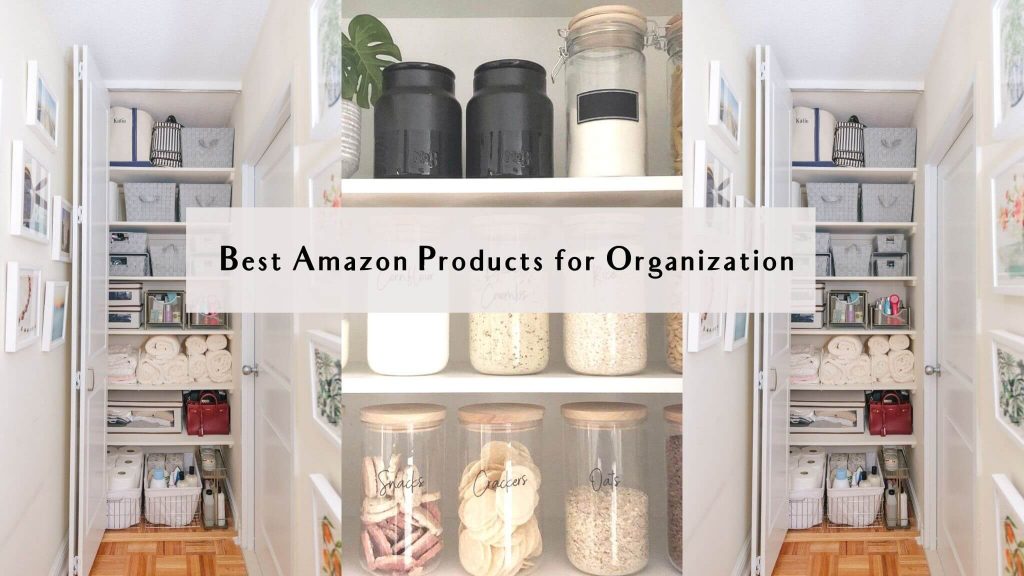 15 Best Amazon Products for Organization
These are products for your living room, bathroom, kitchen, and closet. Some of them are so simple that it makes you wonder how you've ever done it differently!
1. Under the kitchen sink organizer
I use my under-the-sink kitchen space for Tupperware, cutting boards, and smaller pots – and I really need the extra space!
This organizer is a serious game-changer because it creates an extra shelf. Now on the bottom shelf, I keep smaller pots, thermos bottles, Tupperware, and cutting boards.
The top shelf is for lids, miscellaneous kitchen items, and small glass jars.
You can use this organizer however you see fit, but I know this extra shelf space is a lifesaver in a small kitchen.
Get best under the kitchen sink organizers:


2. Make-up and skincare organizer
I've had my make-up and skincare packed in small toiletry bags for ages, and it's just not practical at all.
This rotating organizer is amazing! I love how it's super intuitive, with a place for brushes, space for skincare, and enough space for the taller bottles.
I keep my everyday makeup and skincare essentials here, so I don't have to scour 5 different toiletry bags to grab what I need. Plus, it saves space in my already tiny under-the-sink space.
Best make-up organizer:

3. Space-saving closet organizer
Anyone else guilty of an overpacked closet? I totally am, and looking at it annoys me every day.
I share a closet with my boyfriend, and I will tell you: the hanging space I have is SMALL.
If you have a small closet, you know that every inch counts.
I haven't purchased these hangers yet, but it's on my list for next month. I always check the reviews and look at people's pictures using the product – and I love what I see!
Pretty convinced these hangers are going to be a game-changer for my tiny closet.
Get space saving closet organizers:


4. Mason jars
Mason jars are great for so many things, and kitchen organization is one of them.
I use these 32 oz mason jars (the tall ones) for storing things like rice, oats, beans, lentils, nuts, etc.
I keep them in the "visible" part of my pantry, and I gotta say: it looks super cute and organized.
Besides mason jars, I also use these glass containers, but you're much better off sticking to the 6 pack of mason jars for the price.
Most versatile mason jars:


5. Clear Plastic Organizers
These plastic storage bins are amazing for many things. Personally, I love using them for my bathroom products.
Categorize your bathroom products, shampoos, toiletries, small products, etc. It just makes things look and feel more organized instantly.
Clear bins for organizing vanity products:

6. Stackable bathroom storage
I also love using a few stackable bins like this in my bathroom cabinet.
Right now, I have 3 of these stackable bathroom storage bins at the bottom of my cabinet.
I have 3 open storage bins for the products I like to grab daily on top of them.
It's really a matter of personal preference, but I like having a combo of open and closed bathroom storage bins.
[Related: 27 Brilliant Bathroom Organization + Storage Tips (Perfect for Small Bathrooms)]
Best stackable bathroom organizers:


7. Storage baskets
These storage baskets are great for items that are otherwise just 'lying around.
I'm talking about sunglasses, perfumes, jewelry, belts, etc. I use a couple of these on my closet shelves to keep things looking neat.
cover image via Katie's Bliss
Best storage baskets for organizing:




8. Over the door shoe organizer
I think shoes are some of the trickiest items to keep organized! I'd use this shoe organizer for the pairs I don't use very often.
The clear shoe organizer below is super cheap, but I personally find the black one more aesthetically pleasing.
Space saving ways to organize shoes:


9. Extra pantry space
If you have limited pantry space, this wall or door rack is great for your kitchen.
I personally wouldn't opt for having it in plain sight, but preferably at the inside of a door.
[Related: 12 Small Pantry Organization Hacks That Are Absolute Goals]
Over the door pantry organizer:

10. Simple shoe rack at the door
A shoe rack by the door reminds you to take off your shoes before you enter your apartment! Plus, it keeps your favorite shoes in one place.
This 4-tier shoe rack has plenty of space for boots and trainers for the whole family (or your own large shoe collection :))
Best shoe organizer:

11. Collapsible laundry basket
This collapsible laundry basket is so so cheap and looks super cute.
If you have limited space and want to tidy away your laundry neatly, this basket is amazing.
Foldable laundry basket:

12. Bar cart organization
I love using bar carts for organization and decor at once. The simple and sleek design of this one doesn't take up a lot of space.
Use this cart to organize your wine bottles, turn them into a coffee station, or use it in your kitchen for storing food products, olive oil, vinegar.
When organizing visible stuff, make sure you use it for your pretty-looking (kitchen) items!
Best affordable bar cart:

13. Under the bed organization
You can use under-bed storage for shoes or clothing. These organizers are also ideal for storing things on top of your closet if you have the space.
What's great about this organizer is that you can use the dividers however you please. Perfect for seasonal items or clothing that you don't use every day.
Get under bed organizers:

14. Metal storage
I love organizing products that you can use for multiple purposes! So even if you'd change things around in your apartment, you can give it a new purpose.
This metal storage is great for many things. For one, you can use it in your living room for organizing throw blankets or kid's toys. It equally works in the kitchen to keep vegetables (onions, potatoes, etc.)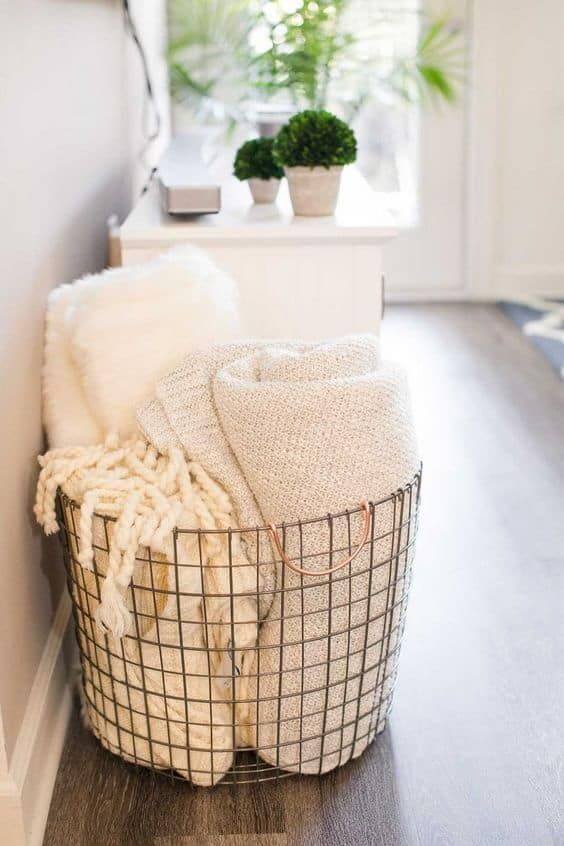 Get versatile wire basket:

15. Extra drawers inside your closet
If you have a tall but narrow closet, an extra set of drawers is the perfect solution to maximize closet space.
I use two of these in my tall narrow closet, and it's just been a lifesaver! In mine, I have several chunky knits, caps and hats, boots, and fancy shoes I don't wear often.
These drawer organizers are perfect for storing things that easily make your closet look messy.
[Related: 25 Easy Closet Organization Ideas To Make the Most of Your Space]
Plastic drawers for closet organizing:

Small wood storage dresser:

This post was all about the Best Amazon Products for Organization.
You may also like: