This post is all about small bathroom organization and storage ideas.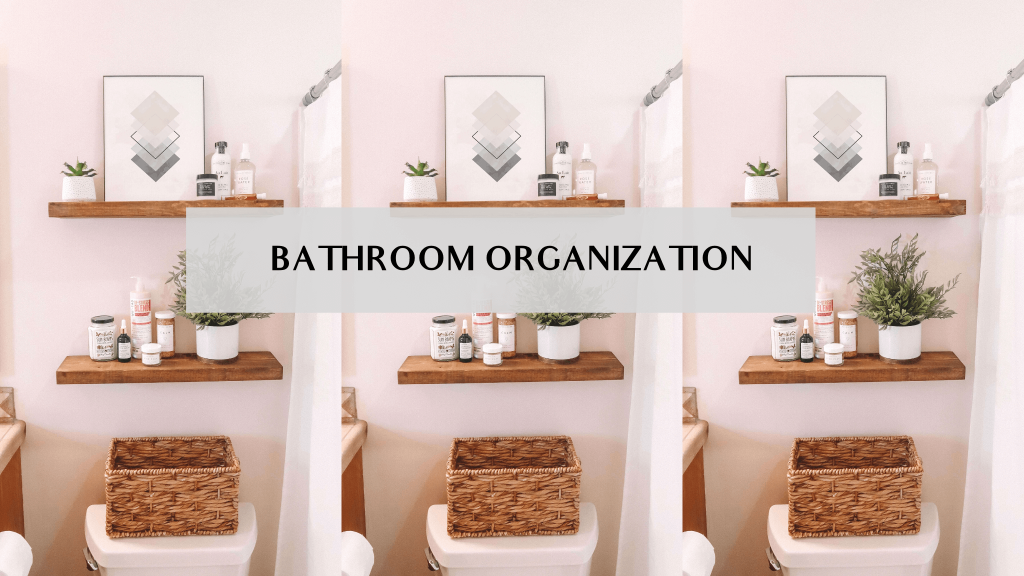 Good bathroom organization makes all the difference if you have a small bathroom!
My bathroom is seriously tiny, so I sure do know what it means to struggle with storage space.
Below I'm sharing the 27 best solutions for storage and organization in your bathroom.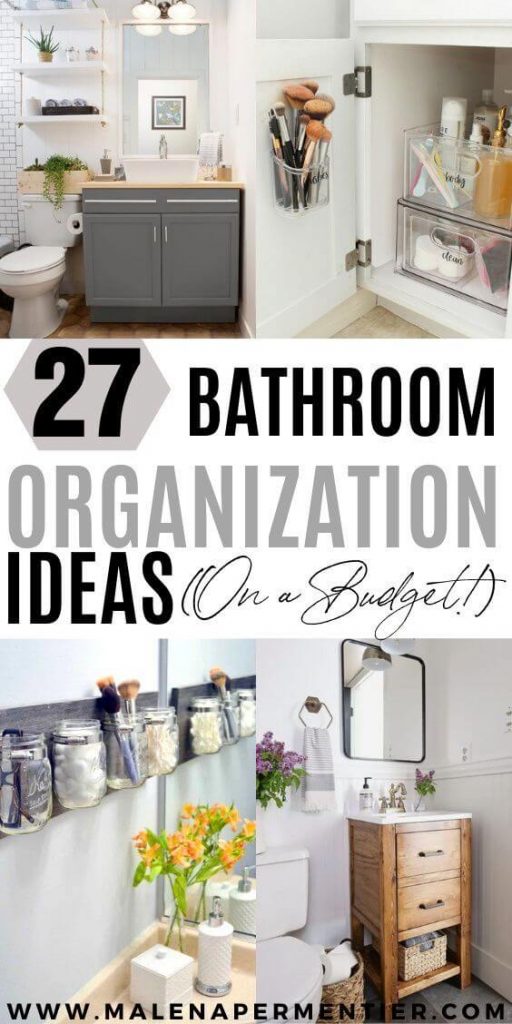 Best Bathroom Organization Ideas
1. Lazy Susan Turntable organizer
These multi-purpose turntable organizers are perfect for organizing your bathroom products. Whether that's hair products, make-up, or small items like nail polishes, you always keep a good overview when you organize them in this turntable.
Because let's agree here: there's nothing more annoying than not being able to find the stuff you need!
Recreate this bathroom idea:

2. Clear dividers in drawers
If you have several drawers in your bathroom, lucky you! These drawer dividers are genius to keep your bathroom drawers organized.
Especially if you have a small bathroom, you want to optimize the space you have.
Recreate this bathroom:

3. Organize towels on a towel rack
The door is one of the spaces you should definitely utilize in a small bathroom. This over-the-door towel rack is perfect for organizing even your big towels, plus it has two hooks for hanging your clothing or bathrobe.
Many towel racks + hooks work for small towels only, so this solution is perfect if you're a big towel user.
Recreate this bathroom:

4. Under the sink slide-out drawers
Slide-out drawers for under the sink are perfect for even the most awkward spaces.
If you have space, you can even stack two of these on top of each other for extra drawer space.
Recreate this bathroom storage:

5. Label clear containers
There's no better way to say 'organization' than using labels! It's not only fun to use labels, it makes it super easy to find things too. Especially if you're someone with lots of bathroom products it's a great way to keep organized.
Recreate this idea:

6. Use a label maker
This is one of those things you either love or hate! Some swear by their label makers; others find it borderline organization obsessed.
I personally think it's an amazing and fun way to take charge of your apartment organization.
Recreate this bathroom:

7. Over the toilet storage for small bathrooms
These all-in-one over the toilet storage organizers are amazing for small bathrooms. That way, you don't have to be messing around with shelves.
What I love about this organizer is how much extra space it gives you to store things like towels, make-up, and cleaning products.
You can either go for a super minimalist over-the-toilet organizer or something with a bit more style. I went for the cheapest option on Amazon.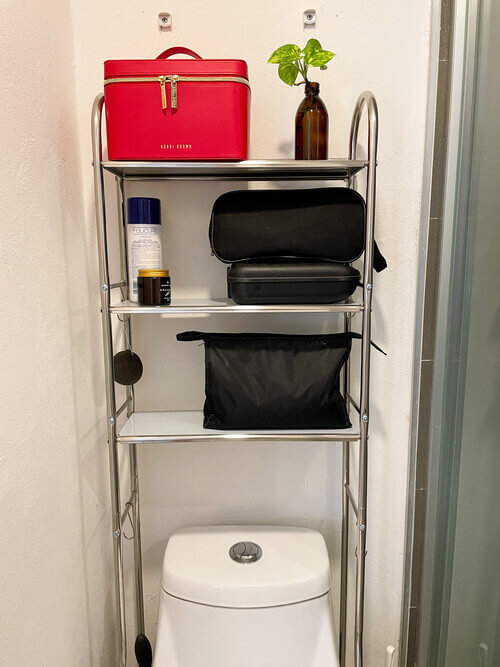 Recreate this:


8. Matte containers for private products
Yes, clear storage containers for the bathroom are nice, but maybe you don't want all your products to be visible.
That's why I love these matte storage organizers that come in 10 different colors. Big fan of the matte gray, though.
Recreate this bathroom:

9. Store items inside the cabinet door
Hairdryers and curling irons are such awkward items to store properly. They look messy when they're just lying around, which is why this organizer for inside the cabinet door is perfect.
Recreate this bathroom storage:

10. Utilize wall space
Free up space around your sink and place your toothbrushes, toothpaste, and other everyday products in this genius wall-mounted organizer.
Recreate this bathroom:

11. Over the toilet shelving
For a little extra storage space in a small bathroom, hanging shelving above the toilet is a great way to optimize space. These bathroom shelves also have space to hang towels.
Recreate this bathroom:

12. Clear container for storing make-up
The look of this organizer gets me so excited! It truly is gigantic (yet it fits under the sink) and if you have a lot of make-up, the perfect way to keep an overview of what you have.
It's not surprising that this make-up storage case is an Amazon best-seller.
Recreate this bathroom:

13. Store toilet paper in baskets
Toilet paper isn't one of the prettier bathroom items, so why not store them in these cute woven baskets instead?
Especially if you have some shelving space above your toilet, you have the perfect way to store it.
Recreate this bathroom:

14. Extra bathroom items in wire baskets
If you something like a linen closet or shelving space you use for bathroom products, these wire baskets are ideal to organize cloths, towels, shampoo's, etc.
Recreate this storage idea:

15. Utilize a variety of baskets and bins
Baskets, baskets, and more baskets! It's just so rewarding when everything has its place.
Especially if you're someone with many small bathroom products, you'll love how easy it is to keep organized with these.
Recreate this bathroom linen closet: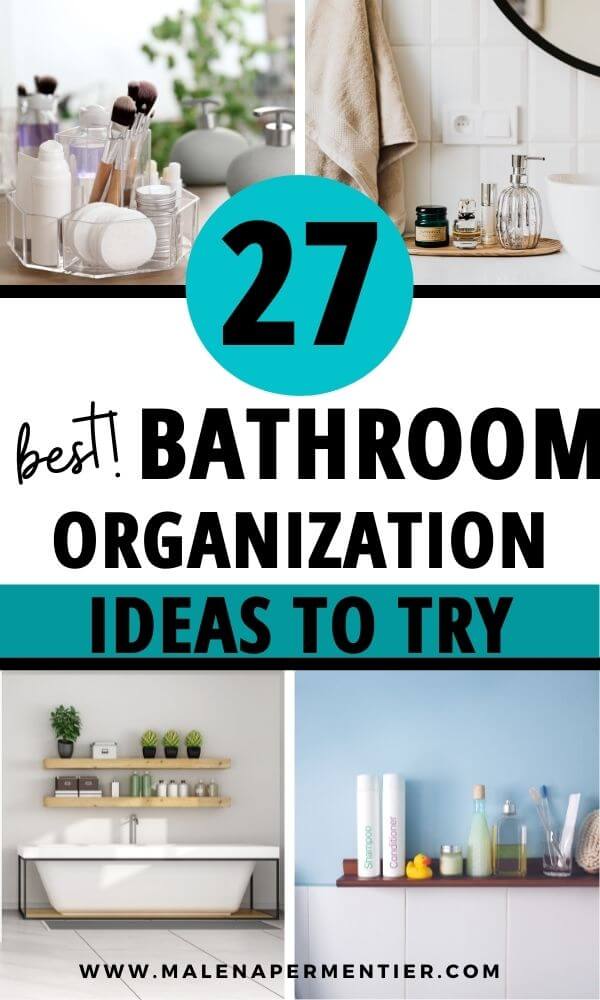 16. Free standing bathroom shelves
Some bathrooms have built-in storage under the sink, but others don't. If you don't have a cabinet under your sink, a shelving solution like this is an amazing solution. Plus, it's super budget-friendly.
Recreate this bathroom:

17. 3 tier basket bathroom
To keep your bathroom's counter space neat and organized, use this 3 tier basket storage to give items a place.
That way, you keep your space clean and organized. You can equally use this cute storage for bathroom decoration.
Recreate this bathroom organization:

18. Rolling cart for bathroom
I can't get enough of the rolling cart! These are just great storage and decorating item to have in your apartment.
This black rolling cart from Simple Houseware is perfect for storing towels, and you can even decorate the top.
Recreate this bathroom:

19. Use a tray for soaps and lotions
You might as well make the things that you've got out on your bathroom counter space look as pretty as possible. I personally love a (faux) marble tray like this for keeping my soaps and lotions.
Recreate this bathroom counter:

20. Incorporate free standing shelves
Freestanding shelves are a great way to create a sleek, modern, and storage-friendly bathroom. This 3 tier shelf furniture looks amazing and makes a great addition for a minimal bathroom with a Scandinavian look.
This shelf also comes in espresso, and I'm not sure which one I love more?
Copy this:

22. Back of the toilet tray
A chic and practical way to style your toilet with a tray! I know this might seem weird but I personally think it looks super cute.
Recreate this bathroom:

23. Create bathtub storage space
This might be a weird one, but if you have a small bathroom with a bathtub, you know exactly why it's important!
A great way of utilizing your bathtub space when you're not using it is with baskets.
Depending on free space, you can use 2 of these baskets beside one and the other.
Recreate this bathtub storage:

24. Free standing bathroom cabinets
If you like keeping your bathroom products out of sight, a cabinet is a perfect solution. In a small bathroom, you might not have the storage space you want. This free-standing cabinet is perfect to create extra storage.
Recreate this bathroom:
25. Farmhouse style towel bar
Add some extra style and storage to your bathroom with this amazing farmhouse-style towel bar.
It's small, sleek and it has enough space for some cute bathroom decor.
Recreate these farmhouse shelves:

26. Use behind the door space
A rack like this is perfect for keeping products like a hairdryer, towels, and other bathroom products.
What's also ideal is that this rack has 5 hooks to hang your stuff.
Recreate this bathroom:

27. Shower pole for storing shampoos
A must for everyone who has one too many shampoos and conditioners (raising my hand).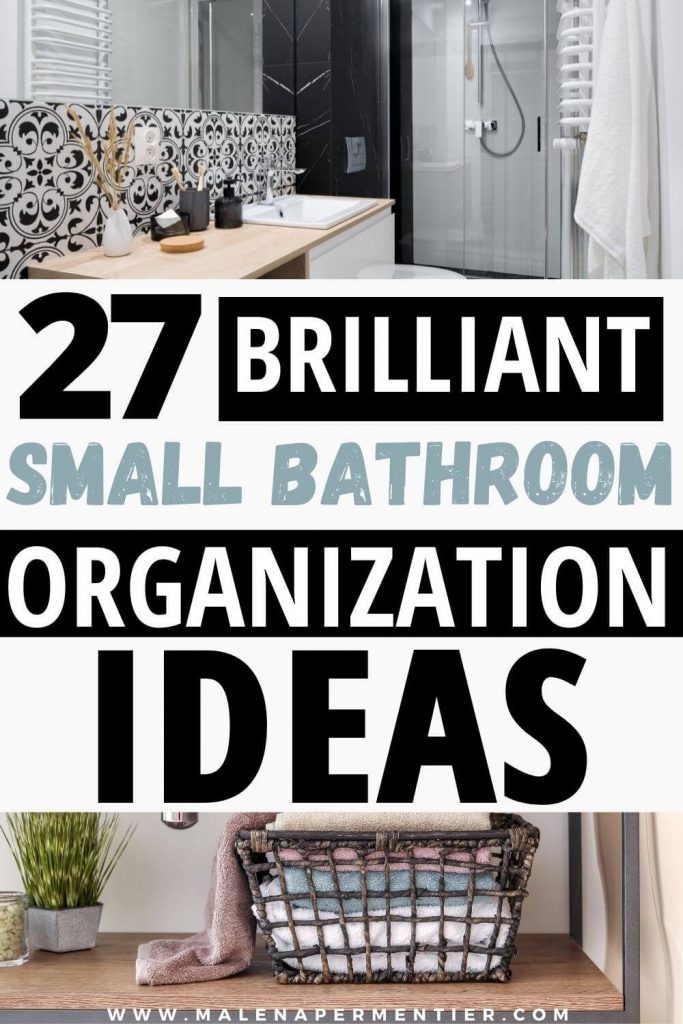 This post was all about the best Bathroom Organization Ideas
You may also like: