This post shows you the best bathroom counter decor ideas.
The bathroom counter should be both practical and cute! Using items that qualify as decor AND storage are ideal if you have limited space.
Organizers like a vanity tray keep bathroom essentials in one place, giving your decor a put-together look. A bit of greenery also goes a long way in bathrooms.
Pictures say a thousand words, so let's look at some great examples of bathroom counter styling.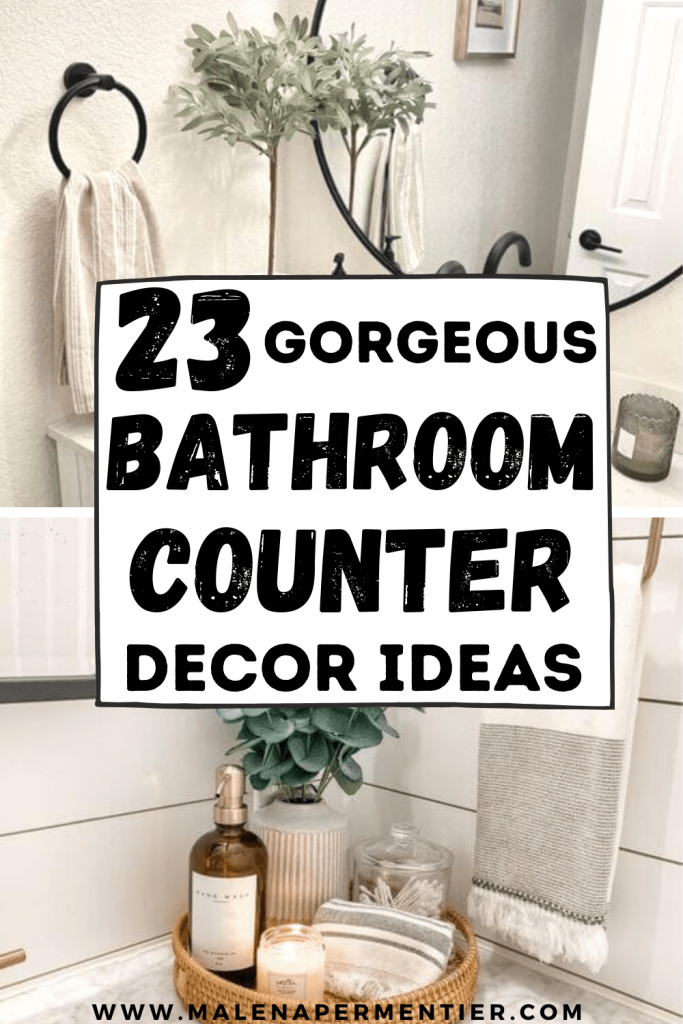 Bathroom counter decor ideas
1. Decorate bathroom counter with greenery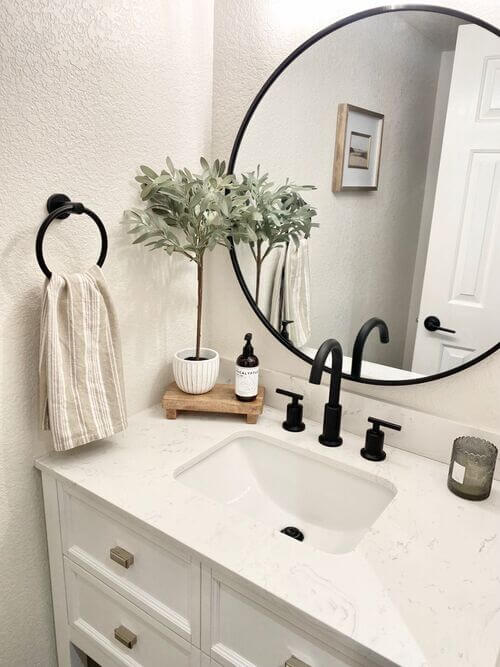 A wooden riser is excellent bathroom decor. Use it for your soap dispenser and some form of greenery.
I love this miniature olive tree. I heard it's available at Hobby Lobby, but I've listed some olive branches to recreate this bathroom decor for now.
2. Use a bathroom countertop tray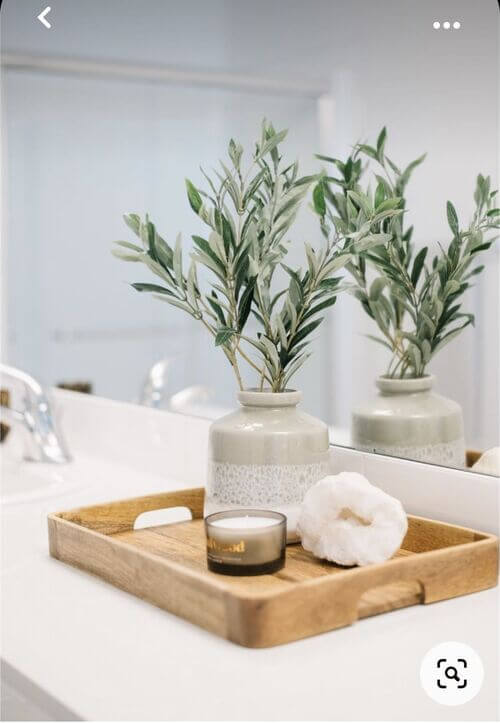 It's beautiful to break up a white bathroom with warm wooden tones.
You can easily do so with a natural wood serving tray.
When it comes to bathroom organizers and trays, don't be afraid to think beyond the bathroom.
Fruit baskets and regular serving trays often are the best items for decorating your bathroom counter.
3. Faux tulips in a ceramic pitcher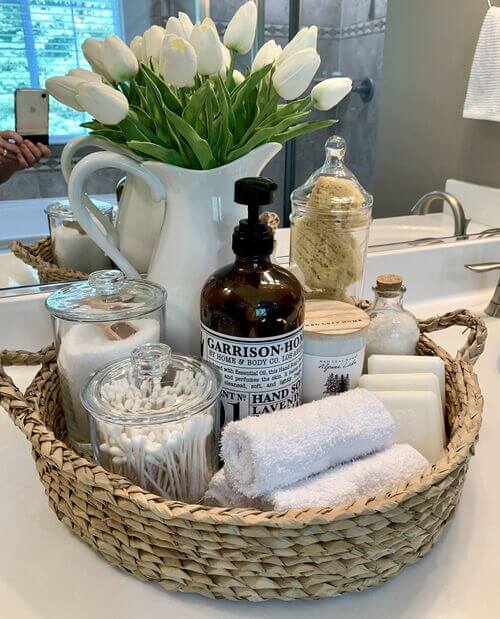 The TikTok home decor community is raving about these faux white tulips.
They look surprisingly real and are perfect for decorating your bathroom.
Woven trays are a great base for your decor and bathroom accessories.
Use one tall eye-catching item, like the ceramic pitcher with the tulips.
Don't forget that items like cotton balls and q-tips can become part of the decor when you place them in a cute canister.
4. Large vase with eucalyptus stems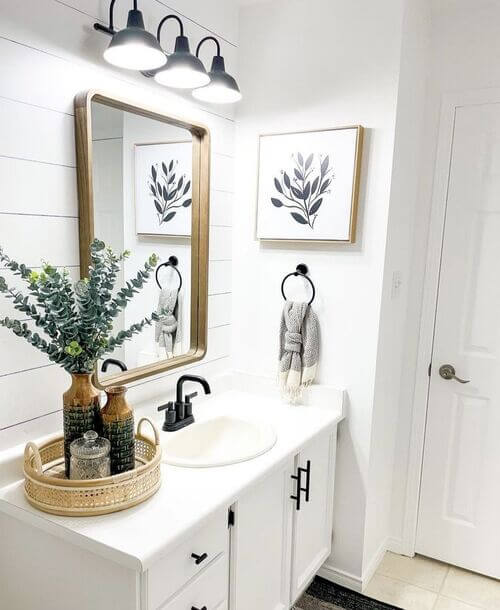 Eucalyptus is a favorite when it comes to bathroom decorating!
If you use real eucalyptus, it's amazing to hang over your shower head.
Then it spreads a divine smell throughout the bathroom while showering.
The minimalist look of eucalyptus also works well for decor!
For longevity, you can use fake eucalyptus when using the stems strictly for decor.
5. Two-tiered farmhouse tray for bathroom counter storage and decor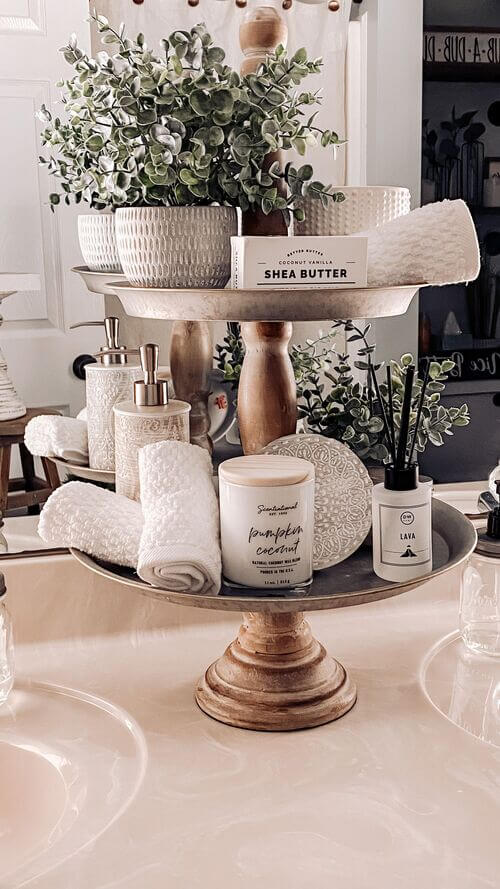 This is one of my favorite examples of thinking outside of the box!
When looking for bathroom decor, people forget that things like cake stands and two-tiered farmhouse trays are also excellent for bathroom counter decor.
6. Decorative sink tray for essentials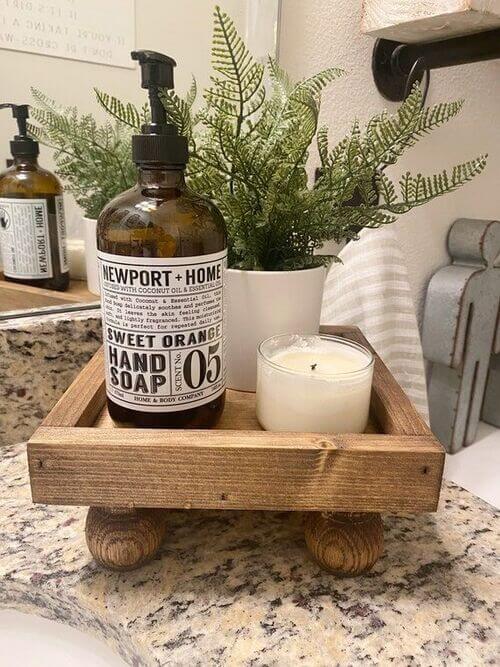 If you're looking for bathroom vanity options with a unique look, Etsy is a great place to shop.
Place 3-4 items on the tray for a cool look.
Think of a soap dispenser, a candle, and a small plant. Ferns give me a bathroom vibe, so I think that's a great option.
7. Subtle fall bathroom decor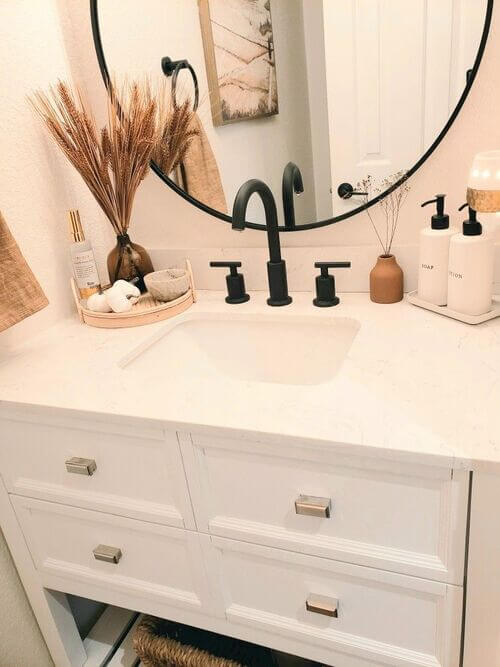 Changing up your bathroom decor each season is such a lovely thing to do.
I love this subtle fall decor.
Brown pampas grass is a beautiful option to go with! Pair the grass with a brown apothecary vase.
I am also obsessed with the soap dispensers and tiny tray.
Looks so much better than just placing your dispensers on the counter.
8. Modern bathroom countertop with two-tier vanity stand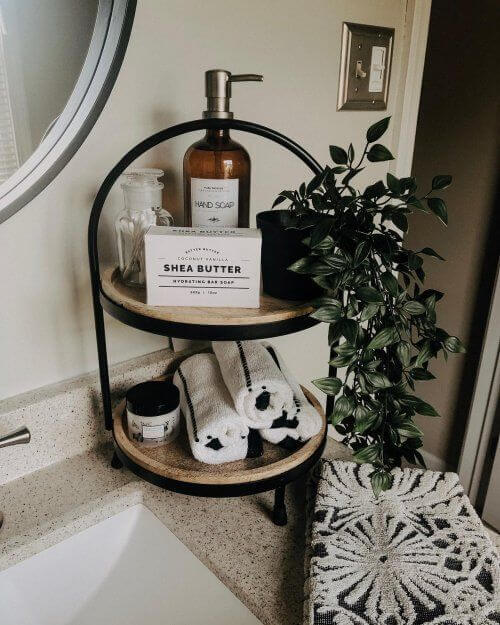 This is my favorite small bathroom counter idea to recreate! Get a modern two-floor vanity stand for necessities like soap and hand towels.
It looks super cute and saves space at the same time.
A small hanging plant with a pot is a great way to decorate your vanity stand.
9. Minimalist bathroom decor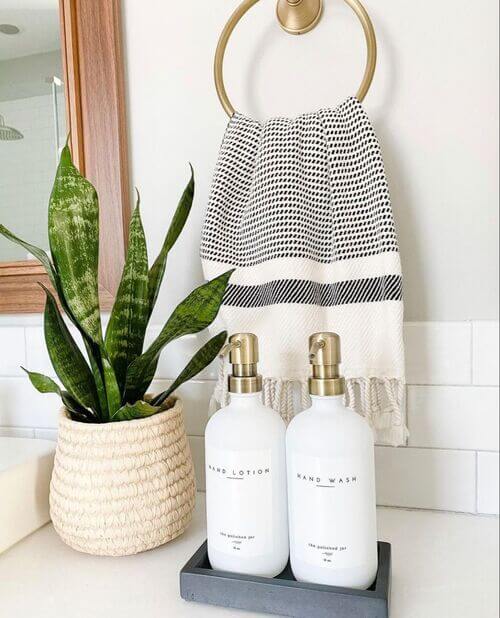 Choose your hardware: metal, black, or gold, for a put-together bathroom look!
I love how the gold hardware of these soap dispensers adds a feeling of luxury to the bathroom.
Gold hardware pairs well with Turkish cotton handtowels; it's a perfect balance if you ask me :).
10. Bathroom counter storage alternative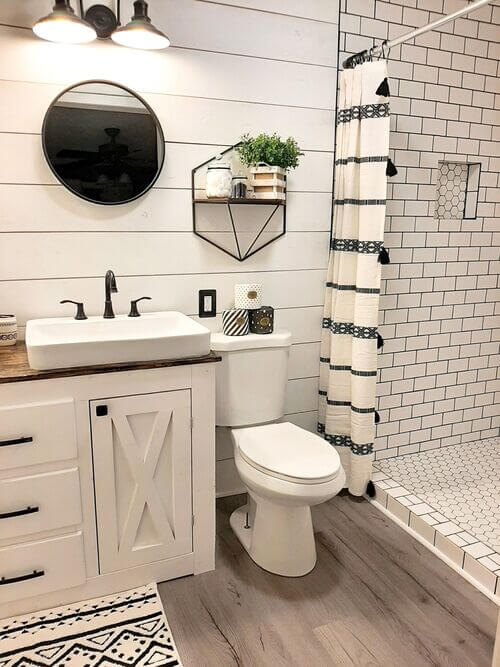 Some bathroom counters don't have enough space for even a soap dispenser!
So you must be creative with other storage spots.
The space above the toilet is great for hanging a unique floating shelf.
Go for a hexagon, round, or diamond shape floating shelf.
A shelf over your toilet decorates your bathroom and provides space for toiletries, lotions, and other essentials you use in the bathroom.
Related: 18 Bathroom Shelf Decor Ideas For Over The Toilet That Look Amazing
11. Simple marble tray for bathroom accessories
One simple and effective way to decorate your bathroom sink is with a chic tray.
White marble is timeless and pairs well in a modern and minimalist bathroom.
Decorate the tray with a small plan, stylish canisters, and soaps.
12. Charming two-tiered wicker basket tray for guest bathroom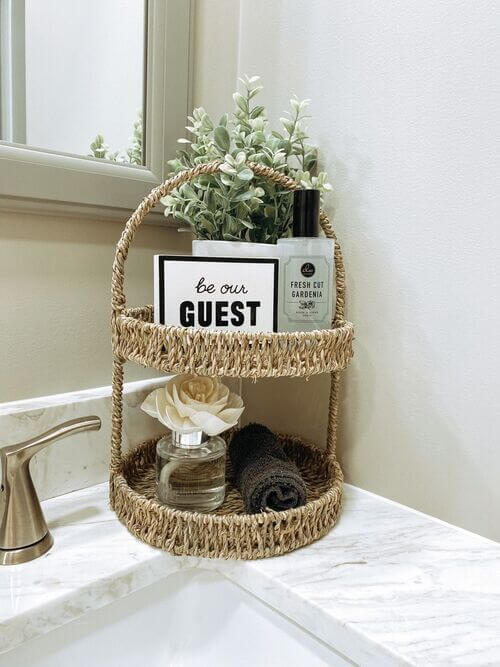 A two-tiered wicker tray creates a beautiful balance in a modern bathroom.
It's also an excellent option for the guest bathroom to stock with essentials your guests might need.
Think of soaps, small hand towels, and small shampoos and conditioners.
13. Super simple bathroom counter decor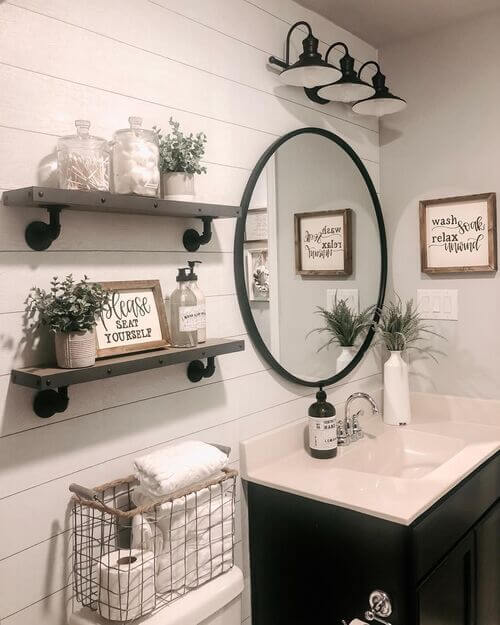 When your counter space is small, carefully choose the items you keep here!
I love this example where the counter only has a soap dispenser and a minimalist white vase with some greenery.
Other spaces in the bathroom make up for the lack of counter space.
Don't be afraid to use the toilet top and shelves to create extra space for storage and decor.
14. Fruit basket turned bathroom vanity stand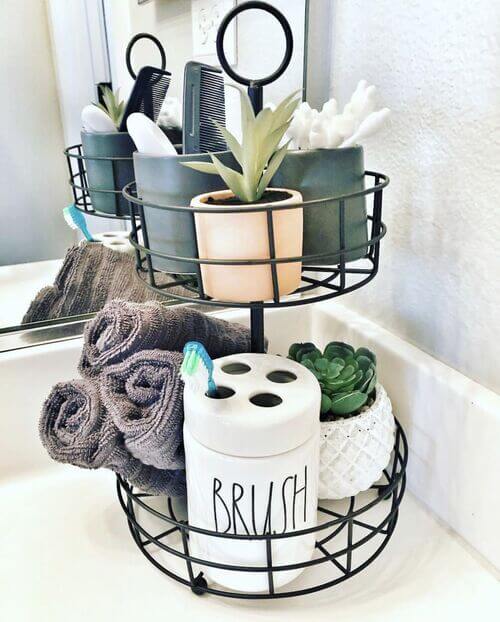 These metal two-tiered baskets are marketed as fruit baskets instead of bathroom vanity stands, which is totally fine!! It still does the same job.
Stack necessities like your toothbrush holder, soaps, and hand towels in the stand for easy reach.
15. Metal two-tier basket for bathroom counter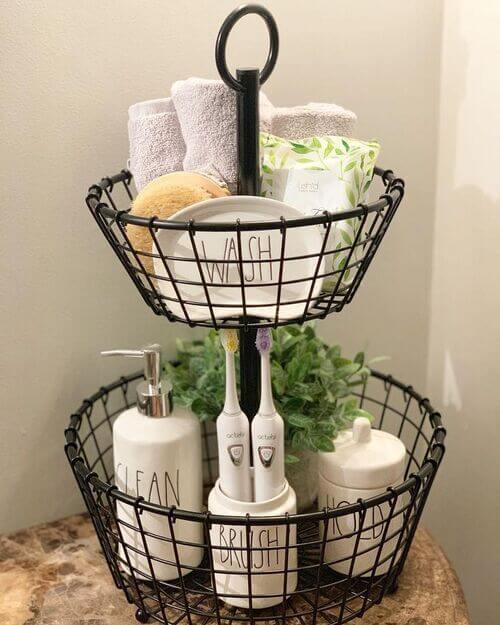 Another great example of how to use a fruit basket as a bathroom organizer!
Place items like the soap dispenser and toothbrushes at the bottom for the easiest reach.
The top is perfect for hand towels and extra soaps.
16. Creative mirror shelf space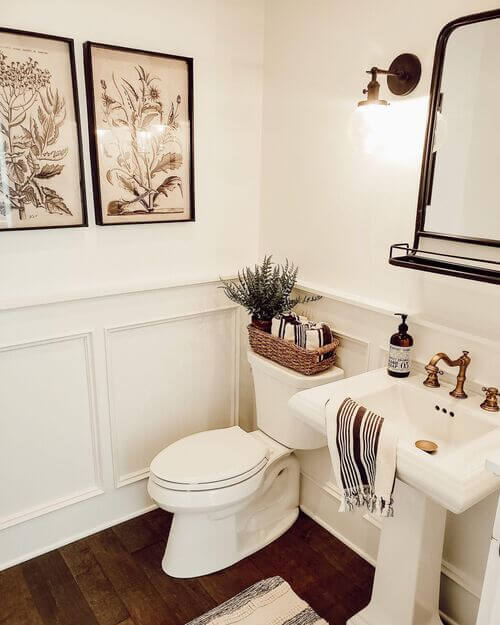 When your bathroom counter is tiny, using a mirror with shelf space is a genius solution.
I've seen these metal mirrors with shelves in different places, and I'm obsessed.
I think it looks so cool. It fits different design styles, like farmhouse, modern, or even bathrooms with a bohemian feel.
17. Bathroom counter decorating with a wicker tray and glass canister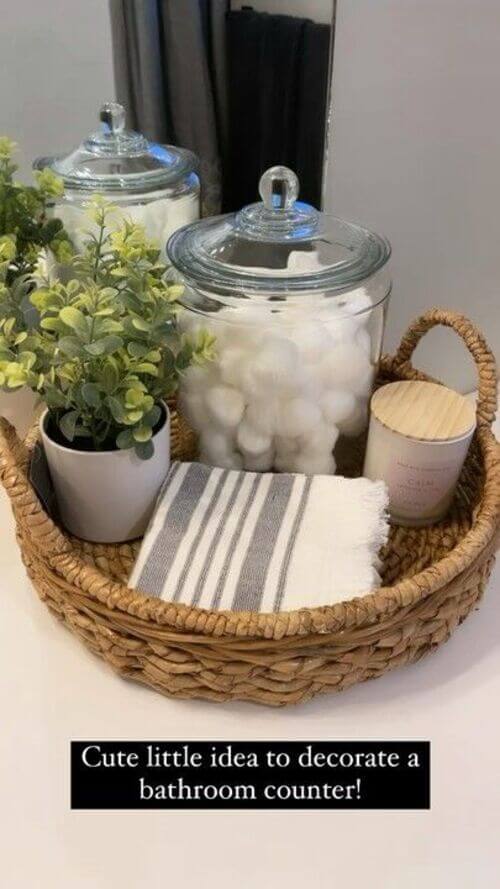 This bathroom counter decor is the perfect formula! Style a round woven tray with a cotton hand towel, glass canister(s), tiny succulents, and a candle.
A fool-proof simple formula that makes your bathroom counter look amazing.
18. Toilet top tray for simple decor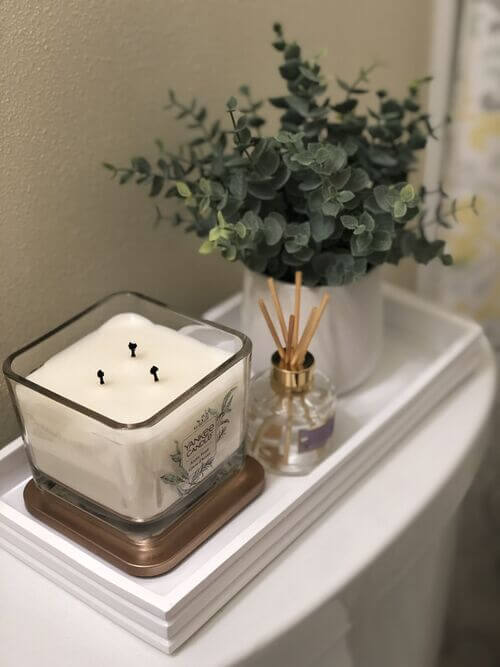 Lack of bathroom counter space doesn't mean you shouldn't use a tray or basket in your bathroom.
Use your toilet tank for some small decor with a tray.
The vertical shape makes it perfect for styling a candle and a small plant.
19. Modern chic bathroom countertop styling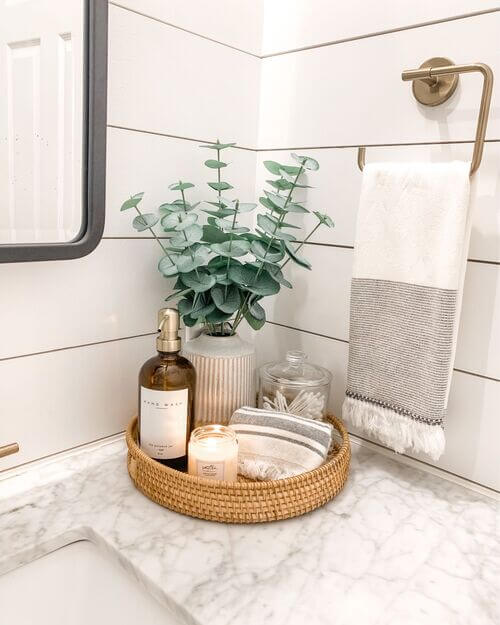 This chic and simple tray styling hits the spot!
A round tray is perfect for keeping some essentials and decor when you have limited bathroom counter space.
20. Round wood bathroom riser with essentials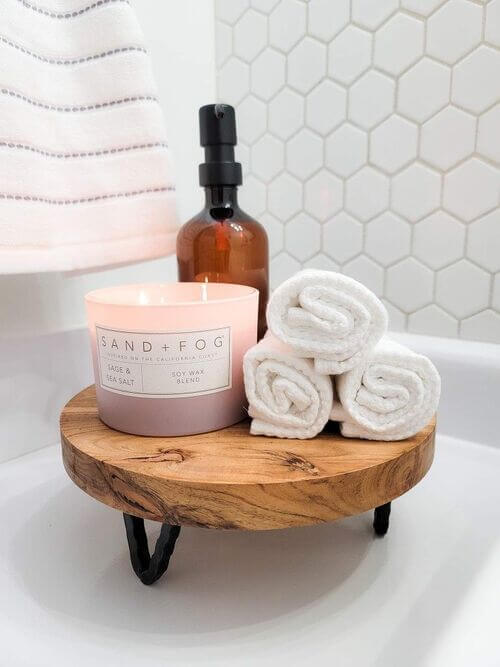 Loving the simple yet chic look of this wood riser with bathroom essentials!
The apothecary dispensers come with labels for an extra polished and cute look.
I also like how these brown dispensers create a warm atmosphere in your space.
21. Styling a white vase with dried grass