Hey there! Some links on this page are affiliate links which means that, if you choose to make a purchase, I may earn a small commission at no extra cost to you. I greatly appreciate your support!
This post shows you the best bathroom countertop ideas!
For many people, bathroom counter space is limited. Clever accessories, like a tray, make a counter look put together.
This post will cover the smartest ways to use bathroom counter accessories that look pretty but also make your counter look organized.
My personal favorite bathroom counter hack is using a round tray.
Trays are inexpensive, but it also makes essentials like your dispensers and q tip holders look organized.
Pick a tray that complements your bathroom decor, so it looks even better!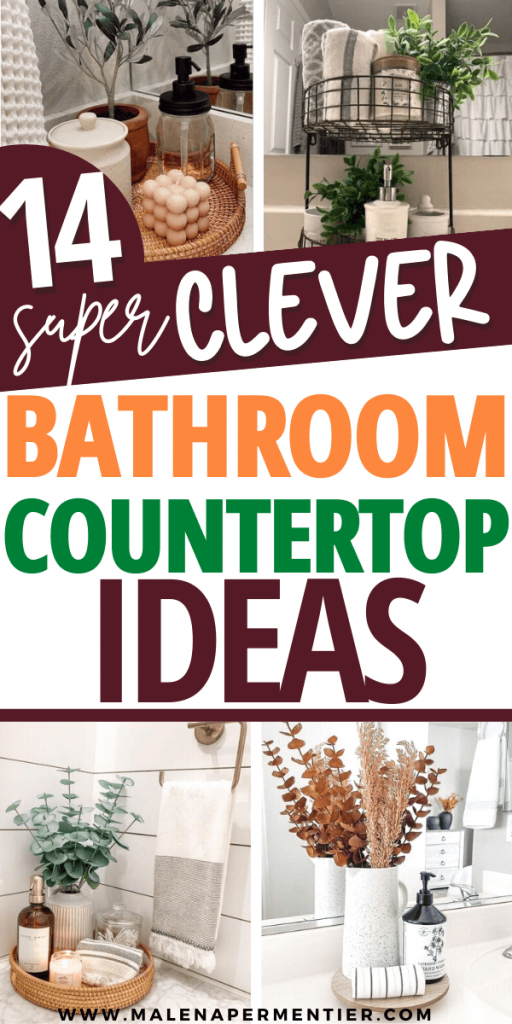 Best way to style a bathroom tray:
Pick a round tray
Place a vase with greenery or a plant in the corner
Arrange your soap dispensers and q tip holders on the tray
Add one small piece of decor, like a candle.
1. Woven rattan tray for bathroom accessories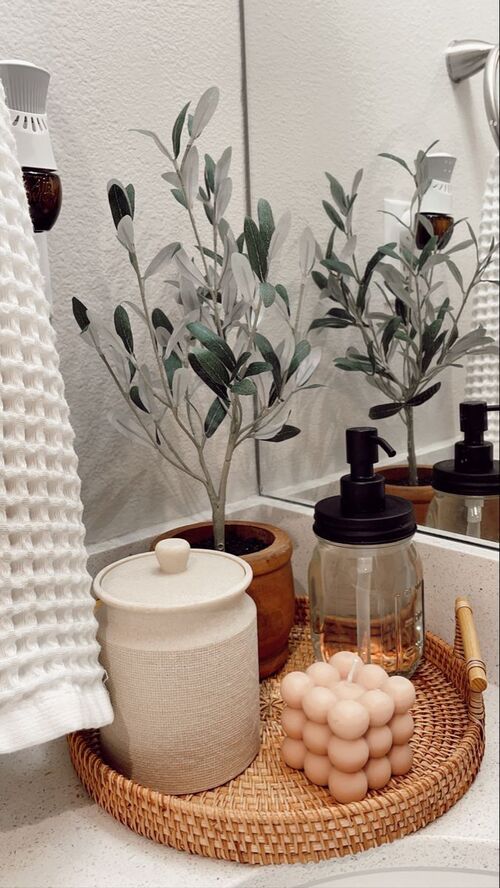 Recreate this:
One of the simplest ways to organize and style your bathroom counter is with a round rattan tray.
Bathrooms can sometimes look sterile, and textures like rattan or wood add warmth to the space.
Arrange a plant (or greenery in a vase), dispensers, canisters, and a decorative item on the tray.
Make sure the greenery is taller than the other items on the tray; this gives the whole arrangement a nice and balanced look.
You can also use real eucalyptus stems in a vase. With the steam in your bathroom, they give a lovely fresh scent.
2. Countertop towel holder

Countertop towel holders are a clever solution for rental bathrooms. They also look super stylish and luxurious on a bathroom counter.
3. Acrylic bathroom vanity jars

These acrylic vanity jars are a must-have for qtips, cotton balls, and other bathroom essentials.
They are also super affordable and look cute in any bathroom!
4. Round wood riser for bathroom counter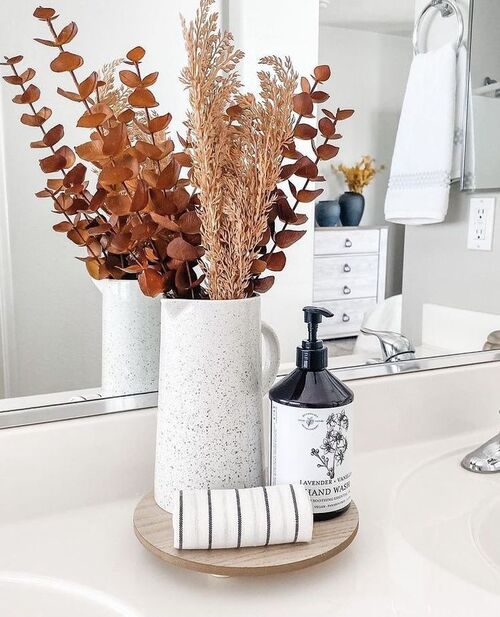 Recreate this:
Instead of a tray, you can also use a small wood riser for your bathroom counter.
This automatically gives your soap dispensers an elevated look! Amber glass dispensers look incredible on a wood riser like this.
If you keep a vase in your bathroom for greenery, this is an excellent opportunity to use some seasonal decor.
This orange fall-themed greenery is gorgeous and adds warmth to your bathroom.
5. Clever bathroom counter organizer

A two-story bathroom organizer is the ultimate small bathroom hack!
We all have products that we use non-stop, and it's nice to keep them out and ready to grab.
This one is made with wood and metal, which looks stylish and good with any bathroom design.
6. Wood riser tray for bathroom counter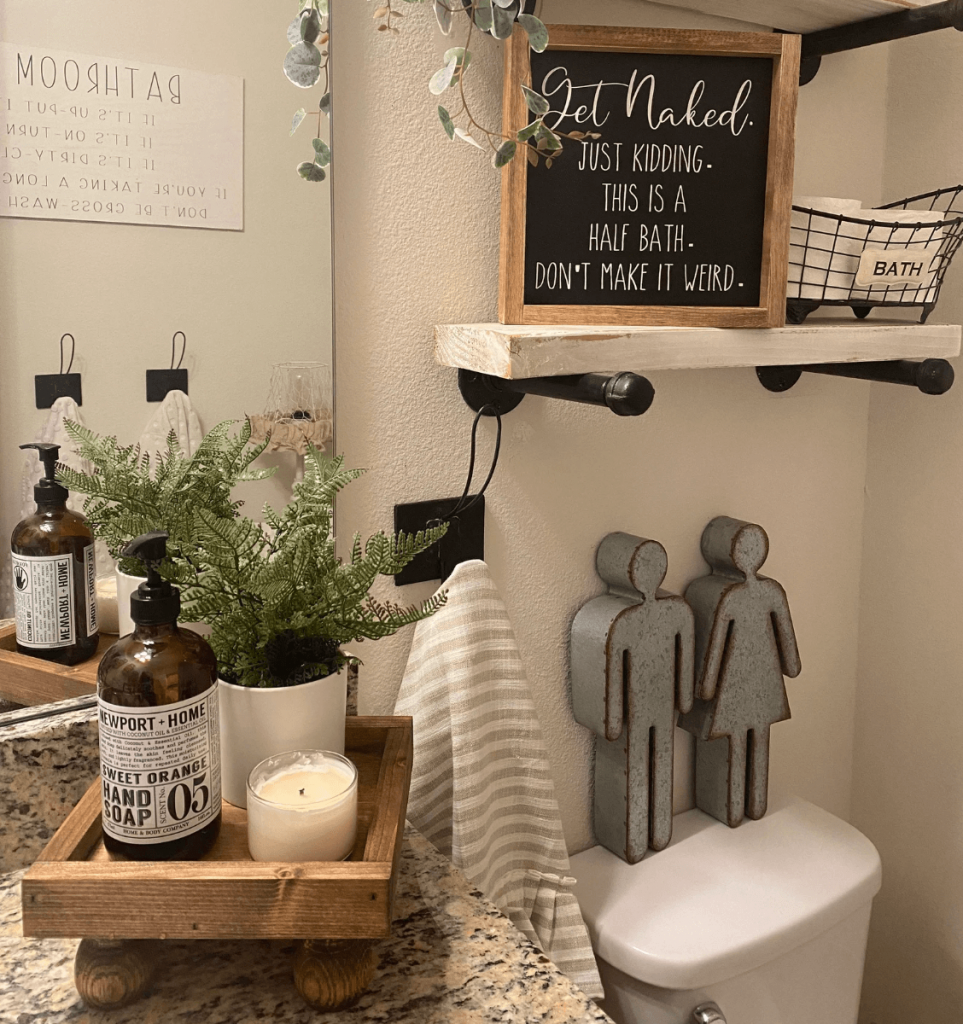 Rustic wood adds ambiance, and this riser looks fantastic in any bathroom!
This wood riser is compact yet large enough to fit your bathroom essentials like a dispenser and even a small plant.
7. Rustic bathroom counter accessories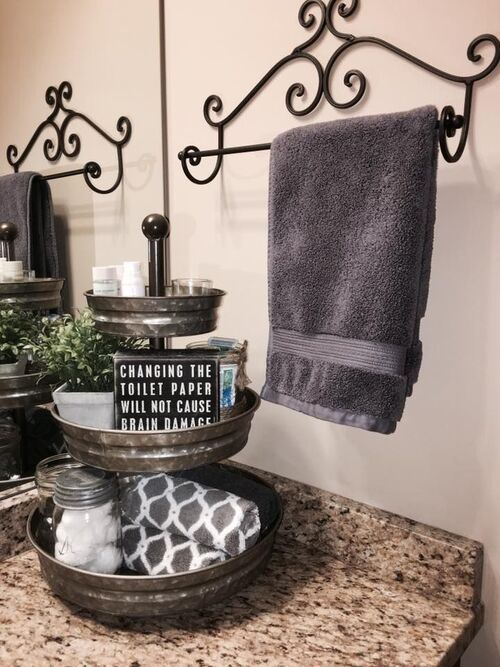 Recreate this:
For a rustic bathroom theme, you need this 3 tiered tray.
This is the type of bathroom accessory that looks great but also provides ample storage space for products and soap.
8. Rustic bathroom shelves with towel bar

One of my biggest tips for decorating your bathroom is to keep your decor coherent.
Have a rustic theme on the bathroom countertop? Make sure that reflects as well in your choice of shelves and things like a towel bar.
This wood shelf with metal pipes looks stunning and is a great choice for farmhouse bathroom decor.
9. Modern bathroom counter accessories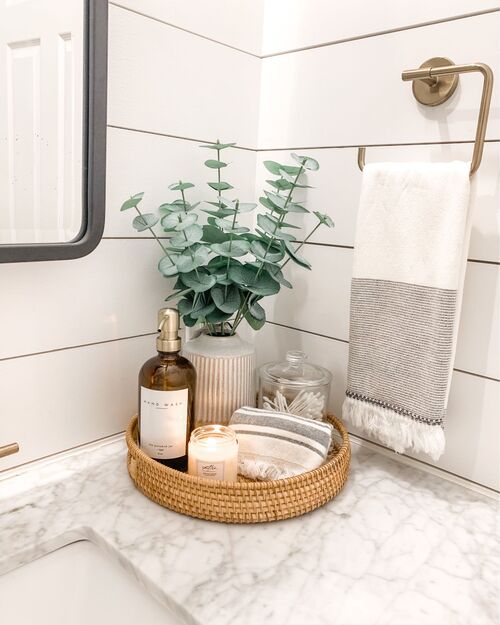 Recreate this:
In a modern and clean bathroom (with light colors), it's lovely to add some warmth with wood or rattan materials.
I love how this bathroom countertop provides us with the exact formula we can easily recreate!!
To make this in your bathroom, you need a ratan tray, a neutral vase, faux eucalyptus stems (or natural, whatever you prefer), and canisters to hold your qtips and other items.
I also really like these striped cotton towels that give a bohemian vibe. These cotton towels have a similar vibe and look incredible.
10. Ceramic vanity tray

This compact ceramic vanity tray is the ultimate accessory for small bathroom counters.
It fits two soap dispensers, making your countertop look cute and put together. So simple, yet hits the spot.
11. Small wood riser for decorative items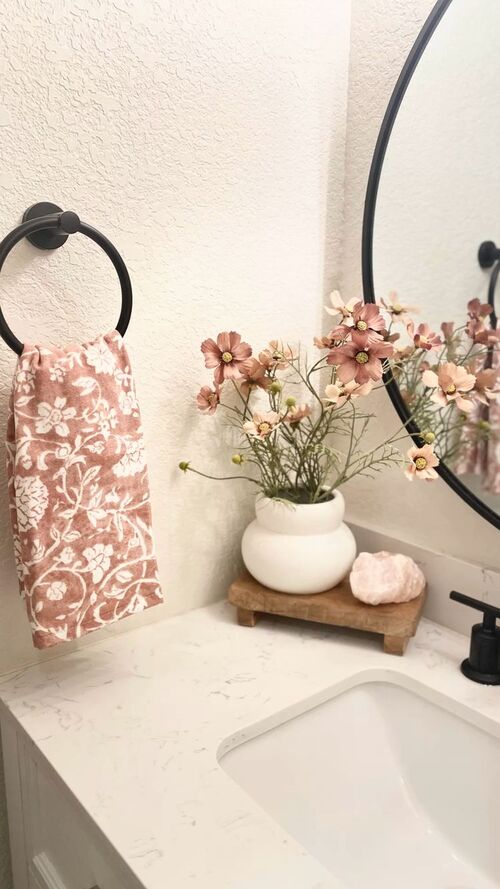 Recreate this:
You can place a wood riser in the corner of your bathroom countertop for a put-together look.
Use it for soap dispensers or decor; both look great. Little tip: match the decor on the wood riser with your bathroom hand towel!
This bathroom countertop is so simple yet looks fantastic.
12. Neutral bathroom accessories set

A neutral and versatile bathroom accessory set like this hit the spot! It has a thick texture, which makes the set look more expensive than it is.
13. Guest bathroom vanity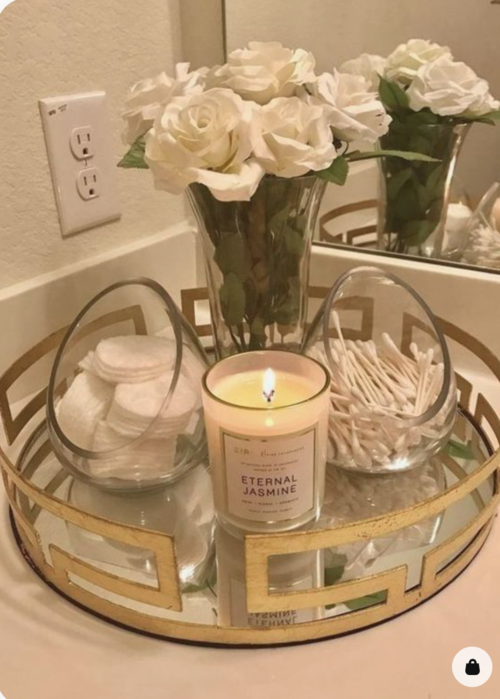 Recreate this:
A tray is also the ultimate counter accessory for guest bathrooms. Here you can keep some canisters with essentials, soaps, and other things they might need.
Decorate a tray with some cute faux flowers!
14. Use a metal fruit basket as a bathroom organizer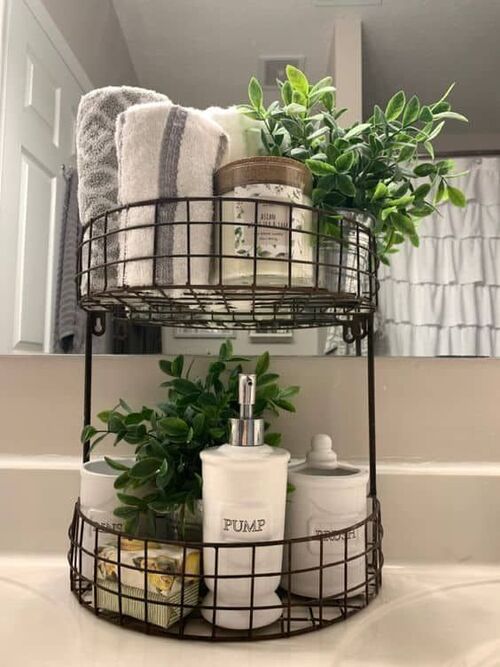 Recreate this:
Lastly, browse the fruit basket section if you're looking for bathroom storage accessories!
Those are often much cheaper and work amazingly for bathroom counters.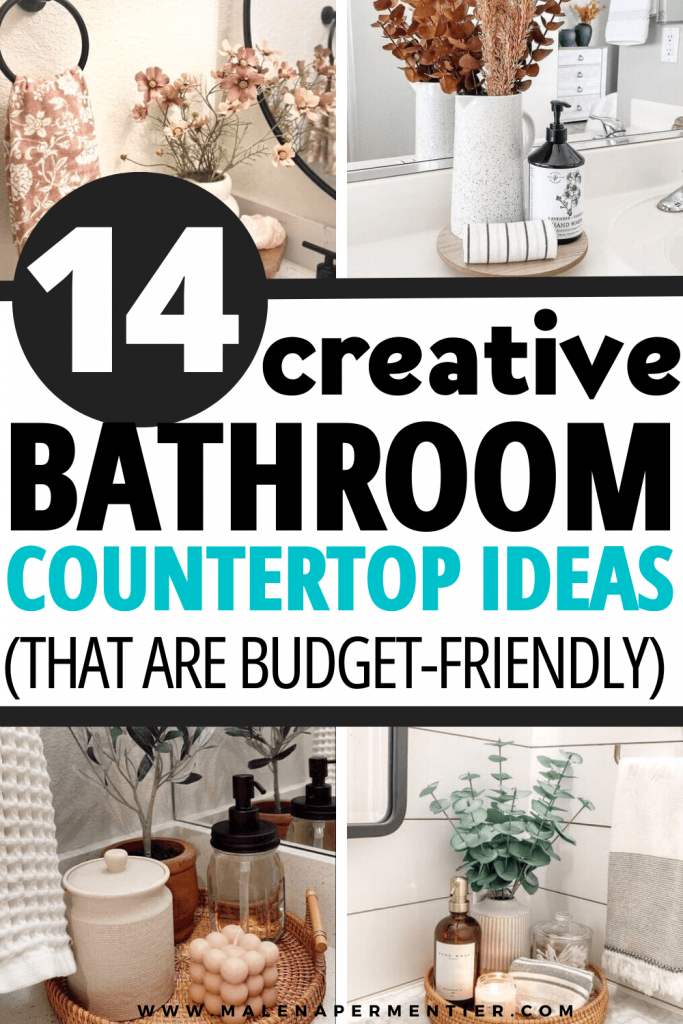 This post showed you the best bathroom counter accessories ideas.
You may also like: