This post shows you the best ikea bathroom hacks.
I don't know about you guys, but Ikea is a sacred name in my home… whatever I need I can always find there.
They have the best decor hacks and items to help your storage needs.
If you've been feeling like your bathroom is a little disorganized, then this is just for you.
These ideas will have you rethinking your whole bathroom aesthetic.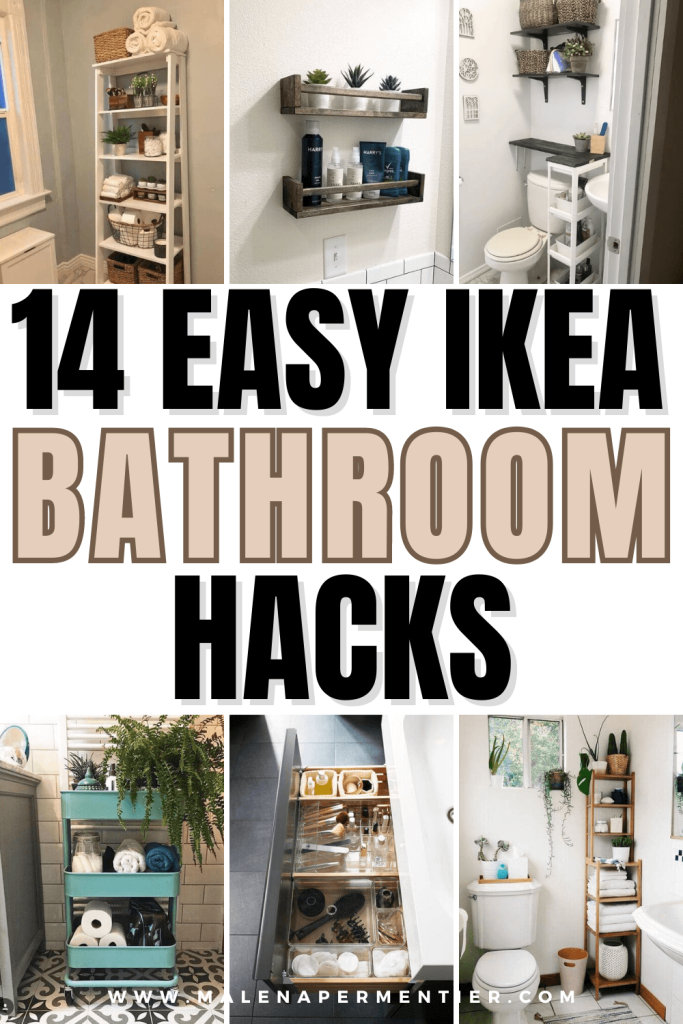 Ikea hacks
Bathrooms can never have enough storage, but that doesn't mean you must make it look overbearing and cluttered.
So here are a few hacks you can use to ensure you get the most out of these ideas.
Upgrade your bathroom vanity by updating the hardware, including a new countertop, or changing the appearance of the doors. You can also paint the vanity to fit your bathroom's decor or add decorative moldings.
For additional storage, hang towels, robes, or baskets on wall-mounted rails and hooks.
By adding a mirror to the front of a regular wall cabinet, you can turn it into a bathroom mirror cabinet. This will offer more usefulness and storage.
Create chic bathroom storage with shelf units. To hold towels, toiletries, and other bathroom necessities, add bins or baskets.
Mount a rail or rod to the bathroom wall. Then, using hose clamps, hang mason jars from the rails or rods. The jars can be used to keep toothbrushes, cotton balls, and other tiny objects.
Use a wooden step stool to make a rustic ladder towel rack. Place towels over the steps and lean them against the wall.
Create floating shelves by using shelf brackets or a wall shelf with a piece of glass or wood as the shelf.
By adding baskets or bins, you can turn a utility cart into a mobile bathroom storage unit that keeps toiletries within reach.
1. Long cupboards for self-care goodies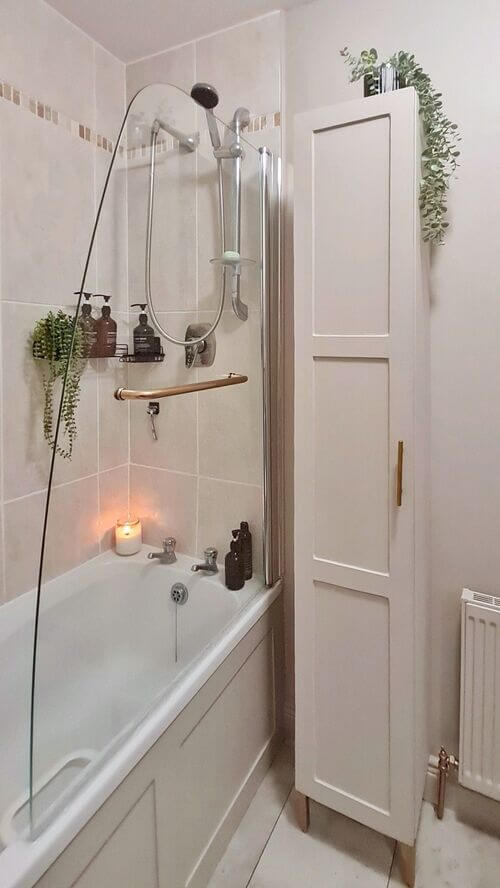 Long cupboards are the most efficient way to keep things organized within a bathroom.
Not only do they hide all your goodies from being an eye-sore but they also work with any color scheme.
2. Floating shelves and extra storage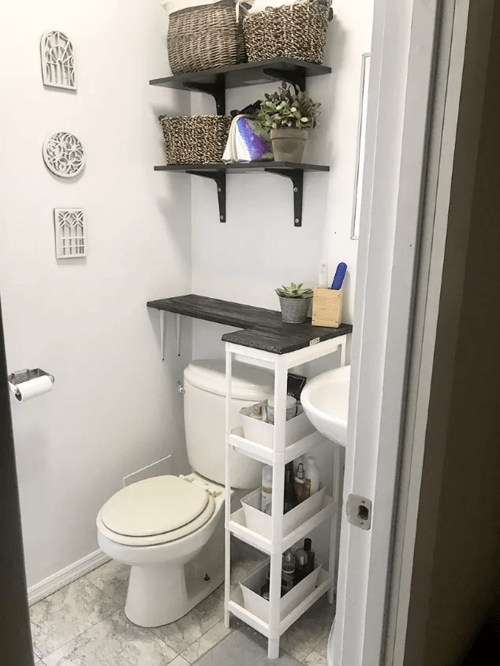 With limited space, you need to make some sacrifices.
Floating shelves with woven baskets are great, but adding extra storage next to the sink might be needed if you have a lot of goodies.
3. Organize with baskets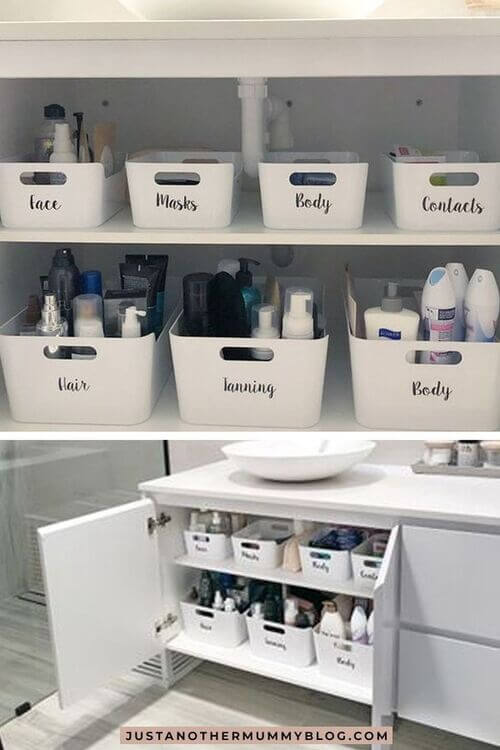 If you have OCD like me and need to keep things organized and neat then you might want to invest in these crates. They are perfect, small, and budget-friendly.
4. Wooden shelves and plants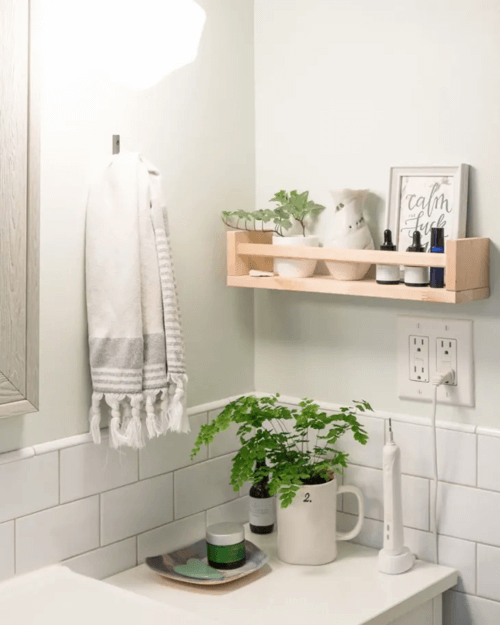 *these are Ikea spice racks, but they are also amazing as bathroom shelves in a small bathroom!!
While floating shelves are perfect for small necessities in the bathroom you can also add a wooden piece to the front to close in your plants, oils, and pictures.
This will make sure everything is safe and won't accidentally get knocked off.
5. Open shelves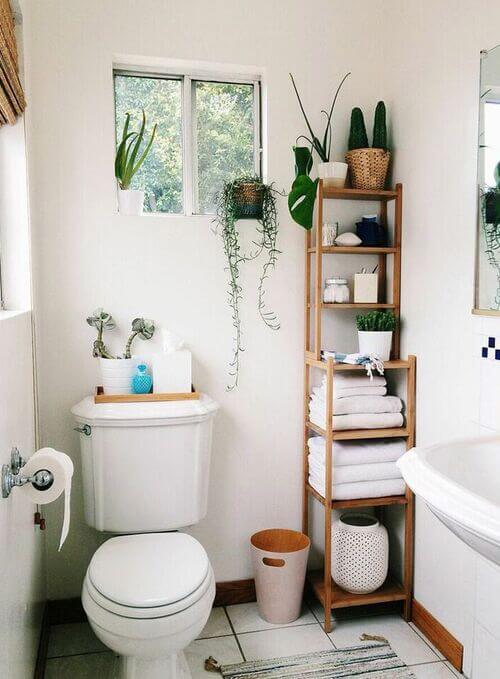 An open shelf can be perfect for easy access to all the necessities.
You can add towels, plants, candles, and extra soaps to ensure things are all in one designated space.
6. Ladder rack for storage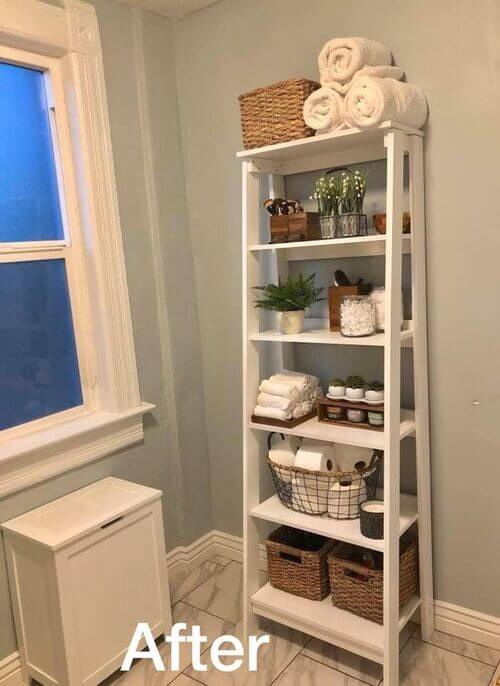 This ladder storage unit has become increasingly popular and is super cute.
It holds all the goodies you would need and doesn't make the space feel cluttered or disorganized.
7. Unique mirrors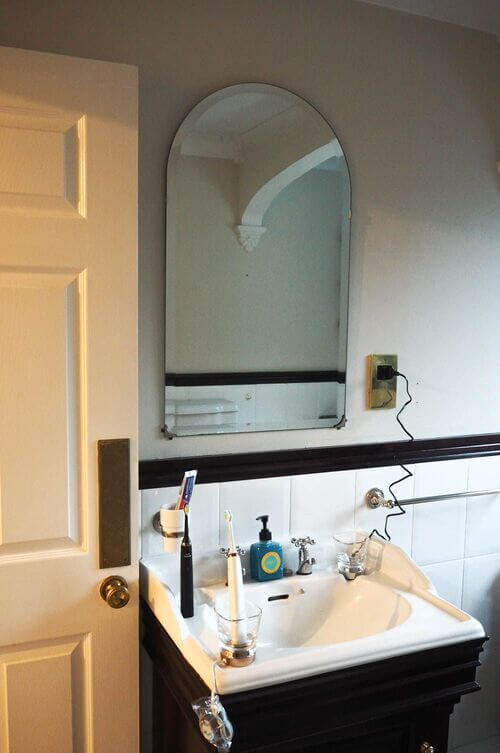 Switch up the mirrors for something a little different.
If you want to make it more useful, you can add it to a cupboard with all your skincare goodies.
8. Glass storage units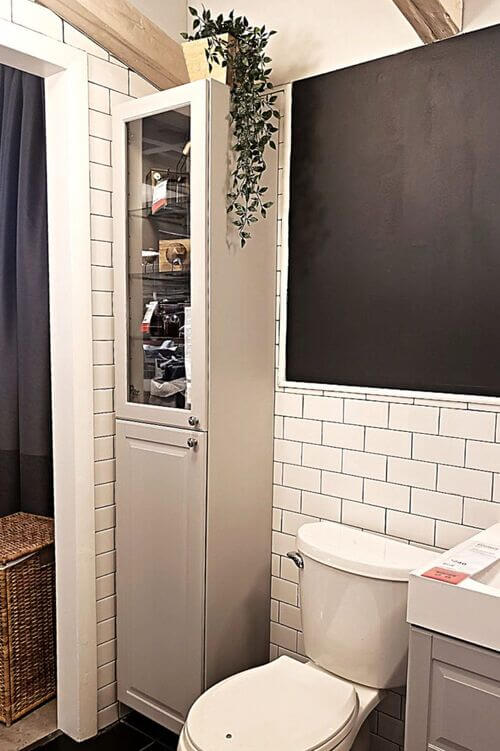 If you want a long cupboard but need something a little different then you can make use of this cupboard with a glass window so that you can see inside.
It is great for storing trinkets.
9. Acrylic organizers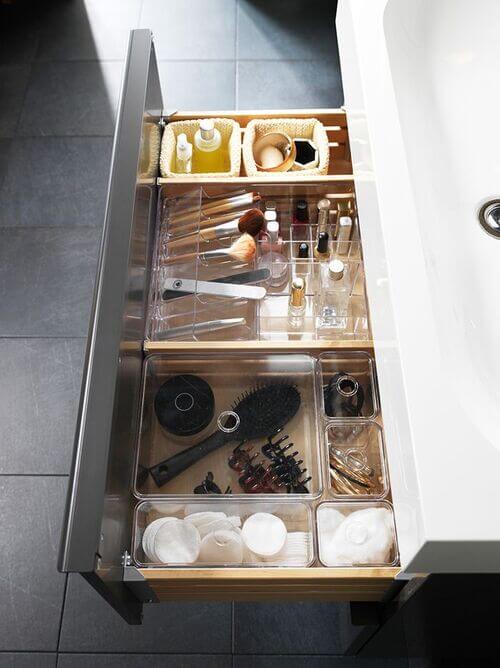 Keeping drawers organized can feel like it is absolutely impossible, but with these acrylic dividers, you can ensure that everything is kept in their designated spots.
It's cute, functional, and doesn't look messy.
10. Keep up with supplies
Storing cleaning supplies with all your bathroom goodies just makes sense.
This slim cupboard doesn't take up too much space but it keeps things in place and organized as needed.
11. Rolling cart storage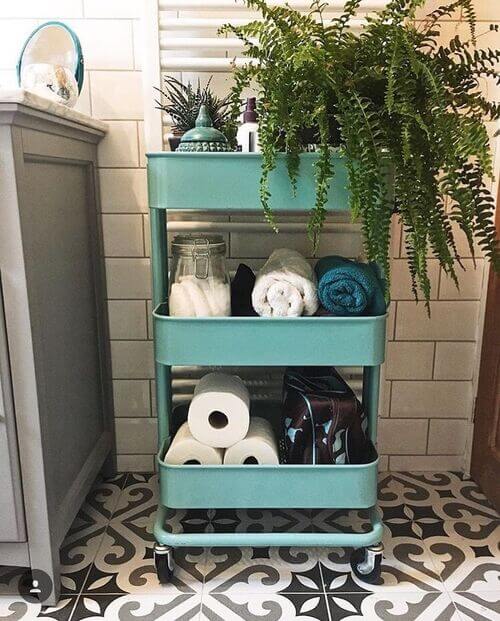 I will never stop recommending these adorable storage carts.
1. They are easy to move around. 2. They don't take up too much space. 3. It is absolutely adorable.
12. Wooden floating shelves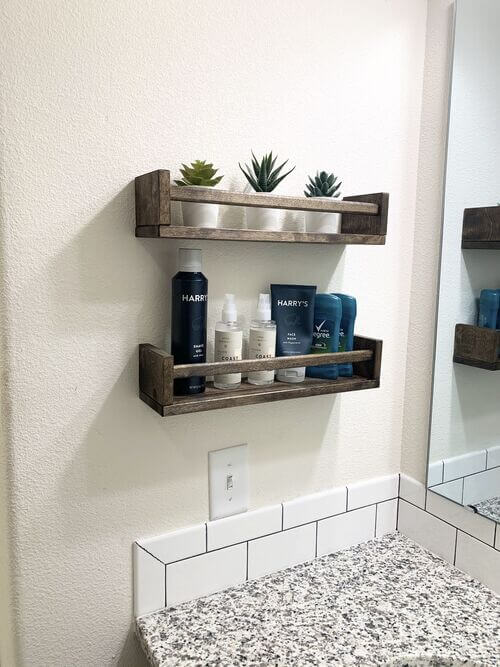 Ikea hack: use the spice rack shelves as bathroom shelves.
Perfect shelf solution for small spaces.
This easy floating shelf idea to keep your succulents and skincare routine in one spot.
You don't need much to bring a cute Ikea hack to life which is why it makes it ideal for any home.
13. Unique storage ideas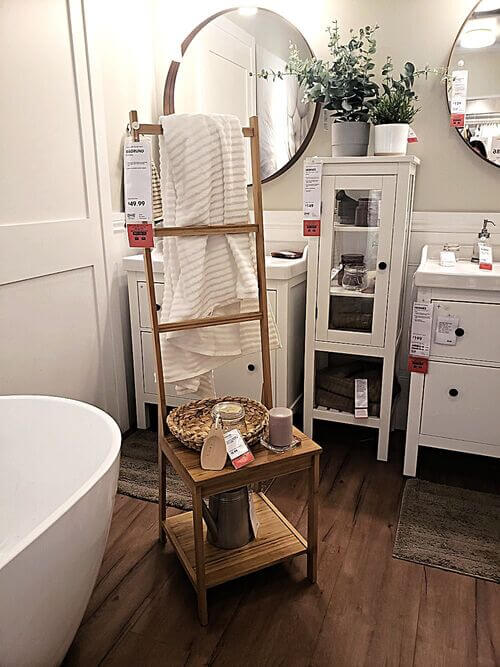 This storage chair can keep your towel, and bath necessities such as candles bath salt, and soaps all in one place while having a relaxing bubble bath.
14. Mirrors, art, and cart storage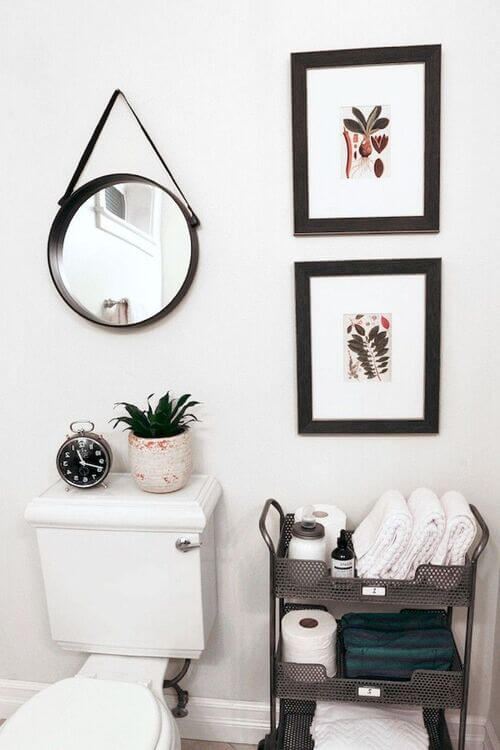 Are you in need of a simple approach to your storage ideas? Here's the perfect hack for you.
These storage spaces are great for toilet paper, candles, and towels to keep things neat and tidy.
You can also add some art and mirrors to fill up wall space.
Hacks for storage
There are many ways to use ikea cupboards to elevate your bathrooms.
It's all about finding the one that fits your needs. Which one will you be trying out?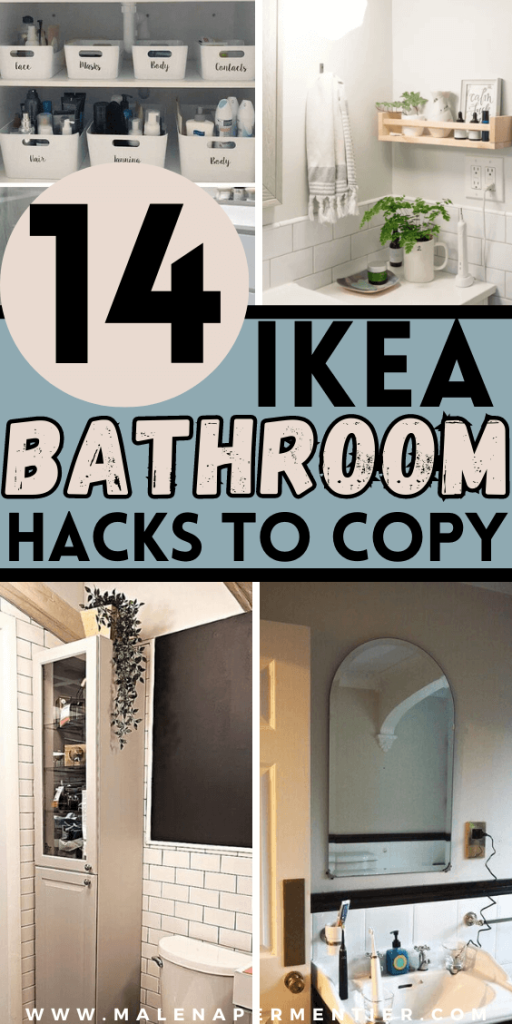 This post showed you the best ikea bathroom hacks.
You may also like: