This post shows you the best bathroom paint color ideas.
Designing a bathroom that reflects your style and creates a relaxing ambiance is essential for any home.
Whether you're going for a serene spa-like retreat, a vibrant and energetic space, or a minimalist haven, choosing the right paint color and wall projects can make a significant difference.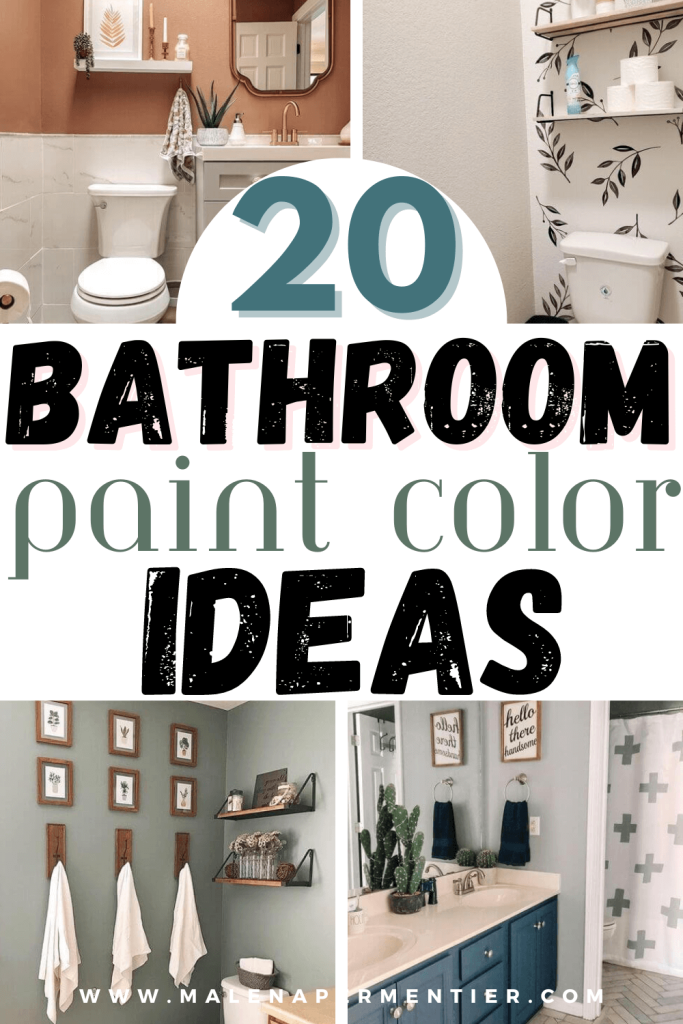 Finding the right color scheme for you
Finding the perfect idea that suits your aesthetic can feel like a challenge, especially if you're unsure of the direction you want to go in.
So we have compiled a few ideas for you to keep in mind when you're looking for a coat of paint or pieces of decor to bring the room to life.
Spa retreat: For a calming and soothing bathroom, consider a palette of soft, cool tones. Shades like light blue, seafoam green, or pale lavender can create a serene spa-like atmosphere. These colors promote relaxation and can turn your bathroom into a peaceful escape from the daily grind.
Energetic Oasis: Try using rich and daring hues like deep teal, sunny yellow, or even a pop of coral. These colors can infuse your bathroom with energy and make a strong design statement.
Classic Neutrals: Shades like beige, gray, and off-white can create an elegant and timeless look. Neutrals also provide a versatile backdrop for adding pops of color through accessories and decor.
Earthy Tones: Bring the outdoors in with earthy tones like soft browns, mossy greens, and warm terracotta. These colors can create a connection to nature and make your bathroom feel grounded and inviting. Consider using natural materials like wood and stone for added texture.
Elevating the decor
So now that you have picked the colors you want to focus on you can finally get to the more exciting part which is the decorating journey.
From minimalist spaces to maximalists thriving in their busy environments, we have included a few essentials you can use to bring a new look to your bathroom.
Statement Wall: Choose a pattern that complements your chosen color scheme and enhances the overall design. Whether it's a subtle geometric pattern or a bold floral print, an accent wall can be a stunning focal point.
Textured Elegance: Adding wooden panels or decorative molding to the lower portion of your bathroom walls. This classic technique can add texture, depth, and a touch of elegance to your space.
Green Oasis: Consider creating a vertical garden using wall-mounted planters. Adding greenery to your bathroom can purify the air and create a refreshing atmosphere.
Open Shelving: Installing open shelves on your bathroom walls can serve as both functional storage and stylish decor.
1. Split paint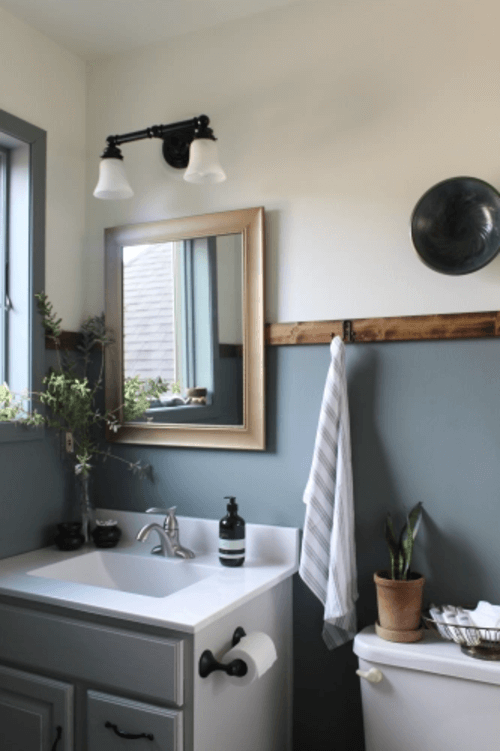 By adding a simple piece of wood to the walls you can create this split paint idea.
The grey-and-white idea is minimalistic and helps create an elegant look for your bathroom.
We tend to neglect the bathroom when it comes to home upgrades so this is perfect for a quick fix.
2. A statement wall with light wood additions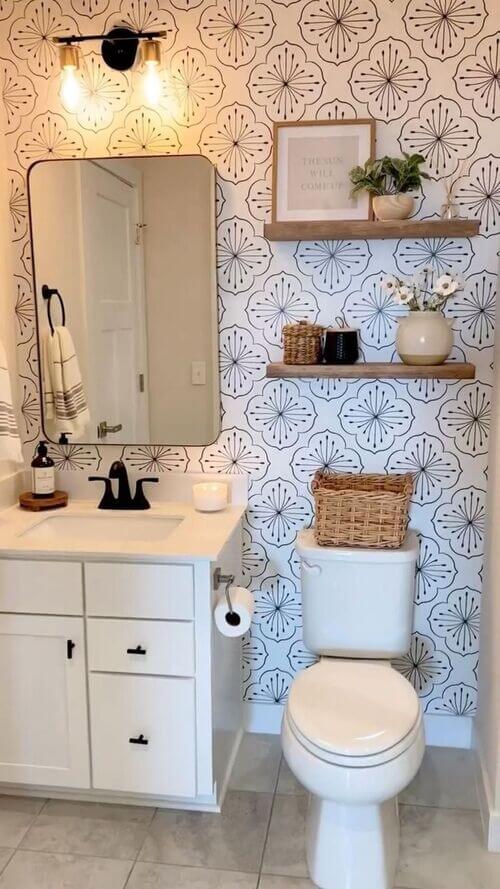 A statement wall can go a long way. By using some wallpaper (which is easily changeable), you can create the bathroom of your dreams.
Add some light wooden shelves, gold accents, as some mood lighting to brighten up the space.
You can also include some small decor pieces like plants, art, and woven baskets.
3. Moody greens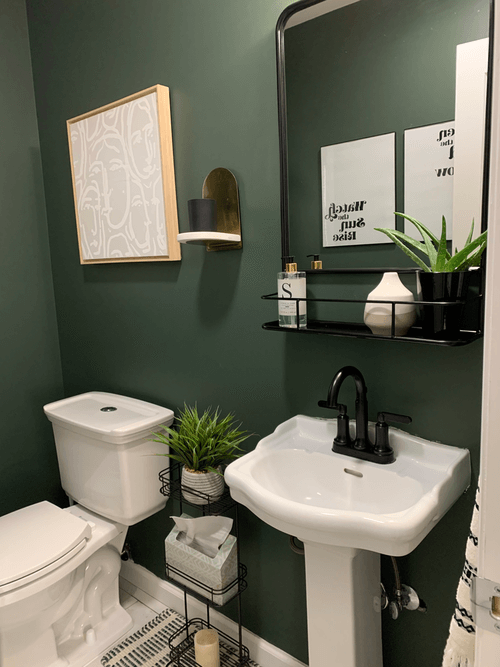 Don't knock on this idea till you try it.
I know most of you associate a bathroom with a very light and airy look, but going for a moodier look is perfect for a new bathroom upgrade.
Dark green works great with simple white touches.
You can also include some light green colors to break the heavier tones.
4. Gold, white and dark colors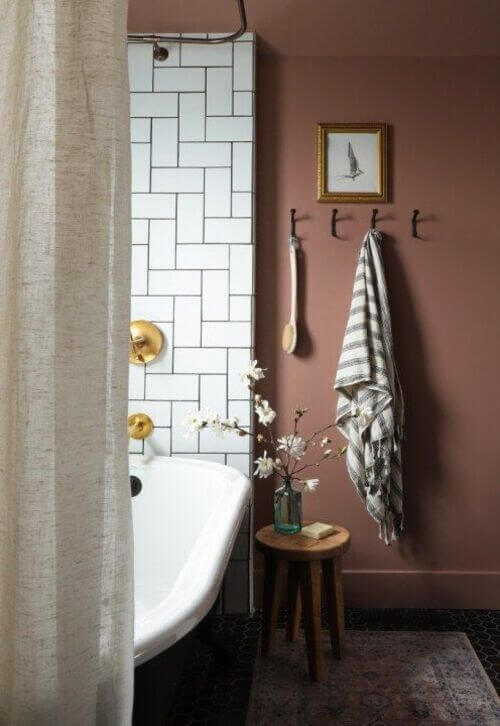 If you have a bathroom that incorporates tiles with some gold fixtures then you can go either way with the color scheme.
Maroon or terracotta works great to balance out the bright colors with something a little more subtle.
You can incorporate some wooden decor pieces and flowers for an added personal touch.
5. Classic white with a simple accent wall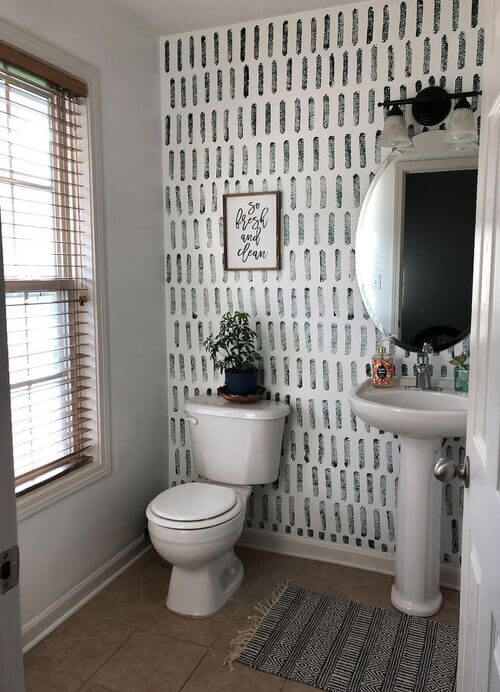 Stick to the basics with black and white.
Make use of wallpaper to bring in an accent wall, quotes, or wall art to bring a fun extra touch to the room.
You can also keep to the color scheme by painting the planters black or using grey rugs.
6. Mood lighting and floating shelves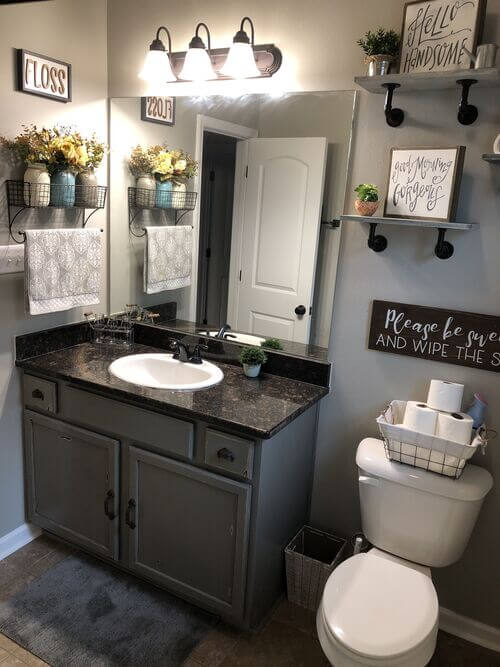 Bring a farmhouse look into your home by making use of quotes, floating shelves, painted mason jars filled with flowers, and some extra plants.
It's a gorgeous idea that brings a personalized touch to any room.
You can also include mood lighting to brighten up the room.
7. Light blue walls and greenery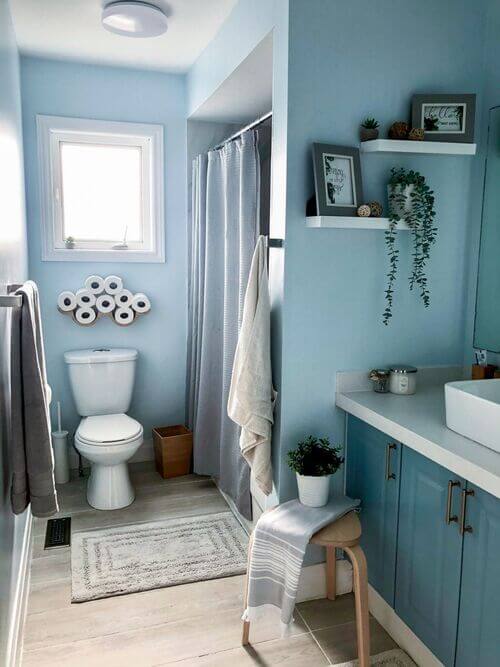 A room that makes use of blues will instantly make you calmer and bring a bright look to the room.
You can incorporate some floating shelves filled with photographs and plants to give a nice natural look to the room.
It pairs well with light wooden accents.
8. Bring in accent wallpaper
If you have a small space to work with then you can make use of an accent wall to make the space look larger.
You can add floating shelves if space is an issue so you don't have to worry about using too much floor space.
Add only the necessities so that you don't feel like you're wasting space.
9. The minimalist Oasis
Keep things natural.
The oasis aesthetic brings a more natural look to the bathroom.
The light wood decor pieces, paired with golden accents and a bunch of plants create a bright and energetic atmosphere.
It's a simple aesthetic that goes a long way if it's done correctly.
10. Forest green and gold accents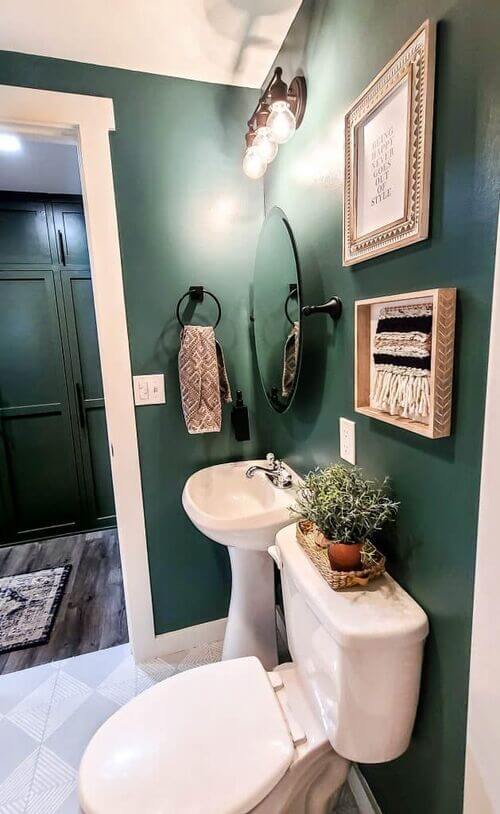 Forest green isn't everyone's cup of tea, but it creates a creative and stunning bathroom idea.
You can pair the moody color with gold and light wood accents to ensure it doesn't seem too intense.
Change up the mirror and include more lights to ensure the room still gets a good amount of lighting.
11. Paint and wallpaper split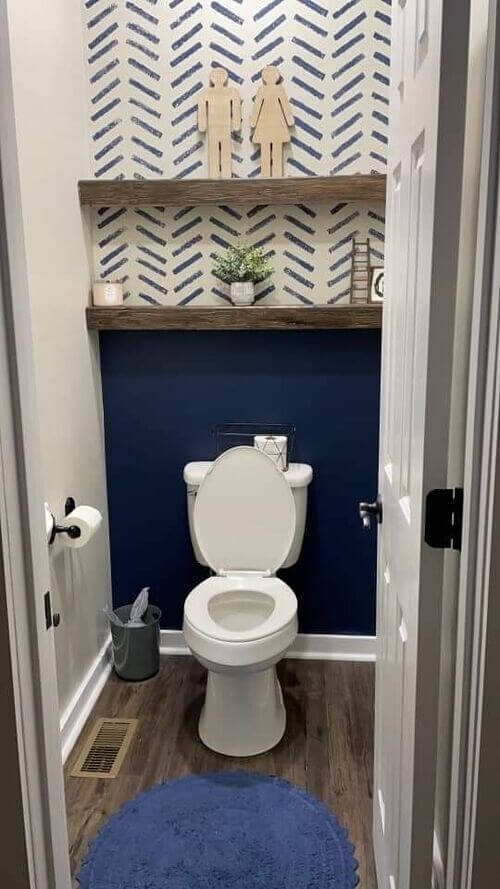 This split wall idea incorporates a few floating shelves to split the color themes.
Using a dark color underneath and then adding some wallpaper on the top part creates the perfect accent wall.
The shelves allow you to use less floor space as well, making it optimal for a small bathroom.
12. Sage green and wall art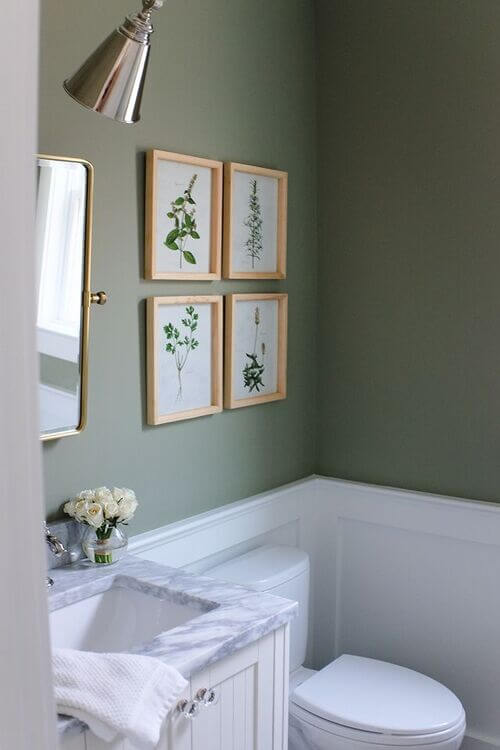 By incorporating the wood panels on the bottom, you can create the effect that makes the bathroom look larger.
Paint the walls with sage green and add some golden accents, such as on the mirrors, or even add some light wood frames for the wall art to make things bolder.
13. Gold, green, and white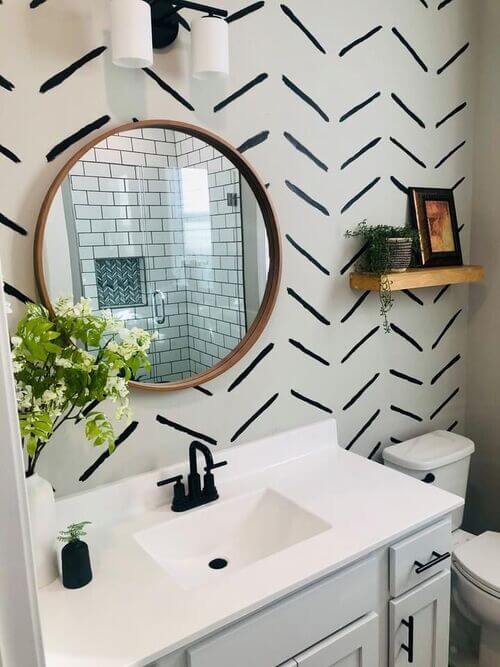 If you can afford to DIY an accent wall then you can always opt for this simple idea.
You can keep the walls light grey or even white and paint some black stripes on them to create a zigzag pattern.
Add some greenery and bronze accents for a unique touch.
14. Dusty pink and copper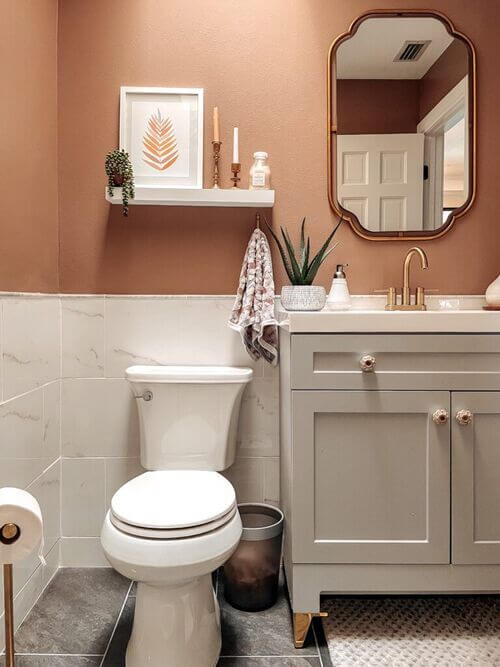 Marble and dusty rose to create a warm and elegant aesthetic.
While this idea isn't exactly popular, it is sure to bring a new idea to mind.
You can add some copper accents, such as mirrors and candle holders, as well as cute decor pieces.
You can add pink and white items to balance out the colors.
15. Floating shelves and wall art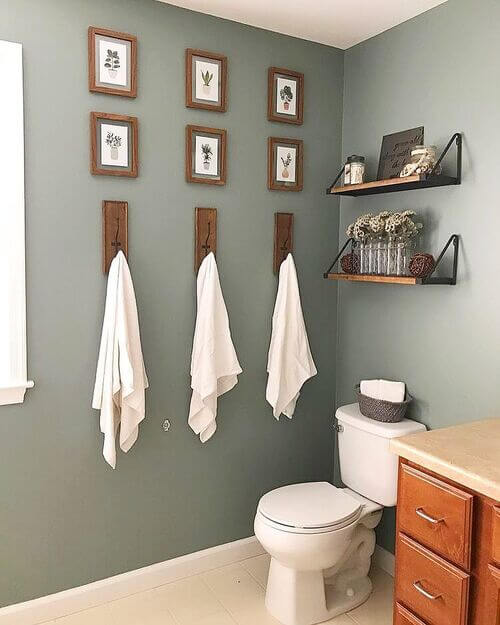 This sage green color works perfectly with some dark accents.
Simple additions such as towel hooks, art pieces, and floating shelves allow you to fill up more space. This idea brings a balanced look between dark and light.
16. Dark green and mood lighting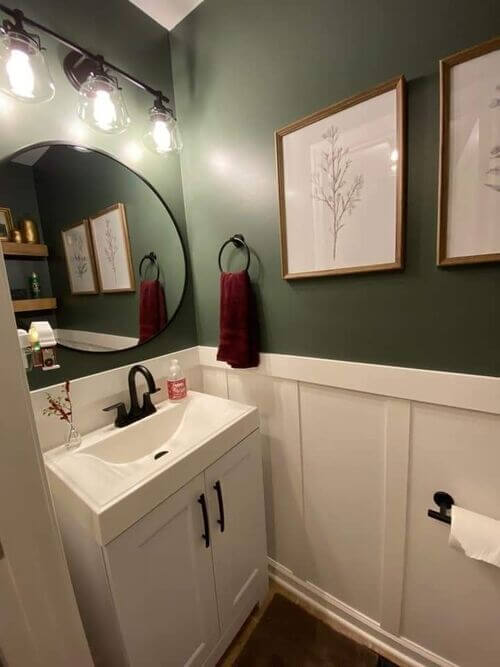 This idea incorporates wood paneling as well as dark green allowing the perfect balance for this simple bathroom idea.
You can include some golden art pieces and even some Edison bulb lighting.
You can never go wrong with extra lighting in the bathroom.
17. Monotone blue theme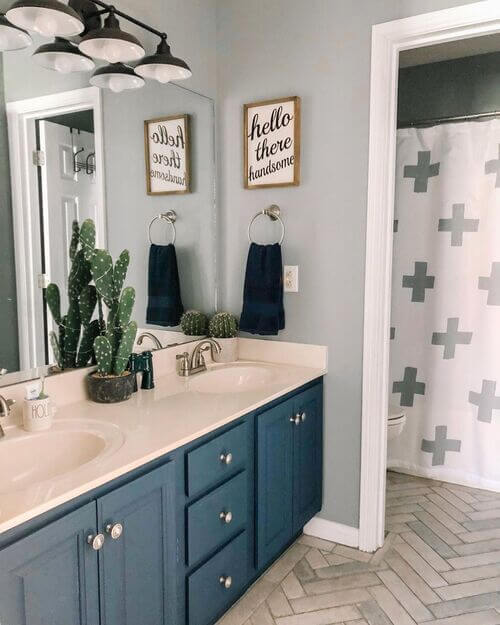 Create a calm and relaxing atmosphere by using different shades of blue in the bathroom.
This color brings the soothing atmosphere of a spa right to your home.
You can include some succulents and cacti for an extra color.
Gold can also help you bring a bold touch to the room.
18. Floating shelves, and wooden storage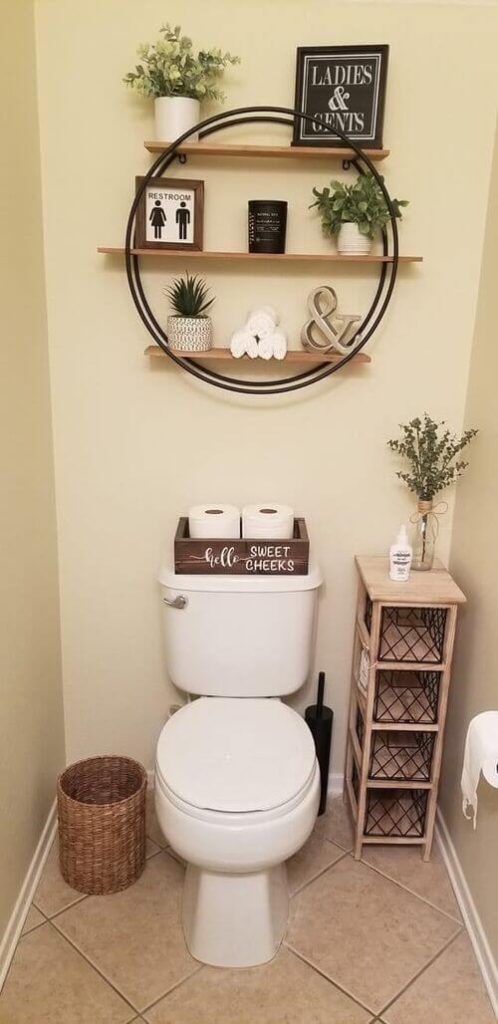 If you need a rustic look, then you can use wooden shelves, storage as well as woven baskets.
It's the perfect idea when paired with some greenery and lovely little plants that will thrive within the bathroom.
19. Gold and green aesthetic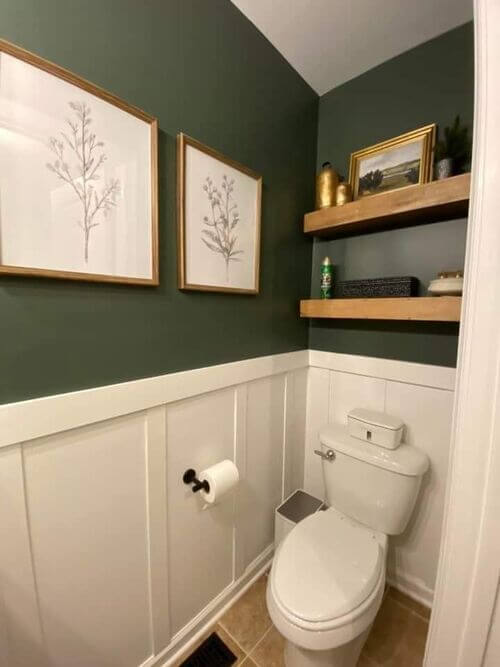 Keep things simple by sticking to 3 colors.
Green, white, and gold offer the perfect aesthetic for a rich and moody atmosphere.
Paint the shelves gold to ensure that there aren't any random colors sticking out.
20. Grey and white paneling

If you want the fun paneling idea without committing to the wooden backdrop, you can always opt for this painted look.
Coating the panels in grey not only makes this look modern but also brings in a unique accent wall idea.
Choosing a bathroom idea
Your bathroom's paint color and wall projects are crucial in shaping the overall aesthetic and ambiance.
Whether you prefer a tranquil spa retreat, a vibrant energy hub, or a timeless and elegant space, there are plenty of options to consider.
Explore different color palettes and wall projects to create a bathroom you'll love and enjoy.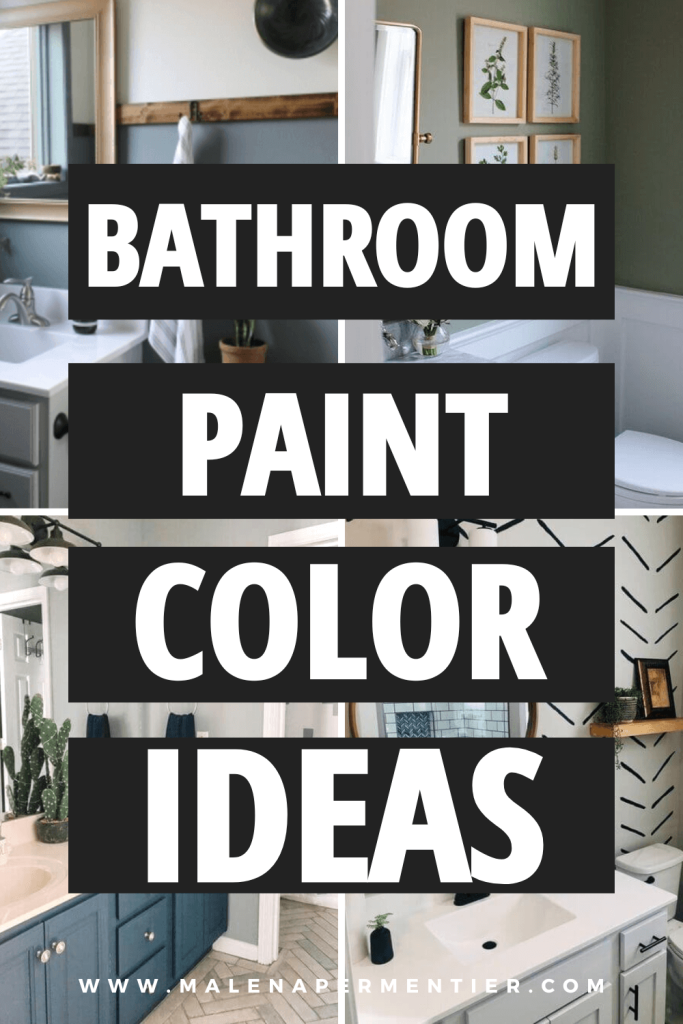 This post showed you the best bathroom paint color ideas.
You may also like: