This post shows you the best decorating ideas for bathroom counters.
Thinking of doing a little redecorating? We get it.
You just need that perfect color scheme or new gold fixtures.
Well, if you've been stuck on finding the perfect way to decorate your bathroom (whether small touches or full revamps) look no further.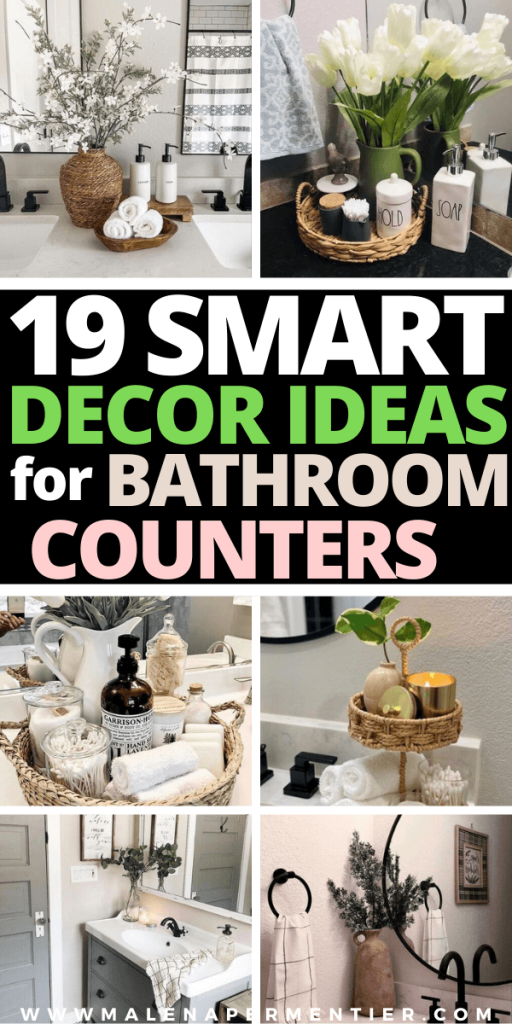 Bathrooms need special treatment
Just because it's a bathroom doesn't mean you shouldn't give it the same amount of love as any other room in your home.
A bathroom is one of the best places to let your creativity flow.
It's a personal space that allows you to customize it to your every need without any issues.
How to start decorating the space
So where does one begin to decorate? Here are a few tips to keep in mind:
Always triple-measure the space (trust me on this one)
Choose your aesthetic (find a fitting theme to follow)
Pick your color scheme (stick to 2 or 3 colors max when deciding)
Change your lighting (mood lighting makes all the difference)
Find a fabric that fits the aesthetic and can be easily reused
As soon as you've got these few things covered, you're all set to start redoing or decorating the bathroom. It all depends on your budget.
What to change up
Before we dive into the list of fun decor ideas I have one more thing to add.
When in doubt about what to change up, here are a few things that can easily be removed or added to create a big change overall:
A fresh coat of paint (whatever feels a bit outdated can be painted)
Replace hardware (cupboards, fixtures, or anything that doesn't fit the aesthetic)
Stick to white fixtures (this allows you more opportunities while decorating and will save you a bunch of money in the long run since it can be paired with anything)
Add mood lighting
Add new pieces (either add a rug or some new window covers)
Plants, plants, and more plants (eucalyptus is great because it provides health benefits)
Make use of removable wallpaper (easy to remove or swap out)
Photo walls (have some fun family pictures in the bathroom or even simple art)
Decor ideas
Without further ado here are the wonderful ideas that you can try out or use as a guideline while decorating your bathroom.
1. Greenery and wood decor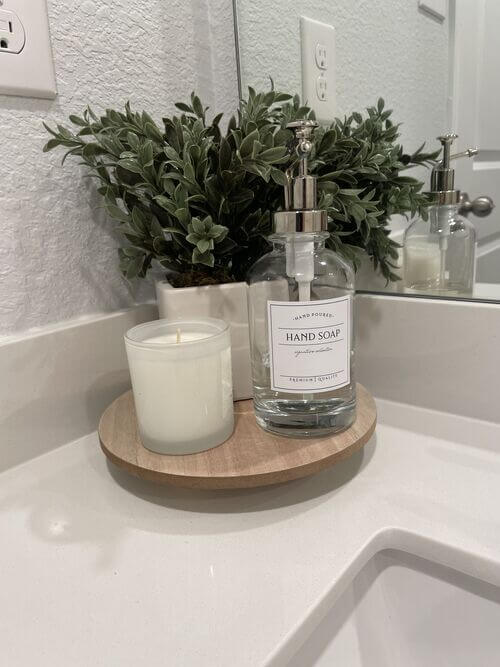 A simple way to bring some color to the bathroom is by making use of plants or wood accents.
You can create a simple stand with candles, hand soap as well as some cute plants.
It is a quick and easy way to decorate an empty bathroom.
2. Dark accents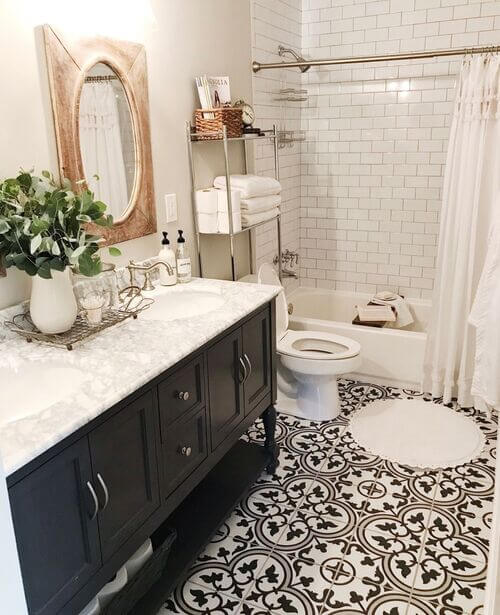 The best way to switch things up is with a fresh coat of paint.
For example, this charcoal, black and white scheme gives things a vibrant look, and when paired with gold accents it makes it pop.
A gold mirror, racks, or even shower curtain hanger can work perfectly with dark-colored paint.
3. Keep things neutral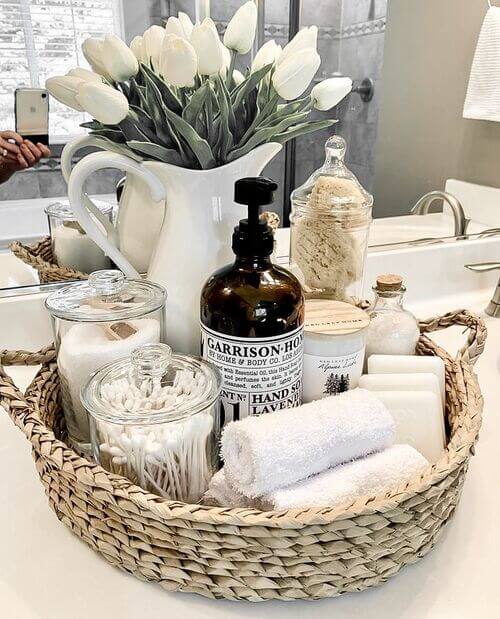 Bring in the Tulips. These flowers are the perfect addition to a bathroom centerpiece.
Place some soap, cotton buds, and floss. Bring in the basics, such as candles, hand cream, and small towels.
It's a simple decor piece that is also budget-friendly making it perfect for a new home owner.
4. Eucalyptus for the win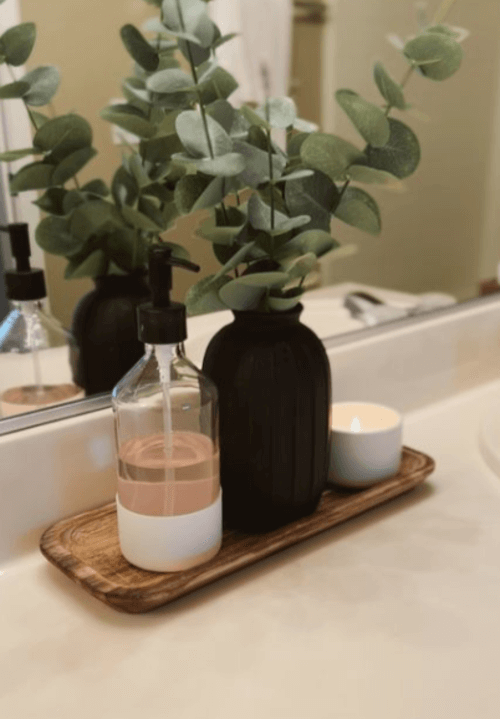 Eucalyptus has added health benefits such as pain relief, reduce stress, help with respiratory issues, and sinusitis.
It's the perfect bathroom plant since it doesn't mess.
You can either place it on the counter or tie a bundle to the shower to ensure your plant gets enough water with minimal effort.
5. Change up the mirrors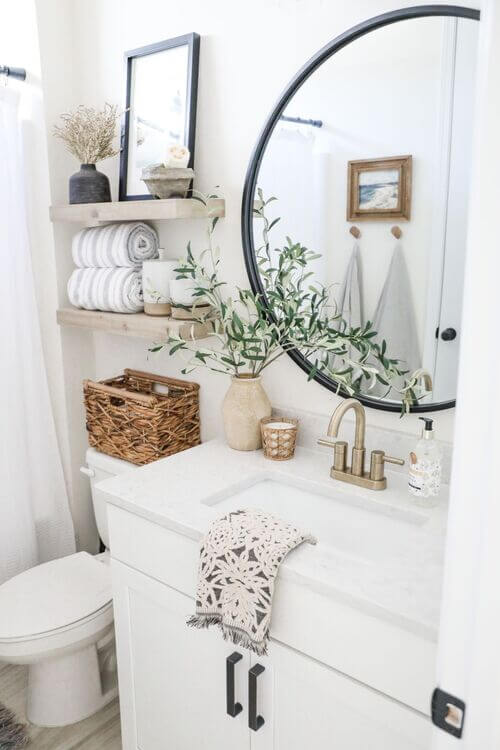 If you're getting tired of the same old things then it's time to switch things up.
A fun circular mirror, wall art, fresh towels, and some woven baskets can surely bring some life to a dull bathroom.
It requires minimal effort and looks elegant. Try matching things to the accent colors so that the room doesn't look like it has too many different colors bouncing around.
6. Add a pop of color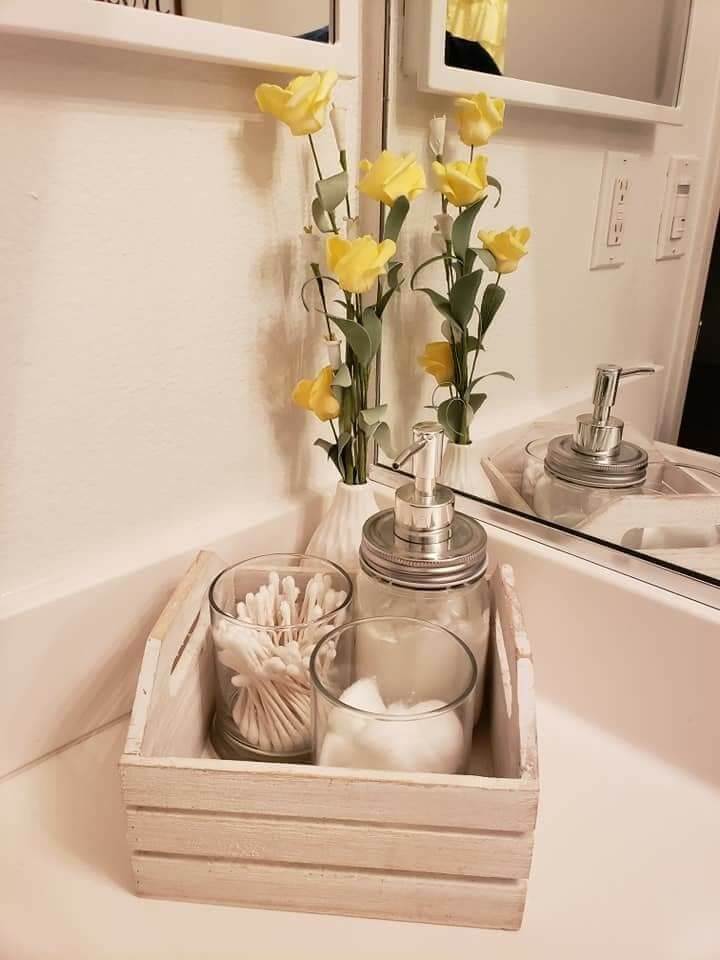 Add some colors to the mix.
A neutral color scheme can sometimes feel like it has a simple tone to it, so add some bright flowers for example pink, yellow, or purple flowers to the counters.
You can keep them in a wooden tray with all your other goodies or set them apart.
7. Greenery and candle settings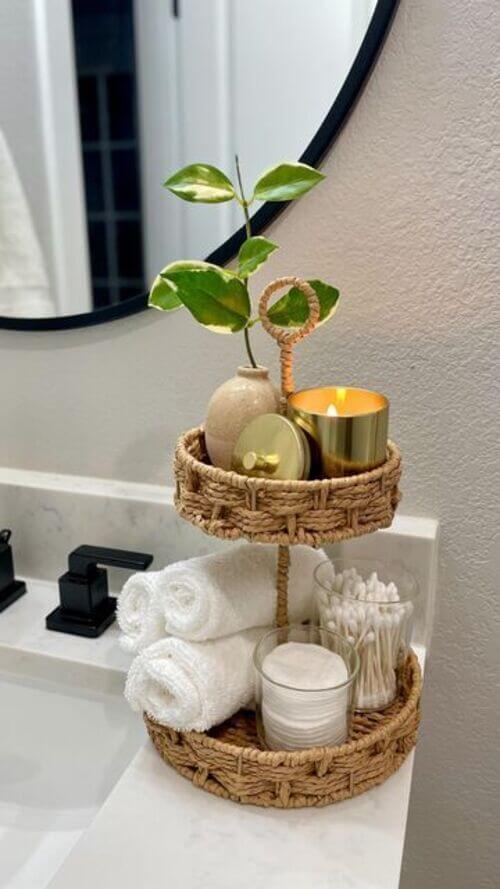 A quick and simple way to bring some color to the bathroom is by making use of neutrals or natural colors.
The 2-tier woven basket is perfect to hold all your bathroom essentials.
The top tier doesn't need much; a simple candle and cute plant can help for decor purposes, while the bottom tier holds towels and other necessities.
8. Grey and white aesthetic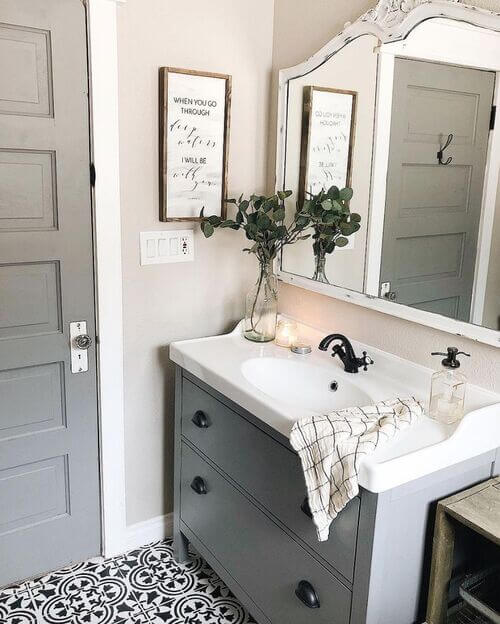 Bring out the paint. It's time to bring out a bold color.
When trying to freshen up a space the best thing you can do is add a fresh coat of paint.
Grey is perfect to balance out dark and light colors.
Add some wooden frames and greenery to the room and it will feel brand new in no time.
9. Add some wood features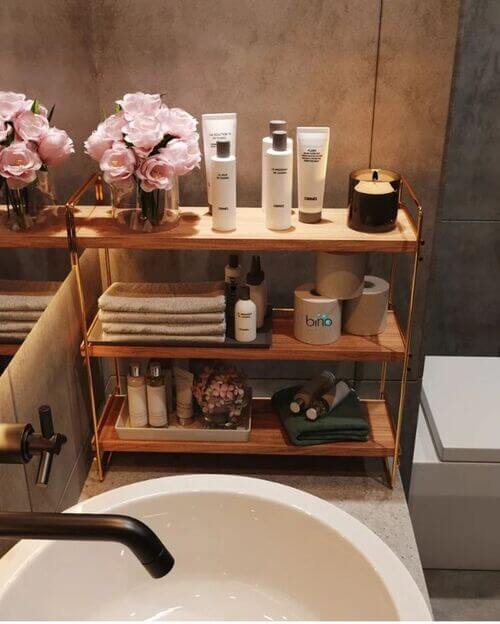 If you have limited space available then opt for this wooden piece.
It works perfectly next to a basin and can hold a bunch of goodies.
Fresh flowers, creams, soaps, towels, and whatever else you need.
It's perfect for those who love staying organized.
10. Bring in the florals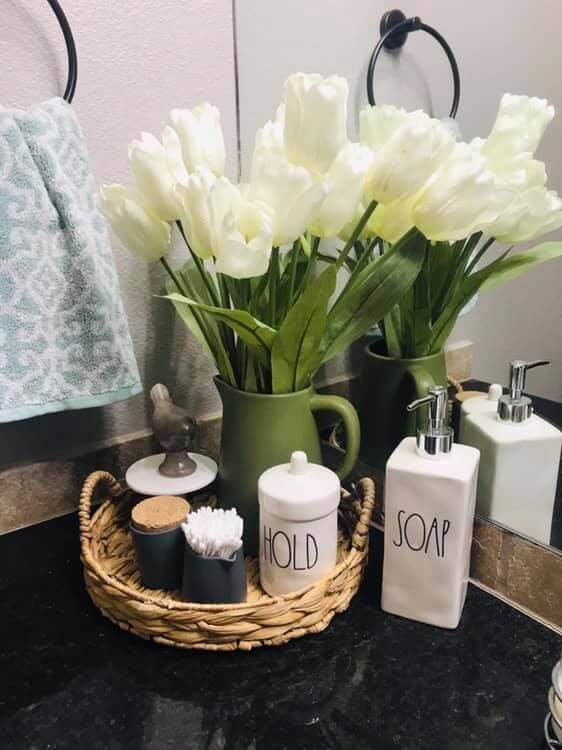 Not only does this idea showcase adorable holders for soap, but they have a distinct color scheme.
Grey, white, and green.
Whether you use a woven basket or keep things on the counter separately, it stays a cute idea.
Keep the flowers in a cute green ceramic to match the greenery of the flowers.
11. Marble and ceramics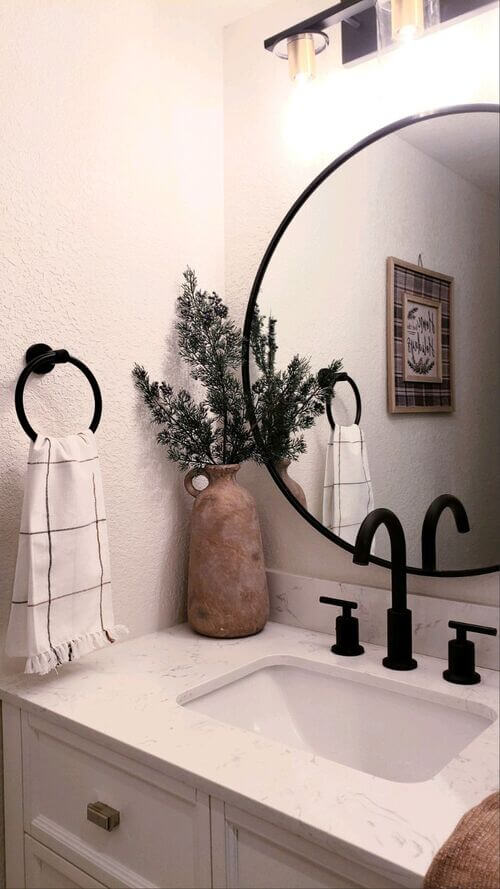 Marble countertops are all the rage. How can you pair something with a design like that?
Simple, go for some natural colors like ceramics that are not painted or towels that have a checkerboard print.
Stick to the basics to ensure you don't go overboard with decor.
12. Wooden and dark accents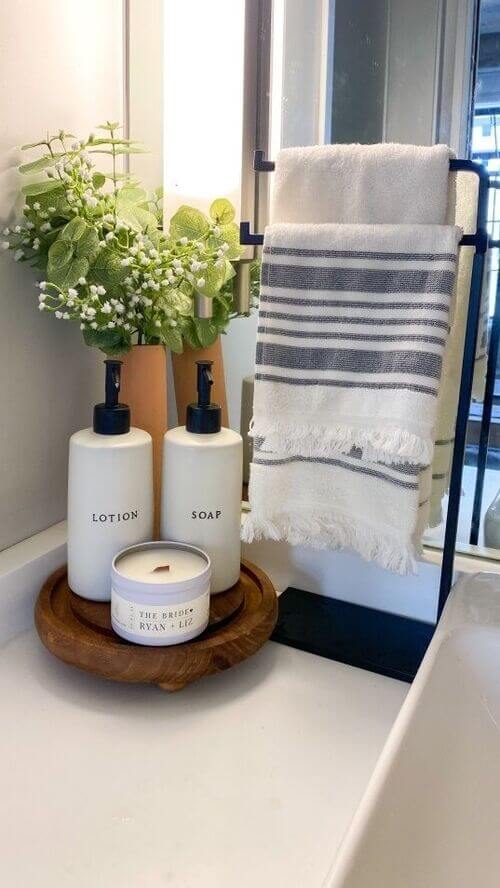 A cute idea to go with is a simple pale blue and white color scheme.
You can make use of wooden accents too since they are versatile.
Whether you're looking for a simple countertop idea or a full-on bathroom redesign it is up to you.
This idea can easily be used to fill out an entire bathroom in blue and white.
13. Simple add-ons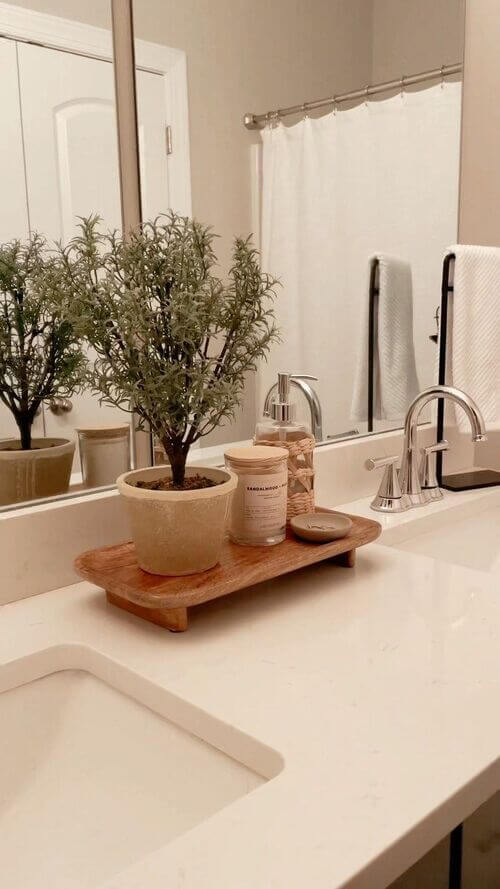 No one can say no to adding a mini tree to the bathroom.
It's fun and a cute addition to any room.
Place all your necessities onto a wooden board or plate and keep it on the counter for easy access.
This idea just goes to show that you don't need much to decorate a room.
14. Replace cabinets and lighting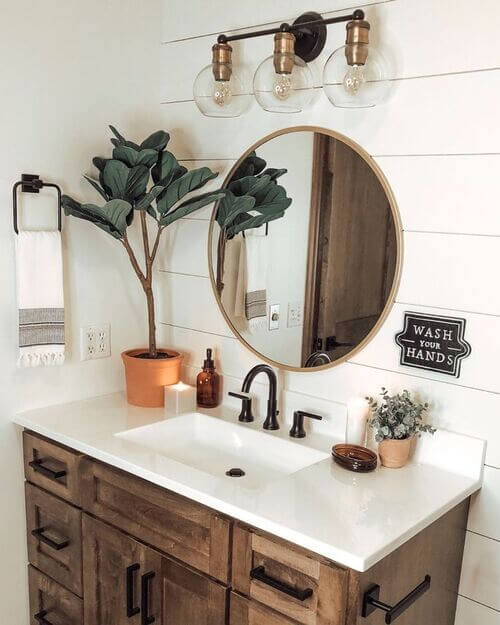 A rustic approach can make all the difference. Dark wood gives the atmosphere a cabin feeling that can help you relax.
Pair it with some orange planters, a golden circle mirror, and some mood lighting.
Replace your big overhead light with these small ones.
It helps warm the room and provides better light before the mirror.
15. Tabletop storage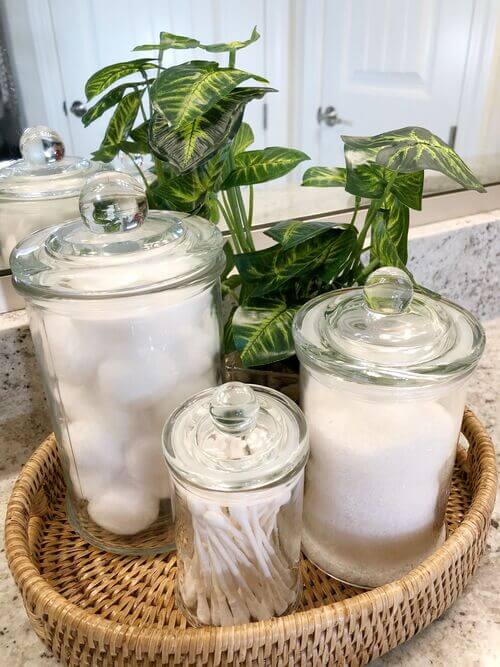 Keep things simple. A woven basket filled with all your items is just what you need.
While this might seem a little basic it's perfect for someone who wants a quick fix in the decorating department.
Jars filled with cotton pads, q-tips, and toothpicks work great for taking up minimal space.
16. Art and ceramics
A bathroom can feel a little bland. So here's one way to fill up those empty walls.
Line art has become increasingly popular and is the perfect addition to any bathroom.
You can even get some new fluffy towels to fit the neutral theme.
17. Woven table pieces
Skip the simple ceramics and opt for these woven baskets and jars.
They add a rustic feel to the bathroom, and pairing them with white pieces such as flowers and soap dispensers it can create the perfect neutral look.
18. Towels, greenery, and storage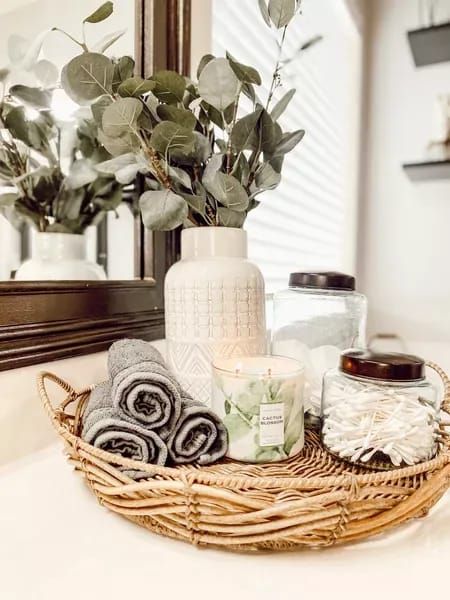 Green, beige, and white offer a nice combo for any bathroom.
Eucalyptus and dark green towels are a nice way of bringing color to the bathroom.
This idea works well for plant lovers and minimalists.
19. Gold and black accents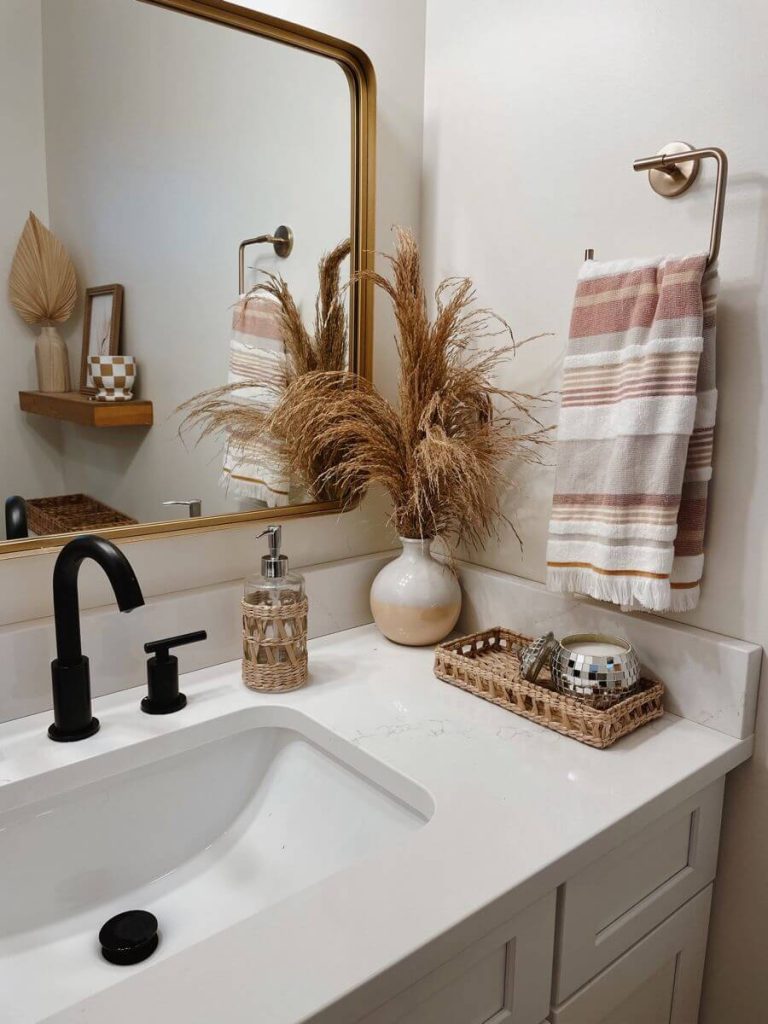 Black and gold are a color combo that is seriously underrated.
Add some pampas grass for texture and wooden baskets for extra storage space.
Bathrooms need special treatment
As we can see from the list above, bringing a unique touch to any bathroom is super simple.
People tend to ignore it and deem it unimportant, but they forget that a bathroom can sometimes become a place of relaxation, self-care, and peace.
So, don't ignore it. Try something new to brighten up the place.

Or redo it all. Whatever you decide to try just make sure it fits your needs (and triple-measure everything… trust me) and enjoy the process of bringing your ideas to life.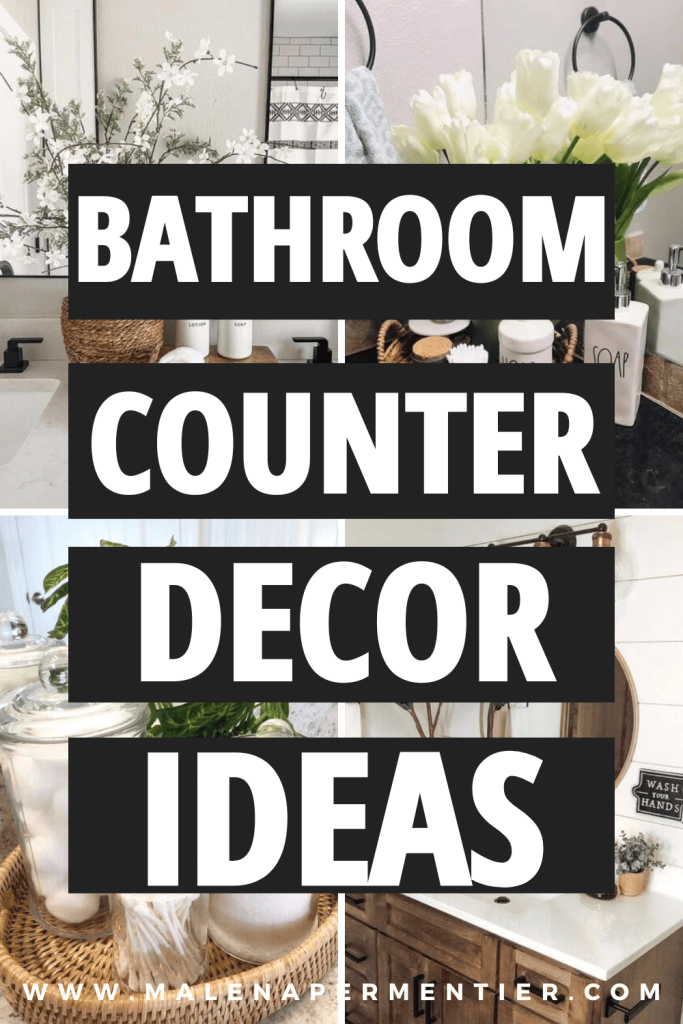 This post showed you the best decorating ideas for bathroom counters.
You may also like: