This post shows you the best decorating ideas for graduation party!
Graduation parties are one of the most essential parts of the whole experience.
Finally being able to say "I made it!" and enjoy the night with friends.
It's cause for a celebration, so how do you prepare? Don't panic; we've got you covered with all your decor needs.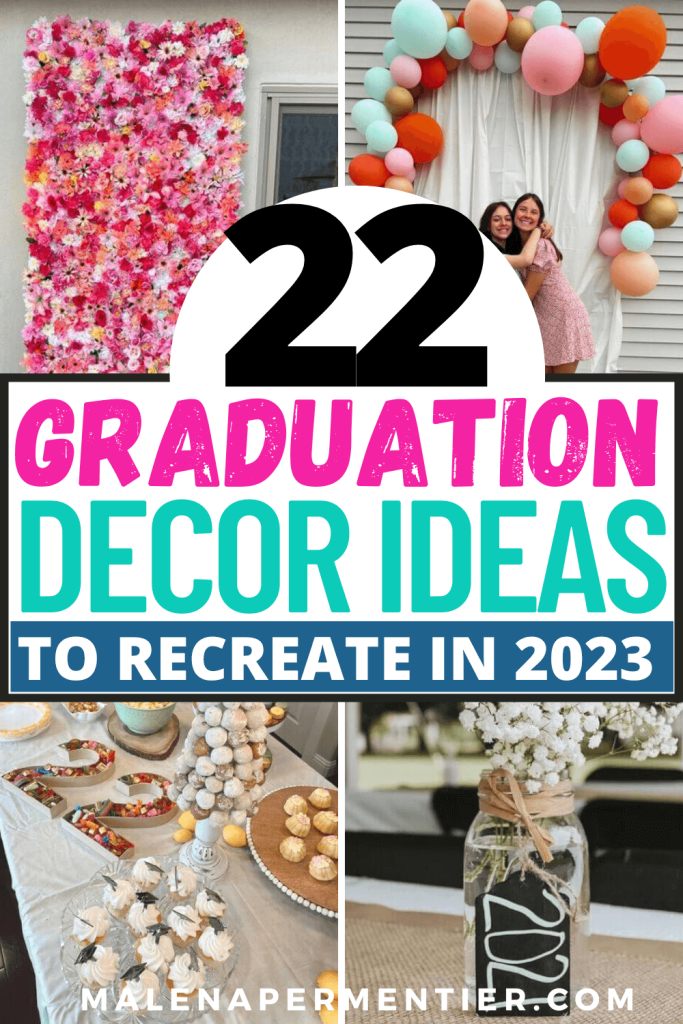 Simple decor tips
We all need a tip on decorating sometimes.
Not only do you need to pick a theme, but also some fun additions.
So here are a few to keep in mind as you decorate for the big occasion.
Fun yard signs
Have a photo booth
Grab a party entrance sign
Don't ditch the classic decor
Have a full-on dessert table
Have simple centerpieces
Get a cake (You deserve it!)
Get party favors
Have accent tableware
Make a guestbook
You don't need to add these ideas or tips to your list, but they will elevate your decor and party in general.
Unique graduation party locations
Not only do you need the perfect decor, but you need a location to set the mood. Try something fun and out of the box to lift everyone's spirits.
Backyard party
Beach party
Lantern send-off
Park party
Rent out a restaurant
Pool party
Wherever you decide to host this exciting party just have fun.
It's the start of a new chapter for you and your friends, so make it count.
Without further ado, let's jump into the genius ideas that I've compiled for you.
1. Pastel balloon photo booth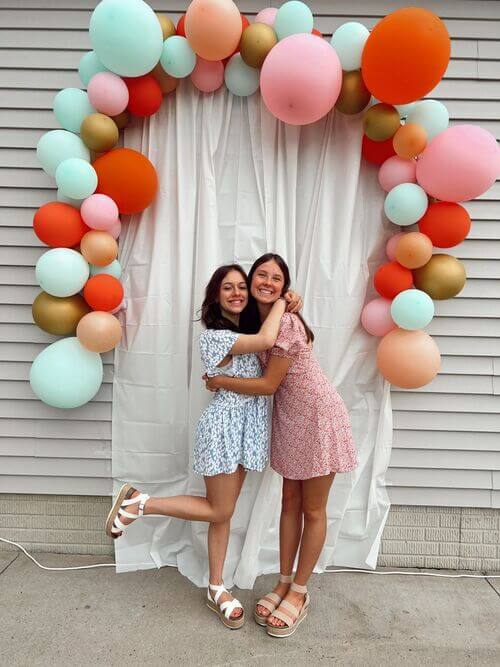 This simple fabric background with a pastel balloon arch is a simple and cute piece of decor worth a try.
It's a budget-friendly idea and can easily be adapted to any theme.
It's also sleek and works as a quick fix if you want to take cute pictures.
2. Flower wall photo booth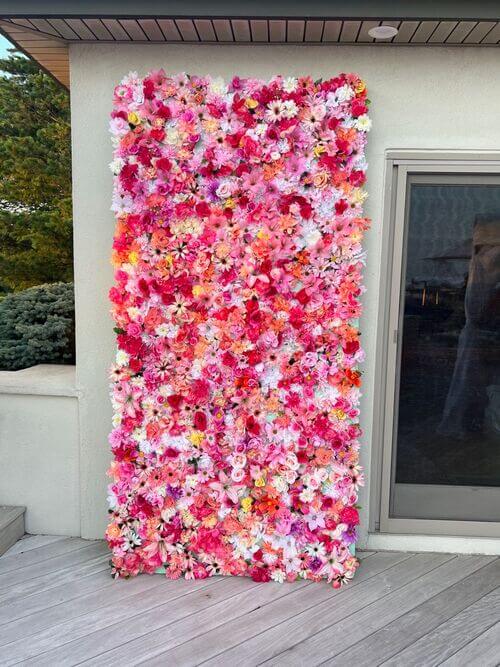 We need some flower power to enhance the day!
This cute Pinterest-worthy photo booth can easily be recreated.
Firstly, grab some big pieces of styrofoam and tape them together.
Then arrange some of your favorite fake flowers over the board.
You can either use glue to secure them or just push them through the styrofoam.
It's great because it can be used multiple times, or you can keep the flowers to place around your home.
3. Polaroid wall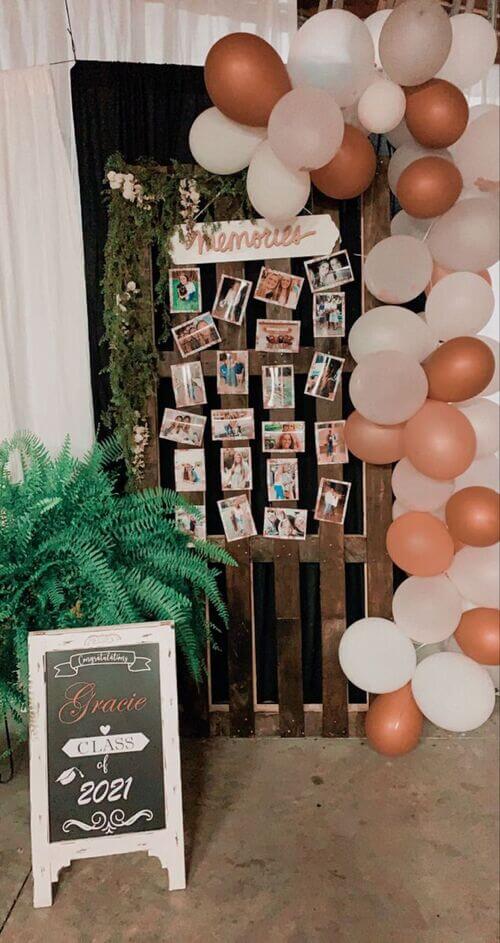 Don't be shy to pull out that camera.
You should have pictures to show every memory made.
This idea allows you to showcase all the fun you had throughout the year.
Whether that be with friends or family it should be pinned to the board.
Use wood pallets to show pictures and pair them with balloons that stay on theme with their colors.
4. Dessert table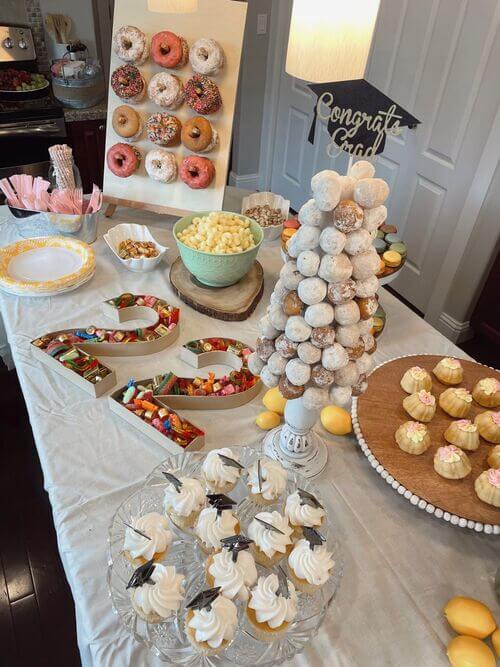 Is it a graduation party if you don't have a dessert table?
With donuts, cupcakes, and all your favorite sweets in one place, what more do you need?
You don't need much to tailor the party to a specific person, but it never hurts to add a cute graduation cap decoration to a cupcake or put all the sweets in the numbers of the graduation year.
It's the simple things that have the biggest impact.
5. Wildflower centerpieces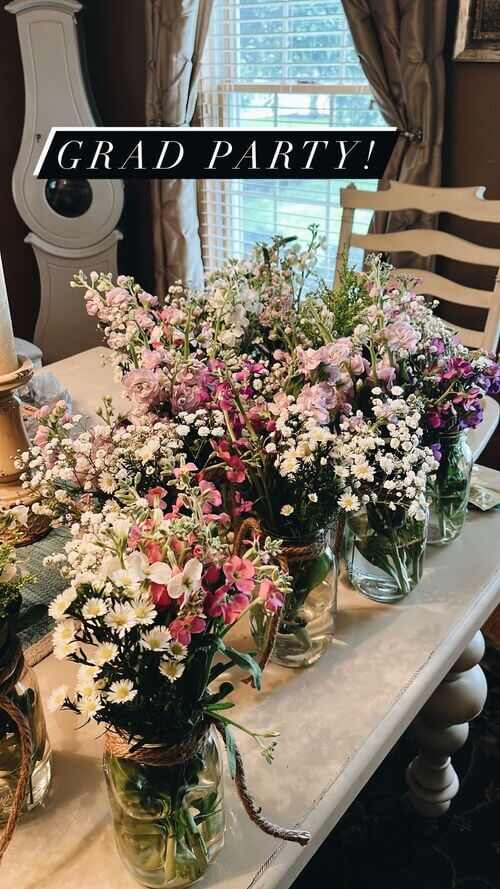 Keep the centerpieces simple. Wildflowers make the perfect decor pieces.
They add a fun pop of color and keep things natural.
This is a great idea because you can easily reuse mason jars and just wrap some twine around them for a more rustic approach.
This is a quick and budget-friendly idea that is worth the try for a fun graduation party.
6. Hanging flower decor
These hanging flower pieces are simple to make.
Simply attach some flowers to the fishing line and hang them on a wall or gate.
It creates the cutest pictures and works well with any theme since it's fully customizable.
Simply add a banner, and you've got the perfect picture booth.
7. Gift table decor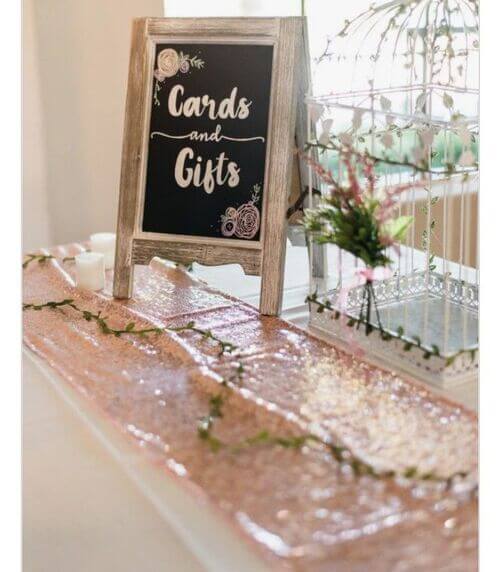 We need a designated spot for graduation gifts.
Set aside a spot for people to leave cards or gifts.
You can decorate it with some glittery fabric as a table runner.
Fake greenery, a stand that showcases what the table is for, and also some cute decorations such as bird cages.
8. Blue and gold theme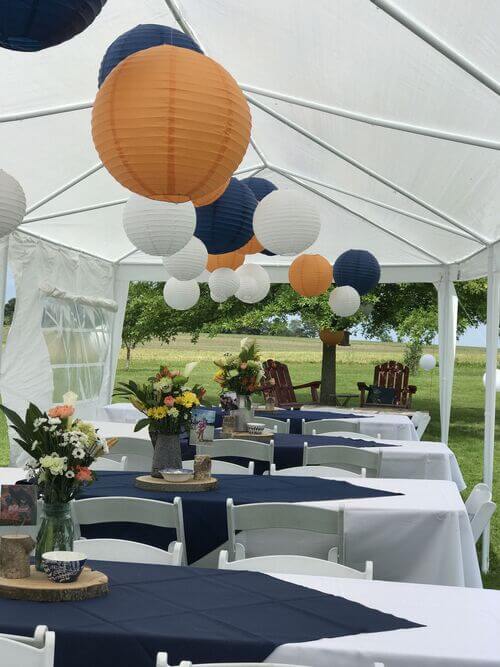 If you're unsure of what theme to go for you can always stick to the traditional white, gold, and blue.
Grab some Chinese lanterns and host a backyard party with all your friends.
It's a sleek and simple decor idea that is known as the typical graduation colors.
You don't need extreme table decor, just stick to the basics and it will have the same effect.
9. Sweet tooth table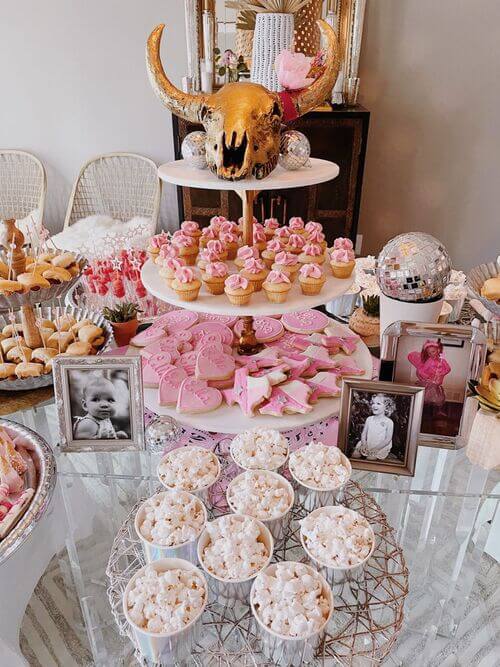 This pink and gold theme calls for sweet treats that fit the same aesthetic.
Pink cookies, mini cupcakes, and golden brown pastries.
Add some pictures of the graduate when they were young, and you'll have the cutest treat display ever.
10. DIY crate photo booth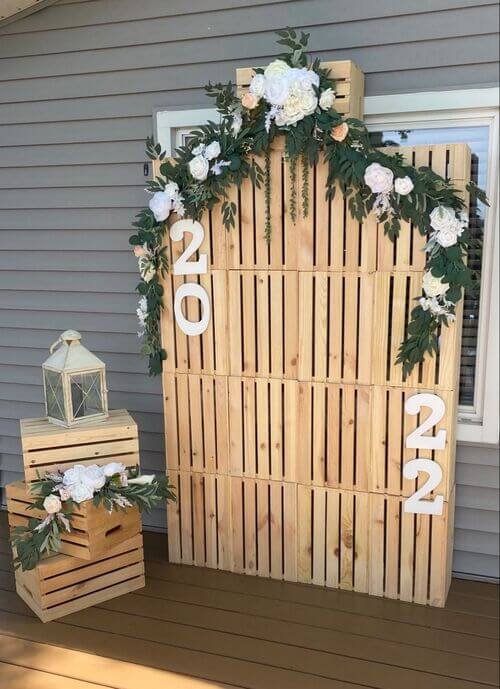 If you're looking for a DIY project for the graduation party then look no further.
Grab some wooden crates and stack them together to create this rustic-looking backdrop for pictures.
You can use greenery and numbers of the graduation year to decorate the natural wood.
It pairs well with plain white, but can easily be adapted to any theme with one or two coats of paint.
11. Grad cupcakes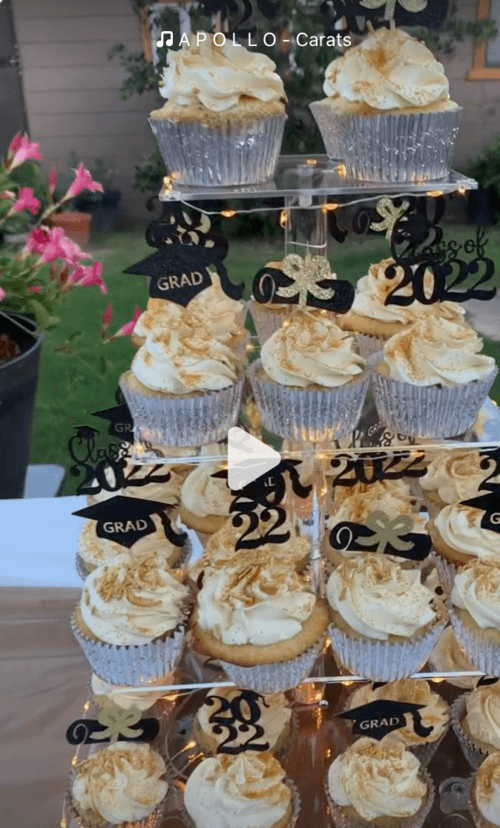 Custom cupcakes are the way to go for a graduation party.
It's easier than having a giant cake and needing to cut thousands of pieces.
Cupcakes are to best option just due to them being less messy in general.
Decorate them with the graduation year and some golden sprinkles.
12. Pink and gold theme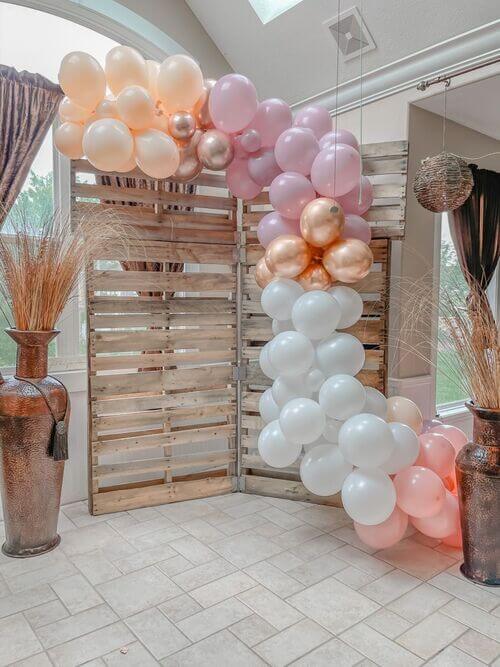 Pink and gold are the ultimate color combination for a fun party.
This backdrop has the perfect balance between rustic and elegant.
You can designate a spot in your home just for pictures and either use a Polaroid to display them throughout the home all night or place them in a memory box for safekeeping.
13. Fun and fresh cake idea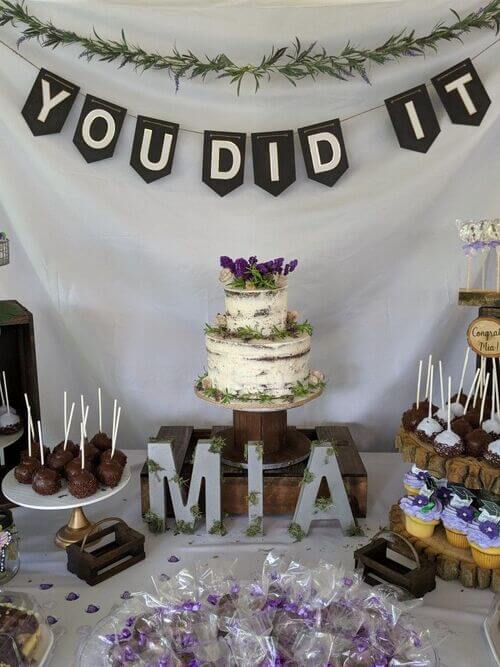 You can never go wrong with a nature theme.
This gorgeous cake is decorated with greenery and lavender flowers which fits the theme.
Add cake pops, cupcakes, and other treats to ensure that there is something for everyone to enjoy on the night.
14. Baby's breath mason jars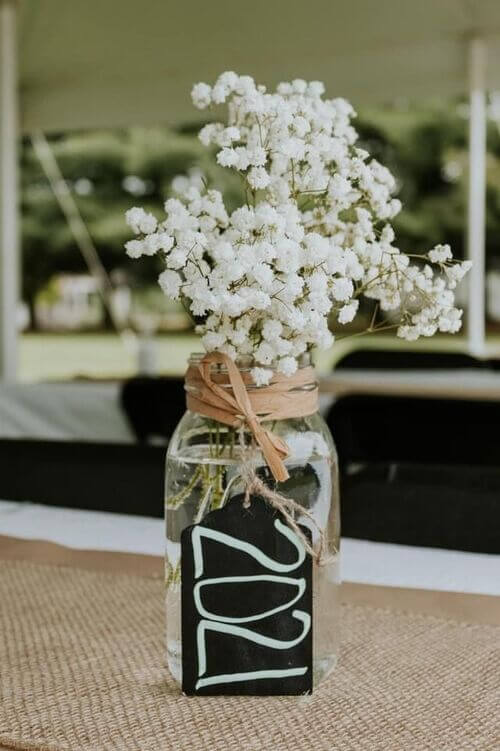 If you want a cute centerpiece idea then this might be just what you need.
Baby's breath is cute and small, making them the best for centerpieces because it doesn't fill up a table or get in the way.
You can keep them in mason jars so that you are reusing the jars instead of spending money on something that won't be used again.
15. Beige and green theme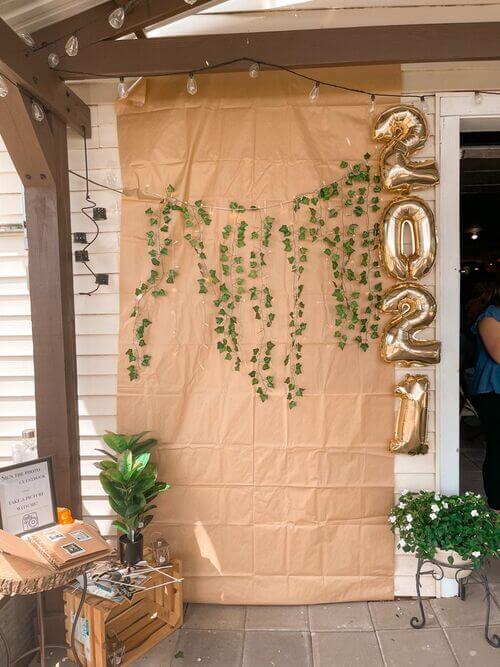 To all the boho enthusiasts out there. This is just for you.
Keeping things neutral and natural is a great way to use nature to your advantage.
You can use fake ivy as a fun feature to add to a backdrop for pictures.
Add some gold accents to ensure you have a pop of color too.
16. Personalized centerpieces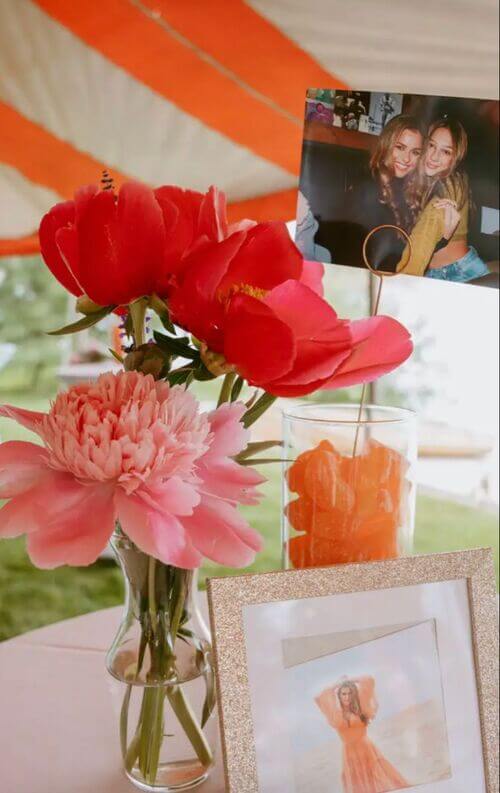 If you want a more personal touch to your centerpieces then you can add a funny or cool picture of the graduate to each centerpiece.
It gives things a unique approach.
Also, add some bold flowers to give the table just a fun energy and pop of color.
17. Gold and white theme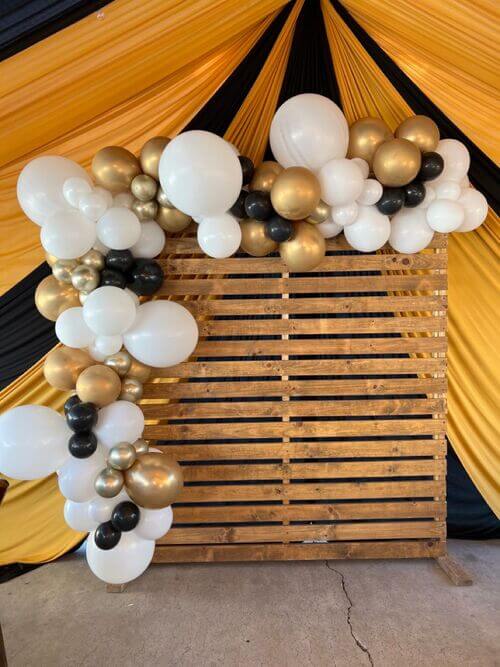 White. black and gold is another popular color combo for graduation parties.
Drape some fabric and use wood pallets and balloons for a photo backdrop.
It's a simple and budget-friendly way to decorate while keeping things bright and bold.
18. Pin a picture wall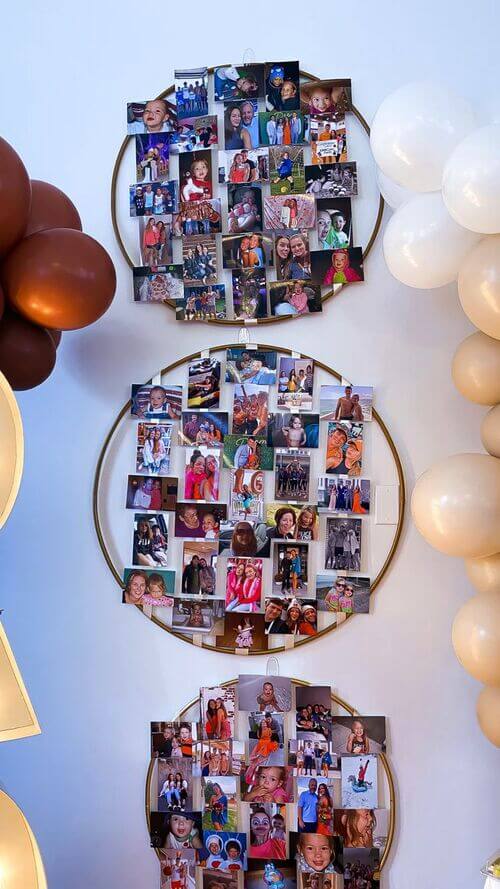 If you're not sharing a bunch of childhood pictures of the graduate at the party then how can you even call it a graduation party?
Seriously, these pictures give everyone a good laugh and let people take a walk down memory lane.
It's cute and unique and something that everyone will love.
Simply use a circular frame and add some pictures with either twine and pegs or tape.
It's a quick and easy process all together.
19. Painted mason jars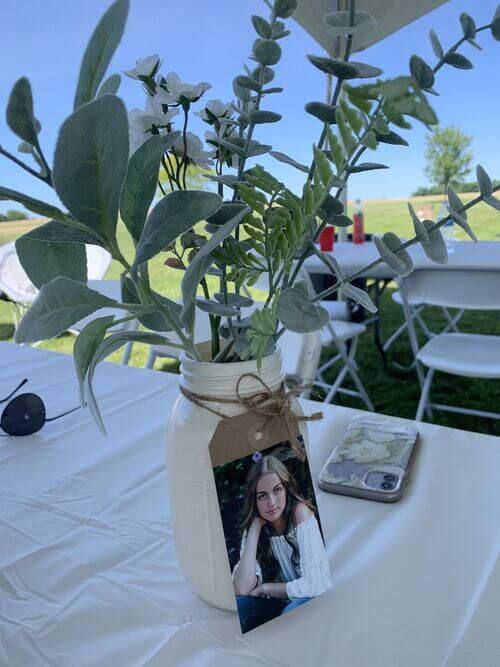 Another simple centerpiece idea is to paint mason jars and add some pictures of the graduate to tags and wrap them around the jars with twine.
Place some eucalyptus and other greenery in the jars to add some color to the table.
20. Make some memories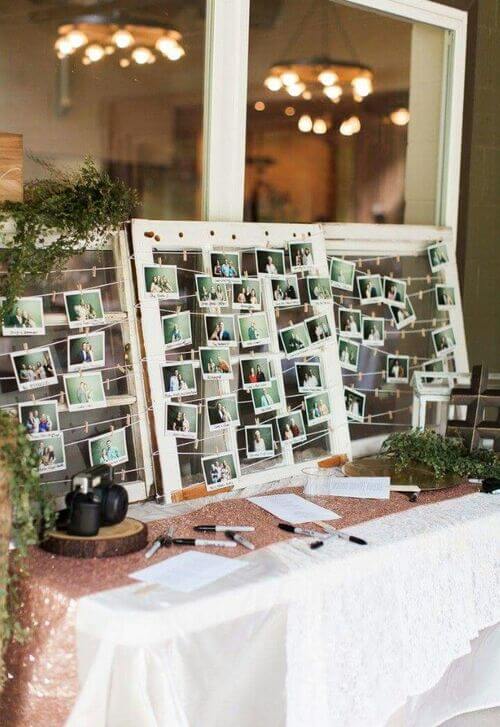 Polaroid boards are a tradition that I hope never fades.
Set a dedicated table with Sharpies and a Polaroid camera.
Get some cute pictures with your friends and attach them to the frame.
This can be seen as a memory board. Let your friends write a message so that you can keep them as keepsakes from the party.
21. Twine-wrapped jars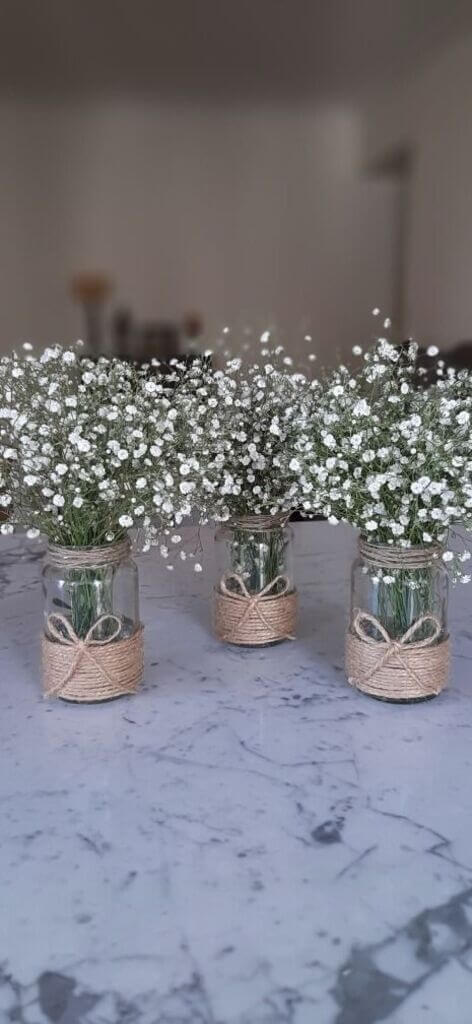 Another cute idea is easily recreated with twine and mason jars.
It's simple and makes a big impact.
This is also a perfect idea to use baby's breath with since it works well with any theme or aesthetic.
22. Picture boards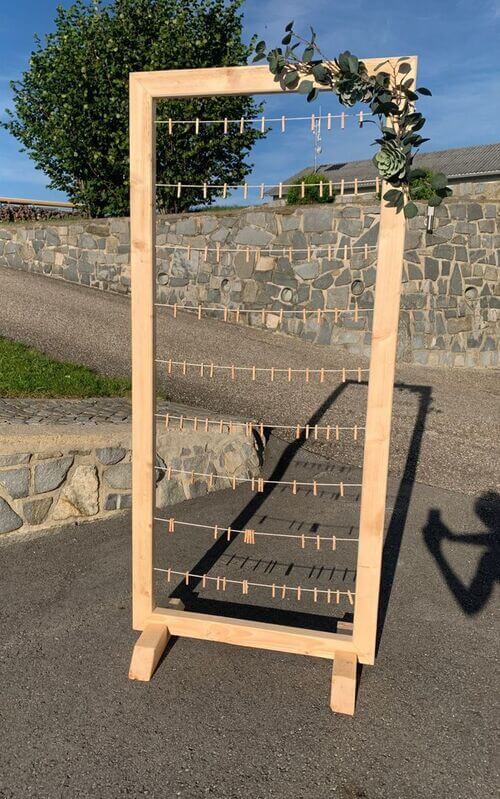 A giant memory board for all your picture needs.
You can easily make this at home, or if you're looking for an easier way to recreate it, you can just take a picture frame and add some twine to it and mini pegs.
It will give you the same effect.
Graduation decor
What are you waiting for? Grab your Polaroid, fake florals, and mason jars. It's time to get your graduation party ready!
Whether you take one of these ideas and add your personal touch, or use it as is there's a little something for everyone.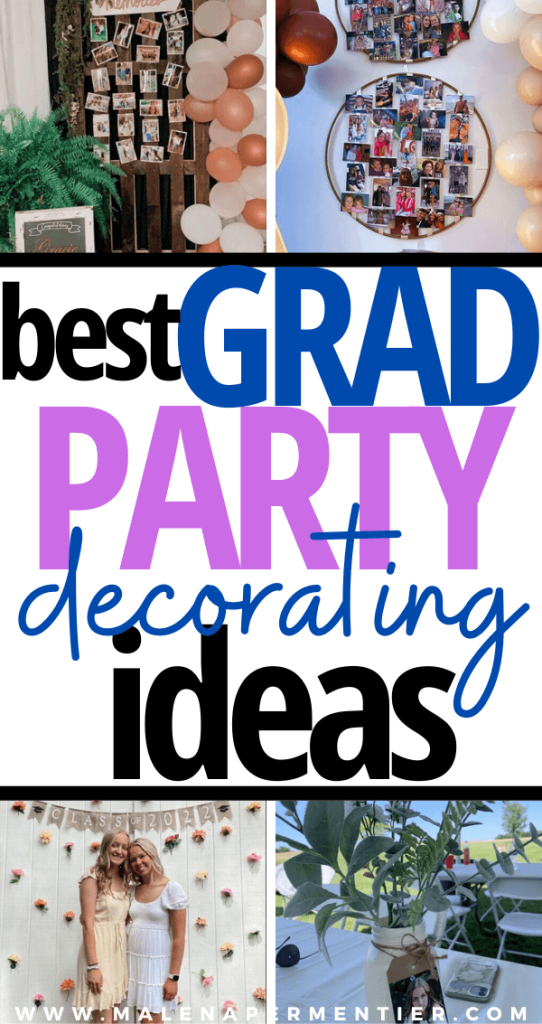 This post showed you the best decorating ideas for graduation party.
You may also like: