Are you ready to graduate? Are you desperately needing a unique party idea to spice up the night?
We got you covered.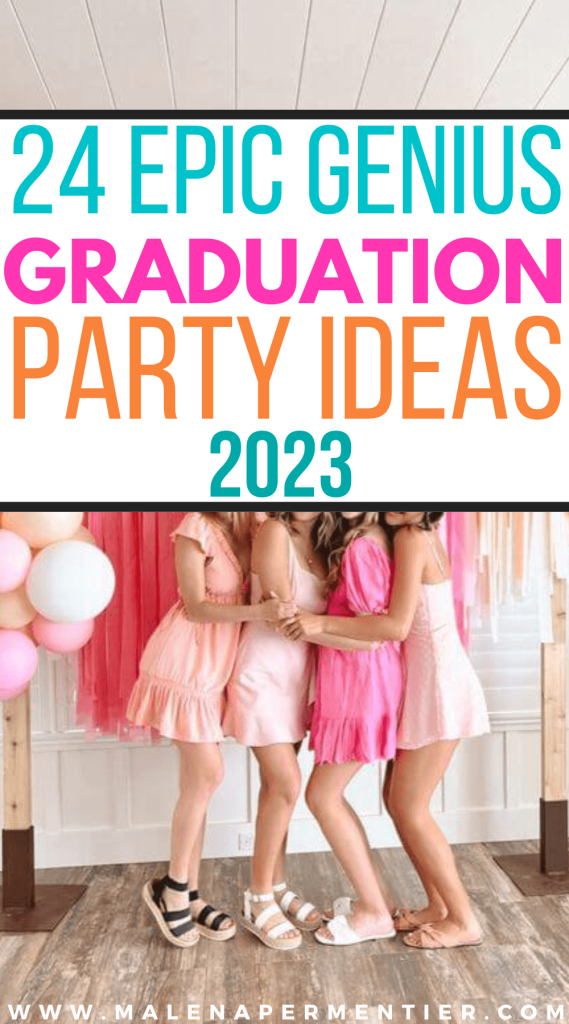 Throwing a graduation party
It's finally time to celebrate.
You made it through high school and need a fun party to celebrate the occasion with your friends.
It calls for a big party that everyone can enjoy.
Some weight has been lifted from your shoulders, and it's time to rest.
Soak up the summer sun and just enjoy every moment forward.
Places to throw a graduation party
Graduation parties don't necessarily be home.
Shake things up by changing location or even how you throw the party.
Think brunch setting or an epic night filled with laughter.
Here are some ideal places to host your perfect graduation party:
Park
Restaurant
Country club
Sports field
Backyard
Specialized venues
Just because this party is traditional doesn't mean your location has to be.
Keep things fun and enjoy the night with friends.
Graduation party ideas
Without further ado let me show you the fun ideas we have lined up.
These are sure to inspire you to create the graduation party of your dreams (without breaking the bank) and have a wonderful night all together.
1. Pretty in pink graduation party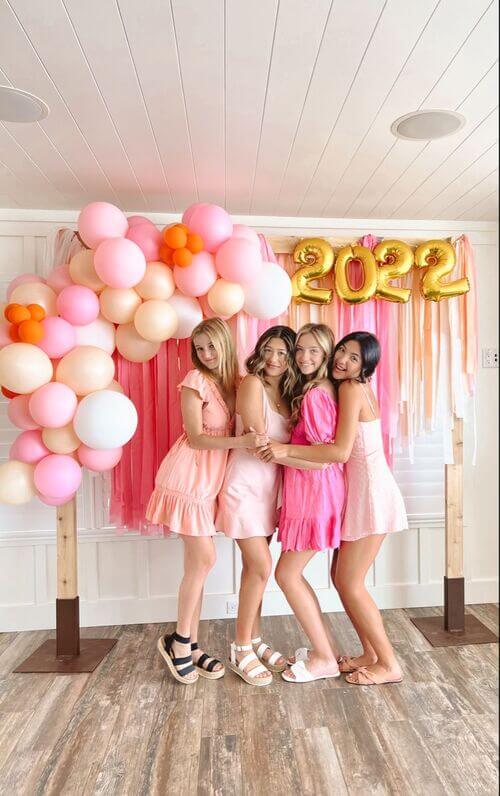 If you are looking for the "Elle Woods" of graduation parties then this is a go-to for you.
Pink balloons, dress code, or even drinks. It's a fun idea for the graduate to try.
2. Sweet treat snack station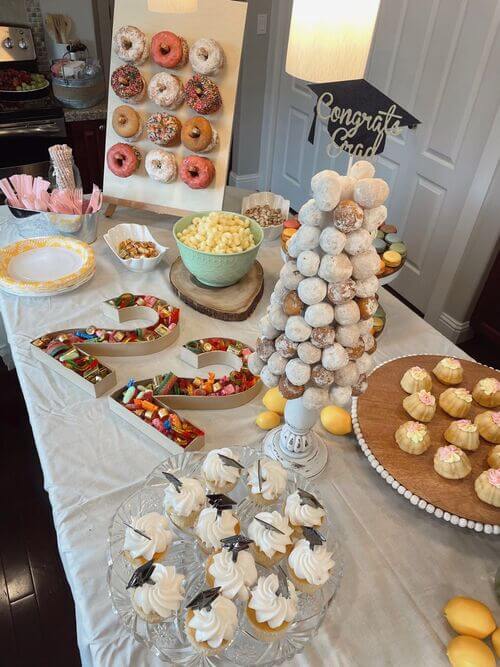 Grab yourself a sugar rush station.
This table can hold cupcakes, donuts, jelly babies, and anything you can think of.
Sweet treats are sure to keep everyone's energy levels up during the day.
3. Baby's breath jars with paper and ribbon cover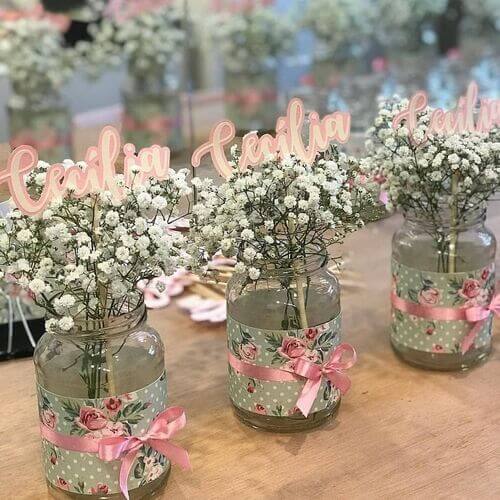 Mason jars are great centerpieces.
Baby's breath is a subtle flower that can make a piece look elegant and light.
This idea is easy to recreate by adding flower stickers over the jars and wrapping them with ribbon.
You can also add the graduate's name to each centerpiece to make it unique to them.
4. Bright pink and orange decor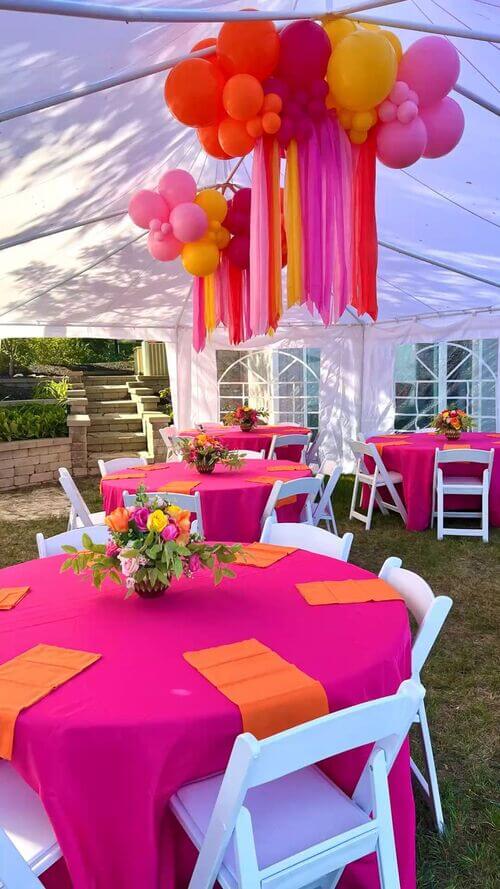 Bright pink and orange can be the perfect bold touch to any party.
Brightly colored wildflowers are a cute touch to the theme and break the boldness of the other colors.
It is simple yet has a bright effect, which might be a bit much for some but for others it works perfectly well.
5. Rose gold and dusty pink table runners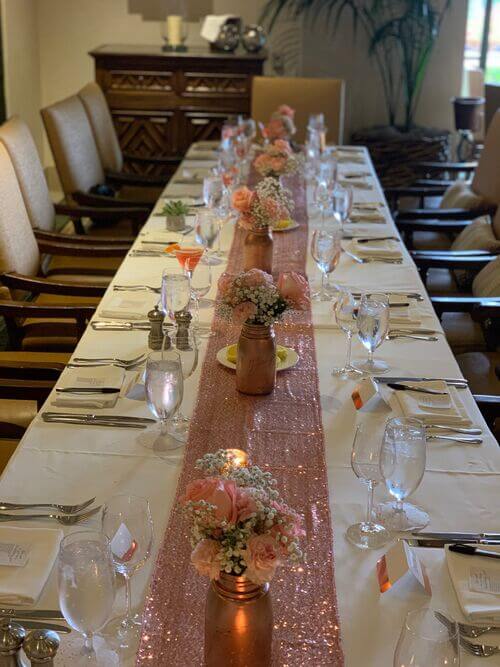 These sparkly table runners in dusty pink compliment the spray-painted rose gold mason jars.
When pairing them with white flowers or even boldly colored flowers can make this table stand out.
It's fun as well as gorgeous.
6. Punny donut wall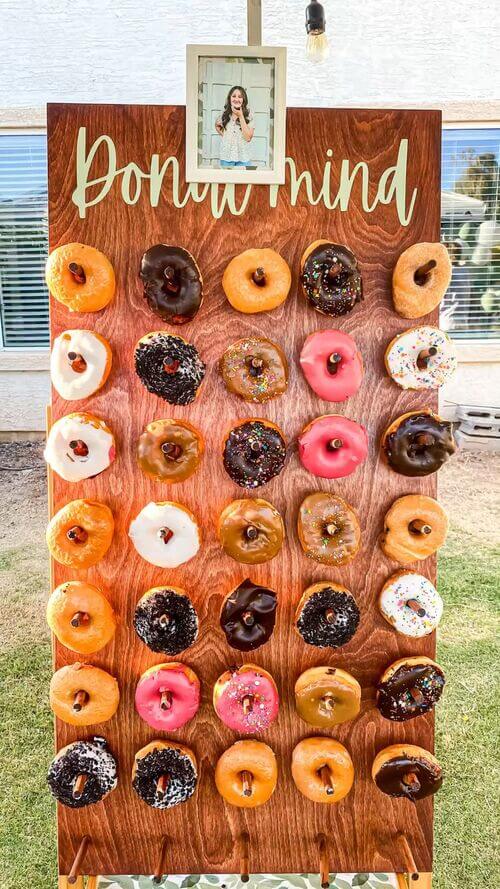 Donuts are the perfect snack for any party.
Creating a donut wall will ensure that everyone has a treat and will enjoy what is to be offered.
Adding a cute pun that is special to you can be the perfect addition to the day.
7. Traditional gold and blue centerpieces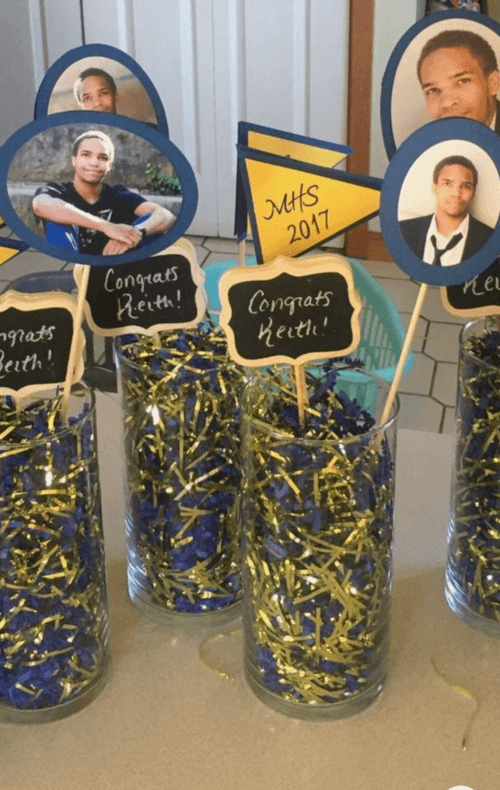 If you're looking to go the more traditional route then stick to gold and blue.
These mason jars are the perfect centerpiece for a graduation party.
You can add pictures of the graduate as well as small chalkboard notes to congratulate the grad on what they have achieved.
You can create this by making use of confetti.
8. Build a hot dog bar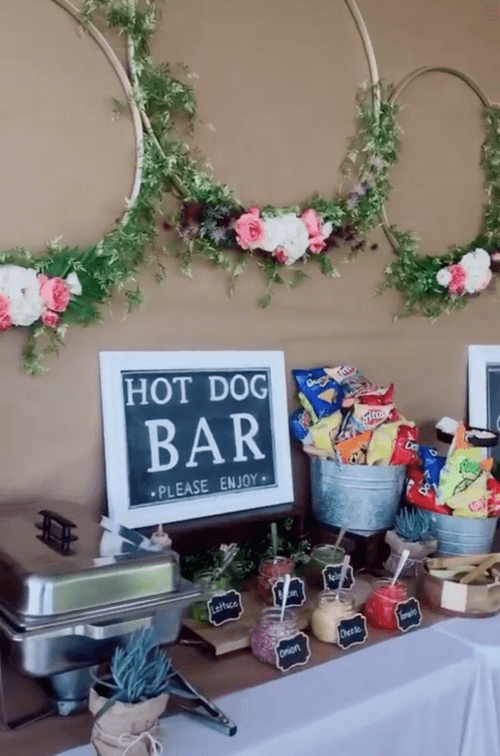 Hotdogs and chips? Sign me up.
This cute hot dog bar offers you whatever you need to build the perfect meal.
It gives everyone the opportunity to get whatever they would like to eat.
9. Graduation photoshoot booth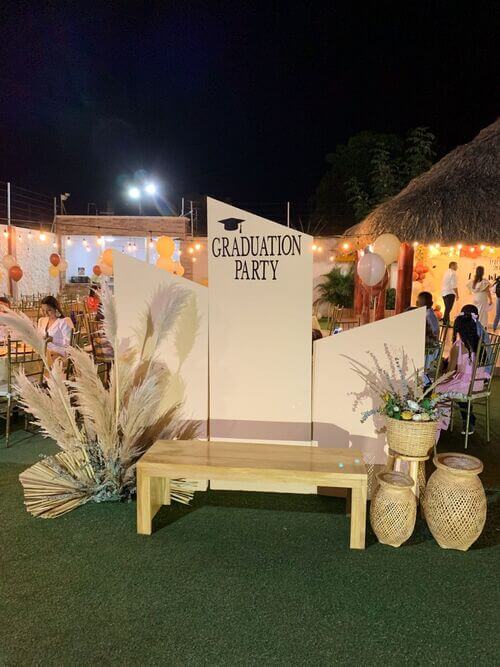 This neutral backdrop is surrounded by woven baskets and pampas grass.
The beige brightens up any picture and gives you the best possible color to make any picture pop.
You can add a small bench for group pictures and share the night with all your friends.
10. Coffee station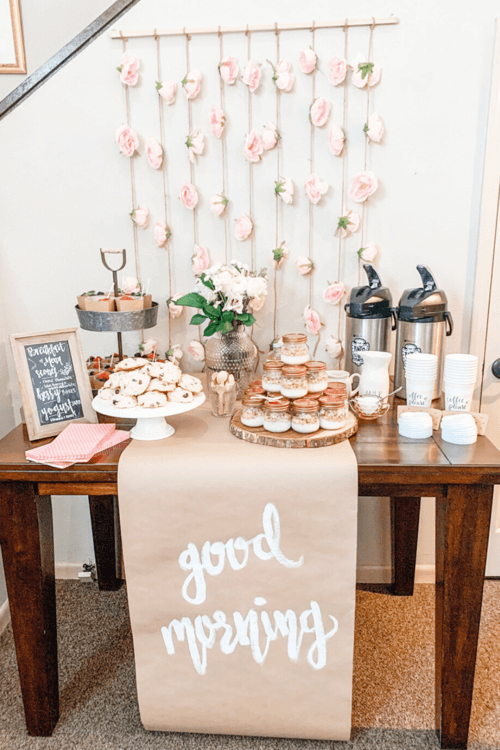 No graduate can survive without a cup of coffee or six.
This cute coffee nook is great to get some energy throughout the day.
You can add in some biscuits, cookies, or just all-around snacks for everyone to enjoy.
11. Pink, white, and beige photo booth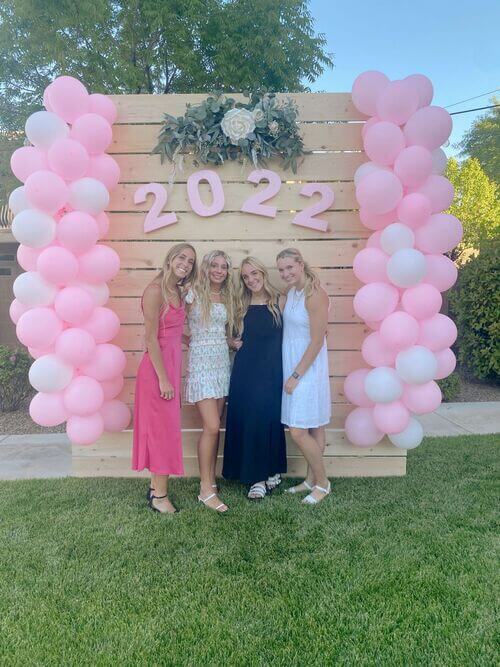 Keep things neutral. This color palette is the perfect backdrop for some fun pictures.
You can add the numbers of the graduating year and some colored balloons.
It's cute and easy to recreate or buy without breaking the bank.
12. Gift and messages station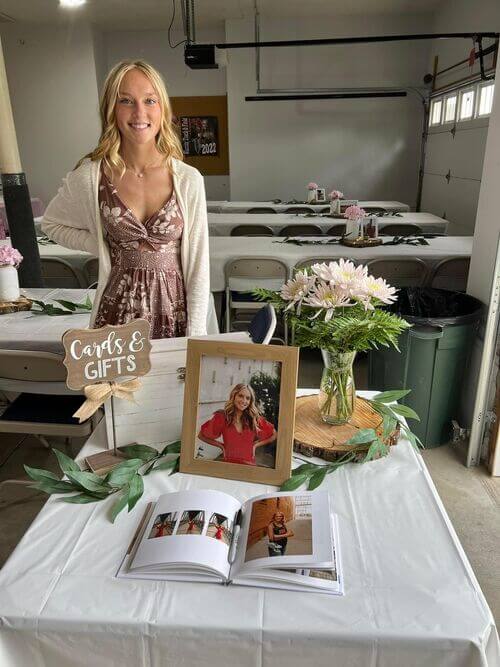 If you want to incorporate a station for gifts then this is the way to go.
Add a notebook and a pen so that guests can write you a message that you can cherish forever.
Due to the importance of this party, it can be a good idea to remember the day by letting everyone write you a message.
13. Breakfast buffet station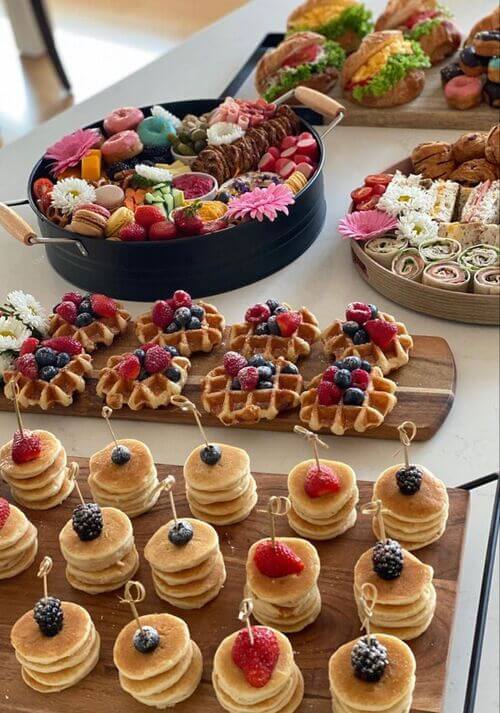 Who can say no to a buffet-style food station? With pancakes, waffles, and fruits it is enough to melt your heart.
A buffet can come in handy when having a graduation party.
People get to snack around and fill up on all their favorites while enjoying the day.
This works best as a breakfast station but can be easily converted for any time of day.
14. Pastel pink picnic setting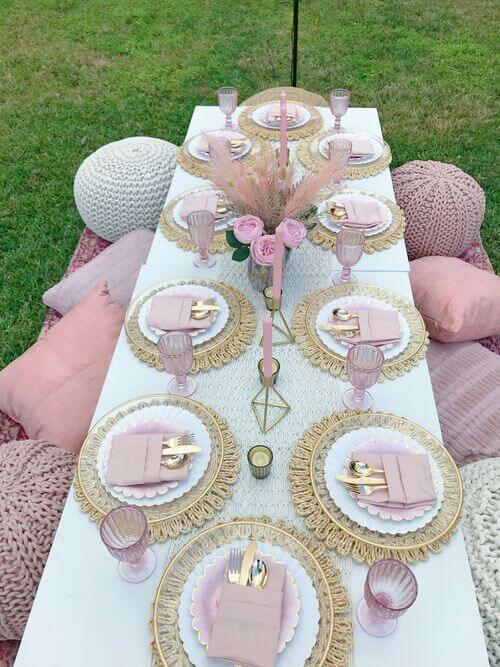 Pastel pink, gold, and white is a gorgeous theme for graduate parties.
It's elegant and sophisticated.
This cute idea works well in a garden setting since you can take things outside and enjoy a nice lunch or dinner with friends and family.
15. College graduate bouquet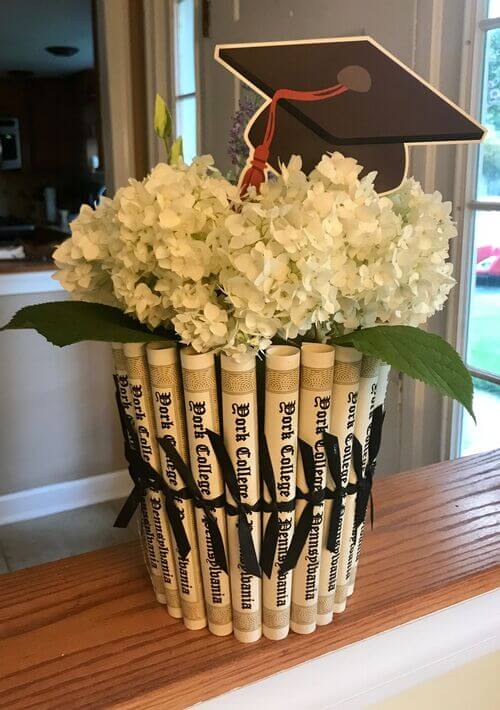 This cute idea will make an adorable centerpiece.
You can print some blank graduate certificates and wrap them around a bouquet to showcase the graduate.
You can add cute graphics, for example, the hat with the tassel, or a mini certificate.
16. Fairy Light and memory station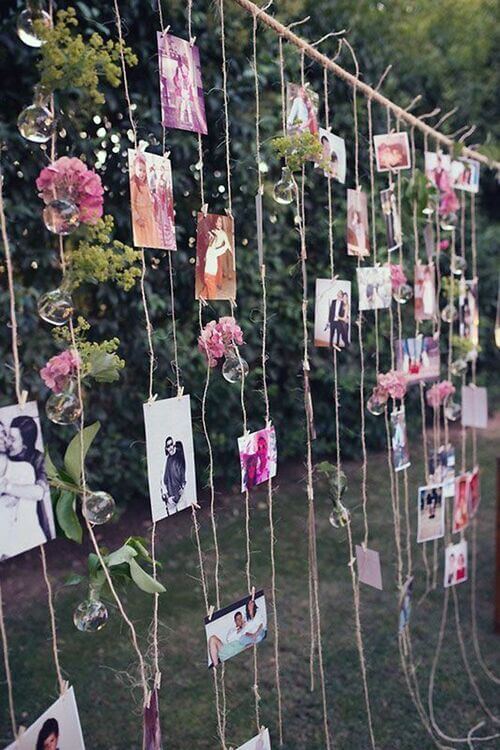 This memory station is a wonderful idea to add to the party.
Grab some string and wrap some fairy lights, and flowers around it to build a warm atmosphere.
You can make a night filled with fun by tagging some Polaroids to the string so that you have the big day's pictures all in one place.
17. White roses and neon light photo booth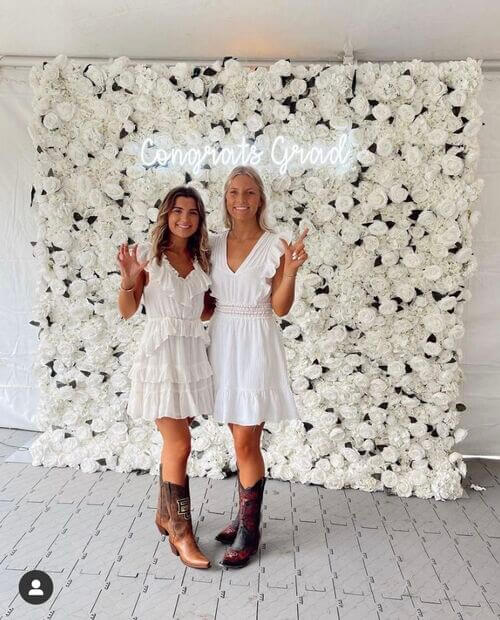 This simple and aesthetically pleasing photo booth is perfect for any graduate party.
You can create this board by gluing white flowers to cardboard and adding a custom neon sign.
It's clean and classy while showcasing what this party is about.
18. Rose gold and Lavender decor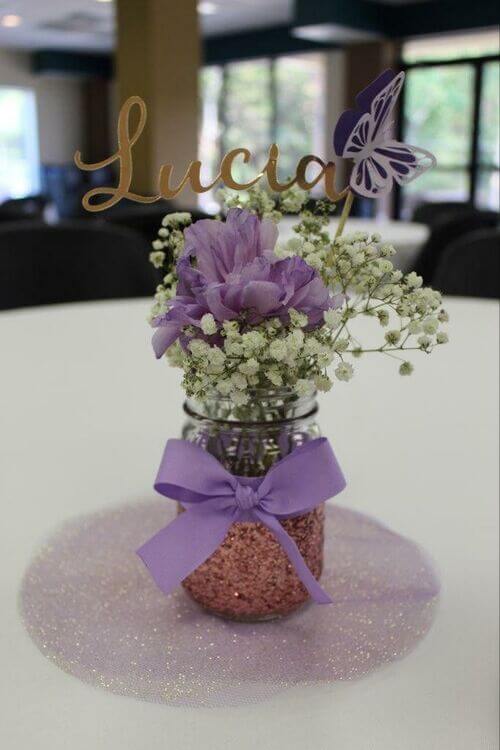 Who would've guessed that lavender and rose gold would pair together this well?
These dipped jars filled with baby's breath and some purple flowers of your choice are subtle yet bold and give a cozy, calm atmosphere for any graduation party.
Tie them off with some lavender ribbon and you have the perfect centerpiece.
19. A giant letter light bulb displays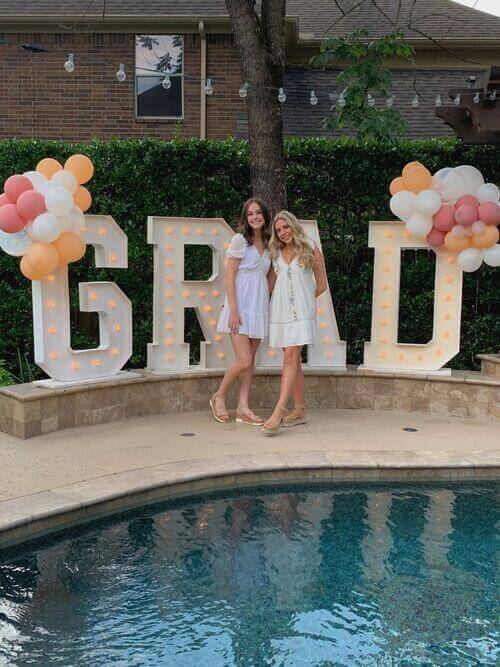 Break out the high-school musical-inspired lights!
This giant letter lighting is unique.
As we know these lights were on a lot of Pinterest boards back in the day and they are still extremely popular.
They are great for pictures and pair well with any theme.
20. Pink drink (lemonade station)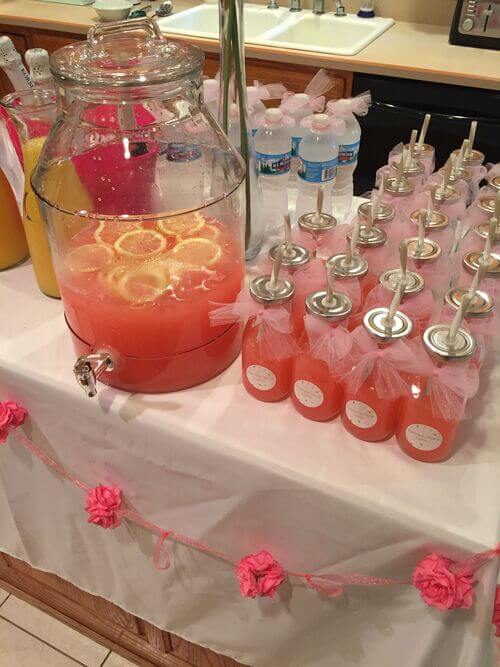 Keep everyone hydrated with this drink station.
If you are a fan of the pink drink then you can easily recreate it by making use of pink lemonade.
Add water and juices to keep things open for everyone.
This is a nice way to showcase your favorite drinks and enjoy every part of the celebration.
21. Popcorn bar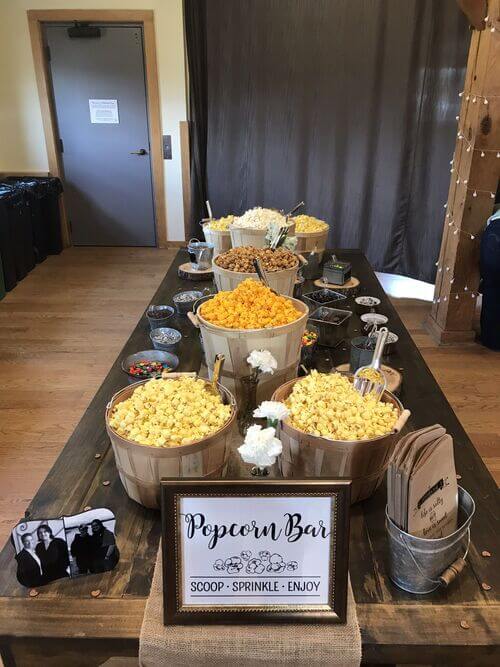 Popcorn bars are trendy and allow you to create the perfect snack to dive into.
Keep things simple and make them interactive. Grab a bucket of popcorn and lay out some different salts and flavors for everyone to pick from.
Popcorn is a fan favorite so people will definitely love this.
22. Wooden pallet and fairy light booth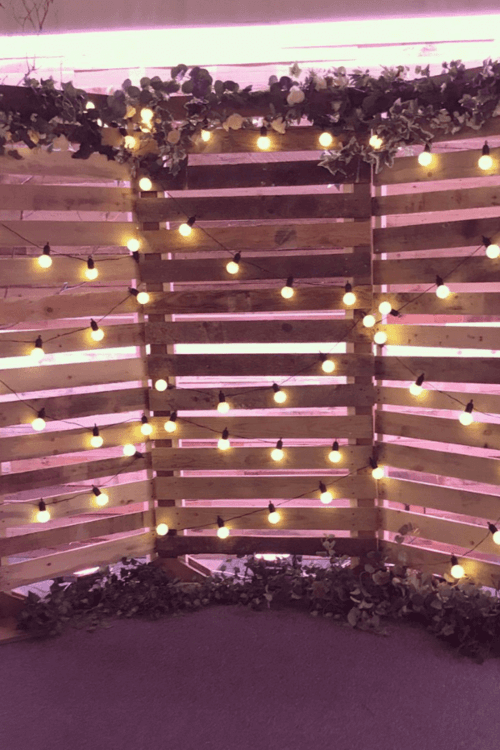 Set aside a piece of ground where the party is held for pictures.
You can make this cute photo booth area by stacking wooden pallets and pairing them with some cute Edison bulb lights.
It is fun for pictures and gives your party an aesthetic touch.
This is budget-friendly while keeping things classy.
23. Custom cornhole game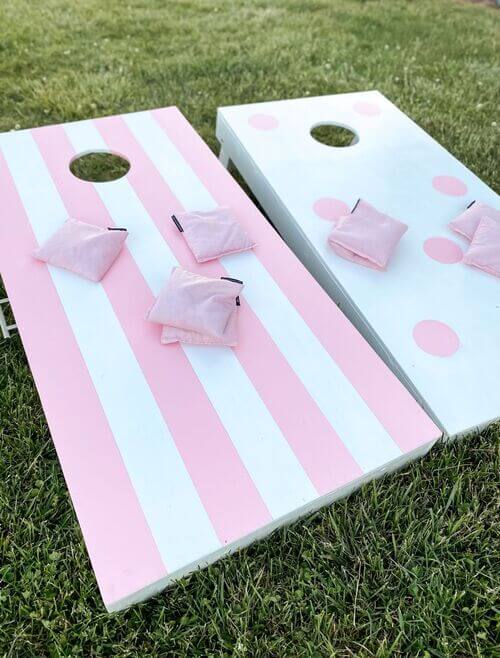 Just because you're graduating doesn't mean you have to take things seriously.
Grab yourself a game of cornhole and decorate it to your liking.
This can add a little fun to the party.
Sometimes things can feel a little too serious, so this can calm things down and keep friends and guests entertained.
24. Custom wooden tiers chocolate treat display
Ditch the traditional stand for some delicious chocolate treats.
When having an outdoor party it can feel odd to present snacks in a way to fit the theme.
Find a custom wooden tier and add all your graduation treats to it.
It's fun. It's unique, and more importantly, it keeps things natural.
Why a graduation party is so special
It's the end of an era, a chapter, or even a period of anxiety.
It showcases your hard work and determination to evolve.
It's especially important since it allows you to say goodbye to friends as they might be starting a new adventure far away from you.
Or when you know that life is taking you somewhere else, it can serve as a farewell to all the people you've met and memories made.

Graduation is special because it lets you close things off on a good note.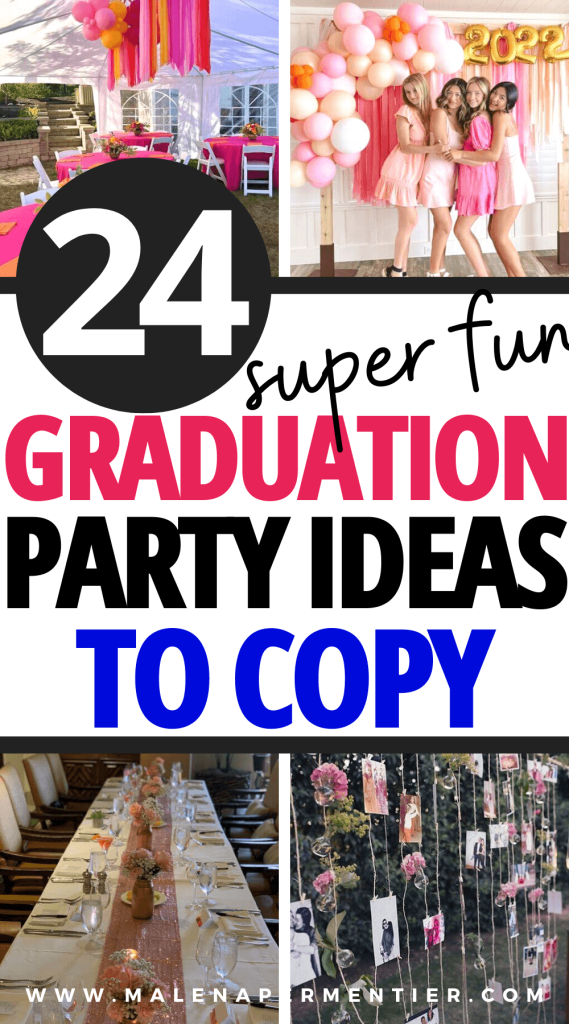 This post showed you the best graduation party ideas in 2023.
You may also like: