Hey there! Some links on this page are affiliate links which means that, if you choose to make a purchase, I may earn a small commission at no extra cost to you. I greatly appreciate your support!
This post is all about backyard graduation party ideas.
Throwing a grad party outdoor in your backyard? This post helps you plan the perfect grad party at home!
Outdoor graduation parties are cozy, fun, and practical.
You'll likely have more space in your backyard than indoor, which makes it all the better for welcoming your guests.
This post will look at the best backyard graduation party ideas.
We'll go over decor, clever graduation food ideas, activities your guests will love, and everything else you need to throw an unforgettable grad party.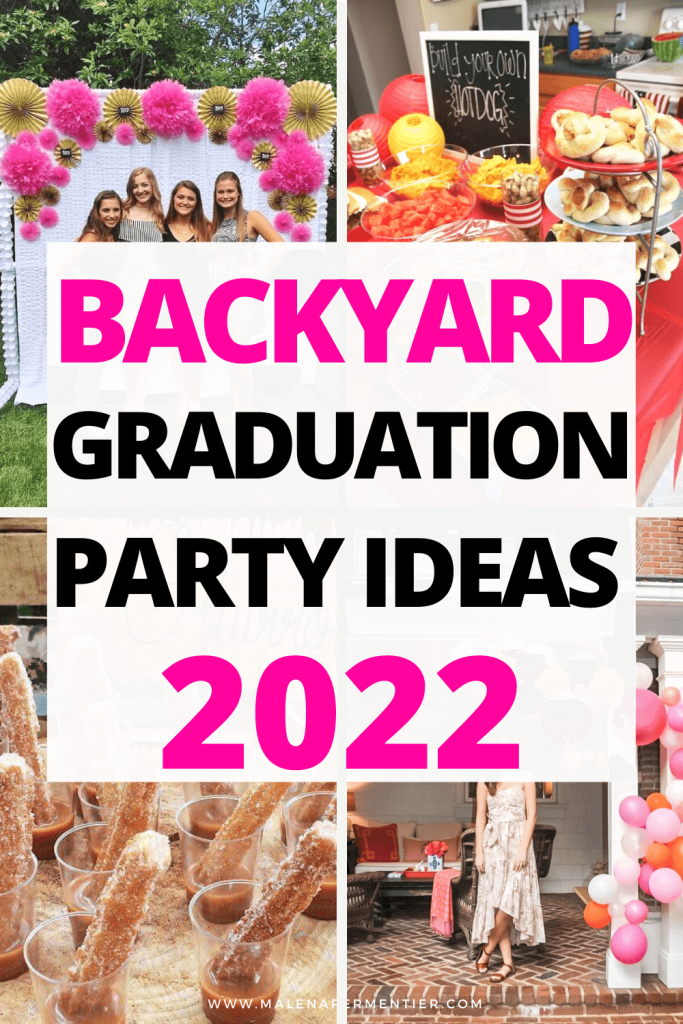 How to plan a graduation party in your backyard
OK, let's look at the steps for throwing and planning your backyard graduation party!
Hosting

Consider co-hosting your grad party with a friend. This is both budget-friendly and extra fun as you'll bring in guests. However, if your backyard is small, it might be better to throw your own party.

Budget

Set a budget for the party. You don't want to be surprised by expenses you didn't account for. Think of decorations, food, drinks, games, treats, and seating.

Guestlist

Write down all the guests you want to invite. Don't forget to get a clear idea of the maximum number of people you can host. This is important in terms of space but also when it comes to food and drinks.

Send out invites

Grad party season is hectic, so send out those invites on time! Canva has a lot of cute invite templates if you want to send your invites digitally.

Decide on decor

Consider a theme or color scheme for your graduation party. Great outdoor decorations include lanterns, string lights, graduation banners, and garlands. But we'll get into that in more detail below!! Some grads like using the color scheme of their future college.

Put together a menu + drinks

Now it's time to plan what to do for food and drinks. Outdoor graduation food has to be practical, so self-serve food and drink stations are ideal.
1. Cute outdoor party seating

Consider creating a seating area when you're throwing an outdoor grad party!
This is such a cozy and inexpensive way to dress up your party.
You might not have enough patio furniture for everyone to sit on, so get creative with pillows, blankets, etc.
2. Drink station

Make a drink station with lemonade dispensers.
Your guests will love this, and it won't break your budget!
Everyone loves lemonade, so this is a crowd-pleaser, especially on warm summer days.
3. Photo Backdrop
Making memories is such an important part of a graduation party.
And what better way to do that than with the cutest photo backdrop?!
Use a white sheet with paper fans and garlands in the color scheme of your choice.
4. Welcome sign

Welcome your guests before they get to the party!!
A welcome sign is important because it helps people easily find your party.
You can keep this super simple and hang some balloons for people to recognize the sign from afar.
5. Hot dog bar

You have to be smart with outdoor grad party food! Make a food station that is self-serve, fun, and delicious.
Hot dogs, tacos, and burgers are an excellent choices for backyard graduation parties.
Apply the 'build your own hotdog' to other things like waffles for dessert.
6. Sweet treats

You'll most definitely want some sweet treats at your grad party!
I love this creative idea with churros.
The presentation is cute, super easy, and the churros are delicious and a real crowd-pleaser.
Use small chalkboard signs at your food station to indicate what is what.
7. Make memories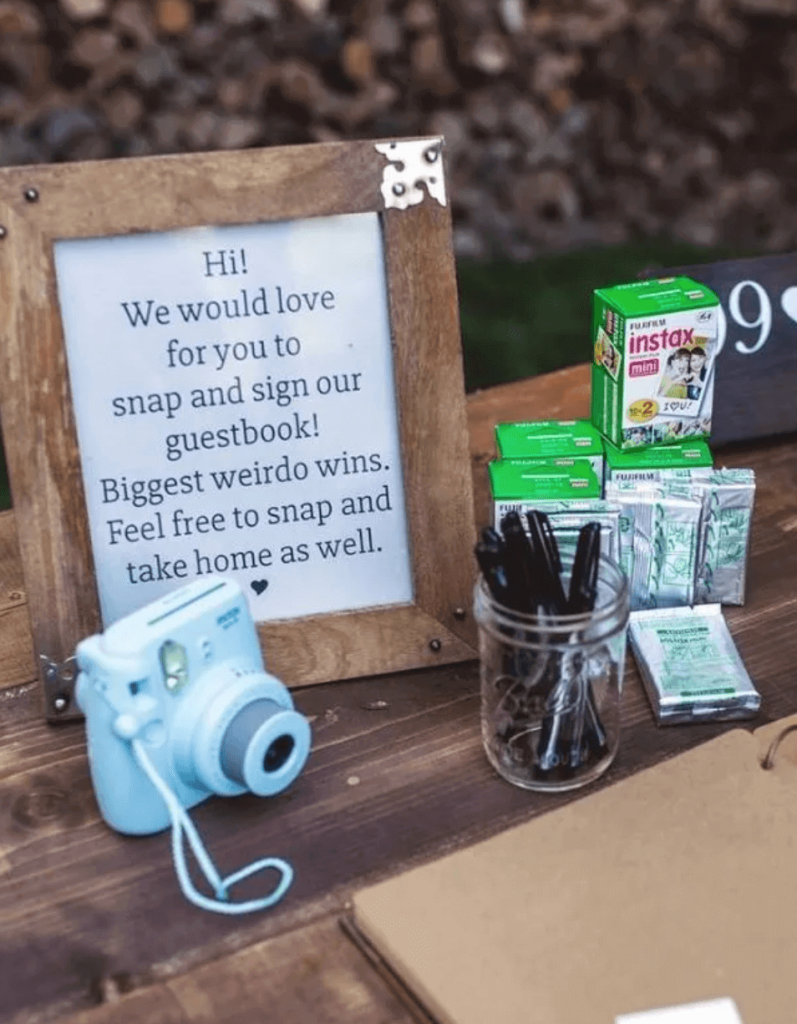 Polaroid cameras are the best for spontaneous pictures at your grad party; everyone always has so much fun with them!
I know that a polaroid camera + film packs aren't cheap, but you will use them for years to come!
8. Photo board of the grad

Make your graduation party extra personal with pictures of the graduate(s).
For an outdoor grad party, rustic photo boards are a great idea.
You can easily DIY this, and it doesn't have to be expensive.
9. Bring the lawn games

Regarding the best backyard graduation party ideas, I highly recommend adding fun games and activities your guests will enjoy!!
Lawn games will keep guests entertained for hours.
My favorite is a game of Jenga with extra-large blocks. This is ideal to use for your outdoor grad party.
10. Decorate with balloons and grad sign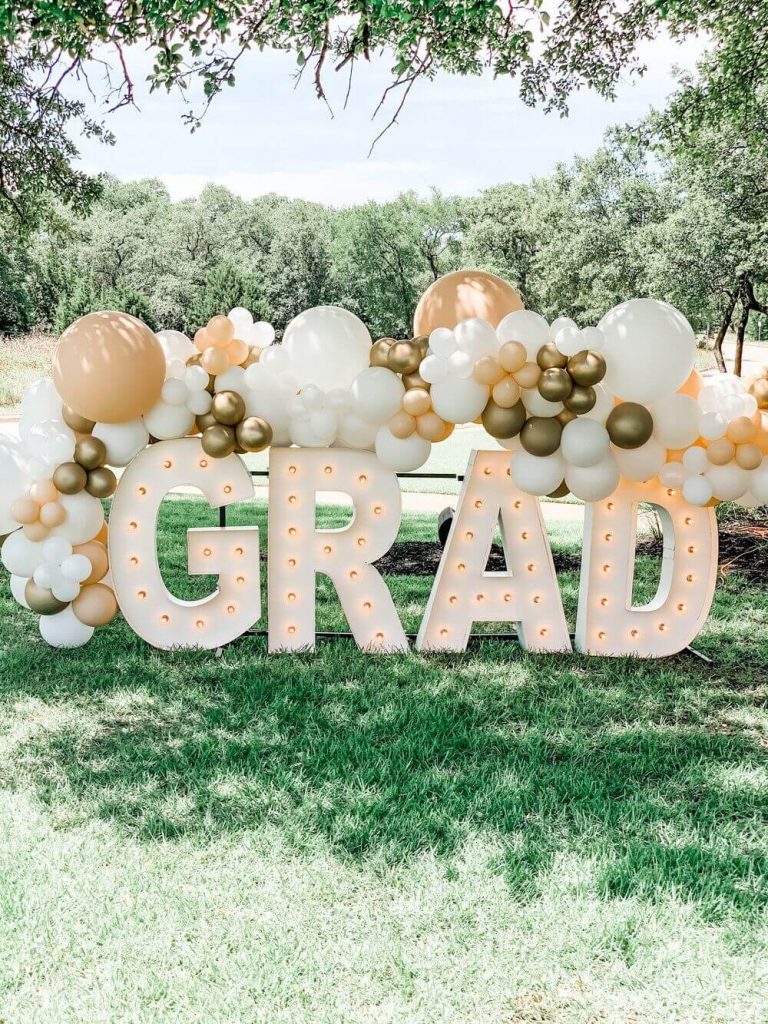 Consider what the cutest lawn or backyard decor to use for your grad party is!
This doesn't have to be super expensive or crazy; just a balloon garland will go a long way.
You can also use lawn signs for your graduation party.
Pin it for later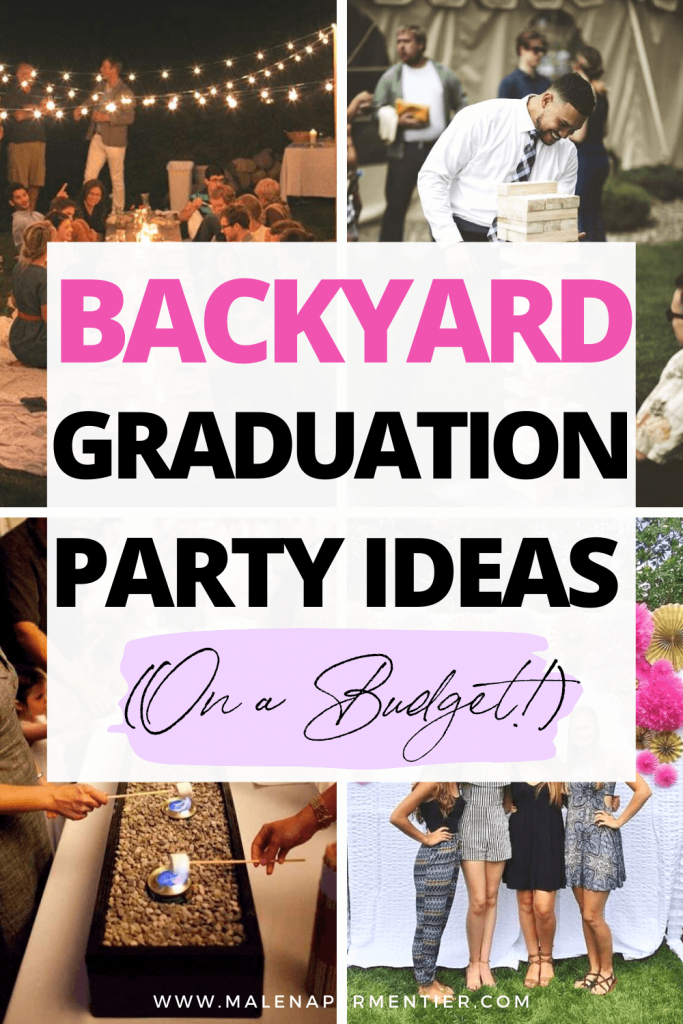 11. Pallet picture backdrop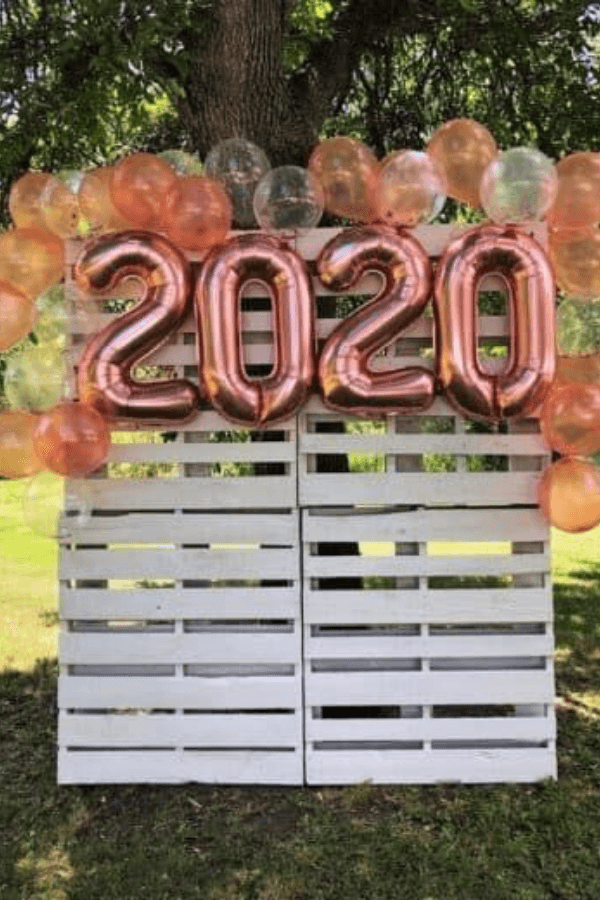 This is one of my personal favorites when it comes to throwing the best backyard graduation party!
Use pallets to make a photo backdrop, and decorate with rose gold balloons and 2023 sign.
So simple yet so effective! You will make the cutest pictures with this backdrop.
12. Make a Smores station

Another festive and fun thing to add to your backyard grad party is a smores station!!
Recreate the above situation with chafing dishes. Of course, you can also make a bonfire, but that depends on your backyard.
13. Spot to leave cards

Your guests probably want to leave a card or a gift!!
Give your guests a place to leave cards, for example, at the table next to the drinks or somewhere else that's practical.
14. Use a taco theme

You can give your graduation party a particular theme or color scheme.
A favorite for grad parties will forever be a taco-themed party.
It's colorful, festive, and who doesn't love Mexican food?!
15. String lights & lanterns

Does your backyard grad party take place at night?
Then you'll want to prepare with cozy lighting.
Lanterns at night look incredibly cozy both during the day and at night.
Pair the lanterns with string lights for the ultimate garden grad party.
16. Advice for the grad
Buy these printable tags on Etsy
Love this idea on Etsy. You can also find plenty of free 'advice for the graduate' printables.
Canva also has free templates you can use! << this one linked is for brides, but you can simply swap out the word for graduate 🙂
17. Desert table

Desserts and sweet treats are a big part of any party, which is no different for a graduation party.
Decorate your dessert table with balloons, banners, a table runner, and cute cake stands to present the food.
18. Creative photo backdrop
This photo backdrop would be a hit at any graduation party!!
People are sometimes a little shy to pose, but everyone will loosen up with the balloons as props.
Also, the white and gold color scheme is incredibly flattering for taking pictures :).
19. Decorate your drink station

You'll likely have a LOT of drinks at your graduation party.
A practical yet cute way to organize your drink station is with large metal buckets and ice.
You can place these on the floor with flowers for a cute and welcoming look.
20. Use a tropical theme
I had to include this grad party idea with a tropical theme!!
Especially outdoor backyard parties are perfect for a theme like this because you can go all out with tropical leaf garlands, flamingo decor, and other tropical decorations.
21. Cute party favor
Send your party guests home with a cute party favor!!
I love this popcorn idea; super budget-friendly, yet you're giving your guests something to remember you.

22. Hang string lights

Many people like throwing their graduation parties in the evening.
In the summer, days are longer, but around 9 or 10 pm, you'll likely enjoy having some lights.
This also adds to the atmosphere!!
Maybe you already have lights in your backyard, but if not, these outdoor lights are perfect and not expensive at all.
23. Don't forget the balloon arch

I love a good balloon arch!!
It makes everything look festive.
You can hang a balloon arch where people enter your garden or on the patio if you have one.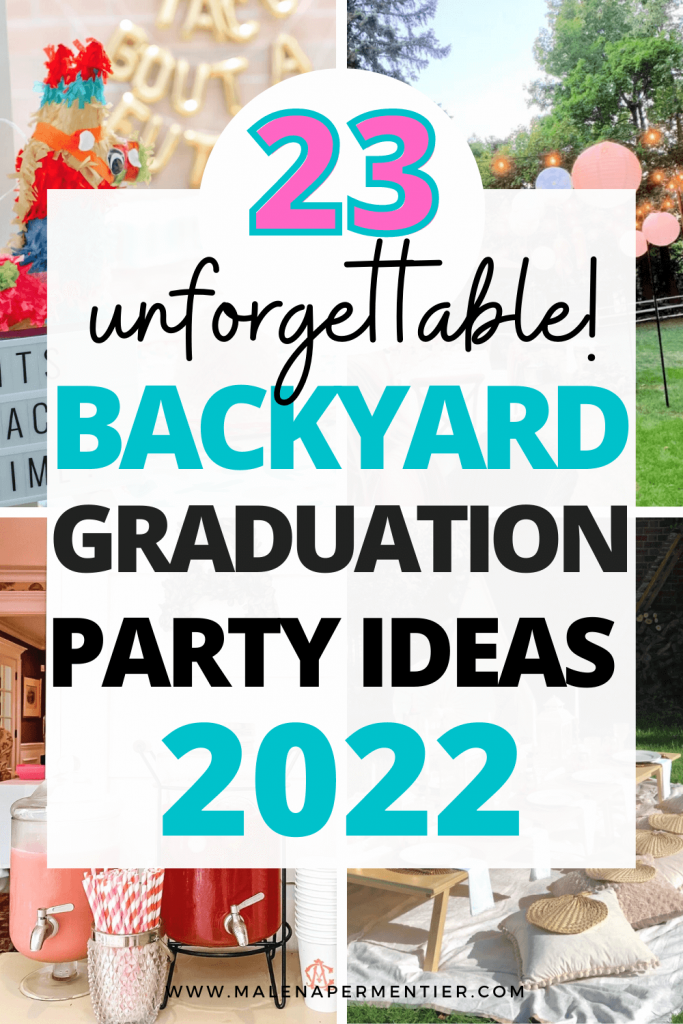 This post was all about the best backyard graduation party ideas.
You may also like: