Need outdoor graduation party inspo? These 18 simple ideas will help you throw the best party!
Graduation season is around the corner, and there is nothing more fun than preparing for your graduation party.
I'm sharing 18 simple outdoor graduation party ideas that won't break the bank in this post.
We'll go over cute decor ideas that you can pull off outdoor, photo display ideas, making a cute graduation photo backdrop (so important!), and what to do for food, drinks, and seating.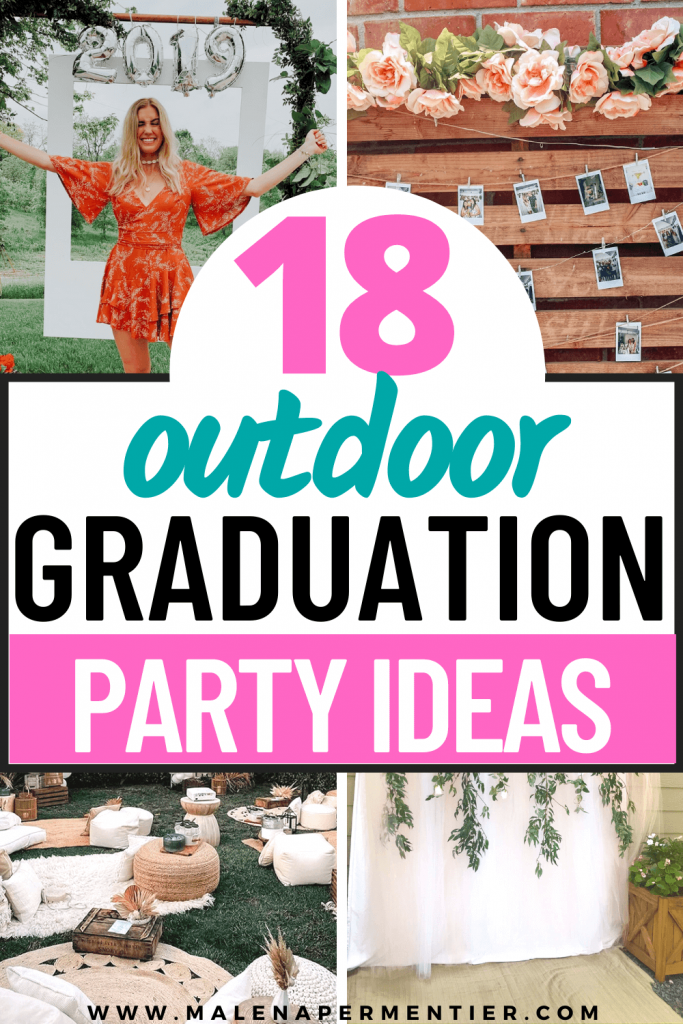 18 Graduation Party Outdoor Ideas (You and your guests will love!)
1. Curtain photo backdrop
This rustic curtain photo booth backdrop is simple and stunning to recreate at your outdoor grad party.
A white backdrop is extra flattering, resulting in great pictures.
You can hang the curtain DIY style, for example, at the back of a shed or garage.
You could also get a backdrop stand on Amazon.
They are adjustable, so you can hang your backdrop curtain exactly how you want.
A white curtain is a great base for a good graduation backdrop.
You can decorate it with rose garlands, balloons, grad banners, or anything else that makes a cute backdrop!
2. Cute welcome sign
Place a welcome sign at the venue of your graduation party!
If you're throwing the party in your backyard, you can please the sign on the street where most of your guests will park their cars.
Make a welcome sign with a simple chalkboard stand and decorate it with balloons in your grad party theme colors.
3. Easy rustic photo display
When throwing your graduation party outdoors, you can make the most of all cool rustic decorations.
Using pallets is an inexpensive way to display photos and decorate your party.
You'll need jute twine and clothespins to pull off this photo display idea.
You might have that already at home, and if not, it's very cheap! Decorate the top of the pallets with a flower garland.
4. Sunscreen and bug spray for guests

When throwing an outdoor grad party, you risk mosquitoes and sunburns!
Keeping bug spray and sunscreen available for guests is a cute gesture and sometimes necessary!
When you throw your party in the evening, sunscreen is unnecessary.
But the bug spray might genuinely be a life-changer at any time of the day.
5. Get creative with photos
A big part of your graduation party will be the memories!!
That's why setting up a cool photo backdrop is so crucial.
The more fun it is, the more you encourage your friends to take lots of pictures.
You might even throw in cute graduation props to make it fun.
The photo booth above is cute for pulling off a picture spot outdoors.
Build a large stand with wood, and get a polaroid frame prop to make the pictures extra cute.
Decorate your stand with 2022 balloons and lush garlands.
6. Display a large grad sign
Put up a festive front with these huge LED letters at your grad party.
You can buy these by letter, and luckily GRAD is only four letters, so it's not that expensive.
Decorate the top of the letter sign with a balloon garland in stylish blush.
This Etsy store has the best options if you want to personalize balloons.
7. Make it personal and use a guest book
Bringing together friends and family for your graduation party is so special!
When you go off to college, it's super nice to have some words of advice or wisdom!
Let people write down their favorite bible verses in a guest book for you to read back later.

8. Store drinks in buckets with ice
A cute and simple way to store drinks at your graduation party is in metal tubs.
Fill the tubs with lots of ice and stack the drinks inside.

9. Go for a blush theme
Whether throwing a grad party outdoors or indoors, working with a color theme makes decorating your party much easier.
Balloon garlands are my favorite decorations because they're budget-friendly and add so much ambiance to a party.
Hang a balloon garland with greenery over the table with food and drinks for an inviting atmosphere.
10. Make a smores station
A must-have food at an outdoor graduation party is s'mores!
They're not only super tasty but will also provide lots of entertainment.
Make sure to prepare a spot to make a fire.
You could also use chafing dishes or an electric smores station.
The good old fire pit is the best way to roast s'mores.
Set up everything you need for s'mores, including people's favorite toppings, roasting sticks, cookies, and the marshmallows themselves.
11. Creative seating idea
Make the most of your backyard or outdoor space to create a cute seating area with pallets and pillows.
You'll likely have some food or appetizers at your party, so having some form of seating is a must!
Pallet seating is very low-key and inexpensive to recreate.
Plus, it's cozier and more fun than regular seating :).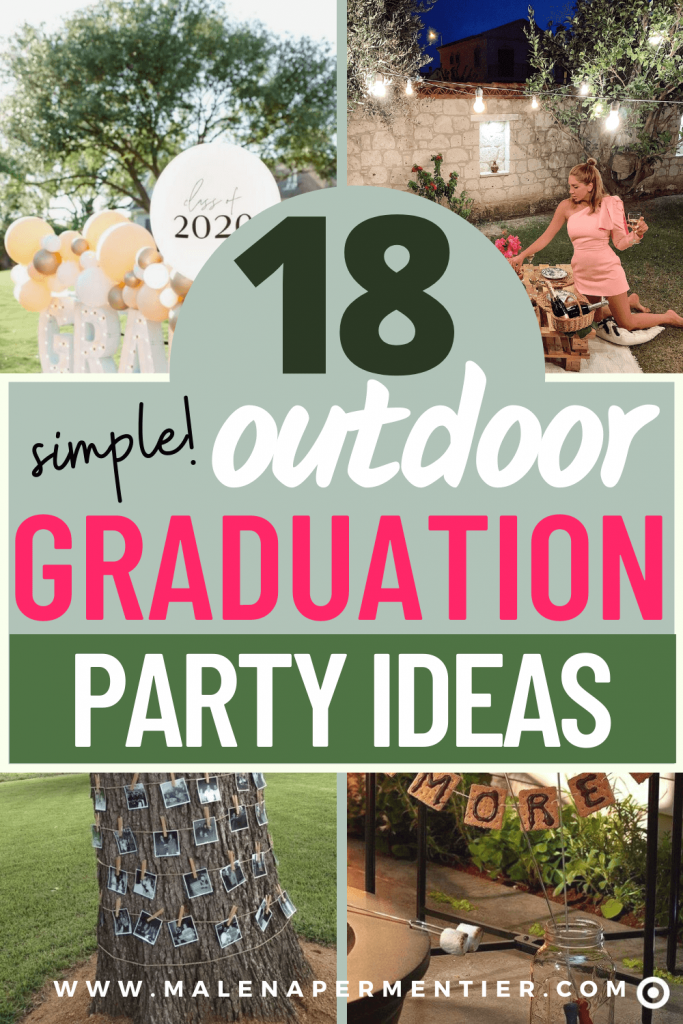 12. Plan some fun activities and games
Every party needs some games and activities!
Great graduation party activities are board games, never have I ever, Jenga with large blocks (I'm obsessed), or a makeshift tic tac toe game, like this cute image shows.
Fun outdoor games for grad parties:
13. Make your backyard part of the decor

The great thing about throwing your grad party outdoor is that you have many decorating opportunities!
Use the trees, shed, or whatever else you have in your backyard as part of the decor.
I love this picture display idea on the tree! It's cute and easy to recreate with twine, clothespins, and your favorite pictures.
14. Don't forget a drink station

An inexpensive drink idea for your grad party is serving two different types of lemonade.
Keep them in large dispensers like this, and add fresh sliced fruit for decor and flavor!
15. Explain to guests what they can do

Your guests are probably not going to arrive at the same time!
As a host, you want to make everyone feel welcome and included.
A little sign with information goes a long way.
Even if you are occupied when guests arrive, they know a little bit of what's happening.
16. Set up a candy bar
Candy bars are always a hit!
All you need for this is handy trays, bowls, and lots of candy.
In the summertime, it's usually hot, so you'll probably want to avoid candy with chocolate.
17. Use rugs and pillows for the coziest outdoor setting
OK, I know this idea is a little far-fetched for the average outdoor grad party, but use it for inspiration!
Use old rugs or sheets as seating, and decorate with pillows and ottomans. Crates can serve as tables or extra seats.
18. Pallet tables and cozy floor seating
This is another great example of using pallets for your graduation party!
Make simple things like these pallets look super fancy and cute with a large table runner, candles, a lush eucalyptus garland, and other cute boho decors.
This is the perfect outdoor seating idea for throwing a small outdoor graduation party.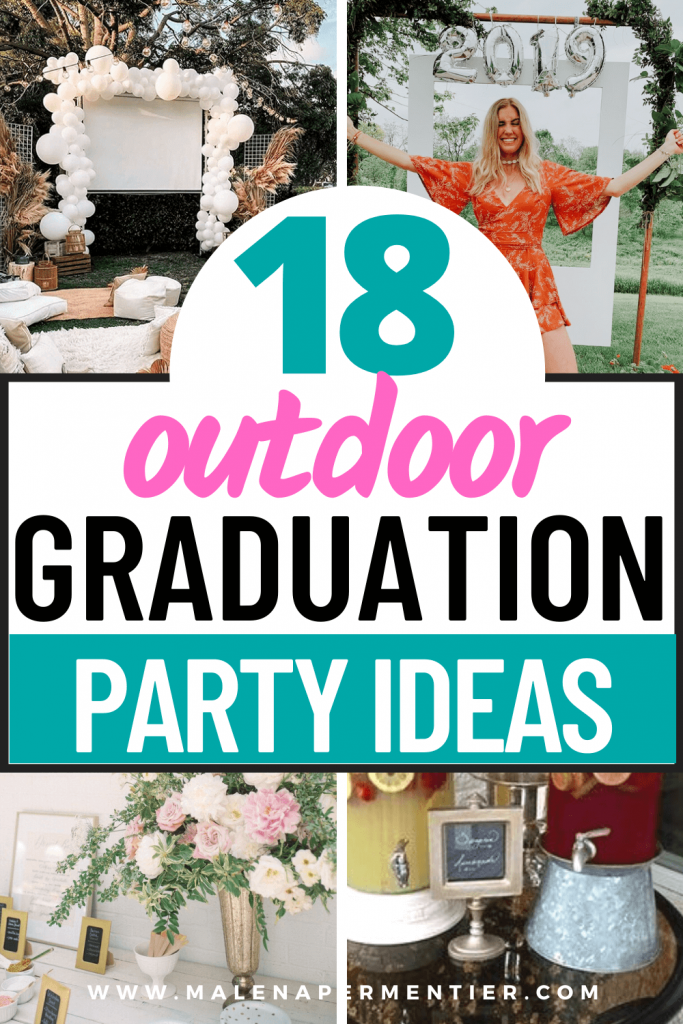 This post showed you the best outdoor graduation party ideas.
You may also like: