Love a minimalist aesthetic?
Then these 23 minimalist dorm room ideas are everything you need if you're moving into your college dorm this year!
Minimalist dorm rooms focus on light colors, simple designs, modern furniture, and of course, some cute decor here and there.
Without further ado, let's look at the best minimalist dorm room ideas to take inspired!
Under every image, I've listed similar (or the same) budget-friendly products that you see in the picture.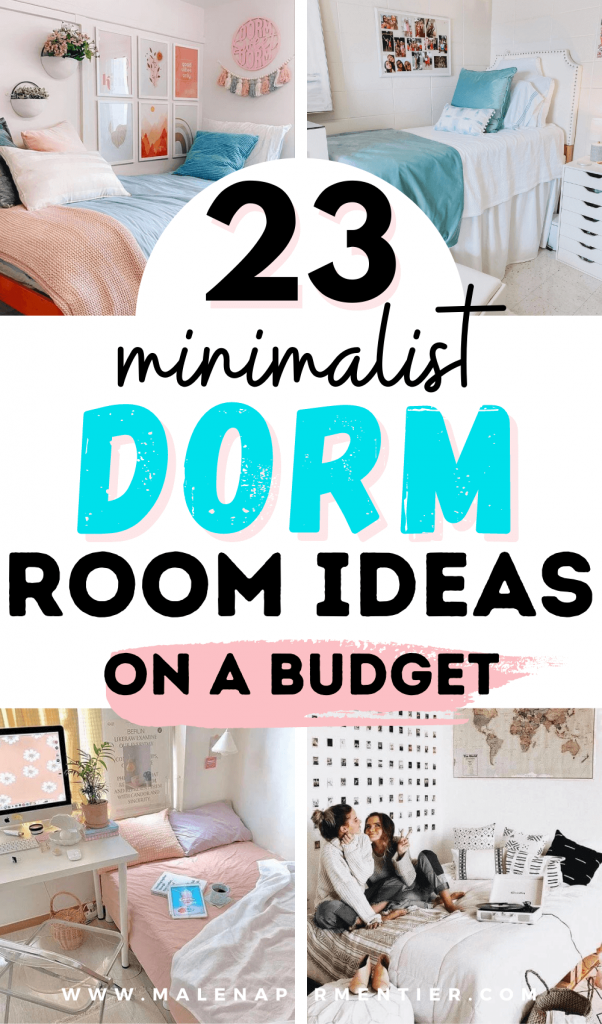 Best minimalist dorm rooms
1. White dorm decor with light blue accents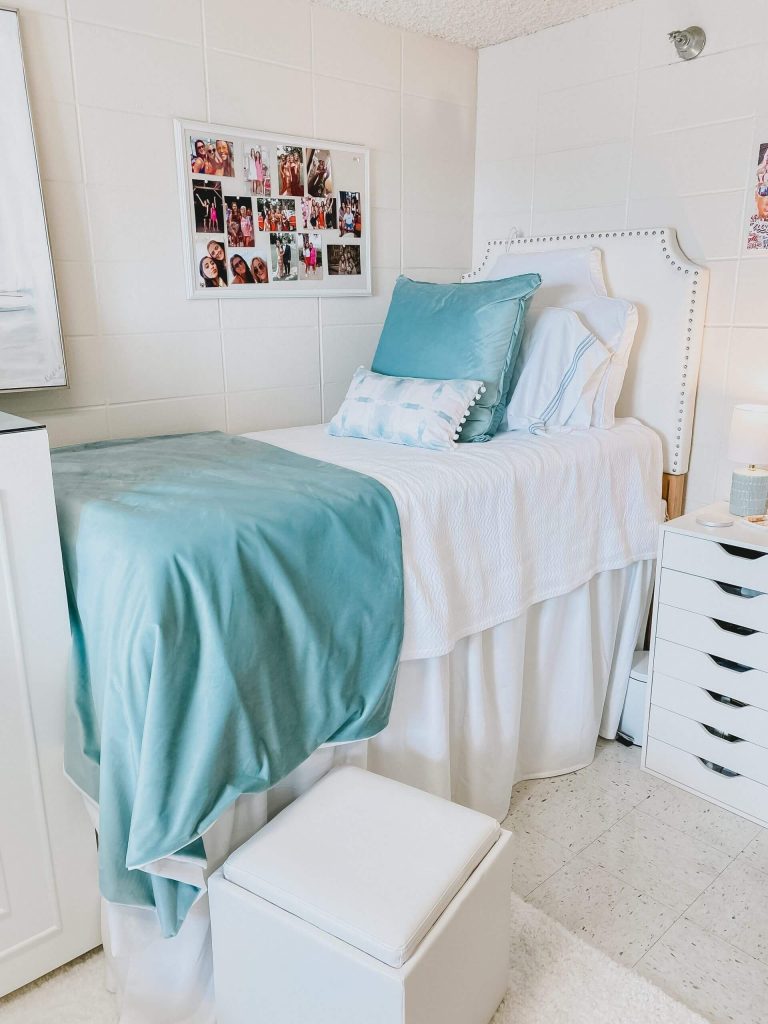 Dorm rooms are often small, so light colors help make them look and feel more spacious.
This room is super soft and bright, with one primary accent color!
A must in every dorm is a storage ottoman. It's perfect for storing shoes or use as an extra seat.
2. Simple dorm room with neutral and warm brown decor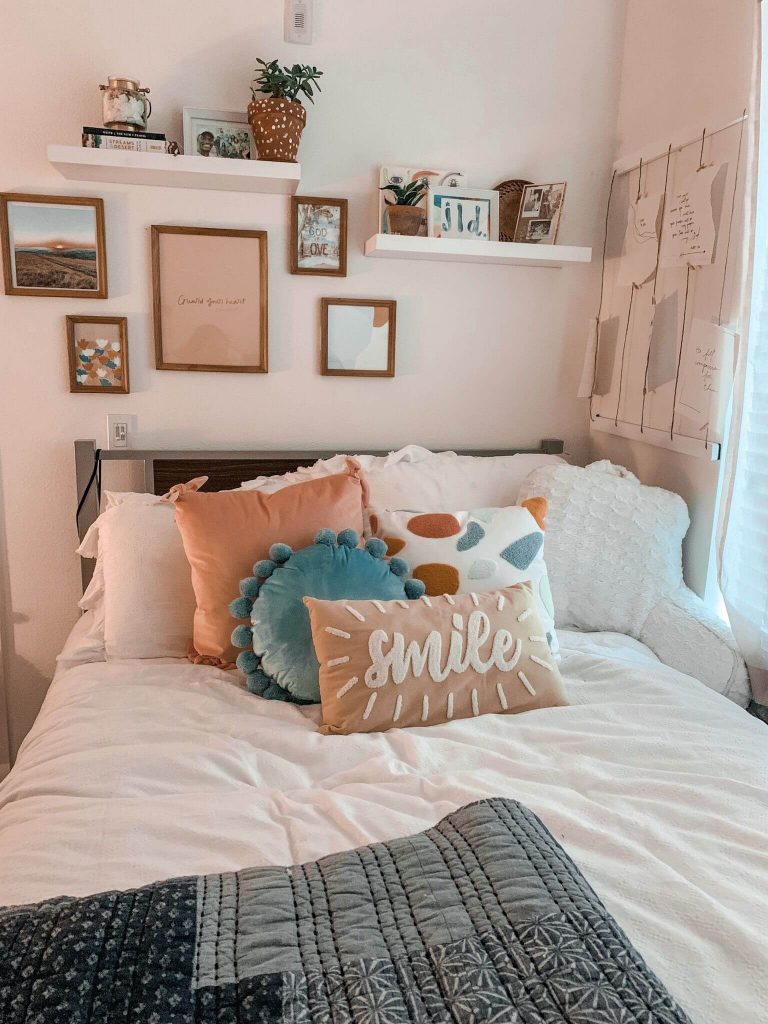 Make your dorm feel more personal by hanging frames with art or pictures and floating shelves.
Keep your bedding minimalist with light colors to have more flexibility with decorating.
It helps keep your dorm color scheme super straightforward for a minimalist aesthetic.
This room has only whites, browns, and a subtle pop of blue.
3. Neutral dorm with black & white boho decorative accents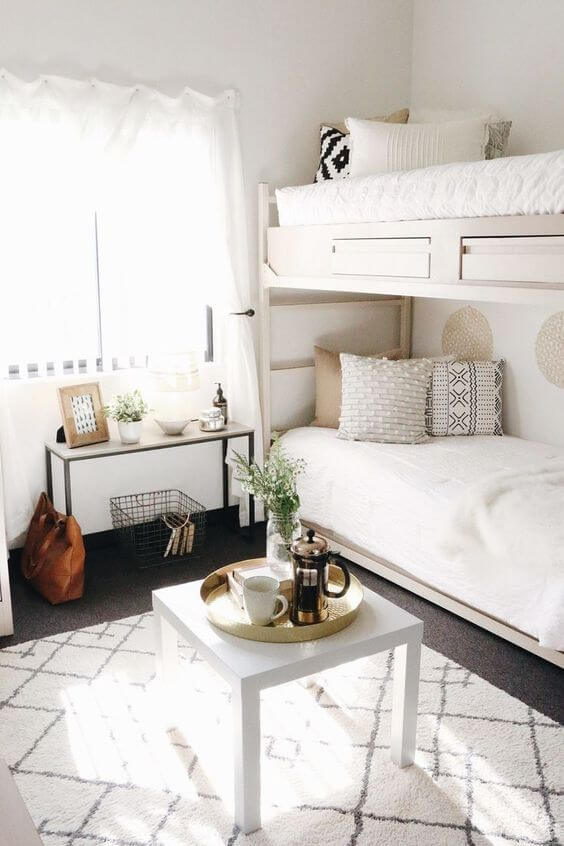 Keep your main furniture pieces minimalist and simple, and decorate with cute boho accents like throw pillows.
Amazon is seriously the best for throw pillows covers, and they're so cheap.
Read this post about throw pillows for your bed to get inspo for arranging pillows in different sizes.
4. Modern dorm room with cute floating shelves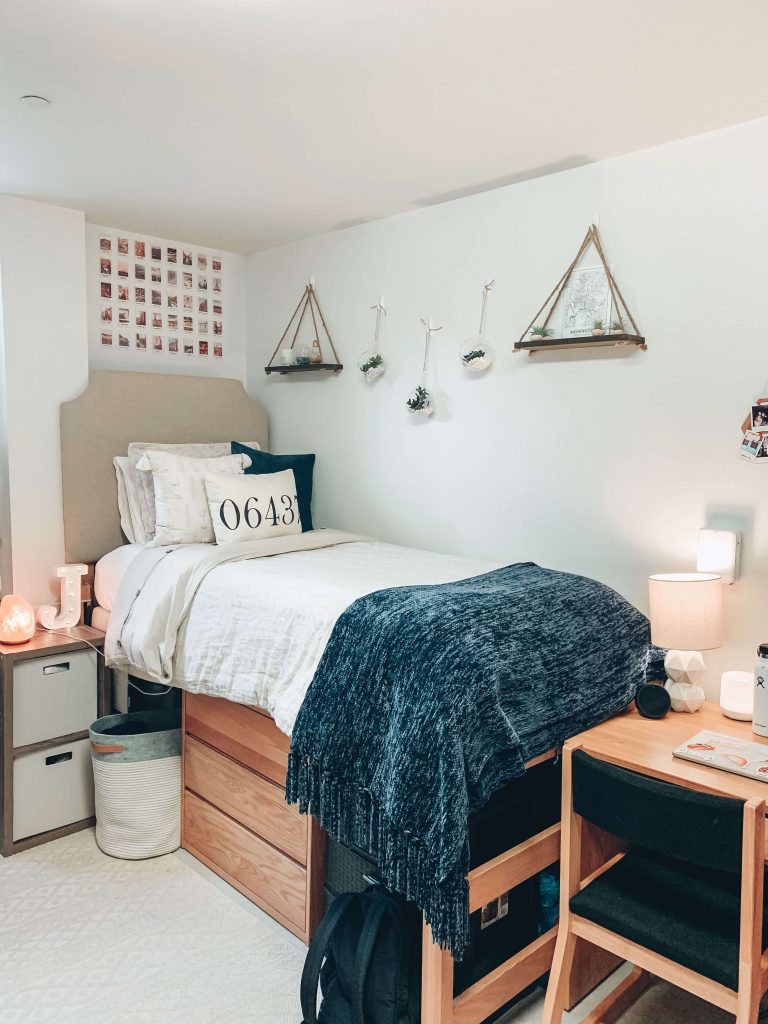 Himalayan salt lamps are inexpensive, and they look super chic.
They add a natural, cozy element to minimalist dorm rooms, and I'm here for it!
This room has a warm, earthy color scheme that feels light and spacious.
5. Minimalist boho dorm with ivy vines and collage wall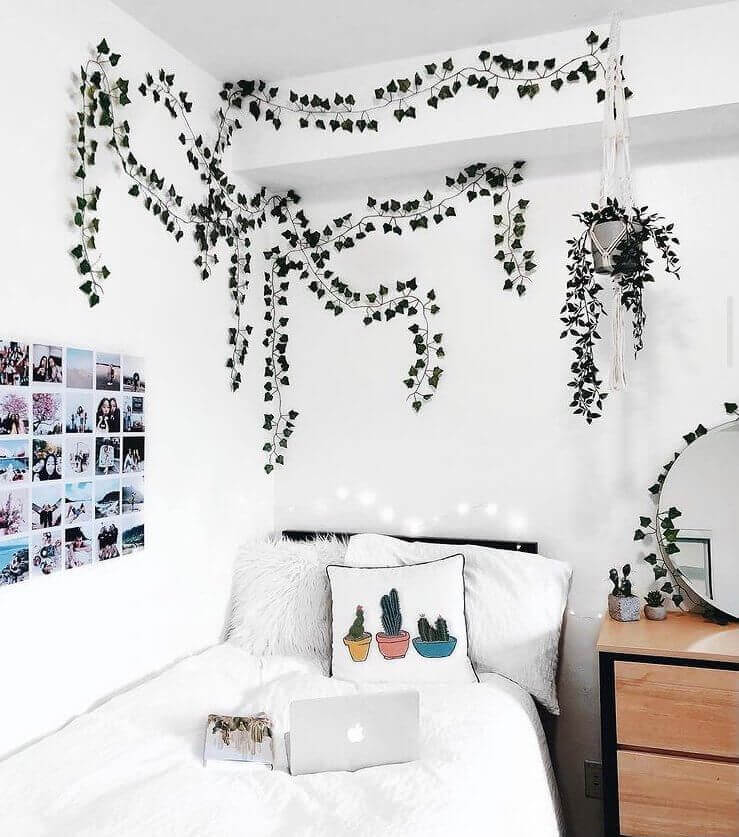 Hanging ivy vines is a great way to brighten your white college dorm walls.
Drape them on the wall in an asymmetric way to make it look more natural.
Also, can we have a moment for these fluffy white pillows? Almost everyone in college has these, but they're so good!
Besides white, you can get them in black, gray, or pink.
6. Modern minimalist dorm with dusty pink decor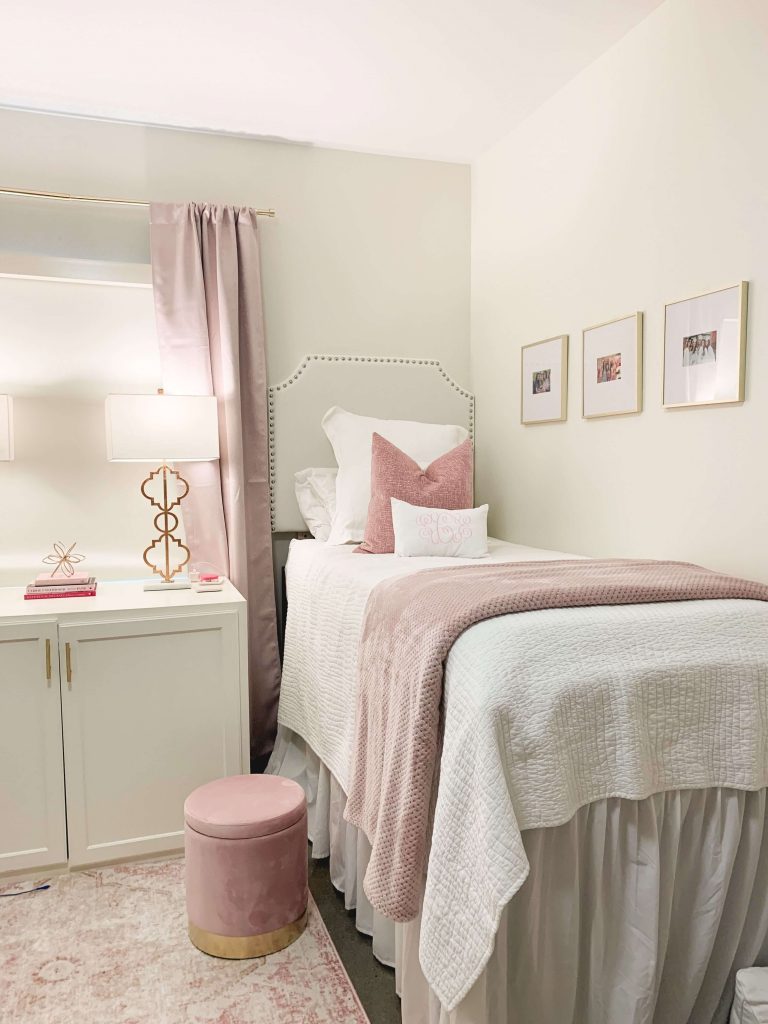 Dorm beds are usually high, so you'll need a quilt in twin bed size.
That way, it covers your bed nicely.
For your duvet covers, you can pick the regular single bed size.
Another must-have for lofted dorm beds is a bed skirt. It hides the (often) ugly dorm bed frame
.
Especially if you want a minimalist aesthetic with light colors in your dorm, these bed skirts are ideal.
Make sure to measure the height of your dorm bed to get the correct size.
Most girls have a storage ottoman in their dorms, and they're honestly the best.
You can get them in many shapes and styles, and I love this velvet pink storage ottoman.
7. Cozy minimalist dorm with light colors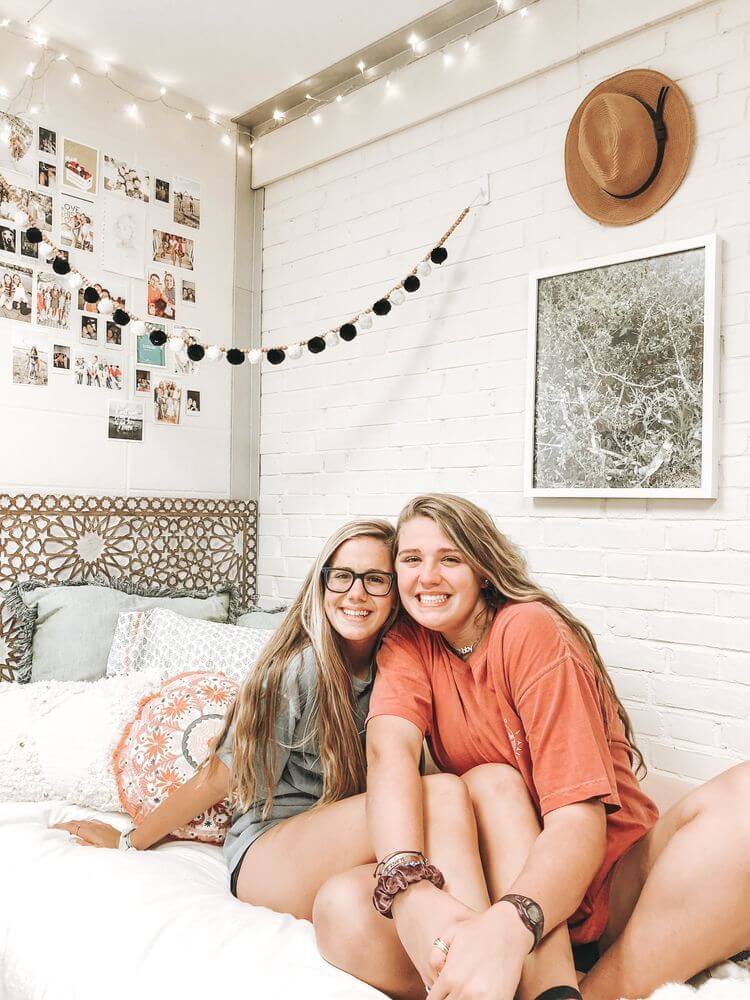 Brighten up a simple dorm with cute decor like this pom pom garland!
Fairy string lights are also a must to create a cozy ambiance in your dorm room.
8. Preppy dorm decor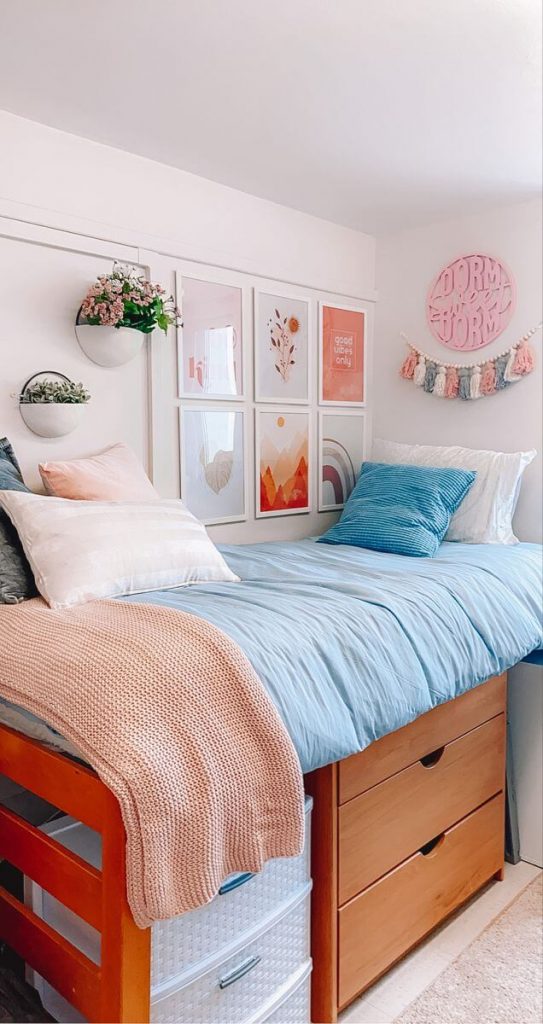 In minimalist dorm rooms, there is no clutter, and every decoration is carefully chosen.
The symmetric frames, cute planters, and tassel garland really pull everything in the room together.
Use storage drawers under your bed to tidy away your stuff.
Preferably get drawers that you can't see through. It will make your dorm look tidier.
This dorm shows how it's done!
9. Dorm with botanical prints and boho accent pillows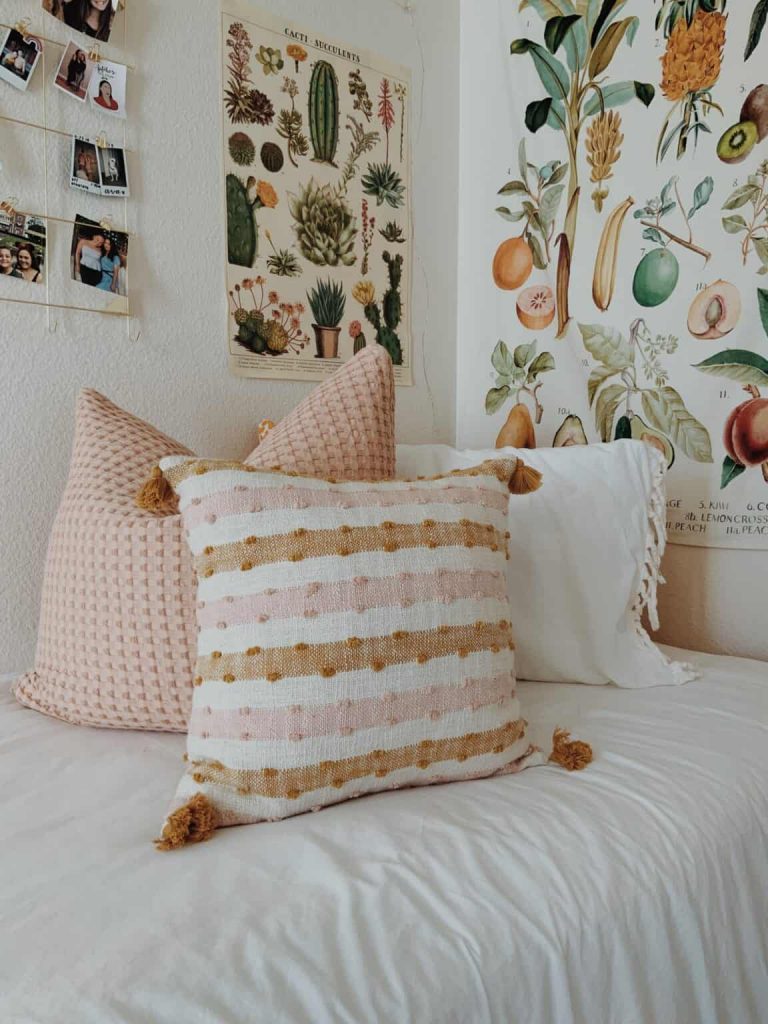 A botanical dorm theme looks cute and works amazingly in a room with a minimalist ambiance.
Pair your white bedding and botanical posters with subtle boho throw pillows for a fun accent.
10. Neutral dorm bedding with fuzzy blankets and pillows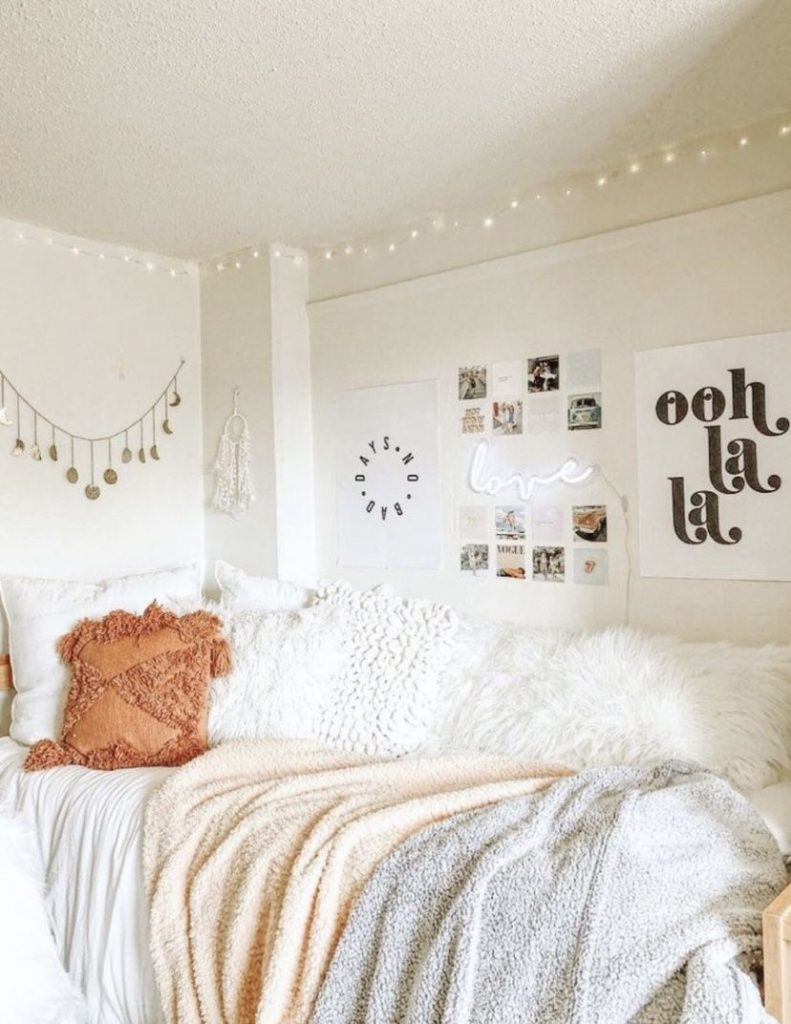 Minimalist dorm rooms focus on light colors, but that doesn't mean it's boring!!
For a luxurious look, layer different textures, like fuzzy blankets, embroidered pillows, and other textures.
11. Light & bright, minimalist dorm with storage ottoman
Combine white with subtle pastel colors for a modern, minimalist dorm room.
Once again, storage ottomans are essential in dorms!
They create extra storage space and help keep your space looking neat.
Get a few throw pillows in different sizes to feel cozy and comfortable to feel chill in your room.
12. Neutral dorm with sage green/blue decorative accents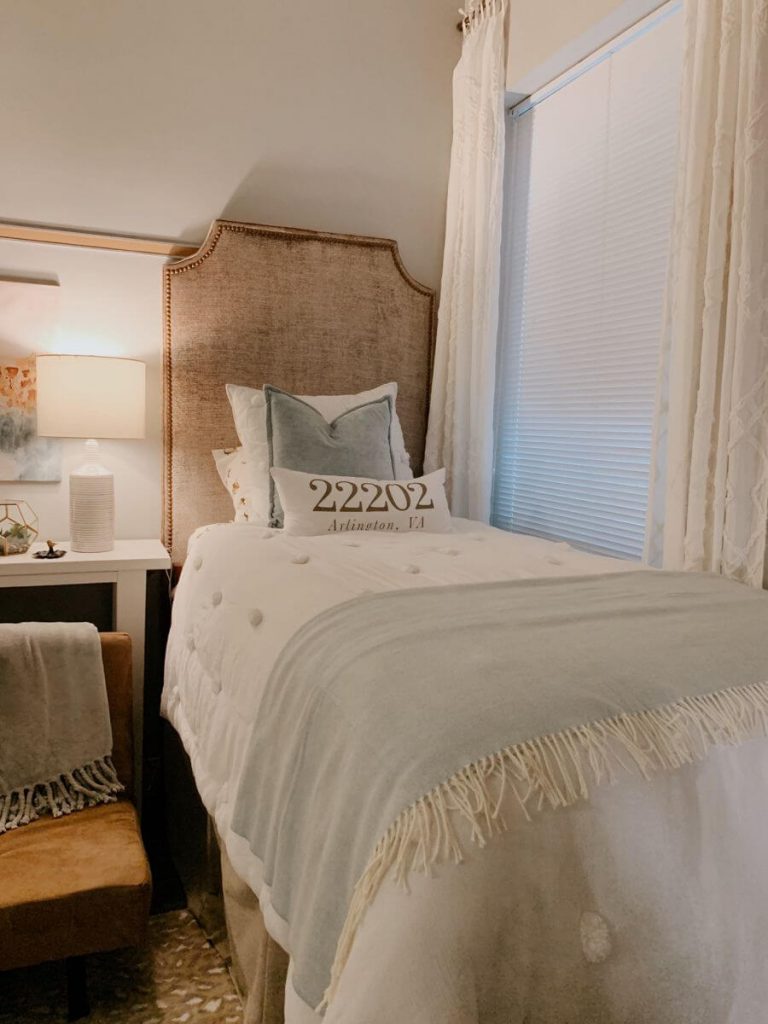 When picking out throw blankets and pillows for your room, pick ones with a luxurious texture!
They don't have to be expensive, but they make your dorm look much better.
Colors like sage green, aqua, and blue-grays look great with neutrals.
13. All white minimalist dorm room with chic decor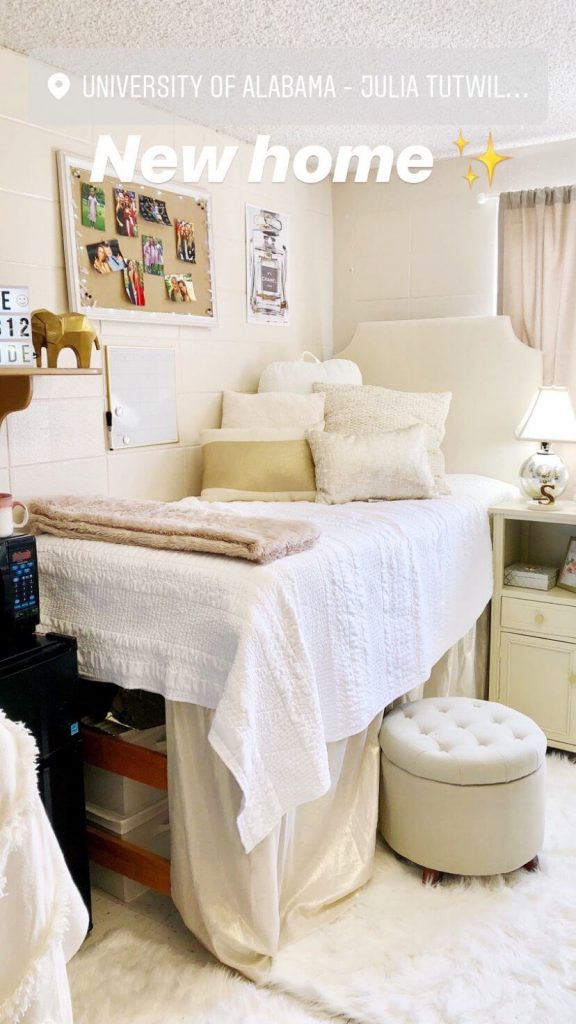 A fuzzy rug will make your college dorm look and feel so much better!
These rugs are trendy, cute, and inexpensive.
Place a storage ottoman on top for both aesthetic and practical reasons.
You can even use the ottoman to step up to your lofted bed; so practical.
14. Neutral boho dorm decor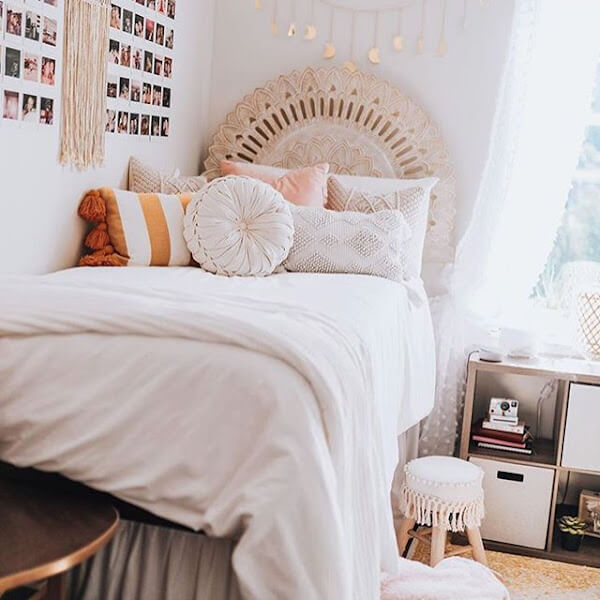 This dorm is a great mix between minimalist and boho, with light bedding, modern furniture, and the best decorative boho details like a macrame ottoman stool, embroidered pillows, and the cutest gold moon garland.
15. Minimalist college dorm with photo wall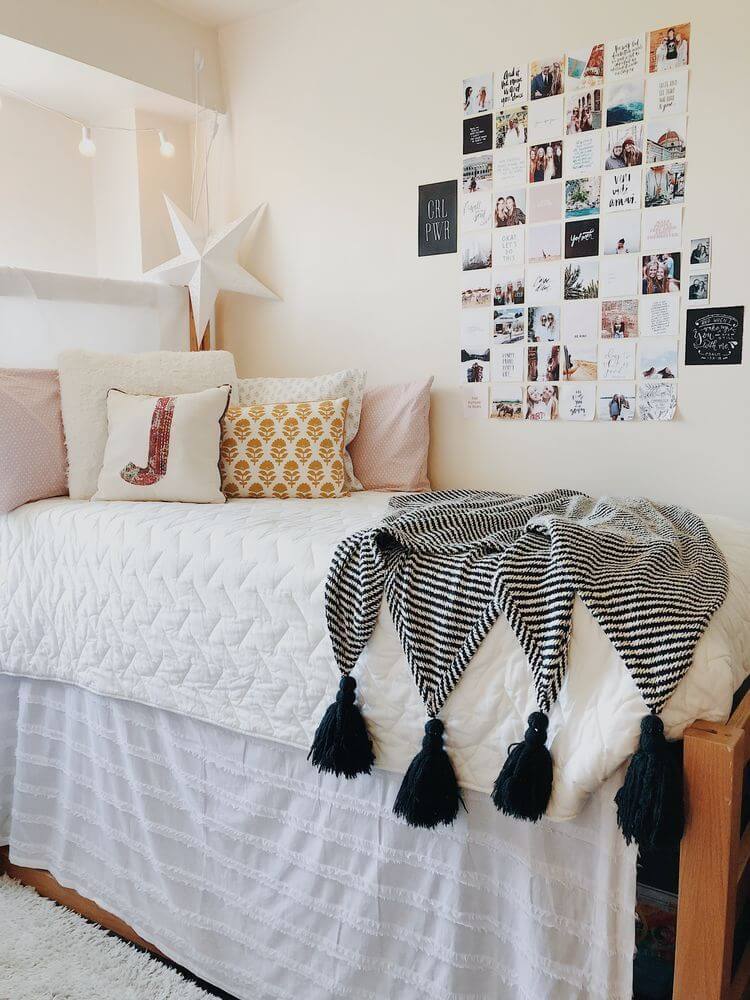 I love this bedding situation!
As far as I can tell, they have used a large textured white sheet instead of a bed skirt.
It works beautifully.
Place a rich textured comforter on top.
You can use a pop of color or a cool print for throw blankets.
16. Cute minimal dorm with preppy wall decor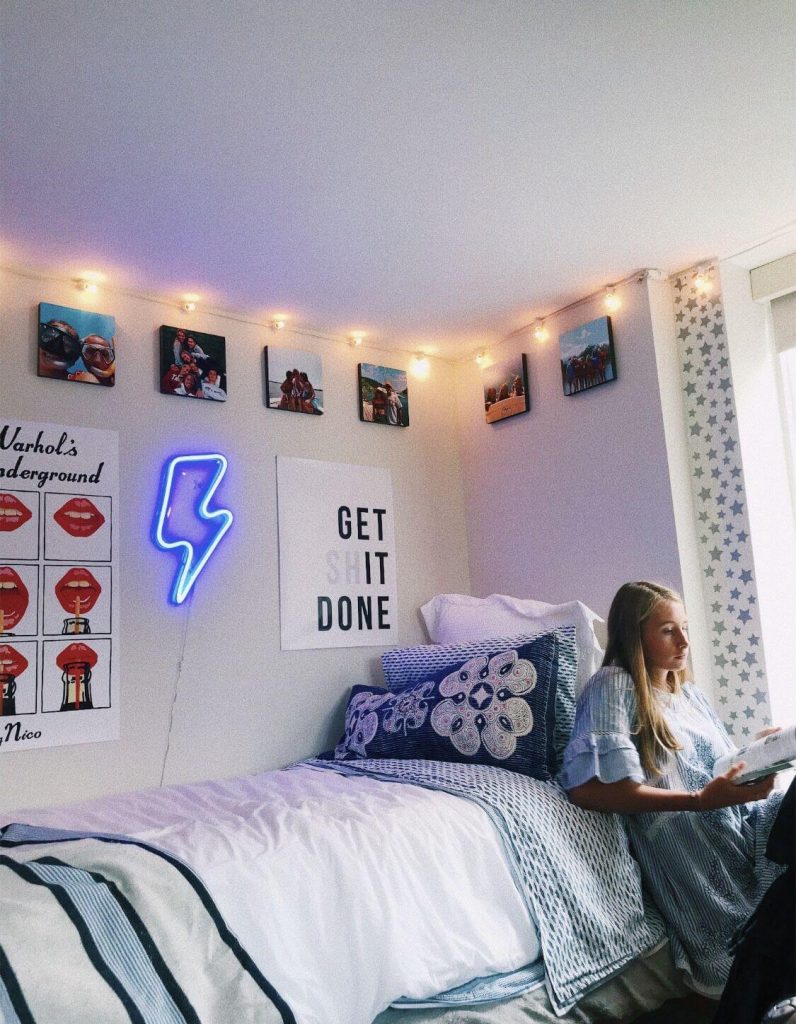 Preppy wall art looks amazing in minimalist dorms; this room is no exception.
Use a lightning bolt neon sign as your light.
Definitely adds a little funky atmosphere to your space.
17. Modern and minimalist dorm with neutral bedding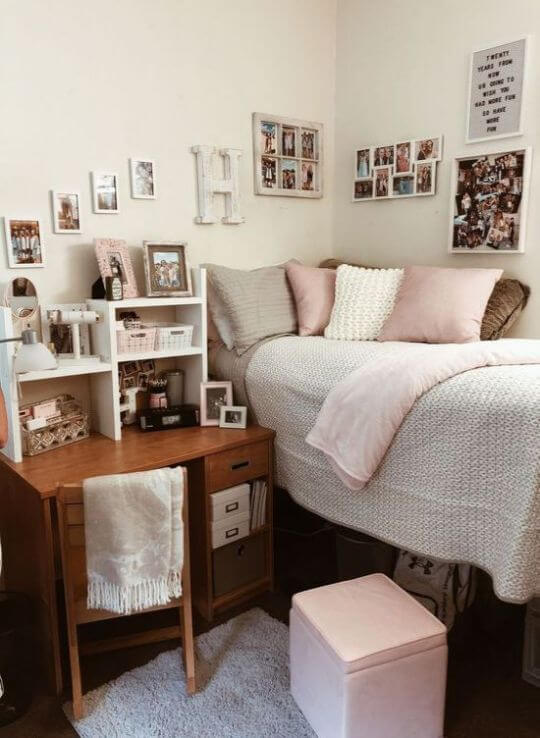 Desk organizers are a dorm room essential!
You can get either a full-fledged desk hutch or a smaller organizer shelf.
It's great for storing books and college items.
Tip: bring an ottoman that matches the color of your bed's throw pillows.
18. White dorm with a name sign and boho pillows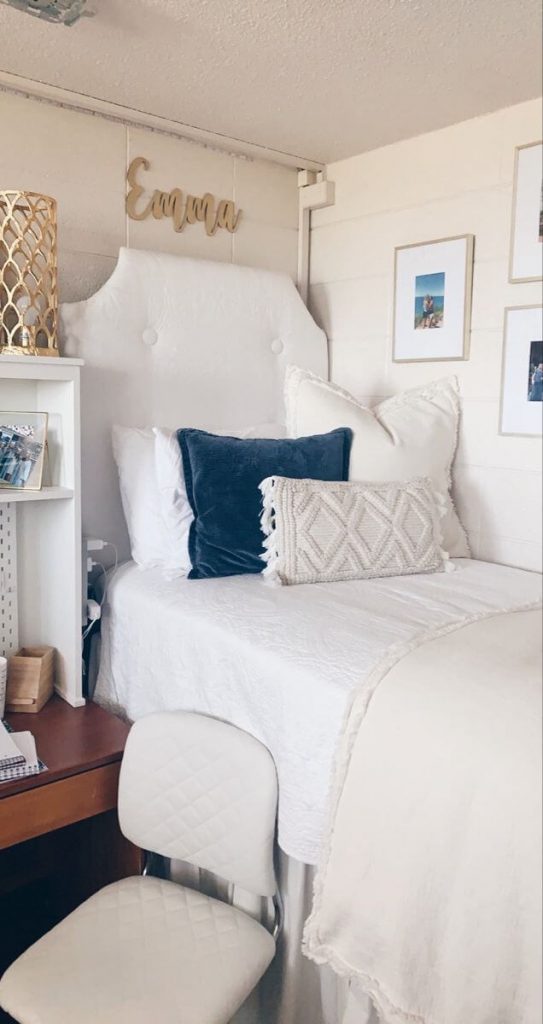 Add your name sign on the wall for a little personal touch in your dorm!
You can get name signs in many shapes, styles, and colors, and they're budget-friendly.
Also, I'm obsessed with this white boho lumbar pillow. Isn't it the best??!
This pillow shape is the perfect finishing touch to a throw pillow arrangement, so place it on the outside.
19. Pastel minimalist room decor
Go for a dorm room aesthetic that's both girly and minimalist!
Play around with pastels, acrylic furniture, and a subtle print here and there.
20. Minimalist room with green decorative posters and vines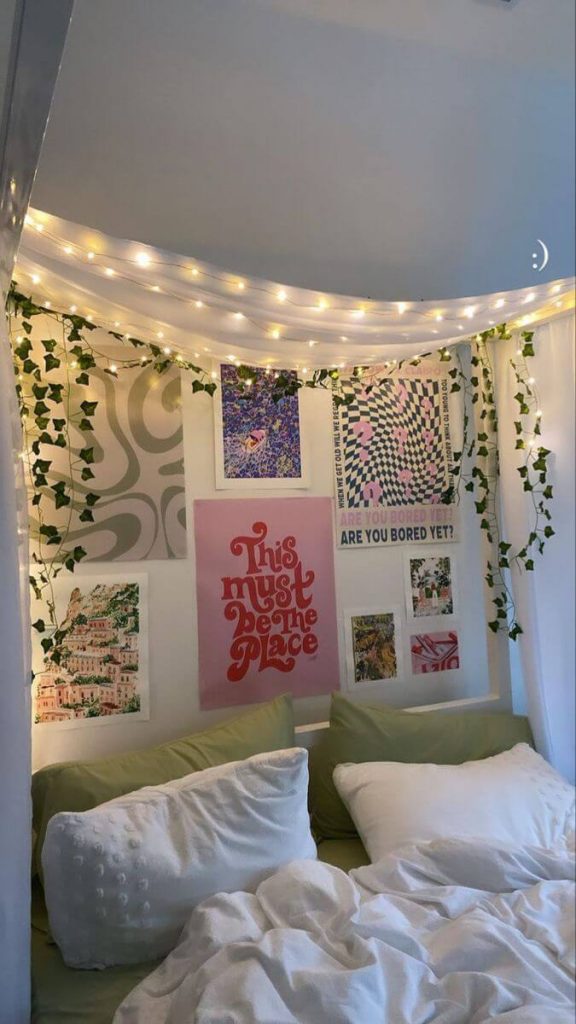 This minimalist boho dorm has the best wall posters.
Buy different posters and make your composition on the wall.
Just stick to a color scheme of 3 dominant colors.
21. Minimalist college dorm with vintage world map and pictures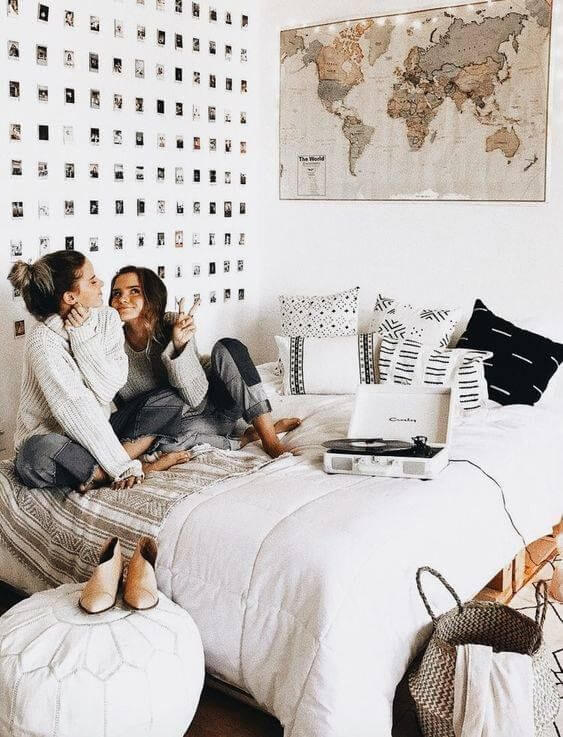 This room combines a minimalist and boho aesthetic but uses only monochrome colors.
When you use only black and white, you can go nuts by combining different prints and textures.
I'm obsessed with the pillows in this room and the vintage world map.
22. Cozy room with pink throw pillows and picture bulletin boards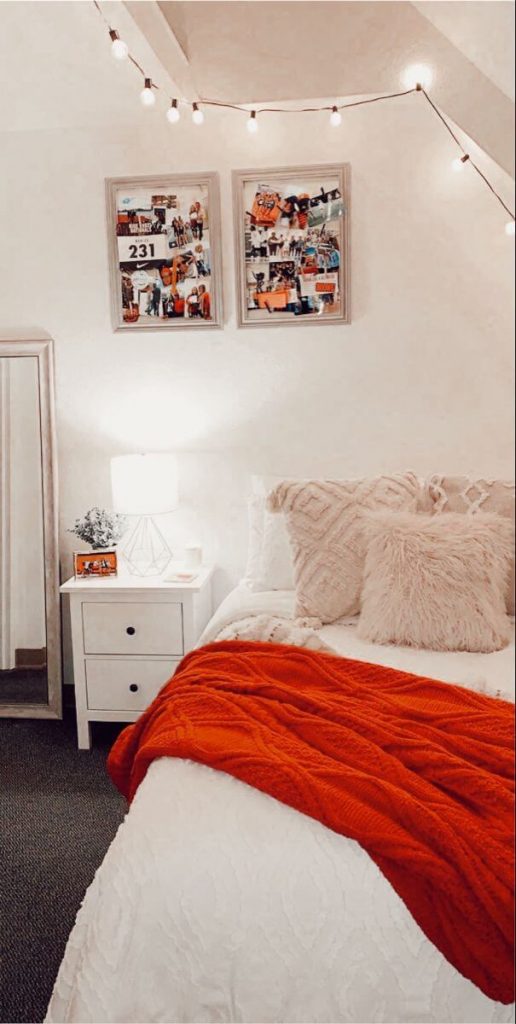 A little color-blocking never hurt anybody!
You can easily add pops of color in a room with simple furniture.
I especially love the texture of these throw pillows.
Rich textures give a room character and make it look great!
23. Chic boho dorm decor and minimalist aesthetic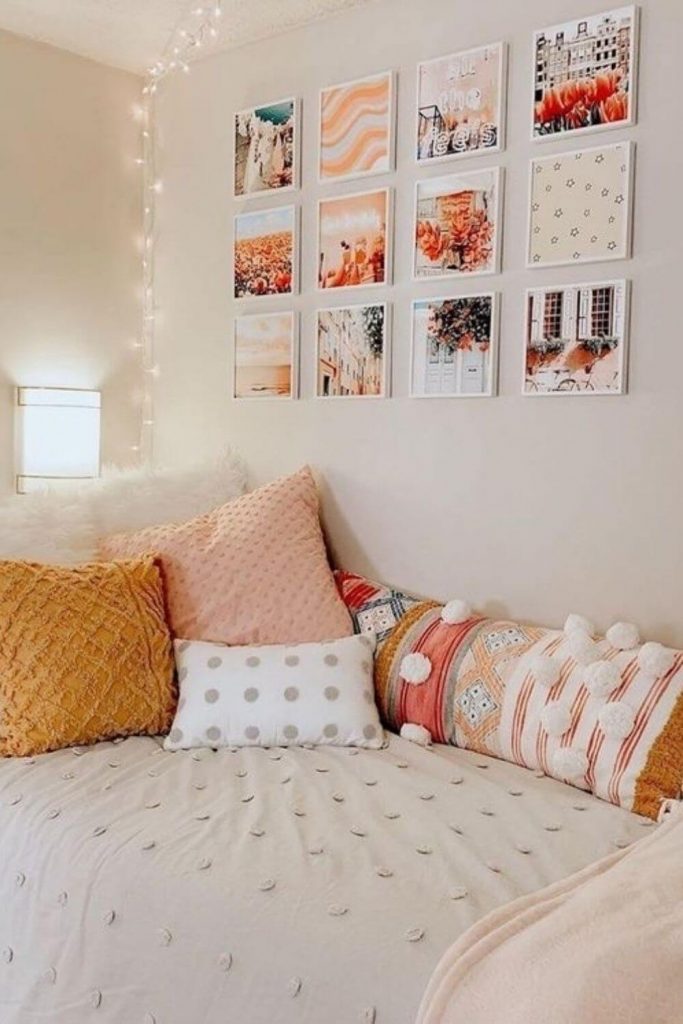 This little boho gallery wall is seriously dorm goals!
To stay within the minimalist aesthetic, make your gallery wall look symmetric.
The arrangement of throw pillows is also incredibly cool.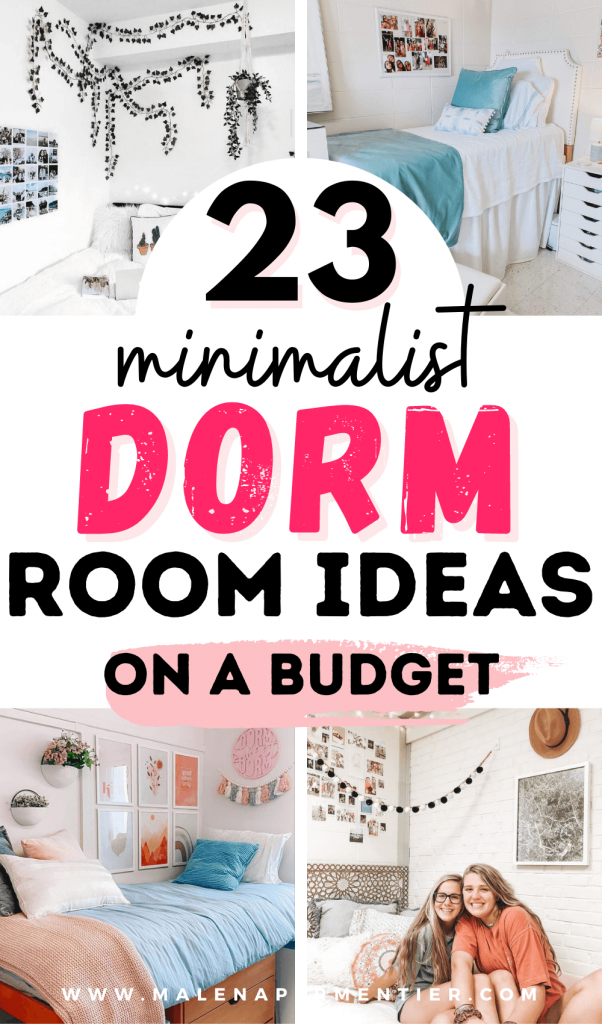 This post showed you the best minimalist dorm room ideas.
You may also like: