This post shows you the best 18th birthday ideas.
Your 18th birthday is a big deal! It reflects growing up in so many ways. So celebrating it LARGE (if that's your thing) is worthwhile.
I know people always say, 'but you can't drink alcohol yet,' but honestly, you don't need it to have a fun party with friends.
Below, I'm listing 18 fun and cute 18th birthday party ideas you'll love!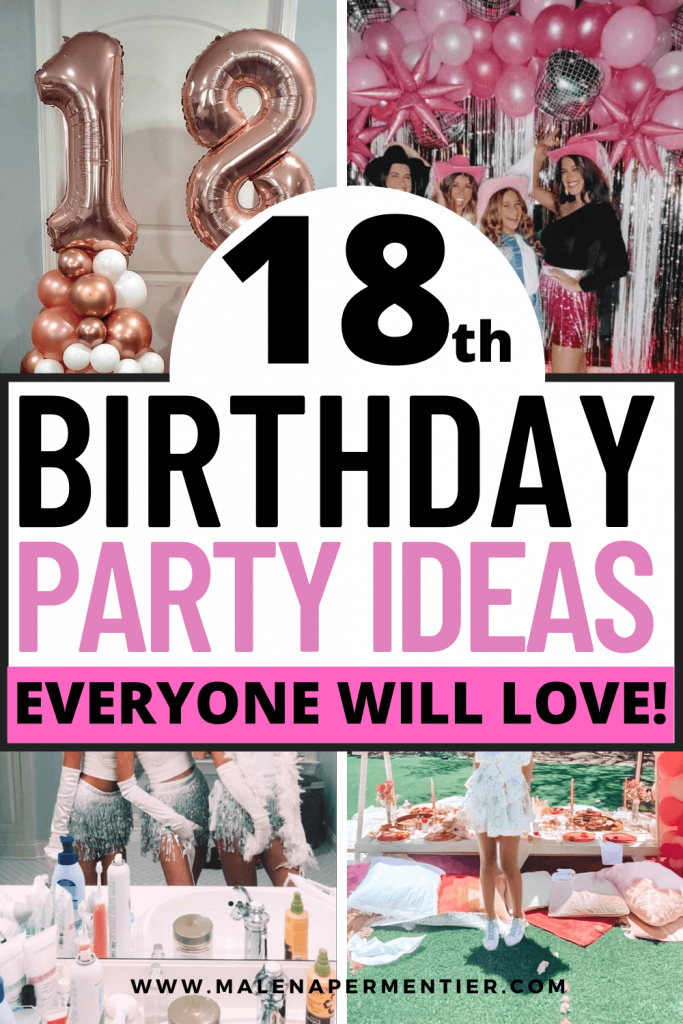 18th birthday party ideas
1. Hang 18th birthday balloons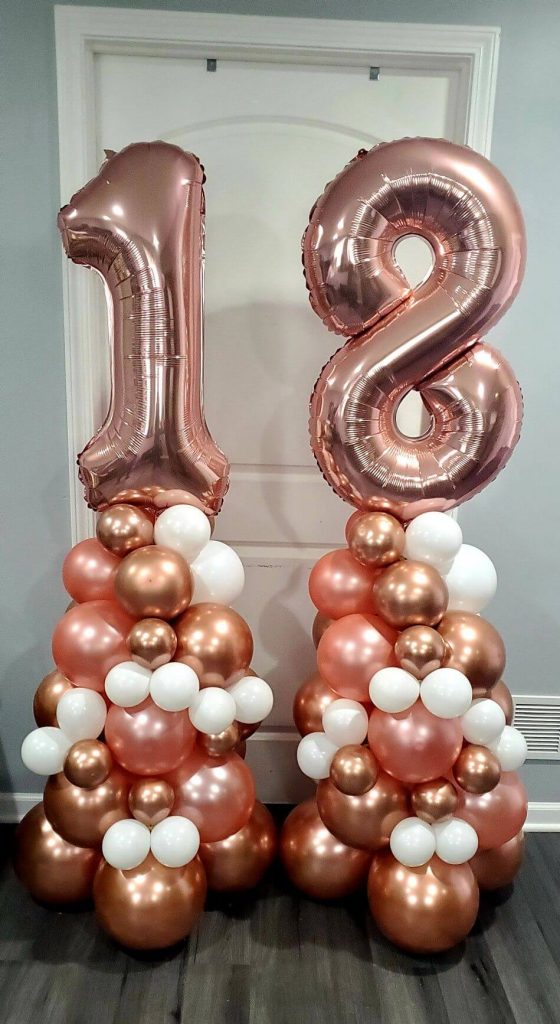 18th birthday balloons are a must! not only for decoration but also to use as a picture prop 🙂 (see below)
Consider sticking with a color theme for your birthday party. That makes picking the right decorations for your party so much easier.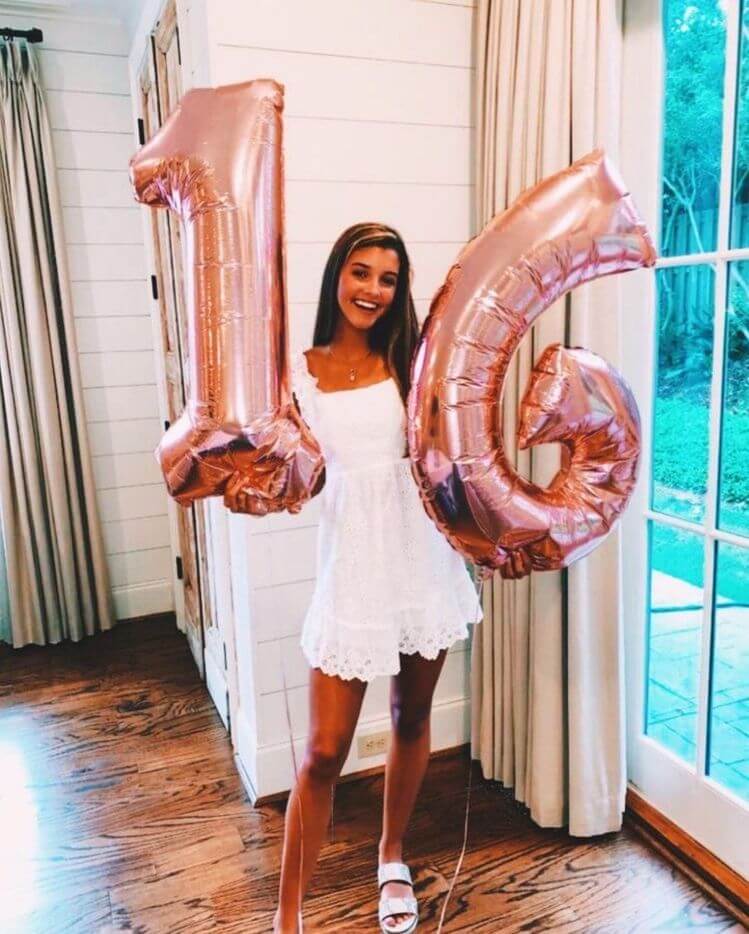 2. Go for a rose gold theme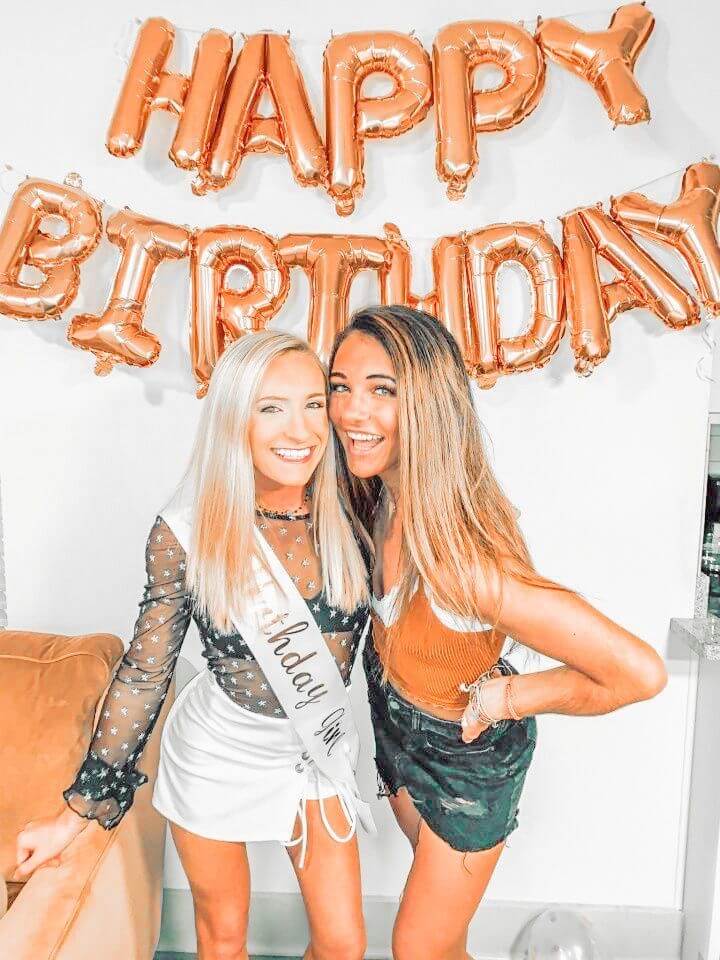 A rose gold 18th birthday party theme is super popular.
Luckily there are plenty of inexpensive decorations to find in this color!
Hang a rose gold balloon happy birthday garland for festive vibes!
The happy birthday garland is also the perfect backdrop for pictures.
3. Host a movie night party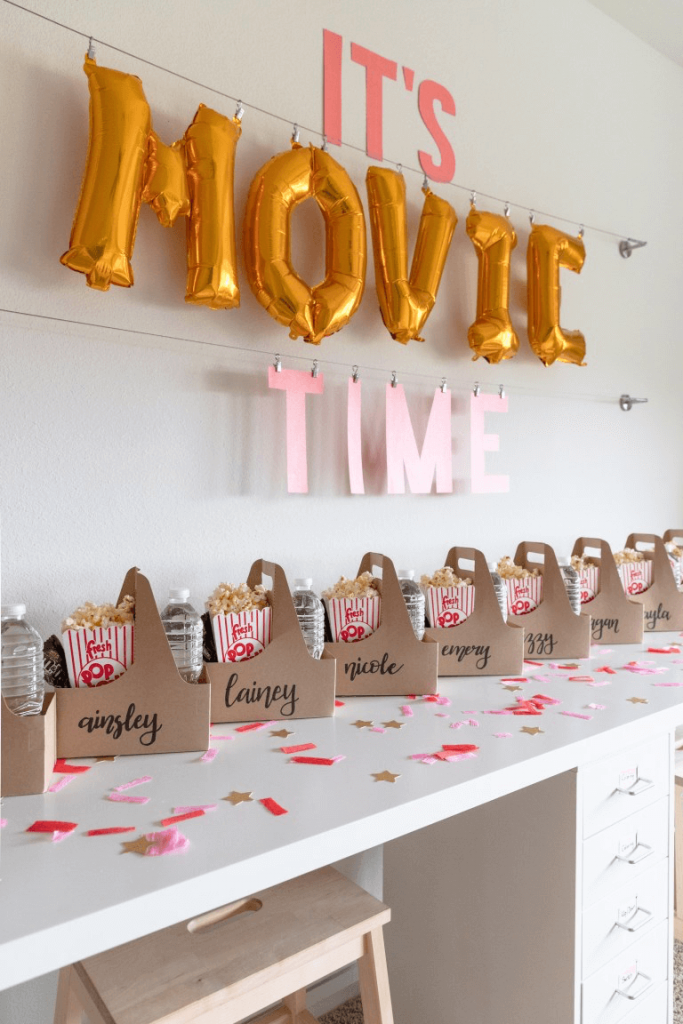 Hosting a moving night is a simple yet insanely fun and inexpensive way to have an 18th birthday party!!
Set up your living room with a big screen, get plenty of snacks, and use movie-themed decorations like popcorn boxes and a movie clapboard – which by the way, is also an insanely fun photo prop :).
4. Make it a fancy picnic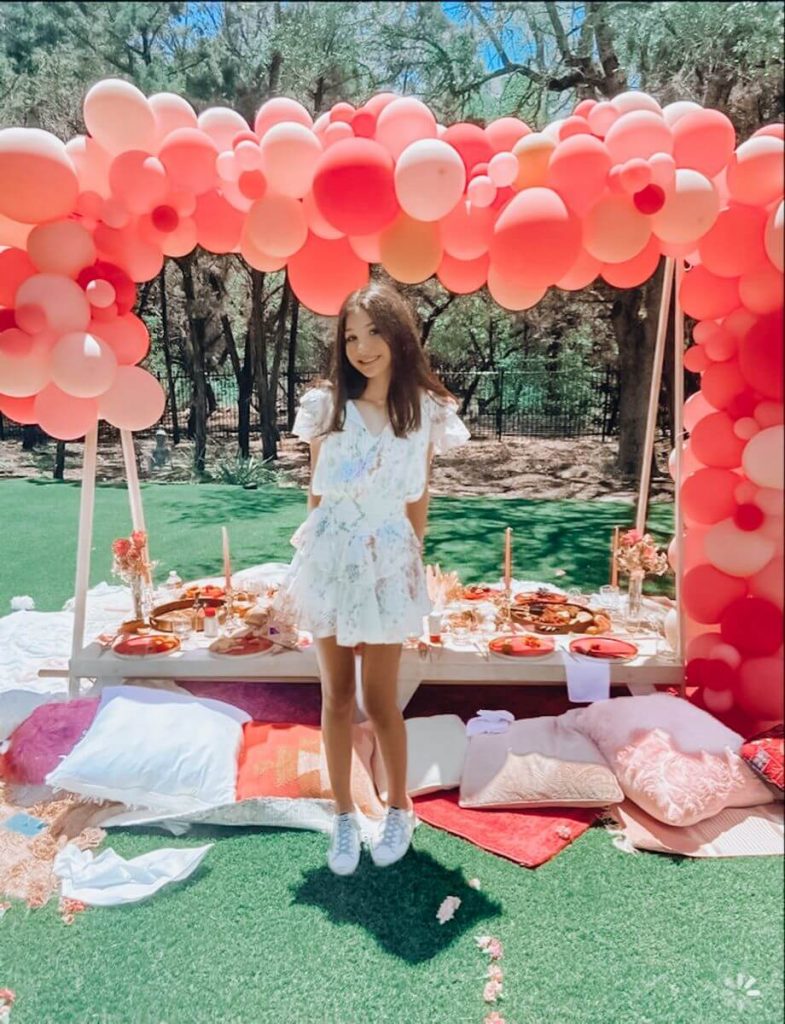 Are you throwing your 18th birthday party in the summer? Have your birthday party outdoor!
Even in a small backyard, you can set up a cute table setting with balloons, or if you're throwing your party at night, with rustic string lights.
Make an easy menu with finger foods, do a BBQ and serve summery dishes like a salad with strawberries and appetizers.
5. Have a sleepover PJ party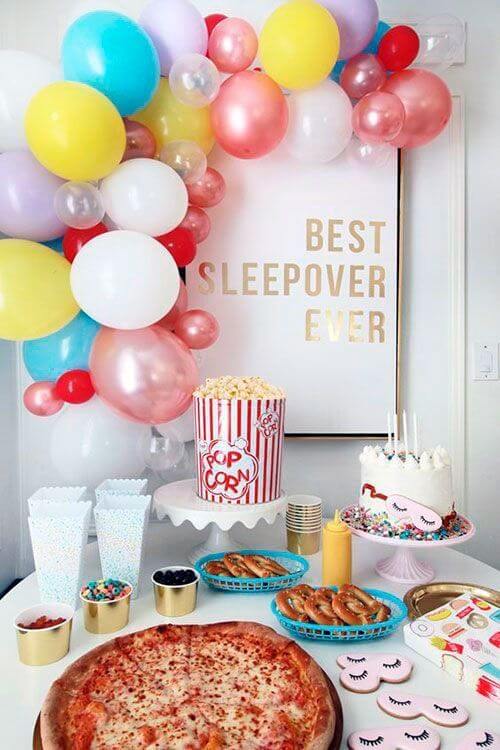 Have an 18th birthday pajama party! Super fun and one of the best indoor party ideas you and your friends will love.
Have movies ready, cute snacks, and party favors like these insanely cute polka dot sleeping masks.
PJ parties are great for celebrating your birthday with your closest friends, ordering pizza, and making memories that last forever.
6. Cute photo moments with friends (make a photo backdrop)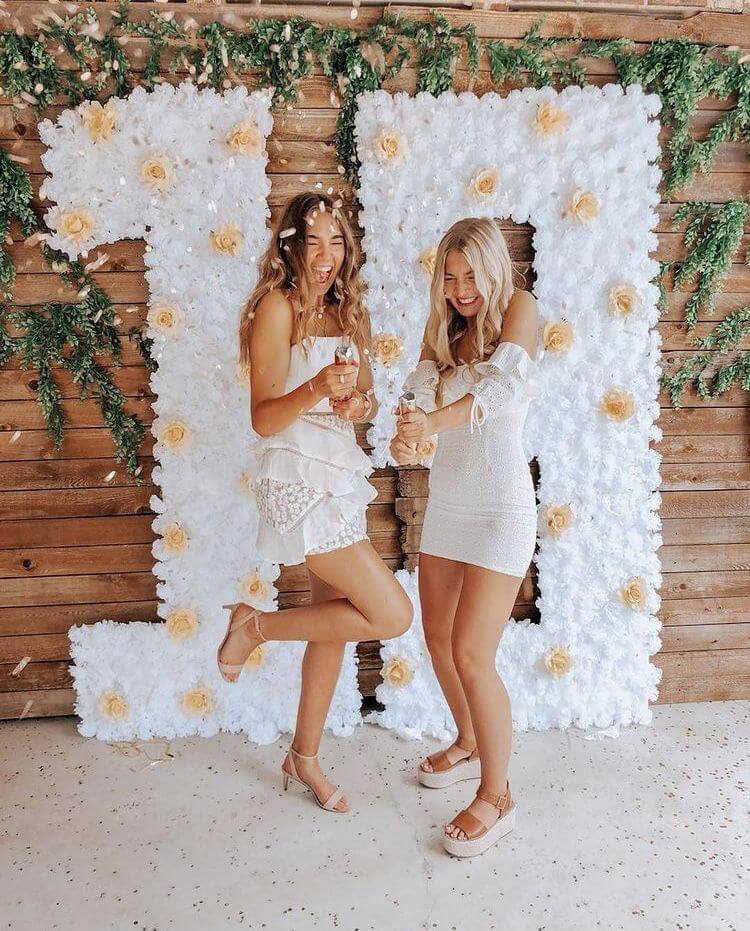 Make a photo backdrop for your 18th birthday if you have the space!
DIY a large 18 display and hang a lush ivy garland on the wall for a rustic vibe.
7. Capture the party with disposable cameras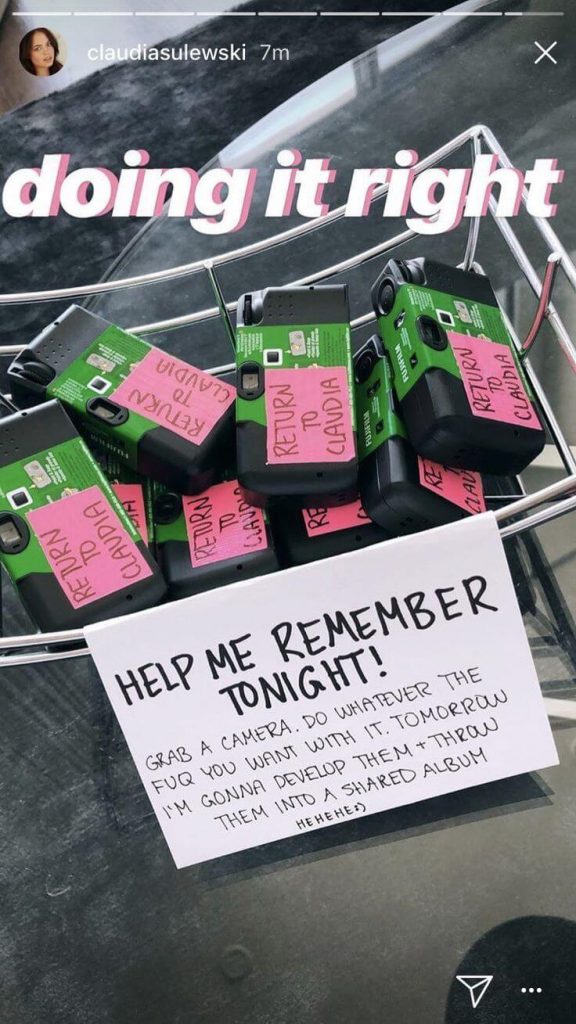 Invest some money into disposable cameras for your party – you won't regret it!
It's so fun taking pictures in a party setting, not knowing what comes out of it.
This is a great way to make the memories of your 18th birthday last!
8. Make a charcuterie board with sweet treats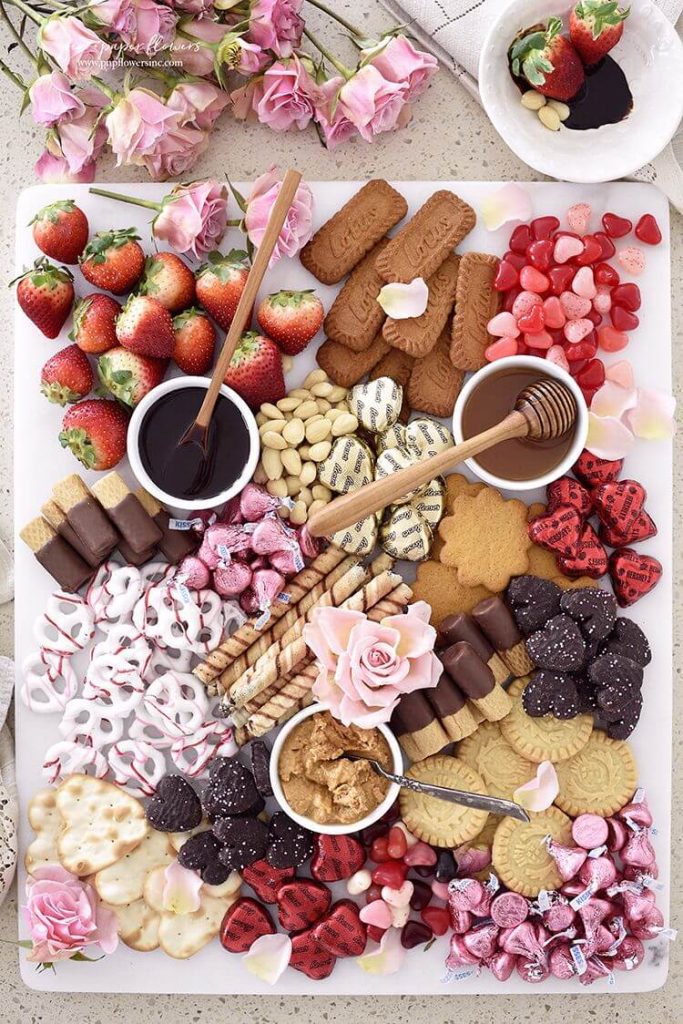 Get creative with the party food for your 18th birthday!
I love charcuterie boards because you can do so many things with them.
Make a charcuterie board with sweet treats in a pink theme. It looks amazing, and everyone will love this!
9. Have a donut wall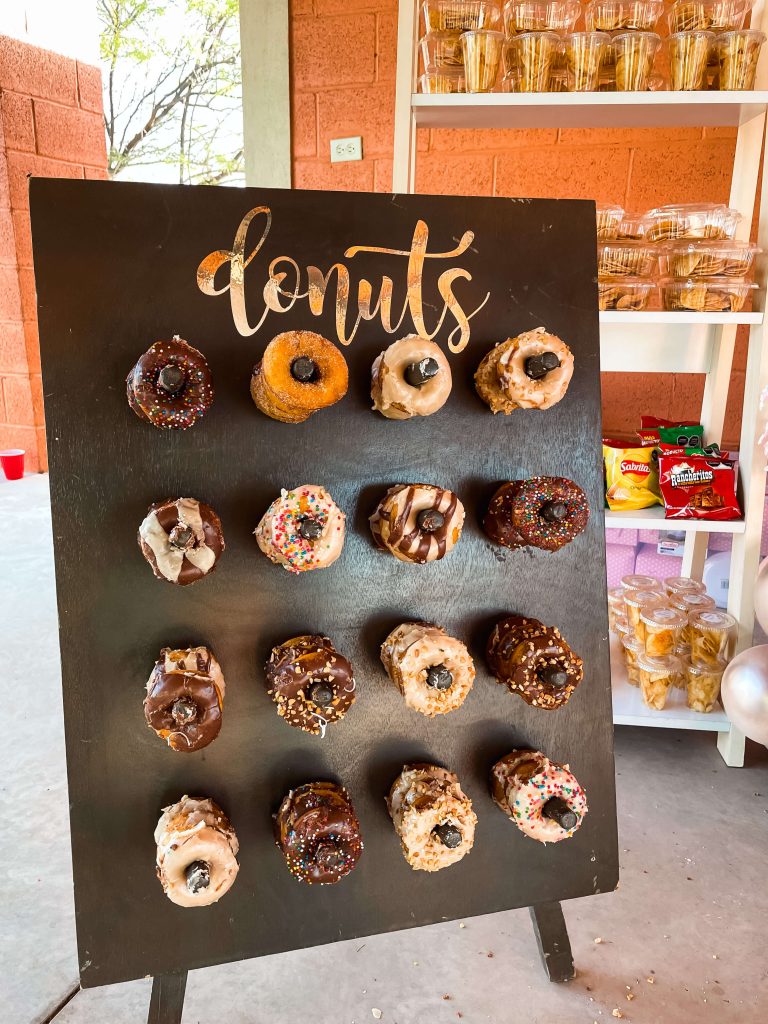 I'd go as far as to say that a donut wall is a great idea for any party!! People love it, it looks cute, and it's pretty budget-friendly party idea to recreate.
10. Host a fancy dinner party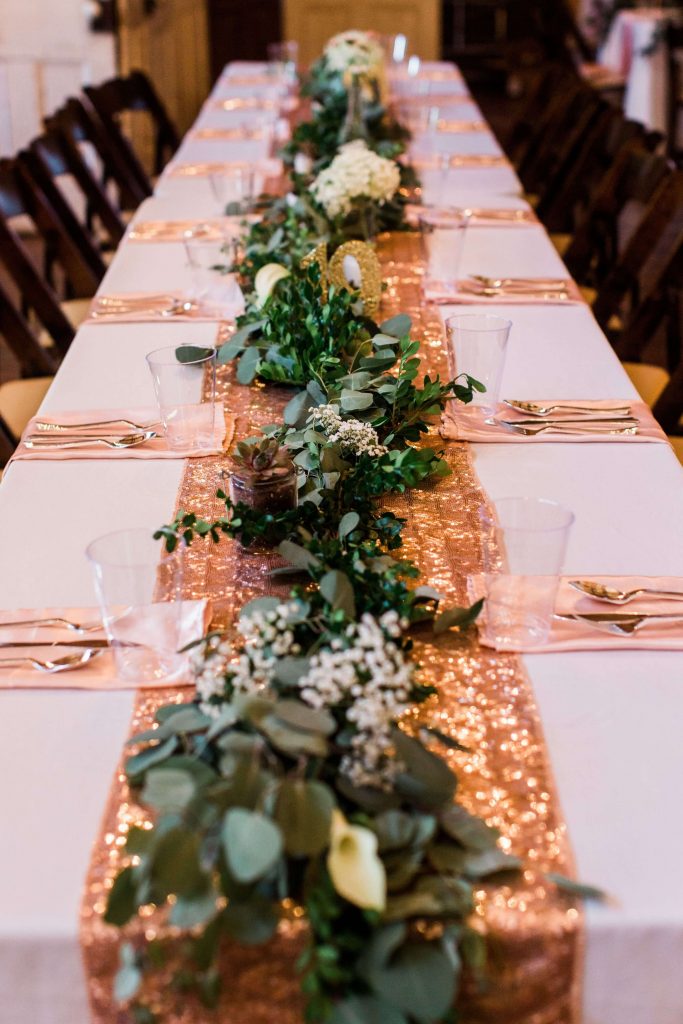 Create the coolest dinner party set up with a rose gold theme.
When it comes to food, you can make the cooking part of the party!
Cooking with your girlfriends is so much fun. Have 3-5 recipes and ingredients ready and get cooking.
Think of: homemade pizzas, roasted chicken, lasagna, burgers, or if you want to make something more elaborate, think of a good roasted salmon dish.
You can also consider making 3 to 5 different courses.
11. Make it a costume party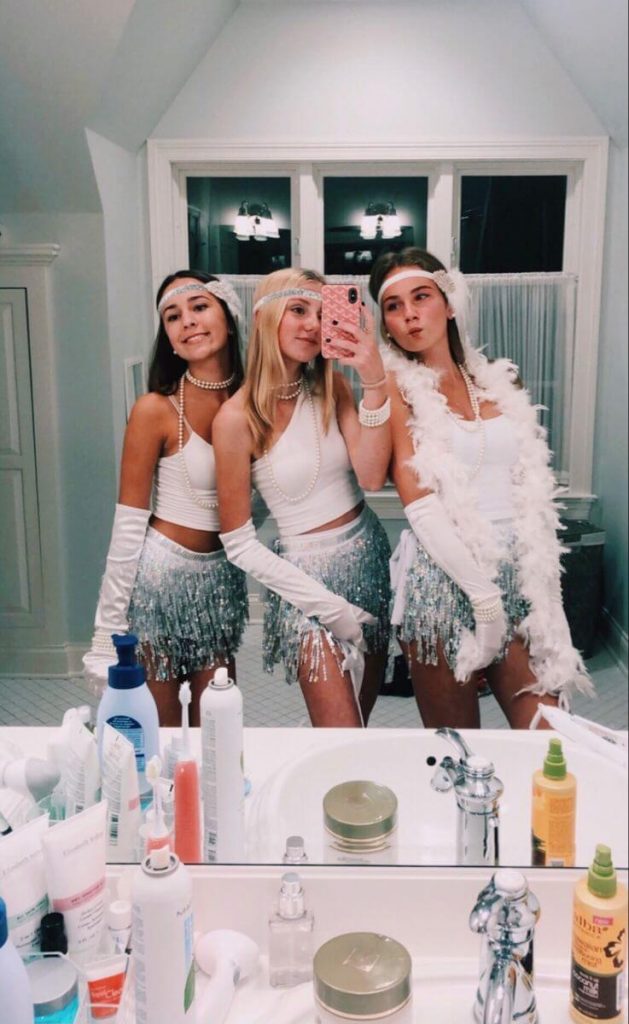 Everyone loves a dress-up theme! For an unforgettable 18th birthday party, have a dress code and party theme.
These flapper girls' costumes are the cutest and make for the cutest photo ops :).
Other popular dress-up themes for birthday parties are space cowgirl and Y2k.
12. Serve cute drinks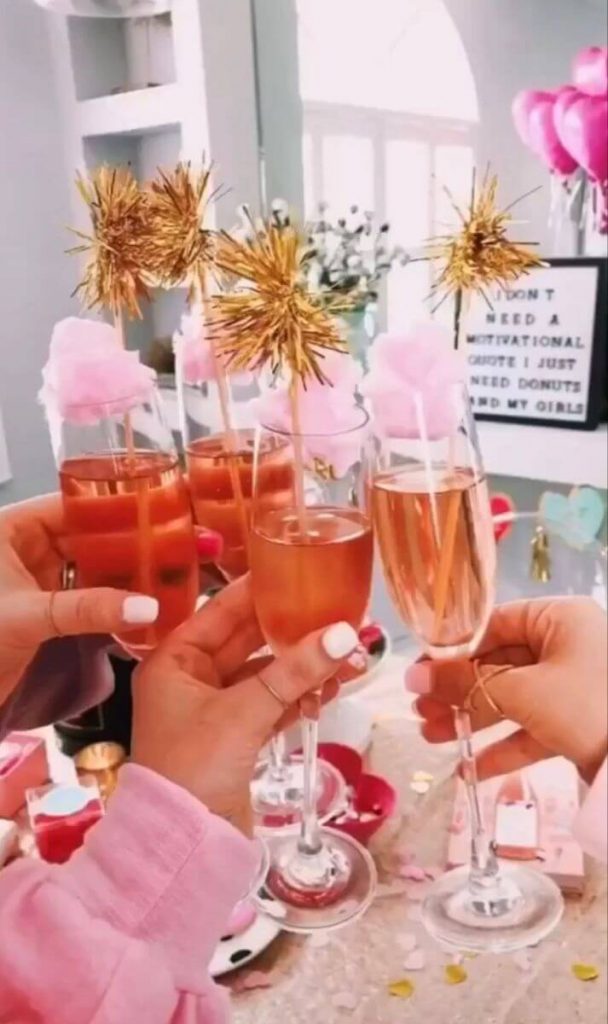 Make the drinks at your party extra cute! There are many delicious mocktail recipes out there.
Make sure to serve drinks in champagne glasses, and don't forget to decorate. Use these tasty mocktail mixers to make cute drinks.
13. Throw your party outdoor
If your birthday is during the summer, use your backyard! Use pallets as tables, a white sheet as a table cloth, and decorate with pillows and candles.
A backyard birthday party works great with a barbeque, grazing table, and snack foods.
You can also combine an outdoor dinner party with a movie night.
People who have birthdays in summer are lucky!! I'm jealous.
14. Have a birthday brunch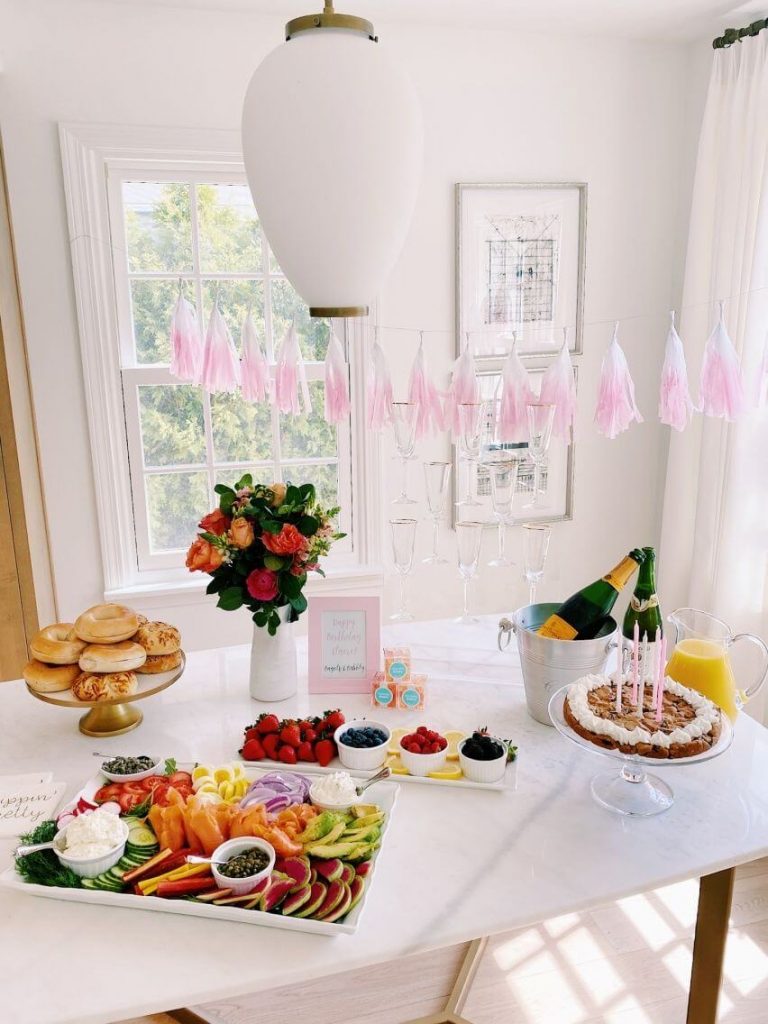 Everyone loves breakfast foods! Hosting a birthday brunch gives you an excuse to whip up breakfast favorites like waffles, pancakes, bagels, alcohol-free mimosas, and more fun stuff.
If you're throwing a PJ party, hosting brunch the next day is also a great idea!
15. Do a dress-up theme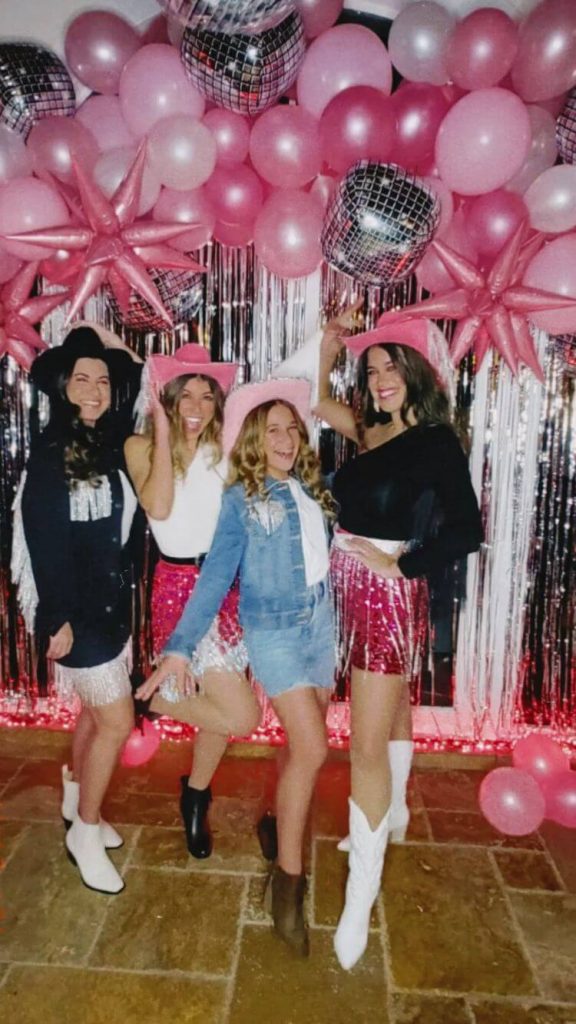 I briefly touched on the birthday party dress-up theme above, but here is another great idea!
The space cowgirl theme has become insanely popular, whether for dorm parties or a college halloween party.
Give your friends the dress code for your party, and don't forget to decorate with lots of pink and disco balls. Why? We don't know, but we love it.
16. Candy bar buffet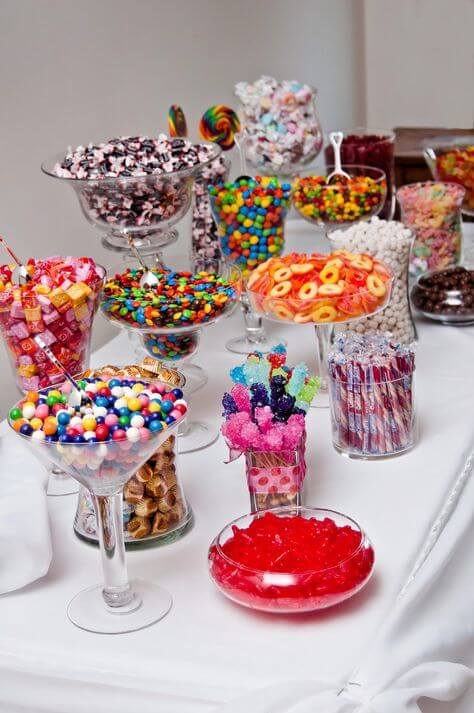 Have a candy bar buffet to celebrate your birthday!! You can combine this with a movie night or another activity you love.
Candy buffets look super festive, and it's more original than only having a cake!
17. S'mores station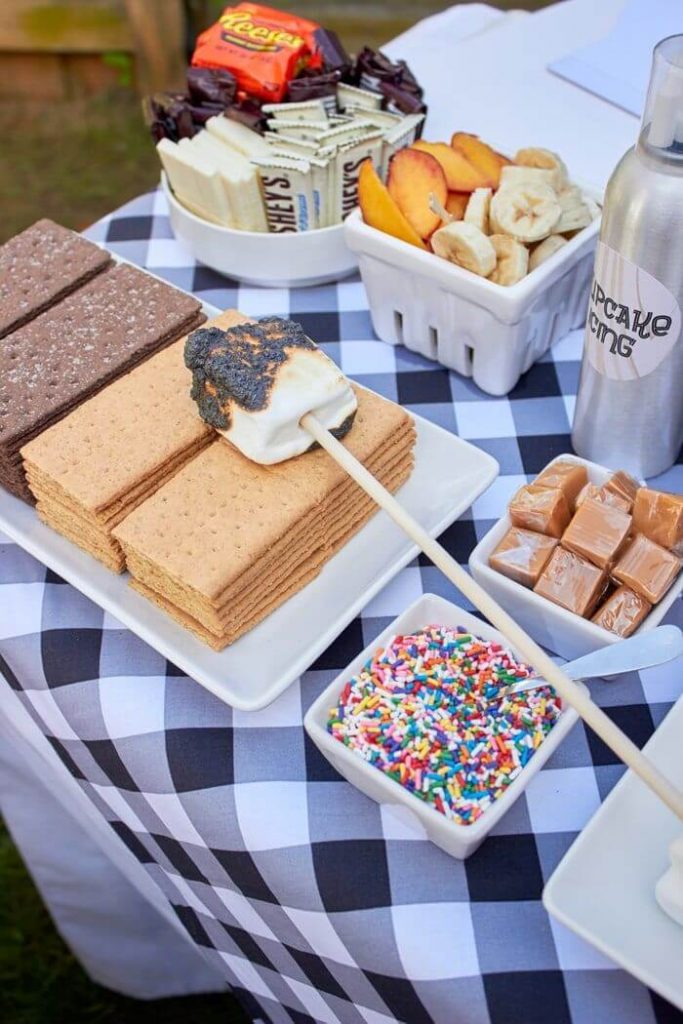 If you want to do something super fun, have a s'mores station at your birthday party!
This idea works for both indoor and outdoor parties.
Keep all the s'mores essentials and toppings ready for people to use. You can use chafing dishes or an electric s'mores station for indoor parties.
18. Don't forget to take cute pictures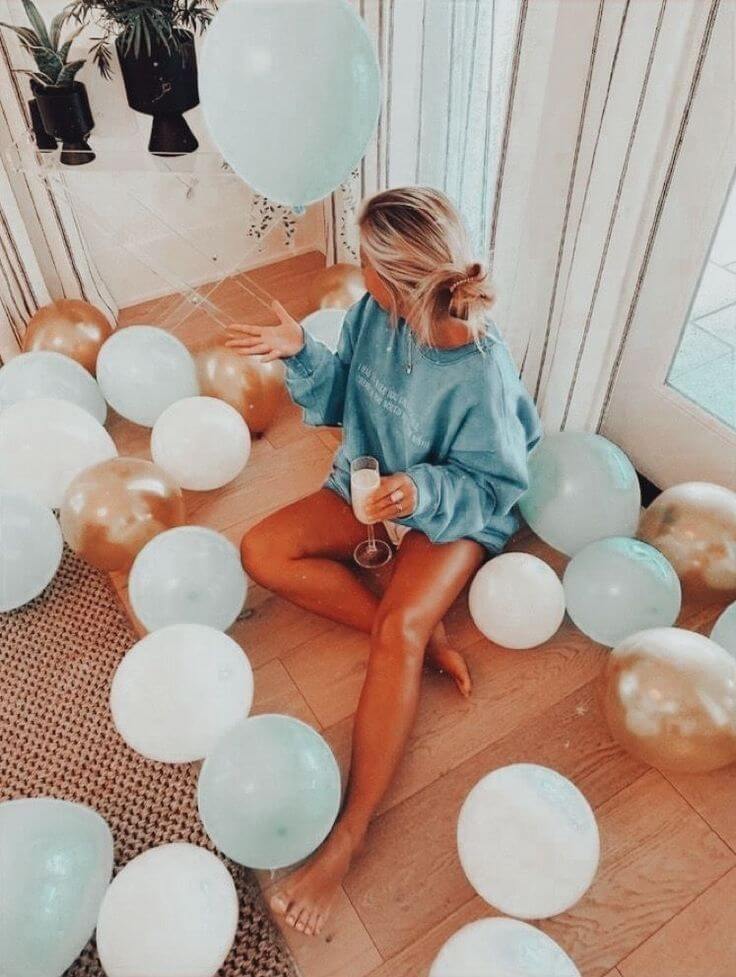 Your 18th birthday is an occasion like no other, so don't forget to take lots of cute pictures!!
You deserve to remember this day in the best way.
Let your friends help set up a pretty photo backdrop and strike a pose (okay many!)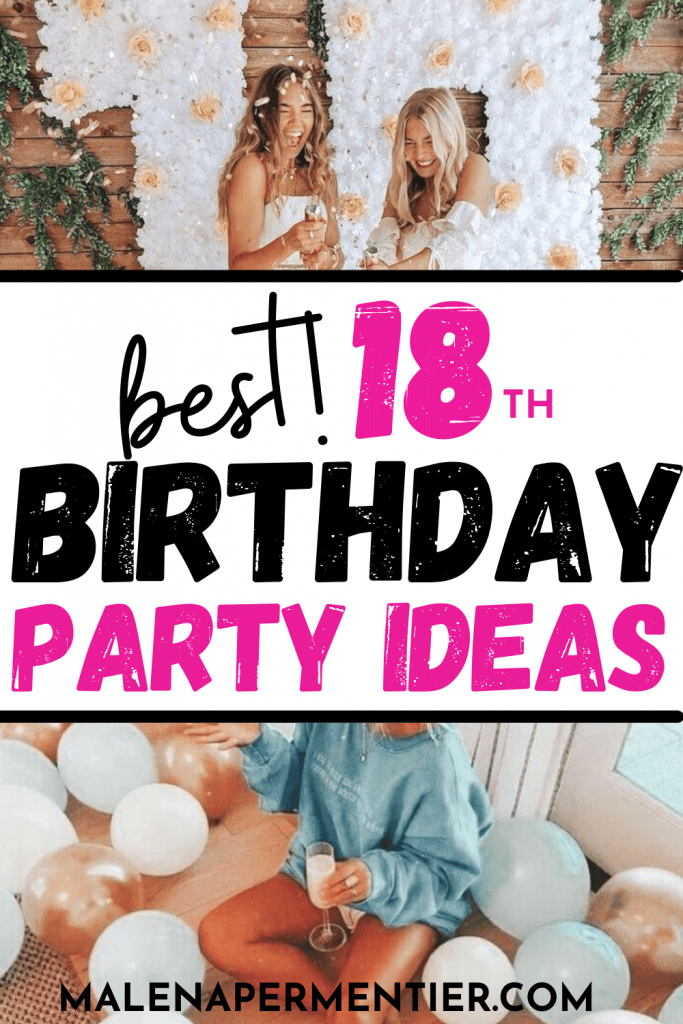 This post showed you the best 18th birthday party ideas!
You may also like: