21st birthday coming up? Chances are you want to celebrate it big!!
Turning 21 is huge because it's where grown-up life begins. You can now legally drink (please do so with moderation!!), and well, 21 is just quite the milestone.
In this post, you find the best 21st birthday party ideas for at home, indoor and outdoor. Throwing your bday party at home is fun, saves money, and you can go all out with decorations.
We'll look at the best party themes, food and drinks, entertainment, games, and more fun stuff to make your 21st birthday a night or day to remember.
Best 21st birthday party ideas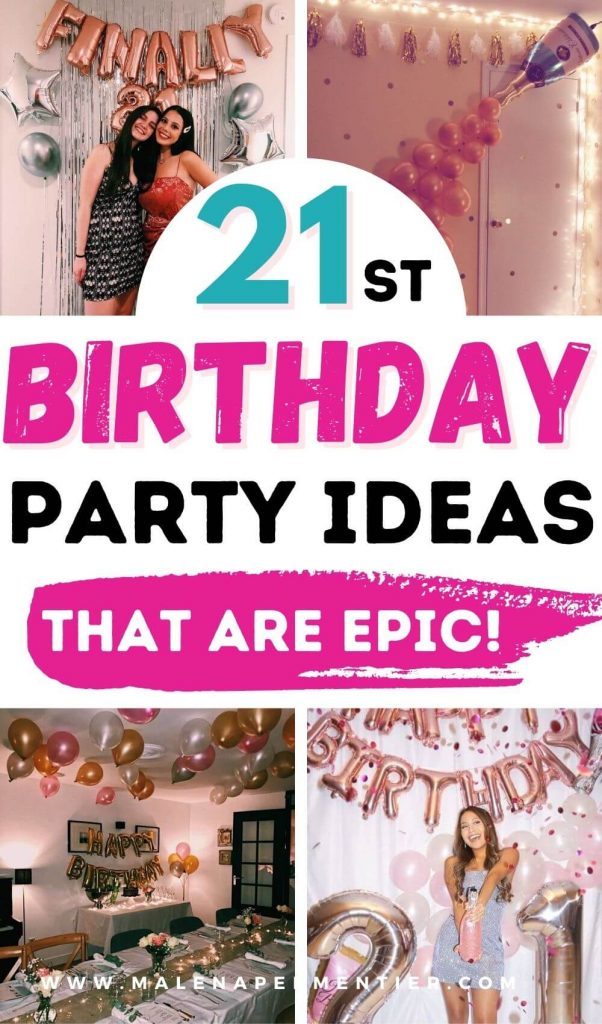 21st birthday decorations
1. Happy 21st birthday balloon decor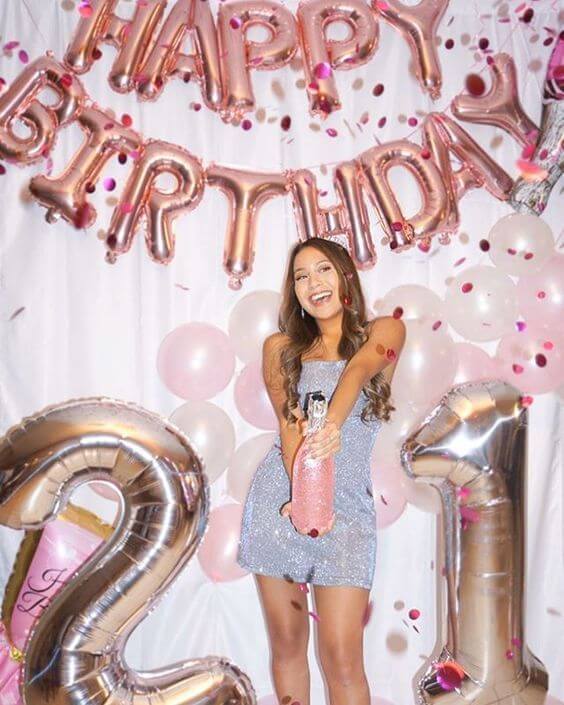 Your 21st party NEEDS all the balloons. This combination of happy birthday balloons, number 21 balloons, and regular balloons that fit the rose gold theme makes this party decor pop! Use a white curtain as a backdrop, so the bday decor pops even more.
2. Rose gold tinsel curtain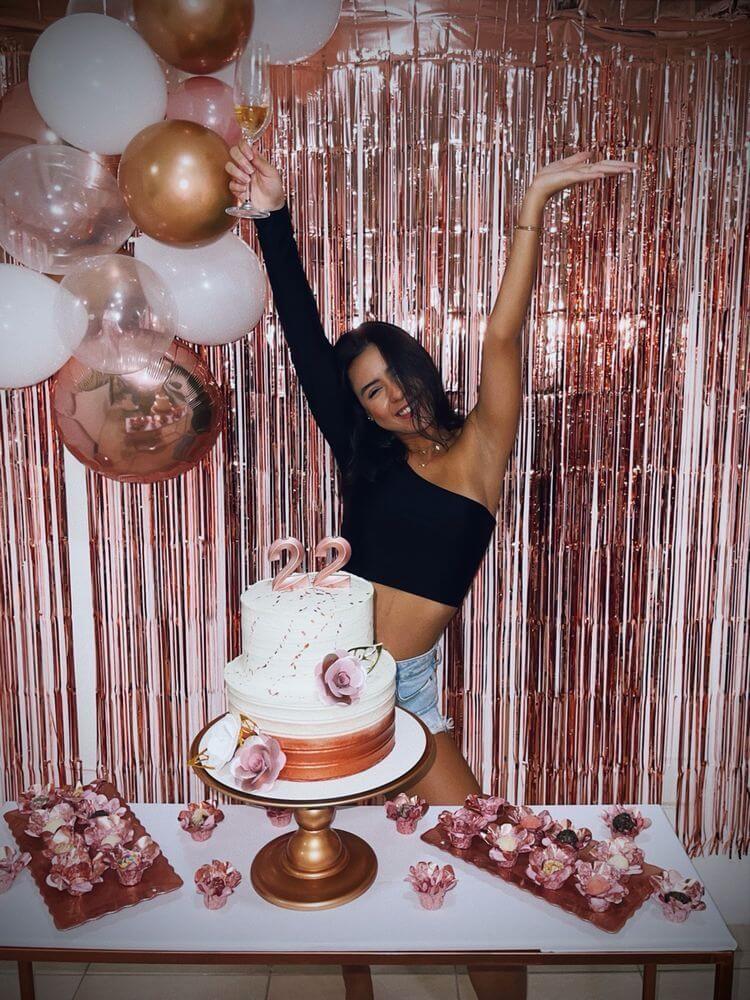 Tinsel curtains turn a boring wall into something unique for a few dollars. Hang a tinsel curtain behind the dessert table for the best 21st birthday cake pictures!
I know it sounds shallow, but making each corner of your home look photogenic for the party will make taking pictures during your party so much more fun (and pretty).
3. Finally 21 balloon garlands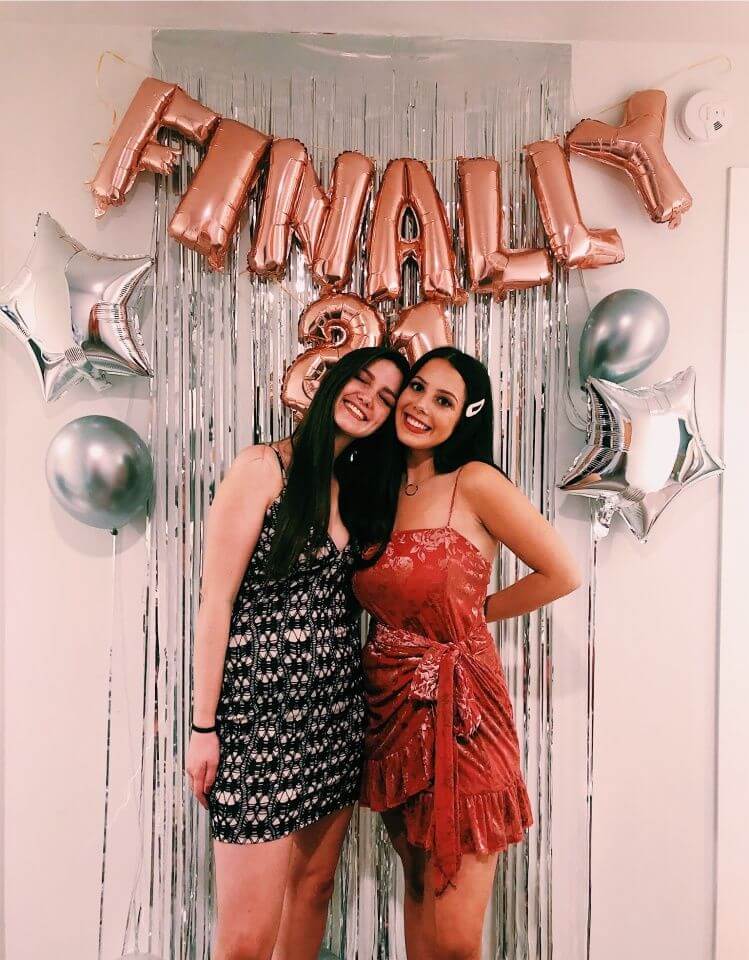 Another cute way to pull off your 21st birthday party decorations is with a finally 21 balloon garland. This photo backdrop situation is super photogenic and brights up the room. The great thing is that you can recreate this setting for less than $30.
4. Name of the birthday girl balloon decoration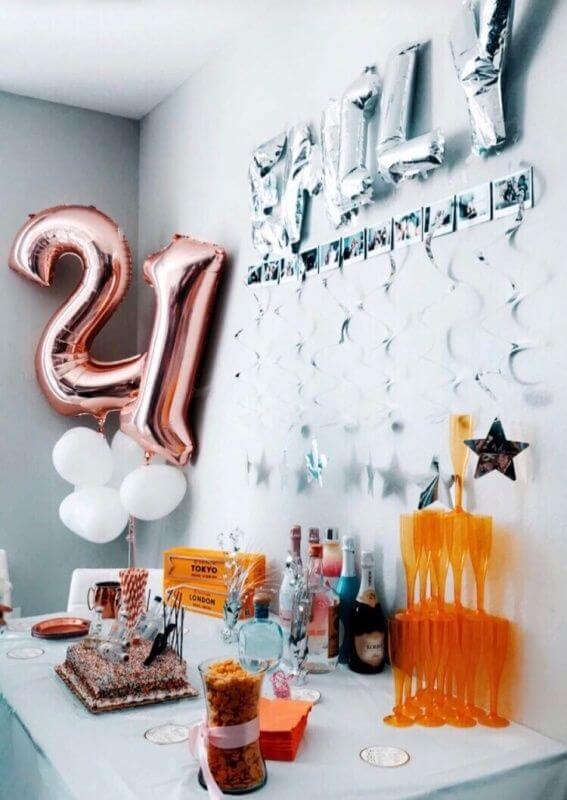 It's your party, so your name should be on it! But for real, for your 21st birthday, you need a custom letter balloon sign. On Amazon, you can purchase individual letters to form your name. Choose from the colors gold, pink, or silver.
5. DIY 21 Balloon sign

This DIY 21 balloon sign is so creative! I suppose they made this with a wooden stand and metal wire. If you're throwing your party outdoor, this sign is a great way to make a statement.
6. Photo backdrop with tinsel curtain and balloons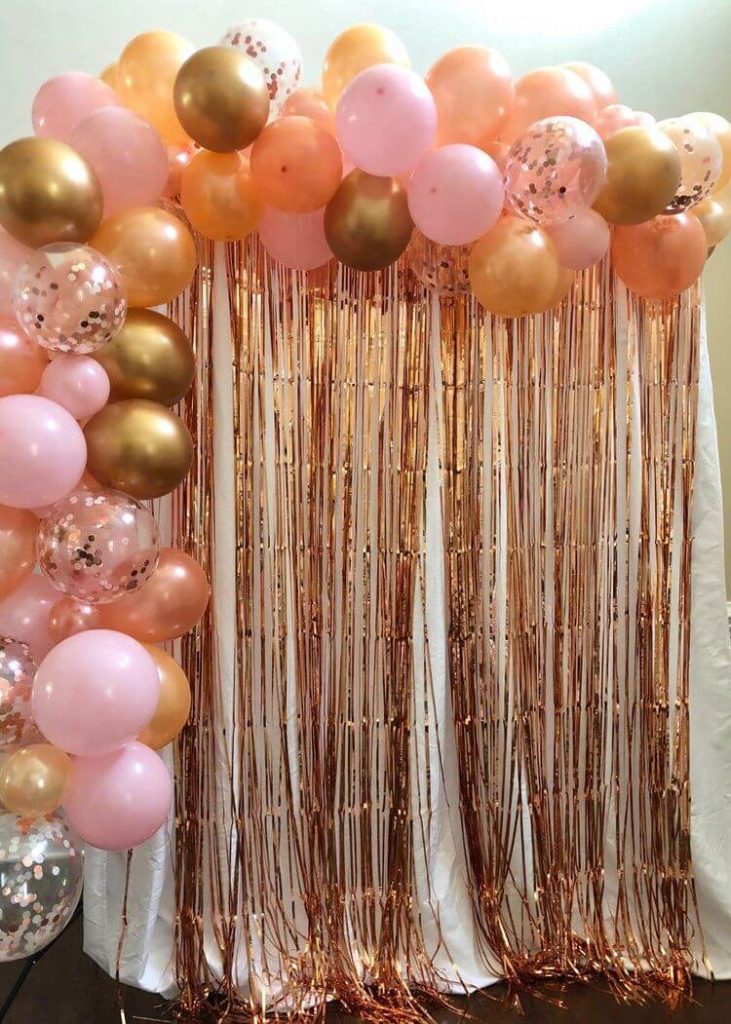 For a fantastic 21st bday photoshoot, you need a good background. Set up a tripod with a camera or your iPhone and take lots of pictures with your friends at this rose gold tinsel backdrop. The key to making it look amazing is to hang a crisp white sheet in the back.
7. Pouring champagne balloons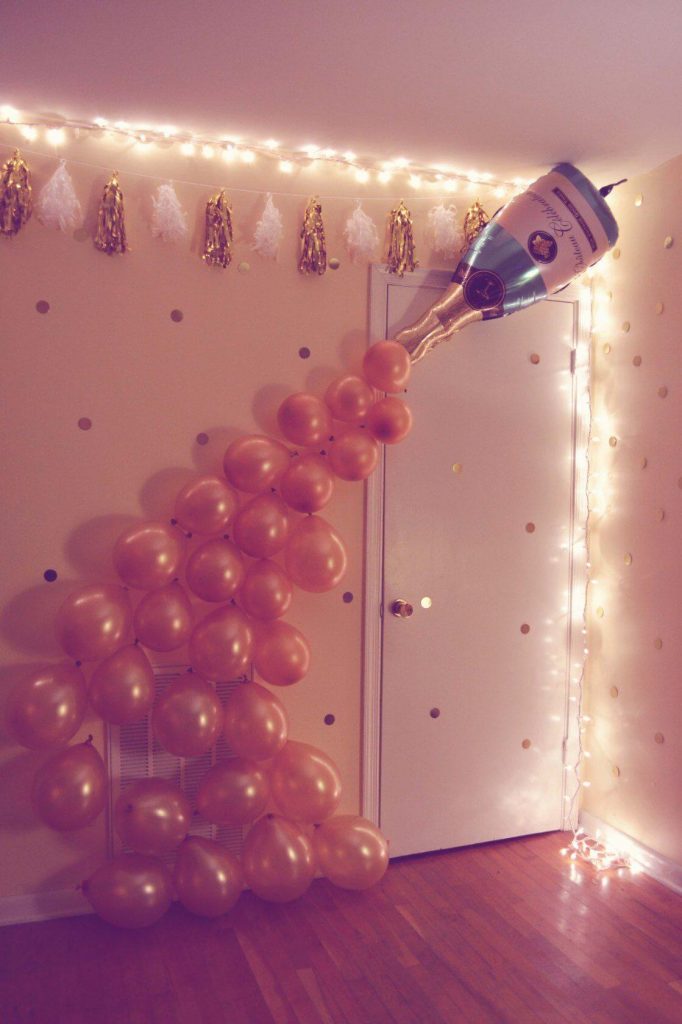 This pouring champagne balloon decoration is the best! This makes your space look incredibly festive and gets you in the 21st birthday spirit. Use fairy string lights to add extra ambiance.
21st birthday theme ideas
8. Outdoor dinner party theme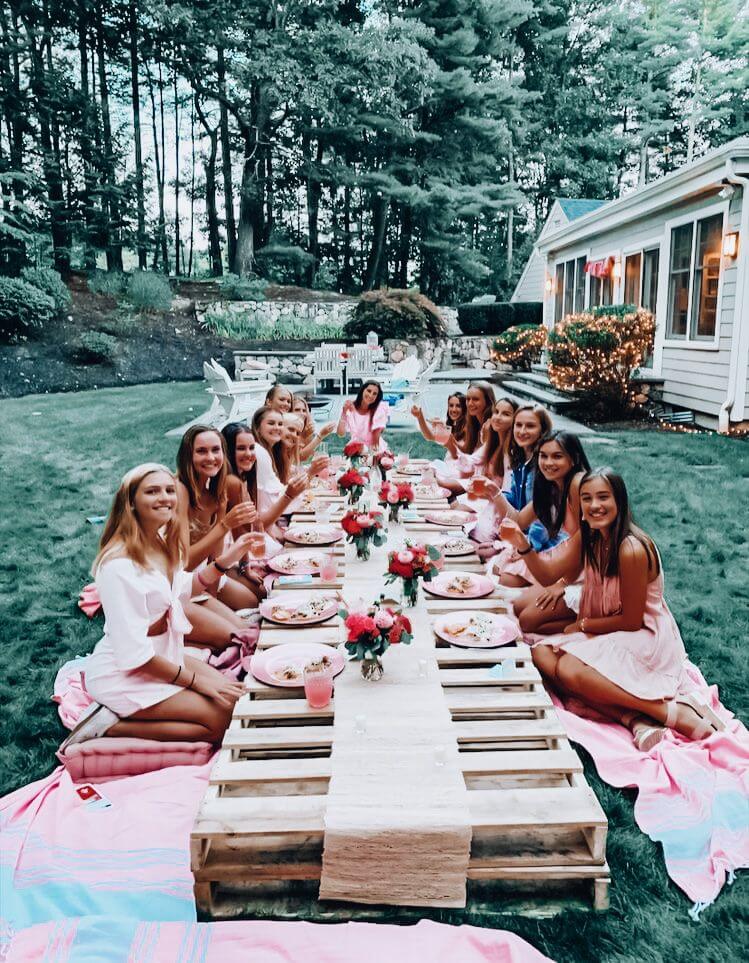 Do you have a backyard or a relative's backyard you can use? Throwing a 21st birthday party outdoor is so much fun in the summer. Create cozy and inexpensive seating with pallets, and decorate with boho blankets, flower centerpieces, and a table runner to pull it all together.
You can make a menu beforehand, do a barbeque, or let all your friends help by making one dish! This makes your party so much fun and gets everyone involved. For example, you can divide dishes by appetizers, starters, mains, and desserts.
9. Rustic 21st birthday theme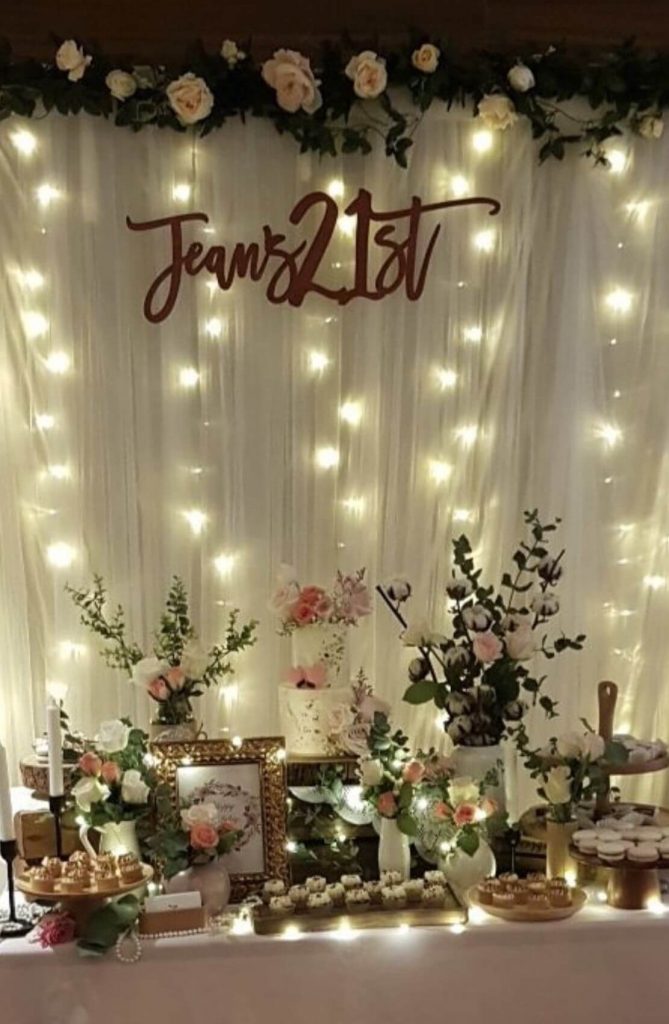 I love everything about this!! If you have a sweet tooth, make a large dessert table with sweet treats. Use a curtain and fairy lights for that beautiful rustic atmosphere, and let your cakes do the rest!
10. Pink theme and dress code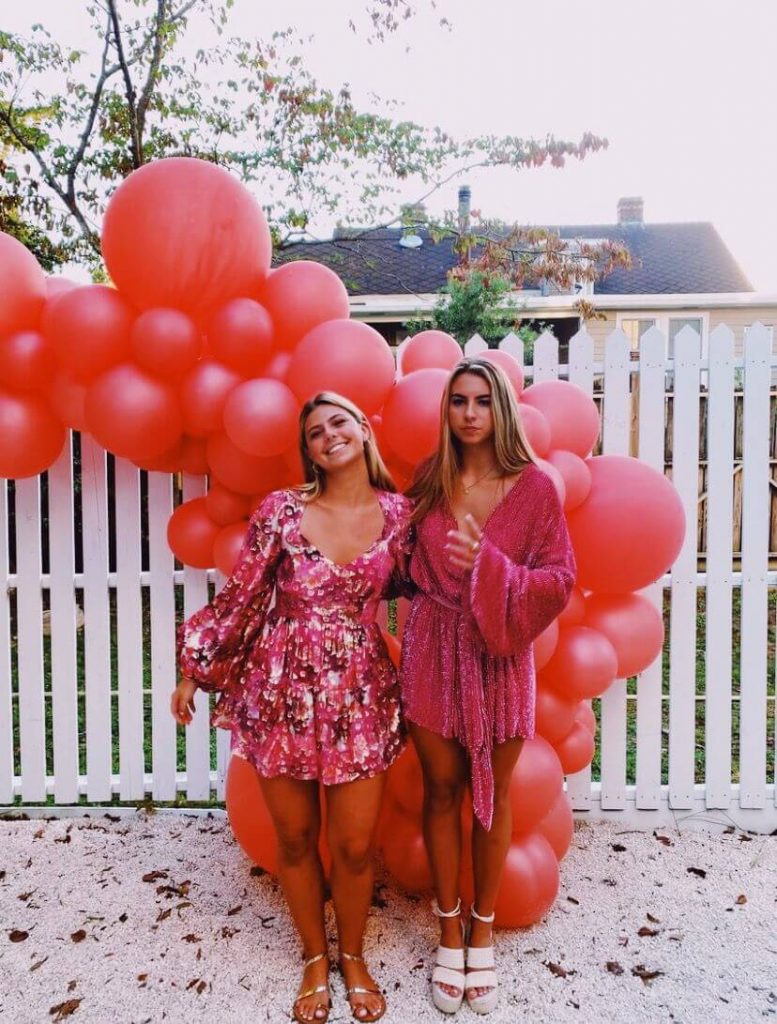 Pick a 21st birthday party theme in a color everyone loves!! For example: pink and white. It makes your party decor look cohesive, and taking pictures with your friends will be more fun.
11. Hawaiian party theme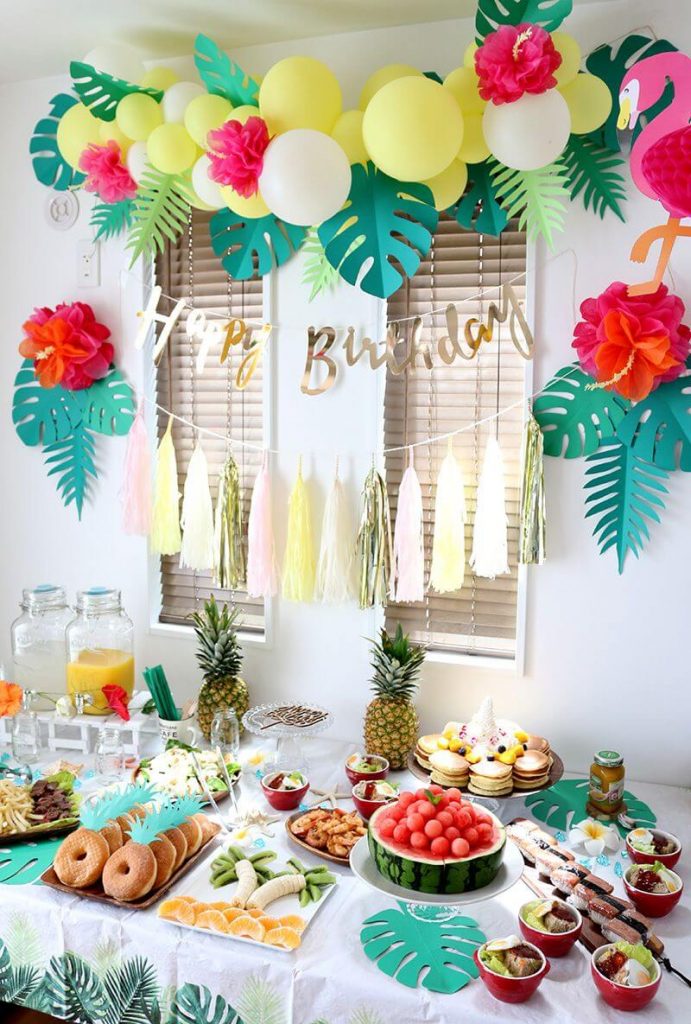 Hawaiian luau decorations look amazing and make your party have all the tropical vibes. If you're looking for a fun 21st birthday party theme, this is it. If you're inviting many of your friends over for the party, you could also have a Hawaiian dress code for extra fun.
12. Pink floral theme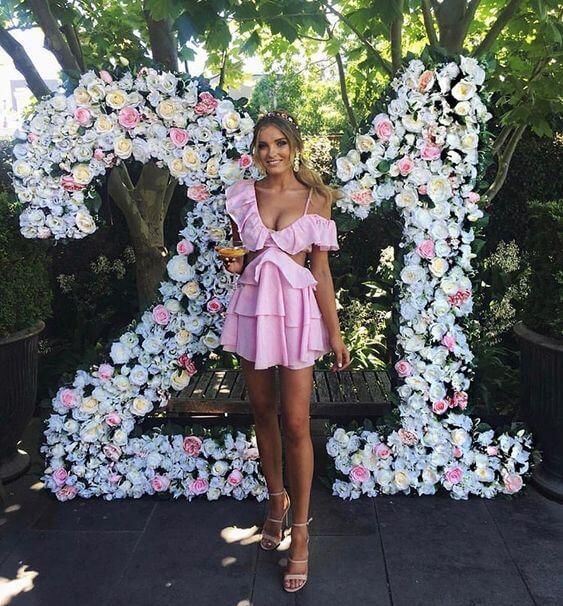 Maybe not so much a theme, but more of an aesthetic, but pink floral vibes make for a stunning 21st birthday vibe. If your birthday is in summer, this is a super suitable theme. It also gives you an excuse to wear your favorite pink outfit. This 21 floral sign is awe-inspiring and makes a real statement.
13. 21st birthday brunch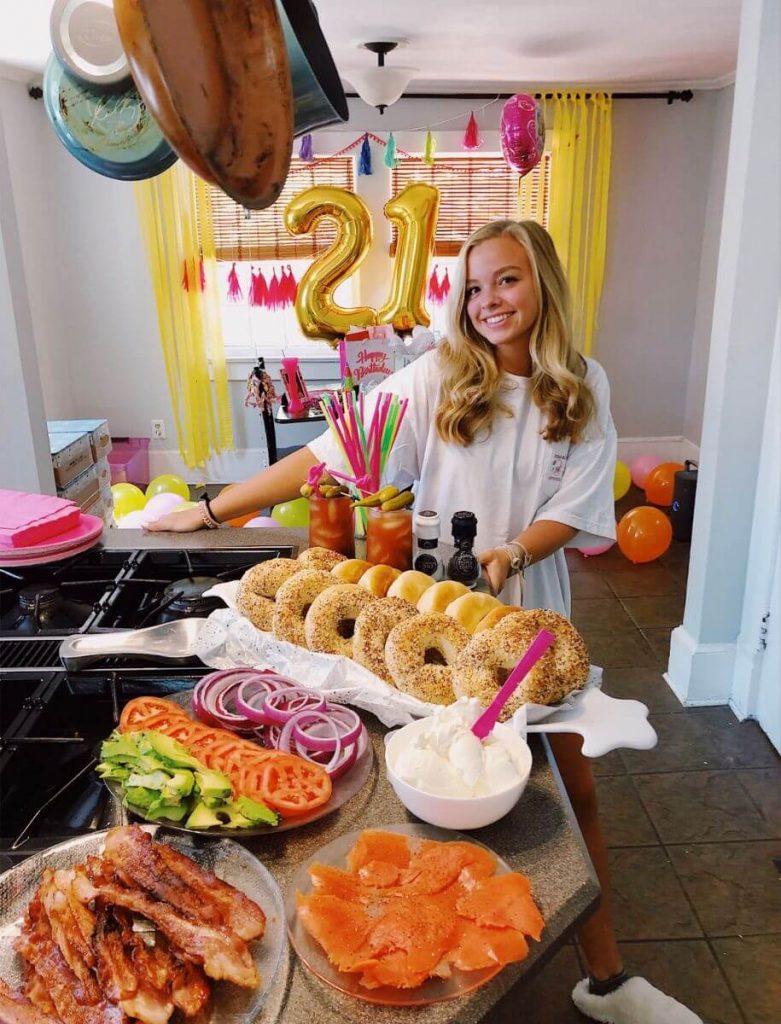 Another great and more low-key way to celebrate your 21st birthday is with a lavish brunch. Everyone loves breakfast foods, and preparing a brunch is so much fun! You can combine a birthday brunch with another daytime activity, like swimming, taking a trip, or hiking.
14. Cowgirl party theme
The cowgirl, or space cowgirl(!) party theme is insanely popular for good reasons. It doesn't make complete sense, but a cowgirl theme is fun for dressing up and decorating your birthday party. If you want to make your 21st party something memorable, fun, and maybe a little wild, this could be your theme.
15. Formal dinner party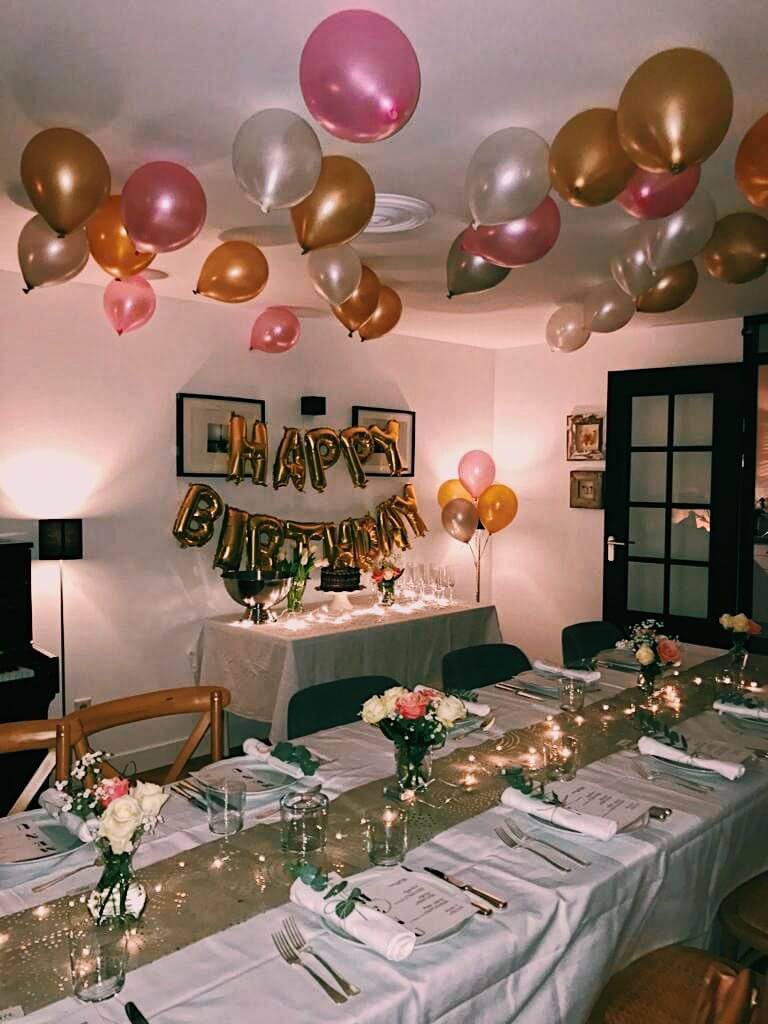 Why not make your 21st birthday a formal black-tie event in your living room? Give your guests a fancy dress code and prepare a dinner for your guests. Getting everyone to look their best and sitting down for a great meal is an amazing way to celebrate your birthday!!
16. Disco vibes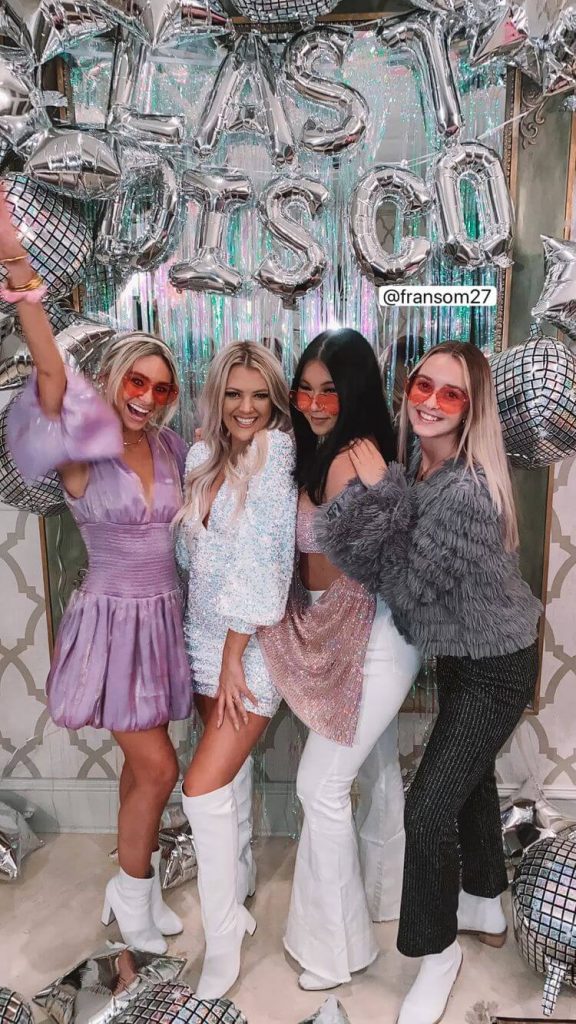 Everyone loves a disco theme. You get to be super creative with your outfit, and who doesn't love disco ball decorations? For a 21st birthday party with a disco theme, you need all the silver boogie decor!
21st birthday food, drinks & entertainment
17. Entry fee 1 shot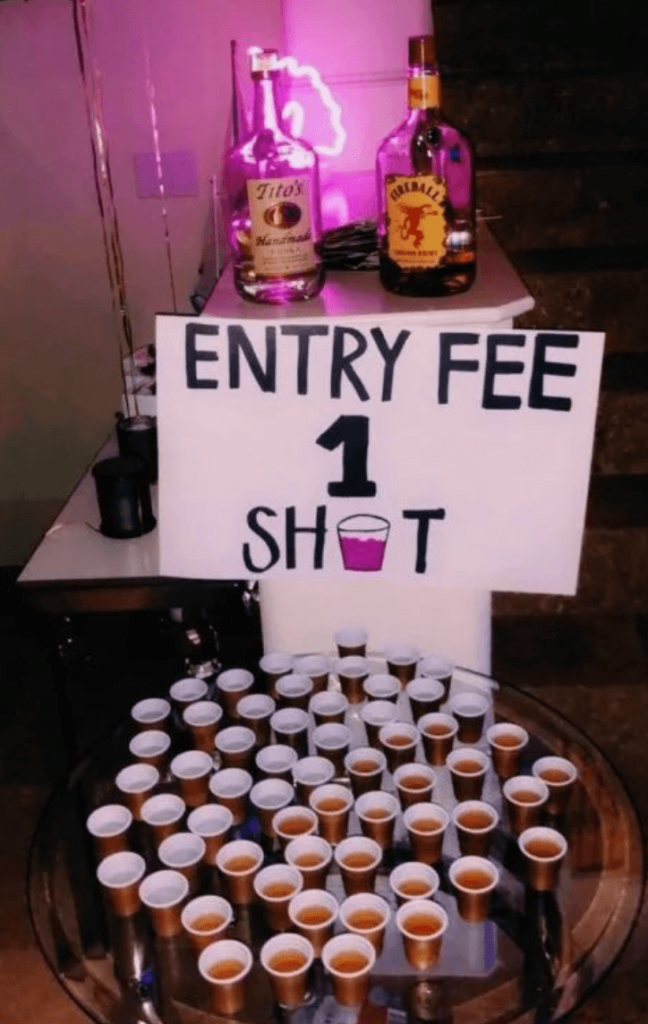 It's your 21st birthday, so a little drinking is almost required. Get your guests in the mood by placing shots at the entrance. It's fun, breaks the ice, and fits the 21st birthday spirit.
18. S'mores bar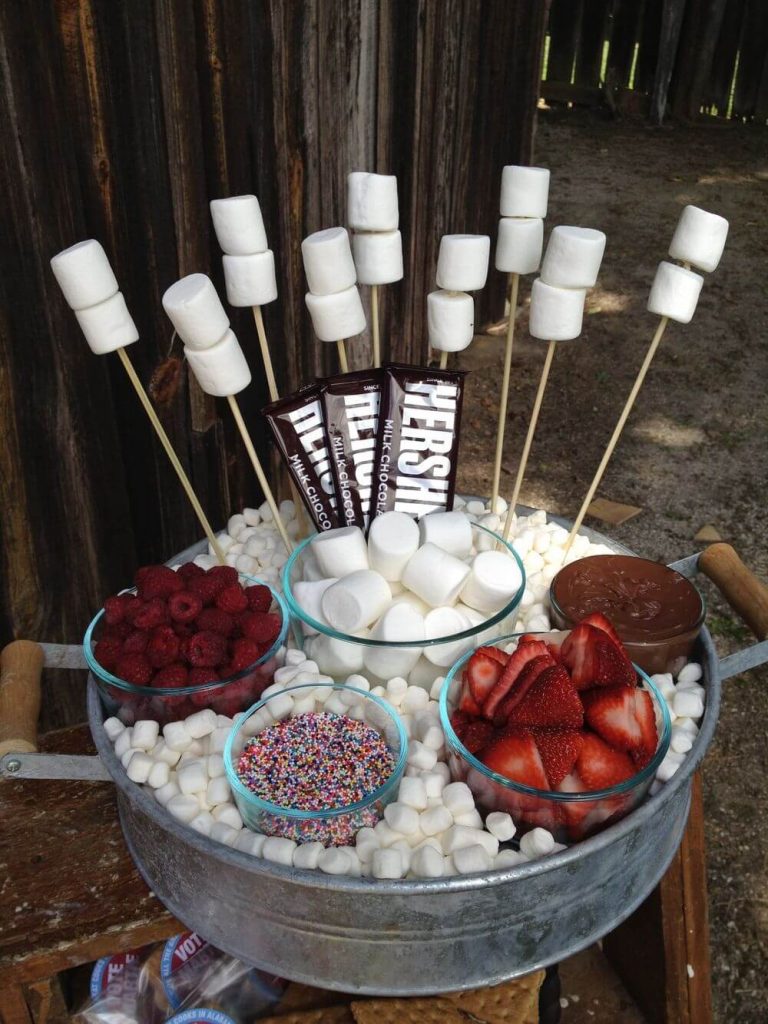 I'm a sucker for s'mores, so I'd take any excuse to include these in a party, hehe. No, but seriously, having a s'mores bar ready for guests will be something they so appreciate.
Prepare a bucket with toppings and essentials to make s'mores. You can do this outside around a firepit or inside (with precautions) by using an electric s'mores station or chafing dishes.
19. Beer cake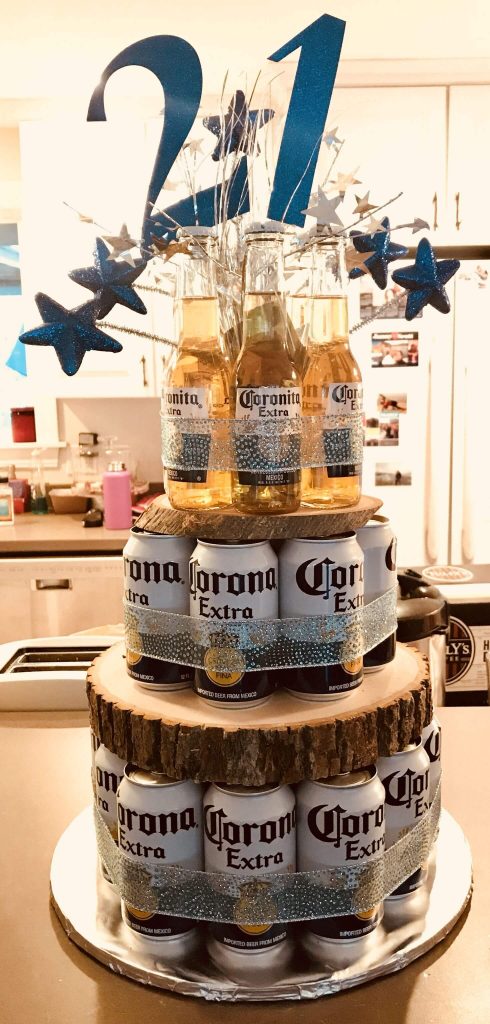 It's your 21st, so there is no doubt there will be alcohol at your party—present drinks in a cute way with this corona beer cake. Use wooden plaques to stack the beer bottles and decorate with ribbon and a 21st birthday cake topper.
20. Cotton candy champagne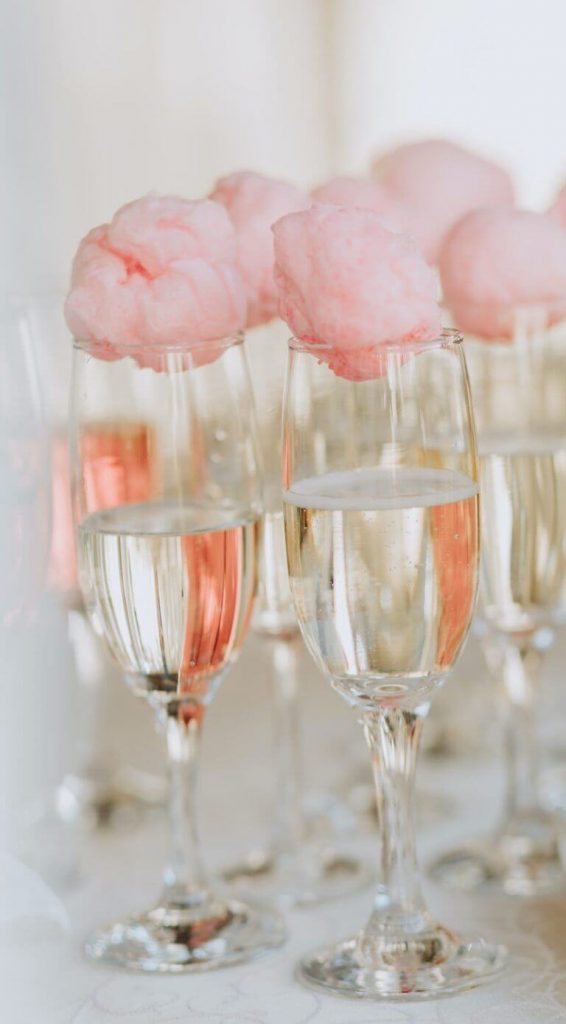 I love this cotton candy champagne drink idea!! It's so easy, cute, and a great way to welcome your guests!! The best thing I could find is this unicorn barf (I LOLd at the name) to go at the top of the champagne glass. Bubbly is the ultimate celebratory drink, so I'd say this is a must for your 21st birthday party.
21. Movie night PJ party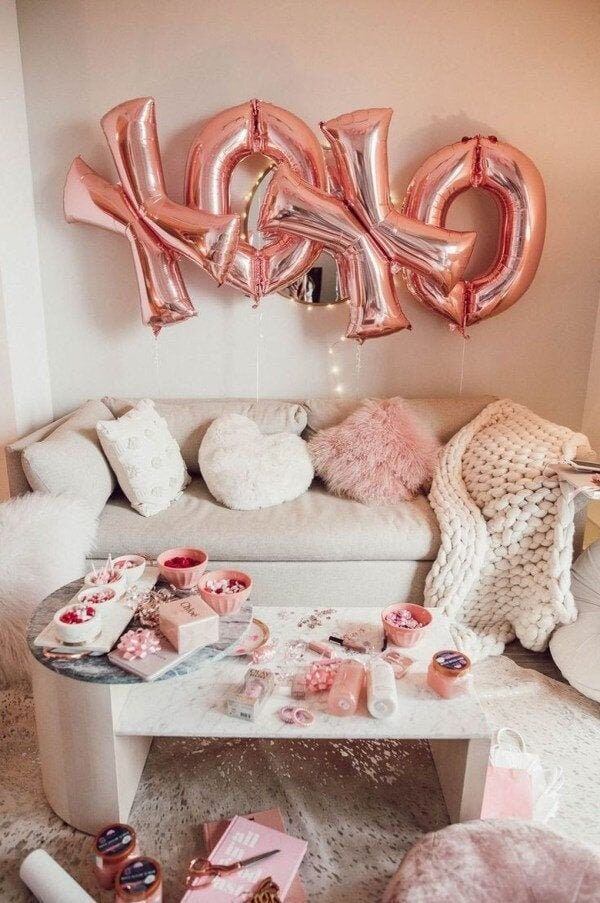 If you want to celebrate your 21st birthday in a chill way, why not throw a movie night PJ party with your friends? Decorate your place, provide snacks, and get ready to marathon your favorite shows or movies.
22. Sushi night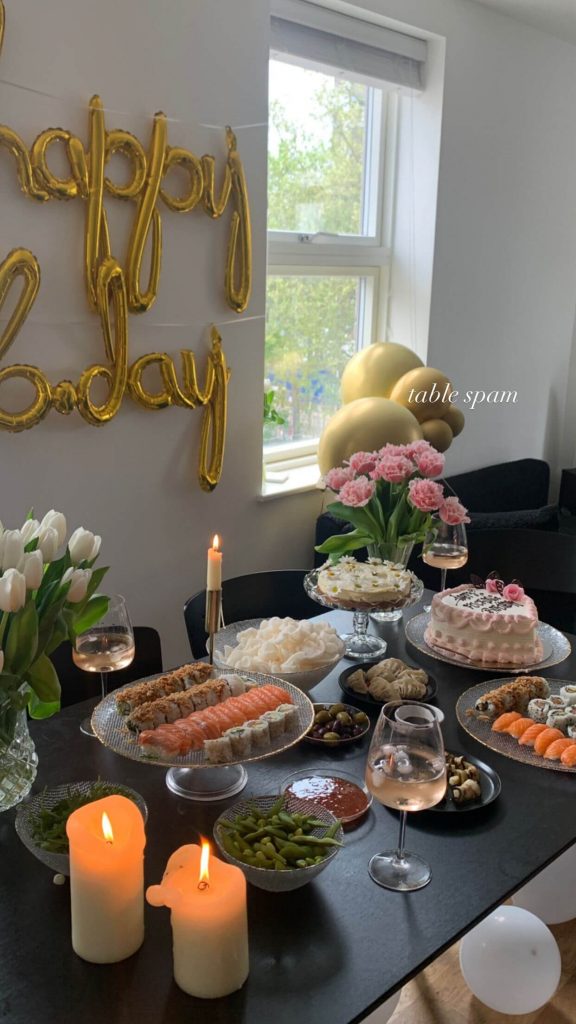 I thought this sushi bar idea was great! The tricky thing about having food at your party is that it requires a lot of organization. How to keep the food hot? What to make for a large group of people?
Because sushi is mostly cold food, you can easily have this without stressing about it at your party. Serve food on a table buffet style. I know sushi isn't cheap, but you only turn 21 once.
23. 21st birthday bar