Looking for simple Halloween decorating ideas that leave a big impression? You've come to the right place!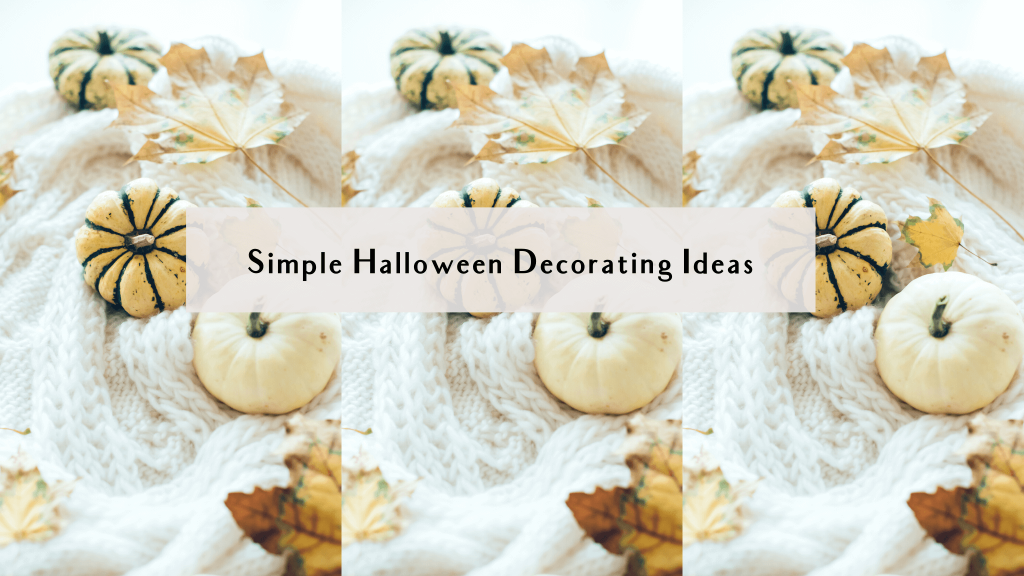 Simple Halloween Decor Ideas
Halloween decor is super fun, but all those orange and black colors can get overwhelming.
In this post, I'm showing you 22 simple Halloween decorating ideas to recreate at home.
We'll cover the following ideas:
Easy spots to add some Halloween decor indoor
Spooky entryway decor ideas
Using white pumpkins – the most versatile fall decor!
The best minimal Halloween decor
If you love simple Halloween decorating ideas that require minimal effort and skill, then you need to see these ideas!
Simple Halloween Decorating Ideas
1. Decorate the stairs
The stairs in your home are an excellent spot for fall and Halloween decor.
For maximum atmosphere, decorate with lots of pumpkins and cute fall-themed plants.
2. White pumpkins decor

White decorative pumpkins are super versatile Halloween decor. Use these beauties to make a centerpiece or decorate your coffee table or console.
3. Easy coffee table fall decor
Halloween decor doesn't have to be overwhelmingly black and orange. If you have a neutral living room and want to keep that aesthetic for Halloween, you should.
You need small white and gold pumpkins, farmhouse Halloween decor, and a wooden tray to create simple Halloween decor.
4. Simple Halloween welcome sign for the door

Welcome signs are always cute, and it's so nice to change them up depending on the season.
This neutral welcome sign for your front door hits all the right spots.
5. Use pampas grass for a fall atmosphere

Pampas grass will forever be one of my favorite budget-friendly decor items. It's lush, with a slightly warm gold tone, and has a fall feeling.
The below mantel decor is an excellent example of how pampas grass creates a simple but beautiful Halloween atmosphere in your home.
6. Cute Halloween lights around a mirror

When I think of Halloween, I think of lights. I'm always surprised by the cute light decor I find, and this pumpkin string light is no exception.
A mirror or your living room walls above the couch and TV is an excellent spot for Halloween-themed string lights.
I love the farmhouse Halloween decor situation in the living room picture below!
7. Easy mantel decor with scary cloth

Scary cloth is way more versatile than you think. Spice things up and go for scary cloth in lace with beautiful spider patterns.
Use these cloths for your mantel, coffee table, dining table, or entryway.
8. Replace your couch pillows for Halloween

Do you replace your decorative pillows depending on the season? Then you'll love these simple decorative Halloween pillows.
Decorative pillows are home decor items that are pretty affordable!
9. Put some Halloween art in the kitchen

If you have space on your kitchen counter or table, some art is a great way to bring an effortless Halloween atmosphere to your home.
10. Hang a pumpkin garland

This pumpkin garland is made from super soft and cute fabric. If you don't do any other Halloween decor at home, this should be the one!
11. Keep your Halloween decor super minimal
Love a minimalist aesthetic? Frame a cute Halloween print, bring some velvet pumpkin decor into your space, and get your hands on some pampas grass.
12. Bring a Halloween atmosphere to your dining table
What's not to love about this Halloween dining table? Get a terracotta-colored table runner, skulls, and soft burnt orange colors to achieve that gorgeous but simple Halloween decor.
13. Cozy up your living room with a lights branch

I love these light branches because they suit Fall, Halloween, and Christmas. Speaking of a versatile piece of decor!
The colder months are all about coziness and warmth, and this light's branch hits the spot.
14. Berry wreath for the front door

Wreaths are a cute way to welcome guests and decorate your front door. You can hang them on more doors than just one.
This simple wreath has the perfect fall and winter aesthetic if you don't want to change up your decor a lot in the following months.
15. Create simple Halloween decor spots

You can add a touch of Halloween everywhere in your home. Use a wood cylinder, decorative pumpkins, candles, and farmhouse-style decor.
See below what I mean by creating little decor spots in your home!
16. Hang a wall decor sign with fall saying

This is an interchangeable wall decor sign – and I'm obsessed! This frame comes with 10 different sayings, one for fall, Halloween, Christmas, and so on.
Speaking of perfect simple Halloween decor!
17. Bring the Halloween spirit to your entry table
Your entry table is one of the first things guests see, so you better bring a game to Halloween decor.
The below entry table is a great example of how simple Halloween decor can also leave a great impression!
18. Decorate with a boo sign

A boo sign never gets old, not one made from beautiful wood! This sign will look great on your mantel or a console or entry table if you have one.
19. Go for a pastel Halloween aesthetic
Pastel Halloween decor has been trending the past few years, and I understand why.
There's something cute about velvet pink pumpkins, skulls, and bats. Perhaps not entirely the "real" Halloween spirit, but very cute nevertheless.
20. Add a velvet touch to your Halloween decor

Velvet has such a luxurious look. It can make the simple decor look extravagant and fun without much effort.
These velvet pumpkins are a real treat for coffee table decor.
21. Welcome trick or treaters

Hang a simple trick or treat banner to welcome trick or treaters. This banner is for indoor decor. Great spots to hang it are, for example, in your entryway, mantel, or living room wall.
22. Create some beautiful front porch Halloween decor
Front porch decor doesn't have to be difficult to be beautiful! Decorate your front porch with all things orange.
An all-time favorite is the espoma flower. Besides that, hang some black decorative bats on the wall for a spooky atmosphere.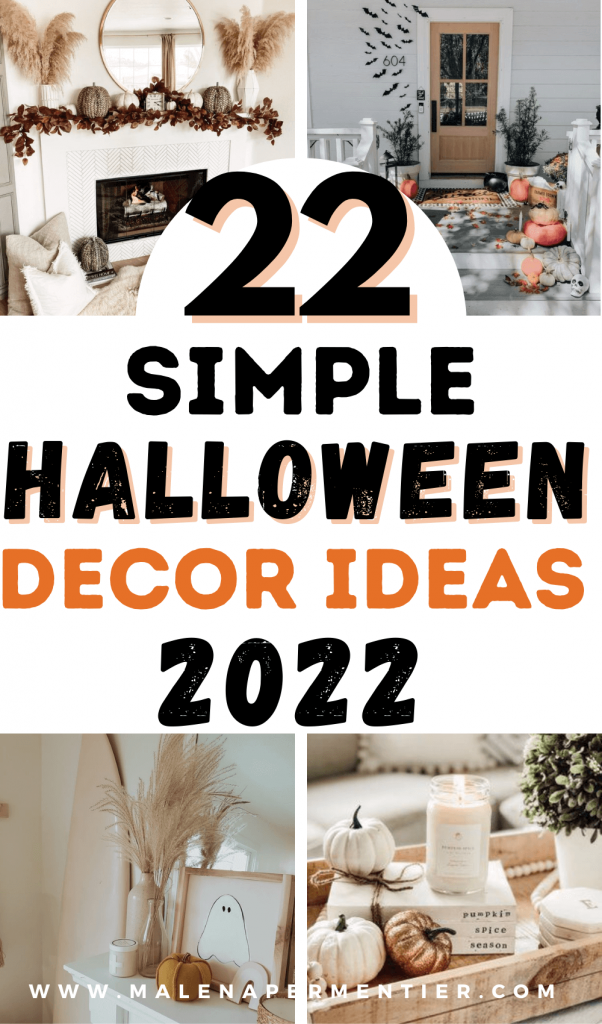 This post showed you 22 Simple Halloween Decorating Ideas.
You may also like: