This post shows you the best Christmas tree decor ideas.
Christmas tree decorating can be overwhelming because there are many colors, styles and themes.
My best advice is to pick a theme that fits your overall living room aesthetic.
So, if you have furniture with gold accents, implement that into your Christmas tree decor.
Trends don't mean much to me, but they are fun to know! I'm seeing buffalo plaid making a comeback this year, and wood bead garlands are very popular.
This post shows you an overview of themes and ideas for decorating your Christmas tree!
We have some minimalist neutral inspo, farmhouse Christmas decor, flocked Christmas tree decor ideas, traditional colors, and a daring theme like pink.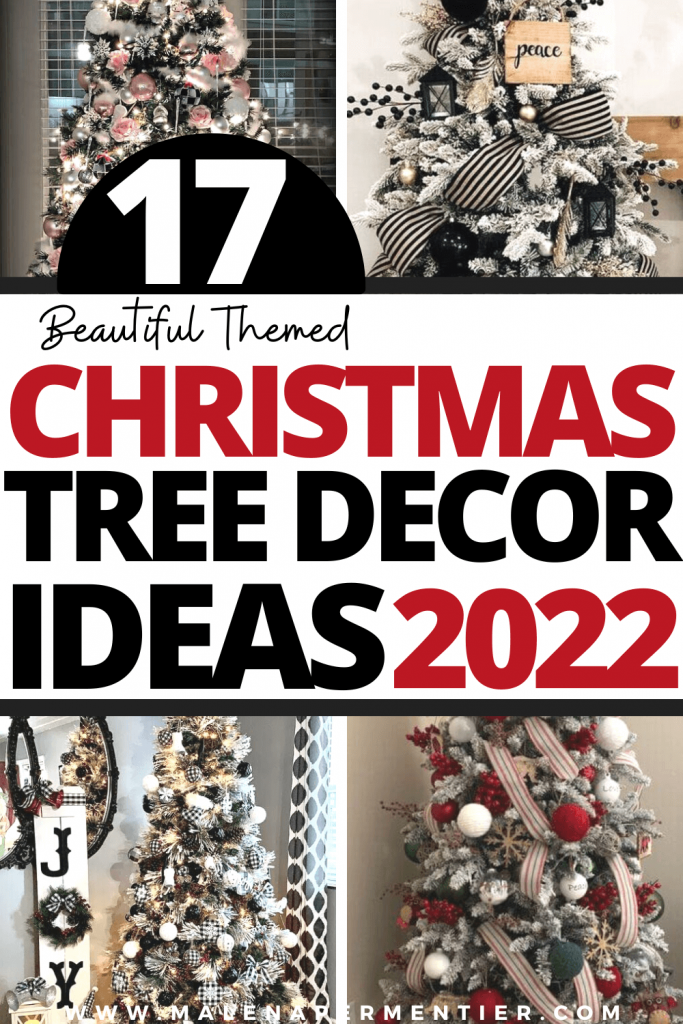 Christmas tree decor ideas
1. Neutral Christmas tree decor
Recreate a neutral Christmas tree decor by focusing on light colors and wooden elements.
This decorating approach is subtle and chic and will look amazing in homes with a calm aesthetic and warm tones.
My favorite thing about this Christmas tree is that it's not super packed with ornaments. This leaves us room to appreciate the beautiful tree itself!
I also really love the wood bead garland in the tree. This makes it feel super cozy and chic. The basket is another great idea for neutral Christmas tree decor.
2. Rustic Christmas tree decor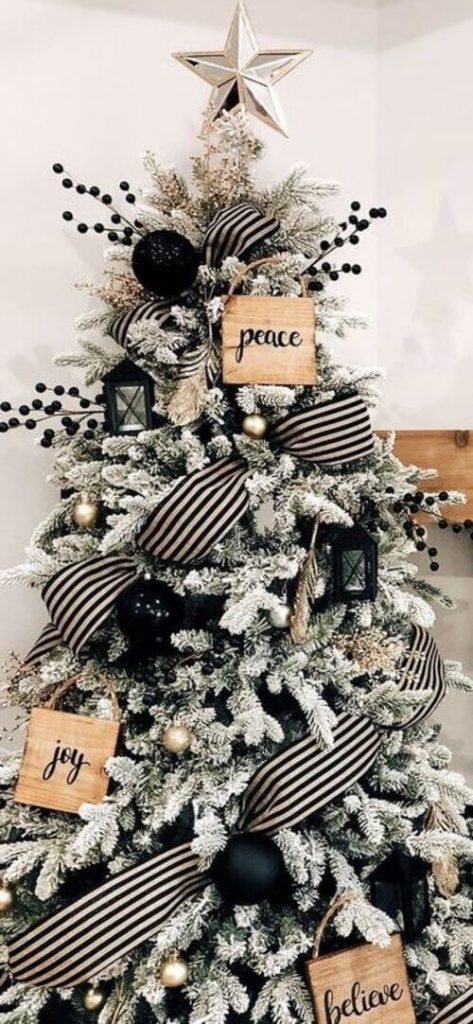 This Christmas tree decor is unique and creative!! The striped ribbon gives the tree a chic yet rustic feel.
The small lantern ornaments and wood farmhouse signs in the tree are super original choices and look SO good.
I'm not sure what's the correct name for this style of Christmas tree decor, but I'd say something like elegant rustic farmhouse.
3. Flocked Christmas tree decor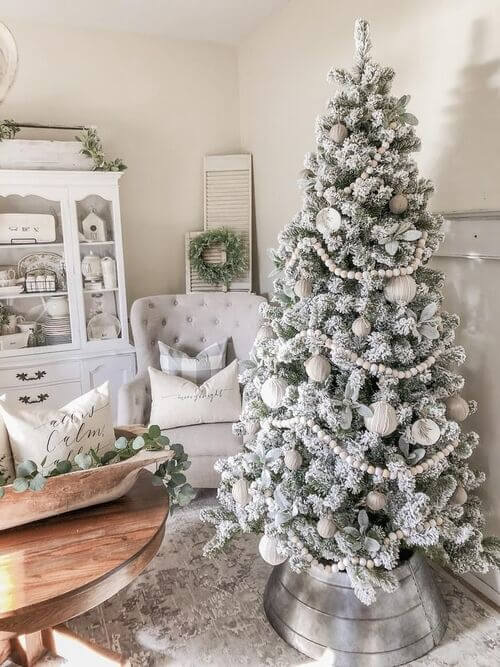 Flocked Christmas trees are gorgeous, and I love this tree's calm and neutral decor.
I haven't seen this type of metal Christmas tree ring before, but it looks great, especially for a farmhouse aesthetic.
This tree is decorated with wood bead garland (very trendy this year!), which adds warmth.
4. Buffalo plaid Christmas tree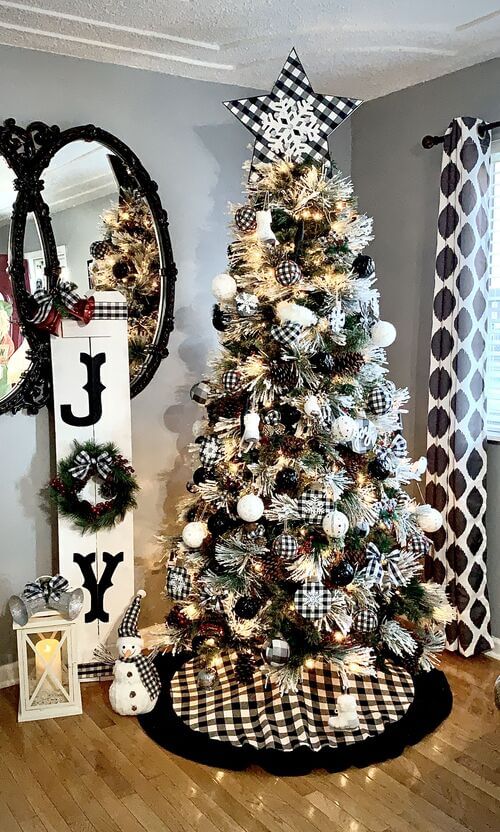 Buffalo check is the ultimate cozy Christmas tree decor! You can get this print in either black and white or red and white.
I'm not 100% sure about mixing these two color schemes, but I'm sure it can be done.
I like how this Christmas tree doesn't only have buffalo plaid ornaments but also snowy pinecones. This creates a beautiful balance.
To execute this aesthetic 100%, don't forget to add a Christmas tree skirt in the same print.
5. Metal Christmas tree ornaments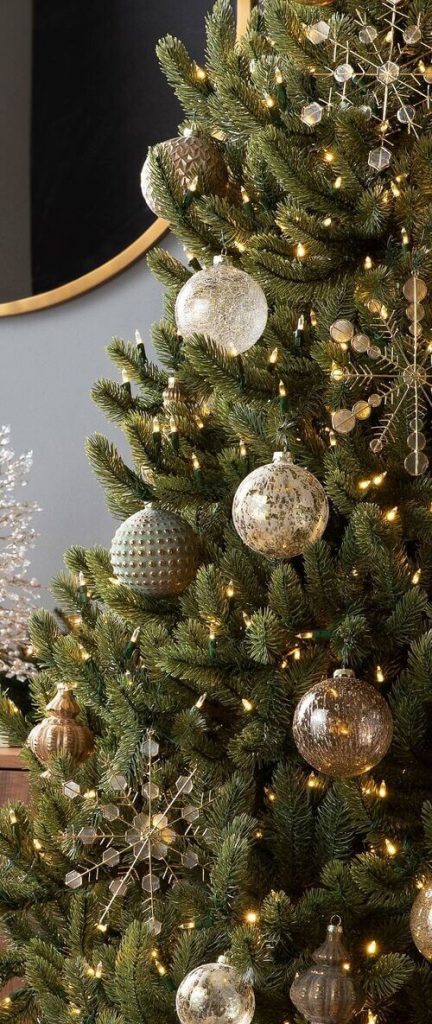 Metallic and bronze ornaments look beautiful with the green of a Christmas tree.
This color scheme is a great choice if you want an elegant tree.
Don't be afraid to pick Christmas balls with different textures for an elevated look.
6. Red and Green Christmas tree decor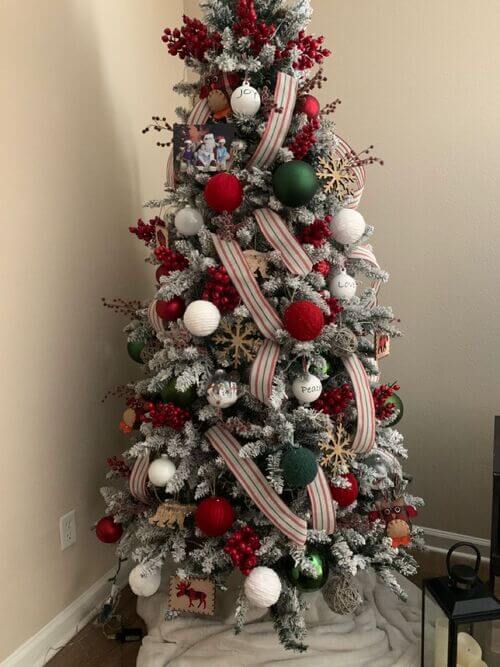 Red and green are the traditional Christmas decor, and this example is a great way to spice it up with ribbon and wood snowflake ornaments.
You can use regular ribbons to decorate your tree. It's inexpensive and can take your tree decor to the next level.
7. Red, white and gold snowy Christmas tree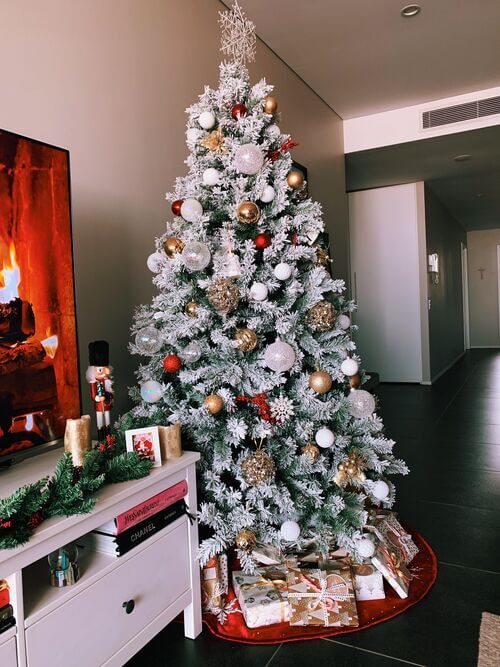 A pop of color looks great on a snowy Christmas tree! I like how it shows us that a modern Christmas tree pairs well with traditional ornaments.
There are also some wood-woven ornaments in the three, which are unique.
8. Gold and brown Christmas tree decor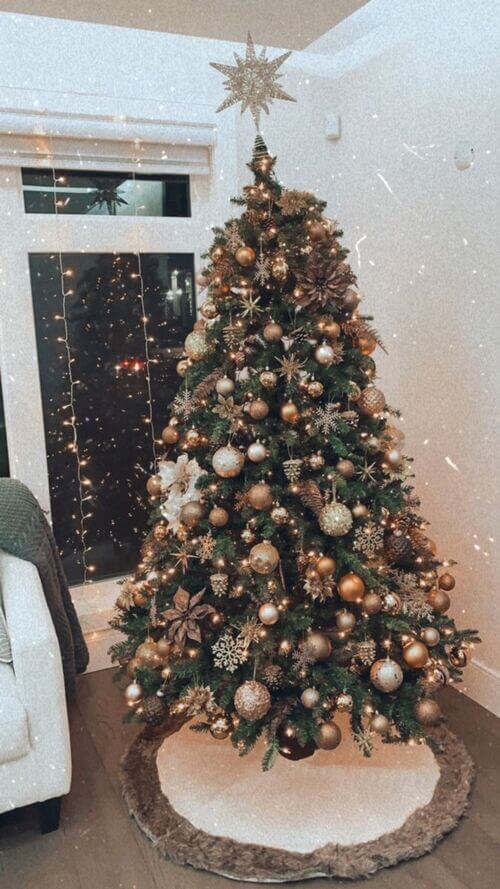 This Christmas tree is all things shiny and chic!
I like how the Christmas ornaments are in different shades of brown and gold. This makes the tree look very elegant and interesting.
The 3d star tree topper is also a beautiful touch.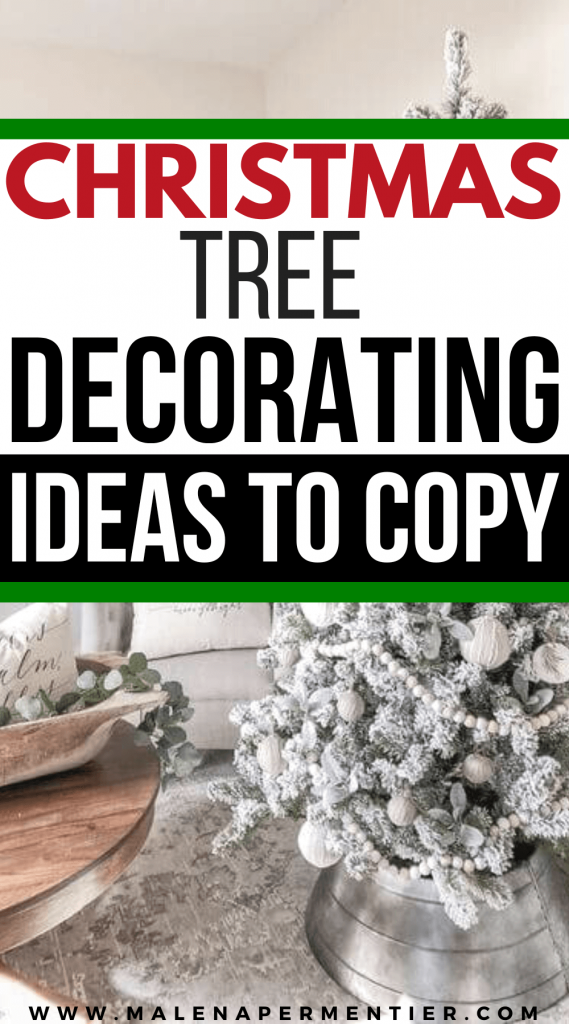 9. White and wood Christmas tree decor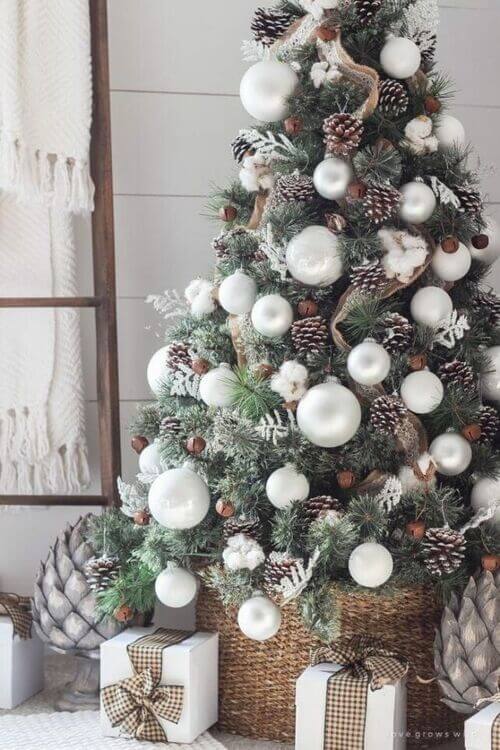 White or pearl-colored Christmas ornaments look stunning if you choose elegant and neutral decor.
Adding natural elements like the snowy pine cones balances out the white ornaments.
10. Christmas tree with white and silver ornaments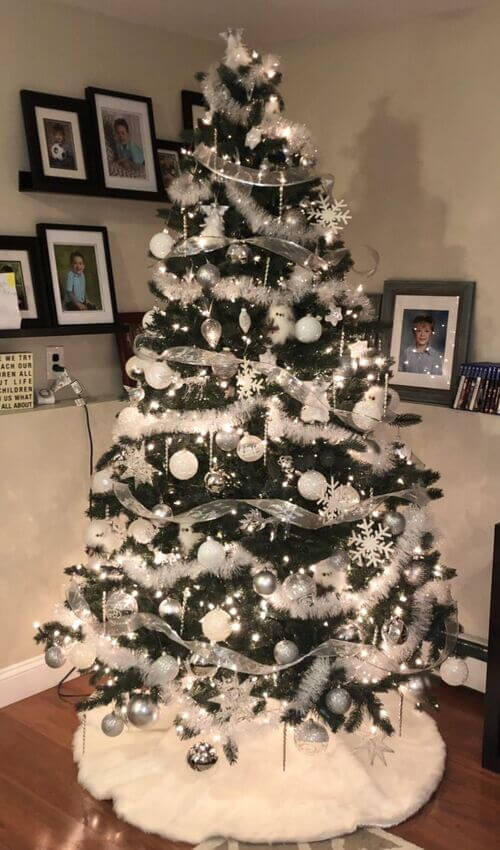 Silver ornaments are a favorite for Christmas decorating; this tree shows us how it's done.
The fluffy Christmas tree skirt is a nice touch and elevates silver and white tree ornaments.
I also like that this Christmas tree is decorated with silver ribbon and a tinsel garland.
This is a combo I didn't think of before, and I love how it looks.
11. Modern farmhouse Christmas tree decor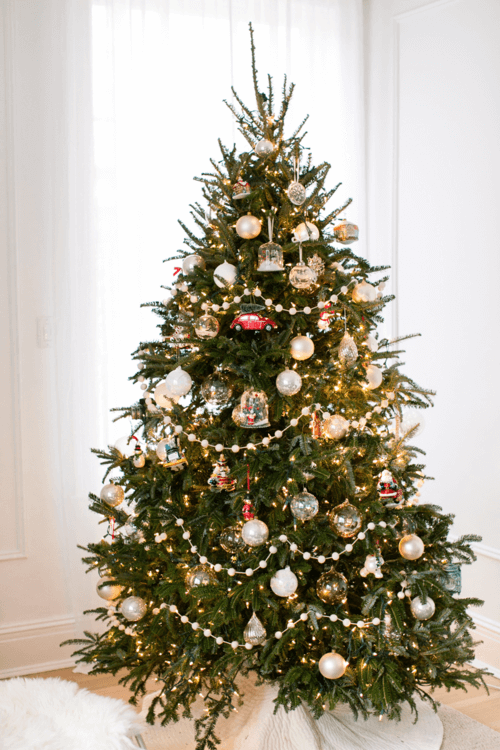 I love how this tree mixes various styles, like farmhouse and modern elements.
This Christmas tree decor is mostly neutral colors with a pop of red funky ornaments.
If you like neutral colors but want to add a pop of color or something fun, this is a great example to take inspiration from.
12. Pink Christmas tree decor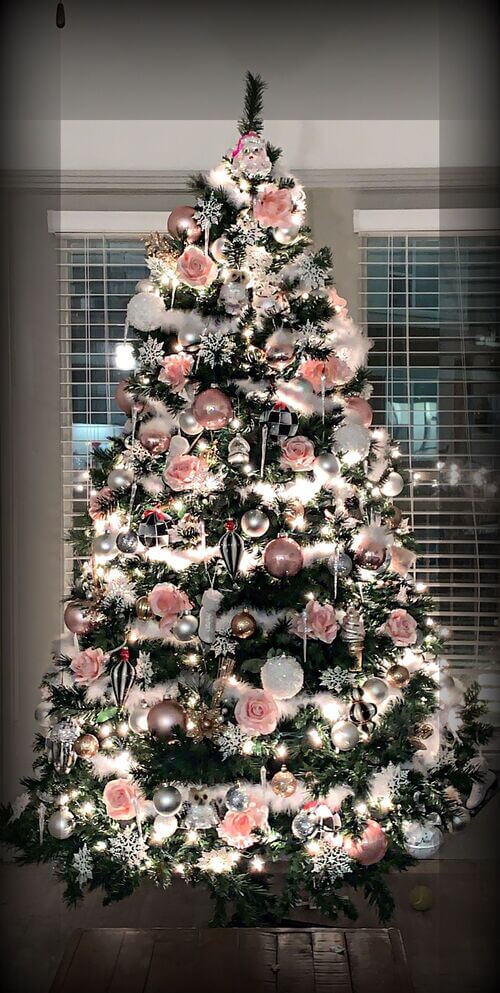 We don't see a pink Christmas tree aesthetic often, but I love how this one pulled it off.
The pink roses aren't something you'd immediately think of when it comes to Christmas decor, but it pairs great with the silver snowflake ornaments.
The fluffy white garland is another unique touch to this tree.
13. Green and Buffalo check theme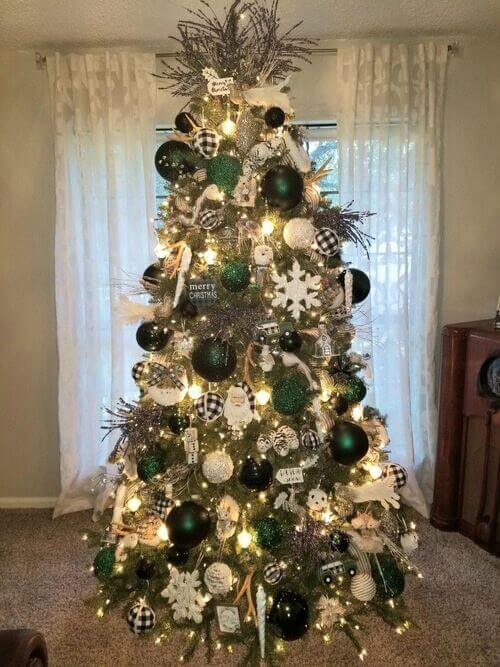 When you're adding a buffalo check aesthetic to your Christmas tree, don't be afraid to add another color.
I love how the green mixes with the buffalo check print.
14. Elegant neutral Christmas tree decor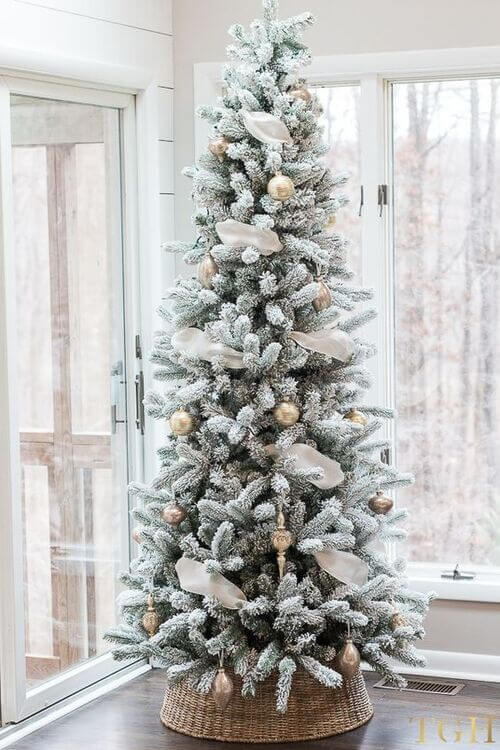 I love everything about this Christmas tree decor! The gold tones look incredible with the flocked tree.
The tree-basket collar also elevated the neutral and elegant theme.
Another thing I like is how the ribbon is draped. It adds a beautiful touch but doesn't overwhelm the tree or decor.
15. Blue and gold Christmas tree decor.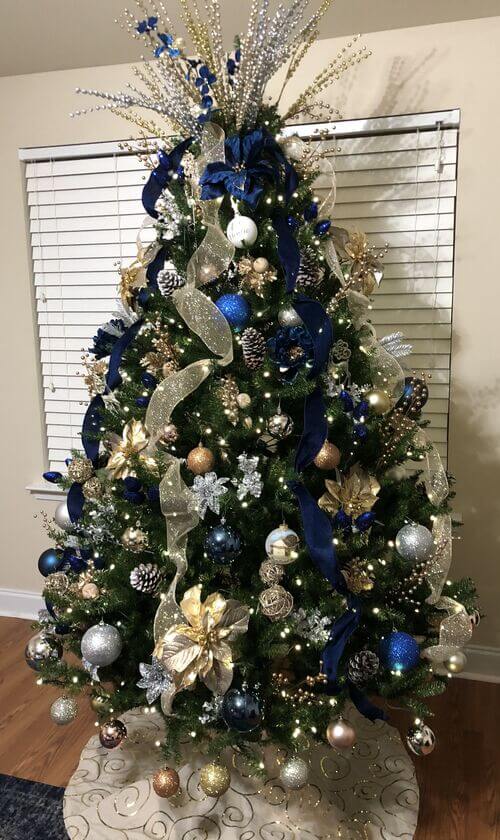 Blue might not be a traditional Christmas color, but it looks great with gold!
This tree is a beautiful mix of different color schemes and has both silver and gold. I love how this turned out.
16. Buffalo plaid all the way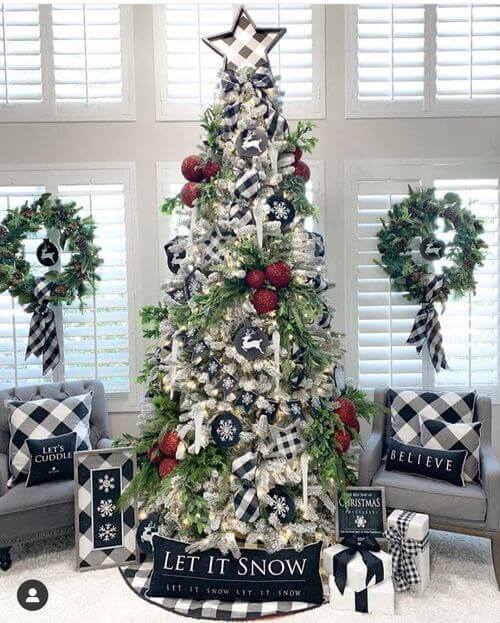 This tree is all things chic and buffalo plaid.
A few fun touches are the burgundy Christmas ornaments and the ice ornaments.
Sticking to a strict color scheme is great (like this black and white plaid decor), but adding a pop of color elevates the theme.
17. White Christmas tree decor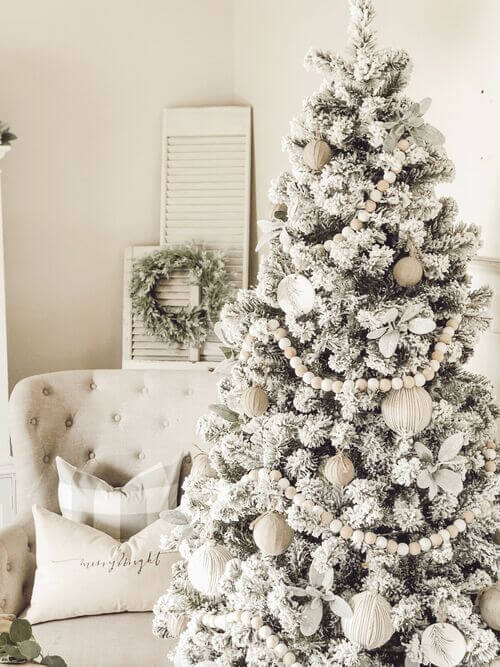 Last but not least is this beautiful white and neutral Christmas tree decor.
When sticking to 1 color for your Christmas decor, throw a lot of different materials and textures in the mix!
That makes the decor look interesting and chic.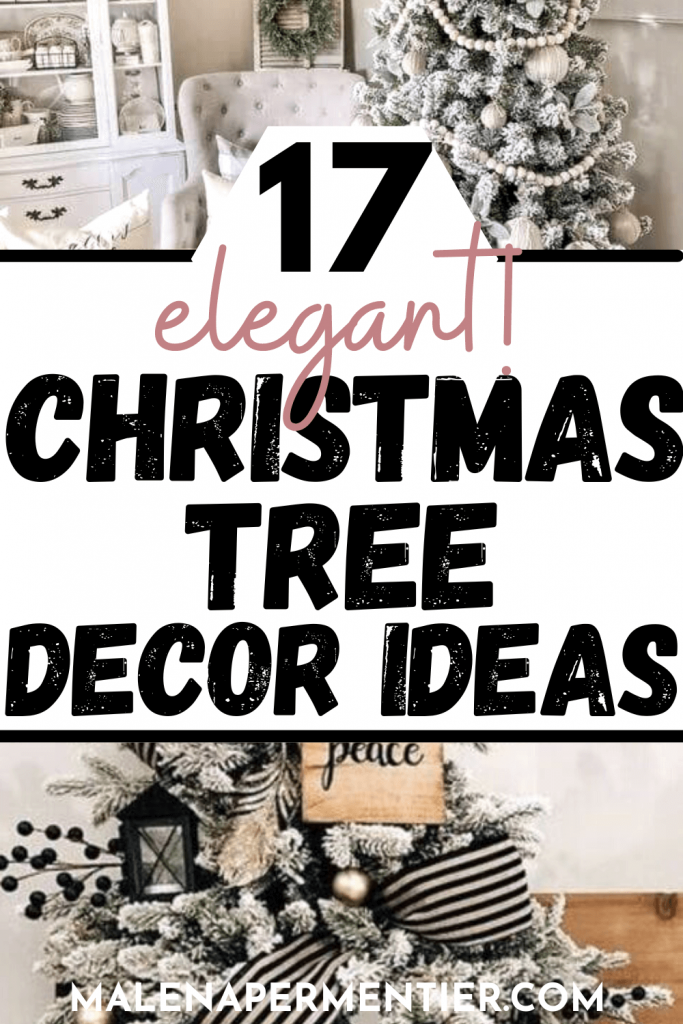 This post showed you the best Christmas tree decor ideas.
You may also like: