If you like being experimental with your Christmas tree, this post is for you!
In this post, we'll go over some unique Christmas ornaments to decorate your tree this year.
A few favorites include old world ornaments, Rae Dunn ornaments (you know, with the cute Christmas sayings on them), and several other different styles you're going to love.
Some brands, like Swarovski, do an annual Christmas ornament that's lovely and unique.
Popular TV series like Schitt's creek, believe it or not, have also launched Christmas ornaments to hang on your tree this year.
Lastly, we'll cover a few ornament designs that look great with any Christmas tree decor. For me, those two are mercury glass ornaments and glitter ornaments.
Unique Christmas Ornaments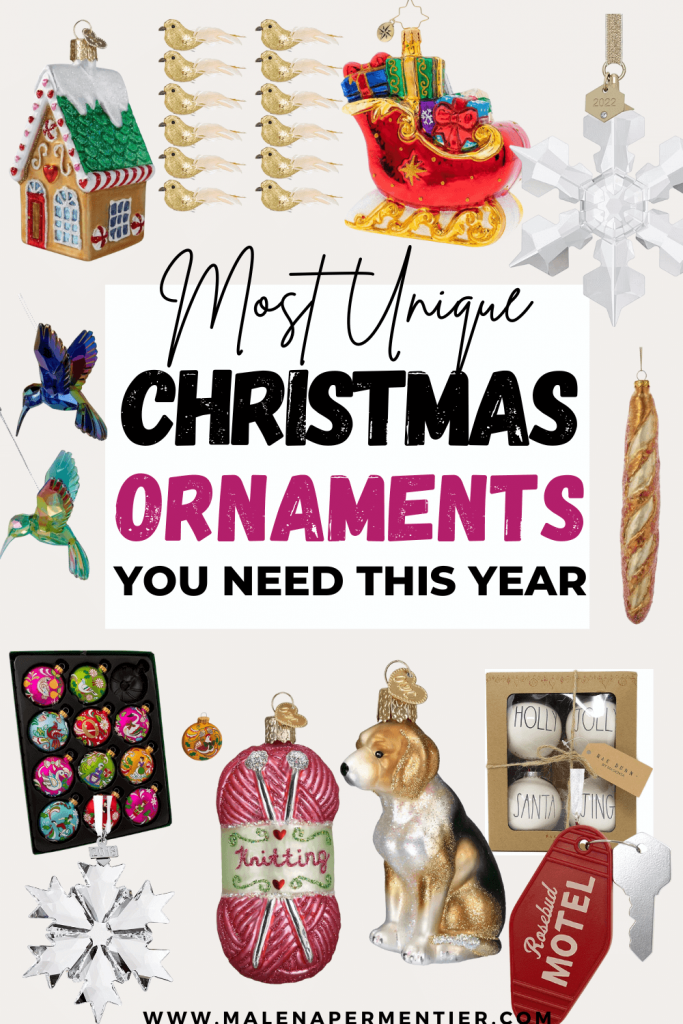 1. Old world Christmas ornament
Old world ornaments are known for their vibrant colors, fun designs, and high-quality material.
It's a style that works beautifully with the traditional green and red Christmas decor.
Amazon has some great options for old world ornaments. I also like the unique designs, the beagle ornament is adorable.
2. Macrame Christmas ornament
Macrame is a technique of crafting textiles with knots. This style fits very well with boho and minimalist Christmas decor.
It's also popular in Scandinavian countries and looks amazing in a living room with white and green Christmas decor.
Macrame ornaments also pair well with Christmas balls that have some fabric element. For example, these ornaments with glitter and jute twine.
3. Kurt Adler ornaments
Kurt Adler is a third-generation family-run company that started in the 1950s.
Their Christmas ornaments are one of a kind.
Many of their ornaments have an old world style, using the traditional Christmas colors green and red.
They're also known for unique collections, like cute dog ornaments. They also do funky designs like a golf cart ornament. Kurt Adler even has a Ruth Bader Kindsburg ornament.
For those that don't like green and red ornaments, Kurt Adler also has many elegant white and gold ones.
4. Rae Dunn Ornaments
Rae Dunn is known for the modern ornaments with sayings like jingle, cheer, love, and hope.
You can also find many Rae Dunn-inspired ornaments, but the original ones are the best.
5. Christopher Radko ornaments
Christopher Radko is another popular maker of old world Christmas ornaments.
These ornaments are high quality, made in Europe, and they've become increasingly hard to come by in recent years.
6. Swarovski snowflake ornaments
Every year, Swarovski brings out a new snowflake ornament. Their 2022 edition is once again beautiful!
This would be a great addition to your Christmas tree, whether you are a collector or not.
You can also purchase Swarovski snowflake ornaments from earlier years. Although not all of them are available anymore.
7. Glitter ornaments

Glitter ornaments are a great addition to any tree. Matte, plain, and glitter ornaments together create a beautiful balance.
You can add glitter ornaments into any color scheme, whether minimalist white and green, or something like red and gold.
8. Crochet ornaments
Crochet ornaments have a minimalist and Scandinavian look.
However, it doesn't mean crochet ornaments only look good on minimalist Christmas trees.
Adding a different texture or fabric to your Christmas tree decor works with many different styles and color palettes.
9. Bird Christmas ornaments
Bird ornaments are one of my favorites because they look adorable.
You can get these glitter bird ornaments in almost any color, from gold to red, green, and silver.
If you want something more colorful, the hummingbirds also hit the spot.
10. Farmhouse Christmas ornaments
You can recognize farmhouse ornaments by their rustic look.
Farmhouse ornament designs often use materials like metal and wood. This aesthetic, in combination with a little glitter, is my favorite.
I also adore these small metal Christmas signs.
They work beautifully as tree decor or to decorate centerpieces with a tiered tray.
11. Personalized family ornaments
It's super special to have your personalized family ornaments.
Etsy is the best destination to buy personalized ornaments like this.
The custom family ornament on the left is the cutest! You can customize the names and hair colors of the people in the ornaments.
12. Mercury glass ornaments
Mercury glass has a beautiful vintage look. These ornaments are budget-friendly, but they have a very luxurious feel.
I think these mercury ornaments would look great with farmhouse tree decor.
13. Schitts creek ornament
Schitt's creek is a popular TV show that now has its own Christmas ornaments!
The ornaments above have some funny sayings of the shows and names of the series' prime locations, like the rosebud motel.
Amazon has some really nice options if you're looking for good Schitt's creek ornaments.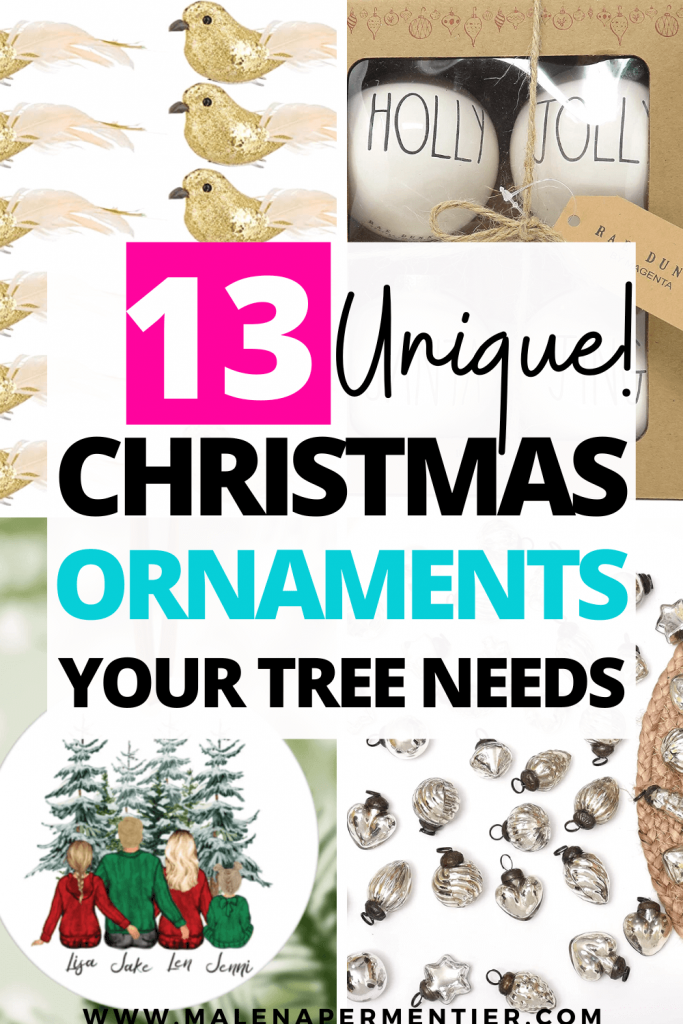 This post showed you the best Christmas ornaments.
You may also like: