Easter is around the corner.
What better way to prepare for Easter other than to fill your home with goodies that bring the celebration to life?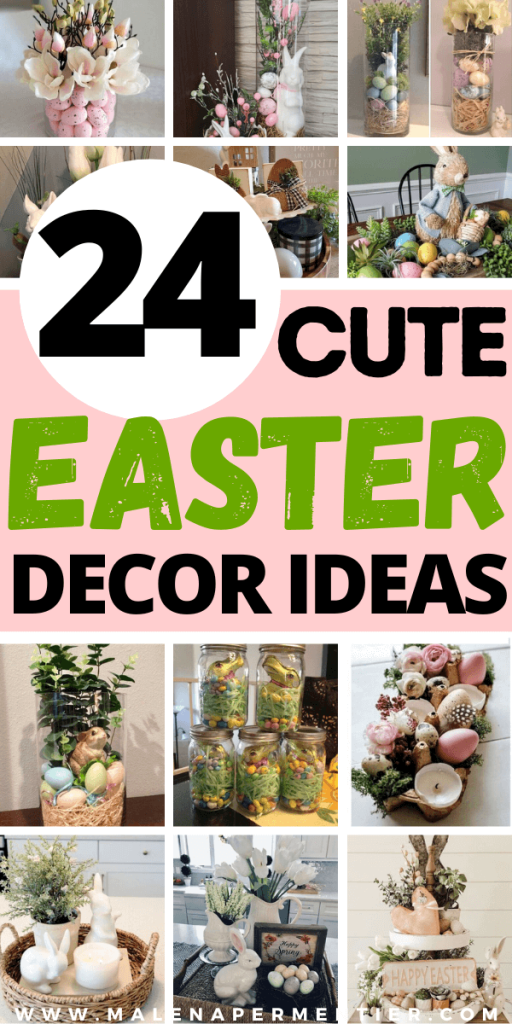 The history of Easter eggs
Easter egg painting evidence dates back to the 13th century. Easter eggs are said to have originated in medieval Europe.
People would paint eggs and offer them as gifts on good Friday.
Many believed that eggs were a symbol of life and rebirth.
Decorating your home for Easter
We know finding classy home decor that stays within the budget can feel overwhelming.
So we have compiled this list of beautiful decor ideas for you to choose from and give your home a bright new feeling this Easter season.
1. Ceramic bowl and bunnies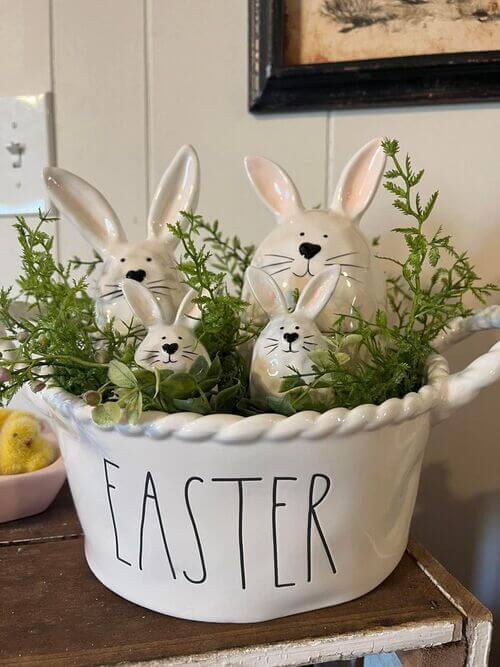 This large ceramic bowl filled with greenery and small cartoon bunnies is perfect for Easter.
Try this out if you want to add a childlike atmosphere to your holiday decor.
2. Tulip vase with silver accents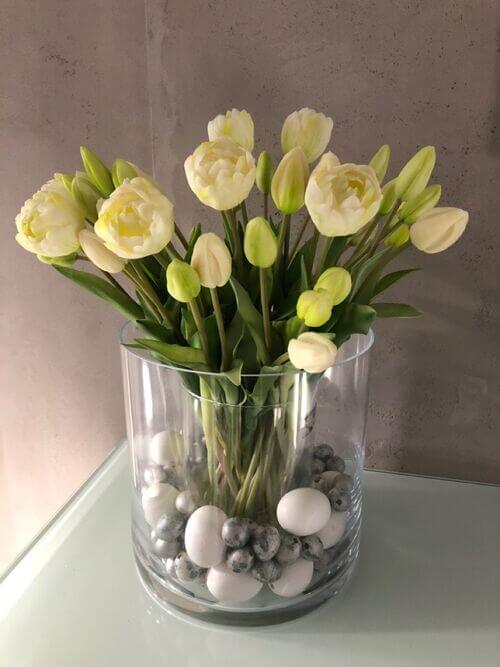 White and silver-speckled eggs pair well together.
Add some fake tulips to a large vase to recreate this piece.
3. Pink-speckled eggs and rosebuds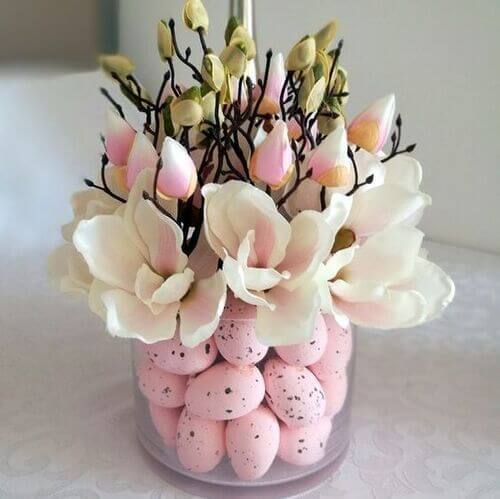 If you're looking for a small decor piece, then try this out.
Fill a mason ajr with pink speckled eggs and fill the top with fake rose buds and other flowers.
It's bright and brings a fun play on traditional decor.
4. Rabbits and nest jars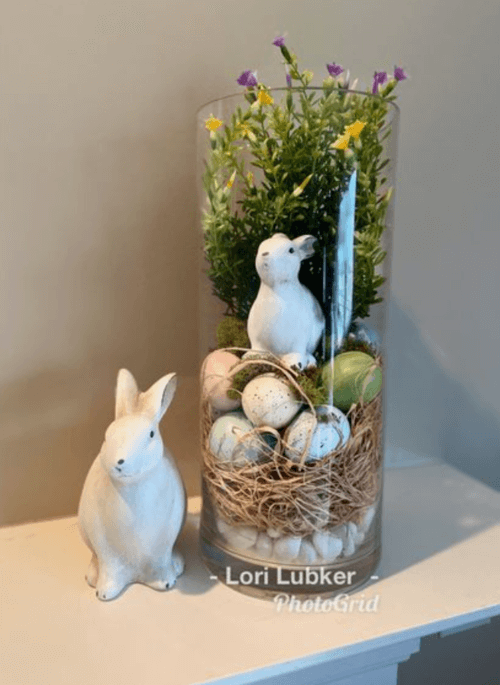 Fill a jar with small pebbles, straws, speckled eggs, and miniature bunnies.
You can also add some greenery to the top to create the perfect nest jars for your tables.
5. Tulips, ceramics, and candles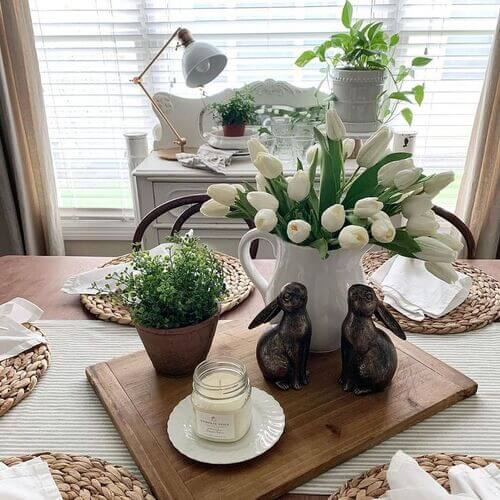 Stick to the basics with this decor piece.
Add some white, pink, or yellow tulips to brighten up your space.
You can also add some candles to freshen up the room. It's simple and effective.
6. Kitchen counter bunny set with greenery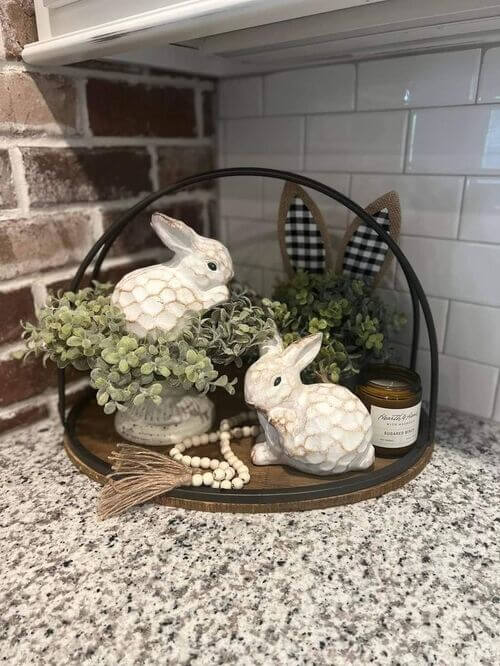 This is perfect for an empty space in the kitchen.
Fill a tray with wooden rabbits, eucalyptus or succulents, and candles.
It's great for small spaces since it only sticks to the basics.
It can also be used year-round since it has a neutral color scheme.
7. Pink and white eggs paired with white ceramic rabbits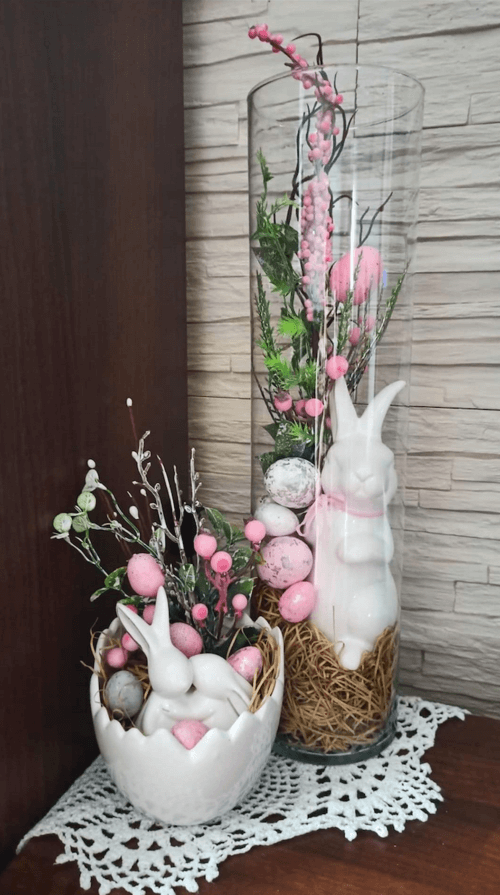 Keep it simple by sticking to only two colors when decorating.
Pair pink and white eggs with some white ceramic rabbits with pink ribbons on their necks.
It's cute yet simple and won't break the bank.
8. Egg carton decor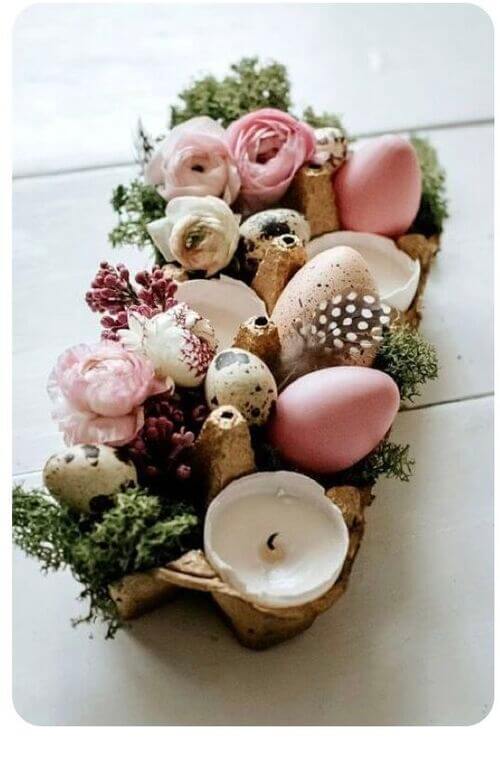 An egg carton decoration is a genius and creative way to show the Easter holiday.
You can add colored eggs, fake florals, and candles to create a peaceful atmosphere.
9. Wood, twine, and ceramic centerpieces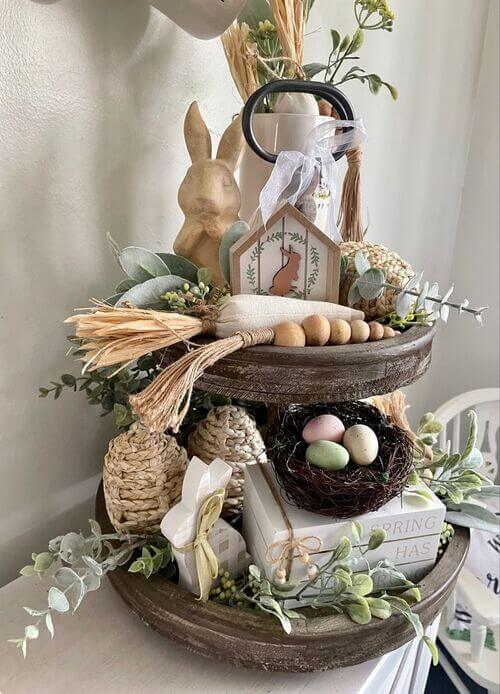 If you're looking for a more natural decor piece, then this might be perfect for you.
Creating a tray with woven baskets, wood rabbits, and carrot decor pieces can be perfect for spring and easter decor.
Its natural colors ensure that it is suitable for any space and can fit into any space in your home.
10. Bright eggs, moss bunnies, and dough bowls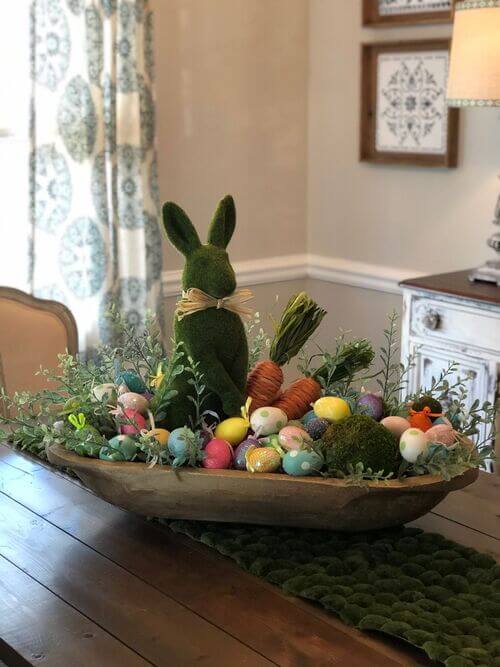 This is an interesting decor idea as it takes away from the normal ceramics and plays it up by making use of fake moss creatures.
Pair the bunnies with brightly colored eggs to create a balance of colors, and place them into a large dough bowl to keep everything together.
11. Fairy lights and tulip vases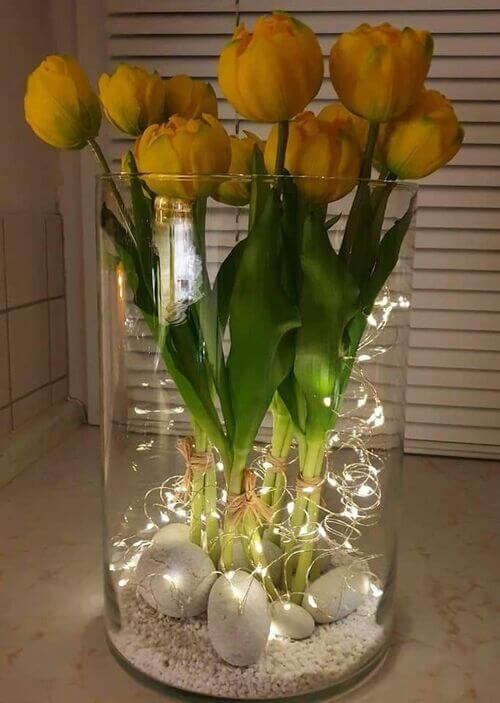 Keep things simple by creating a lit up vase.
Add some fake tulips to your vase and fairy lights, and place these all over your home.
12. Pastel egg nest vases filled with flowers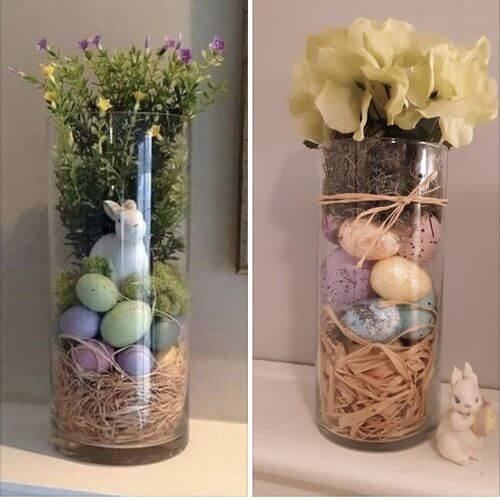 Another great way to fill up space is by using fake nests.
Fill a vase with some straw and eggs to create the nest effect, and then place your favorite flowers inside the jar.
I would highly recommend tulips or even orchids, as they are a gorgeous representation of the spring season.
13. Cement eggs filled with flowers and moss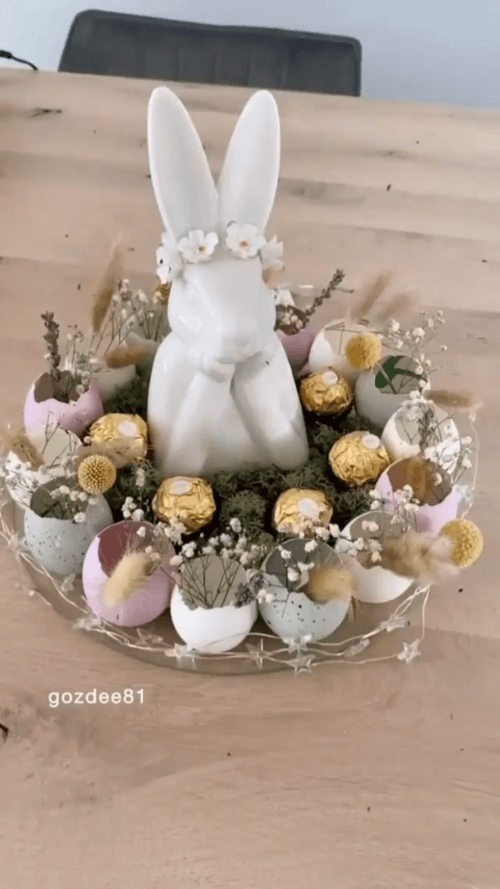 These are the perfect planters for the spring season.
They are small but can still be used without feeling like they're unpractical. 
You can add some baby's breath to these planters and fill the middle with fake moss balls and some chocolate to serve as functional decor.
14. Flowers, eggs, and wood trays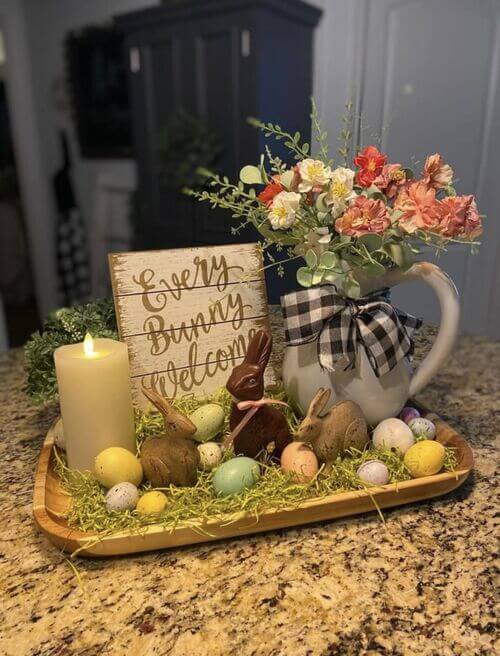 Keeping to the basics is also a good idea.
Create a colorful setup filled with eggs and flowers to welcome the new spring season.
15. Steel flower pots filled with greenery and ceramic rabbits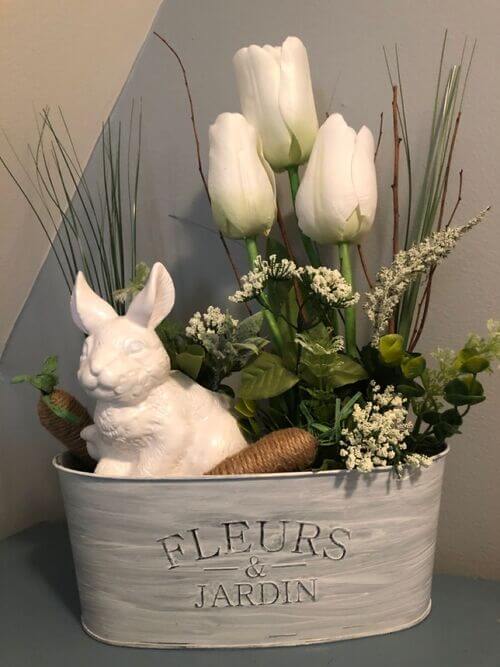 Galvanised steel flower pots have become extremely popular again due to their vintage look.
When you pair it with some greenery, it really brightens up any space.
16. Wood and white ceramic kitchen decor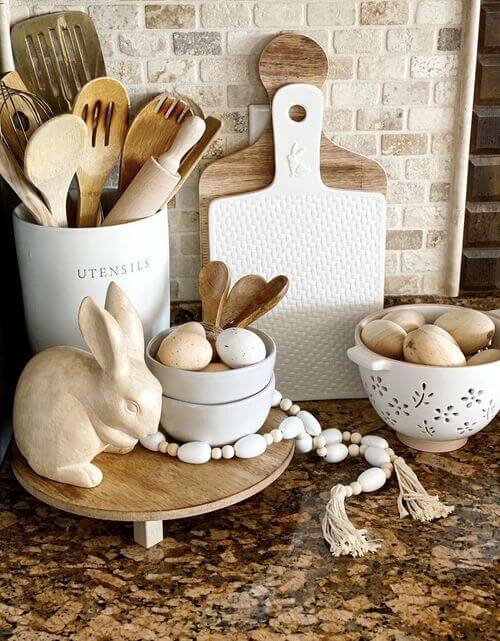 While the kitchen doesn't always seem like the best place to set up decor, this is cute and functional.
Add cutting boards and utensils, and keep your eggs in a bowl on the counter.
It's a simple and effective way to decorate for the holiday.
17. Moss and speckled egg table centerpiece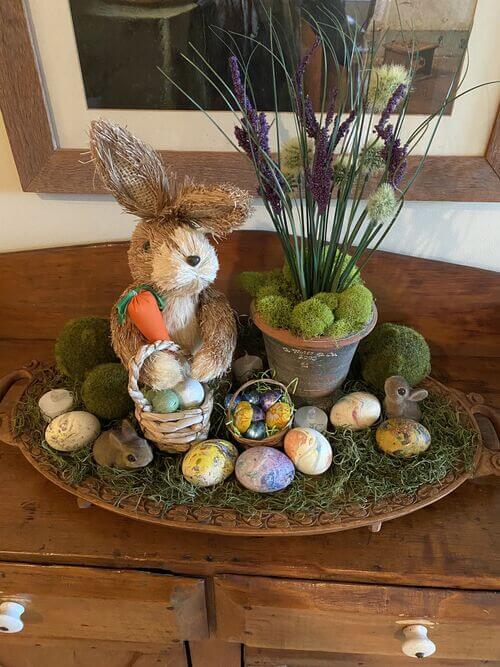 This grassy field filled with tie-dye eggs and rugged rabbits is gorgeous and a unique way of going about the Easter decor.
You can recreate these eggs by boiling eggs and dipping them into food dye.
18. Candy nests and chocolate bunnies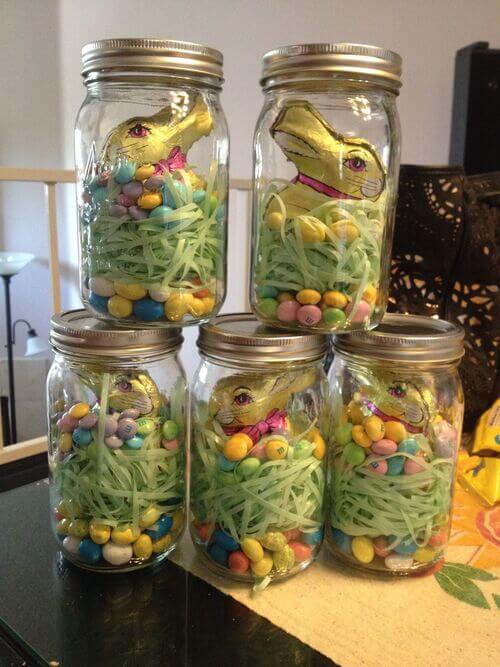 This is perfect for an Easter party. Kids will go crazy for the speckled eggs and giant chocolate bunnies.
You can hide these jars around the yard or keep these as table decor.
19. Spring bouquet and bright decor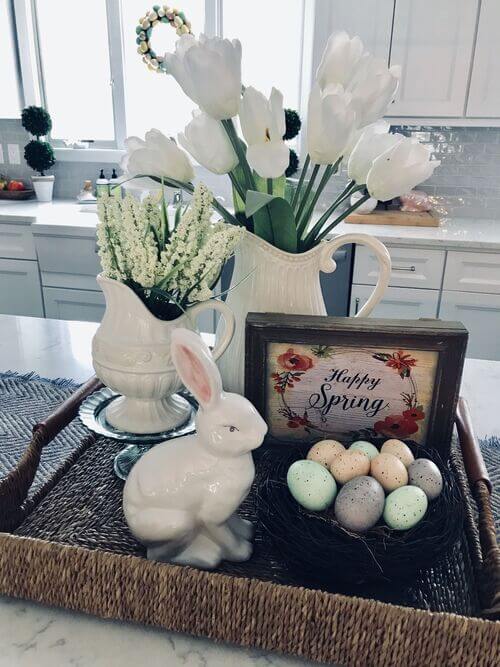 Jugs filled with tulips, a nest filled with speckled eggs, and a "happy spring" board.
What more would you need to create the perfect Easter table decor?
Keep it clean and simple by incorporating a little color without making things too bold.
20. Wooden figure and DIY egg decor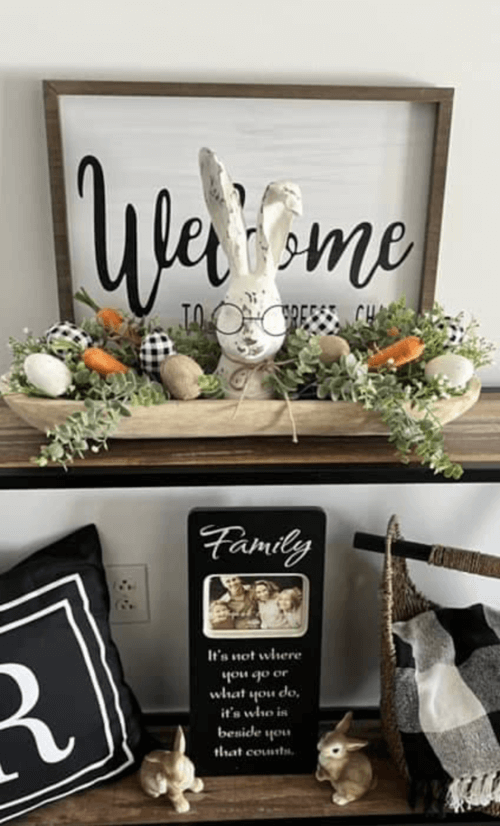 Creating this small dough bowl carrot patch is a cute way to decorate the kitchen nook.
These carrots and eggs are hand-stitched and paired with fake eucalyptus.
You can add a wooden rabbit statue to give it that kick of Easter spirit.
21. Planters and succulent easter setup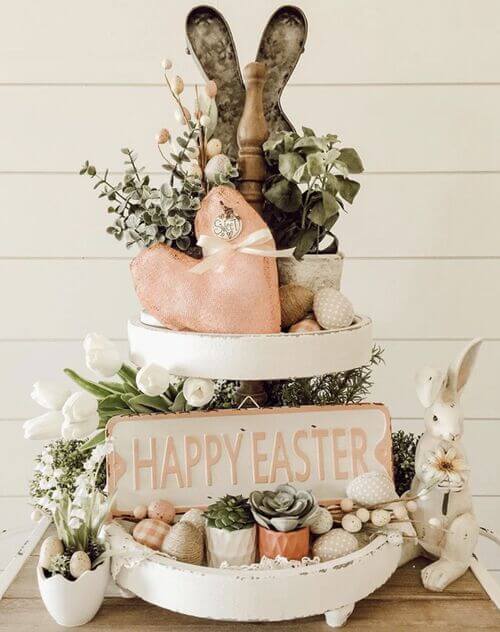 The tray contains succulents, a personalized "Happy Easter" number plate, and some heart-shaped cushions.
The light pink and white is a gorgeous way to brighten up any space.
Add some tulips, baby's breath, and eggshell planters.
22. Wood tray and rabbit blocks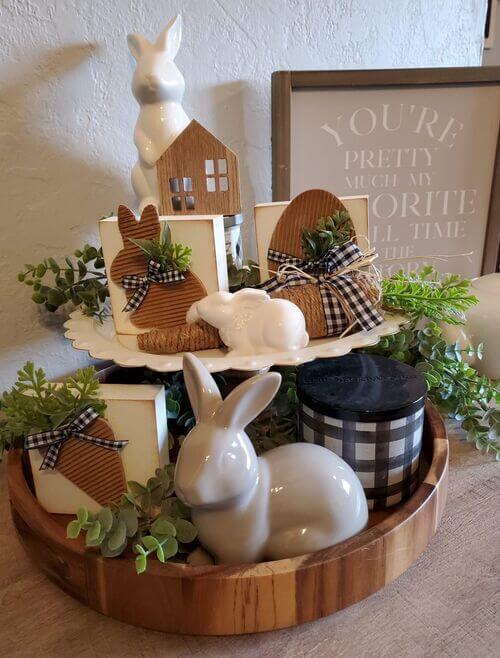 This simple kitchen centerpiece is great for spring and Easter decor.
You can add some coffee jars, rabbit ceramics, wooden carrots, rabbit blocks, and eucalyptus.
It's simple yet unique in its own way.
You can place all this into one giant wood tray to keep everything together.
23. Pastel eggs and greenery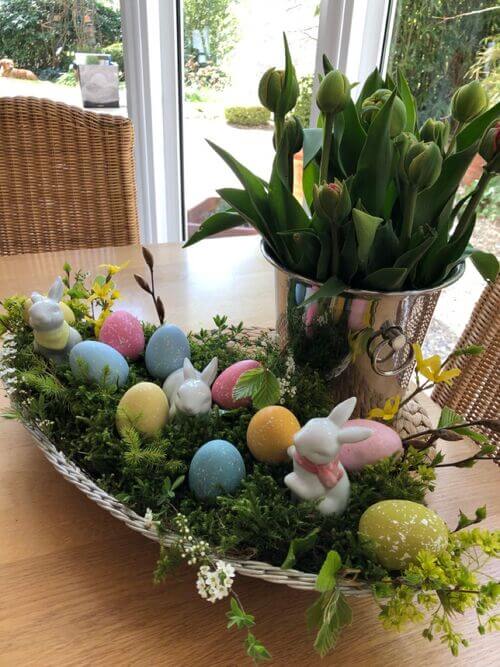 Whether you have an outside table or a big kitchen counter you want to fill, this is the perfect addition to any home.
Bright colors and greenery give you the perfect spring atmosphere.
Add some baby's breath and a bucket of tulips to brighten up any space in your home.
24. Hand-made mug tray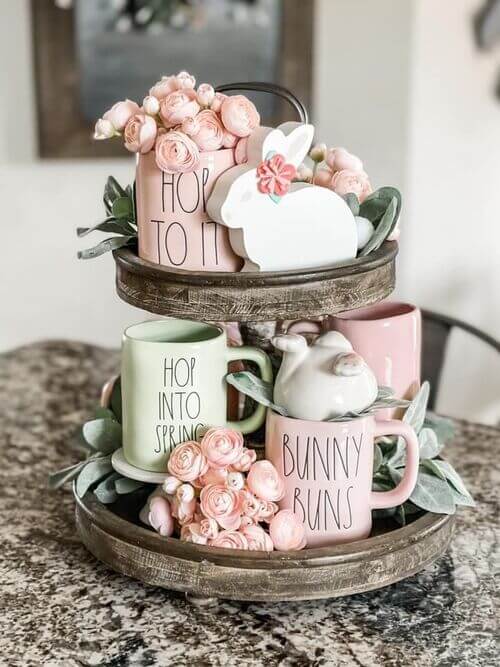 Create an Easter coffee nook.
Fill your trays with mugs that have fun wordplay, pink roses, or even small rabbit wood pieces.
Hand-made mugs are perfect for any home.
You can create mugs that apply only to Easter and paint them in all the pastel colors that fit your aesthetic.
25. Daisy lights in a moss bowl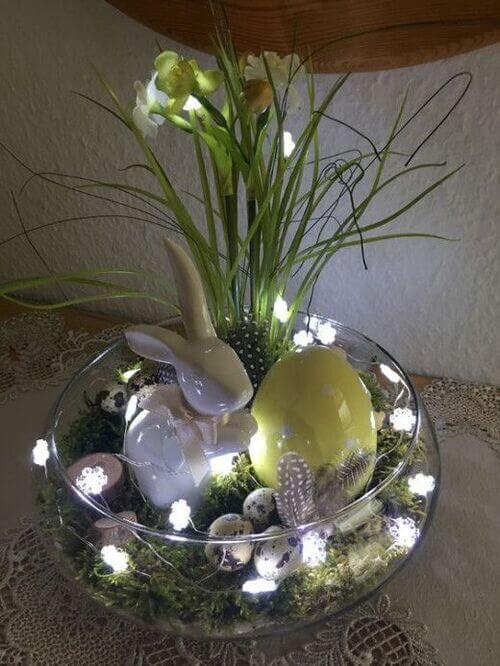 This cute planter gives a fantasy aesthetic. It's cute and fun.
Making use of flowers and moss that gives rich green colors and pairing it with the icy white flower lights, and eggs or rabbits gives you the perfect balance of natural and artificial.
These mini gardens are great to place all over your home since they give added light to any room.
26. Candle and floral centerpiece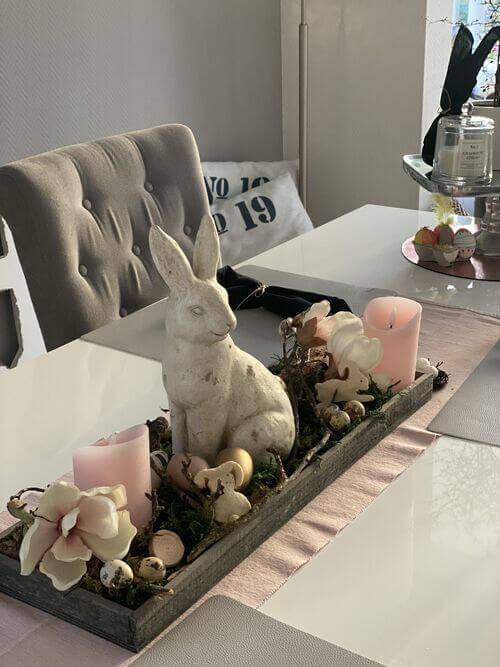 If you're looking to spice up the dining table, you can use this idea.
Pair some flowers with fake candles and a rabbit statue to show the Easter spirit.
All these items can be placed into a wooden tray and placed in your dining room or wherever you feel it fits best.
Don't be scared to swap some items out as you see fit because these ideas are adaptable to your needs.
27. A large vase filled with blossoms and ceramic rabbits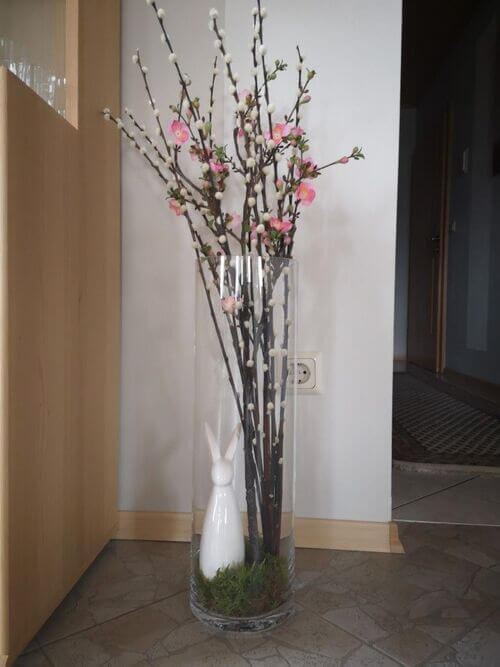 These large vases are perfect for filling up floor space.
You can add a ceramic rabbit to the vase.
Fill the jar with fake moss and cherry blossom branches to introduce color into the space without it being too bold.
28. Rabbits, woven trays, and candle kitchen decor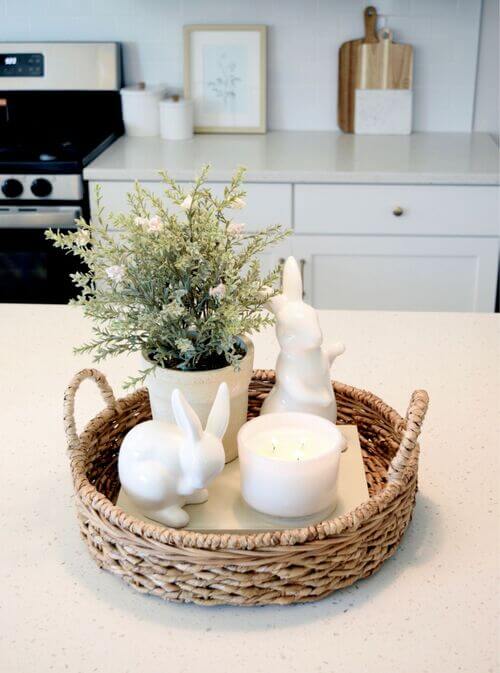 White and light wood pair so well together, so why not keep it simple with this unique idea?
This keeps things natural and bright. It pairs great in a kitchen with lots of natural light.
You can add some lavender to this woven tray and ceramic rabbits.
Lavender can instantly relieve stress, and the aroma is calming.
29. Fake flowers in an easter egg nest jar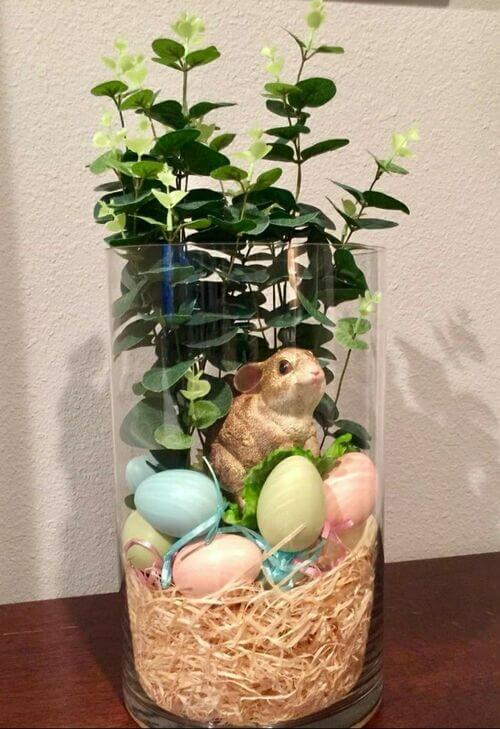 These jars allow you to decorate for Easter while being subtle about it.
You can use some straw to mimic a nest.
Make use of fake eggs and paint them to fit your favorite color.
You can add some fake greenery and a rabbit or bird to the Easter spirit.
This is a simple and effective way to decorate for springtime.
30. Rabbits and succulent dough bowl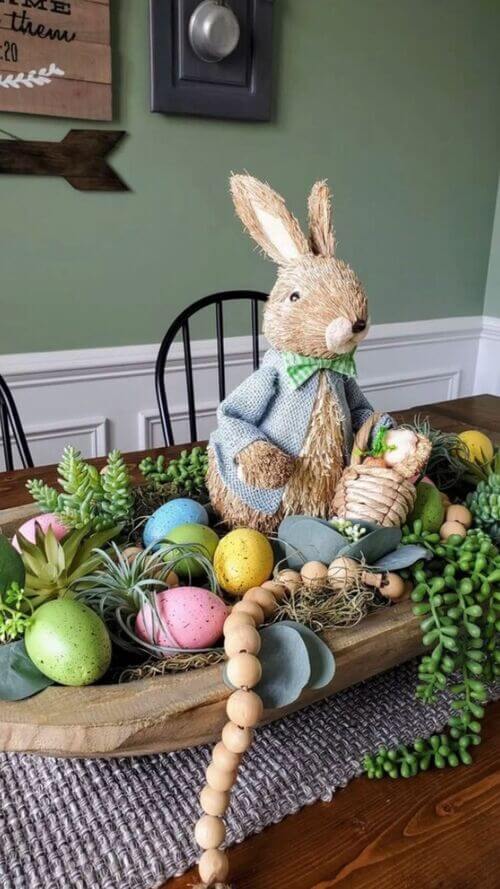 Bright-colored eggs, succulents, and rabbits are a fun, and fresh way to brighten up any space for the Easter season.
You can use a giant dough bowl and fill it with all your springtime decor.
31. White flowers and greenery centerpieces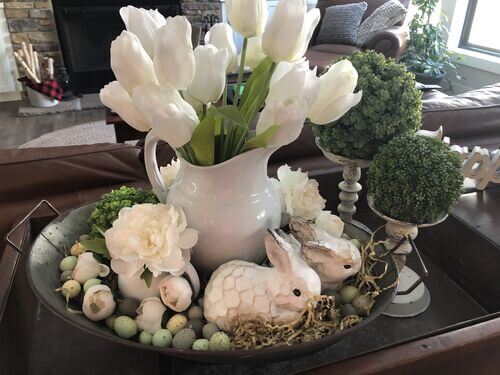 We can easily recreate this decor piece without breaking the bank.
You can buy fresh tulips or use some fake flowers to give the room a fresh atmosphere.
Then you can add some greenery to balance out the white.
Since we need to keep things to the Easter theme, you can also add some wood-carved rabbits and colored eggs to make the decor stand out.
32. Cement rabbit, greenery, and candle coffee table set
This piece is perfect for when you want to bring the Easter spirit right to your living room.
You can achieve this centerpiece by using cement statues, fake greenery, or moss balls and adding some plain white candles.
It keeps things simple but also stays in tune with the holiday.
Finding the perfect decor
It's not about going extravagant with your Easter decor.
It's about finding something that works for your home.
Since most of the Easter decor revolves around eggs, tulips, and rabbits, finding something that fits your style is important. 
As we look at the list above, you can easily take any of these ideas and add your DIY twist to it.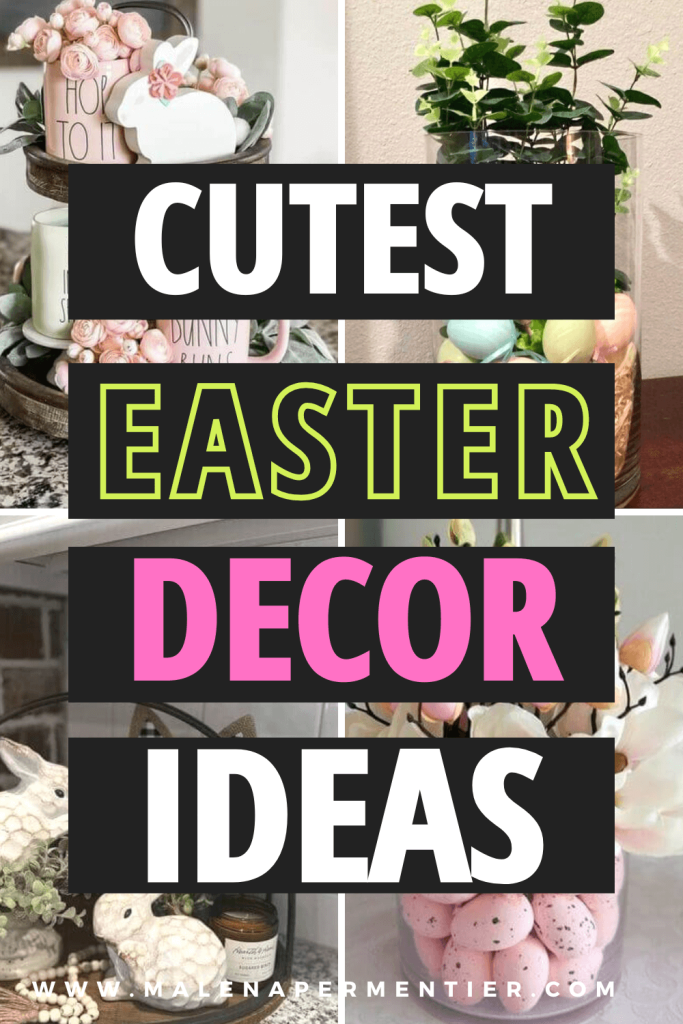 This post showed you the best easter decor ideas.
You may also like: