This post shows you the best barbie Halloween costume ideas!
Halloween is just around the corner, and what better way to celebrate than by channeling your inner Barbie?
With her timeless style and iconic looks, Barbie provides the perfect inspiration for creative and trendy Halloween costumes.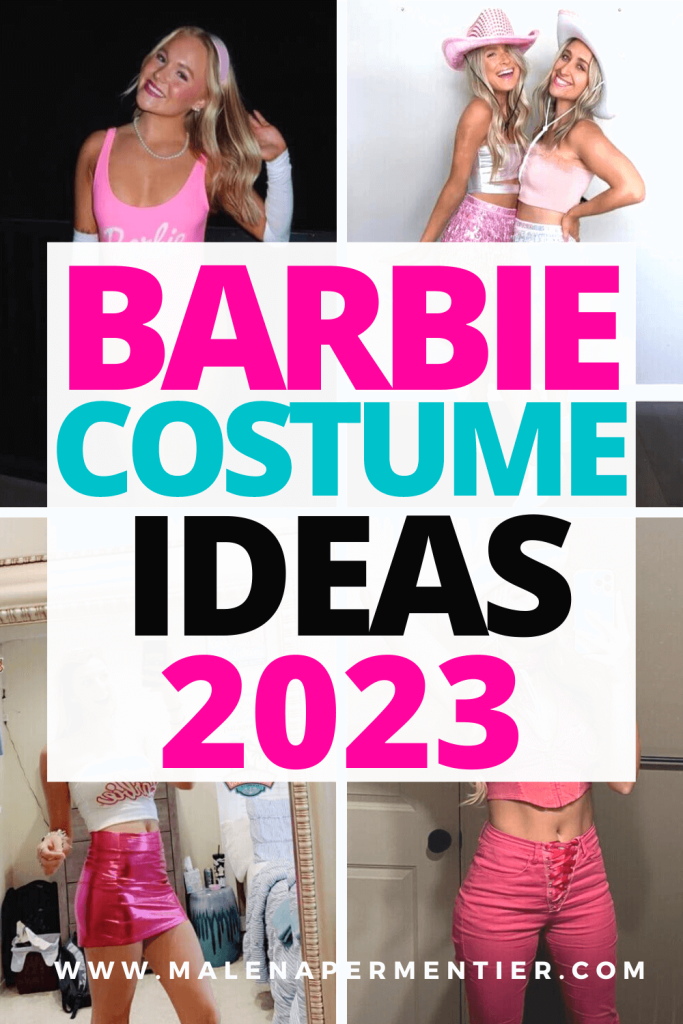 The History Behind Barbie
Watching her kid play with paper dolls that resembled adult women inspired Handler, the maker of Barbie.
Baby dolls were the most popular toy at the time.
Few dolls on the market allowed girls to role-play and imagine their lives after childbirth.
Handler's notion was received with skepticism at first since her husband and other industry executives were concerned about an adult-bodied doll.
Barbie was inspired by the Bild Lilli doll, which was fashioned in the likeness of a German comic strip character.
Lilli was first sold to adults, but she quickly gained popularity among children who enjoyed dressing up the doll.
Mattel purchased Lilli's rights and created their own version: Barbie.
Barbie Facts
Barbara Millicent Roberts is Barbie's full name.
Barbie is named after Ruth Handler's daughter, Barbara, and Ken is named after Ruth Handler's son, Kenneth.
She is from (fictional) Willows, Wisconsin, where she went to high school.
Barbie was born on March 9, 1959, the day she was introduced to the toy industry at the New York Toy Fair.
Barbie made her debut in her signature black-and-white striped swimsuit.
In 1961, Barbie was joined by Ken.
The original Barbie doll cost $3.00.
In 1959, the first Barbie commercial ran during the Mickey Mouse Club.
Barbie Pink (PMS 219) is the distinctive color of the Barbie doll.
Barbie's height is 11.5 inches.
The best-selling Barbie doll of all time was the 1992 Totally HairTM Barbie, who had floor-length hair.
Finding your Barbie look
We all know how important it is to find that perfect Halloween look.
With Barbie being back on top I thought it would be best to share some of her iconic looks for you to try out before settling on a certain look.
Classic Barbie: Pay homage to the original Barbie with her signature black-and-white striped swimsuit, high heels, and bold red lipstick. This timeless look is instantly recognizable and a true crowd-pleaser.
Malibu Barbie: Capture the essence of Malibu's laid-back vibes with a beach-ready Barbie costume. Think bright swimsuits, oversized sunglasses, and beachy waves in your hair.
Astronaut Barbie: Inspire young minds with an Astronaut Barbie costume. Dress in a sleek spacesuit, complete with a helmet and futuristic accessories, and show that Barbie can conquer any career she sets her mind to.
Barbie and Ken: Grab your partner or best friend and go as the iconic Barbie and Ken duo. From matching outfits to coordinating hairstyles, this costume idea is a fun and playful way to celebrate Halloween together.
Barbie Princess: Bring a touch of fairy tale magic to Halloween by becoming a Barbie princess. Choose your favorite princess from Barbie's repertoire, such as Rapunzel, Cinderella, or Belle, and embrace the elegance of royal attire.
Barbie Pop Star: Turn up the disco glamour with a Barbie pop star costume. Sequined dresses, statement accessories, and a microphone are essential for this glitzy and music-ready look.
Iconic Barbie pieces
When you're looking into creating your perfect Barbie look there are a few things to keep in mind, especially when you're looking to DIY these at home.
So here are a few tips to ensure you create the look of your dreams.
Dresses: Opt for dresses that match the era or theme of your chosen Barbie. This could range from classic pink dresses to elegant princess gowns.
Swimsuits: Barbie is famously known for her swimsuit looks. Choose a vibrant-colored swimsuit or bikini with patterns that represent her style.
Accessories: Think bold statement jewelry, such as oversized earrings, bracelets, and necklaces. Don't forget Barbie's signature pink accessories.
Shoes: Barbie often wears heels, so choose a pair that complements your outfit and adds a touch of glamour.
Props: Depending on the Barbie persona you're going for, you might need specific props. For example, if you're doing Astronaut Barbie, a toy helmet and a futuristic accessory can complete the look.
Color Palette: Barbie is closely associated with pink, so incorporate various shades of pink into your outfit and accessories. You can even add some purples and blues to make the costume pop.
1. A simple T-shirt and mini skirt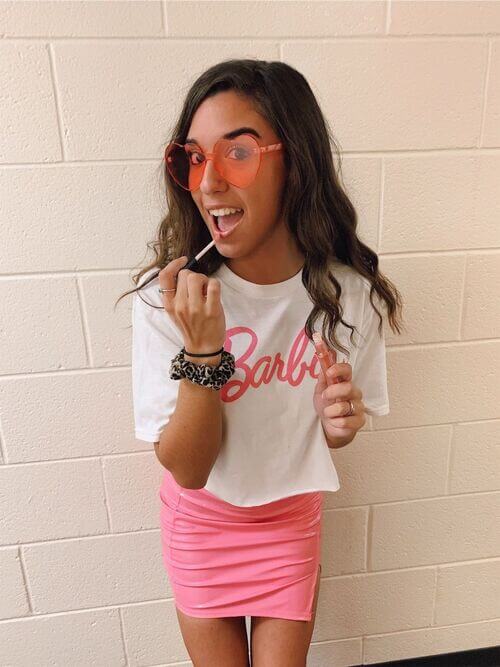 Your Barbie costume doesn't have to be complicated.
Grab a mini skirt in the perfect shade of pastel pink and add a cropped t-shirt to create this look.
You can add some pink sunglasses to pull it together. Wear some white sneakers to ensure you're comfortable and able to enjoy the night.
What more do you need to create the perfect Barbie look?
2. Accessorise with pumps and a bag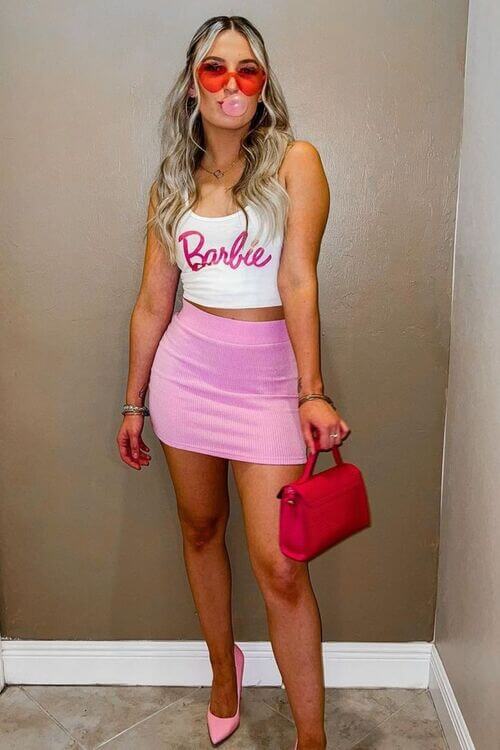 While the first look is simple and perfect for Barbie you can always level it up.
Swap the cropped t-shirt for a tight tank top and add a high-waisted skirt.
Take off those sneakers and add some pastel pink pumps.
You can even add in a hot pink handbag. This is the perfect look for a classic Barbie approach.
3. Party look for Barbie and Ken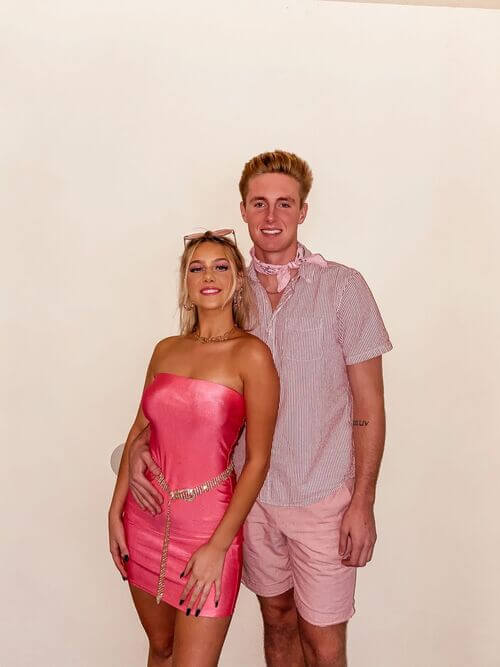 In need of a look for yourself and your partner?
Look no further than the Barbie and Ken duo.
You can dress up in a glittering fuschia dress with silver finishes as well as the much-needed pink sunglasses.
Your partner can grab some pink shorts and a bandana as well as a simple white or striped shirt to bring Ken to life.
4. Signature Barbie hair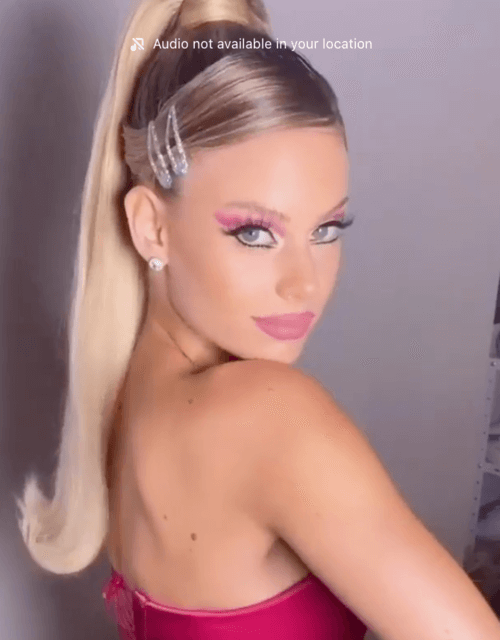 If you have your outfit sorted and need the perfect hairstyle and makeup look, then this is for you.
Either by making use of a wig or styling your hair. You can style the iconic ponytail that swirls at the ends.
For the makeup aspect, you want to try and make your eyes look bigger.
Winged eyeliner and pinks are a must with pretty pink lipstick.
5. Sporty Barbie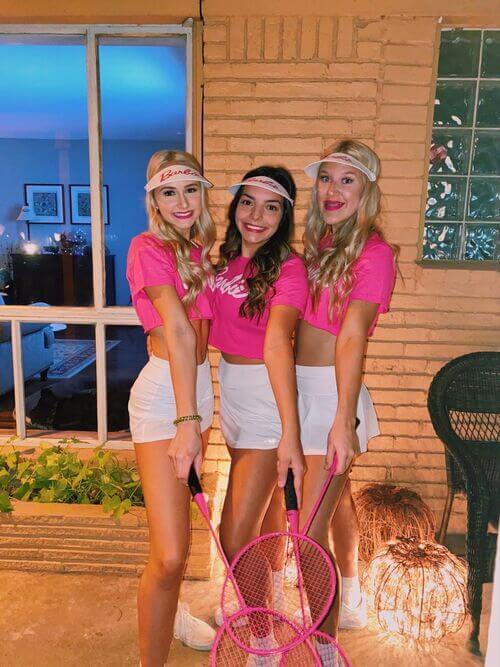 If you and your girls want a group idea then why not try sporty Barbie? Get some tennis rackets and spray paint them pink.
You can match it with hot pink crop tops and some white shorts and shoes.
We can all appreciate a cohesive look and with this, you're sure to keep track of your besties.

6. Pink skirts are in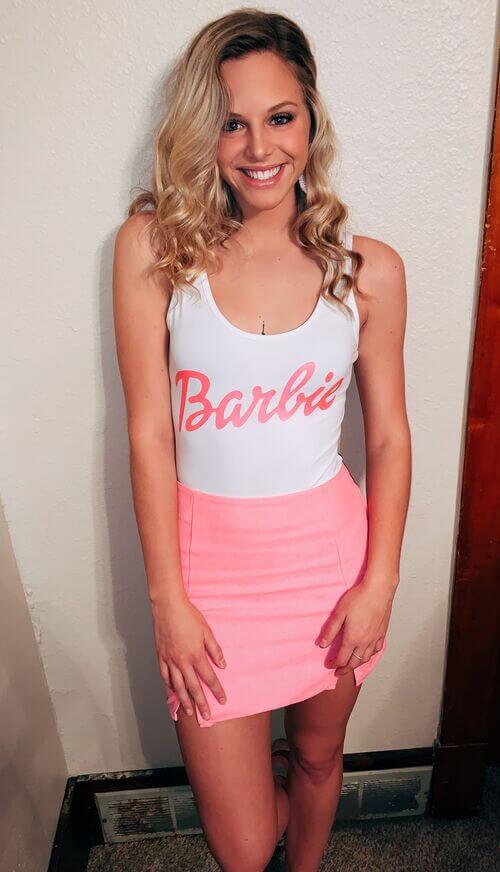 Sticking to the simple looks can really pay off if you haven't had time to prepare a costume this Halloween.
Grab a pink skirt and a simple Barbie shirt and pair it with some pink heels to pull off this look.
You can add some silver jewelry and curl your hair to showcase classic beach waves.
7. Cowgirl Barbie (extra glitter)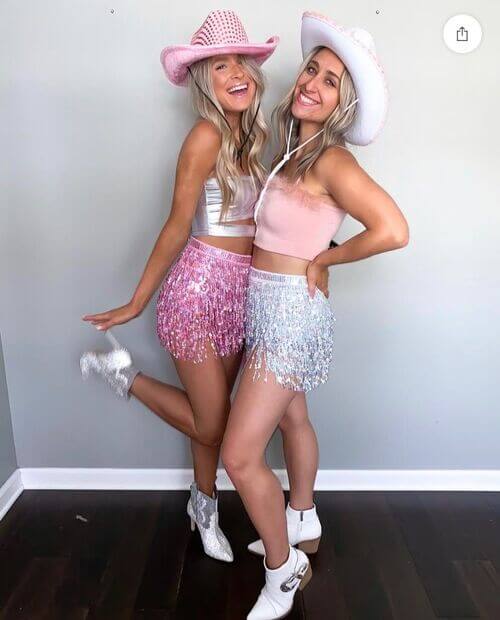 Grab the glitter and get ready.
This cowgirl Barbie look incorporates some bolder aspects than the usual look.
Get a fun fringe skirt that stands out and pair it with a bold tube top either in silver or pink.
You can add a pink hat and some white boots. For this look, you can add glitter to your makeup as well.
8. Barbie swimsuit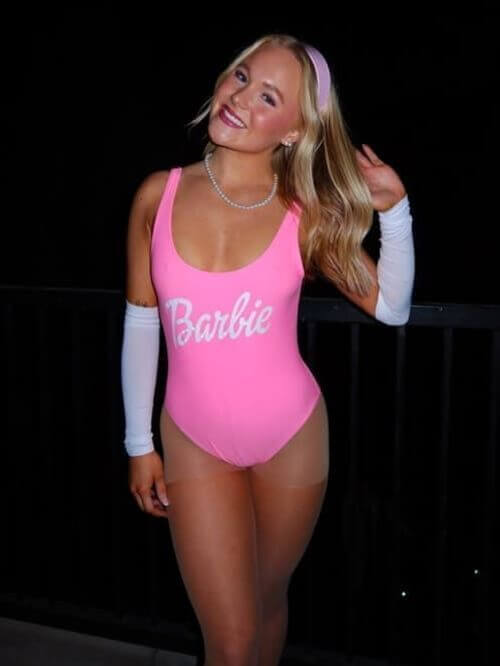 This one piece can help you go in different directions when choosing a costume.
You can either go disco, aerobics, beach Barbie, or whatever you feel like trying.
Add a classic headband and accessorize to ensure this look reaches its full potential.
Why not add a necklace and embrace the look with some extra goodies? Personalize this look to your heart's desire.
9. Iconic cowgirl look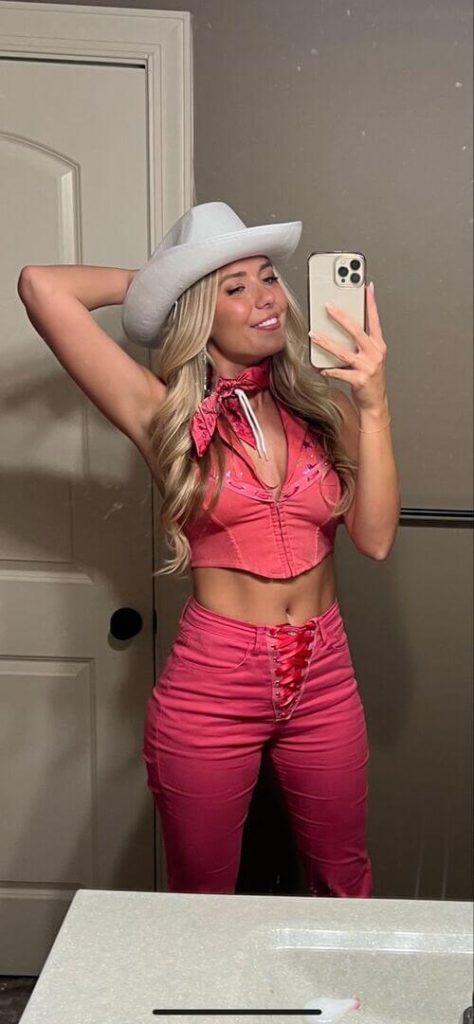 If you've gathered some inspiration from the latest Barbie movie then the look that Margot Robbie rocked is sure to be in your head.
Pink high-waisted jeans with a gorgeous top and bandana are sure to make heads turn.
Add a white cowgirl hat and boots and you will have this look to the 'T'
10. Make it sparkle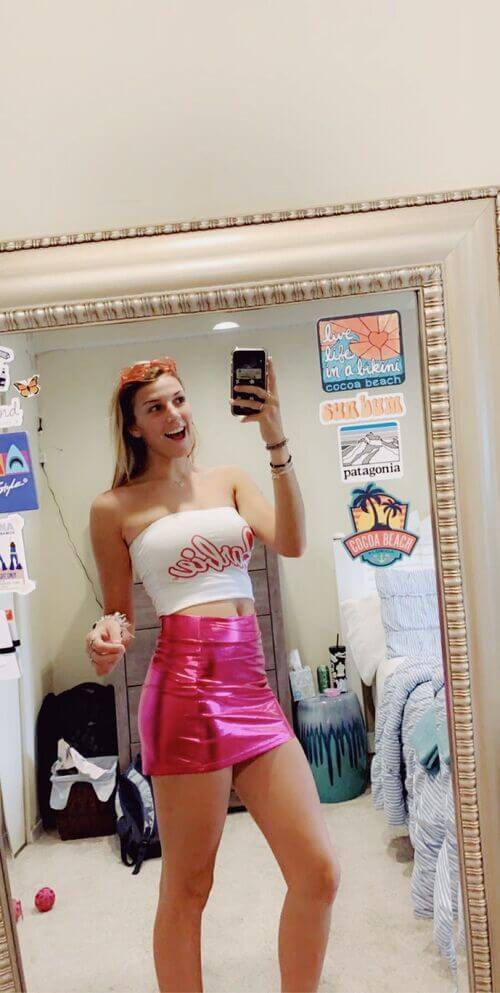 If you want to make the simple Barbie look a little bolder you can swap out pastel pink for fuschia and glitter.
This is a simple way to stand out from the rest of the crowd. You can also make use of a tube top instead of a normal top.
Add your pink glasses and also some high heels to bring this look together.
11. The iconic duo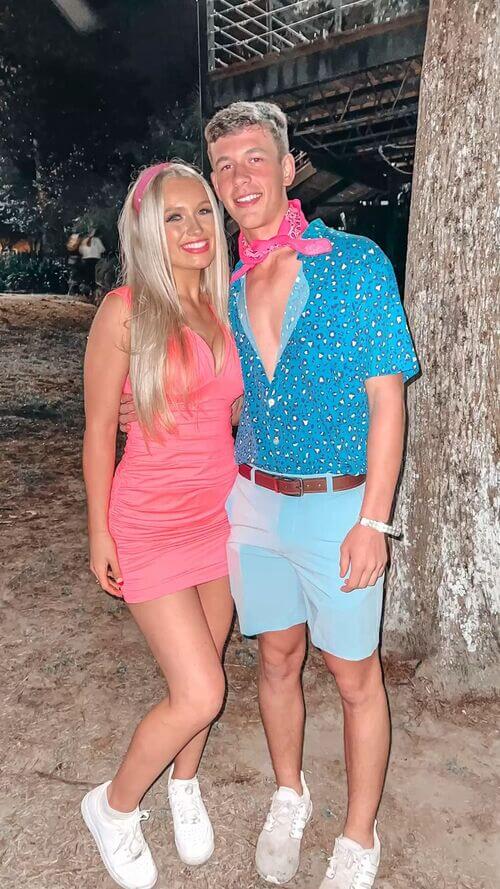 Here's a groovy look for the perfect couple.
You can wear a stunning pink dress while your partner goes for blue shorts and a shirt paired with a pink bandana tied around the neck.
It's a cute idea that goes a long way and really makes you guys stand out.
12. Aerobics is in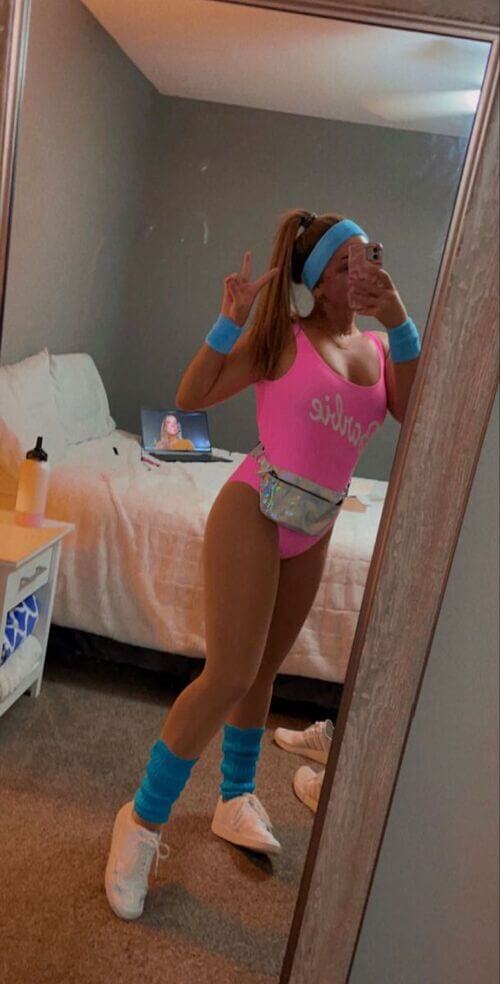 The iconic aerobics Barbie is a must. Get a one-piece and pair it with some blue leg warmers and wristbands.
You can wear simple white shoes and also add a blue headband to pull this look together.
You can simply pull your hair into a ponytail and you'll have this look done and ready to go.
Getting in the spirit of Barbie
We need to make sure we pay tribute to her timeless style and adventures.
Whether you opt for a classic look or put a modern twist on a beloved character, these Barbie-inspired costumes are sure to make a statement and keep the Halloween spirit alive in 2023.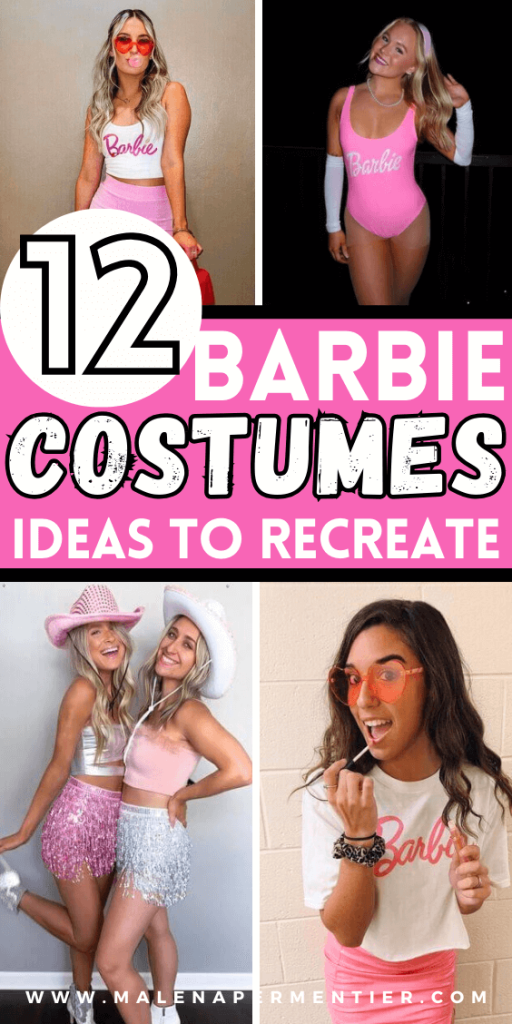 This post showed you the best Barbie Halloween costume ideas.
You may also like: