This post shows you the best Halloween centerpieces.
Spooky, scary skeletons and orange and purple décor everywhere? Sign me up!
I am a sucker for a gruesome or cute Halloween centerpiece. Grab your spiders, ghouls, and pumpkins, and bring your spooky spirit to the party.
I have created a list of 17 fun ideas that you can try out this Halloween.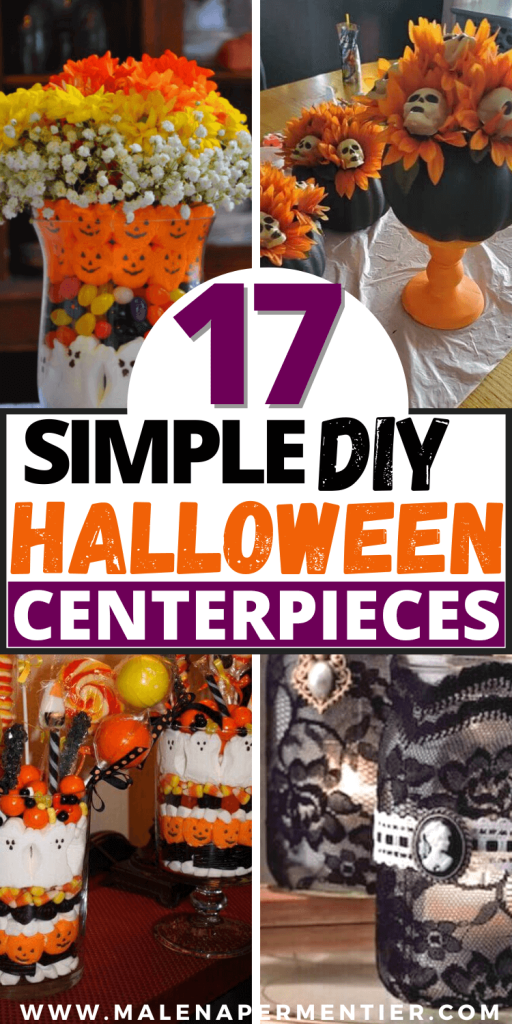 What to use for Halloween Centerpieces
Halloween calls for some interesting décor choices. You have a free range of options to try out while still staying on theme. If you're one for subtle hints or all out this post has something for everyone.
Start by selecting a theme for your Halloween centerpiece. It could be anything from classic haunted house motifs to wicked witches, creepy crawlers, or even a specific movie or story-inspired theme.
Incorporate classic Halloween symbols like pumpkins, witch's hats, skeletons, ghosts, spiders, and bats into your centerpiece.
Play with varying heights by using pedestals, stacked books, or overturned cauldrons as risers for different elements.
Incorporate candles, LED tea lights, or string lights into your centerpiece to create an eerie glow. You can also use colored bulbs to cast a haunting hue over the arrangement.
Consider including edible elements in your centerpiece if it fits your theme. Candy corn, gummy worms, or Halloween-themed cookies can not only add a touch of color but also be a delightful treat for your guests.
Black is the most prominent color of Halloween, and adding it to your centerpiece will instantly up the spooky factor. Use black fabric, ribbons, or spray paint to darken certain elements and give them a more sinister appearance.
Designate a focal point in your centerpiece to draw attention. It could be a large and intricately carved pumpkin, a haunted house figurine, or an eerie sculpture.
Sprinkle some faux spiders or leaves on the table, use themed tablecloths or runners, and dim the lights to create an immersive Halloween experience.
Types of themes you can incorporate
If you're unsure of what theme you want to try out this Halloween, then look no further because I have a few ideas that can help you bring the right atmosphere to your home.
Embrace the essence of the autumn season by combining Halloween elements with rustic harvest charm.
Bring a touch of dark mystique to your Halloween centerpiece with an apothecary-inspired display.
For those seeking a more refined approach to Halloween décor, an eerie elegance centerpiece is just the ticket.
Give Halloween a whimsical twist with an enchanted fairy garden centerpiece.
For lovers of all things creepy, a spider-themed centerpiece will weave its way into their hearts.
17 DIY Halloween Centerpieces
1. Candy and flowers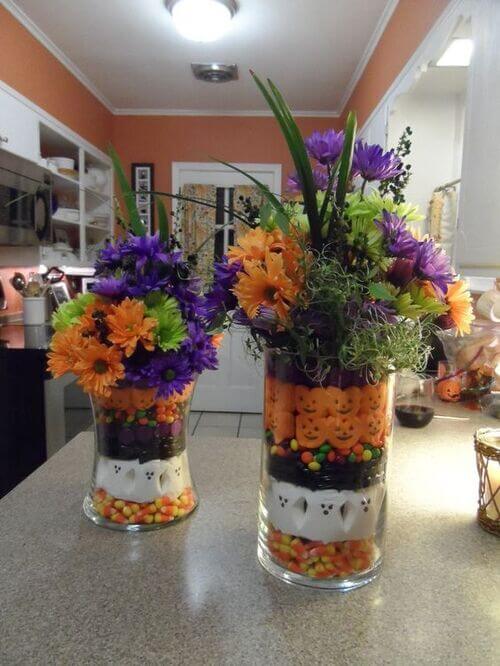 This fun centerpiece incorporates all the key elements that you would naturally find around Halloween.
Purple and orange florals paired with everyone's favorite Halloween-inspired snacks.
Pumpkins, ghosts, candy corn, and much more bring this piece to life.
Make use of a bunch of different-sized vases so that there is variety and everything doesn't look the same. This fills up space better too.
2. Pitch black branches and gold accents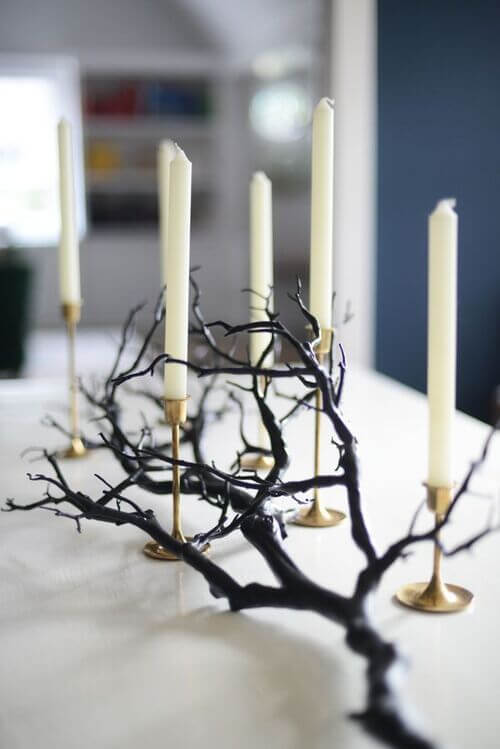 If you are looking for a look that is a little more subtle but still has the air of a creepy forest, then you can try this out.
You can buy fake branches and spray-paint them black to bring an eerie look to the table.
You can then grab some gold candle holders and taper candles that will bring an ominous glow to the table.
3. Candy jars with florals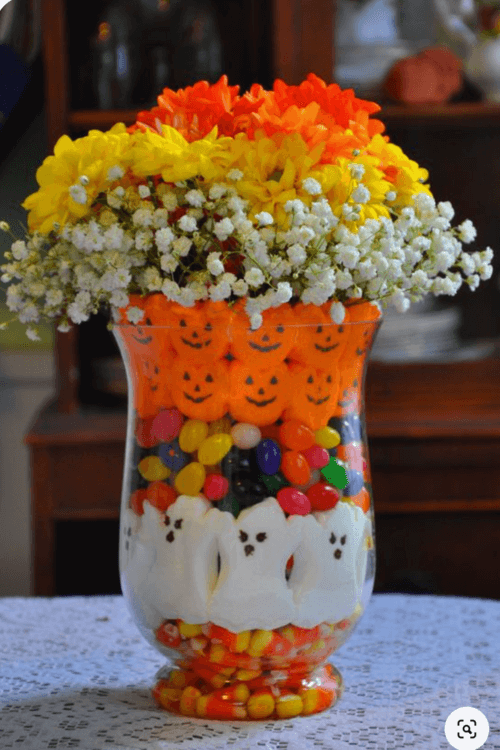 Baby's breath isn't just used for wedding décor (even though that's where you see them the most), you can add them to some yellow and orange florals to bring the Halloween colors to your table.
Fill up the jar with jelly beans, ghosts, pumpkins, and candy corn to bring the trick-or-treat spirit to life.
4. Spider jars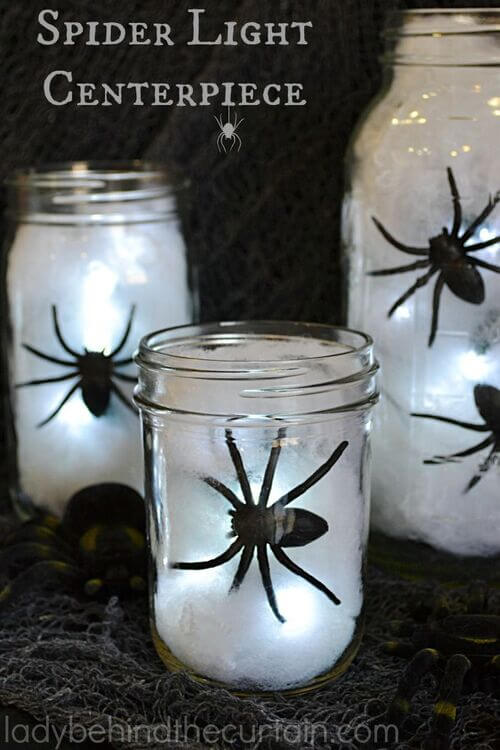 This is an easy DIY project that you can try with budget-friendly items.
Grab some fake cobwebs or cotton balls to mimic the look of cobwebs, and add some fairy lights to make the fake spiders seem scarier.
You can place these around your home or use them as centerpieces at a Halloween party.
5. Skull bouquets and pumpkins
If you want a new bouquet idea that will make your décor stand out from the rest, then look no further.
Grab some pumpkins and spray-paint them black. You can then get flowers and glue the skulls to the middle of them, and place them on the pumpkins to create this cool and freaky idea.
It incorporates the most important colors, such as black and orange.
6. Candy corn fillers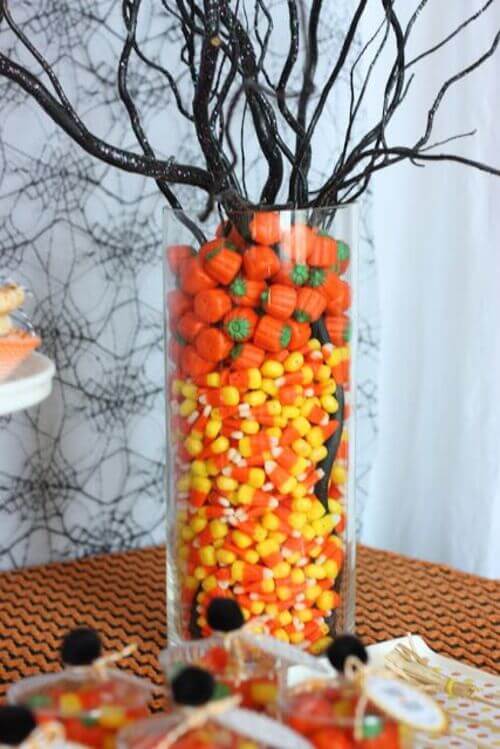 No Halloween is complete without candy corn, but that doesn't mean you need to follow the basic approach when using them.
You can easily use them as vase fillers to bring some color to your centerpieces, especially if you use black as the main color.
7. Black lace lanterns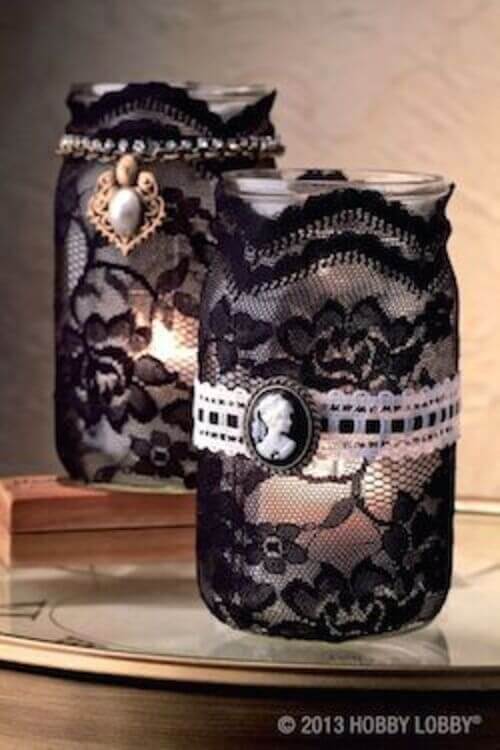 These vintage-looking pieces are perfect for Halloween.
By using black lace and adding some pearls or white lace to break the simple use of color it can create the perfect moody centerpiece.
Add some candles or fake tea lights to bring a little brightness to the table.
8. Keep to the basics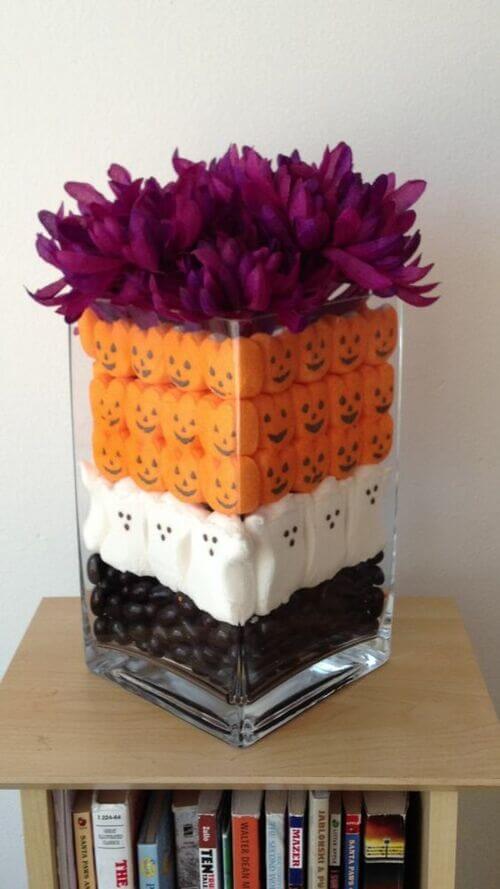 Keep to the basics if you want a more simple approach.
By using black, orange, purple, and white you can still showcase your spirit of the spooky day, but without it feeling like it is too much.
People can appreciate the simplicity of this idea, especially if you aren't sure about a certain theme yet.
9. Orange candles and candy corn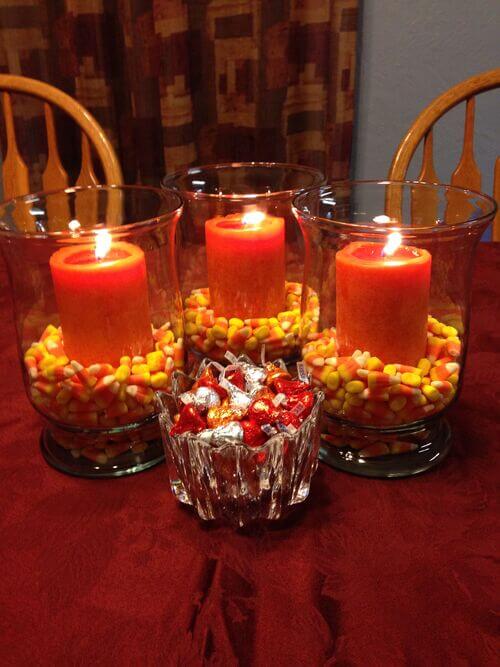 Who can say no to a moody orange and red theme?
Grab some vases and fill the bottom with candy corn.
Place a candle on top, either red or dark orange, to stick to the warm tones of fall.
This is a simple idea that works great as a last-minute party decoration.
10. Orange and black cutlery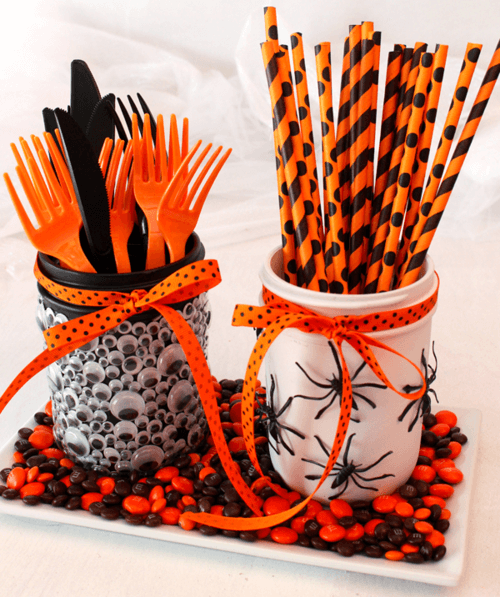 If you have some extra mason jars lying around and want to take the opportunity to DIY a Halloween decoration, then this is just for you.
Paint the jars black and white and then decorate them with plastic spiders or googly eyes.
If you place them on a tray, you can fill it with some fun snacks that stick to the black and orange theme and match the straws and cutlery, too.
11. Black taper candle centerpiece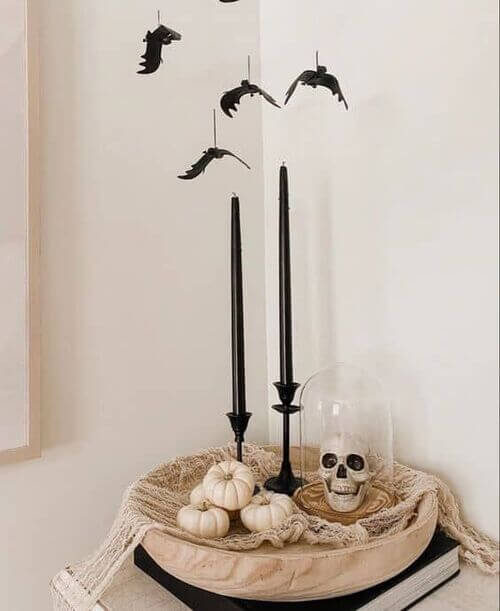 For those of you looking for something a little more neutral but still bringing the spooky spirit into your home, then why not try this out?
Fill a giant tray with white pumpkins, a spooky skull in a jar, black taper candles, and some cute little bats.
It's simple and still catches your eye making it perfect for a centrepiece.
12. Candy holder centerpiece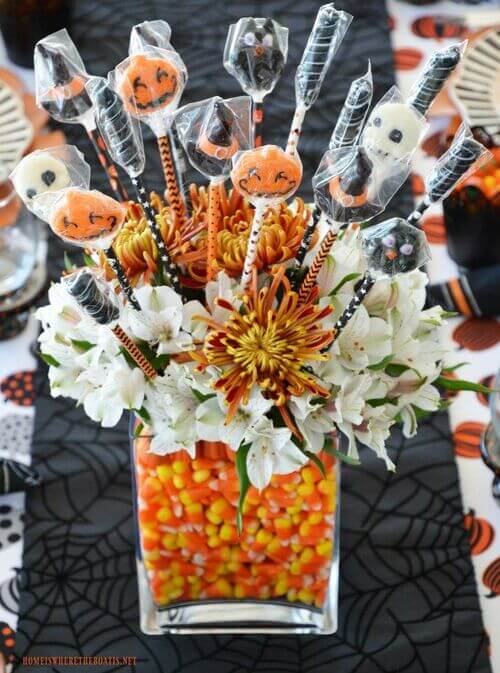 Go all out with your candy this is what Halloween is for.
Use your centerpieces to showcase some of the yummy snacks your guests can enjoy.
Add some spooky table runners to tie into the theme and make simple floral arrangements to fit the color scheme.
13. Dark forest centerpiece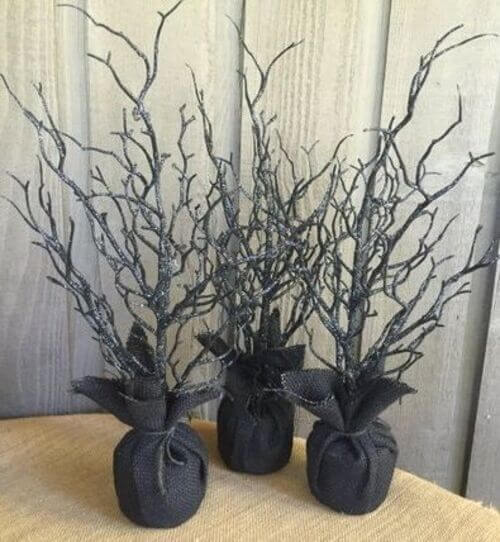 Stick to the spooky and eerie dark forest theme with this one.
You can wrap some planters in black burlap and spray paint some branches to create this idea.
It's a simple idea, but it keeps things on point for the Halloween theme.
14. Pumpkin jar of treats
Why not stay on point with all your décor pieces?
This glass pumpkin is perfect for storing candy and can work for the whole of the fall season.
It is the perfect subtle addition to your table and is just adorable.
15. Painted pumpkins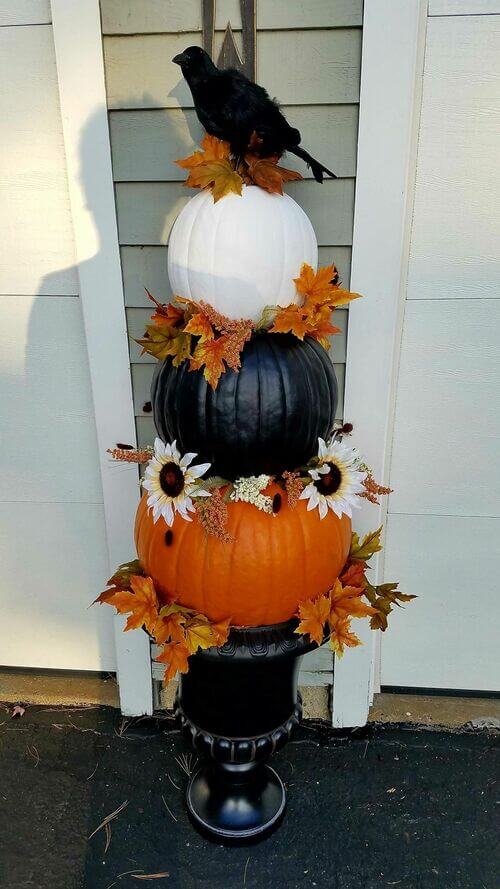 Looking for a bigger and bolder idea to show your Halloween spirit?
Here it is. The big one.
Grab some pumpkins and paint some black and white, and create this giant stacked masterpiece.
You can fill up the empty spaces with some leaves and white-painted sunflowers.
16. Sweet treat galore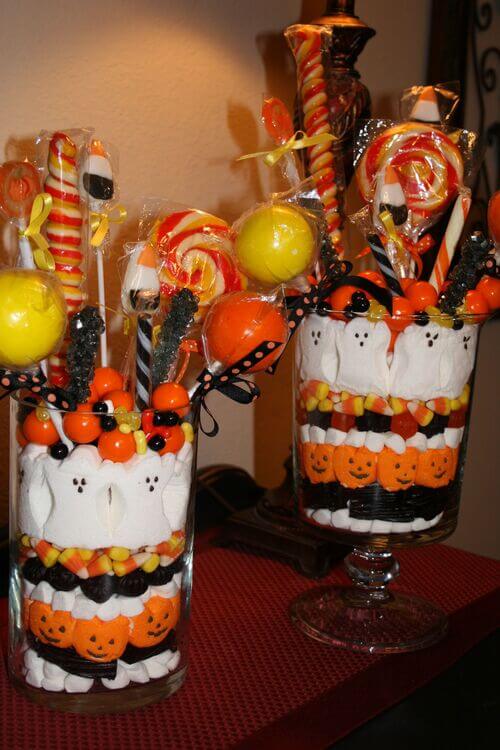 If you want a more easily accessible use of these fun candy jars then you can always opt for the designated sweet treat table.
Throw all your snacks and treats into jars filled with cute ghosts and pumpkin sweets.
This brings a cohesive look to the rest of your décor.
17. Simple treat jars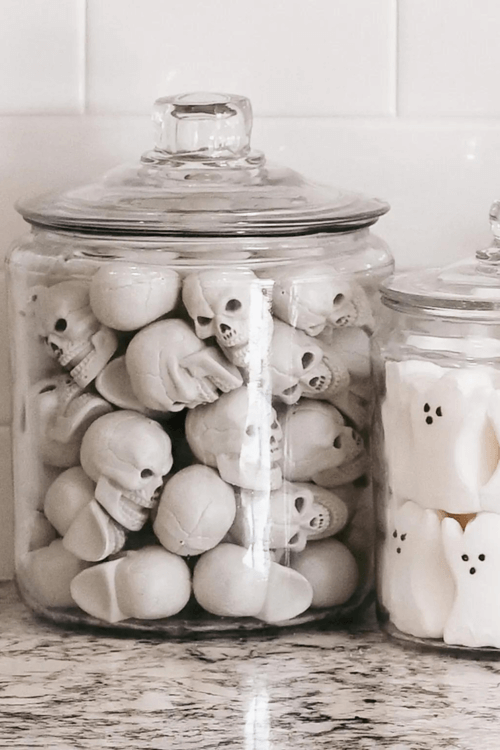 Fill your glass jars with sweet treats that fit the spooky and fun Halloween theme.
That means bringing out skulls, ghosts, and scary pumpkins and placing them all around for guests to enjoy.
If this idea seems too plain, you can always cover them with fake cobwebs and some spiders.
The perfect Halloween centerpiece
Whether you are keeping things sweet and clean or are looking for a trick to add to these centerpieces, there is something for everyone to try out within this list.
Pick your poison between spiders, ghouls, pumpkins, and candy corn.
There are loads of options to choose from to create the Halloween centerpiece of your dreams.
Remember, the key to a memorable Halloween centerpiece is to let your imagination run free.
Experiment with different ideas, and don't be afraid to take risks.
Your creativity will shine through, and your Halloween guests will be spellbound by the spooktacular centerpiece you've crafted.
Happy Haunting!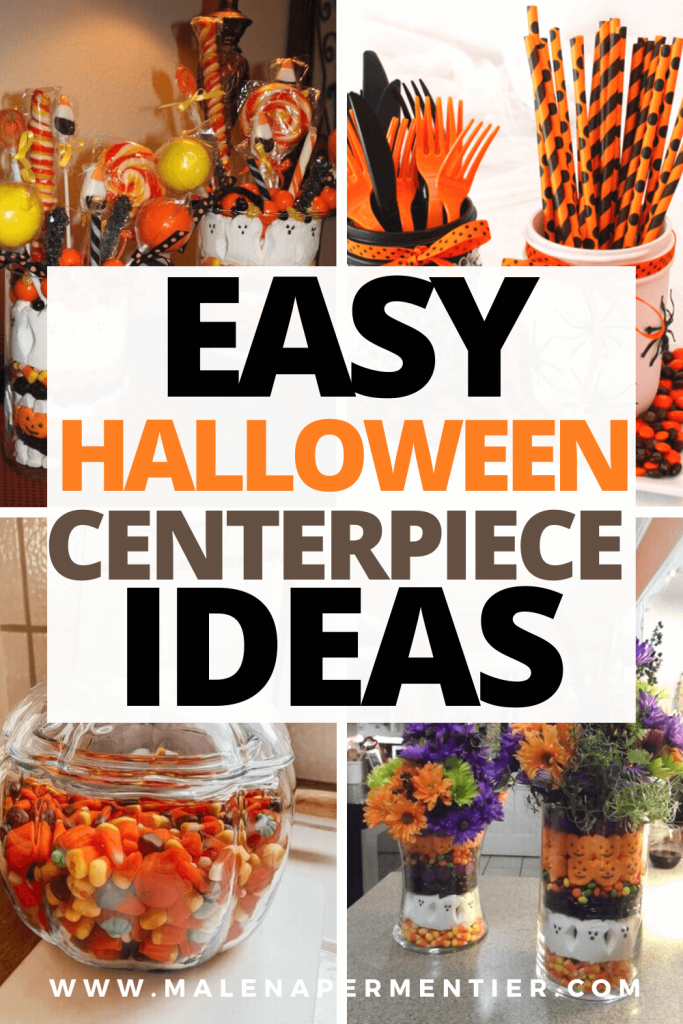 This post showed you the best Halloween Centerpieces.
You may also like: