Are you looking for creative ways to decorate your door for Fall and Halloween?
These decor ideas are incredible!
Wreaths are my favorite door decor, but many other options exist—Halloween door stickers, spider decorations, custom Halloween signs, and more.
Do you mix your fall and Halloween decor? Or do you go into all Halloween mode at the end of October?
I like a blend of fall and Halloween decor.
I like Halloween decor that is cute, pretty, and spooky. The very creepy Halloween decor is not for me!
Mixing Fall and Halloween decor is also lovely if you're lazy like me and don't want to change your decor altogether when Halloween comes around.
Having that said, these Halloween door decorations ideas are a mix of fall and Halloween!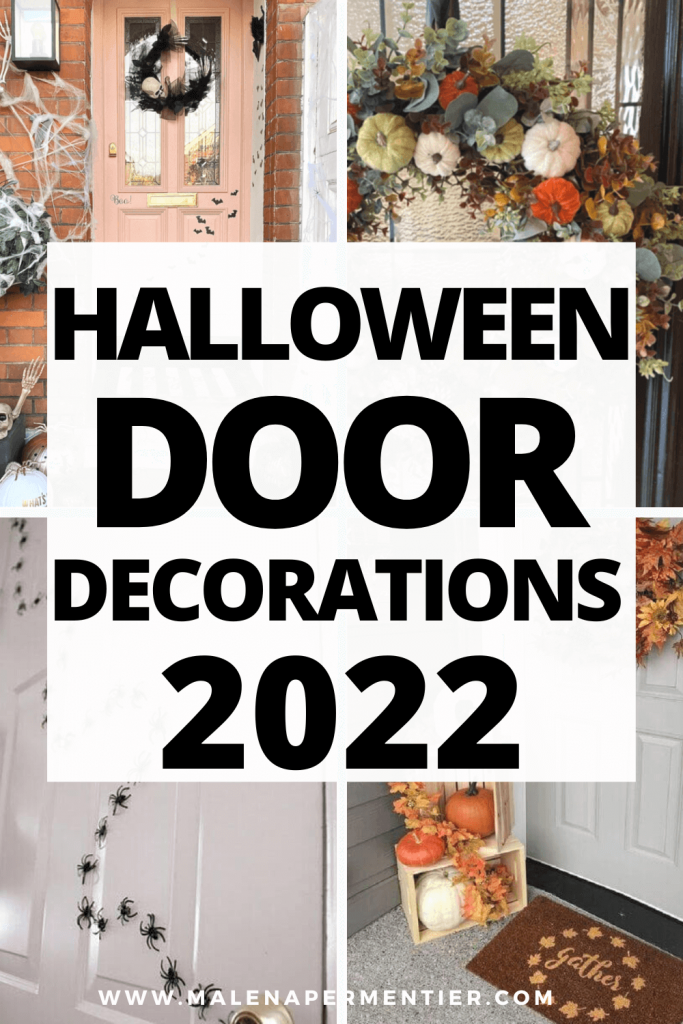 Halloween door decorations ideas
1. Large and Lush Pumpkin wreath for the front door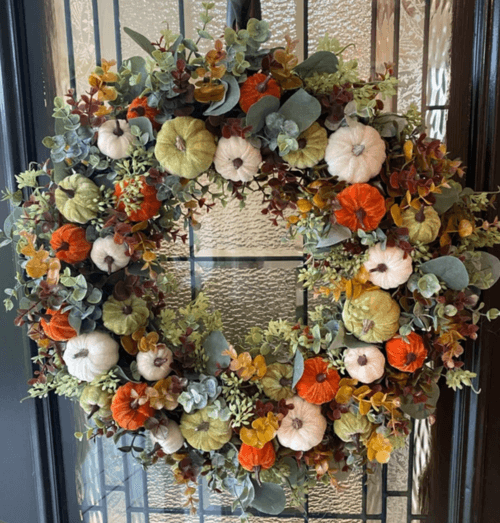 This lush pumpkin wreath must be one of the prettiest fall decorations I've ever seen!
You can tell that much work has been put into this wreath.
Hang this wreath on your front door as the ultimate welcome.
Or, if you think it's too pretty to hang outside, hand it in your living room instead. 🙂
2. Spooky door stickers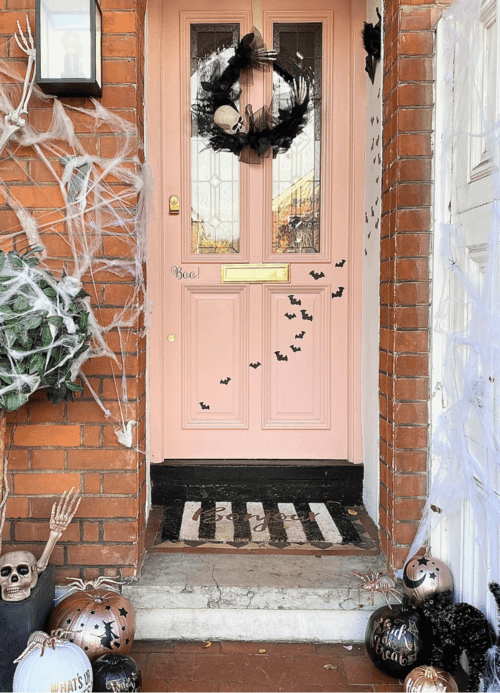 Door stickers are the easiest and most budget-friendly way to decorate your door for Halloween!
Place the bat stickers in a playful line for the most incredible look.
Halloween door stickers like this also combine well with a spooky black wreath.
3. Fluffy pampas grass wreath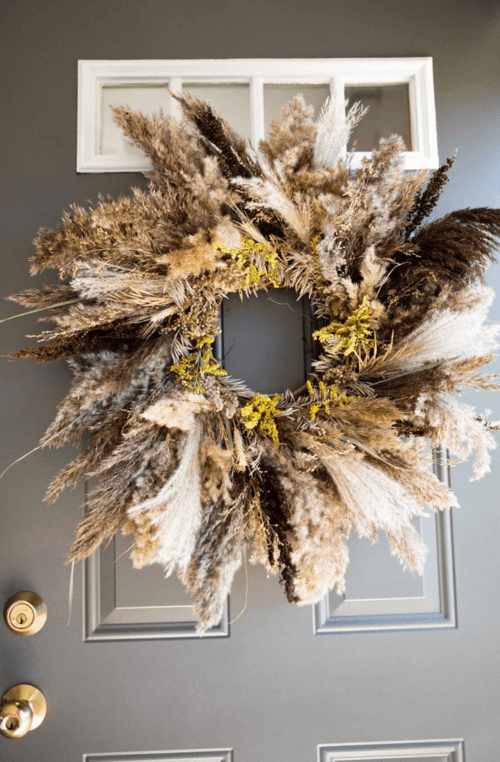 This wreath is made with natural grasses, and it looks SO good.
This would pair amazingly with pumpkins on your porch and farmhouse-style Halloween decor if you're into traditional fall decor.
4. Farmhouse Fall and Halloween decor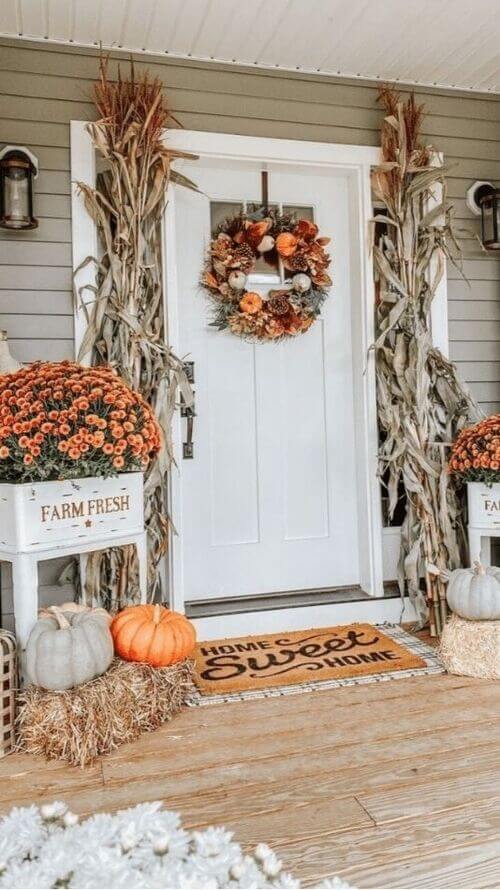 To get a farmhouse Halloween atmosphere going, use hay, natural grass, and a jute door mat.
This luxurious wreath with warm orange tones and green is perfect!
5. Happy Halloween Doormat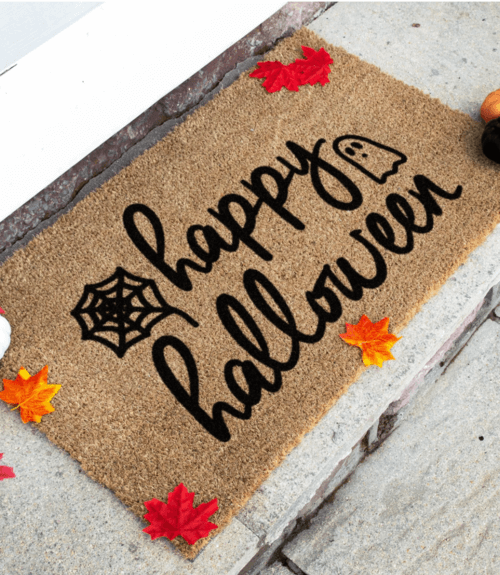 Door mats are technically also door decor, so here we go!
This mat is handmade and has the cutest Halloween design.
The mat looks fantastic on its own.
But you can also layer it over a large doormat you already have.
This might even elevate the cuteness of this mat.
6. DIY a spider trail on your door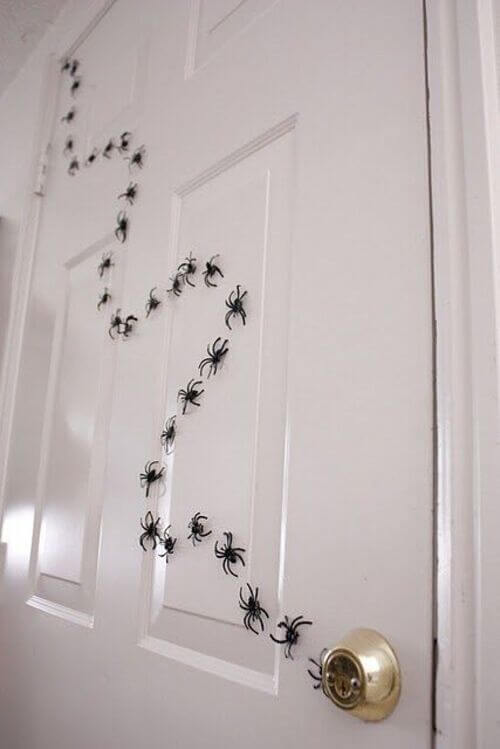 I love this idea, and it creeps me out simultaneously!
You can recreate this spider trail for a door inside your home or do it at the front door.
7. Decorate with a spooky bat wreath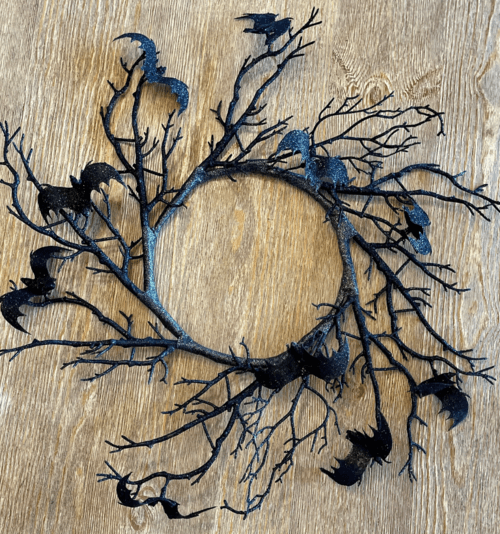 Dark wreaths with twigs give that spooky Halloween vibe!
This wreath is all black and has small bats attached to the ends.
This would look great on your door or a wall indoors.
8. Boo sticker for the door or to decorate pumpkins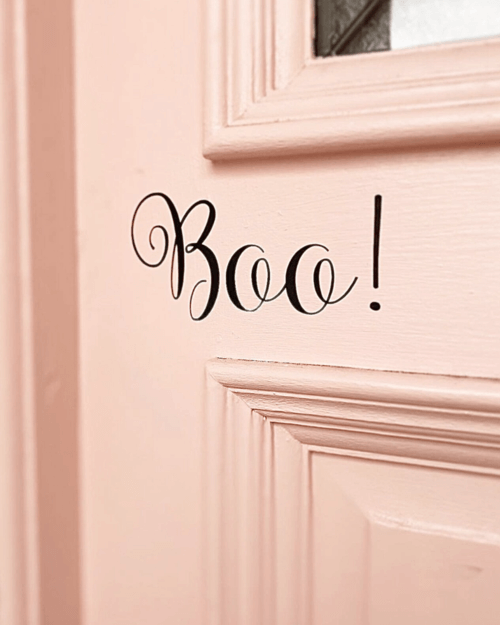 For those who are into cute Halloween decor, these Boo stickers are great to welcome trick-or-treaters this season.
You can use these boo stickers to decorate a door, living room wall, or pumpkins!
Halloween-themed stickers are a great way to customize decor.
9. Cute ghost Halloween sign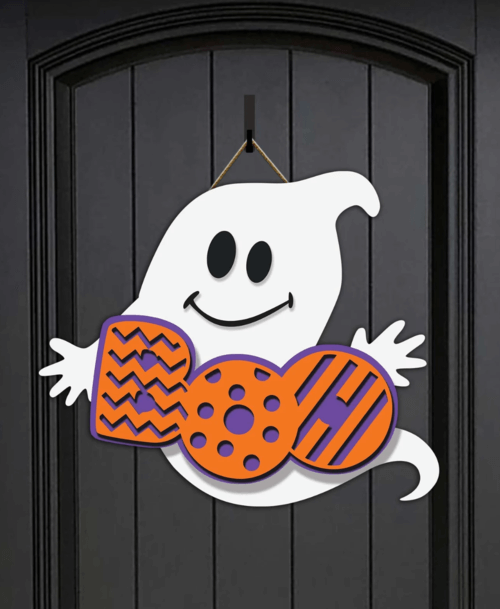 I love this cute Halloween sign! Door decorations like this are perfect if you have young kids and don't want to decorate with scary things.
As a kid, I wouldn't say I liked the scary stuff. I know not everyone is the same, though :).
10. Creative outdoor Halloween door decor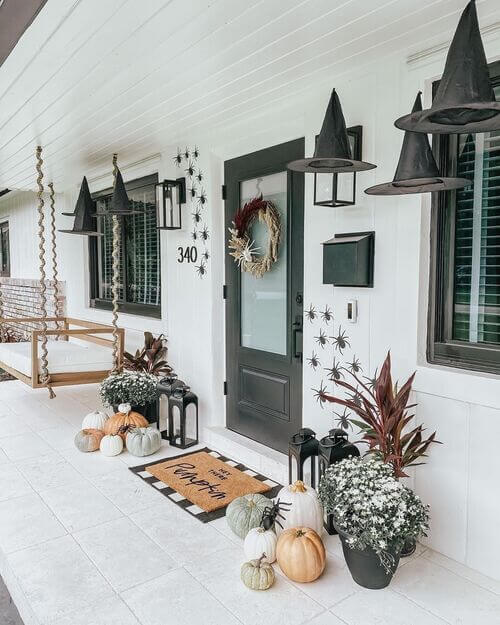 This home takes Halloween decor to the next level!
I love its mix of tasteful fall decor with a spooky touch (the spiders).
A spider trail with stickers is super easy and inexpensive to recreate at home.
The floating witch hats are another beautiful Halloween porch decor idea.
11. Personalized Halloween welcome sign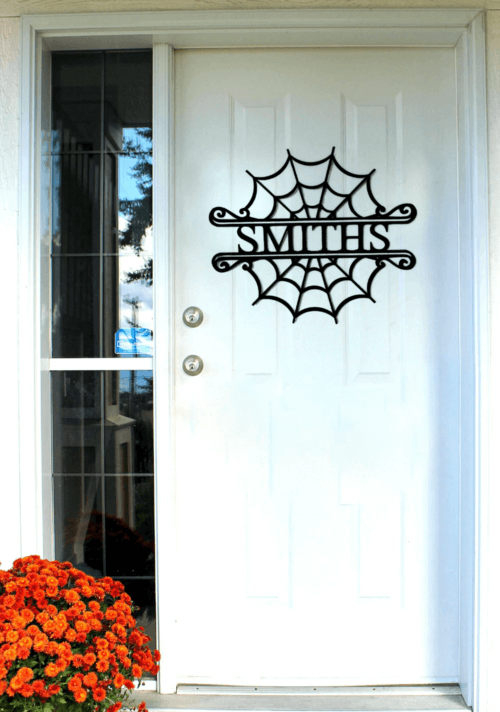 Instead of a wreath, why not hang a personalized Halloween sign on your front door?
This wood spider web sign lets you put your family's last name on it (or any other word, of course).
12. Lush fall wreath and Halloween decor with crates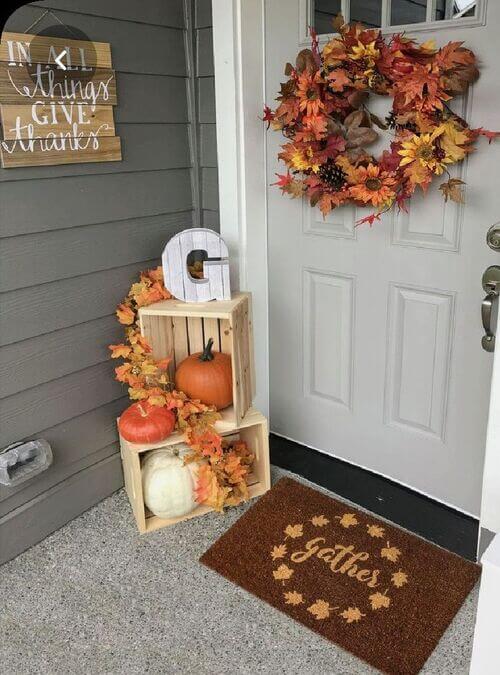 I love this little Halloween door decor situation!
Especially the crate decor elevates the Halloween ambiance.
Make a statement with a large, fluffy fall wreath on your door!
Stack wood crates on top of one another and decorate them with a maple leaf garland and pumpkins.
Now that I have a closer look, this door decor is equally perfect for thanksgiving. 🙂
13. Cute orange spider wreath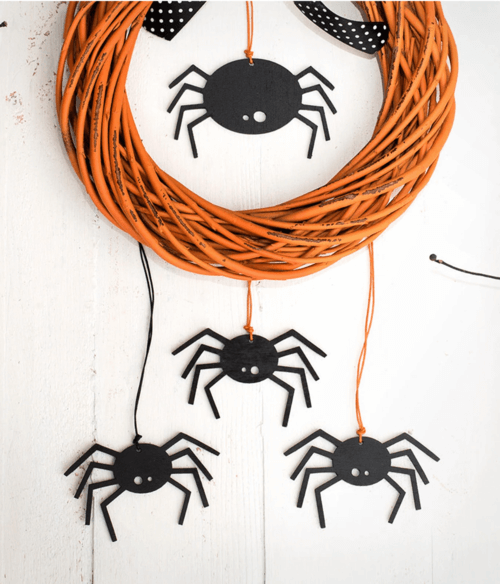 For something cute and spooky, this wreath is fantastic.
It's small but makes a statement on your front door this spooky season.
14. Ghost doormat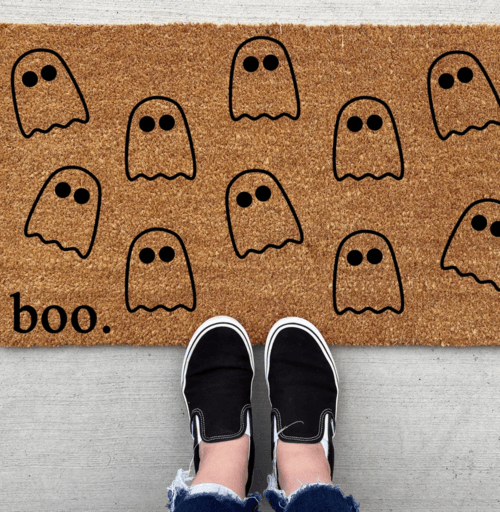 Changing up your doormat for Halloween is one of the easiest ways to make a statement!
There are also many cute options to choose from.
This ghost doormat is adorable and a great way to decorate your front door.
15. Spider web door decor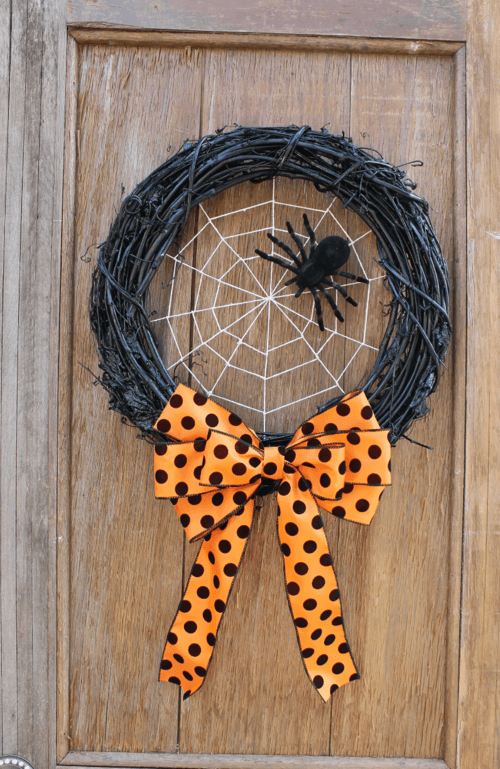 This wreath has black twigs, a spider web in the middle, and a bow at the bottom that hits the spot!
Super playful Halloween decor will brighten up any door (or wall, for that matter).
16. Halloween Garland Foliage Door Kit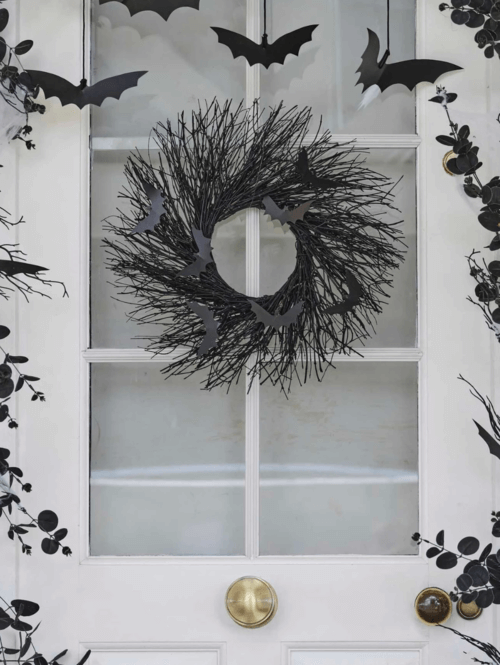 This garland foliage door kit is everything!!
I love that it combines the wreath and the foliage to surround the door.
It's a one-stop shop for Halloween door decorating you didn't know you needed!
You can also get the twig wreath and foliage separately. But I like how this door looks combining both.
17. Wooden boo sign with spiders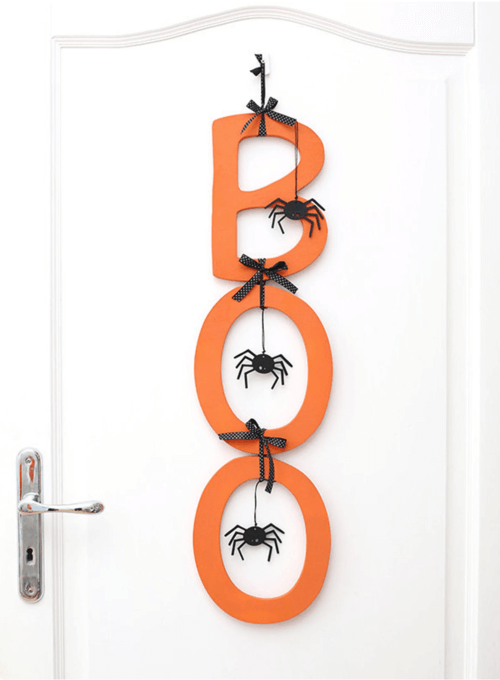 Last, we have this wooden boo sign with spiders hanging onto each letter.
I'd personally hang this indoors and not outdoors because it's so pretty!
This type of trendy Halloween decor will look great in minimalist/neutral homes.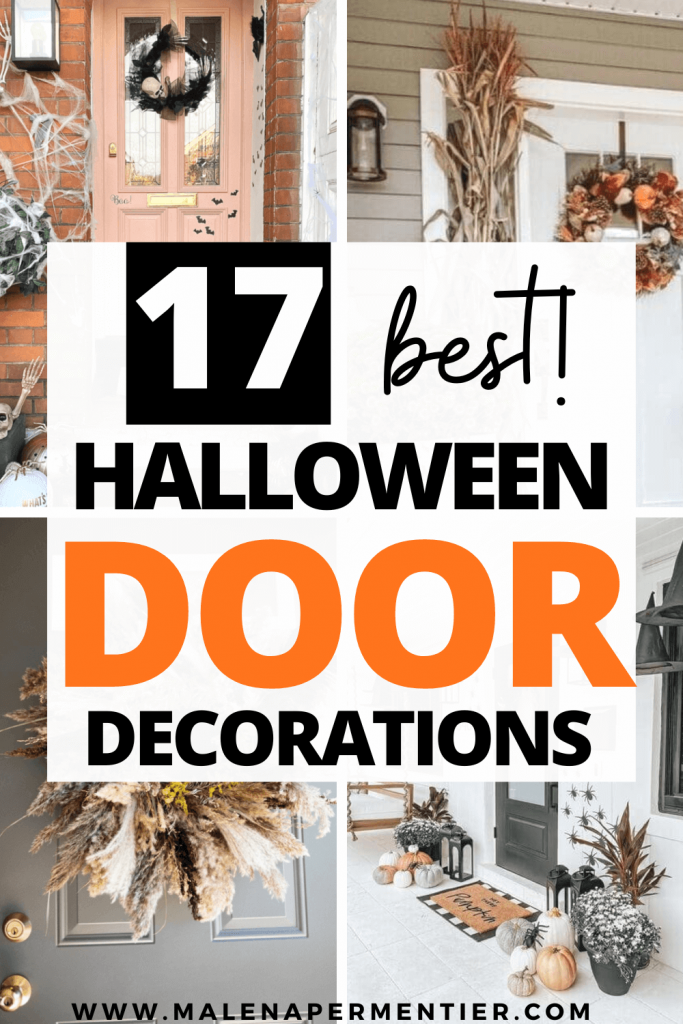 This post showed you the best Halloween door decorations.
You may also like: