Fall is coming! The warm colors and cozy drinks always get me excited for fall every year.
I'm not someone who likes to decorate their living room for fall in an over-the-top way, but a little pop of orangey brown goes a long way.
Especially after spending the summer in New York (where temperatures were INSANE), I'm looking forward to cooler temperatures.
In this post, I've listed 23 inexpensive fall decorating ideas for your living room!
Fall decor trends in 2022 include fall branches in a vase, small fabric pumpkin decor, and mixing up pampas grass in an arrangement with different colors.
Another thing that's going to be very hype: pumpkin boucle pillows! I've been seeing them EVERYWHERE, and it's not even properly fall.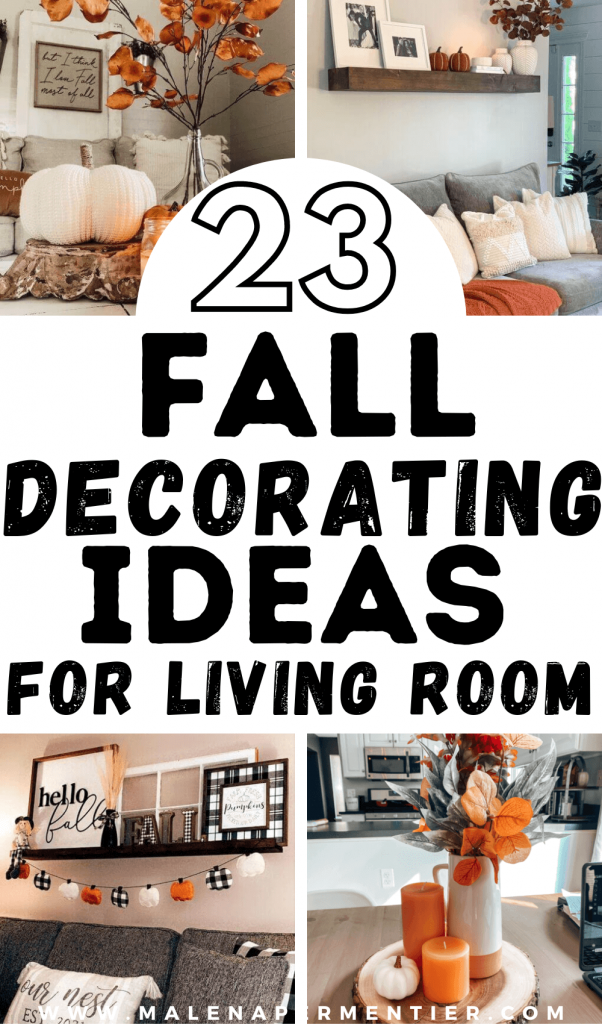 Fall decorating ideas for living room
1. Change up your throw blanket for fall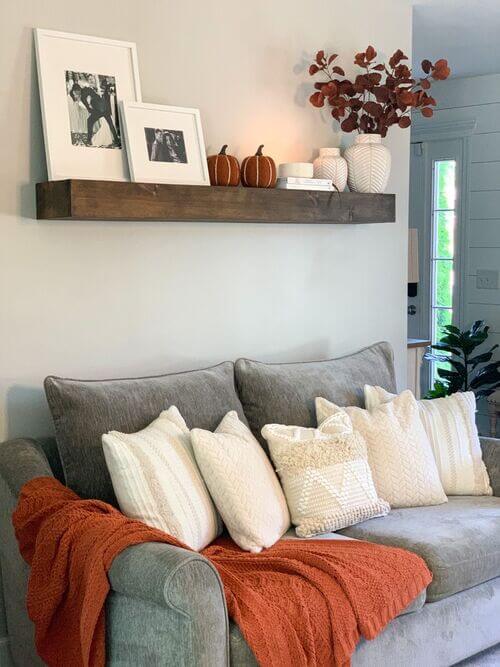 Throws are an effortless way to add fall warmth to your living room!
Opt for a rust brown or deep orange color.
If you like keeping your fall decor minimalist, styling some fall eucalyptus in a vase is a beautiful touch in your space.
2. Fall decor on a coffee table tray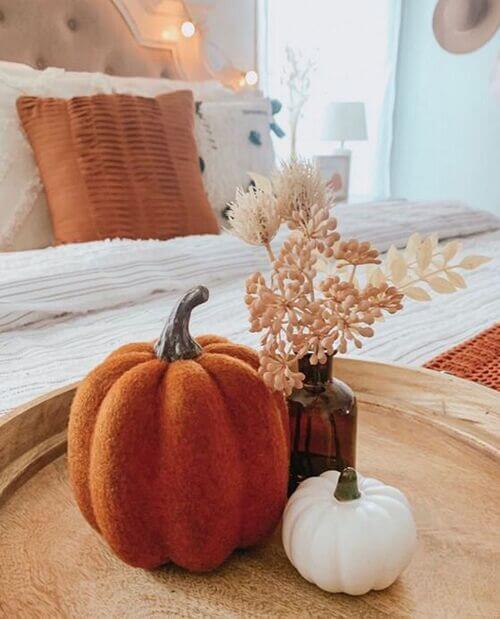 An easy way to add a touch of fall to your living room is by decorating a round tray.
Use 3-5 items with varying heights.
Combine a brown vase with some pampas grass and style a few neutral pumpkins in different sizes and colors alongside it.
3. Boucle pumpkin pillows for the couch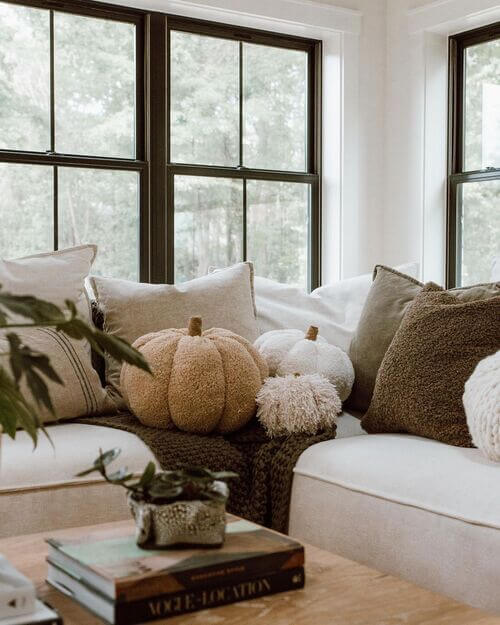 These subtle but pretty pumpkin pillows are a great way to spice up your couch for fall and Halloween!
They look cozy and cute without being over the top.
If you have a neutral living room with muted tones (and don't want to add traditional fall colors), these pillows hit the spot!
4. Decorate your living room with cute fall farmhouse decor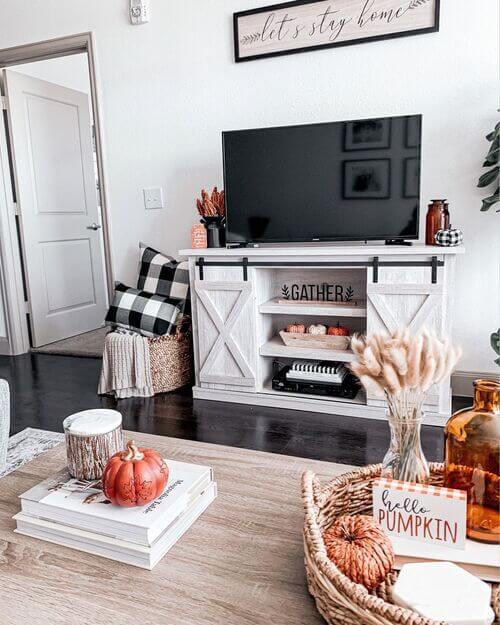 Undoubtedly, fall farmhouse decor instantly adds warmth and coziness to a living room!
These plaid pillows look super cozy, as does the farmhouse book stack.
Small decorative items like this are cheap and have the power to transform your space instantly!
5. Dried black bunny tails in a vase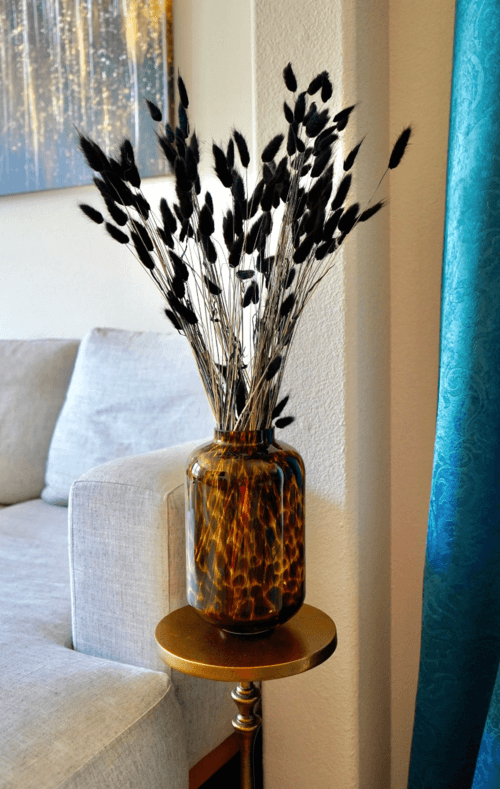 Black bunny tails are a tasteful Halloween decorating idea!
They look great by themselves in a vase without much else.
6. Mirror styling with black bats and extra long fluffy pampas grass
If you have a mirror in your living room, decorating with small black bats is one of the best and easiest ways to decorate for fall/Halloween.
Fluffy pampas grass, on the other hand, adds warmth and coziness to your space.
7. Style a basket with fall-themed pillows and throws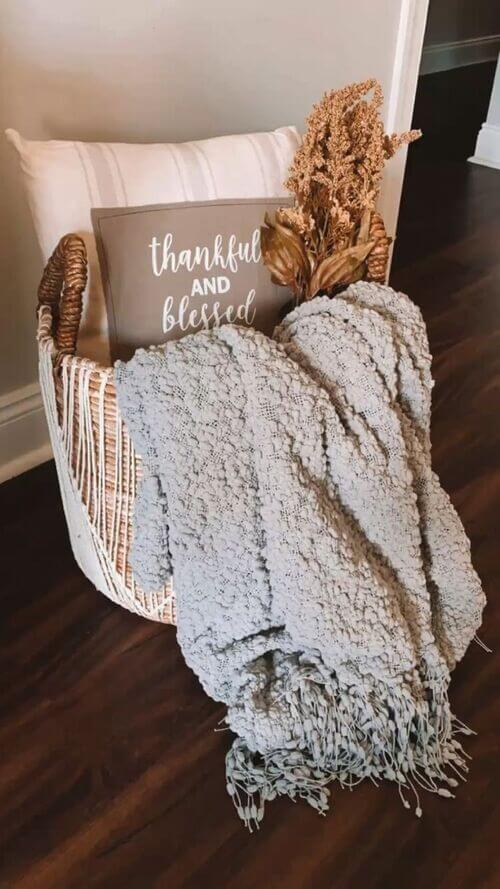 You might already have a basket in your living room to store throw blankets.
Why not revamp the content of the basket with a subtle fall theme?
The thankful grateful blessed pillow is neutral and chic yet undoubtedly belongs to the fall season 🙂
8. Switch up your coffee table decor with fall items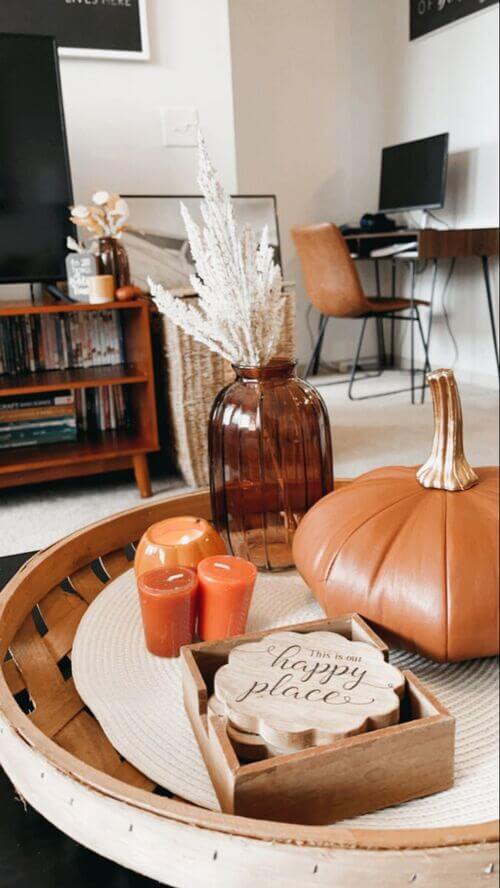 A coffee table is a great spot to add some fall decor.
Orange candles, a pumpkin, and a brown glass vase with some dried grass make the table look fall ready.
9. Neutral fall decor with fabric pumpkins and dark berry twigs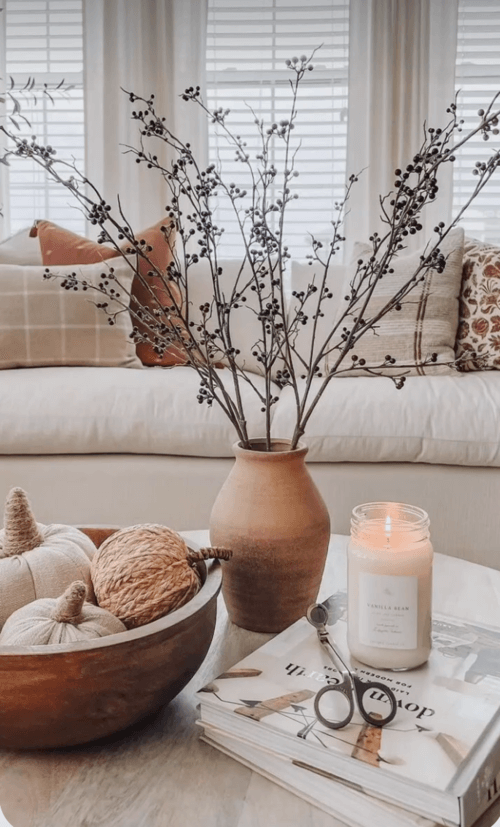 I love this decorating idea for the minimalist neutral home!
It's tasteful and elegant yet undoubtedly gives you fall vibes.
The dark berry twigs are a beautiful touch. You might be able to find some real ones!
Amazon also has natural birch branches you can buy.
10. Creative trick or treat sign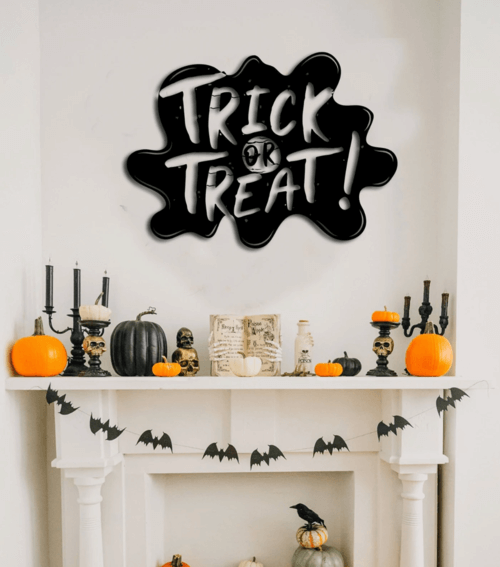 If the reason you get excited about fall is Halloween, this trick-or-treat sign might be your go-to when it comes to fall decor!
11. Add extra cozy throws to your couch and make an arrangement with faux fall flowers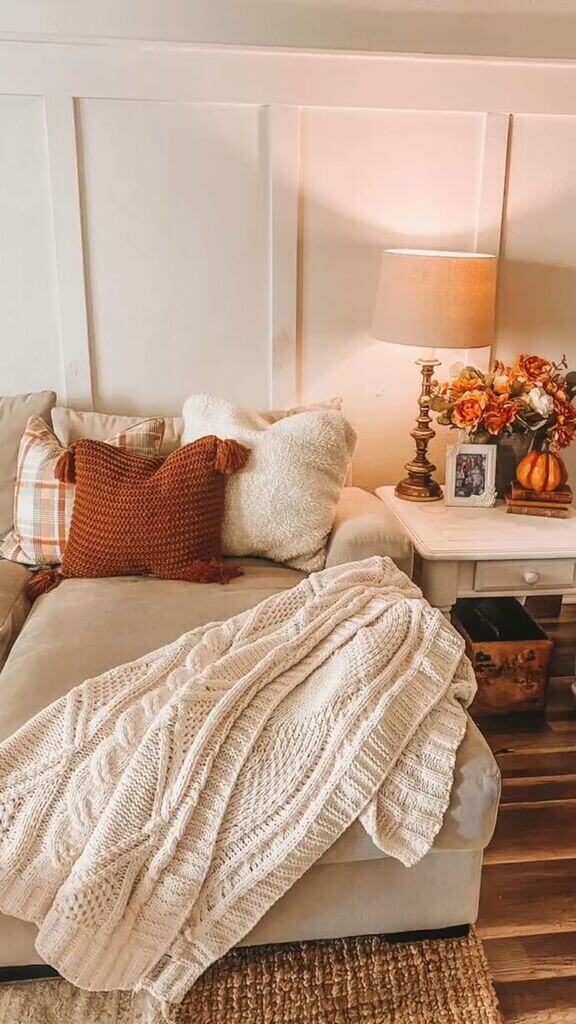 Getting your living room ready for fall might be as simple as changing up your pillows and throws for something more warm and cozy.
Styling some fall flowers or greenery in a simple white vase is another one of my favorite ways to add fall decor to my space.
12. Decorate pumpkins with decals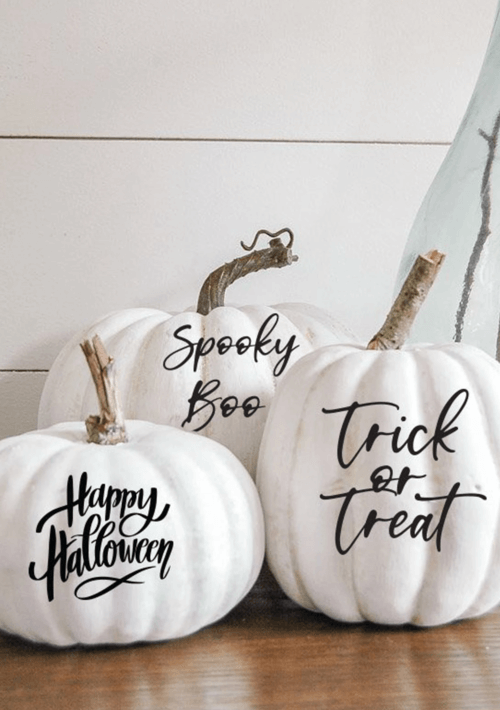 For custom fall decor, consider using decals for decorating pumpkins!
This is cute for inside but would also look nice if you're going to decorate outdoors for Halloween.
Especially next to your front door is a pretty spot to have pumpkins with Halloween phrases like trick or treat or spooky boo (random, but I like it).
13. Cute ghost pillows and pops of orange in the living room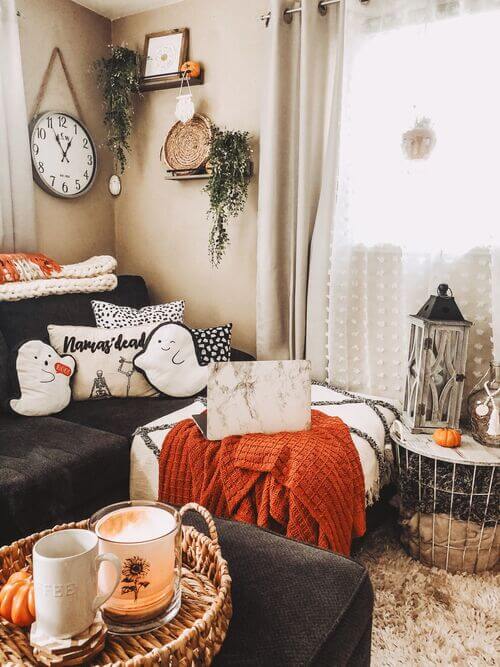 14. Neutral fall decor with pampas grass and ceramic pumpkins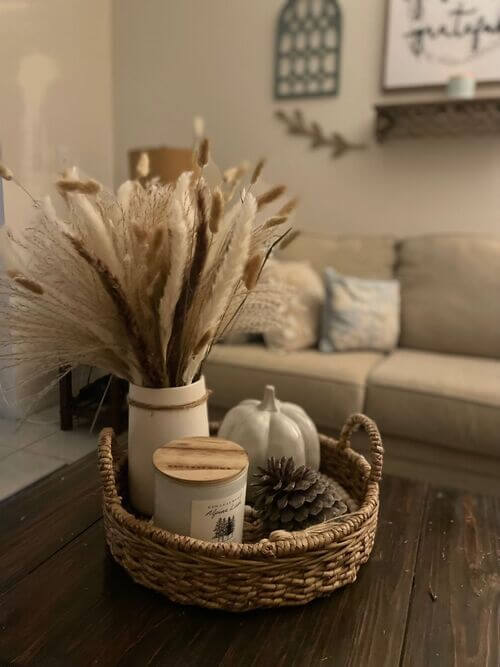 Decorate a round woven tray with pumpkins and pampas grass!
I love this example of fall decor because it's simple yet significant.
The formula of the tray, pampas grass, pumpkin, pine cone, and candle works like a charm.
And it's something you can easily recreate in your living room.
15. Use a wooden plaque for a fall centerpiece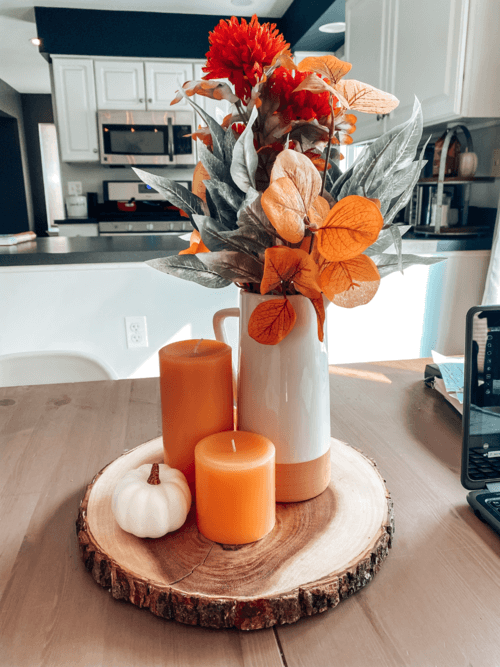 Use a wooden plaque for your fall decor!
This is an effortless way to put together a fall centerpiece for your living room.
To make your centerpiece look its best, use decor with varying heights.
For example, the vase with fall flowers and stems is taller than the rest!
Place two different-sized candles alongside it. Some sort of small pumpkin is also excellent.
16. Decorate with fall garland string lights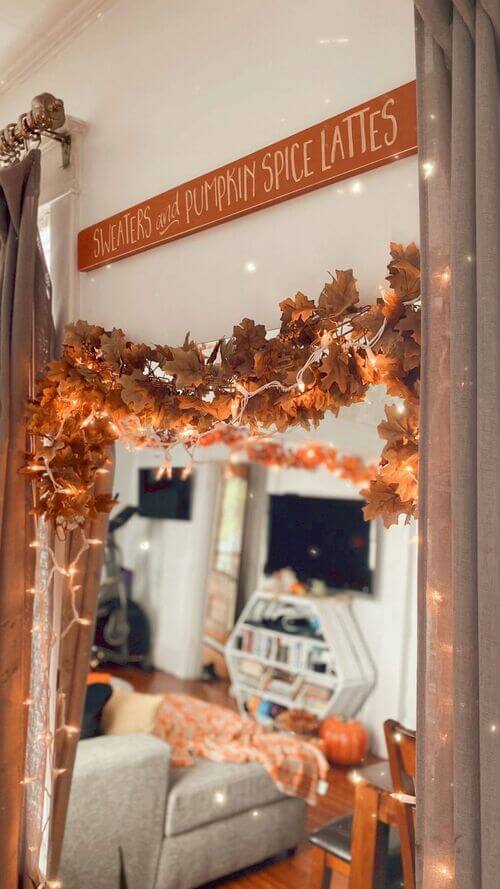 Fall leaf string lights are an easy and budget-friendly way to decorate your apartment for fall!
You can hang these around your mirror, over the TV, or on an empty wall that could use a little fall atmosphere.
17. Brown vase with fall branches and cute hey pumpkin sign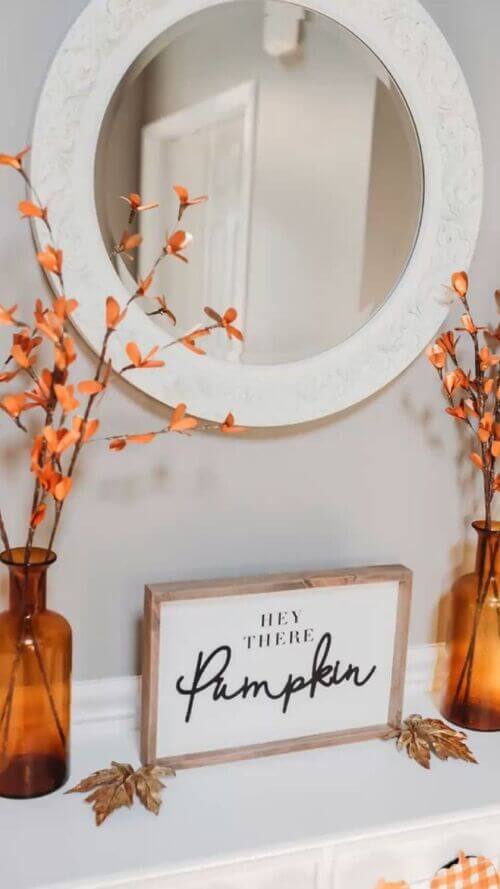 The clear brown vase rocks for fall decor! It's simple yet adds warmth to the living room.
Place fall eucalyptus stems in a vase for an easy but pretty arrangement.
A minimalist 'hey there pumpkin' sign is also a good addition if you want to keep your fall decor simple but pretty.
18. Fall centerpiece on the coffee table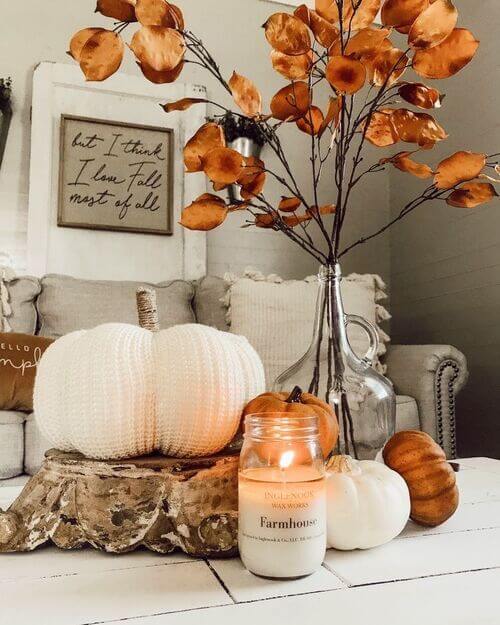 Put together some of your favorite fall decors on the coffee table for a beautiful centerpiece.
A clear vase, fabric pumpkin, and fall branches are a few items that always work.
19. Halloween tealight decor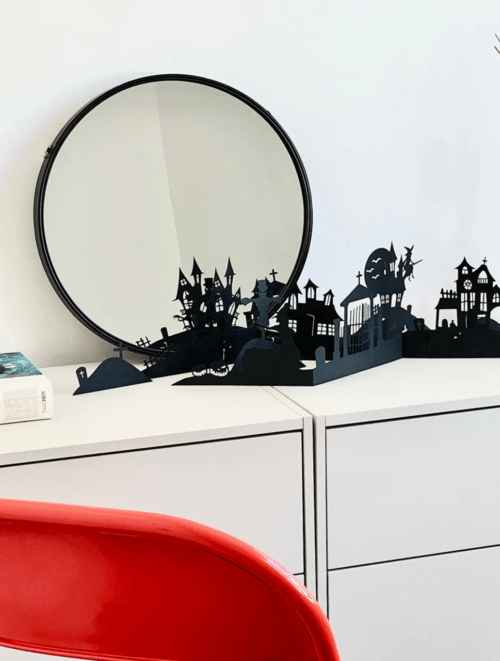 I've always been obsessed with tealights (especially the Christmas ones!), and when I found this on Etsy, I was instantly excited.
I can only imagine how cozy this looks when the room is dark, and you have candles on!
20. Simple farmhouse fall decor for living room
Farmhouse fall decor is the cutest! It's rustic, not too busy, and creates that lovely fall atmosphere.
Recreate this cozy living room with pillows, a pumpkin garland, and a hello fall sign to hang on the wall or a picture ledge.
21. Fall blanket ladder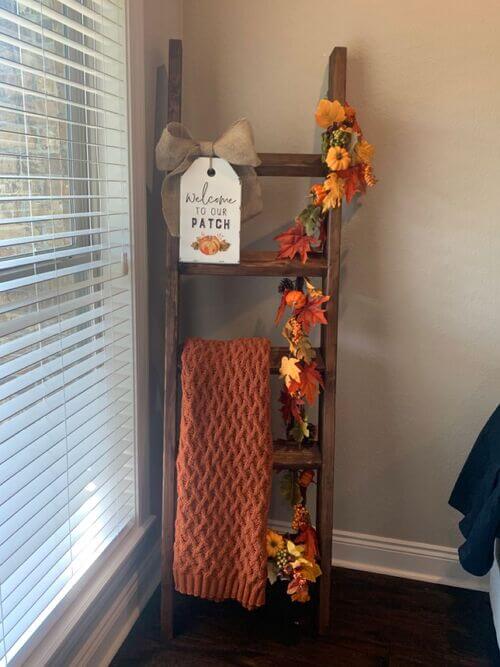 What's nice about having a decorative ladder is that you can change the decor depending on the season!
I love this easy idea with the rust-brown throw and fall garland.
Perfect cozy vibes without breaking the bank or overwhelming your space :).
22. Minimalist fall tassel garland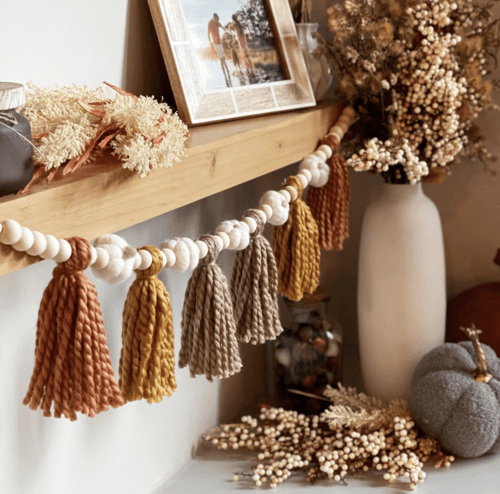 I LOVE tassels for any season, and this garland is perfect for fall.
The muted brown tones are cozy and look fabulous in a living room with neutral tones.
You can hang this garland under a shelf or simply by itself on the wall or over the TV.
23. Neutral fall decor with fabric pumpkins
The neutral fabric pumpkins are my favorite thing for fall this year!!
I love the understated chic look and that it looks great in any interior.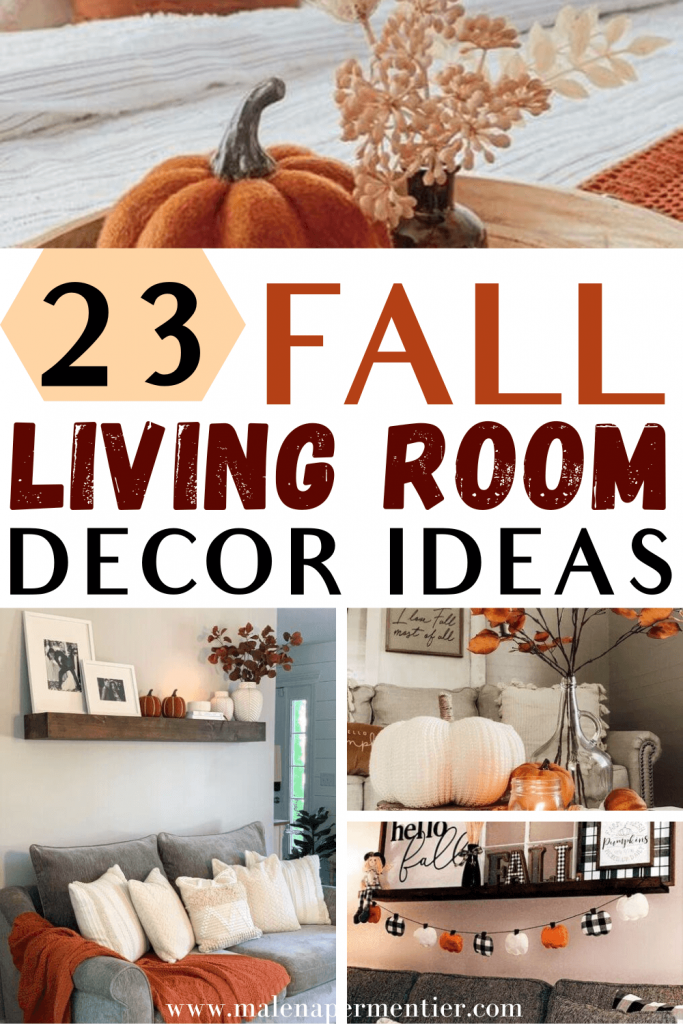 This post showed you inexpensive fall decorating ideas for the living room.
You may also like: