Hey there! Some links on this page are affiliate links which means that, if you choose to make a purchase, I may earn a small commission at no extra cost to you. I greatly appreciate your support!
This post shows you the best easy fall tray decor ideas to recreate!
Using a tray, woven placemat, or wood cutting board is a great starting point for putting together a fall centerpiece. Let's call this the base.
Then, you pick around 3-10 decorative fall items to place on your base. How many items look good depends on your tray size.
A woven tray is one of my favorite types of bases for fall decor. It looks cozy, and you can reuse it for Christmas decor.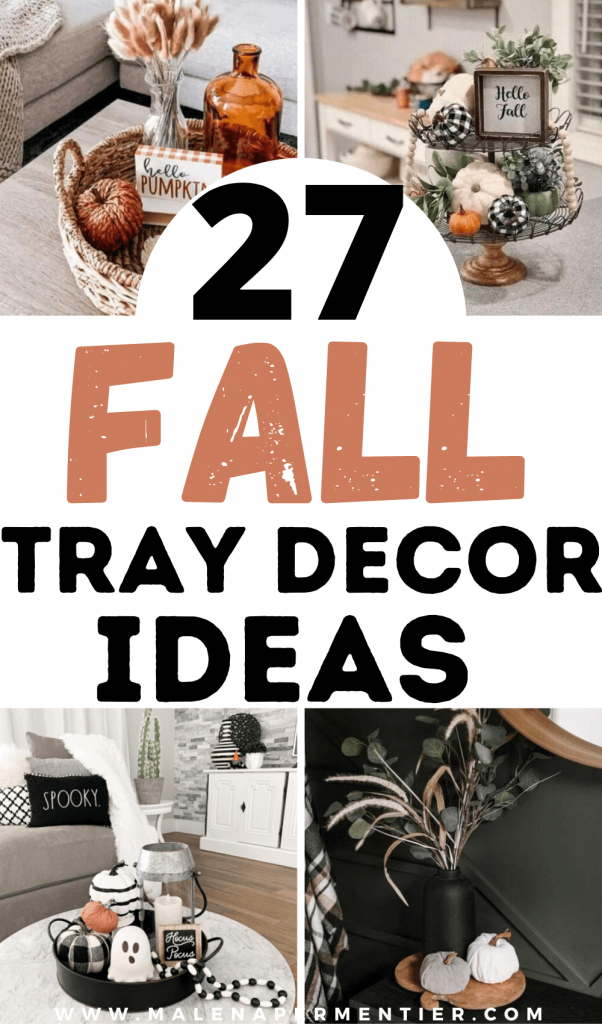 What to put on a fall tray?
You can be very creative about the things you use to decorate a tray for fall.
I recommend picking one more oversized item — For example, a vase with dried greenery.
Then decorate with smaller items, like decorative pumpkins, candles, and small farmhouse fall signs.
Here are a few items I like for fall tray decor:
Dried greenery looks beautiful in a transparent orange or brown vase.
The beauty of fall decor is that you get to use a lot of warm earthy tones! Consider mixing greens and browns with neutrals for a balanced look.
Be cautious about using real candles next to dried pampas grass.
If you don't want to worry about fire, I highly recommend getting one of these led flameless candles.
1. Woven tray with fall decor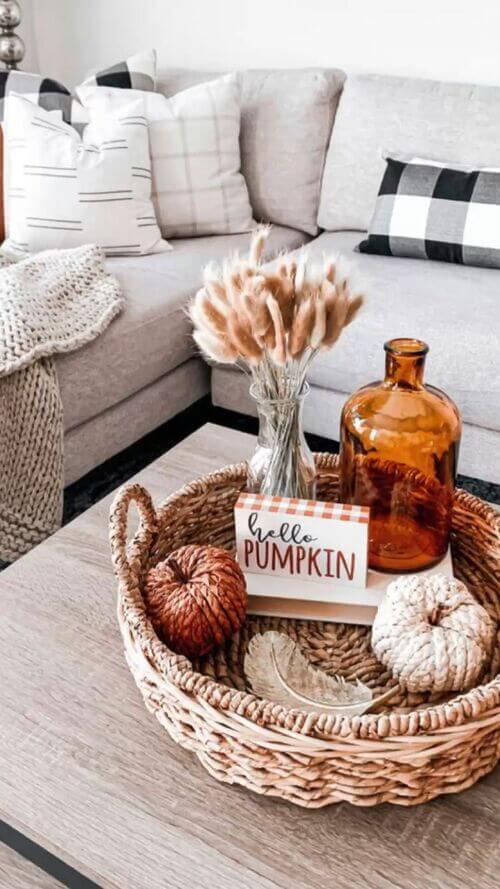 A woven round tray is a beautiful base for fall decor.
Add a vase with dried grass, for example cute bunny tails, and decorative pumpkins in the style and color of your choosing.
The braided fabric pumpkins in the picture make this decor look extra special.
2. Fall decor for kitchen counter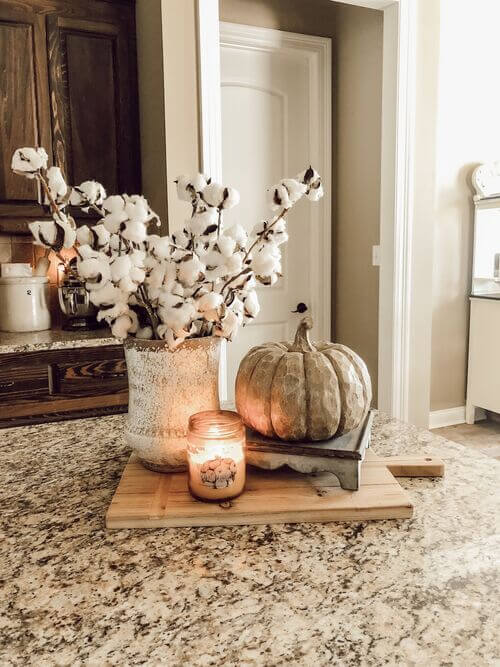 Aside from a tray, a wood cutting board is also an excellent base for fall decor, especially for places like your kitchen counter or bathroom counter.
Keep the centerpiece simple with only 3-4 decorative items.
A simple cream vase with cotton stems is beautiful for both fall and winter.
Add a large pumpkin and a candle to finish your fall kitchen decor.
3. Farmhouse fall tiered tray decor
Tiered trays are a popular base for fall and winter decor alike!
You can get a tiered tray in many different styles, but the farmhouse tiered tray is probably the most iconic.
You can opt for a tiered tray with 2 floors or 3.
I prefer 2, because it allows for just the right amount of decor.
A few easy items to decorate a tiered tray are eucalyptus stems (or fall leaves), small decorative pumpkins and pinecones.
4. Distressed tray with farmhouse fall decor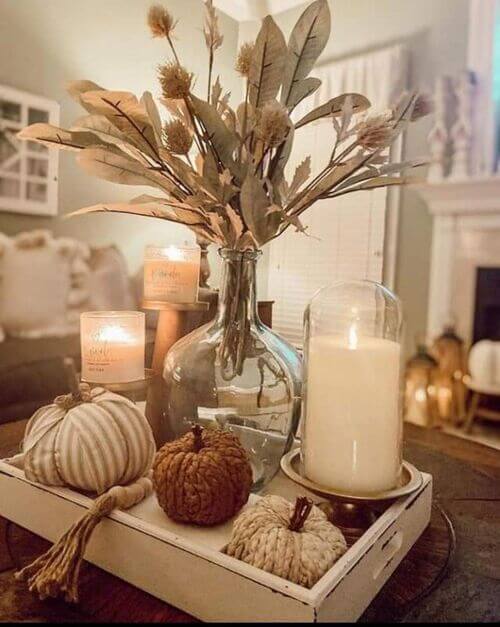 This image shows us a beautiful formula for creating fall decor on a tray.
Mix up taller and shorter items for a balanced feel.
Put together (faux) greenery in a large clear vase next to a led candle under a glass dome.
Drape a bead garland over the tray and place some fabric pumpkins alongside the larger decorative items for a playful fall vibe.
5. Decorate with faux fall greenery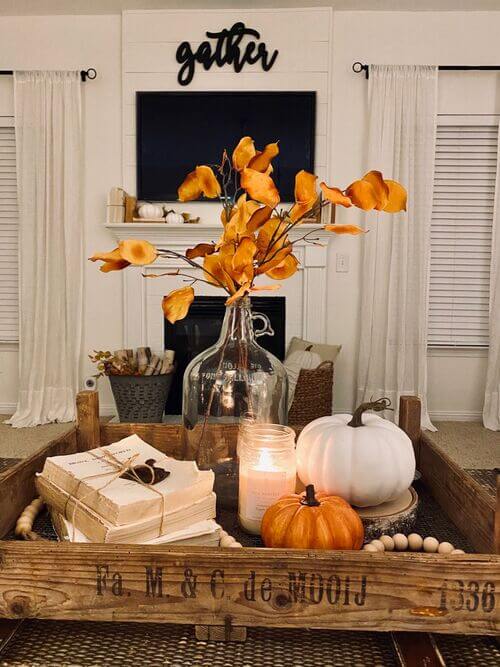 A pop of orange in the form of artificial ginkgo leaves will be the center of attention on your fall tray.
Place the stems in a large clear vase in the middle of the tray.
I like how this tray has an authentic and distressed feel to it.
It works beautifully with the small wood coasters and pumpkin decor.
6. Simple & neutral round wood tray decor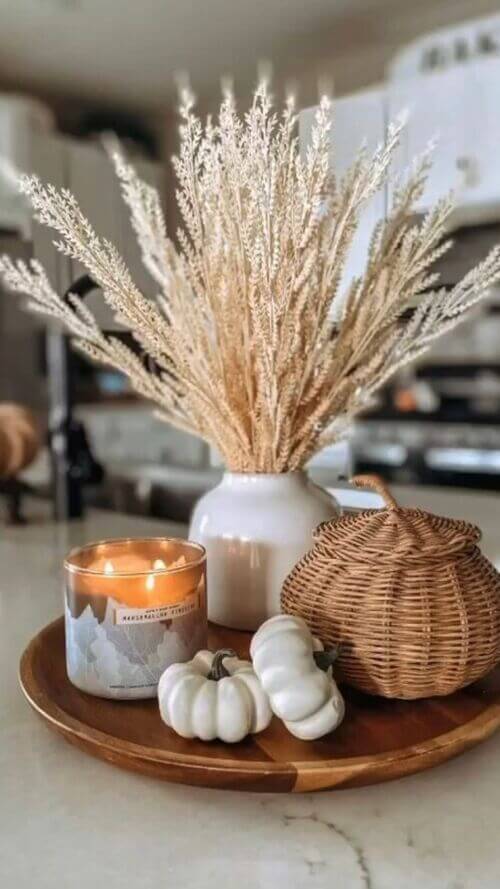 A wood tray instantly adds warmth.
This is perfect if you're putting together fall decor.
This tray with a candle, small basket with lid, vase with dried grass, and two cream pumpkins is wonderfully simle, yet looks super cozy.
Are you looking for a beautiful dried grass for your fall tray decor?
Wheat stalks, pampas grass, and bunny tails are great options.
7. Small woven seagrass tray with fall vase decor and braided pumpkin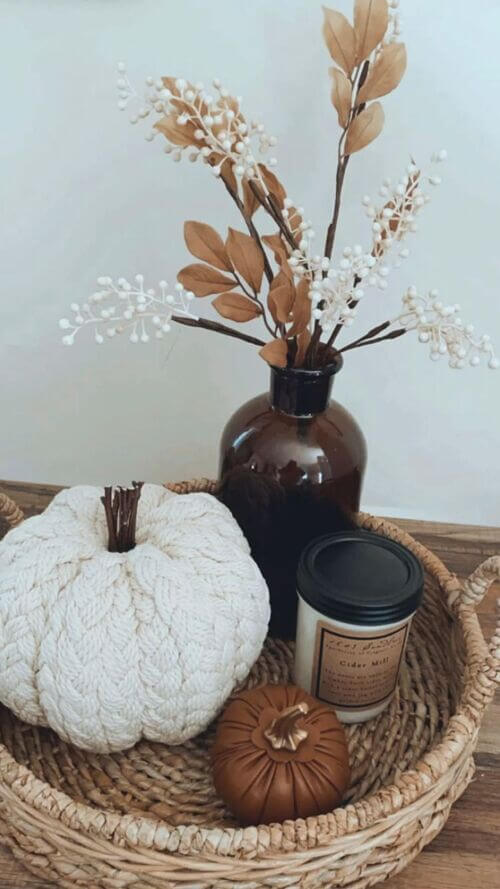 Fabric pumpkins look beautiful on a woven tray!
Use a brown apothecary vase to style some dried grass.
You can get a dried flower arrangement with different styles of grass.
This makes the styling look playful.
Compact tray decor like this would look great on a coffee table or dining table.
Related: 23 Inexpensive Fall Decorating Ideas for Living Room
8. Use a woven placemat for fall decor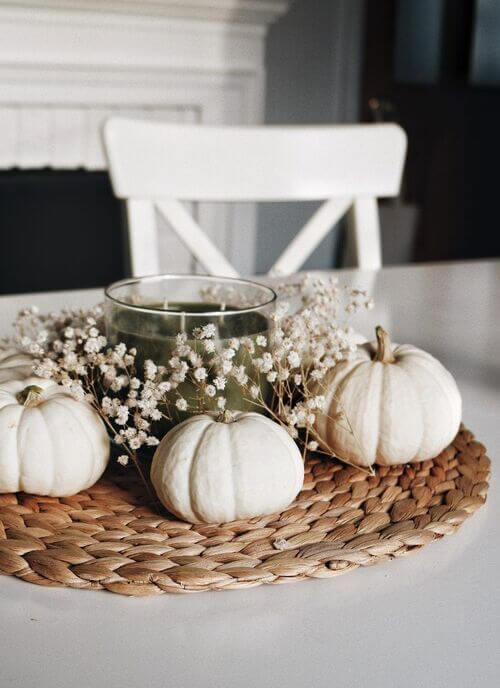 This is such a creative fall centerpiece idea! Instead of a tray, use a pretty placemat for putting together your decor.
You can get these woven placemats in a set of 8, 6, or 4.
These woven placemats would also look great on the Thanksgiving table.
I'm all about buying things that you can use for multiple purposes.
To make a centerpiece with a placemat, place a candle or a small vase in the center.
Surround it with pumpkins, baby breath (or other flowers or leaves), and your centerpiece is done.
Simple but significant.
9. Modern farmhouse fall decor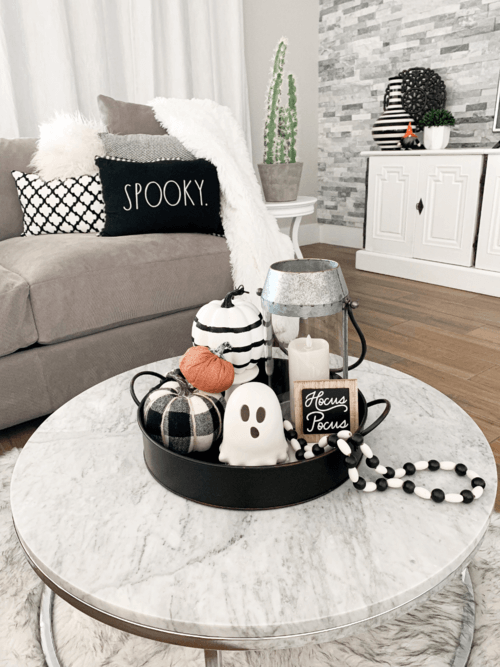 Brown and orange colors aren't the only way to do fall decor! I love this monochrome centerpiece.
To recreate this, you need a metal minimalist tray.
Decorate the tray with a bead garland, pumpkins, lanterns, and other items to get that fall atmosphere going.
Glass & metal lanterns are a beautiful and modern way to decorate.
10. Elegant fall coffee table decor with ceramic pumpkins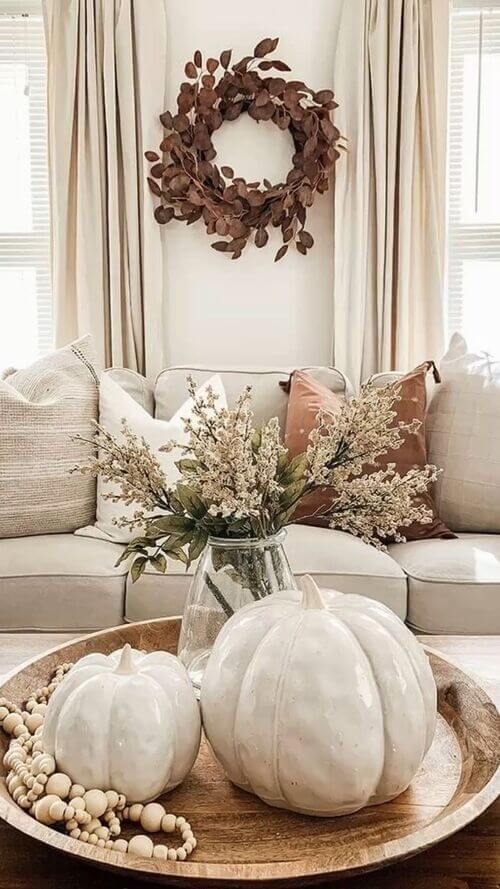 White ceramic pumpkins are great for modern and elegant fall decor.
Place the pumpkins on a round wood tray with a bead garland.
Place some dried greenery or flowers in a simple vase to make the centerpiece come together.
As you can see, beautiful fall decor doesn't need to be complicated at all!
11. Wooden plaque with galvanized pitcher and fall greenery