This post shows you the best gift ideas for college girls.
College girls are some of the hardest groups of people to buy for! Trends change quickly, and what they liked in their teens might not be their thing anymore.
I'm all for giving gifts that are useful and cute! So this post focuses on gifts for college girls they will love for years.
Whether it's a birthday, graduation or a Christmas gift, you need to see these ideas if you're looking for inspiration on what to buy for college girls.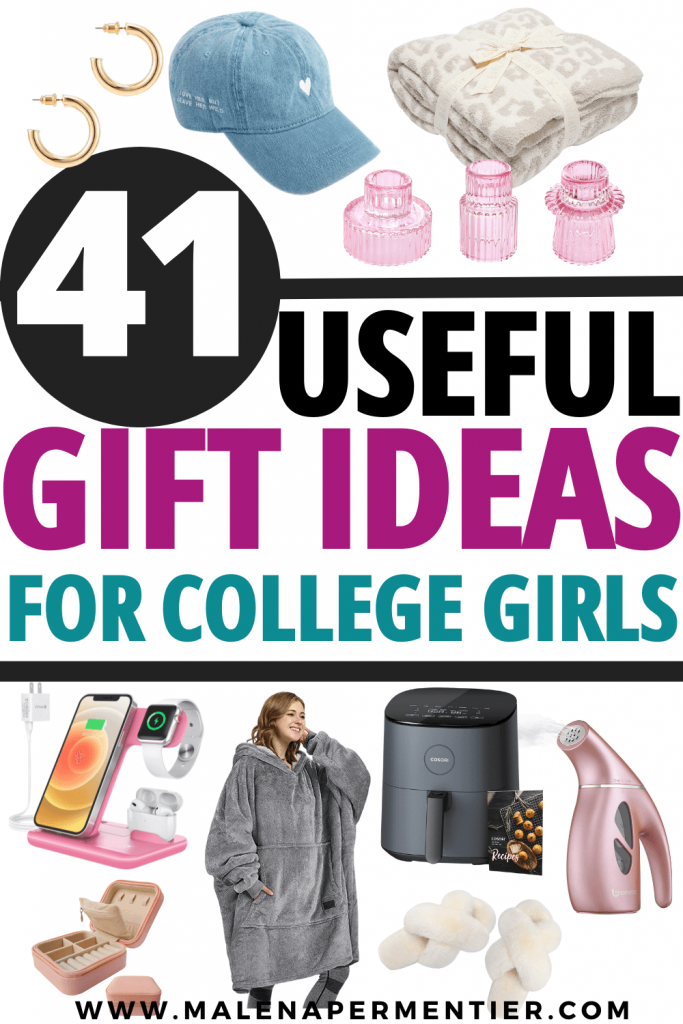 Gift Ideas for College Girls
1. Satin PJ set

Everyone loves a good PJ set! These silk pajamas are elegant and super comfy. You can get them in gray, striped, navy, pink, and more colors.
2. Barefoot dreams blanket

This throw blanket is definitely on the expensive side, but it's SO good. This is a great option if you want to give a gift that lasts. While you're at it, you can also get matching leopard socks.
3. Candlestick holders

These candlestick holders are simple and stylish. You can get them in several colors, which will look good in any room. The amber color is my personal favorite.
4. Jewelry organizer travel case

Every college girl needs a good jewelry travel case! If you want to give a very complete gift, you can pair this travel case with some dainty jewelry from PAVOI. This jewelry brand has gold-plated jewelry that's affordable and stunning.
FYI: college girls are obsessed with this jewelry brand, so you can't go wrong :). The gold hoops are many girls' favorite.
5. Airpods

Airpods are the must-have of the moment, and it's a gift that every college girl will love! Yes, they are pricey, but they will be used a lot.
6. Clear game day bag

Owning a clear bag for game day is a must during football season! This stylish and inexpensive bag makes an excellent gift for college girls.
7. Fuzzy slippers

Slippers are such a cozy gift! These slippers are insanely cozy, cute, and perfect for giving to a girl who lives in a college apartment or dorm.
Also, this product has great reviews. So you can be sure you're giving a good quality gift :).
8. Glass jewelry organizer box

This jewelry organizer with a vintage look will look amazing on top of a dresser. Any girl who is into room decor will love this! The different-sized compartments hold space for necklaces, earrings, and rings.
9. Cocktail Chameleon recipe book

It's always good to know how to make a few good cocktails! This recipe book makes hosting effortless. The funky look of the cover also makes the cocktail chameleon a great coffee table book.
10. Dainty gold necklace

Dainty jewelry is always a beautiful and personal gift to give! This layered necklace is gold-plated and looks great with neutrals. I'm obsessed.
11. Capri blue scented candle

Scented candles, but make it cute! This candle from Capri blue is seriously stunning and will make amazing nightstand decor. Also, the smell is divine.
12. Hair claws

College girls and their hair claws are a forever love affair. These hair claws have the perfect neutral shades. If they are into this type of aesthetic, they will love this useful gift.
13. Spa headband

Spa headbands are a must-have for every girl that cares about their skincare routine. These headbands come in a pack of 3 in the prettiest neutral shades.
Tip: include these headbands in a pamper self-care package with a mud mask, moisturizer, and a gua sha.
14. Essential oil diffuser

A diffuser instantly refreshes a space! Anyone who lives in small space like a dorm or a city apartment will benefit greatly from this. Also, scents like lavender are super calming :).
15. Essential oils

Essential oils are an amazing gift, on their own or with a diffuser (see #14). I like taking a few drops of lavender oil on my wrists before sleeping.
16. Air fryer

College students love an easy meal, and the air fryer helps accommodate that! There are so many easy meals you can make with an air fryer.
This makes an excellent practical gift that comes in handy for everyone living in dorms or college apartments.
17. Gold hoops

Gold hoops are a staple in many girls' jewelry. They go with everything and look amazing. This one is from the brand Pavoi, which is previously mentioned! Really good and affordable.
18. What do you meme?

This party game is all about memes! Is your college girl into this? Then she will love receiving this fun gift for lots of entertainment.
19. Jade roller & Gua sha set

The gua sha and roller have become essential in my skincare routine! This is a beautiful self-care gift for college girls.
Massaging your face with the gua sha helps tighten the skin and reduce puffiness. I'm obsessed.
20. Cute packing cubes

Packing cubes are a necessity for girls who travel a lot! these packing cubes look super pretty and help keep all your stuff organized in your suitcase.
21. Polaroid camera

This one doesn't need much explaining! What's better than making memories with a polaroid camera? This is the ultimate college girl gift that will be so well received.
22. Make-up brushes

This makeup brush kit has it all! Angled brushes for applying eyeshadow, foundation brushes, powder brush, and beauty blender. This is the ultimate kit for any girl who loves makeup.
23. Tan baseball cap

Cute caps are a staple in every college girl's closet. Tan and neutrals are popular and look amazing. This cute cap is going to look great on everyone.
24. Revlon Hot air brush

I have this, and it's the easiest way to style your hair as if you just went to get a blowout. It's also very affordable. An amazing gift for college girls.
25. Workout set

Amazon has surprisingly good workout sets in the cutest colors! Workout wear is a great gift for college girls that they will use a lot.
26. College cookbook

This college cookbook with 5 ingredient recipes is genius! So many easy, healthy, and quick options for college students. A great gift to give to girls who have just moved into their college apartment or dorm.
27. Portable clothing steamer

I swear by using a clothing steamer! I do everything in my power not to have to use an iron. It's just too much work lol. This is a practical gift for college girls they will love!
You fill the steamer with water and then smooth out your t-shirts, blouses, and everything else with a light enough fabric. But truthfully, I also use it on my jeans, and it works well enough.
28. Makeup mirror

Doing your make-up in bad lightning is hard! Using a make-up mirror like this makes life easier. It looks cute, compact, and super useful for college girls.
29. Blanket hoodie

This oversized blanket hoodie is the ultimate cozy item to own! During the colder months, college girls will obsess over this thing. This will come in handy when you're studying at your desk and it's cold.
30. Cinema lightbox

I love a good motivational quote, and this cinema light box lets you change it daily. This is adorable desk decor that college girls will love.
31. Yeti coffee mug

Gotta keep your coffee hot! When living on campus, you're always on the go; things like insulated mugs and water bottles are necessities.
The Yeti brand is super high quality and long-lasting. This is the type of gift they will be using for years.
32. Silk pillowcase

Silk pillowcases are a beautiful and luxurious gift! These are SO soft and surprisingly inexpensive. It's a nice luxury to give to college girls living in dorms.
33. Brita water filter bottle

This Brita water bottle with a built-in filter is a life safer. The last thing you want to do is have to buy plastic bottles of water every day. A sustainable and practical gift anyone will love.
34. Himalayan salt shot glasses

A bit of a cheeky gift, but SO good. These Himalayan salt shot glasses are adorable and look so cute in any room.
35. Silk headbands

Headbands are trendy again! And I love it. These silk headbands are adorable and the perfect neutral colors any college girl would love to wear.
36. Selfie ring light

This selfie ring light is a LIFE saver to look your best when face timing or zooming! Especially during the colder months, it's hard to get flattering light. Using a small ring light changes everything.
37. Tie-dye lounge set

Cute loungewear is always a good gift! A girl can never have too many of these cute sets. I live in these, and they're the best.
38. Dead sea mud mask

Some self-care goodies! When girls have just moved to college, it's fun to put together a college care package. This dead sea mud mask should be in it.
39. Beach bag with initial

Custom gifts are the best! You can initialize this beach bag for a super costume and personal feel. This bag is great for girls living on campus because it holds so much stuff.
40. Photo clip string lights

Photo clip string lights brighten up any room! This is an inexpensive and super cute gift. You can make it more personal by adding some of your favorite pictures.
41. Wireless charging station

A charging station is SO nice if your girl has an iPhone, AirPods, and Apple watch. It makes life easier, and this station also looks super stylish.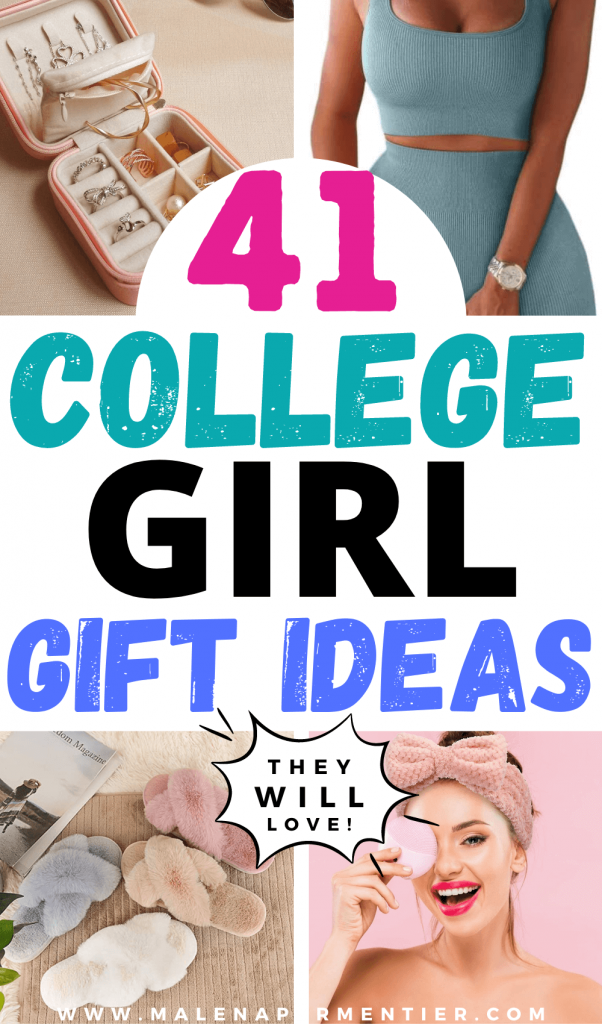 This post showed you the best gift ideas for college girls.
You may also like: