This post shows you best inexpensive gifts for the woman who has everything (or says she wants nothing :))
Why does it seem so much harder to shop for women in their 30s than college-aged women?
Perhaps because the older we are, the more stuff we own. Which makes it harder to find good gifts! But maybe I'm wrong.
This post is a great resource if you're looking for Christmas or birthday gifts for women who have everything. It includes thoughtful, trendy, and useful gift ideas that are budget-friendy.
Most of these gift ideas are under $50. Many also under $20.
A few gift categories I love for hard to buy for women
home gifts (throws, candle holders, a chic vase)
beauty gifts (facial steamer, mud mask)
useful but stylish gifts (customized luggage tags, glass teapot, travel jewelry organizer)
Inexpensive Gifts For The Woman Who Has Everything
1. Cozy throw blanket

Throws are an item you can never have enough of. OK, that's exaggerated, but you can layer throws on the couch or your bed.
Buying a gift for someone with a particular home color scheme? This throw blanket is available in 10+ beautiful colors. They have beautiful muted colors and neutrals that will complement any living room.
2. Cellphone stand

A stylish cellphone stand is one of those useful gifts everyone loves to receive! Since 2020, many of us work from home for at least a portion of the day.
If you're face timing with friends or colleagues, a cellphone stand makes life easier. This phone stand is also great for selfies, haha.
3. Monogrammed luggage tags

Monogrammed luggage tags are a unique gift every woman will love! This gift is particularly great for frequent travelers.
I love this dusty pink color, but the leather luggage tags are also available in colors like black, taupe, blue, and many others.
4. Cute vase

A unique and neutral vase is a great gift for someone who has recently moved into a new place or is simply into home decor!
Amazon is on their game regarding vases and ceramics, so definitely check that out if you're looking for a gift for someone who loves home decor.
5. Art deco glasses

Unique wine or cocktail glasses are a thoughtful gift women will love! Unique glassware is great for entertaining but also looks cool when displayed on a bar cart.
6. Wearable blanket

This is a cozy and funny gift for your friends or family who are always cold! No, but seriously these wearable blankets are so good.
Especially if you sit still a lot, for example, at your desk, you need one of these in winter.
7. Jade roller & Gua Sha set

A jade roller and gua sha are great self-care/beauty gifts women love! I have both, and I love including them in my skincare routine.
If you want, you can accompany this gift with facial oil.
8. Himalayan salt lamp

Salt lamps are so gorgeous and inexpensive! They make every corner of your home look cozier. I think, for many, it's also a nostalgic gift.
9. Scalp scrubber

I bought this scalp scrubber a few months ago, and I'm obsessed! I use it when I apply my shampoo and then again when I apply my conditioner. Scrubbing your scalp promotes hair growth because you're exfoliating your scalp.
I also feel like the shampoo and conditioner do their job wayyy better since I started using this thing regularly.
So yeah, excellent gift idea for women!! It's cheap and works great. Under $10, so it doesn't break the bank.
10. Packing cubes

Aesthetically pleasing packing cubes are a great gift for the avid organizer! Proper packing cubes are an upgrade from when I used plastic bags to group my clothing in my suitcase.
This packing cube set has 2 large, 1 medium, two small bags, and a bag for shoes. Super useful and cute gift idea for women who love to travel.
11. Pretty mugs

Pretty ceramic mugs are a gift you can not go wrong with! Especially if you know their style, this is such a good gift.
12. Glass teapot with infuser

This glass teapot with a removable infuser is so good. Loose-leaf tea tastes much better than teabags (most of the time).
Your tea-loving friends will love this gift. Accompany this teapot with their favorite tea. Loose-leaf chai tea is great.
13. Photo frames

Give your friends/family photo frames with some pictures already in them! Even without it, these pretty frames are a great gift. Simple, trendy, and chic.
14. Wine essentials set

This wine essentials set includes an electric wine opener, wine preserver (must have!), wine aerator, bottle stoppers, foil cutter, and a charging deck. A super useful gift for your wine-loving friends.
15. Manicure set

A stylish manicure set is a cute and useful gift for your female friends! This set has 10 essentials for manicures and is super compact and trendy.
16. Stemless wine glasses

Beautiful glassware is a great gift people love! These stemless wine glasses are simple, chic, and the perfect gift for your friends.
17. Passport cover

This minimalist passport cover is super trendy. It's available in many colors, and the plane symbol in the upper left corner is a nice touch. You could also gift a passport cover that is monogrammed!
18. Watch and bangles set

This Anne Klein watch and bangles set is a cute gift for your fashion-loving friends. It's also surprisingly inexpensive! Honestly, the quality looks way more expensive than it is.
19. Tea bags box

Your tea-loving friends will love this tea bag box from Pukka! It contains 45 teabags and 5 different flavors. You can accompany this gift with a cute mug.
20. Minimalist candle holders

These minimalist candlestick holders are a crowd pleaser! Minimalist and chic. These candlestick holders are available in silver, black, and gold.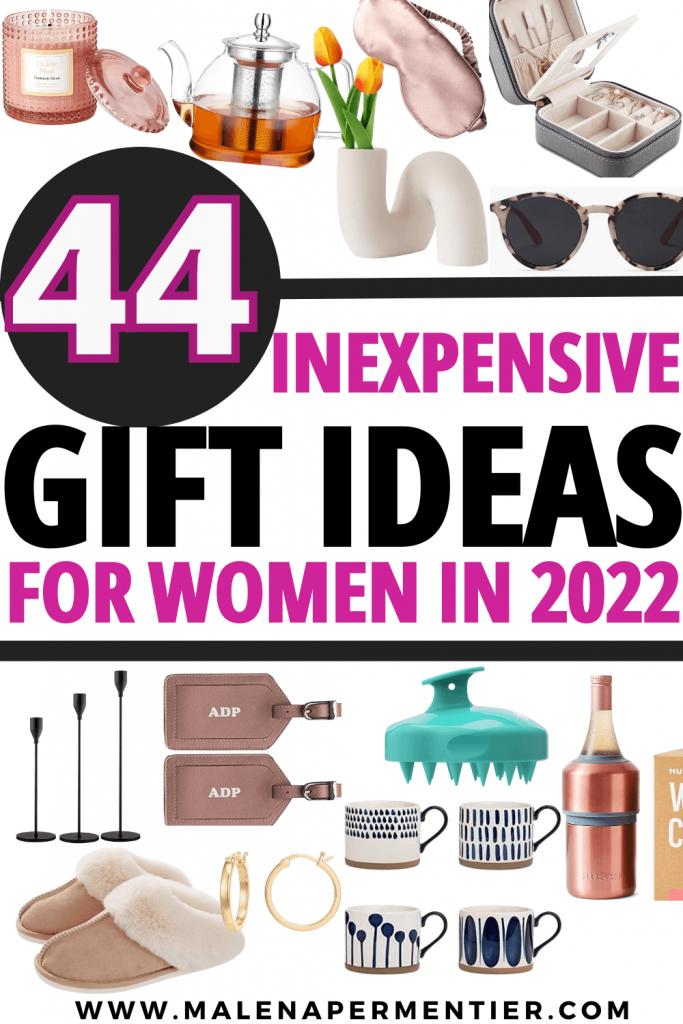 21. Alarm clock

Alarm clocks are entering a new era of popularity because people want to keep their phones out of the bedroom.
This digital wooden alarm clock is aesthetically pleasing and is a great gift for women and men alike.
22. Silk pajama set

Everyone loves silk pjs! This is a luxurious gift women would love to receive. It's also something we might not quickly buy for ourselves. Which makes it a lovely gift to give.
This silk set is inexpensive and comes in a ton of different colors. My favorites are champagne and deep grey.
23. LED candles

Nothing quite substitutes the light of real candles, but for peace of mind, these flickering LED candles are absolutely gorgeous. Perfect as a coffee table centerpiece, for example.
This a beautiful and budget-friendly gift for women who are impossible to buy for!
24. Dainty initial bracelet

If you don't know what to get the women in your life, dainty jewelry could be a great idea. Amazon has surprisingly good quality and affordable jewelry.
This bracelet is gold plated and comes with an initial. Subtle and chic.
25. High-waisted leggings

One can never have enough leggings! Women are raving about these leggings on Amazon and they're also cheap (ish).
26. Cute pink candle

Pretty scented candles are a great gift for women who have everything (and don't want anything). It might be a little cheesy, but truth be told, people are always happy receiving candles.
This candle also comes in a few other colors and scents.
27. Water bottle

A good quality water bottle is a must-have for everyone who loves being active outdoors. This hydro flask is more on the expensive side ($50) but a great useful gift nevertheless.
28. Cozy slippers

Fuzzy slippers make people happy! These slippers are luxurious with a superior fit and faux fur. The perfect cozy gift for your female friends or family.
29. Silk face mask

Sleeping masks are a cute and inexpensive gift. You can also combine this with some other self care essentials like a gua sha set or face mud mask.
30. Jojoba facial oil

Facial oil is a great gift for skincare lovers. I've tried many facial oils over the years, but the simplicity of pure jojoba oil is one of my favorites.
31. Burt's bees gift set

Beauty gift sets like this one from Burt's Bees are a great thing to get for people you have no clue what to buy for.
Burt's Bees has different types of gift sets, for example hand and foot care, face and body care, lips, etc.
32. Travel jewelry organizer

You wouldn't believe how inexpensive this travel jewelry organizer is. It's the perfect compact organizer for jewelry. Obviously it's perfect for travel, but also to use at home for your jewelry favorites.
If you don't mind spending a bit more, you can also opt for a jewelry organizer that's monogrammed.
33. Gold hoop earrings

Buying a gift for someone who loves gold jewelry? Classic hoops is something many women wear. I know that jewelry isn't always the easiest gift to give, but if you know their style, it's doable.
These gold hoops are an Amazon favorite with 15.000+ raving reviews.
34. Scalp massager

Maybe this scalp massager is more of a white elephant gift than anything else, but if you're doing a self care gift basket for example, this is a great inexpensive gift to include.
35. Sunglasses

Give the gift of sunglasses! Again, this might be tricky considering someones personal style. But. I feel that these round type of glasses look universally good.
36. Initial tote bag

Initial tote bags are super popular. They are so nice to have for picnics or to bring to the beach. I also think the design is timeless and stylish.
37. Neck heating pad

This heating pad is the ultimate self care gift. Perfect for people who work a lot at their desk or are in need of some relaxation in their lives :).
38. Travel toiletry bag

Get a cute travel toiletry bag for your loved ones! It's honestly pretty hard to find toiletry bags as a women that are large enough to hold everything – from shampoo to skincare and makeup.
The bag folds open on both ends and holds a lot of stuff! Kind of a practical gift, but there is nothing wrong with that.
39. Ceramic jewelry tray

Ugh this tray is the cutest! Comes with an initial which is a nice personalized touch. People love that! Super nice to keep this one on your dresser with your favorite jewlery items.
40. Rose gold wine cooler

This wine cooler is the most stunning thing ever. I love gifts that are both aesthetically pleasing and practical.
Give this gift to your wine loving friends. Great to have at home or to bring with you to the park for a midday rose.
41. Charcuterie board

Friends who have recently moved into a new apartment love receiving stuff for their home! This charcuterie board is a classic and so well put togeher.
42. Trinket box

A trinket box is maybe more of a gift from mother to daughter, or vice versa, but still, these things are super popular and is definitely a good gift idea for women who have everything.
43. La Neige Lip Sleeping Mask

This luxurious lip sleeping mask has many great reviews! Luxury skincare and beauty items are a great gift idea because it's something we might not buy for ourselves.
44. Chopsticks set

Last but not least, this cute chopsticks set is such a good gift! If you don't know what to get osmeone, looking in the direction of ceramics, useful things in the kitchen, and cute cups is a great idea.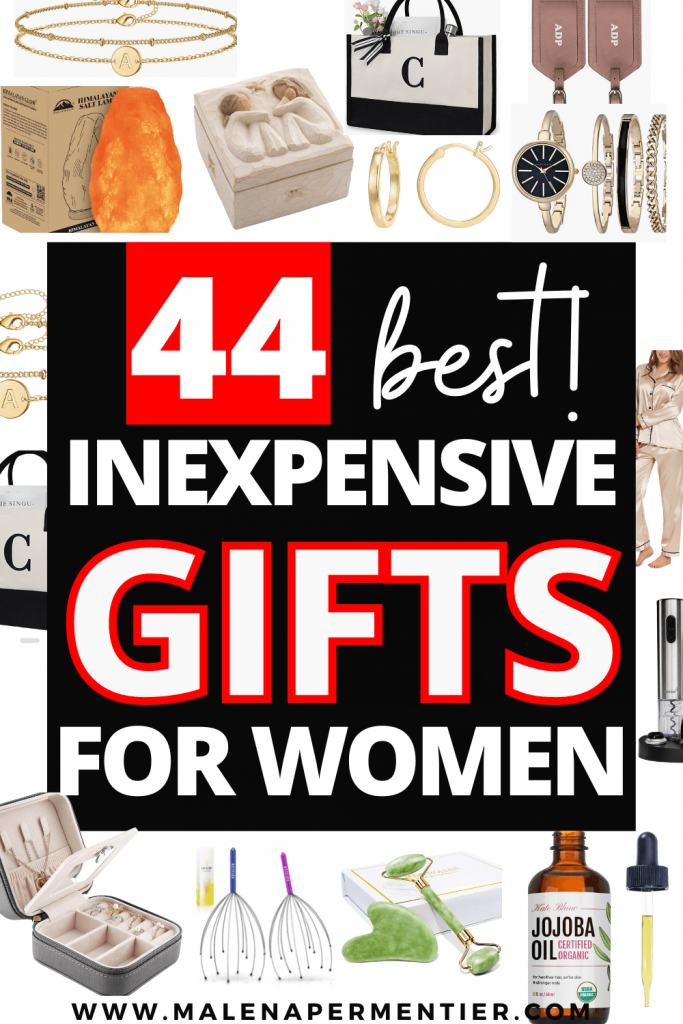 This post showed you the best inexpensive gifts for the woman who has everything
You may also like: