This post shows you the best gifts under 10.
If you're looking for cute and inexpensive gifts for her, I got you!
Birthdays and Christmas can be tricky because we need to spend so much money.
Great gifts don't have to be expensive. The ideas below prove that!
These gift ideas are all under $10, and these are things that she is guaranteed to love.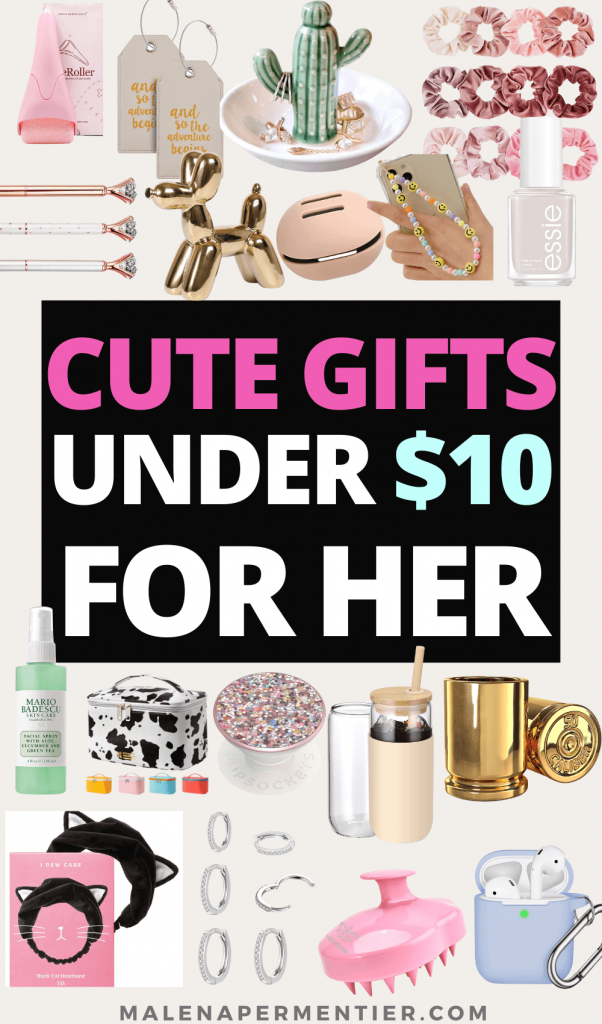 1. Wrist strap for phone

This one is for the clumsy women in your life, haha!
A wrist strap is cute but keeps your phone secure, preventing you from dropping it.
2. Cute luggage tags

These luggage tags are adorable and under $10, which is hard to believe.
You can get these in many pretty colors, and I love the 'and so the adventure begins' saying on the tags.
3. Ceramic balloon animal

Cute and funky decorative items are an excellent gift for birthdays or Christmas! Especially if she loves that kind of thing.
This gold balloon animal figurine is adorable. Great for decorating on top of a dresser or coffee table.
4. Phone pop socket

Pop sockets look cute and are so handy if you watch many things on your phone.
I like the stand for following recipes on my phone when cooking.
These cute phone grips are available in a ton of cute colors! I love the glitter.
5. Travel makeup bag

This is such a good makeup bag, especially for the price!
It holds a lot of stuff and, at the same time, is compact enough to travel with.
6. Small silver diamond hoops

These earrings are sterling silver, which is hard to believe for the price! Reviews on this product are great.
The hoops are small and super pretty. A cute gift that many girls and women will love.
7. Pink velvet scrunchies

Girls love their scrunchies!! These come in a pack of 12 in the prettiest pink shades.
These scrunchies have the most insane reviews (4.9), so they must really live up to the hype :).
8. LED letter sign

These initial LED lights are cute and trendy. Cute for room or dorm decor!
9. Scalp scrubber

I have this scalp scrubber and am obsessed!
When you use this in the shower after applying shampoo, it makes your hair look much better and cleaner.
10. Wall collage kit

Wall collage kits have 50 or even 100 pictures to make your wall collage.
You can choose different themes, and I like this green boho aesthetic.
11. Succulent candles

These succulent candles are the cutest thing ever.
They come in a pack of 6 and are the perfect budget-friendly gift for her.
12. Ice roller

Ice rollers are great for depuffing your face and helping with headaches.
These come in cute colors and are inexpensive gifts or stocking stuffers.
13. Iced coffee tumbler

This one is for the iced coffee girlies! Why does iced coffee taste so much better when drinking from a straw?
Loving the clean aesthetic of this tumbler.
14. Cute socks

These embroidered socks are the cutest thing ever and make such a lovely gift.
15. Scented candle set

Candles are always a good gift! I love how this one comes in a nice gift box, making it even more festive.
An easy and cute gift that is cheap.
16. Airpod case

This airpod case with a keychain is super practical and cute.
Convenient for quick charging when you're on the go.
17. Trinket dish

I love these small dishes for displaying jewelry on my dresser. An adorable gift that girls will love.
18. Diamond pens

Pretty pens are always a good idea! Girls who love stationary and cute things will appreciate a gift like this.
19. Face wash headband

These headbands are so cute and practical for when you're doing your skincare routine 🙂
I swear by these, and they're such a cute gift too.
20. Travel jewelry organizer

I have this jewelry organizer on my Christmas wishlist, and I love it!!
I have some big travels planned for 2023, so this will come in handy.
21. Essie nude nailpolish

I'm not a big nail girl and usually stick to neutrals when I do my nails! This Essie shade in 10 cut it out is perfect.
22. Make up sponge holder

This is a make-up sponge holder! If you're wondering what the hell you're looking at, haha.
Small products like this are cute gifts for the girlies who love organizing their stuff.
I'm getting this for my upcoming travels.
23. Shot glasses

Everyone needs a few cute shot glasses! These glasses look cute for decor, even if you're not a big drinker (or under 21).
Must-have if you have a bar cart in your home.
24. Air fryer cookbook

We all have that one friend who is obsessed with their air fryer!!
Haha, but seriously, this is such a good gift for friends who have an air fryer.
25. Tissue box cover

Your type-A girlies will love this gift.
This stylish thing covers up your ugly tissue boxes. Super stylish and an easy upgrade for anyone's home or room.
26. Mario Badescu facial spray

Mario Badescu has some really nice and inexpensive beauty products.
This facial spray with aloe, cucumber and tea refreshes and rejuvenates :).
Skincare and beauty gifts are always a good idea for the women in your life.
26. Sunglasses cae

A sunglasses case is a useful and cute gift that's inexpensive!
This case is foldable, which is the perfect space saver when you're not using it.
27. Gold measuring spoons

I came across these gold measuring spoons and thought they are so cute!
This is perfect for your friends who have just moved into a new place. Or who has just decided to learn how to cook haha.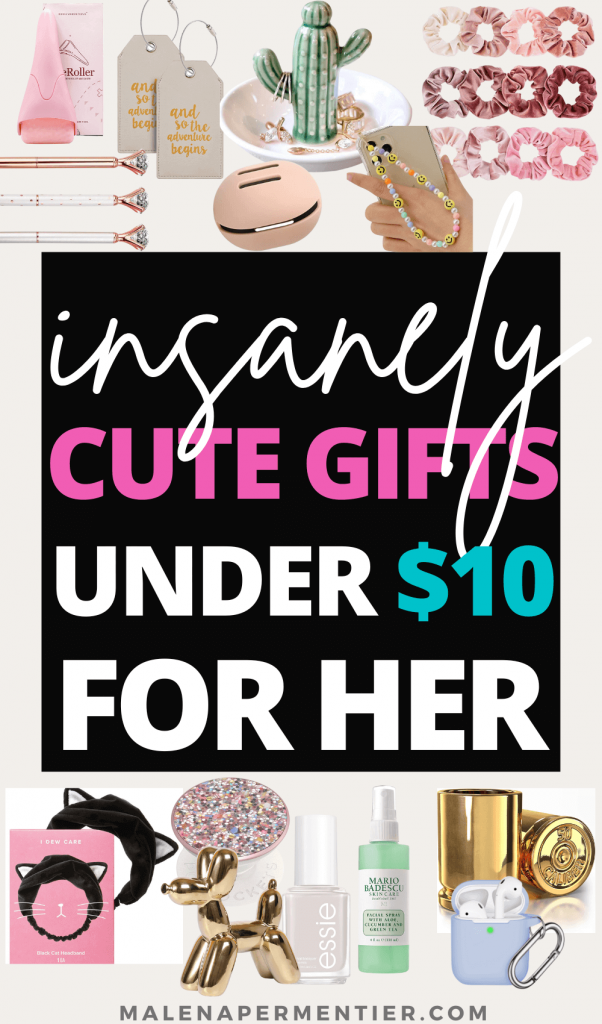 This post showed you the best gifts under $10 for her.
You may also like: